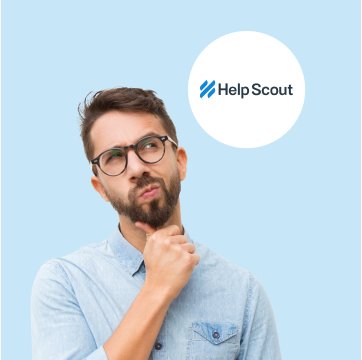 Table of contents
10,000+ teams use Hiver to delight customers!
Top 10 Help Scout Alternatives for Businesses
Aug 16, 2023
|
10 min read
|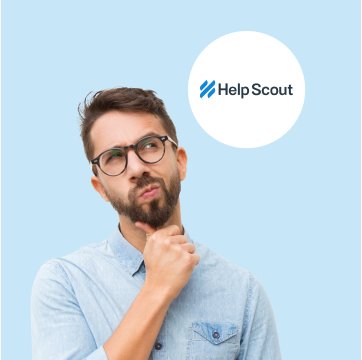 Table of contents
Help Scout is a multi-channel customer service platform that caters to businesses of all sizes. Originally a shared inbox tool (think email customer support tool),the platform has evolved over the years to include other support channels, such as live chat and a knowledge base.
It provides businesses with the option to customize support workflows. This includes setting up automated responses, routing tickets to experts, and tagging queries based on type/priority. Moreover, they offer weekly product classes and 24/6 support to users.
Help Scout has a free trial for 15 days, and the following pricing plans:

– Standard: $25 per user per month
– Plus: $50 per user per month
– Pro: $65 per user per month
Table of Contents
But, Help Scout has limitations…
To begin with, Help Scout has a complex interface that may be confusing to navigate, requiring extensive training for teams. Even after training, support teams may still struggle with the alien interface and workflows, adding to the challenges of using the software effectively.
Some more limitations of Help Scout include:
Agents can respond to tickets only from the main group email – [email protected] or [email protected]. It's a very superficial way to do customer communication – not being able to reply from your work email.
Internal and external conversations can overlap – given the way the platform is designed. That means there's always some risk that an agent may send a message meant for a colleague, to a customer.
There's no phone support in Help Scout, which can be a limitation for some businesses.
It doesn't allow you to create SLAs directly. You can only add SLA by integrating Super SLA with HelpScout.
Its reporting feature is complicated to navigate and limiting in terms of the insights it offers.
Mailboxes are limited across its pricing plans – 2 mailboxes in the Standard plan, 5 in the Plus plan, and 25 in the Pro plan. In order to add additional mailboxes, you have to spend $10USD per month per mailbox. (Most tools offer unlimited mailboxes across their pricing plans)
Top 10 Help Scout Alternatives:
If you're looking for an alternate option to Help Scout, we've got you covered.
1. Hiver: Multi-channel Help Desk inside Gmail
Hiver is a multi-channel customer service platform meant for teams that use Google Workspace. With Hiver, support teams can manage multiple customer touchpoints such as email, phone, WhatsApp, live chat, and knowledge base, from the comfort of their Gmail inbox.
Since Hiver works on top of Gmail, your customer support team can get started instantly – without any extensive training. The interface is extremely intuitive, and easy to use, unlike Help Scout.
Another advantage of Hiver is that teams can configure and manage SLAs easily – something which can't be done readily in Help Scout. The reporting functionalities are also more advanced in Hiver (you can easily analyze multiple types of reports or even create your own report),making it the best alternative.
Standout Features:
Pricing:
Hiver offers three pricing options.
Lite: $15 per user per month
Pro: $39 per user per month (unlimited mailboxes)
Elite: $59 per user per month (unlimited mailboxes)
Free Trial: 7 days. No credit card required
2. Zendesk: Customer Support Software for Large Enterprises
Zendesk is a popular helpdesk platform that works well for enterprise companies. It brings together multiple support channels – from email to live chat to knowledge base – under one roof.
The platform offers advanced enterprise-like functionalities, such as custom team roles and permissions to restrict access, multiple knowledge bases to build internal and external FAQs, and custom agent workspaces to help streamline work. The major downside, however, is that these features are only offered on their high-tier plans.
Another drawback with Zendesk is that it's extremely complicated to set up and use. The learning curve is steep, and in case you'd want training, Zendesk charges anywhere between $1500 to $2800 for the same.
Standout Features:
Live Chat
Analytics
Automation
SLA Management
Omnichannel Integration
Knowledge Base Management
Pricing:
Zendesk has three tiers of pricing for small to large-sized businesses.
Suite Team: $49 per agent per month
Suite Growth: $79 per agent per month
Suite Professional: $99 per agent per month
For enterprise companies, Zendesk has two tiers of pricing:
Suite Enterprise: $150 per agent per month
Additional and more powerful enterprise plans start at $215 per agent per month
Free Trial: 14 days
3. Freshdesk: Customer Support Software That Offers a permanent Free Plan
Freshdesk is another popular multi-channel help desk suited for small and medium-sized businesses. The platform turns customer queries from email, social media, and other channels into tickets and helps you assign them to frontline agents.
One good thing about Freshdesk is that it offers a forever-free plan for teams that are tight on budget, but still need a platform to manage customer queries. That being said, setting up Freshdesk will take time and effort. Many users of Freshdesk have expressed dissatisfaction with the software's configuration process, citing it as challenging and unreliable.
They've also encountered difficulties syncing Freshdesk with Google Workspace products, like Gmail, Google Calendar, and Google Contacts. Another issue is that new ticket alerts cannot be actioned within Gmail, requiring users to switch to the external Freshdesk tool. In contrast, Hiver allows users to perform all customer service actions within Gmail.
Standout Features:
Team Inbox
SLA Management
Ticket Trends and Reporting
Collision Detection
Omni-channel Support
Automation
Self-service Feature
Pricing:
Freshdesk's Support System offers four price tiers.
Free: Starter plan for unlimited agents but with limited features
Growth: $15 per agent per month billed annually
Pro: $49 per agent per month billed annually
Enterprise: $69 per agent per month billed annually
Freshdesk's Omnichannel system offers three price tiers.
Omnichannel Growth: $29 per agent per month billed annually
Omnichannel – Pro: $59 per agent per month billed annually
Omnichannel – Enterprise: $99 per user per month billed annually
Free Trial: 21 days
4. Front: Customer communication platform for personalized support
Front is a platform that enables personalized customer communication. It does this by allowing support agents to interact with customers from their work email IDs. The platform promotes a collaborative work environment by providing team members with complete visibility into each other's tasks.
However, agents may take some time to get used to the tool, as Front comes with its own interface and might seem unfamiliar. Users would find themselves constantly switching between Front's platform and other work apps such as Slack or Gmail. Another major drawback with Front is that its analytics dashboard can be quite limiting – you can't slice and dice data the way you'd want to.
FYI – this wouldn't be the case with a tool like Hiver, since all customer communication and other work communication will be centralized inside Gmail. Also, Hiver's Analytics and Reporting dashboard, helps users to access multiple report types, and get detailed insights into team performance.
Standout Features:
Shared Drafts
Canned Responses
Live Chat
Analytics
Knowledge Management
Pricing:
Front offers four pricing options.
Starter: $19 per person per month
Growth: $49 per person per month
Scale: $99 per person per month
Premier: $229 per person per month
Free Trial: 7 days
5. Intercom: Customer Messaging Software to Drive Engagement
Intercom provides a highly efficient AI-powered Inbox designed to meet the needs of modern support teams. Intercom's ticketing platform, referred to as the Engagement OS, is an effective tool for collecting, tracking, and routing customer queries with ease. The platform is equipped with essential features to help support teams organize their workload and collaborate effectively to resolve tickets.
Furthermore, Intercom offers a 'Messenger' feature that consolidates various apps in a single window, allowing users to perform different actions, such as finding information in the knowledge base or initiating a conversation with a customer. The platform is well-suited for companies of all sizes, from early-stage startups to enterprise-level organizations, and is particularly useful for industries such as e-commerce, finance, education, and healthcare.
While Intercom provides valuable features, navigating the platform can be challenging, due to the steep learning curve. The abundance of setup options can lead to confusion. Additionally, Intercom can be quite expensive, especially for smaller businesses, or those with limited budgets.
Standout Features:
Ticket Collaboration
Automation
Live Chat Support
In-App Messaging
Knowledge Base
Team Inbox
Pricing:
Intercom's pricing chart may seem complicated at first, but in a nutshell, it offers four different tiers of pricing.

Start: $39 per month per seat
Grow: $99 per month (includes 5 seats)
Accelerate: from $499 per month (includes 10 seats)
Scale: from $999 per month (includes 10 seats)
Free Trial: 14 days
6. Zoho Desk: Omni-channel Customer Communication Platform
Zoho Desk is a customer service platform that streamlines communication across support channels, such as, phone, email, live chat, SMS, and social media. As a Help Scout alternative, Zoho Desk is a good option for mid-sized businesses looking to offer multi-channel support, and maintain an updated directory of customer contacts.
The platform consolidates all customer interactions from various channels into a single, organized interface, allowing teams to have contextual customer conversations and provide efficient support. Additionally, it also provides a freemium plan, making it a cost-effective choice for businesses.
While Zoho Desk offers customization options, it is considered less flexible compared to other customer service solutions. Also, users have reported difficulties with the phone calling feature, through Zoho Desk. The tool also lacks a desktop application version.
Standout Features:
Ticket Management
Self-Service
Agent Productivity
SLA Management
Ticket Collaboration
Customer Portal
Pricing:
Zoho Desk offers five types of pricing plans.
Free Plan
Express: $7 per month per user
Standard: $14 per month per user
Professional: $23 per month per user
Enterprise: $40 per month per user
Free Trial: 15 days
7. Kayako: Helpdesk Software for Small and Medium Businesses
Kayako is a user-friendly ticketing system that offers a single-view journey to track all customer interactions and engagement, providing your agents with valuable context when addressing queries. With Kayako, your agents can offer customer support via important communication channels, such as email and live chat.
One notable advantage with Kayako is its 'Expert Collaborators' feature, which allows you to bring in external experts to help resolve complex customer issues. Support teams also have the option to move tickets between departments – in instances where they need inputs from other functions.
However, Kayako's analytics dashboard isn't as extensive as that of Hiver's. If you're looking to get in-depth metrics on team performance and support quality, Kayako might not cut it. Also, users have concerns about limited ticket search ability in Kayako. Supervisors cannot view "deleted tickets" by agents. And, you cannot attach documents to a ticket.
Standout Features:
Live Chat
Self-Service
SLA Management
Customer Portal
Ticket Collaboration
Pricing:
Kayako offers two pricing plans: Kayako Cloud and Classic On-Prem. However, the pricing details for these plans are not currently available on their website. To learn more about their pricing, you'll need to request a demo with their sales team.
Free Trial: 14 days
8. HubSpot Service Hub: Centralized Inbox to Manage Customer Communication
HubSpot Service Hub is a customer service software designed to simplify customer management and communication. It offers a centralized customer portal where you can assign, track, and collaborate on customer queries from multiple channels – email, chat, phone, etc.
Besides, Service Hub also offers critical features like automation (to do away with routine tasks) and analytics (to identify gaps in support quality and improve team performance). However, the setup and implementation process can be challenging, as it involves complex configurations and may not be very user-friendly. Additionally, email queries arrive in both the main HubSpot Inbox and the Service Hub conversations, resulting in duplicated messages.
Moreover, HubSpot Service Hub does offer a free plan, but it has limited features. Its entry-level plan is more expensive compared to other software, like Hiver. Onboarding also comes with an extra cost in HubSpot Service Hub, whereas in Hiver, there's free onboarding across all plans.
Standout Features:
Shared Inbox
Knowledge Base
Reporting Dashboard
Customer Portal
Live Chat
Pricing:
HubSpot Service Hub offers four pricing plans:
Service Hub Free
Service Hub Starter: $50 per month for 2 users
Service Hub Professional: $450 per month for 5 users
Service Hub Enterprise: $1200 per month for 10 users
Free Trial: 14 days
9. TeamSupport: Customer Support Software Built for B2B
TeamSupport is a customer support platform, specifically designed for B2B companies. The best part about the platform is that it helps you identify opportunities to upsell and also proactively predict customers who are at the risk of churning – based on previous interactions.
TeamSupport helps B2B companies offer support via critical customer communication channels, such as email and live chat. Support teams can also collaborate faster using the 'Watercooler' functionality that enables employees to loop in colleagues across the organization on customer queries.
However, users have reported that TeamSupport's reports are not detailed enough to track essential metrics, and that it takes a lot of time to load. Additionally, they have found it challenging to load the history of a ticket and navigate through open tickets. Furthermore, multi-level escalations for SLA violations are not possible.
Standout Features:
Ticket Management
Customer Management
Customer Self-Service Portal
Ticket Collaboration
SLA Management
Live Chat
Pricing:
TeamSupport offers three pricing plans.
Essential Support: $49 per agent per month
Enterprise Support: $69 per agent per month
Complete Customer Support Suite: $119 per agent per month
Free Trial: 14 days
10. LiveAgent: All-in-one Customer Support Platform
LiveAgent is a viable alternative to Help Scout, designed to help small businesses manage customer support tickets. The tool brings a plethora of customer channels – from email and live chat to forums and social media – under one platform. Additionally, you can also setup a knowledge base/FAQ portal for your company, enabling customers to self-serve.
One of the key features of LiveAgent is its chatbot functionality that helps in providing round-the-clock client support. LiveAgent also has an integrated call center with automatic customer callback functionality, which records important call details for future reference. To ensure agents work at optimal productivity, the tool offers a spam filter that protects businesses from unwanted messages in their company inbox.
But it comes with team collaboration challenges. The platform doesn't support communication with other employees/departments. Currently, only communication between the agent and the customer is permitted.
Standout Features:
Ticket Management
Live Chat
Customer Service Reporting
Customer Service Gamification
Customer Portal
SLA Management
Pricing:
LiveAgent offers five types of pricing options.
Free business plan
Small business: $9 per agent per month
Medium business: $29 per agent per month
Large business: $49 per agent per month
Enterprise business: $69 per agent per month
Way Forward: Select The Best Tool
Currently, G2 lists more than 350 help desk software options, and it can get overwhelming and challenging to select the right tool for your business.
While Help Scout might be a good choice for businesses, it has several limitations that we've explored in this article.
Hiver, as we've already mentioned above, seamlessly integrates within Gmail's native interface, making it a great choice to keep your teams within a familiar ecosystem. Agents can resolve customer queries faster and the support process becomes more streamlined.

Start right away.