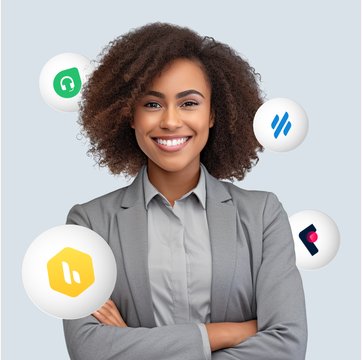 Table of contents
Explore Why Teams Prefer Hiver
10 Best Intercom Alternatives for 2023
Nov 08, 2023
|
12 min read
|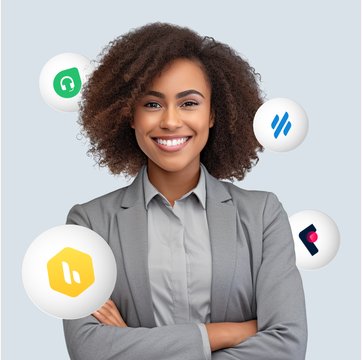 Table of contents
Intercom is a popular choice today for many businesses that are looking to communicate with customers. It is particularly renowned for its chat and messaging capabilities.
But here's the thing: Intercom can be expensive. Plans for small businesses start at around $74 per month, and the costs can be even higher for larger companies.
There are affordable alternatives to Intercom that are packed with essential customer support features. In this article, we'll explore the top 10 alternatives to Intercom that could offer businesses a more rounded solution, at a more economical price point.
Table of Contents
What is Intercom?
Intercom is a customer communication platform designed to help businesses of various sizes offer prompt multi-channel support. It offers tools like an AI bot named "Fin" for instant support, a unified workspace for managing customer interactions, and proactive messaging features.
The platform also integrates with various channels, such as email and SMS, to provide diverse ways of supporting customers.
Why Look for an Intercom Alternative?
While Intercom is a widely-used customer communication platform, there are reasons why businesses might seek alternatives.
Some users think Intercom is too complicated to use, especially if you need simple features like live chat.
The customer support is slow to respond and requires a lot of effort to get in touch with.
Intercom's reporting feature is quite limited, making it difficult to generate comprehensive reports.
Also, the tool is not particularly intuitive.
"Intercom is not particularly intuitive; many of the features could be integrated into the chat page. Example: you can't add the client's email while you are chatting with them unless you change pages." – User Review | G2

"Their customer support is terrible. Even when you're in the US time zones, they take hours or sometimes a day to get back to you. Their search function is somewhat frustrating." – User Review | G2
10 Intercom Alternatives for 2023
Discover 10 top alternatives to Intercom for customer support. These options are (comparatively) budget-friendly and suitable for businesses of any size.
| Software | Starting Price | Free Trial | G2 Rating |
| --- | --- | --- | --- |
| Hiver | $15/month per user | 7 days | 4.6 ⭐ |
| HelpCrunch | $12/month per user | 14 days | 4.7 ⭐ |
| Help Scout | $25/month per user | 15 days | 4.4 ⭐ |
| LiveAgent | $9/month per user | 30 days | 4.5 ⭐ |
| Zendesk | $49/month per user | 14 days | 4.4 ⭐ |
| HubSpot Service Hub | $50/month per user | 14 days | 4.4 ⭐ |
| Freshdesk | $15/month per user | 21 days | 4.5 ⭐ |
| Drift | $2500 per month | 14 days | 4.4 ⭐ |
| Zoho Desk | $7/month per user | 15 days | 4.5 ⭐ |
| Front | $19/month per user | 7 days | 4.7 ⭐ |
1. Hiver
Hiver is a customer service platform designed specifically for teams that use Google Workspace. It allows support teams to manage multiple customer communication channels, including email, phone, WhatsApp, live chat, and a knowledge base, all from the familiar interface of their Gmail inbox.
As an Intercom alternative, Hiver fares better in many aspects:
| Aspect | Hiver | Intercom |
| --- | --- | --- |
| Cost-effectiveness | Cost-effective for teams of all sizes. Starts at $15/user/month. | Expensive for smaller teams. Starts at $39/month/ seat. |
| Customer Support | Responsive and helpful with 24×7 availability. | Slow response. Difficulty in reaching their support team. |
| Reporting | Comprehensive reporting. Easier to generate in-depth reports. | Challenging and time-consuming to create detailed reports. |
| User-friendly Interface | Intuitive and user-friendly interface, as it works on top of Gmail. | Unfamiliar and complex interface for new users to navigate. |
| Ticket Management | Streamlines ticket management with features like Notes, tags, views, templates, and more. | Limited ticket management features, hindering quick collaboration on queries. |
| Automation and Workflow | Use smart rules to automated workflows. Workload management in Hiver frees up your team for priority tasks. | Intercom's automation options are quite basic. |
Furthermore, Hiver offers support teams the ability to chat with their customers in real time – from within Gmail. It's a seamless setup that saves your team time by avoiding the need to learn or switch between different tools.
Pricing:
Hiver offers three pricing options.
Lite: $15/user per month
Pro: $39/user per month
Elite: $59/user per month
Free Trial: 7 days. No credit card required
2. HelpCrunch
HelpCrunch is designed for businesses to streamline and enhance their customer interactions. It allows businesses to engage with customers in real-time, whether they're on the company's website, mobile app, or social media page.
Key Features:
Live Chat: Engage with website visitors in real time, addressing inquiries and providing instant support.
Email Marketing: Craft and automate personalized email campaigns to keep customers engaged and informed.
Knowledge Base: Equip customers with a self-help hub filled with articles, FAQs, and resources, reducing the need for direct support.
Pros:
A clean dashboard that's easy to navigate, making it user-friendly even for beginners.
From e-commerce sites to startups and B2B enterprises, it's versatile enough for various businesses.
Cons:
Occasional glitches reported by some users, like scheduling issues.
Some essential features might be locked behind higher pricing plans.
Pricing:
HelpCrunch offers three pricing options.
Basic: $12/month
Pro: $20/month
Unlimited: $495/month
Free Trial: 14 days
3. Help Scout
Help Scout provides a user-friendly platform for managing customer conversations with a focus on email-style communication. It promotes team collaboration through shared inboxes, easy assignments, and private notes. The system automatically categorizes and assigns emails for efficient handling. Businesses can access in-depth analytics to improve customer interactions and integrate Help Scout with over 90 other tools for a seamless workflow.
Key Features:
Provide support across various channels, such as email, Messenger, and chat, ensuring accurate and timely responses.
Enable customers to find answers themselves through the knowledge base, reducing support workload and saving time for both your team and customers.
Personalize interactions by using customer profile data, conversation history, and message tagging to prioritize important customers and send tailored messages.
Pros:
Help Scout + AI: Leverage AI Summarize to quickly condense lengthy email threads into concise bullet points, and use AI Assist to enhance your responses.
Offer 1:1 live support through live chat on your website or app using "Beacon."
Cons:
On the downside, Help Scout has a few limitations. It doesn't allow you to create Service Level Agreements (SLAs) directly; you'd need to use a third-party app for that.
Additionally, there is a potential issue of internal and external messages overlapping, which means a message intended for a colleague might mistakenly go to a customer.
Pricing:
Help Scout offers the following pricing plans:
Standard: $25 per user per month
Plus: $50 per user per month
Pro: $65 per user per month
Free Trial: 15 days
Top 10 Help Scout Alternatives for Businesses
4. LiveAgent
LiveAgent is a customer support software that helps businesses manage customer inquiries and support interactions. It is designed to centralize and streamline customer inquiries, ensuring that businesses can efficiently manage and respond to their customers across various communication channels. It offers features such as ticketing, live chat, email support, and call center capabilities, all integrated into a single platform.
Key Features:
Agents & Collaboration: Manage and respond to all queries collaboratively. Features like agent collision, agent ranking, and audit logs ensure smooth team collaboration.
Live Chat Features: Advanced live chat capabilities, including proactive chat invitations, real-time typing view, chat history, and chat window docking.
Call Center Features: Handle large volumes of incoming calls, offer automatic callbacks, call routing, call transfers, and even video calls.
Social Media Integration: Seamlessly integrate with platforms like Facebook, Twitter, Instagram, and Viber for social media customer service.
Pros:
LiveAgent's universal inbox ensures that emails, chats, calls, and social media interactions are all managed from a single platform.
Powerful automation tools help streamline repetitive tasks and ensure timely responses.
Cons:
While LiveAgent offers a range of features, there might be limitations in terms of customization for specific business needs.
Challenges in integrating third-party tools.
Pricing:
LiveAgent has four types of pricing options:
Free plan (30 days)
Small business: $9 per month
Medium business: $29 per month
Large business: $49 per month
5. Zendesk
Zendesk is a widely recognized helpdesk and customer support software tailored for large organizations. It provides a unified platform integrating support channels like email, live chat, and knowledge base. Agents can manage issues, prioritize tasks, and oversee conversations. At its core, Zendesk is designed to offer a complete view of each customer, enabling businesses to provide the right support tailored to individual needs.
Key Features:
Skills-Based Routing: Zendesk offers skills-based routing. This ensures that each ticket is directed to an agent with the necessary expertise to handle it.
Reporting and Analytics: Zendesk offers comprehensive reporting and analytics through Zendesk Explore. This includes daily updated pre-built reports, automated analytics, and customizable dashboards.
Conditional and Custom Ticket Fields: This feature enables your support team to gather specific and detailed information about customer issues. Empower administrators to choose which fields appear on ticket forms for both agents and customers.
Pros:
Zendesk Generative AI, powered by OpenAI, allows businesses to automatically generate support articles, and deploy human-like bots with ease.
Whether a business has minimal or complex needs, Zendesk provides the tools and flexibility to build custom integrations.
Cons:
Despite its extensive features, Zendesk is relatively expensive compared to other ticketing solutions and has a complex interface.
Setting up Zendesk can be time-consuming, and assistance from their team comes at an additional cost, ranging from $1500 to $2800.
Pricing:
Zendesk has three tiers of pricing for small to large-sized businesses.
Suite Team: $49 per agent per month
Suite Growth: $79 per agent per month
Suite Professional: $99 per agent per month
For enterprise companies, Zendesk has two tiers of pricing:
Suite Enterprise: $150 per agent per month
Additional and more powerful enterprise plans start at $215 per agent per month
Free Trial: 14 days
6. HubSpot Service Hub
HubSpot's Service Hub offers an all-in-one ticketing system for efficient support request management. It consolidates conversations, tickets, and contact details into a single hub, simplifying customer inquiry handling. By centralizing customer interactions, Service Hub provides a holistic view of each customer, enabling businesses to offer personalized support.
Key Features:
Customer Portal: Provides a private channel for customers to communicate with support reps, ensuring uninterrupted 1:1 communication until the issue is resolved.
Workload Prioritization: Prioritize and promptly address urgent tickets by assigning relevant owners and stages, preventing any from being overlooked.
Analytics Dashboard: Monitor crucial metrics like contact volume, response time, and NPS to track team progress over time and make data-driven improvements to your customer support operations.
Inbound Calling: Receive calls from customers and track them within HubSpot, ensuring all relevant information is readily available for efficient resolution.
Pros:
The platform's automation capabilities, especially for ticketing and email campaigns, receive positive feedback for streamlining workflows.
Detailed analytics and reporting features, which offer insights into customer interactions and team performance.
Cons:
The initial setup can be complex. As you add more features or require additional capacity, the pricing can become steep.
It can generate duplicate email copies of customer queries in both the main HubSpot inbox and the Service Hub inbox, potentially causing response duplication if not managed properly.
Users have also noted that HubSpot charges extra for onboarding, unlike a tool like Hiver, which offers free onboarding across all its plans.
Pricing:
HubSpot Service Hub offers four pricing plans:
Service Hub Free
Service Hub Starter: $50 per month for 2 users
Service Hub Professional: $450 per month for 5 users
Service Hub Enterprise: $1200 per month for 10 users
Free Trial: 14 days
7. Freshdesk
Freshdesk is a help desk software that allows businesses to manage customer queries from various channels like email and social media. It efficiently converts these queries into tickets and simplifies the process of assigning them to frontline agents.
Key Features:
Agent Collision Detection: Prevent multiple agents from working on the same ticket simultaneously.
Team Inbox: The Team Inbox combines self-service options, automated responses, and analytics to streamline customer email communication. Agents can create personalized views for easy access to their assigned tickets and tasks.
Parent-Child Ticketing: Break down complex customer queries into smaller tasks, known as child tickets, and assign them to multiple agents or teams. This helps resolve customer queries faster.
Ticket Field Suggester: Enhance the efficiency of ticket categorization, prioritization, and routing. This feature automatically suggests ticket fields, saving time for agents and ensuring accurate ticket sorting.
Pros:
Freshdesk offers a forever-free plan, making it an attractive option for budget-conscious teams.
Freshdesk's automation tools, from ticket dispatch to event-triggered actions, enhance agent productivity.
Cons:
Users have reported issues syncing Freshdesk with Google Workspace products, such as Gmail, Google Calendar, and Google Contacts.
New ticket alerts cannot be actioned within Gmail. It requires users to switch to Freshdesk's platform.
Pricing:
Freshdesk's Support System offers four price tiers.
Free: Starter plan for unlimited agents but with limited features
Growth: $15 per agent per month billed annually
Pro: $49 per agent per month billed annually
Enterprise: $69 per agent per month billed annually
Freshdesk's Omnichannel system offers three price tiers.
Omnichannel Growth: $29 per agent per month billed annually
Omnichannel – Pro: $59 per agent per month billed annually
Omnichannel – Enterprise: $99 per user per month billed annually
Free Trial: 21 days
8. Drift
Drift is a cutting-edge chat tool designed to enhance website interactions by directly connecting businesses with site visitors. By offering real-time chat, Drift aims to provide instant answers, guiding visitors towards making informed decisions, be it a purchase or simply finding the information they need.
Key Features:
Live Chat: Engage with visitors in real time, addressing their queries while they're active on the site.
Email Playbooks: Automate email sequences based on specific behavioral triggers, ensuring continuous engagement even when users are off-site.
Drift Engage: Personalize conversations and improve targeting for higher conversion rates. The tool helps direct your most interested visitors to sales and continues nurturing less intentful visitors until they're ready to buy.
Pros:
Drift offers a free plan, catering to teams that have a budget constraint.
The Account-Based Marketing feature ensures high-value visitors receive personalized interactions, increasing the likelihood of conversions.
Cons:
While Drift excels in real-time engagement, it may not suit businesses that prefer traditional ticketing or email support.
Setting up Drift can be time-consuming and, at times, challenging, as expressed by some users.
Pricing:
Drift offers three types of pricing options:
Premium: Starts at $2,500/month
Advanced: Price on request
Enterprise: Price on request
Free Trial: 14 days
9. Zoho Desk
Zoho Desk is a customer-centric service platform designed to streamline communication across various support channels, including phone, email, live chat, SMS, and social media. It consolidates all customer interactions into a single interface, enabling teams to have contextual conversations and provide efficient support.
Key Features:
Social Media Management: Turn social media posts and comments into support tickets directly from Zoho Desk's interface.
Work Modes: Zoho Desk offers various ticket views to organize tickets based on priority, due dates, and status. This helps support agents efficiently manage their workload by quickly identifying which tickets need immediate attention.
Auto-Tag Tickets: Zoho Desk's AI-powered assistant, Zia, automatically detects the sentiment behind each ticket and assigns relevant tags. This simplifies ticket identification for agents based on their expertise and provides easy access to past tickets for reference.
Keyword Optimization: Convert only specific keyword-related posts or messages into tickets, optimizing agent efficiency. This way you can avoid spam as well.
Pros:
Consolidate customer interactions from different channels into one organized dashboard.
The availability of a freemium plan makes Zoho Desk a budget-friendly option for many businesses.
Cons:
Zoho Desk offers customization, but it's considered less flexible compared to other customer service platforms.
Users have reported challenges with the phone calling feature within Zoho Desk.
Pricing:
Zoho Desk offers five types of pricing plans.
Free Plan
Express: $7 per month per user
Standard: $14 per month per user
Professional: $23 per month per user
Enterprise: $40 per month per user
Free Trial: 15 days
10. Front
Front is a platform designed to help support teams foster personalized customer communication. It lets support agents interact directly with their customers from their work email IDs (and not from info@ or support@ IDs),making the communication feel more human and personalized.
Key Features:
Automatic Routing: Set rules based on message content or data from other systems – such as Salesforce – to ensure messages reach the right person without manual intervention.
Clear Ownership: Automatically assign messages to individual owners based on factors like availability, expertise, or workload.
Collaborative Drafting: Shared drafts in Front allow teams to collaborate on customer responses without needing a separate tool.
Pros:
Front's ability to allow agents to interact from their work email IDs promotes a very personalized approach to customer communication.
Front integrates with third-party platforms, pulling in customer history, past conversations, and account info to enable personalized responses.
Cons:
Agents might take time to get accustomed to Front's unique interface.
Users often find themselves toggling between Front and other work apps like Slack or Gmail.
The analytics dashboard in Front can be restrictive, not allowing users to analyze data as they might prefer.
Pricing:
Front offers four pricing options.
Starter: $19 per person per month
Growth: $49 per person per month
Scale: $99 per person per month
Premier: $229 per person per month
Free Trial: 7 days
Features to Look For In Intercom Alternative Tool
When searching for an Intercom alternative, it's essential to identify the key features that will best suit your business's needs. Here are some critical features to consider:
Unified Communication Hub: Look for a platform that brings together all customer messages, whether they come from emails, live chat, phone calls, or social media. This ensures that every query gets timely attention and you don't miss out on any customer interaction.
Intelligent Automation: Beyond just sorting messages, the ideal tool should be able to automatically respond to frequently asked questions, categorize incoming queries, and even assign them to the right team member based on the content of the message.
Seamless Integrations: The platform should easily connect with other essential business tools. Whether it's a CRM system where you track customer interactions, a payment gateway for billing queries, or a marketing tool for promotional campaigns, easy integration ensures smooth operations.
Instant Customer Insights: Whenever a customer reaches out, the platform should be able to provide a quick overview of their history. Knowing their past interactions, preferences, or purchase behavior can help agents offer more personalized support.
Advanced Chatbots: Modern chatbots can do more than just answer basic questions. They can guide customers to the right solution, provide product suggestions, and even handle basic troubleshooting. This not only enhances the customer experience but also reduces the workload on human agents.
Detailed Reporting: It's essential to know how your support team is performing. Look for tools that provide clear reports on response time, customer satisfaction scores, and common trends in incoming queries. This can help in training and improving overall service quality.
The Right Intercom Alternative
Choosing the right tool for customer service is important. While many businesses use Intercom, it might not be the best fit for everyone. We've looked at many options, and each has its benefits.
But Hiver is different. Why? Because it works right inside Gmail. This means teams can start using it easily without learning a whole new system. Plus, Hiver offers advanced automation and analytics – helping you customize workflows and track performance with ease.
So, if you're thinking of switching from Intercom, consider Hiver. It's simple, powerful, and works where your team already spends their time – in Gmail.