Back in the year 2010, Mark Zuckerberg had made a claim – "Email is dead.". The founder of Facebook was certain that social mail was soon going to replace email as we knew it.
We're in 2022 now, and I'm happy to report that good old email is far from dead – it's alive and thriving, especially in the context of business communication.
And when it comes to customer service, email as a channel continues to reign supreme despite the introduction of modern channels like social media and self-service.
Perhaps one of the reasons why email is so sought after as a customer support channel, even today, is because of its ease of use. Customers find it easier to explain their issues in detail over an email rather than over phone or chat. Similarly, email allows support agents to provide well-thought-out and meaningful solutions to customers' queries and support requests. It's a win-win for both parties.
But how can companies effectively scale email support? How can they offer their customers top-notch customer service through email without passing the burden of managing huge email volumes onto their agents?
The answer is simple – by implementing an effective email ticketing system.
In this post, we will first take a look at what an email ticketing system is and then go into the top nine email ticketing systems in 2022.
Table of Contents
What's an email ticketing system and what does it do?
In the simplest of terms, an email ticketing system helps customer service teams deliver fast and effective support via email. It enables teams to organize their customer emails better and optimize their workflows efficiently. It also equips them with essential tools to resolve customer queries to the best of their satisfaction.
An email ticketing system is an indispensable tool for growing companies looking to offer their customers high-quality support. Using regular email to handle customer service requests can work well in the early days of your business. However, as your business starts to pick up and your customer base grows, keeping track of mounting customer queries and their long email threads is bound to get chaotic at best and nightmarish, at worst.
That's why the most efficient customer support teams rely on email ticketing systems to handle customer emails. With the help of a system like this, teams can equitably distribute incoming tickets amongst active agents and add structure to the team's workflow. They can also keep track of the status of every email and ensure each customer ticket is accounted for.
Modern email ticketing systems come with features like automation, tagging, reporting, and analytics – all to help teams deliver excellent customer support.
And it's not just customer service teams that can make use of this brilliant tool. Teams such as Finance, Accounts, IT, Client Servicing, as well as any remote team, can also use email ticketing systems for efficient collaboration.
If you don't have an email ticketing system yet, you should consider adding one to your team's tech stack. And if you're unsure of which software to choose, we've rounded up the top nine email ticketing systems you can find this year.
Top 9 email ticketing systems in 2022
Here are the top nine email ticketing systems in 2022:
Hiver is the world's first Gmail-based email ticketing system. Given that it's built for Google Workspace and looks and feels like Gmail, its interface is straightforward and easy to understand. It comes with sophisticated email ticketing features, including email assignment, tracking, automations, reporting, customer feedback surveys, and more.
Hiver also helps team members collaborate effectively with the help of its Notes feature that allows them to have private and contextual discussions about customer requests right next to email threads.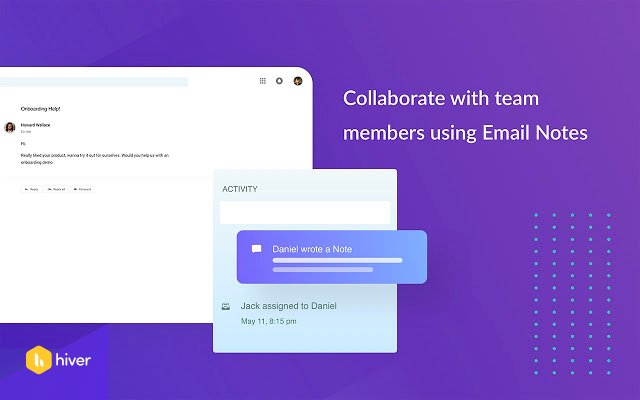 Hiver's greatest USP is its ability to humanize customer conversations. Unlike most email ticketing software that converts customer emails into support tickets, Hiver doesn't assign ticket numbers to customer requests. By doing so, it helps teams see the human behind every incoming request or query. Hiver is built to drive long-term, meaningful customer relationships by preventing teams from looking at customer emails as one-time transactions and not reducing customers to faceless tickets.
Apart from its rich feature set and its ability to streamline customer experience, teams love Hiver because of the impeccable 24×7 customer service it offers.
Best suited for: Small, medium, and large-sized businesses using Google Workspace.
Key features:
Email delegation
Email tags
Email notes
Collision alerts
Email templates
Automations
Analytics
SLA management
Customer satisfaction surveys
Integration with Slack and Zapier
Pricing:
Hiver offers four price tiers:
Lite: $12 per user per month
Growth: $24 per user per month
Pro: $37 per user per month
Elite: $57 per user per month
Freshdesk's email ticketing system is amongst the most sophisticated in the industry. Its shared inbox makes it super convenient for teams to organize, assign, and collaborate on email tickets. It converts customer requests from email and social channels into tickets. Further, it helps categorize and assign those tickets to designated agents. In the higher tier plans, agents can also share the ownership of tickets with others in the team. The best part about Freshdesk is that it gives support agents rich context about a customer's past interactions with your company, their feedback, and their previous support issues.
The other features that Freshdesk offers include automation, agent collision detection, a self-service portal, and a knowledge base (FAQs, help guides, etc.). It also provides gamification features to encourage and engage agents.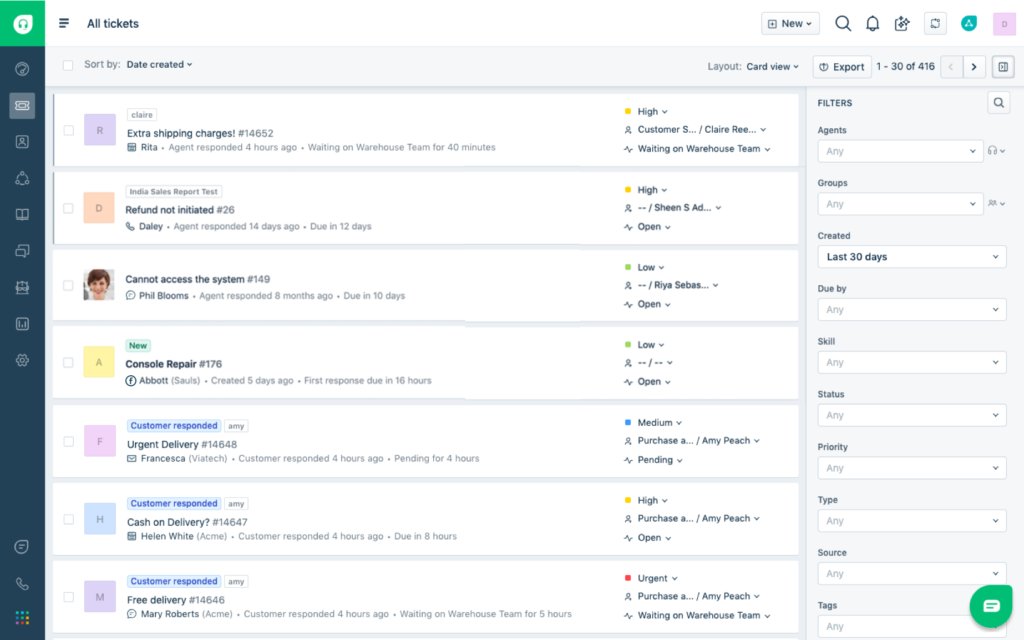 Best suited for: Small and large-sized businesses alike
Key Features:
Automation
Ticket trends and reporting
Collision detection
Rich customer context
Shared ownership of tasks
Gamification
Integration with many apps like Google apps, JIRA, Dropbox, Mailchimp, Zoho CRM and several others through Zapier
Pricing:
Freshdesk's Support System offers four price tiers:
Free: Starter plan for unlimited agents but with limited features
Growth: $15 per agent per month billed annually
Pro: $49 per agent per month billed annually
Enterprise: $69 per agent per month billed annually
Freshdesk's Omnichannel system offers three price tiers:
Omnichannel Growth: $29 per agent per month billed annually
Omnichannel – Pro: $59 per agent per month billed annually
Omnichannel – Enterprise: $99 per user per month billed annually
JitBit is a popular email-based ticketing system that allows teams to process, assign, track, and automate incoming email tickets. Given that it has a relatively simpler interface compared to other email ticketing systems in its category, teams can set it up easily and start using it without too much hassle.
What also makes JitBit one of the most sought-after ticket management tools is its price. Unlike most other email ticketing systems, Jitbit offers flat monthly and annual pricing options, which means that its plans aren't priced per agent.
Jitbit offers a cloud-based as well as a hosted version of its email ticketing system to suit different types and needs of businesses.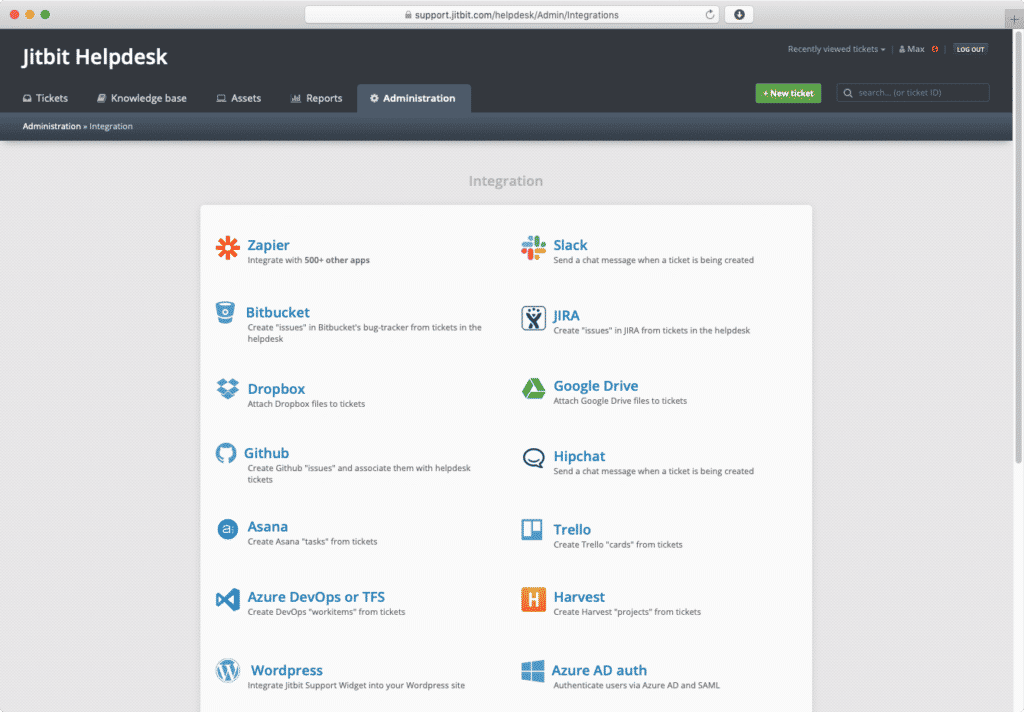 Best suited for: Small and medium-sized businesses, freelancers
Key features:
Ticket categorization and tagging
Ticket status
Assignment and tracking
Analytics dashboard and metrics reports
Live chat
Knowledge base
Email templates
Collision alerts
Pricing:
Freelancer: $29 per month
Startup: $69 per month
Company: $129 per month
Enterprise: $199 per month
Jitbit offers a free 21-day trial
Founded in 2011, HappyFox is a help desk software that helps teams effectively perform all the essential functions of a good ticketing system. This includes assigning incoming emails to the right team members, categorizing tickets based on their type, status, or priority, automating repeatable tasks like changing the status of emails, round-robin ticket assignments, SLA management, and more.
It also lets you measure key metrics like first response time, time spent on tickets by staff, and more. Despite its extensive feature set, HappyFox has a rather simple and intuitive interface that makes it a preferred email ticketing system for medium to large-scale organizations alike.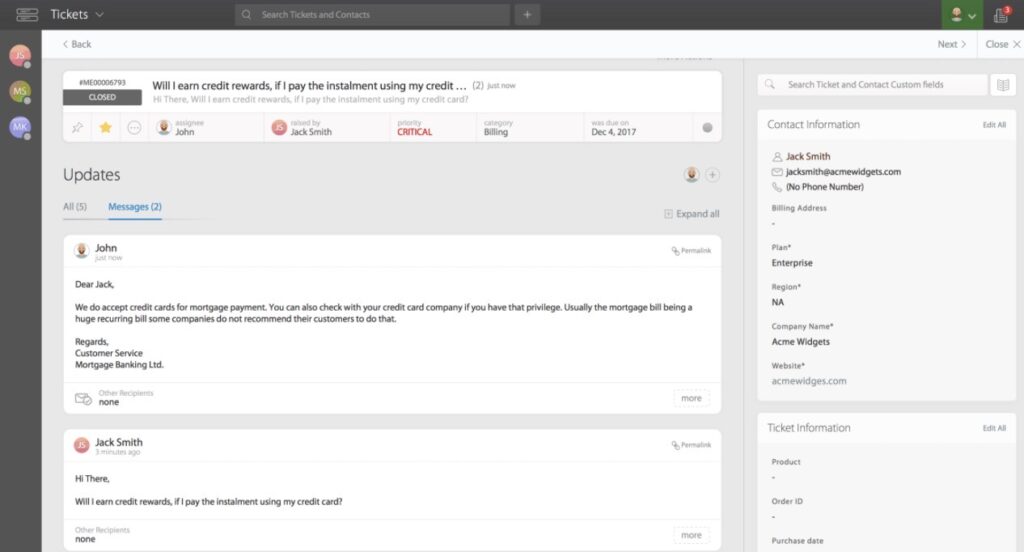 Best suited for: Medium and enterprise organizations looking for an efficient email ticketing system
Key features:
Private notes
Ticket assignment
Ticket categorization
Knowledge base
Chatbot support
Pricing:
HappyFox offers 4 pricing tiers, namely, Mighty, Fantastic, Enterprise, and Enterprise Plus. The specific pricing details, however, are available upon request.
Front is a shared inbox software that helps teams work and collaborate out of a common mailbox. Every incoming new ticket (email, social, or live chat) lands in a central email inbox from where those emails and tasks can be assigned to team members based on their availability and expertise.

Front is designed to encourage a highly collaborative work environment. It gives team members complete visibility into each other's tasks and equips them with the features (like shared drafts) that help them work together and make the most of each other's strengths and expertise while handling incoming tickets.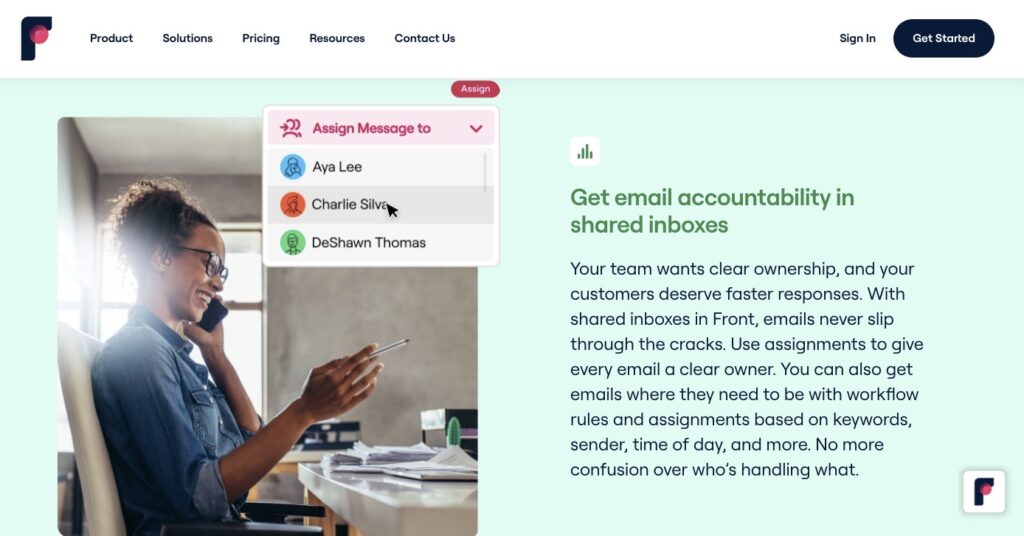 Best suited for: Small to large scale organizations with a primary focus on email support

Key features:
Ticket routing, categorization, and tagging
Shared drafts
Canned responses
Live chat
Analytics
Universal inbox
Knowledge content management
Pricing:
Front offers three pricing tiers:
Starter: $19 per person per month
Prime: price on request
Enterprise: price on request
Help Scout is another popular email-based ticketing system that helps teams, both small and large, manage their common mailboxes with ease. It has a clean interface and comes with features essential for efficient team email management, like ticket routing and prioritization, automation, analytics, response templates, and tagging, amongst many others.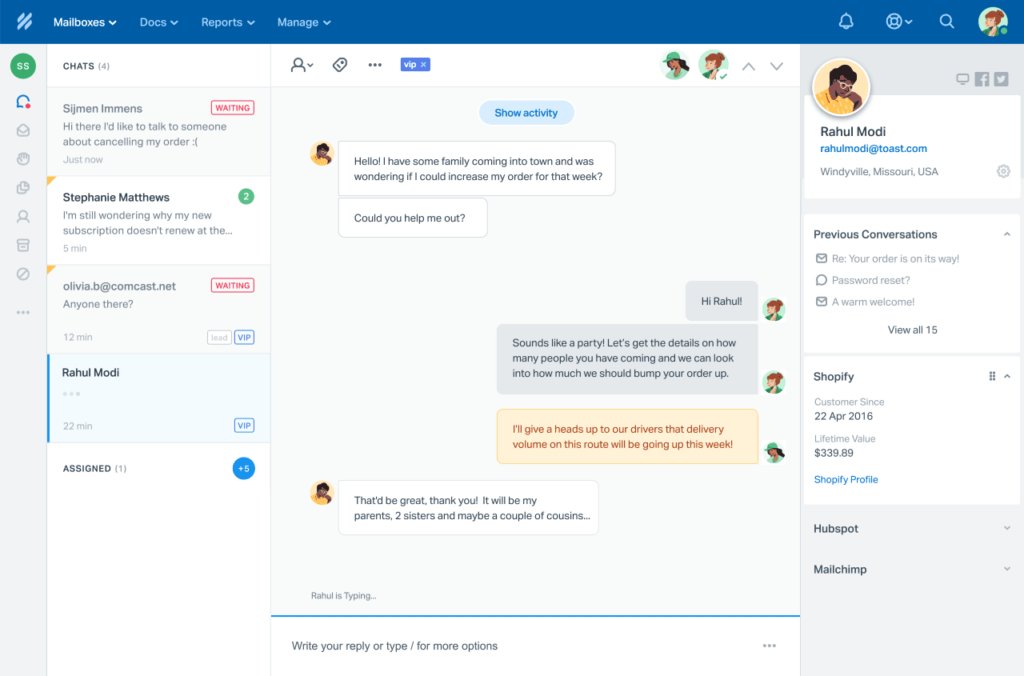 Apart from its ticketing system, Help Scout's customers can also make the most of its built-in knowledge base and live chat functionalities. Further, its hassle-free integrations can easily allow the system to work with new and existing customer channels and databases.
Best suited for: Small businesses, scaling startups, and nonprofits
Key features:
Rule-based automation
Response templates
Robust analytics
Live chat
Knowledge base

Ticket routin

g

, tagging, and prioritization
Pricing:
HelpScout has three price tiers:
Standard – Starting $20 per user per month
Plus – Starting $35 per user per month
Company – Custom pricing for 25+ teams
Helpscout offers its prospective users a free 15-day trial. It also offers discounts for nonprofits.
Zendesk is an email ticketing system that's ideal for teams that use multiple support channels and want a centralized hub to connect with their customers seamlessly across those various channels. This help desk software is especially useful for bigger teams with a large customer base as it helps integrate all customer interactions into the system, thereby providing teams with rich context into past customer interactions without having to do much digging.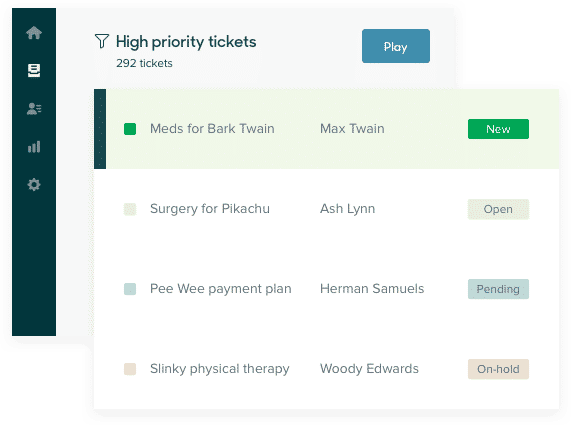 Zendesk allows teams to conveniently track, organize and resolve email tickets while also empowering customers to resolve their own problems with the help of its community forums and self-service knowledge bases.
Best suited for: Large and enterprise-sized companies looking for an all-in-one customer service ticketing system
Key features:
Real-time updates on active tickets
Collaboration tools
Ticket assignment
Powerful analytics
Automation
SLA management
Knowledge sharing
Omnichannel integration
Pricing:
Zendesk has three price tiers for small to large-sized businesses:
Suite Team: $49 per agent per month
Suite Growth: $79 per agent per month
Suite Professional: $99 per agent per month
For enterprise companies, Zendesk has two price tiers:
Suite Enterprise: $150 per agent per month
Additional and more powerful enterprise plans starting at $215 per agent per month
Zoho Desk is an email ticketing system that empowers teams with highly contextual email management capabilities. Its sentiment analysis tool helps agents gauge the sentiment in a customer ticket before opening it. As a result, agents can respond to negative tickets faster.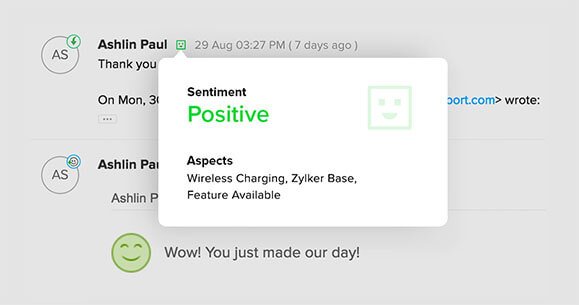 The software also allows teams to provide multilingual support. Zoho's helpdesk ticketing system also allows teams to collect tickets from multiple other channels apart from email, such as social media, live chat, web forms, and telephone.
Best suited for: Teams looking for a ticketing solution that offers multi-channel capabilities
Key features:
Deep customer context
Access to customer service metrics
Sentiment analysis
Feedback widget
Multilingual support
Email templates
Multichannel support
Pricing:
Zoho Desk has four pricing tiers:
Free: Forever free plan with limited features for up to three agents
Standard: $12 per agent per month
Professional: $20 per agent per month
Enterprise: $35 per agent per month
LiveAgent offers teams an advanced email ticketing solution that comes with a "universal inbox" and a "hybrid ticket stream". With its universal inbox, team members can perform basic ticketing system functions such as organizing, assigning and resolving customer tickets from a common dashboard. With its hybrid ticket stream, teams can follow customers' ticket resolution journey across multiple channels.
LiveAgent, like most popular email ticketing systems, helps teams automate repetitive tasks. Apart from that, this email ticketing system also offers features like canned responses for common customer issues, automated ticket routing, SLA management, and more.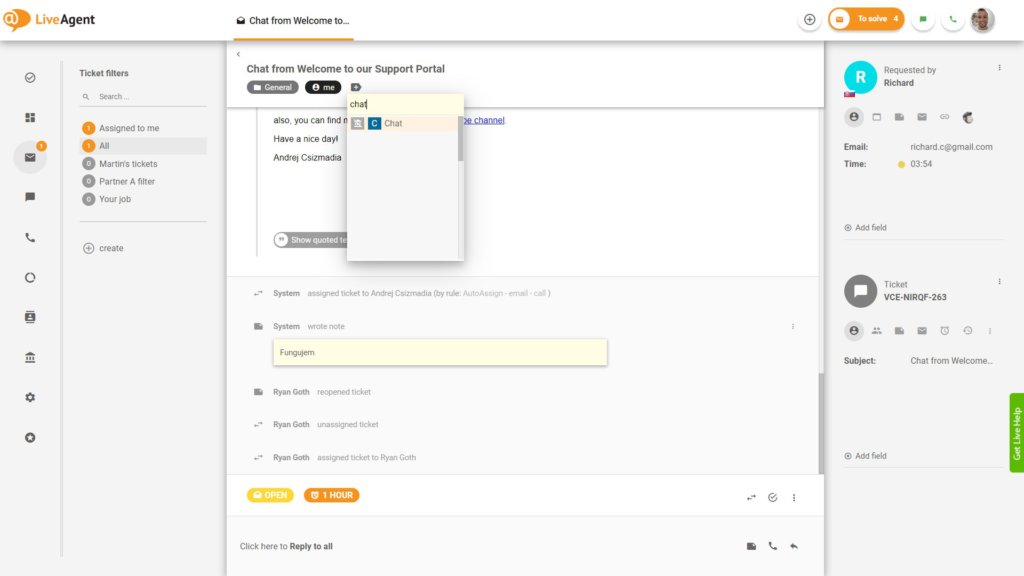 Best suited for: Teams looking for customizable email ticketing solutions
Key Features:
Workflow

automation
Ticket tagging and organizing
SLA

management
Internal notes
Canned responses
Unlimited ticket fields
Pricing:
LiveAgent has four pricing tiers:
Free: Forever free plan with limited features
Ticket: Email ticketing tool at $15 per agent per month
Ticket + Chat: Multi-channel live chat and ticketing solution at $29 per agent per month
All-Inclusive: Omni-channel help desk at $39 per agent per month
A comparison chart of top email-based ticketing systems
Here's how our top nine email ticketing systems compare against each other: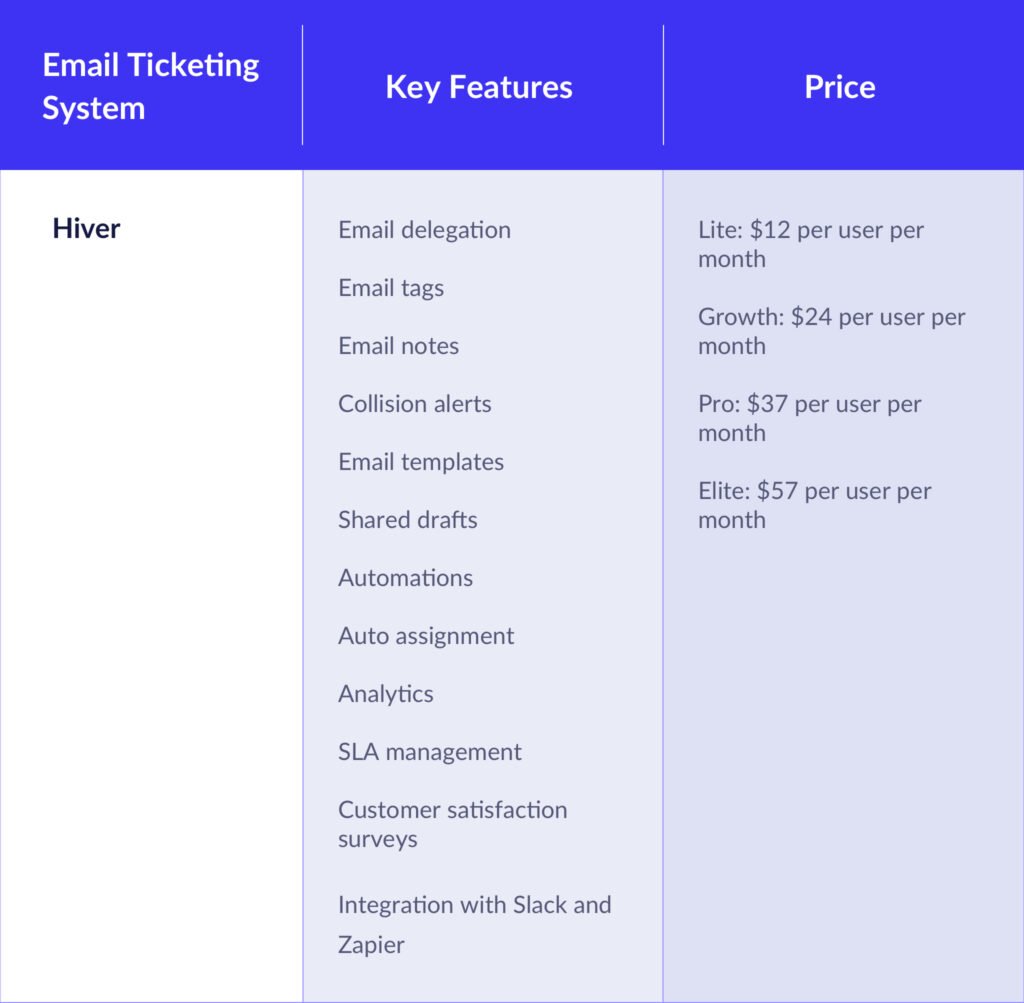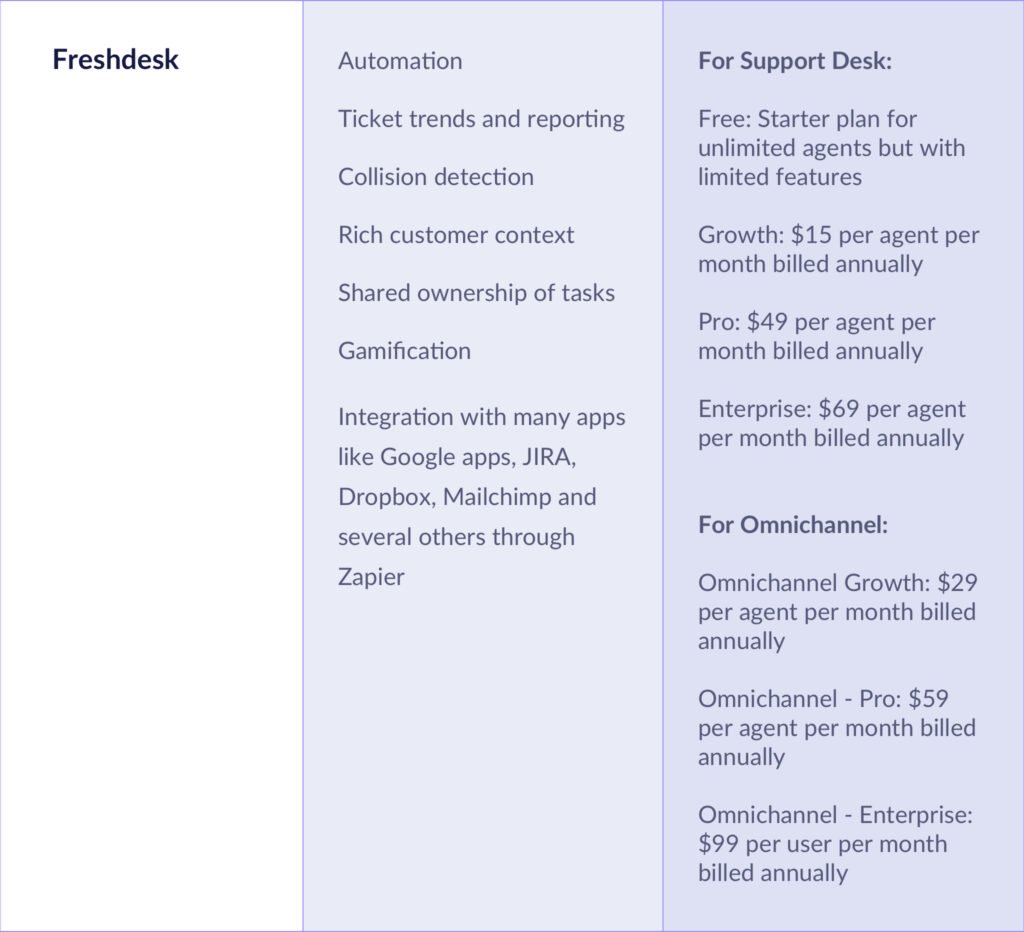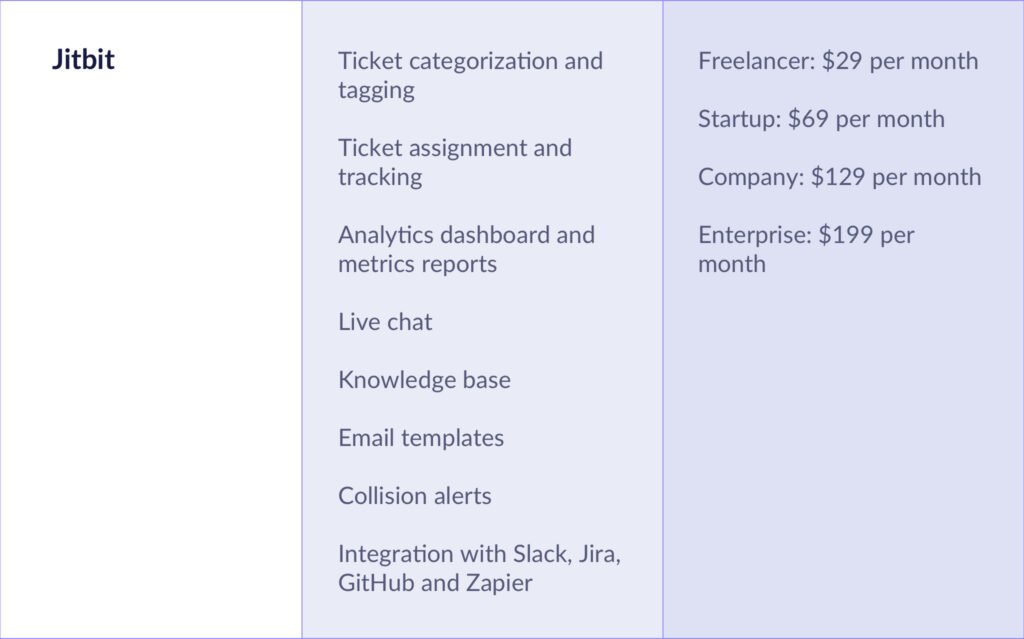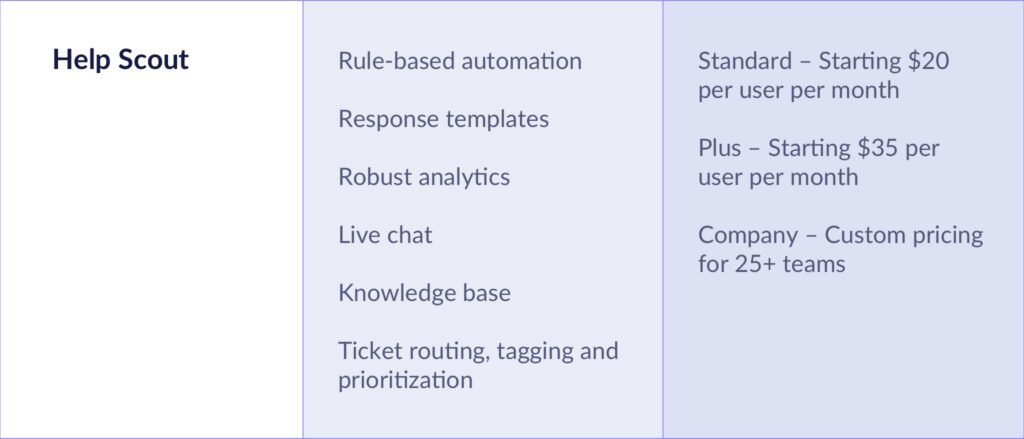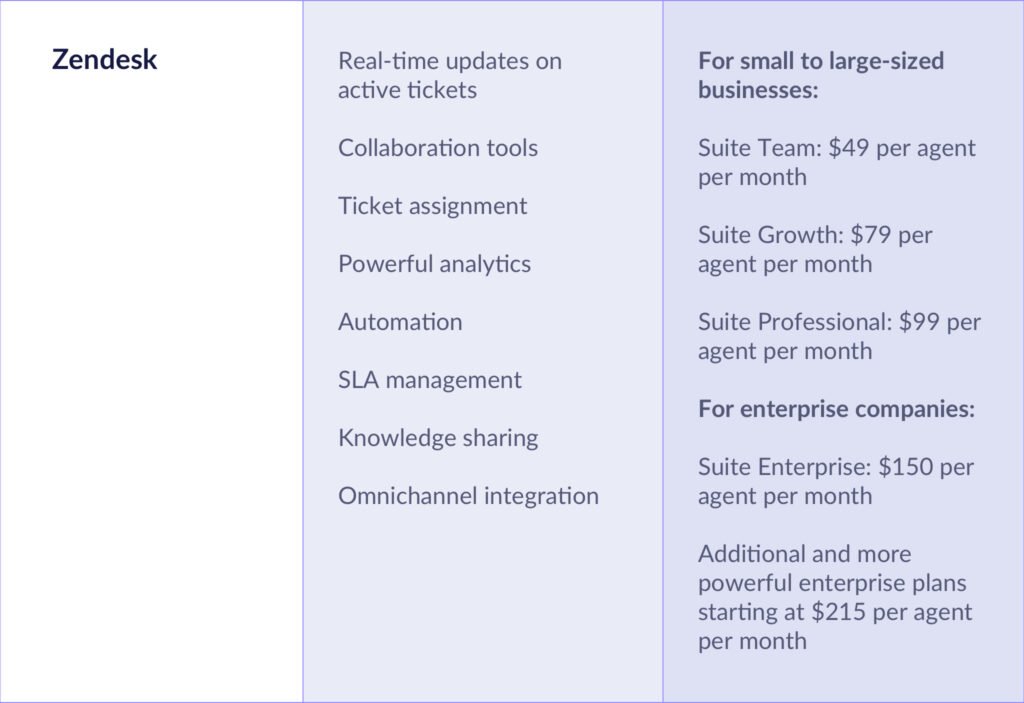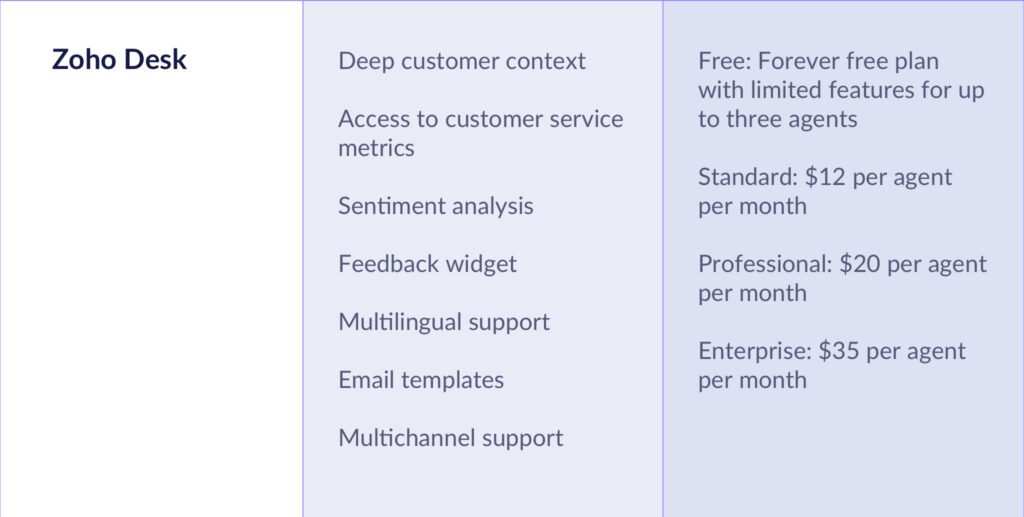 Wrapping Up
There's no one-size-fits-all formula to achieve customer service excellence. Your customer service needs and goals are hugely dependent on the nature of your business, the type of customers you serve, and the long-term vision you have for your organization.
Having said that, investing in email as a customer service channel is essential for all companies spanning different industries and sizes.
Why? Because email is one of the easiest, cost-effective, and efficient ways to deliver support. And by implementing the right email ticketing system, companies can focus on scaling effectively and providing their customers with impeccable customer experiences while their ticketing software does the heavy lifting for them in the background.
Good luck with your search for the best email ticketing system!