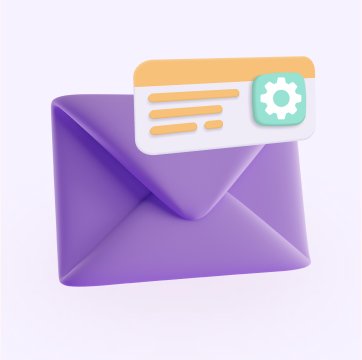 Table of contents
Email Ticketing System Inside Gmail
12 Best Email Ticketing Systems for 2023
Nov 02, 2023
|
16 min read
|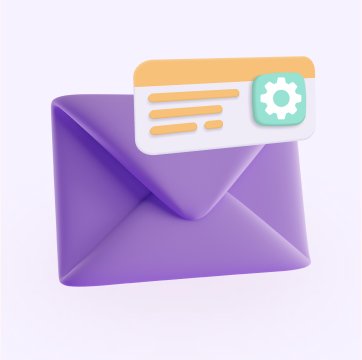 Table of contents
How can companies scale email support? How can they offer their customers top-notch customer service?
The answer is simple – by implementing an effective email ticketing system.
In customer service, email support systems continue to be widely adopted despite the introduction of modern channels like social media and self-service.
Perhaps one of the reasons why email is so sought after as a customer support channel is because of its ease of use. Customers find it easier to explain their issues in detail over an email rather than over the phone or chat. Similarly, email allows support agents to provide well-thought-out and meaningful solutions to customers' queries. It's a win-win for both parties.
Let's take a look at what email ticketing software is and then go into the twelve best ticketing systems.
What Is an Email Ticketing System?
An email ticketing system is a specialized software solution designed to manage and organize customer inquiries that arrive via email. Instead of these inquiries being treated as regular emails in an inbox, the system converts each one into a "ticket."
Each ticket represents a unique customer issue, request, or question. The primary purpose of an email ticketing system is to ensure that customer communications are tracked, responded to, and resolved in an efficient and organized manner.
Modern email ticket systems come with features like automation, tagging, reporting, and analytics – all to help teams deliver excellent customer support. And it's not just customer service teams that can make use of email ticketing systems. Finance, Accounts, IT, and Client Servicing, can also use email ticketing systems for efficient resolution of queries.
Table of Contents
Top 12 email ticketing systems in 2023
Here are the top 12 email ticketing systems your business can pick up. Look for ease of setup, ease of training, range of features, and cost before making a decision.
1. Hiver
Hiver is the world's first Gmail-based email ticketing system. Given that it's built for Google Workspace and looks and feels like Gmail, its interface is straightforward, user-friendly, and easy to understand. It comes with powerful email ticketing features, including email assignment, tracking, automation, reporting, customer feedback surveys, and more.
Hiver also helps team members collaborate effectively with the help of its Notes feature which allows them to have private and contextual discussions about customer requests right next to email threads.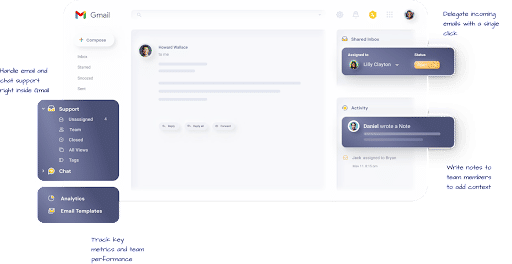 Hiver's greatest USP is its ability to humanize customer conversations. Unlike most email ticketing software that converts customer emails into support tickets, Hiver doesn't assign ticket numbers to customer requests.
By doing so, it helps support teams see the human behind every incoming request or query. Hiver is built to drive long-term, meaningful customer relationships by preventing teams from looking at customer emails as one-time transactions and not reducing customers to faceless tickets.
Apart from its rich feature set and its ability to streamline the customer experience, teams love Hiver because of the impeccable 24×7 customer service it offers.
Best suited for:
Small, medium, and large-sized businesses using Google Workspace.
Key features:
Email delegation
Email tags
Email notes
Collision alerts
Email templates
Automations
Analytics
SLA management
Customer satisfaction surveys
Hiver offers integrations with the most frequently used apps such as Jira, Asana, Salesforce, QuickBooks, Okta and more.
Customer Contact Management.
Pricing:
Hiver offers three price tiers:
1. Lite: $19 per user per month
2. Pro: $49 per user per month
3. Elite: $69 per user per month
Free Trial: 7 days
2. Freshdesk
Freshdesk's email ticketing system is amongst the most sophisticated in the industry. Its shared inbox makes it convenient for teams to organize, assign, and collaborate on email tickets. It converts customer requests from email and social channels into tickets. Further, it helps categorize and assign those tickets to designated agents. In the higher tier plans, agents can also share the ownership of tickets with others in the team.
The best part about Freshdesk is that it gives support agents rich context about a customer's past interactions with your company, their feedback, and their previous support issues.
The other features that Freshdesk offers include automation, agent collision detection, a self-service portal, and a knowledge base (FAQs, help guides, etc.). It also provides gamification features to encourage and engage agents.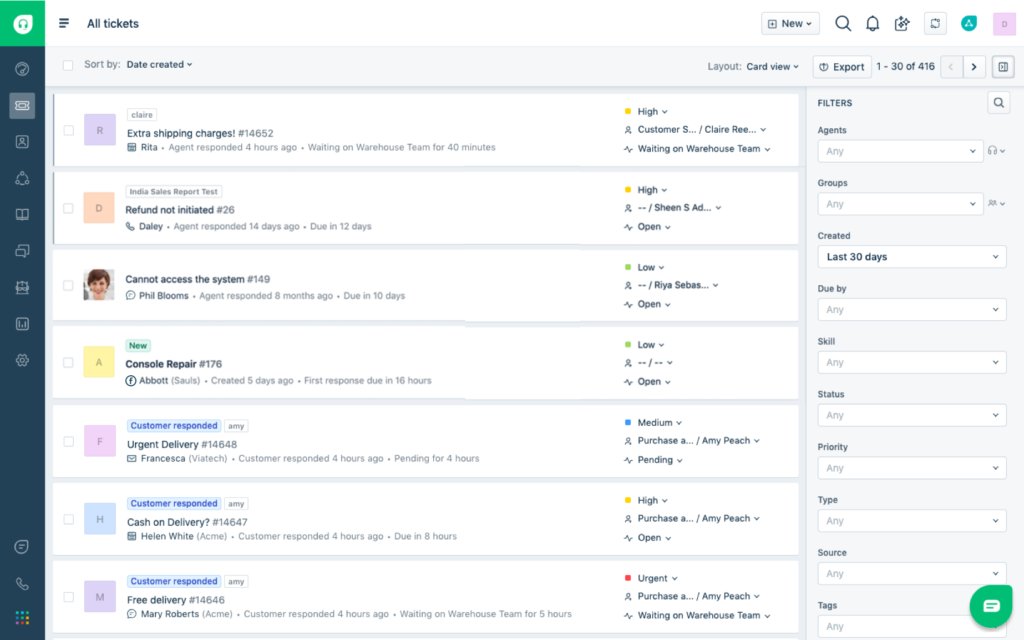 Best suited for:
Small and large-sized businesses.
Key Features:
Automation
Ticket trends and reporting
Collision detection
Rich customer context
Shared ownership of tasks
Gamification
Integration with many apps like Google apps, JIRA, Dropbox, Mailchimp, Zoho CRM and several others through Zapier
Pricing:
Freshdesk's Support System offers four price tiers:
Free: Starter plan for unlimited agents but with limited features
Growth: $15 per agent per month billed annually
Pro: $49 per agent per month billed annually
Enterprise: $69 per agent per month billed annually
Freshdesk's Omnichannel system offers three price tiers:
Omnichannel Growth: $29 per agent per month billed annually
Omnichannel – Pro: $59 per agent per month billed annually
Omnichannel – Enterprise: $99 per user per month billed annually
Free Trial: 21 days
3. Jitbit
JitBit is a popular email-based ticketing system that allows teams to process, assign, track, and automate incoming email tickets. Given that it has a relatively simpler interface compared to other email ticketing systems in its category, teams can set it up easily and start using it without too much hassle.
What also makes JitBit one of the most sought-after ticket management tools is its price. Unlike most other email ticketing software, Jitbit offers flat monthly and annual pricing options, which means that its plans aren't priced per agent.
Jitbit offers a cloud-based as well as a hosted version of its email ticketing system to suit different types and needs of businesses.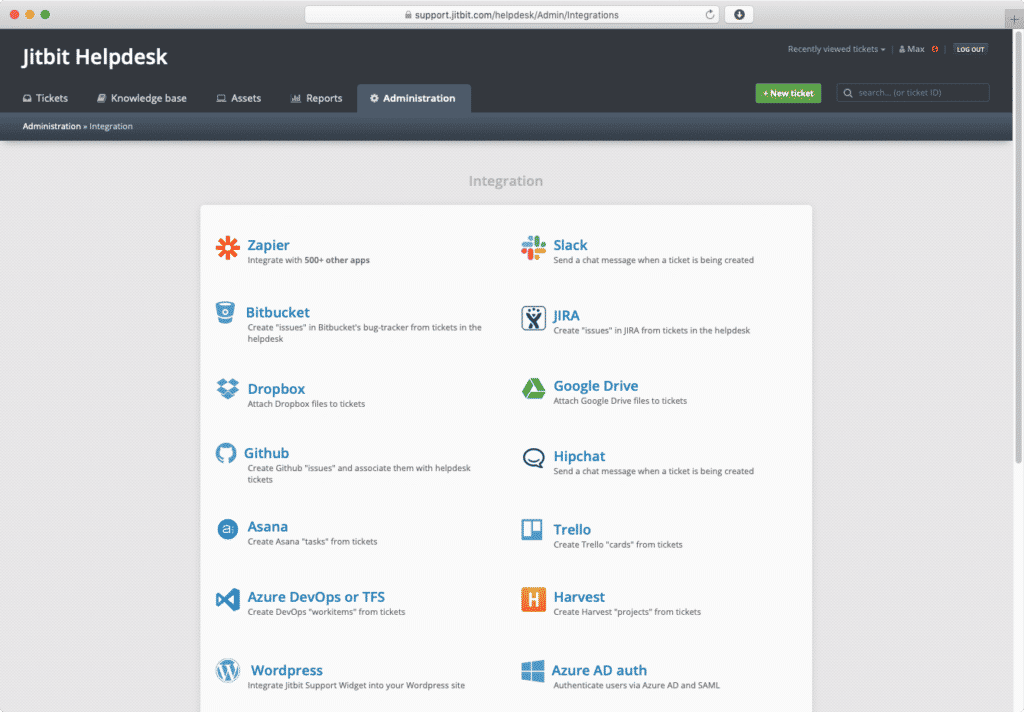 Best suited for:
Small and medium-sized businesses, freelancers
Key features:
Ticket categorization and tagging
Ticket status
Assignment and tracking
Analytics dashboard and metrics reports
Live chat
Knowledge base
Email templates
Collision alerts
Pricing:
Freelancer: $29 per month
Startup: $69 per month
Company: $129 per month
Enterprise: $199 per month
Free Trial: 21 days
4. HappyFox
Founded in 2011, HappyFox is a help desk software that helps teams effectively perform all the essential functions of a good ticketing system. This includes assigning incoming emails to the right team members, categorizing tickets based on their type, status, or priority, automating repeatable tasks like changing the status of emails, round-robin ticket assignments, SLA management, and more.
It also lets you measure key metrics like first response time, time spent on tickets by staff, and more. Despite its extensive feature set, HappyFox has a rather simple and intuitive interface that makes it a preferred email ticketing system for medium to large-scale organizations alike.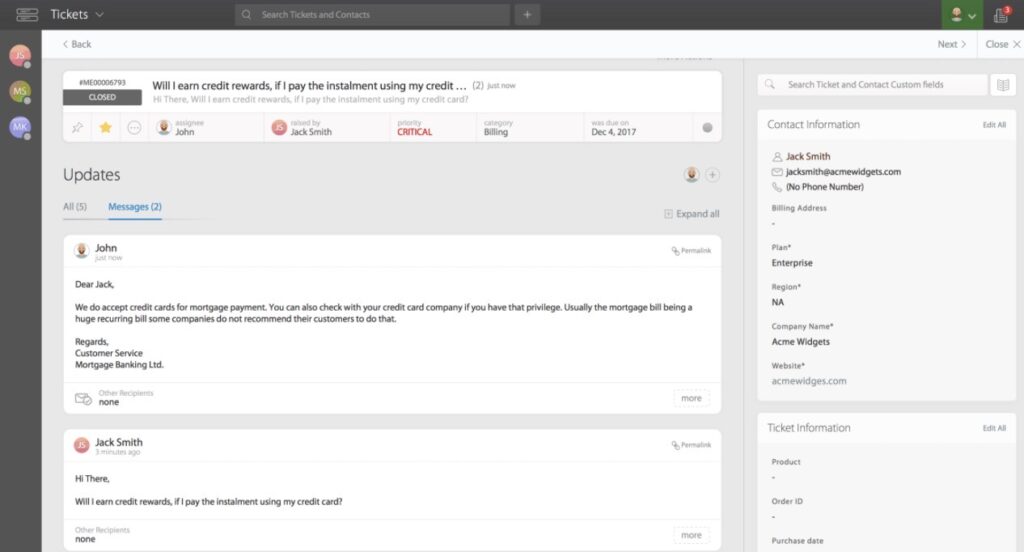 Best suited for:
Medium and enterprise organizations looking for an efficient email ticketing system
Key features:
Private notes
Ticket assignment
Ticket categorization
Knowledge base
Chatbot support
Pricing:
HappyFox offers 4 pricing tiers, namely, 'Mighty', 'Fantastic', 'Enterprise', and 'Enterprise Plus'. The specific pricing details, however, are available upon request.
Free Trial: Not available
5. Front
Front is a shared inbox software that helps teams work and collaborate out of a common mailbox. Every incoming new ticket (be it via email, social, or live chat) lands in a central email inbox from where they can be assigned to team members based on availability and expertise.

Front is designed to encourage a highly collaborative work environment. It gives team members complete visibility into each other's tasks and equips them with features (like shared drafts) that help them work together and make the most of each other's expertise while handling incoming tickets.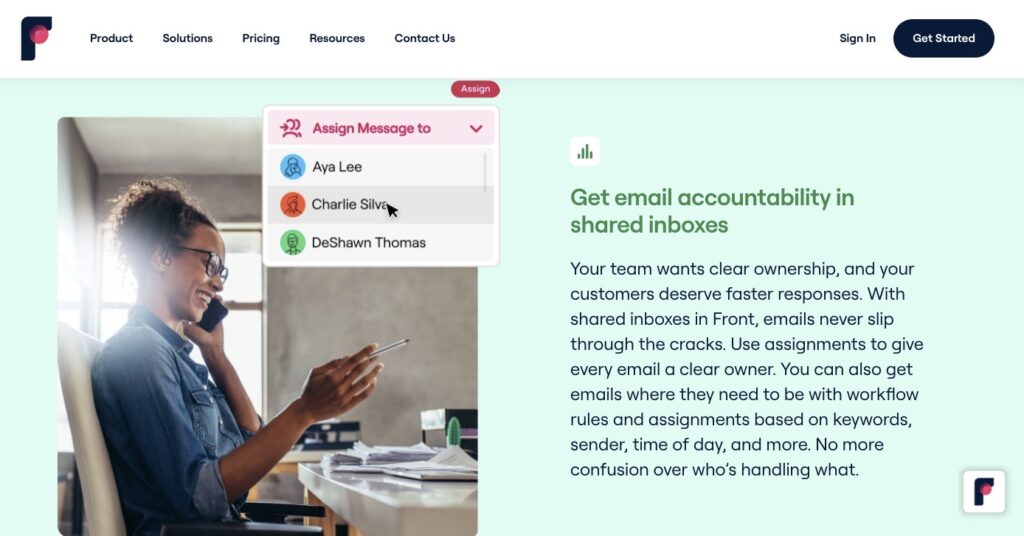 Best suited for:
Small to large scale organizations with a primary focus on email support
Key features:
Ticket routing, categorization, and tagging
Shared drafts
Canned responses
Live chat
Analytics
Universal inbox
Knowledge content management
Pricing:
Front offers four pricing options.
Starter: $19 per person per month
Growth: $49 per person per month
Scale: $99 per person per month
Premier: $229 per person per month
Free Trial: 7 days
6. Help Scout
Help Scout is another popular email-based ticketing system that helps teams, both small and large, manage their common mailboxes with ease. It has a clean interface and comes with features essential for efficient team email management like ticket routing and prioritization, automation, analytics, response templates, and tagging, amongst many others.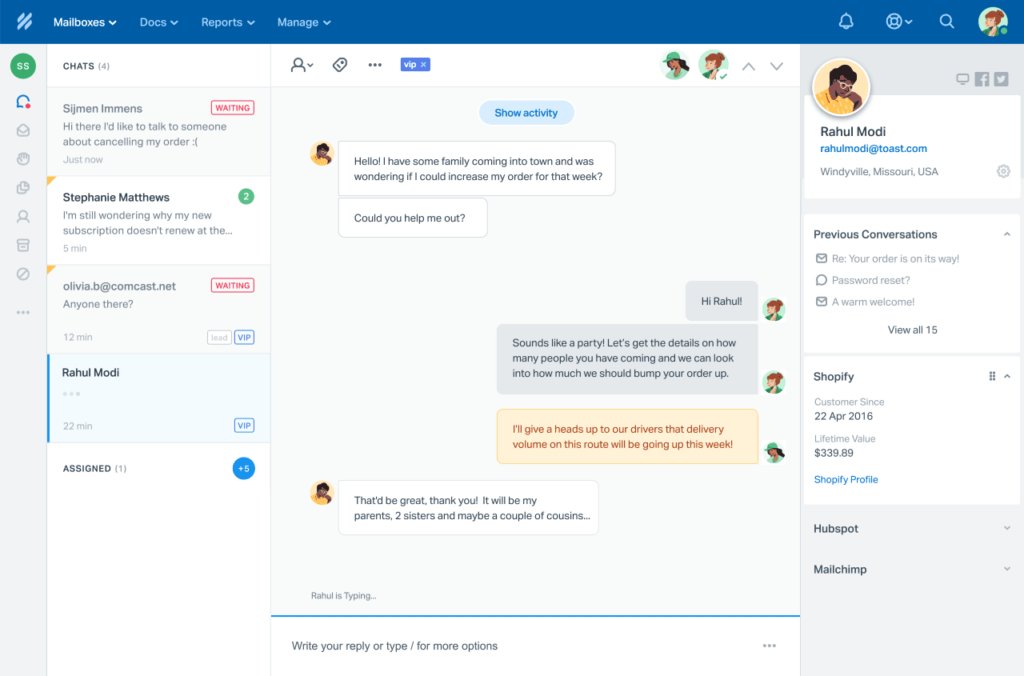 Apart from its ticketing system, Help Scout's customers can also make the most of its built-in knowledge base and live chat functionalities. Further, its hassle-free integrations can easily allow your system to work with new and existing customer channels and databases.
Best suited for:
Small businesses, scaling startups, and nonprofits
Key features:
Rule-based automation
Response templates
Robust analytics
Live chat
Knowledge base

Ticket routin

g

, tagging, and prioritization
Pricing:
HelpScout has three price tiers:
Standard: $25 per user per month
Plus: $50 per user per month
Pro: $65 per user per month
Free Trial: 15 days
Top 10 Help Scout Alternatives for Businesses
7. Zendesk
Zendesk is an email ticketing system that's ideal for teams that use multiple support channels and want a centralized hub to connect with their customers seamlessly across those various channels. This help desk software is especially useful for bigger teams with a large customer base as it helps integrate all customer interactions into one system, thereby providing teams with rich context into past customer interactions without having to do much digging.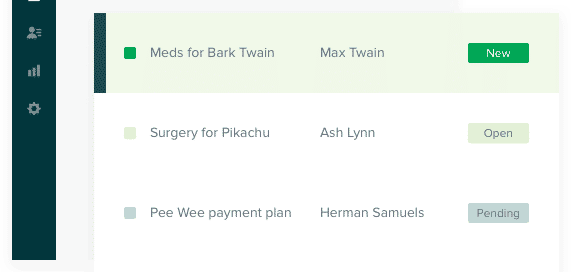 Zendesk allows teams to conveniently track, organize and resolve email tickets while also empowering customers to resolve their own problems with the help of its community forums and self-service knowledge bases.
Best suited for:
Large and enterprise-sized companies looking for an all-in-one customer service ticketing system
Key features:
Real-time updates on active tickets
Collaboration tools
Ticket assignment
Powerful analytics
Automation
SLA management
Knowledge sharing
Omnichannel integration
Pricing:
Zendesk has three price tiers for small to large-sized businesses:
Suite Team: $49 per agent per month
Suite Growth: $79 per agent per month
Suite Professional: $99 per agent per month
For enterprise companies, Zendesk has two price tiers:
Suite Enterprise: $150 per agent per month
Additional and more powerful enterprise plans start at $215 per agent per month
Free Trial: 14 days
8. Zoho Desk
Zoho Desk is an email ticketing system that empowers teams with highly contextual email management capabilities. Its sentiment analysis tool helps agents gauge the sentiment in a customer ticket before opening it. As a result, agents can respond to negative tickets faster.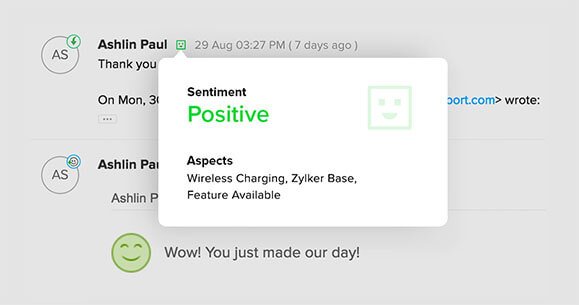 The software also allows teams to provide multilingual support. Zoho's helpdesk ticketing system also allows teams to collect tickets from multiple other channels apart from emails, such as social media, live chat, web forms, and telephone.
Best suited for:
Teams looking for a ticketing solution that offers multi-channel capabilities
Key features:
Deep customer context
Access to customer service metrics
Sentiment analysis
Feedback widget
Multilingual support
Email templates
Multichannel support
Pricing:
Free: Forever free plan with limited features for up to three agents
Standard: $12 per agent per month
Professional: $20 per agent per month
Enterprise: $35 per agent per month
Free Trial: 15 days
9. LiveAgent
LiveAgent offers teams an advanced email ticketing solution that comes with a "universal inbox" and a "hybrid ticket stream". With its universal inbox, team members can perform basic ticketing system functions such as organizing, assigning, and resolving customer tickets from a common dashboard. With its hybrid ticket stream, teams can follow up on customers' ticket resolution journeys across multiple channels.
LiveAgent, like most popular email ticketing systems, helps teams automate repetitive tasks. Apart from that, this email ticketing software also offers features like canned responses for common customer issues, automated ticket routing, SLA management, and more.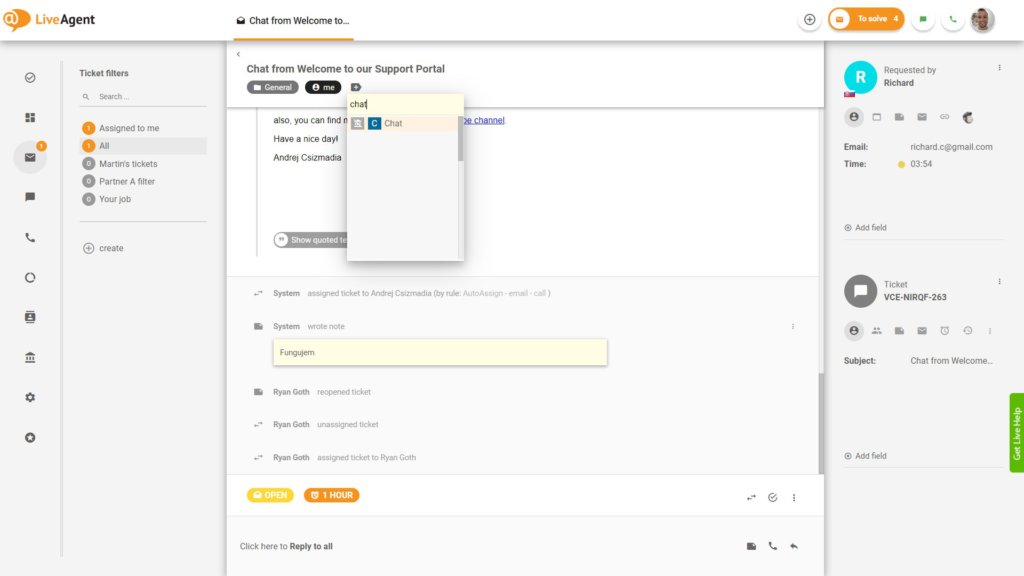 Best suited for:
Teams looking for customizable email ticketing solutions
Key Features:
Workflow

automation
Ticket tagging and organizing
SLA

management
Internal notes
Canned responses
Unlimited ticket fields
Pricing:
Free: Forever free plan with limited features
Ticket: Email ticketing tool at $15 per agent per month
Ticket + Chat: Multi-channel live chat and ticketing solution at $29 per agent per month
All-Inclusive: Omni-channel help desk at $39 per agent per month
Free Trial: 14 days
10. Intercom
Intercom's ticketing platform, also known as the Engagement OS, enables teams to easily collect, track and route customer queries. The platform comes with essential features for support teams to organize their workload, and resolve tickets via seamless collaboration.
It also has a 'Messenger' feature, which combines different apps in one window to perform a variety of actions; such as finding an answer in the knowledge base or starting a conversation.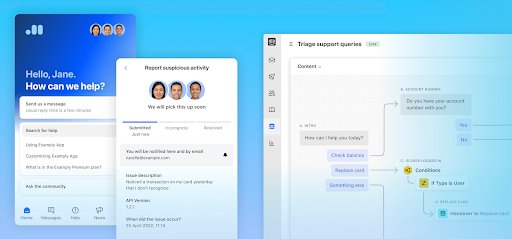 Best suited for:
Early-stage to enterprise companies, in industries such as e-commerce, financial services, education, and healthcare.
Key Features:
Ticket Creation
Ticket Collaboration
Email to Case
Live Chat Support
In-App Messaging
Knowledge Base
Team Inbox
Pricing:
Intercom's pricing chartmay seem complicated at first, but in a nutshell, it offers four different packages:
Start: $39 per month per seat
Grow: $99 per month (includes 5 seats)
Accelerate: from $499 per month (includes 10 seats)
Scale: from $999 per month (includes 10 seats)
Free Trial: 14 days
11. HelpCrunch
HelpCrunch's email ticketing software enables teams to manage multiple shared inboxes. With HelpCrunch, teams can easily streamline tickets and also make use of advanced features, such as team productivity analytics and detailed customer profiles. Streamlining of tickets can be done by tagging, assigning, and merging customer conversations.
Apart from customer support, even sales and marketing teams can make use of HelpCrunch. For instance, marketing teams can make use of email marketing campaign builders, and lead generation solutions.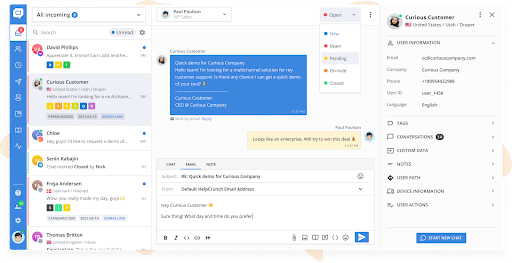 Best suited for:
Online and e-commerce businesses of all sizes that want to decrease support costs and grow faster.
Key Features:
Email Management
Multi-Channel Communication
Knowledge Base Management
Service Level Agreement (SLA) Management
Interaction Tracking
Alerts/Escalation
Ticket Management
Pricing:
Basic: $15 per user per month
Pro: $25 per user per month
Unlimited: This plan is annual only with unlimited team members. The annual plan is priced at $495 per month
Free Trial: 14 days
12. ProProfsDesk
ProProfs Desk is a customer support and email ticketing system software designed to streamline communication and collaboration between businesses and customers. ProProfs Desk can be customized to meet the specific needs of different businesses and can be integrated with other popular tools such as Slack, Salesforce, and Zapier. The software is cloud-based, meaning that users can access it from anywhere with an internet connection. ProProfs Desk aims to help businesses provide fast, efficient, and personalized support to their customers while reducing costs and increasing productivity.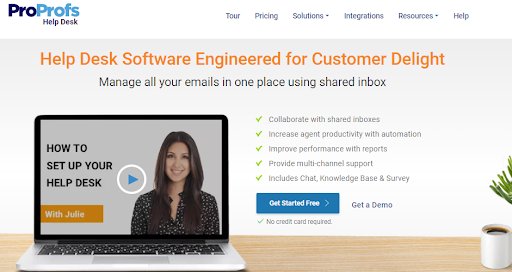 Best suited for:
Small and large-sized businesses
Key Features:
Ticket management
Knowledge base
Chat support
Email integration
Social media integration
Reports and analytics
Automation
Mobile app
Multilingual support
Integrations
Pricing:
Essentials – $10 per month – Offers delightful support with shared inboxes and basic help desk features.
Premium – $15 per month – A complete help desk solution with unlimited inboxes and advanced features like ticket routing, child tickets, API, white label & more.
Key Features to Look For in an Email Ticketing System
When evaluating an email ticketing system, there are several key features to consider to ensure it meets the needs of your organization and provides an efficient and effective support experience for both your agents and customers.
Here are some of the essential features:
Ticket Creation & Management: The system should automatically convert incoming emails into tickets and allow for easy categorization, prioritization, and status tracking.

Ticket Assignment & Routing: It should have the capability to help teams manually (or automatically) assign tickets to specific agents or teams based on predefined criteria, such as the nature of the inquiry, agent expertise, or workload.

Collaboration Tools: Features that allow agents to collaborate on tickets, share notes, and escalate issues to other teams or specialists are necessary when handling complex customer inquiries.

Customizable Views & Dashboards: Managers should be able to customize access for support agents, based on their roles and responsibilities. For instance, a frontline agent should only be able to see what tickets they're working on, and not have access to the entire volume of queries coming in.

Performance Analytics: Comprehensive reporting and analytics tools to track metrics like response time, resolution time, customer satisfaction scores, and agent performance.

SLA Management: The system should allow for the setting and tracking of Service Level Agreements (SLAs) to ensure that tickets are addressed within agreed-upon timeframes.

Multi-Channel Support: While the primary focus is on handling customer queries on email, it's beneficial if the system can also handle inquiries from other channels like chat, social media, or phone, providing a unified support experience.

Integration Capabilities: Look for systems that can integrate with other tools such as CRMs, project management software, and more.

Mobile Access: In today's mobile world, having a mobile app or a mobile-responsive interface can be crucial for agents. It helps them handle email tickets on the go.

Customer Feedback & Surveys: The ability to gather feedback from customers after their issues are resolved can provide valuable insights into the support experience.
Best Practices for Using an Email Ticketing System
Using an email ticketing system effectively requires adopting certain best practices. These practices not only ensure that customer inquiries are addressed promptly and efficiently but also contribute to a positive customer experience. Here are some best practices for using an email ticketing system:
Proper Training: Train all agents on the email ticketing system. Make sure they know how to use its main features. Offer extra training every 3 months to cover updates or changes.

Categorize and Prioritize: Always categorize tickets based on their type (e.g., technical issue, billing query) and prioritize them based on urgency. This helps in routing them to the right agents and ensuring timely responses.

Use Templates Wisely: While canned responses can speed up the responses your agents send, they should be used judiciously. Ensure that the response template is relevant to the customer's query.

Maintain a Knowledge Base: Regularly update and refine your knowledge base. Encourage agents to contribute answers to frequently encountered problems. This not only aids agents but can also serve as a self-help tool for customers.

Set Clear SLAs: Define clear Service Level Agreements (SLAs) for response and resolution times. Monitor them regularly to ensure compliance and adjust as necessary based on feedback and performance data.

Gather and Act on Feedback: After resolving a ticket, seek feedback from customers. Use this feedback to identify areas of improvement and implement changes accordingly.

Keep Customers Informed: Always keep customers updated about the status of their tickets, especially if there are delays. Proactive communication can prevent frustration and build trust.

Encourage Internal Feedback: Agents are the main users of your ticketing system. Encourage them to provide feedback on the system's functionalities and any challenges they face.
Wrapping Up
There's no one-size-fits-all formula to achieve customer service excellence. Your customer service needs and goals are hugely dependent on the nature of your business, the type of customers you serve, and the long-term vision you have for your organization.
Having said that, investing in an email ticketing system is essential for all companies spanning different industries and sizes.
Why? Because email is one of the easiest, cost-effective, and efficient ways to deliver support. And by implementing the right email ticketing system, companies can focus on scaling effectively and providing their customers with impeccable customer experiences while their ticketing software does the heavy lifting for them in the background.
Good luck with your search for the best email ticketing system!