Table of contents
8000+ teams use Hiver to delight their customers!
Businesses are facing more customer support challenges than ever before.
There's a lot to manage between omnichannel support, the demand for round-the-clock availability, and an increased volume of requests.
Sadly, it's getting even more challenging.
Many businesses know their customer support must improve.
According to research:
customer engagement has risen 14% in 2022
60% of customers have stated they expect higher customer support standards than encountered previously
Unfortunately, only 26% say the overall quality of their customer service is good
There's a wide gap between customer expectations and the ability to offer truly excellent customer service.
The good news?
There is a solution to fill that expectation gap and deliver exceptional service to your customers. It's by investing in customer support software.
But which is the best customer service software in the market? And which type of customer service platform should you invest in?
Well, that depends on what business you're in, who you're selling to and what resources you have available. Let's take a closer look at each type of support software and help you find the right software solution for your business.
Table of Contents
What is customer support software?
In simple terms, customer support software helps your support team members answer questions from customers.
It's specifically designed to coordinate and track customer communication across every channel. This includes email, live chat, messaging, knowledge base, help centers, and other self-service channels.
These customer support software tools empower businesses to deliver on their promises of providing excellent customer support.
Some customer service solutions include sales and lead generation features; others focus on help desk and messaging features. Combined with CRM, shared inboxes, and analytics, you will be able to deliver efficient and effective customer support.
What are the advantages of customer support software?
Customer support software provides several benefits. It helps your business:
coordinate activities across multiple teams or departments
ensure that service level agreement goals are being met
identify patterns of customer problems or dissatisfaction
relay feature requests to product designers
nurture leads effectively
upsell to existing clients
turn customers into product evangelists
But not all platforms are plug-n-play.
Some, like cloud-based software, are easy to use and you can get started in minutes. Others work on a different type of deployment model.
Let's take a look at the 5 most common deployment models.
Types of customer support software based on their deployment models
1. Web-based customer support software
Traditionally, customer support software was installed on company servers. This type of software is often called 'on-premise' because it resides on the company's computer network.
Web-based customer support software, on the other hand, is a type of customer support software that can be accessed from any computer with an internet connection.
It offers several cost-saving advantages, including reduced hardware costs and increased employee mobility. This makes it easier for companies to scale their customer service operations.
For these reasons, web-based helpdesk systems are very popular with small and medium businesses that cannot afford a dedicated IT staff for software maintenance, backup, and security.
2. Cloud-based customer support software
Cloud-based customer support software is provided in the form of software as a service (SaaS). It is similar to a web-based customer support software, given that they are both hosted on remote servers.
The biggest difference between the two is that cloud-based helpdesks, unlike web-based help desks, can be accessed with or without a web browser. Companies' data can be cached locally, meaning that the app can work offline and sync whenever the internet comes back.
3. On-premise customer support software
On-premise customer support software is installed on a company's own servers giving companies the greatest control over their data. Once the software is purchased, companies usually have to take complete responsibility for maintenance, security, and data backup.
Alternatively, they can also pay the vendor additional charges to manage the same.
On-premise helpdesk systems will generally have more features and are more tailored to a company's needs than online solutions. Since the company owns all the data, it can integrate the customer support software with other systems and set up as many or as few users as it wants. However, it can be an expensive investment, making it difficult for smaller companies to afford.
4. Enterprise customer support software
Enterprise customer support software offers robust customer support capabilities for large-scale organizations. In addition to equipping customer service teams with all the necessary tools to effectively service their vast customer base, enterprise helpdesk systems also foster easy interdepartmental communication to maximize employee productivity and break down silos.
Usually, enterprise customer support software is custom-designed to suit the individual needs of an organization or its industry's workflows. Standard features that many enterprise helpdesk systems include are CRM systems, collaboration tools, knowledge base, account management, service request fulfillment, and survey management.
5. Open-source customer support software
Open-source customer support software, unlike proprietary software, allows companies to access its source code. It is also customizable to suit a company's needs and preferences.
Given that open source help desks allow companies to modify it, fix bugs, and add unique features, organizations need to have the necessary programming capabilities and a dedicated IT department to continuously implement these changes. If not, it can negatively impact the customer experience.
Now that you know the deployment models, let's look at the main types of customer support software.
5 types of customer support software
There are five primary types of customer service software available.
Depending on its size and sophistication, a business might implement one or more of these solutions.
Support/ Help Desk Software
Shared Inbox Software
Knowledge Bases
Messaging and Chat Tools
Customer Relationship Management (CRM)
1. Support & Help Desk Software
Help desk software is a product that customer support teams use to serve their customers.
Its primary purpose is to help customer support teams in ticket management, tracking performance, creating reports on common support issues, and providing information for customer support agents to service their customers better.
Help desk support software equips customer support reps with capabilities to excel at their role:
Customers contact your business via email, phone, text, web, chat, and social media with questions and issues. Help desk software centralizes all customer questions into a single platform.
Support tickets are assigned automatically or manually, depending on the nature of the issue raised. As customer support agents work on the submitted tickets, they can also collaborate with other departments to help resolve customer issues quickly and effectively. For example, if more technical support is needed on a customer request, support software easily helps route the query to the right department.
The advantage of using help desk software is that it helps teams be more efficient. Thus, you can answer a lot more customer questions, with fewer resources.
Help desk software significantly reduces phone calls and allocates tickets to those who can best resolve concerns.
This allows customer service reps to devote more attention to solving customer concerns rather than spending time organizing customer tickets. It also helps them focus on more complex issues and use their time effectively.
After all, fast response times from a service team can drastically improve customer experience.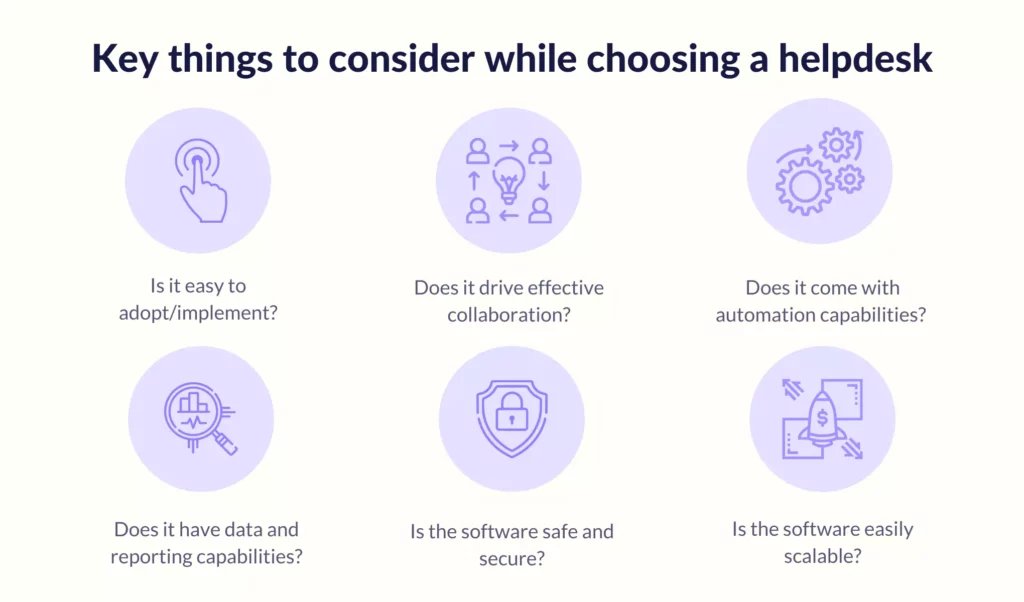 Best suited for: Help desk software is a product that customer service and IT teams use to serve employees and customers. For SaaS and eCommerce companies, help desk software is pivotal for serving customers worldwide.
The top three help desk software platforms are:
Hiver, from $12 per month
Zendesk, from $19 per month
HubSpot, from $50 per month
2. Shared Inbox Software
A shared inbox is a group inbox that uses an email alias like help@ or info@. So, multiple people with access to the shared inbox can manage the emails that arrive in it.
For instance, the customer support department will have access to support@ and be responsible for ensuring emails sent to this inbox get answered promptly.
Shared inbox software usually offers several of the following benefits:
It collects emails from one or numerous email accounts into a collaborative email client.
Provides tools and integrations to create workflow tasks around email responses.
Allows teams and reps to communicate with each other via messaging and comments.
Enables customer support reps to allocate and divide tasks related to inbox topics.
Managing a shared inbox is straightforward when there's only a small team working on it, but as your business scales, the chances for miscommunication between people and teams increase.
When using an out-of-the-box solution like Outlook, a shared inbox is one of the biggest headaches for customer support teams. This is because it causes problems including misplaced emails, forgotten conversations, duplicated responses, and sending emails to the wrong customers.
Shared inbox tools are different.
They are built with a shared workforce in mind, helping support teams collaborate, work effectively together and minimize errors.
Best suited for: Shared inbox software is ideal for companies of all sizes, particularly smaller companies with less sophisticated customer service tools.
The top three shared inbox software platforms are:
Hiver, from $12 per month
HubSpot, from $50 per month
Helpmonks, from $29 per month
3. Knowledge Bases
A knowledge base is an internal database of FAQs and all company and product-related information that's useful for customers and employees.
Earlier, information populated in a knowledge base came from customers themselves or customer support teams and other business departments.
Today, however, knowledge bases use data and artificial intelligence to keep it up to date. For instance, when a customer enters a query in a knowledge base, the software uses AI to help them narrow down an answer – reducing the need to contact customer service.
Organizations use knowledge bases for many reasons. Not only does it organize data for customer support teams, but it is also a preferred communication channel for many customers who do not like to contact a company to raise an issue.
Today's customers expect and demand a smooth and seamless service experience when interacting with a company.
In fact, 89% of customers are willing to spend more with companies that allow them to find answers online without having to contact anyone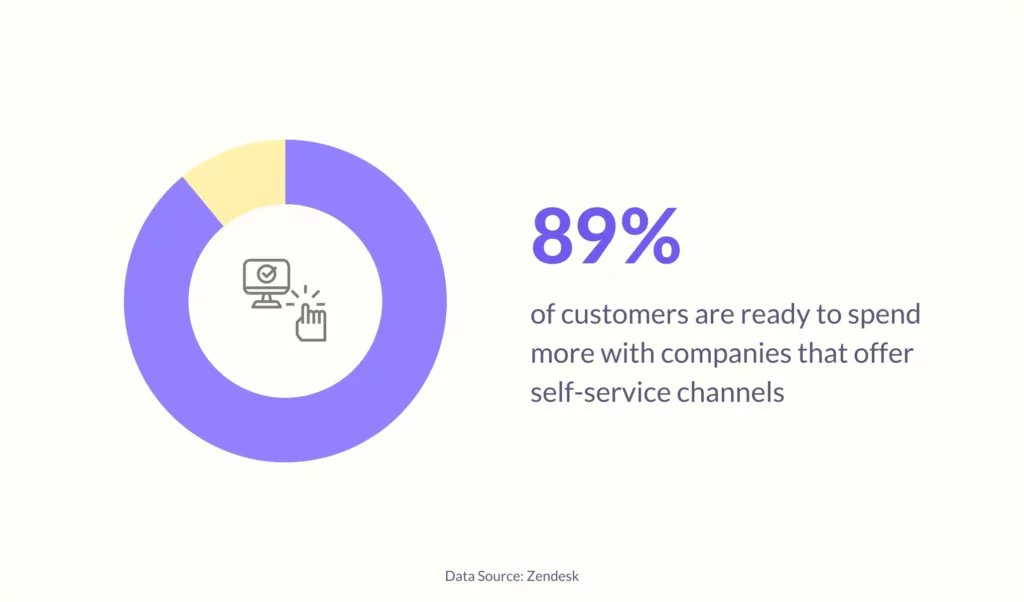 If they do contact a business, they use the knowledge base to resolve their own problems.
Another advantage to using a knowledge base is the SEO benefit you get by publishing helpful, customer-centric content on your website. Prospects and customers will find your website via Google by searching for questions you have answered in your knowledge base.
Best suited for: Knowledge bases are great for companies of all sizes. Startups, eCommerce, and SaaS companies can benefit from knowledge bases. Instead of raising support tickets, customers can self-serve themselves, meaning businesses can allocate human resources to human resource software for small business needs.  
The top three knowledge base platforms are:
HelpSite from $14 per month
Document360 from $99 per month
Helpjuice from $120 per month
4. Messaging and Chat Tools
Communication is critical in any business.
It's why there are so many messaging and live chat software in the market – they help you serve your customers in real-time.
In fact, research suggests within two years of using live chat, companies see a 36% improvement in customer retention and satisfaction.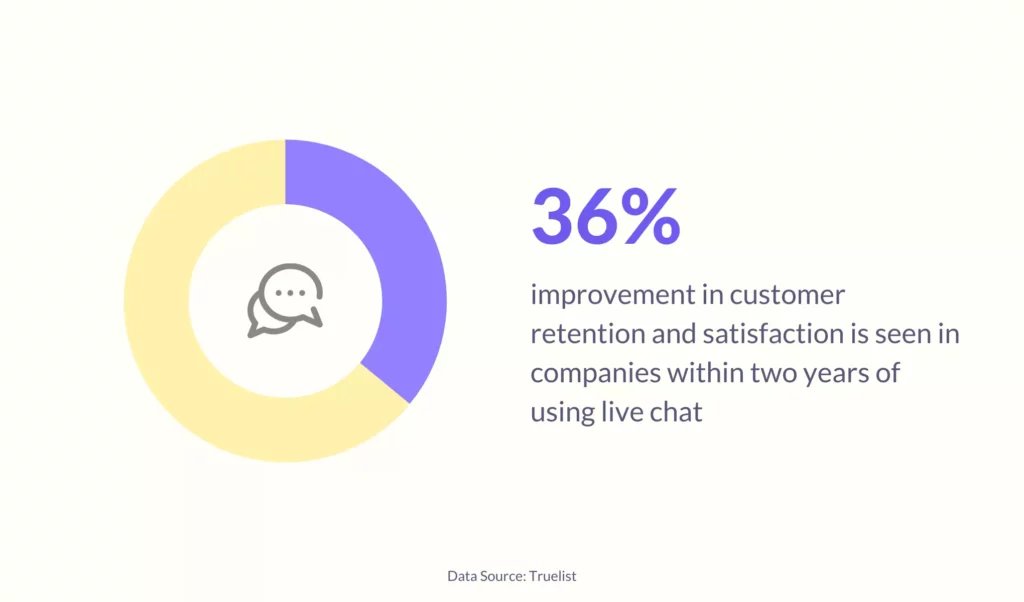 The best messaging and chat tools should help customer support teams to:
Assign customer conversations – Certain customer messages require the entire company's attention; others are onlyteam-specific. Not every support request needs the involvement of the whole business. With a chat app, you can easily loop in the right people needed to resolve a support query.
Search and filtercustomer conversations – A chat tool should allow customer support reps to find existing conversations and access important data quickly. So, filtering this information makes it even easier and faster to respond to customers.
Enable effective collaboration – A chat tool should enable your support team to seamlessly collaborate internally and cross-functionally. Teams should easily be able to share files and data with each other to resolve customer support queries much faster.
The last point is especially important.
Collaboration is vital for customer support and more than 70% of customers believe that companies should collaborate on their behalf so they don't have to repeat information to different representatives.
Best suited for: Messaging and chat tools are vital for remote teams to communicate faster and more efficiently than email. For larger enterprises with several departments, chat tools are essential to share files and ask questions about customers.
The top four messaging tools are:
5. Customer Relationship Management (CRM)
Customer relationship management (CRM) is another type of customer support software that helps businesses manage relationships with their customers.
Unlike other types of support software, CRM is not only about efficiency – it is about generating more profitability.
Like most customer support tools, CRM helps businesses manage their customer relationships across the entire customer lifecycle, not only customer support.
It records all customer interactions so that agents can determine how to better serve their customers by resolving their support queries and offering them new products and services from the company.
CRM software is used by various business departments, from sales, marketing, admin, finance, and customer support teams.
The data stored in a CRM provides a good overview of each customer, from their concerns, likes and dislikes, conversations with reps, what they have ordered, and possible recommendations they would benefit from.
Around 68% of customers say it is important for customer service agents to be familiar with their service history – something that CRM can offer.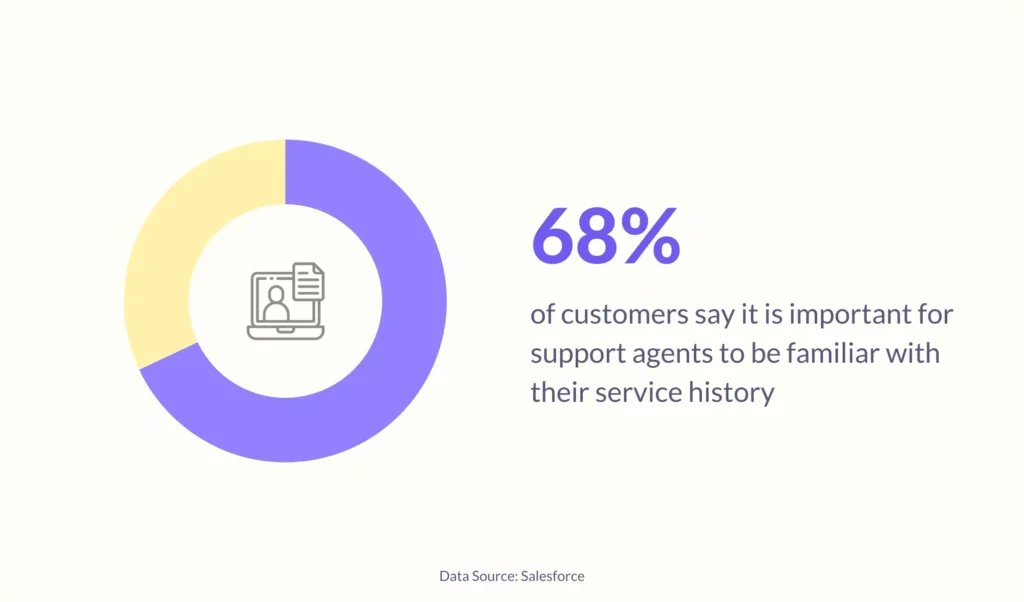 Another advantage to using a CRM: With all the customer data stored and at an agent's fingertips, it's a lot easier to be proactive in the kind of support he/she provides.
Best suited for: Customer relationship management software is ideal for larger enterprises with strong sales and marketing teams that want to increase profitability.
The top three customer relationship management platforms are:
Pipedrive, from $12 per month
Salesforce, from $25 per month
SuperOffice, from $34 per month
So, that's it. Those are all five types of customer support software you need.
However, there's one more we're yet to mention.
In fact, you're probably already using it. Just not to its full extent.
Bonus: Supercharge your customer support with Google Workspace
Google Workspace (formerly known as G Suite) offers a wide range of tools that make customer support and collaboration fast, easy, and effective.
Google Workspace empowers you with great tools for delivering stellar customer service. With it, you and your team can respond to emails, share documents, set up automations, chat, and plan meetings easily – all inside a platform you're already familiar with.
But it does have its limitations.
That's where Hiver comes in.
Hiver is the world's first help desk solution exclusively designed for Google Workspace. It helps you deliver fast and empathetic customer service right inside Gmail.
You get access to all the basic Gmail features and functions, plus you can:
Using Hiver is a fast way to offer multi-channel customer service without switching tools or adapting to complex software.
Another thing:
Because it's hosted in the cloud and is easy to use and set up, Hiver is ideal for SMEs looking for streamlined customer support software without over-engineering existing business apps like Office 365.
Hiver starts at $12 per month but you can get started for free with a 7-day trial.
Conclusion
Excellent customer service is a key differentiator in 2022.
It's what separates profitable companies from others.
But for customer support teams to provide genuinely outstanding customer support, they need to have access to the right tools.
Whether they need to manage a shared inbox, message each other, or service customer support tickets, each business needs to identify what type of support software is right for their business.
Once you have the right tools, there's no stopping you from delivering the best customer service in your space.
Looking to get started with a free customer support solution?
Hiver offers a free 7-day trial. Contact us today to see how effectively you can streamline your customer-facing emails and chats directly from Gmail.
---
Resources you'll love: