Table of contents
8000+ teams use Hiver to delight their customers!
A lot goes into running a business. While providing good quality products or services is necessary, modern customers expect a lot more from you. They are the ones that call the shots today. A market that was once ruled by brands is now largely dominated by the whims and fancies of customers.
This is where customer service comes into play. Customer service is integral to the long-term success of any business. 84% of customers feel that customer service is a key factor that helps them in deciding whether to buy from a company or not.
Jay Baer, bestselling author, and motivational business growth expert makes a point when he says that:
"Customer service is the new marketing. It's what differentiates one business from another."

Jay Baer, Customer Experience & Marketing Expert and Advisor
Even though the success of the customer service department is crucial to the health and sustainability of a business, many times customer service is not given the importance it deserves.
With due credit to technology, customer service is now a highly measurable function. From tracking the time taken to respond to customer queries, to call volumes and resolution rates — you have an incredible amount of data at your disposal. The best way to ensure that you are on top of things is to create detailed reports that take into account key customer service metrics and key performance indicators (KPIs).
The numbers don't mean much by themselves. They have to be analyzed and acted upon. You need to break down the data into actionable insights that will help you fine-tune your customer service strategies and obtain tangible benefits.
If done right, the reports can give you cues into how your customers see your business and its products. This will also help you to identify and act on pressing product or service-related issues that you may have missed on previous occasions.
However, report generation can be quite a time-consuming process involving data collation, analysis, and interpretation. When you're working with a large volume of customer data, manually tracking key metrics and generating reports based on it can get overwhelming. What your business needs is a solution that provides you with state-of-the-art reports that automatically convert raw numbers into meaningful data.
Before we tread any further, let's start with the basics.
Table of Contents
What are customer service reports?
Customer service reports are important indicators of the productivity and success of an organization's support team. These reports present valuable insights that are derived from customer service data. They transform raw data into statistics and key metrics, giving you a detailed and digestible overview of customer service requests and how your team responds to those requests.
Statistics reveal that nearly 89% of people have switched to a competitor brand, following a bad customer experience. To prevent this from happening, you need to see the big picture!
You need to have an overview of all your customers, across different touchpoints to quickly improve your customer service offering.
Why are customer service reports important?
Today, customers have become more empowered and digitally savvy than ever before and expect top-class customer service from companies. If your business falls short of their expectations or offers poor customer service, they will be forced to look for alternatives.
Customer service reports contain several important metrics that reflect the performance of your customer service team. These reports help you:
Monitor trends in support performance and quality
Identify the areas of performance and support quality that need improvement
Improve the service delivery of your support team
Check if your customer service goals are being met
Help meet and exceed customer expectations
Plan your support team's work schedule and workload distribution
Make better strategy decisions that are based on customer feedback
To enhance customer loyalty, it's important to give customers what they want. The sure shot way to creating a successful and profitable organization is understanding customer needs and meeting them to improve customer satisfaction levels.
6 customer service reports that every manager should track
We've gone ahead and done the groundwork for you — we have compiled 6 crucial customer service reports that will help you improve the quality of customer service you offer.
Here you go:
1. The number of customer requests received in a day
This customer service report will show you how many customer requests are received in a day. This report has less to do with gauging customer service performance and more to do with helping managers determine the staffing levels required to handle all the customer requests that pour in. It will help you track customer service trends and give you key insights into how you can plan and assign tasks to your team members.
By knowing how many requests are received, and through which channels, you can figure out where you need added support. Apart from this, tracking which days are the busiest will help you ensure you are adequately staffed to handle all of the requests coming in.
Pro-tip: If you start noticing that you have a large number of requests pouring in over the weekend, then you need to assign more agents to work on those days to make sure that all customer requests are attended to.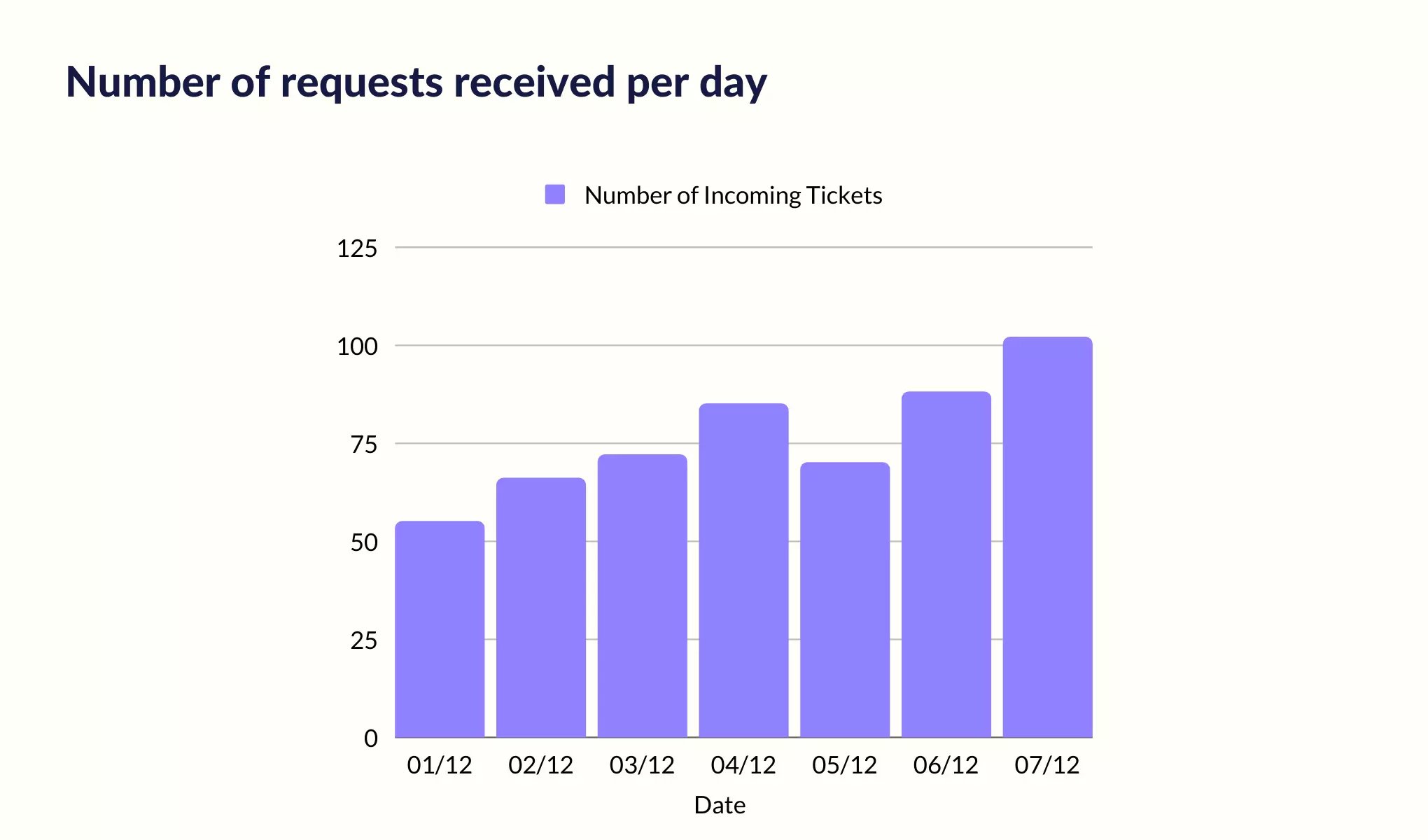 2. The number of requests closed per agent
This customer service report will let you know how many requests have been closed by each agent in your team. The report will help you measure the efficiency of individual agents. It will show you how productive they are and how many requests they can each handle.
If you notice that an agent is handling twice as many requests as anyone else on the team, it could mean that they are picking the easier requests and letting go of the difficult ones. One way to tackle this issue is to automate the process of assigning requests. This way, customer requests can be evenly distributed among all the agents.
Pro-tip:Hiver's Workload Distribution feature is designed to help you manage your team's workload better. You can easily view how many conversations each team member is handling at a time. This will help you quickly optimize their workload and further help your team members become more efficient.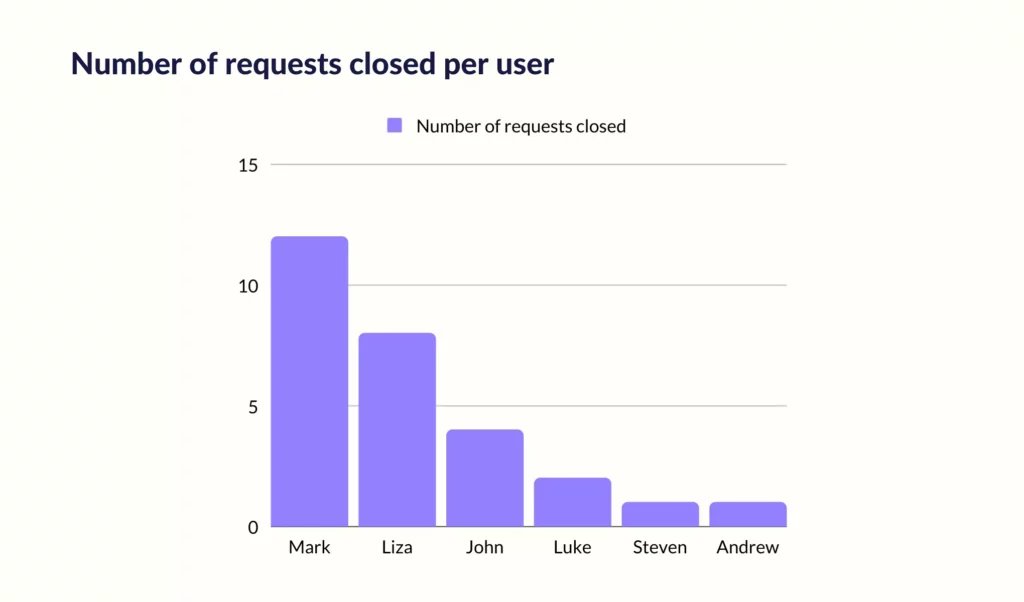 3. Average Response Time
Average Response Time is the average time taken by your customer service agents to respond to customer requests. Average Response Time is calculated by dividing the total time taken to respond to requests by the total number of requests received.
If the Average Response Time is higher than usual, it might mean that your agents are overwhelmed with the number of requests coming in and are finding it hard to keep up. However, a quicker response time leads to better customer satisfaction.
Pro-tip: Make sure your agents are well trained to efficiently handle all customer queries and ensure your team is appropriately-staffed to handle peak hours. You can also lower your response time by implementing processes that allow your team members to work more collaboratively.
Take boutique wellness studio, Align Brooklyn, for example. By leveraging collaboration features like Shared Drafts and Private Notes in Hiver, the team is able to give its customers faster and more accurate responses.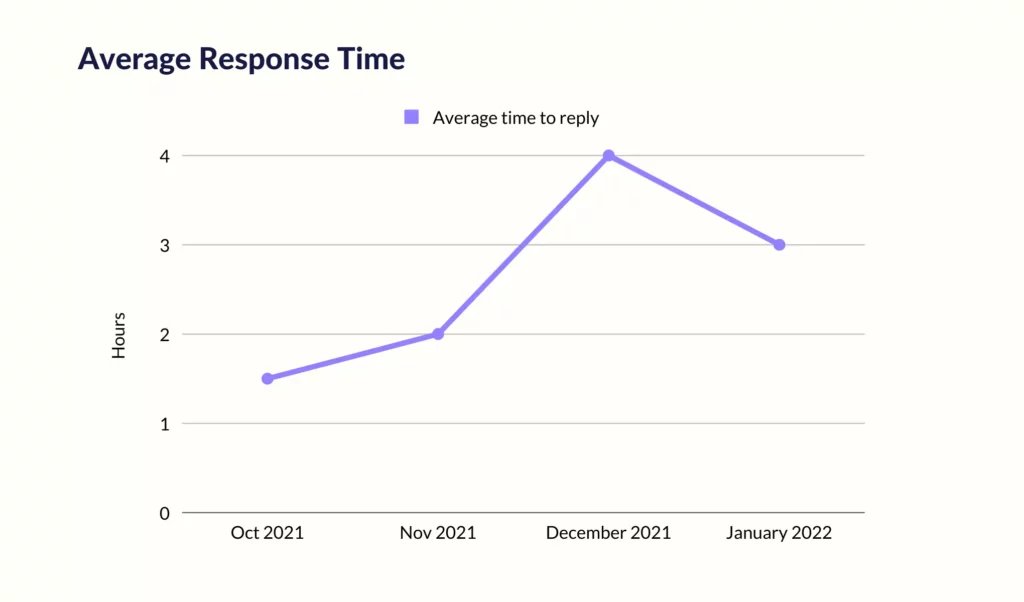 Recommended Reading
4. Average Handle Time
Average Handle Time is the time taken by agents to handle customer requests. Much like Average Response Time, this is an important metric to track. Customers not only want faster responses but they want to get their issues resolved quickly.
Let's consider a customer who calls an airline to reschedule a flight. A customer service agent receives their request at 10 am, helps the customer with the flight change within 10 minutes, and sends them a confirmation message by 10:15 am. The agent has successfully handled the issue in 15 minutes.
If you see that the Average Handle Time of your team is increasing, it's a warning sign that your team's efficiency is dropping.
Pro tip: As far as possible, you should try to automate time-consuming, routine customer service tasks like support ticket assignment, and troubleshooting common customer issues with the help of canned responses. Further, you should ensure that your agents have ready access to important product and company information so they can resolve customer requests quickly.
By automating their customer support queries with Hiver, freight forwarding and customs brokerage company, Flexport is able to resolve customer requests 50% faster.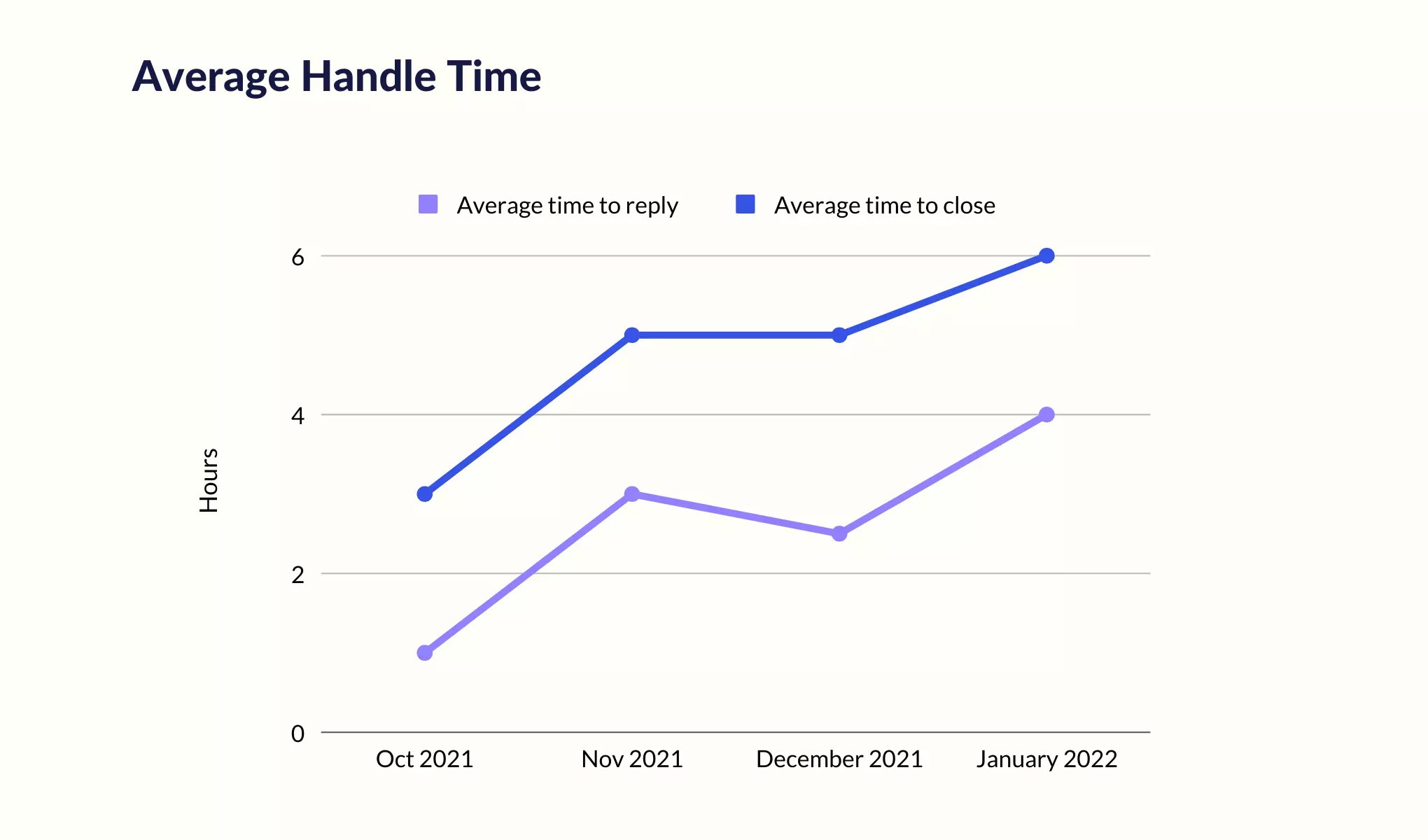 5. First Contact Resolution
First Contact Resolution is when agents successfully resolve customers' requests in the very first reply. This is easier said than done because the agent has to address every pain point mentioned in the request and take care of every possible follow-up question that the customer may have, in the very first reply!
Customers do not fancy exchanging multiple messages with customer support teams and would like to have their issues handled by a single agent who is capable of answering their questions and providing accurate information.
According to Microsoft, 72% of customers say that when contacting customer service, they expect the agent to know who they are, what they have purchased from the company, and have information on their previous engagements.
Pro-tip: Build a comprehensive knowledge base to help your support team and customers get the answers they need in a jiffy. You can also improve your First Contact Resolution (FCR) rates by streamlining your support workflows and the task assignment process.
Vacation rental company, Vacasa, did this by implementing Hiver – a Gmail-based helpdesk. With Hiver, the customer service team at Vacasa is able to clearly assign the responsibility of incoming customer emails to designated agents and collaborate on support requests seamlessly. As a result, the team has seen an 80% improvement in their FCR rates.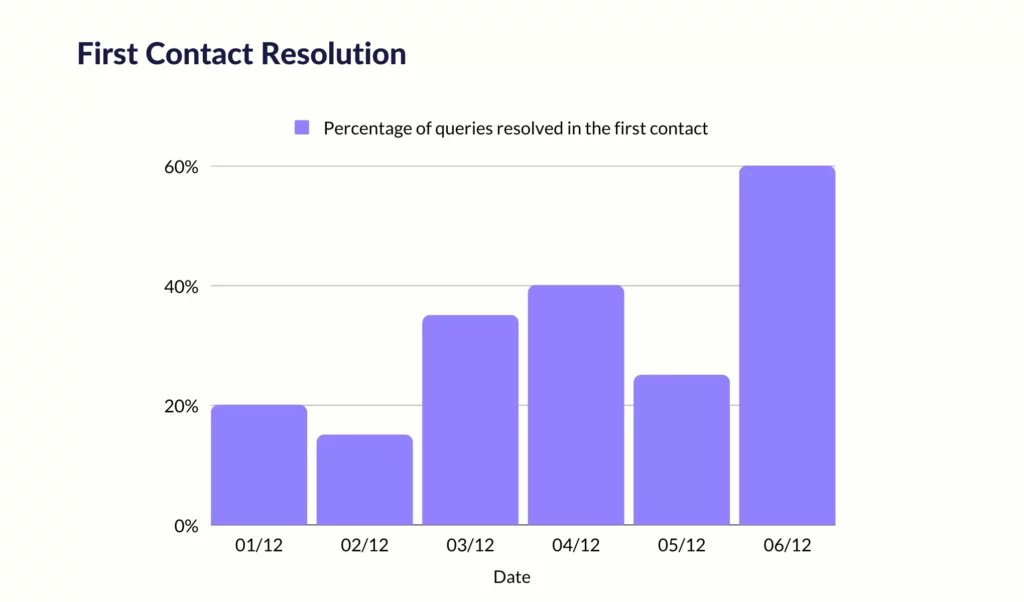 6. Customer satisfaction
Today, a lot of companies are employing innovative ways to ask customers how satisfied they are with what the business is offering.
CSAT or the customer satisfaction metric measures the quality of customer service. Customers are asked to rate how satisfied they are with the service received, soon after their interaction with a customer service agent.
According to Hiver's latest benchmark report, 41% of support teams said CSAT is their most important KPI.
When customers give their rating, they not only rate their experience with a particular agent, but also share their satisfaction with a product, a service, or even the brand as a whole. Hence, it's important to monitor this metric, both on an individual level as well as at team levels to understand how your support agents can provide top-notch services to elevate customer satisfaction levels.
Pro-tip: Work closely with your product and marketing teams to act on the customer feedback you receive. Doing this will help you identify and fix pain points in the customer journey, proactively.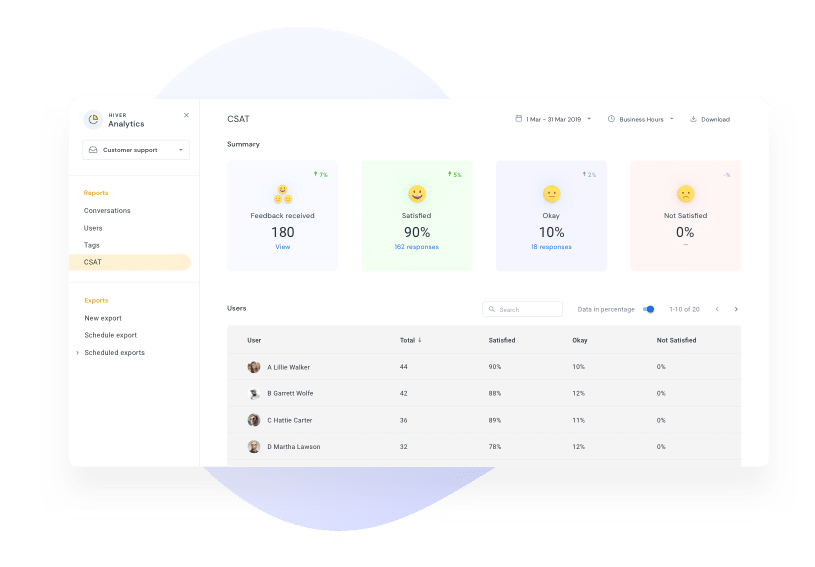 Bonus – 3 additional reports you can track with Hiver
When you're managing a customer service team that receives a huge volume of customer requests on a daily basis, it can get overwhelming to keep a tab on your team's day-to-day activities as well as their performance.
That's why, investing in customer service software that helps you streamline your team's workflows, track the status of support tasks and helps you stay abreast of key analytics becomes important.
If you want to offer your customers multichannel support via email and live chat, while tracking rich customer insights and support metrics like the average number of tickets, CSAT scores, resolution time, response time, etc., check out Hiver — the world's customer service software built for Google Workspace.
With Hiver, not only can you customize and track the six reports mentioned above, you also have access to the following three additional in-built reports that can give you useful insights about your support performance and quality:
1. Conversation Reports
Conversation Reports in Hiver help you understand how effectively your team is managing customer conversations. With the help of these reports, you can understand the number of conversations that have taken place, how quickly your team responds to customer emails, and the average time they take to resolve customer issues.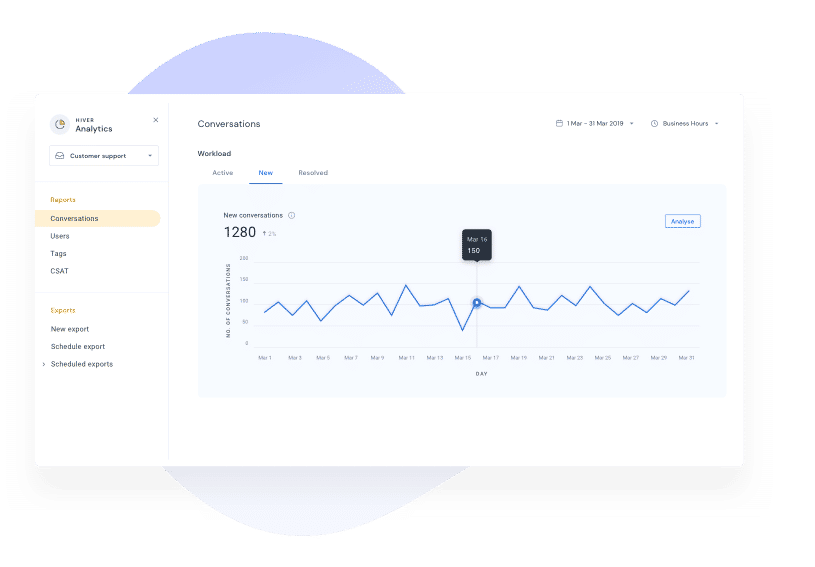 2. User Reports
With Hiver's User Reports, you can keep close track every agent's performance and workload. You can find out their average response and resolution times, Customer Satisfaction (CSAT) ratings and much more. With the help of these reports, you can identify who your top performing agents are and who are the ones that might need training or assistance.
3. Tag Reports
Tag Reports in Hiver help you gauge trends in customer conversations. With it, you can get access to important information like the number of open or pending customer emails that are tagged 'high priority'. This way, you can identify key issues on time, and know exactly when and where there is a need for additional resources or agent support.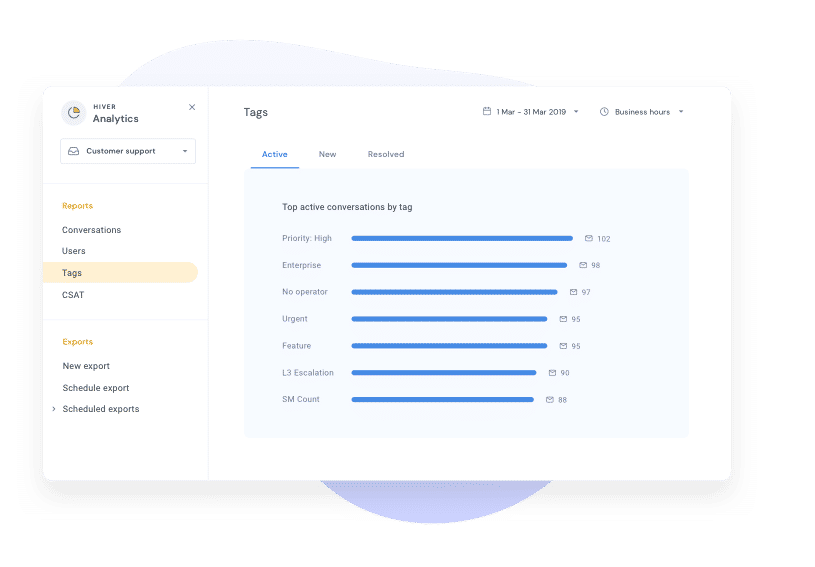 Final Thoughts
Tracking customer service metrics is incredibly important, but what's more crucial is knowing how to interpret them successfully. These metrics will point you in the right direction and highlight the problems that exist in your customer service team's performance, but it's up to you to find out the reason for the issues, and the necessary solutions to them. Be sure to choose the metrics that match your goals or provide answers to important questions that you have. By equipping you with accurate insights, customer service reports will lead your business to build stronger customer relationships that result in higher customer retention, improved acquisition rates and lower churn.
Hiver's incredible reporting and analytics capabilities empower you with actionable data to monitor how effectively your teams have been managing customer interactions.
Sign up for Hiver today and supercharge your customer service strategy with data-driven insights on your support quality.
---
Resources you'll love: