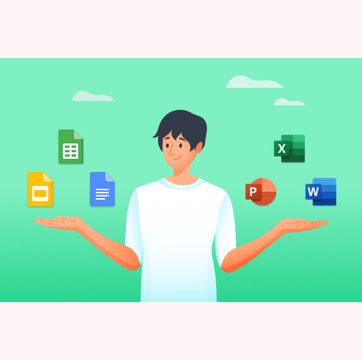 Table of contents
8000+ teams use Hiver to delight their customers!
Office 365 vs. Google Workspace – Which Suite Should Your Small Business Invest In?
Jun 08, 2023
|
9 min read
|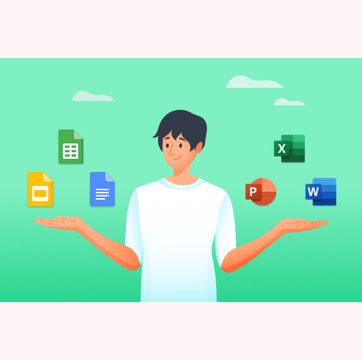 Table of contents
Small businesses are increasingly ramping up cloud migration, if not by choice, then because of the pandemic. The outlook is that this trend will continue, with investment in cloud services and infrastructure expected to double over the next five years.
Businesses need to collaborate and be productive across geographies more than ever before, and moving to cloud SaaS environments is the natural result.
There are two main players when it comes to business productivity suites for small businesses. The Microsoft Office suite ruled the market for years until the late '90s and early 2000s. Then Google came along with Docs and Spreadsheets in 2006 and combined those with other business services to form the Google Apps suite, later called G Suite. It posed tough competition to the former giant.
So which tool is the better option for your small business? In this post, we'll put these tools head to head and find out.
But first, let's look at the decision to migrate to either tool. Why do businesses need Google Workspace (formerly G Suite) or Office 365 anyway?
Table of Contents
Why Does Your Small Business Need to Invest in an Office Suite?
Here are a few of the many reasons why small businesses should invest in an office suite:
Streamlined Communication — Office suites optimize communication with peers through a centralized system with video conferencing, instant messaging, and document sharing. The constant contact between teams helps streamline workflows, boosts efficiency and productivity.
Business Continuity — With on-cloud file storage, organizations can operate as usual even in the face of disasters that certainly pose a risk to data stored on-premises. No matter what happens to physical devices, your data is always safe in the cloud.
Centralized Collaboration — Both Google Workspace and Office 365 enable the sharing of calendars, contacts, documents and mailboxes for nimble collaboration among team members.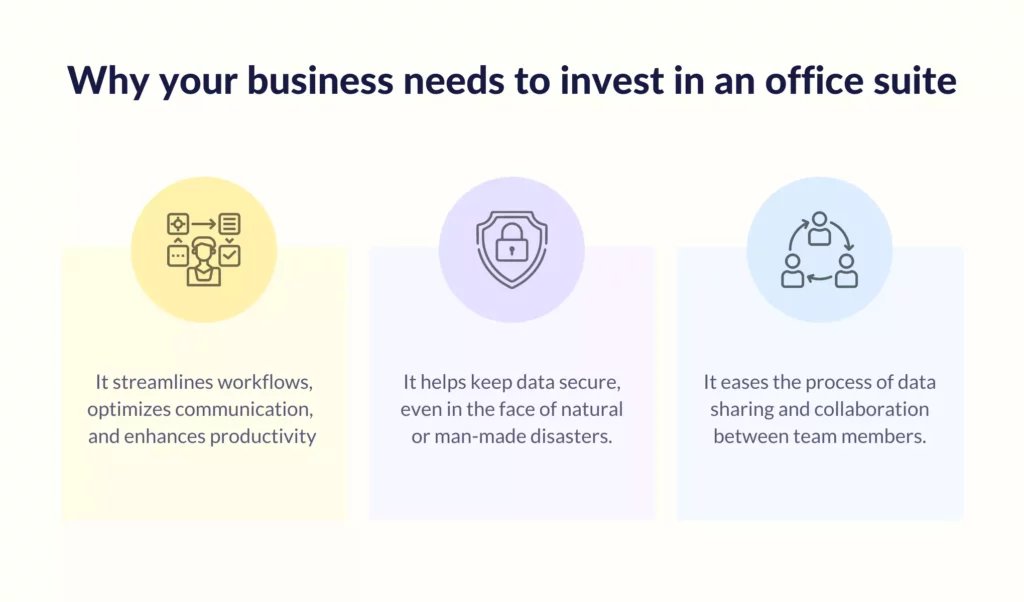 Now that we know why small businesses are choosing office suites, let's help your business decide which one to invest in.
What is Google Workspace?
Google recently rebranded from G Suite to Google Workspace, which suggests that it wants to create a new SaaS experience to empower employees for higher productivity and collaboration beyond the global pandemic.
Google Workspace includes all productivity apps most of us are familiar with — Gmail, Google Meet, Calendar, Docs, Drive, Slides, Sheets, and more. However, it's created significant integrations between the core services.
For instance, users in a chat room can create and collaborate on a document. Also, Google will be bringing Meet picture-in-picture to Google Sheets, Docs, and Slides so users can see and hear the people they're working with as they collaborate.
Google's mantra through Google Workspace is to bring simplicity, helpfulness and flexibility to workspaces.
What are the benefits of Implementing Google Workspace?
Google Workspace yields the following benefits for a small business choosing to work with it:
24/7 Accessibility — Access your files and data from anywhere with this cloud-hosted platform. With Google Workspace's offline features, you don't even have to be connected to the Internet to access data or get work done. With a 99.9% Service Level Agreement, Google Workspace ensures there's no downtime or scheduled maintenance outages.
Easy Administration — Google Workspace's Admin Console is the control interface for managers and administrators to overlook company activity. With reports on user activity, admins can obtain critical insights into created content, team productivity, and potential security threats from specific devices.
Smooth Data Management — Google Workspace offers intuitive data cloud migration facilities to move data securely between devices and servers. With Vault, users can search and export company files to a local device and set retention policies on archive material. Google Backup and Sync also enhance data management.
Let's compare Google Workspace and Office 365 next.
How Does Google Workspace Compare to Office 365?
Ease of Use
When it comes to Office 365 vs Google Workspace, Google stays true to its motto of simplicity. Google typically chooses ease of use over design, which means its tools are not intended to please the eye as Microsoft's. However, they seamlessly work in the backend to yield efficiency gains.
For instance, Google Docs documents are automatically saved in Google Drive without even having to name the document first.
Google Workspace focuses on the core activities that enable users to collaborate and be productive. It lacks some of the more sophisticated and bloated features available with Office 365 and compensates for those with simplicity.
Gmail
Google Workspace offers 30 GB of storage per user on its most basic plan, pooled across Drive, Gmail, Chat, Docs, and other Google services. It also allows easy setup on your business' web domain with all benefits of Gmail. Gmail allows attachments up to 25 MB on emails. However, users can directly share larger files through Google Drive.
Gmail is more affordable than Microsoft's Outlook. Besides, users can send up to 2,000 emails and receive over 86,000 emails every day. While both Gmail and Outlook offer two-step authentication and built-in spam detection, Gmail also lets you see when and how your account was used for the last time — which is one of the few of its unique security features.
Google Workspace Apps
All of Google's apps such as Docs, Sheets and Slides are available as web browser-based applications and their mobile versions. Google doesn't offer desktop versions for these applications, but users can mark files for offline access to work on them sans internet connectivity.
Collaboration
A commissioned quantitative research by Google found "while both suites have a positive impact in the area of collaboration, Google Workspace consistently drove bigger impacts, and sometimes by a sizable margin."
For instance, 84% of Google Workspace users edit and review within the same document during a meeting, in contrast to 69% of Microsoft 365 users who do the same.
Similarly, 95% of Google Workspace users easily collaborate with multiple people on the same document compared to 84% of Microsoft 365 users.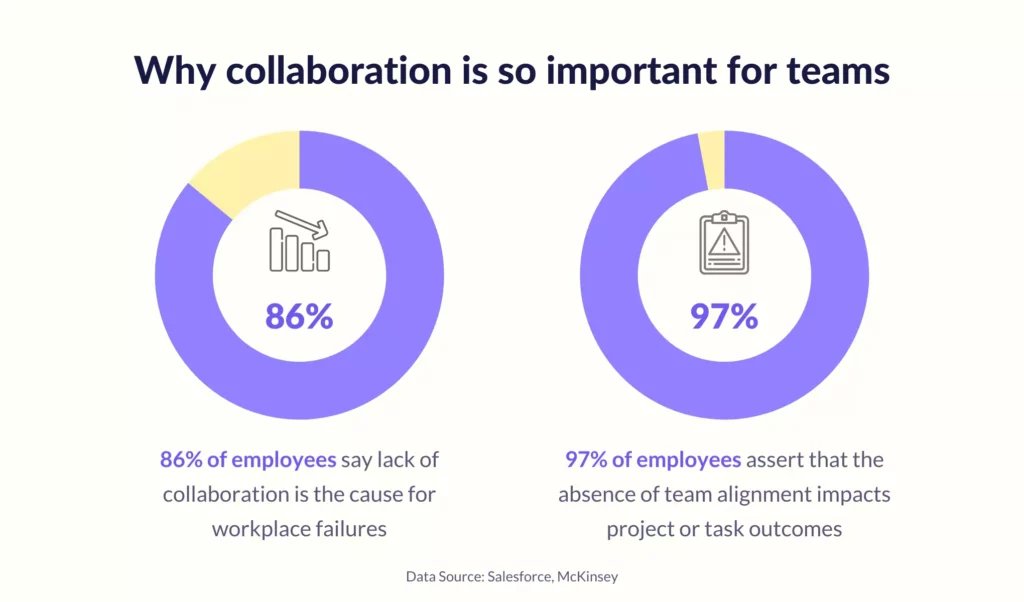 Mobility
It's well known that having the ability to work any time and from anywhere improves workers' productivity and job satisfaction. Data supports the argument that Google Workspace offers a more streamlined and robust mobile experience, enabling employees to accomplish more on the go.
76% of Google Workspace users accomplish tasks over mobile devices, contrasting with 61% of Office 365 users. This data includes various activities such as editing, reviewing or offering feedback for Docs and Sheets, scheduling and participating in meetings, and responding to emails.
Being able to work on the move can significantly impact an employee's productivity and ability to collaborate. Google Workspace leads the industry on that front.
Top Google Workspace App Integrations
Google Workspace allows seamless integrations with third-party tools to help with different aspects of a business – marketing, collaboration, productivity, accounting, customer service and more.
A few integrations include:
Salesmate – A CRM for Google Workspace that seamlessly integrates with your favourite G Suite apps in seconds and improves your teams' productivity.
Copper – A CRM made for Google Workspace that helps sales reps build authentic relationships with prospects and close deals.
Asana – The popular project and process management tool to track work and results.
Xero – An online accounting software for bookkeepers, small businesses and accountants.
DocuSign – A tool to make approvals simple, secure and digital by requesting signatures directly from Gmail or Drive.
Okta – An identity and access management platform to create secure connections between technology and people.
Hiver – An intuitive customer service software to deliver fast and empathetic customer service through email, live chat, voice calls and WhatsApp messaging – right from your Gmail inbox.
Pricing
Google keeps it simple. It offers four Google Workspace plans:
Business Starter at $6 per user per month
Business Standard at $12 per user per month
Business Plus at $18 per user per month
Enterprise, which is listed as "contact sales for pricing"
That's a good overview of Google Workspace. Next, let's look at Microsoft 365.
What is Office 365?
Microsoft is well-established in the enterprise data center and corporate arenas. Business owners and employees are familiar with Microsoft Office 365 suite's core productivity tools such as Microsoft Word Excel, and PowerPoint.
Besides its Office Suite, other Microsoft products such as BackOffice applications and Windows Server are also known names in the business world. These solutions have powered on-premise data center communications, collaboration, and data storage for years, giving Office 365 a leg up in familiarity with solutions and trust.
Office 365 offers the SaaS versions of these productivity tools as well as standalone installations for on-premise use.
As we noted before, Microsoft offers a wide range of features and functionality — more sophisticated than Google Workspace, with its Office 365 suite. While the services are tried and proven, we leave it up to small business owners to decide if these extra functionalities enhance or hinder their experience.
What are the benefits of implementing Office 365?
Here are a few benefits of Office 365 for small businesses-
Security Features — Office 365 allows multi-factor authentication for all users. It uses AI to learn each user's behavior and flags any suspicious activity. Microsoft 365 also comes with spam, malware, and virus detection that scans all emails, attachments and documents. You can also enable Office 365 DMARC for an additional layer of protection.
More Storage Space — Office 365 offers 1 TB cloud storage space for each user across all plans. Additionally, each user gets 50 GB of email storage beside the OneDrive storage limit. This is comparably more than Google Workspace's 30 GB storage per user offered on its basic plan.
Collaborate with Identified Tools — If you already work with Microsoft tools and want to move to a SaaS model, Microsoft 365 would be the path of least resistance given your familiarity with the products and how identically they are designed.
How Does Office 365 Compare to Google Workspace?
Ease of Use
Microsoft Office 365 includes everything anyone needs in their office productivity suite at the expense of user experience. This is true for Word, Excel and Powerpoint desktop applications that border on being clunky.
If you're all about simplicity, you may like to focus on the most important features and blur out the noise. Google Workspace would be the ideal suite for you. However, given the familiarity factor, if your employees are already familiar with Microsoft applications, you may want to consider Office 365 for your productivity needs.
Outlook
Office 365's business email client allows users to send 5,000 emails every day with a 50GB storage limit on every business plan. This limit is separate from the overall cloud storage, unlike Google Workspace, which means email attachments don't hog up space in OneDrive.
But, if email storage space is key to you, you can't use the full 1 TB cloud storage for email. This amount of memory should be enough, otherwise, you will have to think about cloud migrating to alternative storage space, or buying additional TB
As for affordability and security, Google's Gmail leads the way here. It's available for less than half the price and offers advanced security tools.
Microsoft 365 Apps
Microsoft's apps — Word, Excel, and PowerPoint — are available as browser-based apps, desktop apps, and mobile apps.
When users work offline on Office 365 applications, just like Google Workspace, changes automatically sync with the cloud version the next time they go online.
Microsoft has a slight edge over Google when it comes to these tools. For over 30 years, most users have used Microsoft's Office apps at least once and are familiar with the interface. Moreover, Microsoft Apps have more expansive options in templates and charts — if those are crucial for your business.
Collaboration
Again, while both productivity software suites would improve internal collaboration on files, ideas and documents, studies have shown that Google Workspace leads on this front by a sizable margin.
The study by Google shows that 50% of Google Workspace users strongly agree that providing feedback is easy compared to only 38% of Office 365 users who believe that.
However, while Google Workspace's strong suit is its simplicity of collaboration, Office 365 comes with progressive features such as built-in artificial intelligence services to create more polished documents.
Finally, there's the prevalence factor regarding Microsoft 365's widespread use and familiarity in the business world.
Mobility
Unlike its browser-based and desktop counterparts, Office 365's mobile apps are designed for ease of use and experience. In addition to providing separate versions of applications, Microsoft also offers a single app that combines PowerPoint, Excel and Word into one app called Office Mobile.
Office Mobile lets you edit, view and share files without having to switch between the different apps. Since users generally end up using the email apps on both suites the most, let's talk about it for a second.
Google's Gmail boasts exceptional search features for past messages, while Microsoft's Outlook offers a 'focused inbox' that automatically flags messages as important/urgent based on past interactions.
Top Office 365 App Integrations
Office 365 integrates with third-party software applications to help with different aspects of a business, including marketing, collaboration, productivity, accounting, customer service and more.
A few include —
DocuSign — An e-signature solution that expedites approvals over Outlook and Word.
Saketa Kanban Board — A collaboration solution for task management.
Salesforce Lightning — A tool to boost efficiency and productivity for teams using Salesforce as their CRM.
Smartsheet — A spreadsheet-focused solution that helps organize information in a readable form without distracting visual elements.
Pricing
In stark contrast to Google's simplistic pricing model, Microsoft 365 comes with a dizzying set of permutations. For small businesses, though, Office 365 has three plans:
Business Basic for $5 per user per month
Business Standard for $12.50 per user per month
Business Premium for $20 per user per month
Additionally, the Microsoft 365 Apps for business package is priced at $8.25 per user per month. This package includes desktop versions of the Office apps with premium features and a 1 TB cloud storage.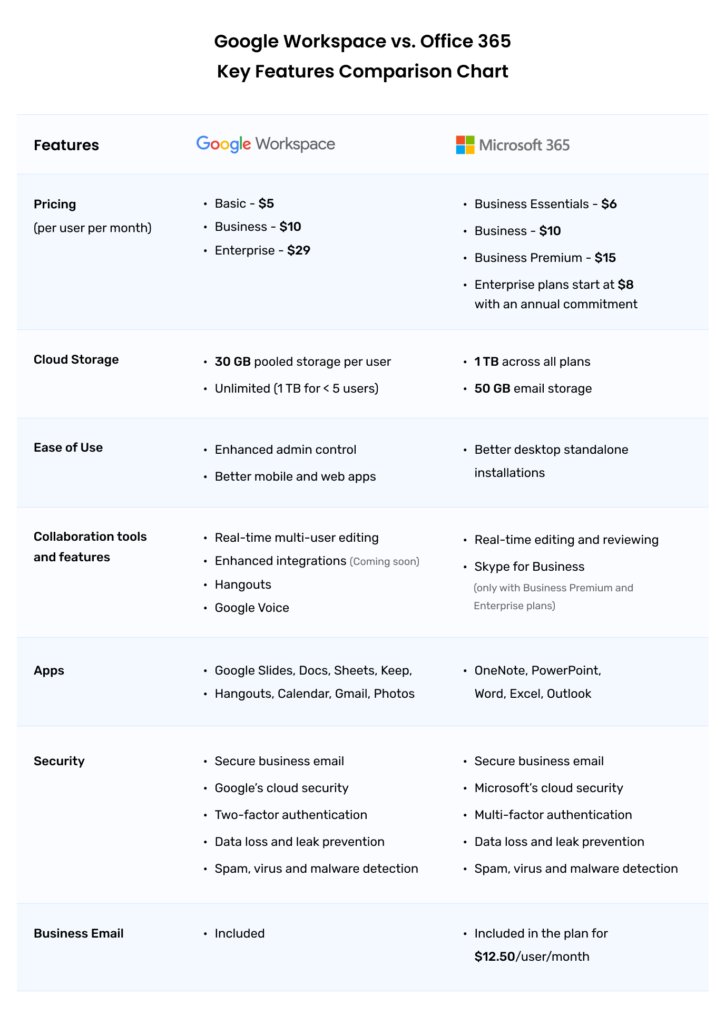 The Perfect Suite for Your Small Business Needs
Ultimately, Office 365 vs Google Workspace isn't a debate we can settle without knowing more about your needs and unique business model. But in a nutshell, Microsoft 365 wins on product features and Google Workspace leads the front on making collaboration easy. It's also more streamlined, offers a better user experience overall, and is more conducive to handling higher volumes of email.
You'll want to assess the following factors to arrive at a decision —
Your file storage needs
Your email storage needs
The existing working environment (do you currently work with MS apps or Google apps?)
Scalability
IT implications
Required ease of collaboration
Budget
Hiver extends the functionality of Google Workspace with a quick and intuitive helpdesk solution to help small businesses manage customer support requests right from your Gmail inbox. We are the world's first help desk built specifically for Workspace. Read more about us here.
Resources you'll love: