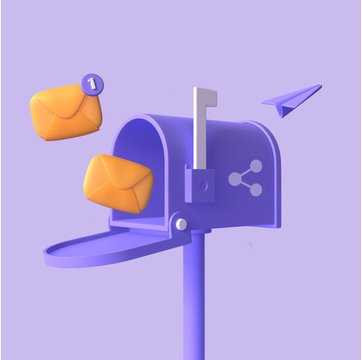 Table of contents
8000+ teams use Hiver to manage shared inboxes efficiently!
14 Best Shared Inbox Tools for Businesses in 2023
Jul 20, 2023
|
12 min read
|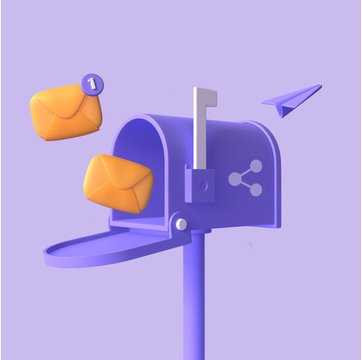 Table of contents
According to a survey conducted by Adobe, people spend nearly 3.1 hours every day on email. That's more than 15 hours a week and a staggering 20 whole weeks of a year!
This explains why employees are left with fewer hours on their hands to execute role-specific tasks. Come to think of it — this brings up a massive opportunity to enhance productivity levels with the help of technology.
One such innovation that can help foster great teamwork and enable excellent cross-functional communication is a shared inbox tool. Shared inbox platforms combine various collaboration features in a unified interface enabling team members to complete multiple tasks with great ease and without having to switch between software or email accounts.
Some shared inbox tools come packed with features like ticket management, reporting analytics, and knowledge base capabilities to further smoothen workflows.
In this post, we will take a look at the best shared inbox tools in the market. But before that, let's delve deeper to understand why shared inboxes are necessary.
Table of Contents
Why do you need a shared inbox tool?
As the number of emails hitting the shared inbox increases, things start becoming confusing. It becomes a lot more difficult to establish who has to work on which email. There can even be occasions when multiple people end up working on the same email. Isn't that the worst?!
Apart from that, it becomes tricky to communicate to the entire team that an email needs urgent attention. This is because it's difficult to keep team members on the same page.
Visibility takes a hit too. Say, for example, Mark sees an email and replies to it right away — it might still look unattended to the rest of the team, and Nate ends up replying to the same email.
Shared inboxes can also lead to diffused ownership. When multiple people are responsible for the same task, each one feels less responsible for it. What's the worst that could happen? An email arrives, everyone thinks "someone else" must be working on it, and it goes unattended.
And this is why teams need shared inbox tools — so that every email is assigned to an individual — every team member is on the same page about what is going on with emails, and nothing ever falls through the cracks.
Here's a list of the top shared inbox tools on the market right now.
The 13 best shared inbox software tools in 2023
Hiver is one of the leading shared inbox software in the market right now. What sets it apart is that it's built right on top of Gmail.
Hiver comes with features like private Notes that enable team collaboration. Its collision detection feature prevents team members from responding to the same email twice.
It also helps you easily assign incoming emails and chats, track their progress, automate repetitive tasks, and provide detailed analytics to track key email metrics like response time, resolution time, etc.
Its other popular features include SLA monitoring, email templates, and customer satisfaction surveys.
Hiver enhances Gmail to work for various teams, such as customer support, finance, account management, and operations.
It also happens to be one of the most secure shared mailbox solutions in the market.
Take an interactive tour of Hiver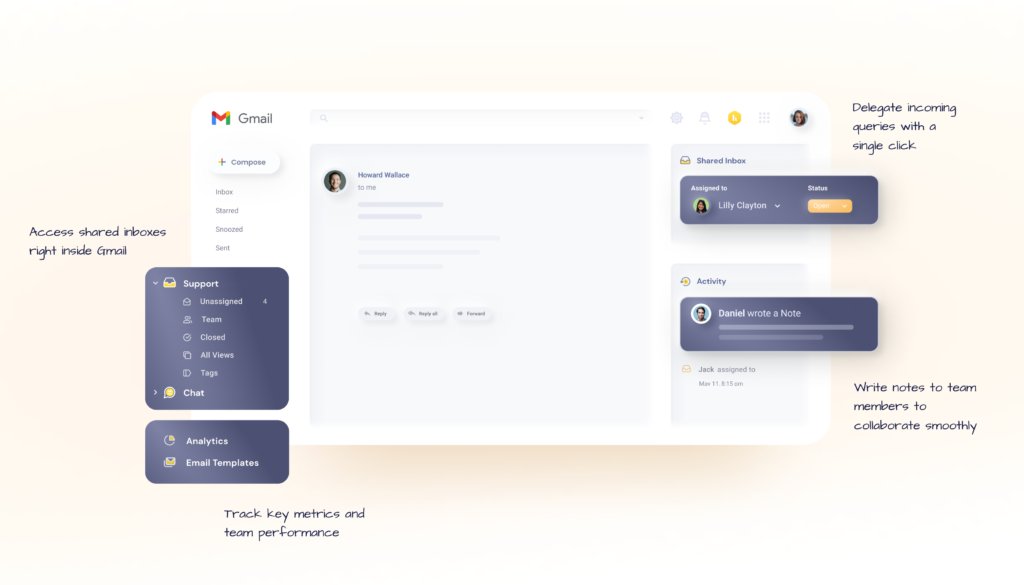 Best for: Teams that want to manage shared inboxes within Gmail.
What you may like: It's extremely easy to set up and use as it does not force teams to adapt to a new interface to manage emails. You can offer customer service via email and chat right from Gmail.
What you may not like: Hiver works only for Gmail users and does not support other email interfaces such as Outlook.
Price: Starting at $15/user per month.
Front is a shared inbox tool that consolidates all customer communications across multiple channels such as email, SMS, social media, and live chat to a unified email inbox. It is a collected app that lets your team generate tickets, send faster replies, and maintain customer messages organized across different channels. Some of its top features include a unified inbox, multi-channel management, CRM integration, collaborative workspace, and social media integration.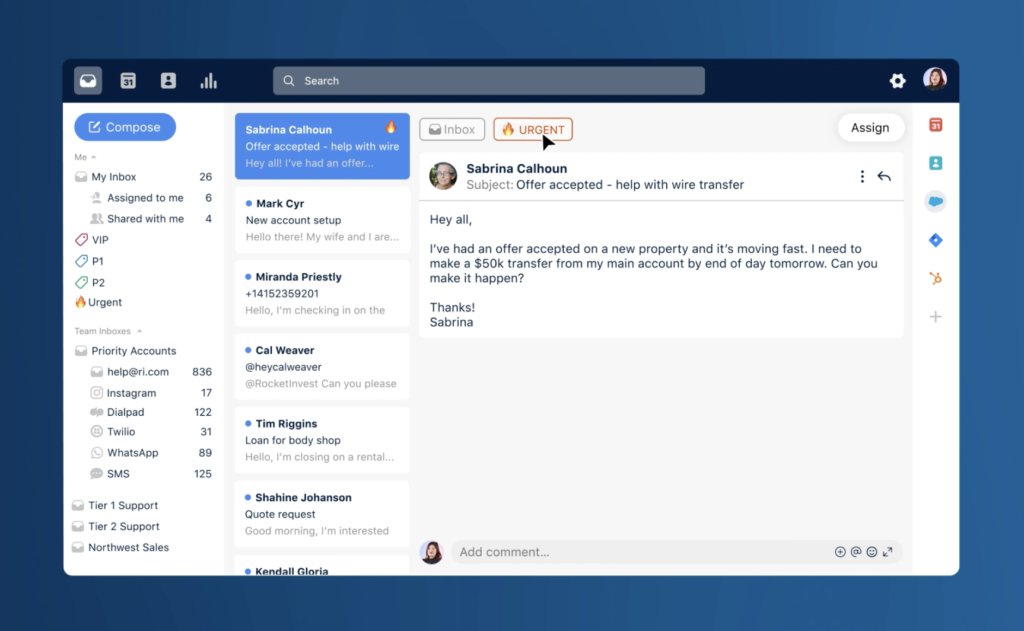 Best for: Teams that are looking to manage multiple channels from a single interface.
What you may like: Powerful automation, multi-channel management, and the capability to integrate with over 50 apps.
What you may not like: Some may find the interface a bit complicated and would require training to get started.
Price: Starting at $19/user per month.
Drag is another shared inbox tool that was designed to keep Google Workspace (formerly G Suite) users in mind. The world's first all-in-one workspace in Gmail, Drag allows you to convert the Gmail dashboard into a team workspace (with a Kanban style layout) to offer customer support, close deals, and manage tasks efficiently.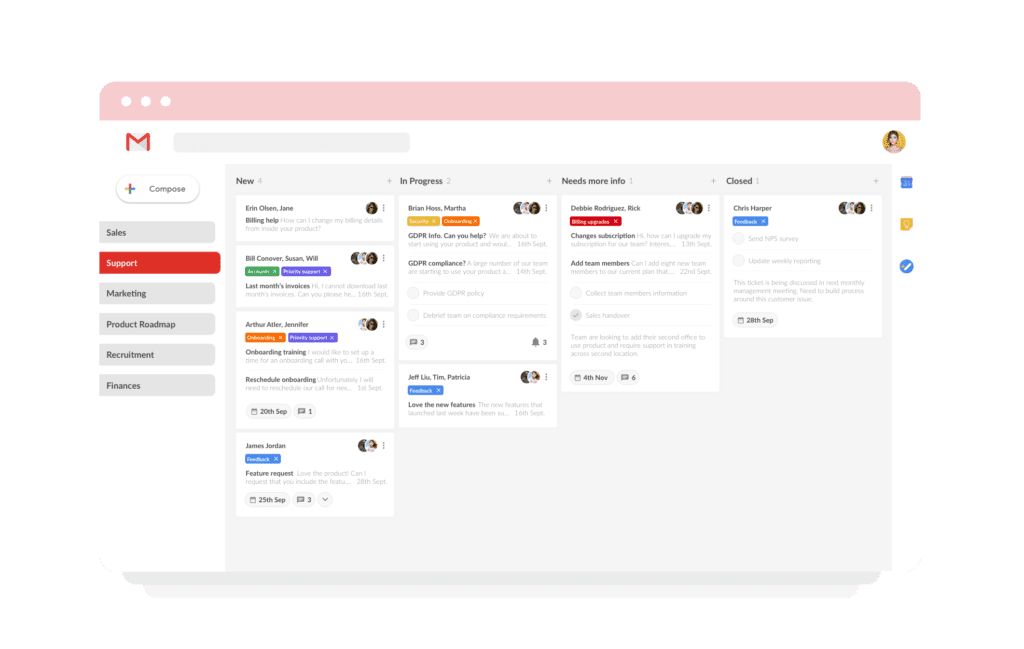 Best for: Organizations where different teams need to collaborate and work on multiple projects at a time. That said, any team that uses Gmail can benefit from this tool.
What you may like: The internal chat is pretty neat. Teams can collaborate without any hassle. It's a brilliant tool for task management and team organization.
What you may not like: First-time users can find the interface to be a bit complicated. It makes the inbox slightly messy, with too many things happening at the same time. Gmail doesn't feel like an email client.
Price: Starts at $5/user per month.
Acquire is a multi-channel shared inbox tool. Its highly intuitive and easy-to-follow interface helps customer support teams keep up with all customer queries from a single dashboard. Agents can tag their colleagues and add notes to existing chats for a better understanding of the problem at hand. This allows for quicker resolutions. Acquire also easily integrates with other customer service tools, such as a chatbot.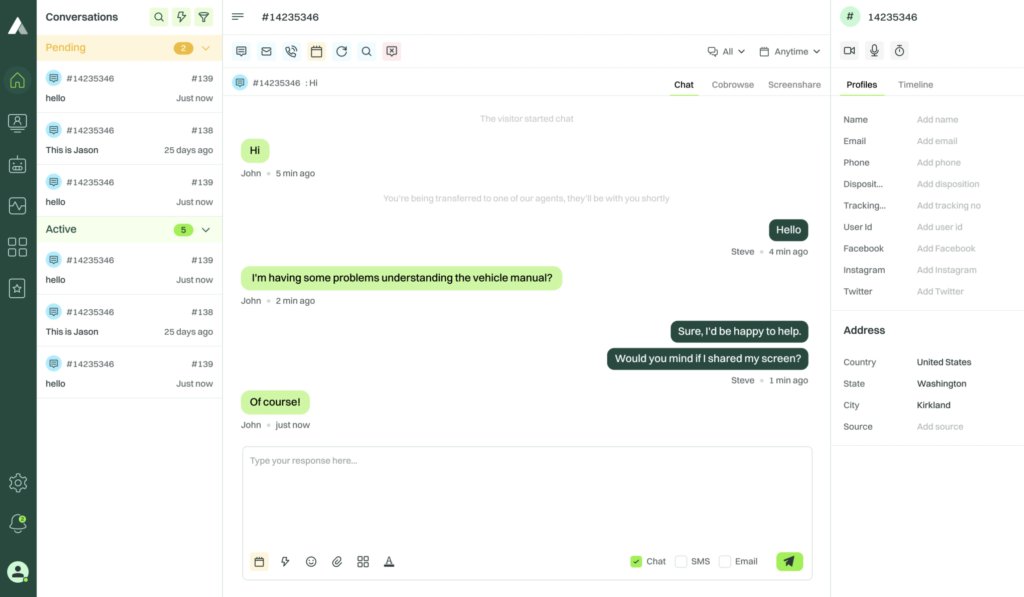 Best for: Customer service teams focused on delivering great experiences.
What you may like: Robust features, ability to easily tag teammates to a customer conversation, quick routing ability, detailed analytics.
What you may not like: Reviews suggest that the app is buggy and has slow response times from customer support.
Price: Starts at $500 plus $25/agent per month.
Groove HQ's shared inbox is built exclusively for customer support teams. It is ideal for growing businesses looking for an easy transition to a shared inbox solution. It has no complex features. You can keep track of all your conversations on a single dashboard. Groove focuses on pure customer support features like a knowledge base and reporting.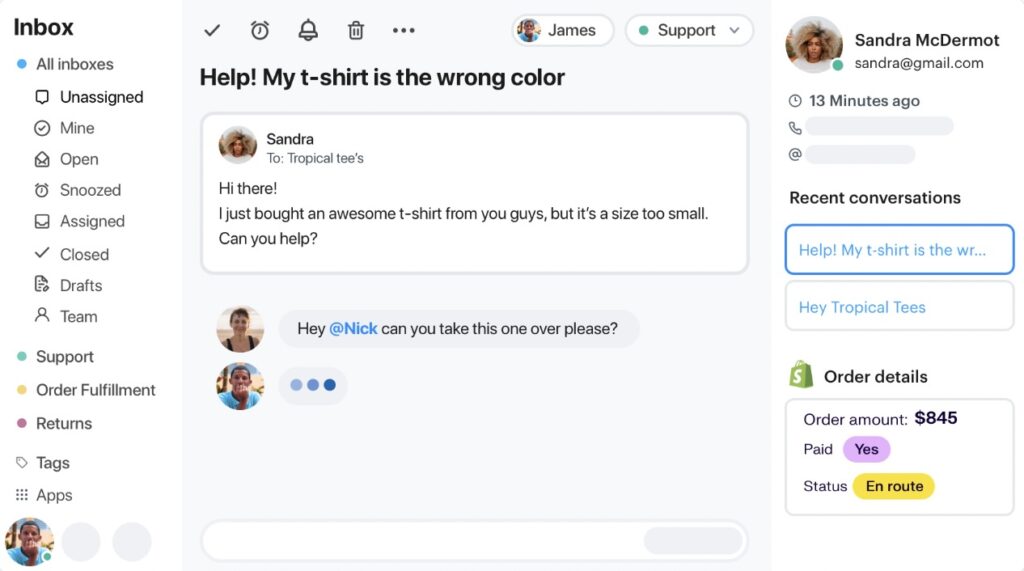 Best for: Both small businesses and enterprises
What you may like: This is a simple tool to use with 30+ app integrations. You can also pull up detailed insights in real time.
What you may not like: Businesses looking for a shared inbox tool to support multiple departments such as Finance, Sales, etc., may not find this tool up to par.
Price: Starts at $20/user per month.
Helpmonks is a collaborative shared inbox tool with features such as email monitoring, email archiving, routing, automation, and CRM capabilities. What sets this tool apart is that it can be deployed in 3 different configurations giving you the flexibility to choose the setup that best matches your business needs.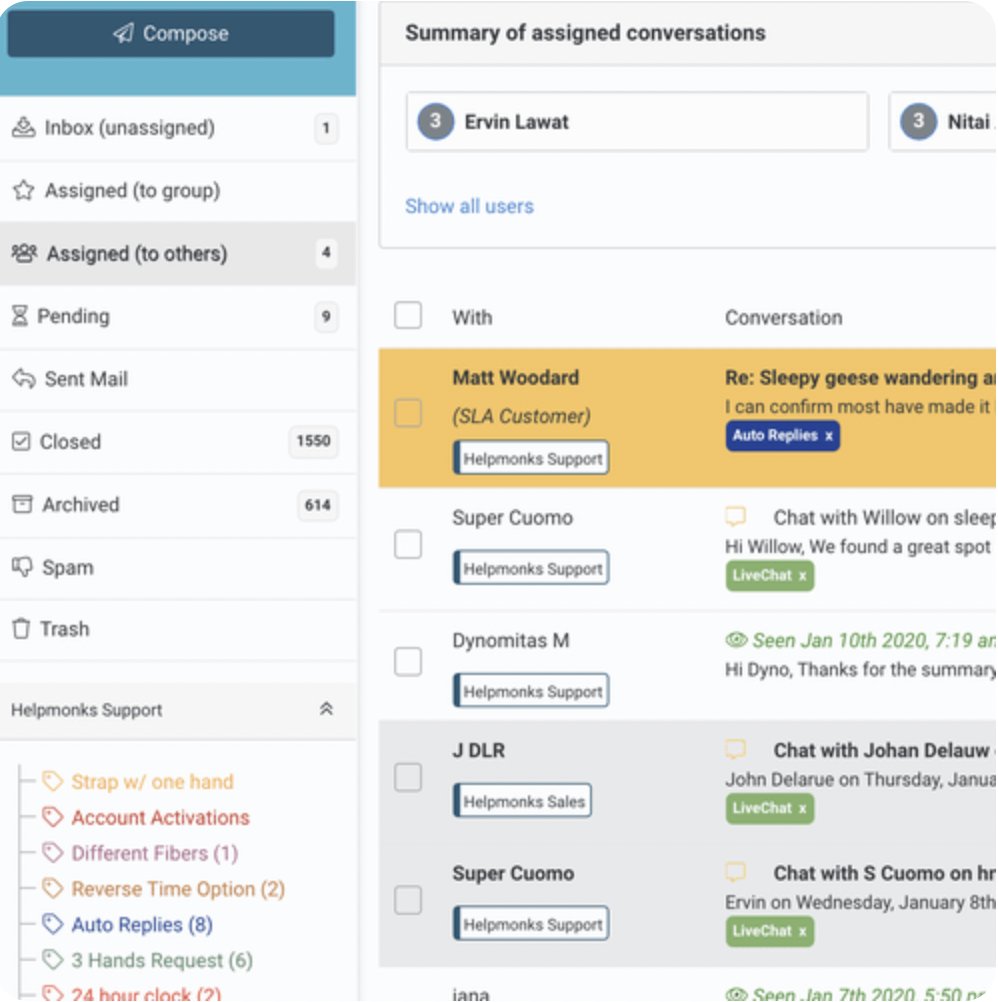 Best for: Companies looking to host a shared inbox on their server; companies looking for a shared inbox with CRM capabilities.
What you may like: Multiple deployment options: Hosted, cloud server or self-hosted
What you may not like: It's not a very user-friendly tool as it has a complex user interface
Price: Starts at $29/mailbox per month.
Gmelius helps companies run a CRM within Gmail. The inbox becomes a work hub for communication, collaboration, and automation. The product houses typical shared inbox features like email assignments, shared labels, and templates for seamless collaboration.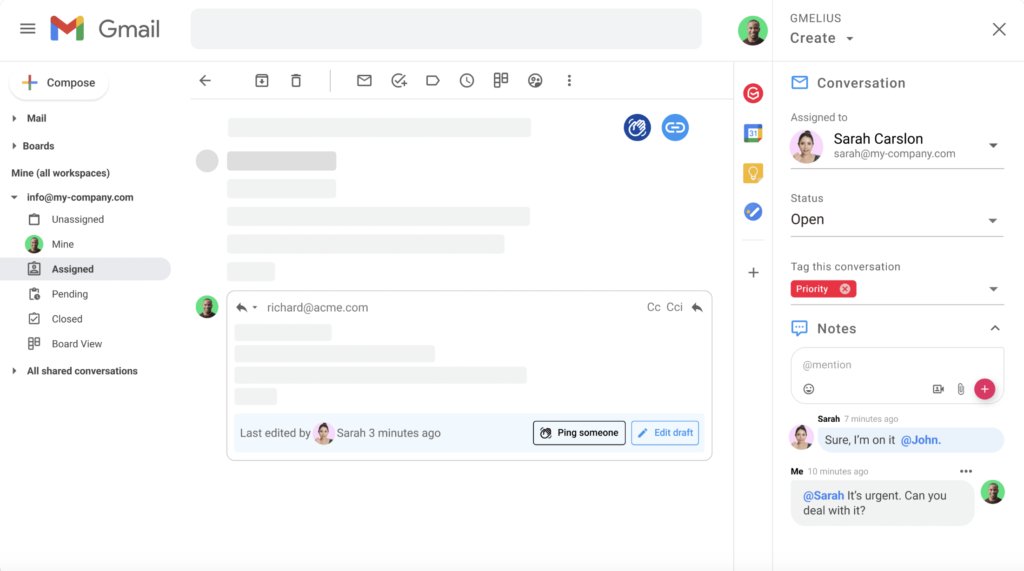 Best for: Teams that want to collaborate, manage projects and streamline workflows on tools that they already use, such as Gmail.
What you may like: You can create drip campaigns within Gmail using the 'Sequences' feature
What you may not like: Reviews suggest that the tool is fraught with glitches and bugs.
Price: Starts at $12/user per month.
Loop is an email management hub that also brings seamless team messaging to typical inboxes. With Loop, one gets quick access to messages and daily reports about team performance. It also offers standard collaboration features like assigning emails or collaborating via chat.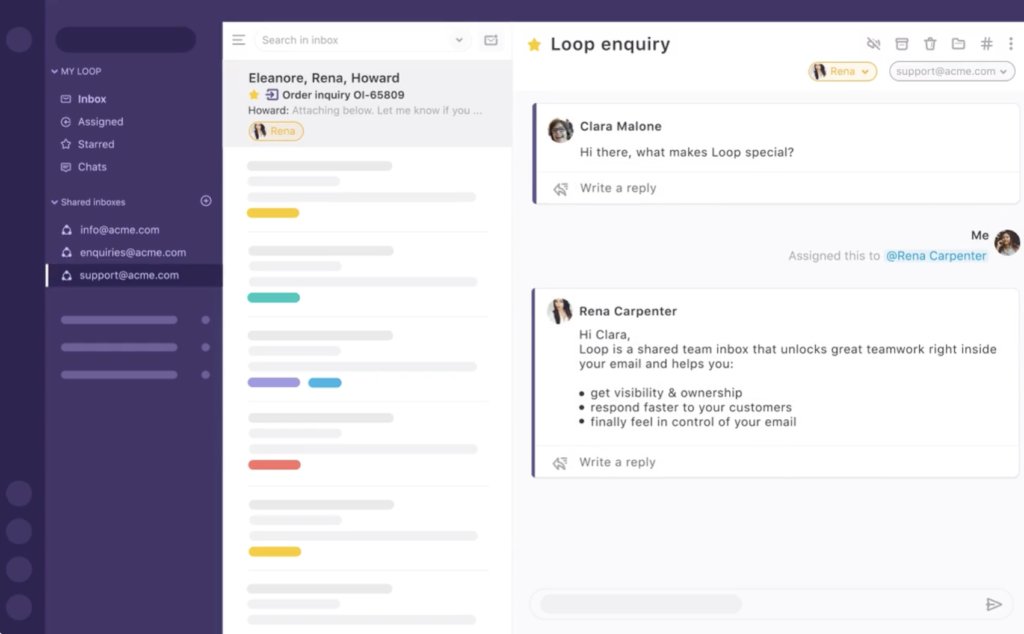 Best for: Small to mid-level organizations
What you may like: Your inbox is organized by contacts — making it easier to navigate, and easily convert an email conversation into a chat discussion with teammates.
What you may not like: It pulls people out from the comfort of their email service provider. Teams will have to learn how to use the app.
Price: Starts at $15/user per month.
Missive is an app created for team collaboration to streamline your team's communication. It brings together the chat and team inbox functionalities under one roof. Its key features include team inboxes, internal team chat, and integrations. With Missive, you can effortlessly manage emails, chat, and social media accounts like Facebook and Twitter.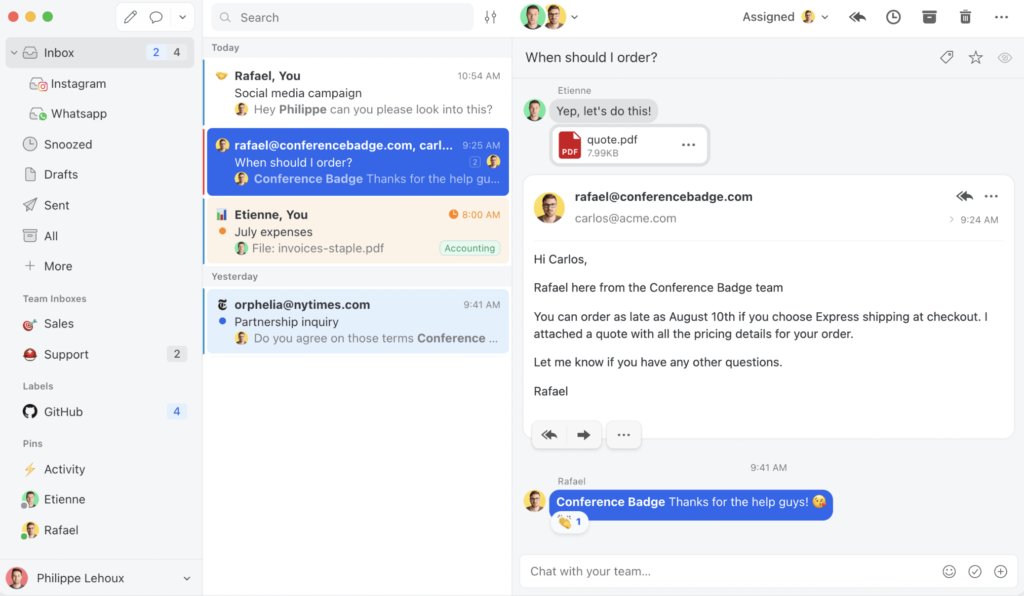 Best for:

Small and medium businesses, consulting firms, and marketing agencies.

What you may like:

Access to multiple email accounts from a unified interface, and plenty of integrations.

What you may not like:

It's an app to manage different email accounts and not a shared inbox.

Price:

Starts at $14/user per month.
A help desk solution, Kayako offers shared inbox as an additional feature. It focuses on bringing all the customer interactions— email, Facebook, Twitter, and live chat channels — to a single platform. It also offers basic team analytics.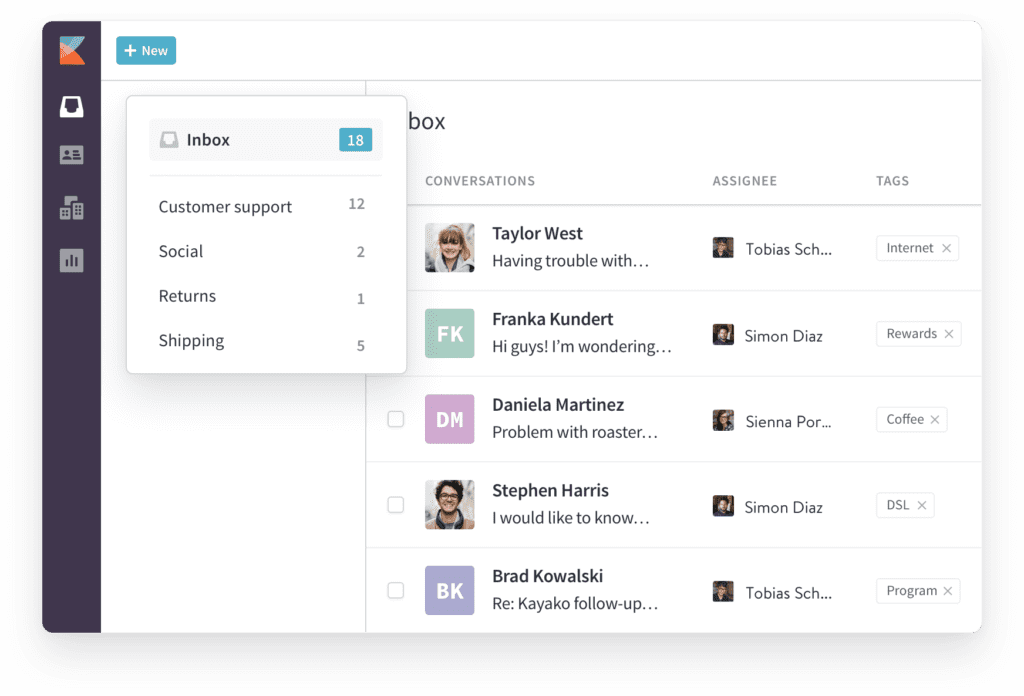 Best for: Customer support teams and any organization that's looking to power their customer service.
What you may like: Canned responses and multichannel customer interactions from a unified dashboard.
What you may not like: Not suitable for other teams in your organization, such as finance, marketing, or sales, as it's designed with features that make sense for the customer support function.
Price: Starts at $59/user per month for the Classic On-Premise plan. The Kayako cloud solution comes with custom pricing.
HappyFox is a CRM and ticketing system that neatly integrates with the support inbox and website queries. It also supports social media messages using Twitter and Facebook integrations. One of its unique features is that all the departments of your company can use it.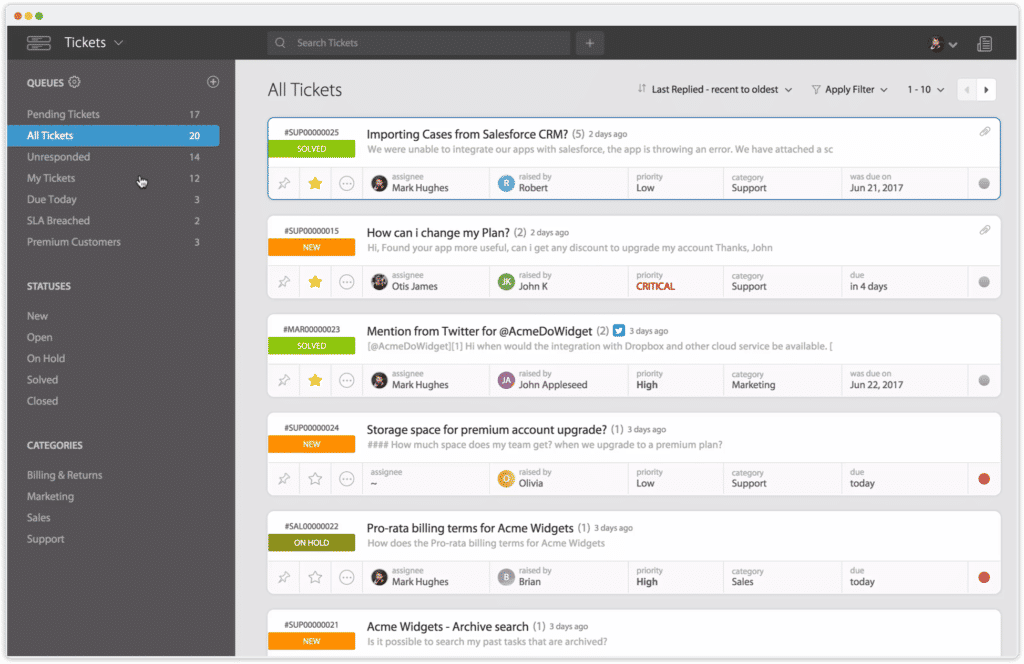 Best for: Small-sized customer support teams
What you may like: It supports both internal and external knowledge base systems and allows for seamless integrations with Facebook and Twitter.
What you may not like: This tool is slightly more expensive than the other tools in the market.
Price: Starting at $29/user per month.
Keeping is a Gmail-based email management platform designed to work mainly for customer support teams. It's a simple tool that does not offer legacy features offered by traditional help desks.
With Keeping, you can assign customer support requests to team members, share private internal notes and add a status — right from inside Gmail.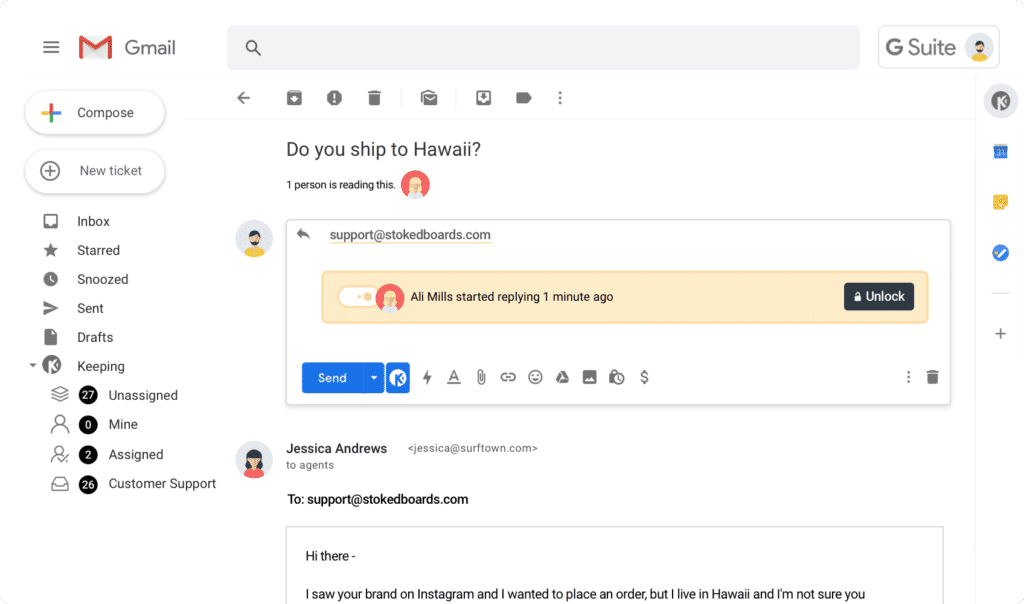 Best for: Small teams handling customer support.
What you may like: It works from Gmail. It's a user-friendly tool that requires minimal to no training.
What you may not like: The user interface is not intuitive. For example, every email needs to be manually forwarded to Keeping.
Price: Starts at $8/user per month.
Helprace is an easy-to-use help desk system that offers a shared team inbox as an add-on. Some of its notable features include tickets, email management, an intuitive customer community, and a feedback app.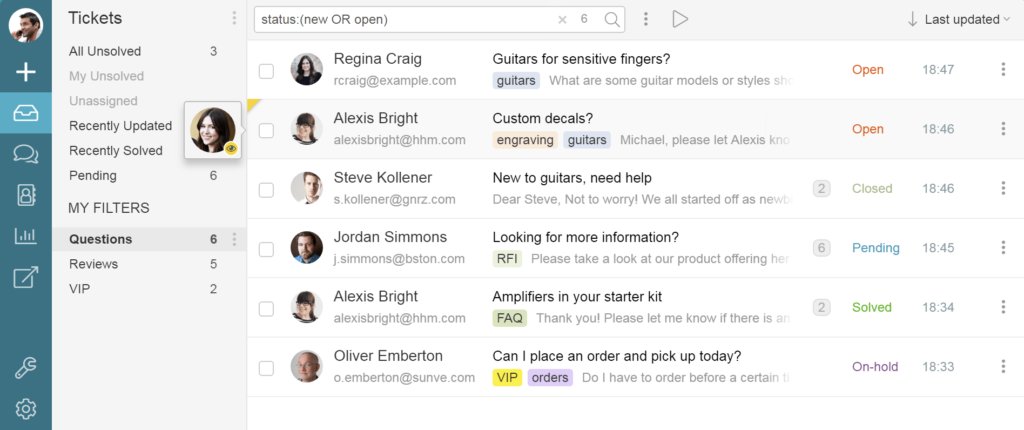 Best for: Small and emerging teams on the lookout for customer service solutions. 
What you may like: Visual editor to create custom email responses. 
What you may not like: Shared inbox is added as an afterthought to their customer support software.
Price: Starts at $9/user per month.
ProProfs Help Desk is a shared inbox software, also a comprehensive help desk solution that includes features for managing customer support tickets, knowledge base creation, live chat, and customer feedback. It has the same functionality as a dedicated shared inbox, it can still be used as a collaborative tool for managing customer inquiries and providing timely responses. With ProProfs Help Desk, you can centralize all customer communication in one place, making it easier for your support team to collaborate and ensure that no customer queries fall through the cracks.
Best for: Manage multiple team inboxes, such as support@, info@, returns@, etc., in one place.

What you may like: Internal Collaboration allowing agents to join hands to resolve tickets faster.

What you may not like: Shared inbox is added as an afterthought to their customer support software.

Price: Starts at $30 per month.
Power your teams to succeed with the right shared inbox tools
Shared inbox tools offer a great way for teams to collaborate and manage common inboxes such as info@ or support@. You no longer have to worry about important information getting drowned in silos. Your customer emails will never go unnoticed again, repetitive tasks like email assignments can be easily automated and duplication can be kept at bay.
While there are a sea of options out there, pin down the needs of your business and go with a tool that suits you best.
Interesting fact: Teams that use Hiver's shared inbox save a massive 264 hours every month. Would you like us to show you how Hiver can deliver similar results for your team?
You can always request a demo with us. Or better yet, try it out (Free for 7 days) to see if it works for you.