A Front App alternative that works right from Gmail
Use Gmail for work? Meet Hiver. It helps you manage shared inboxes like support@ right from your inbox. No unfamiliar interface or switching between tools - means fewer headaches for your team.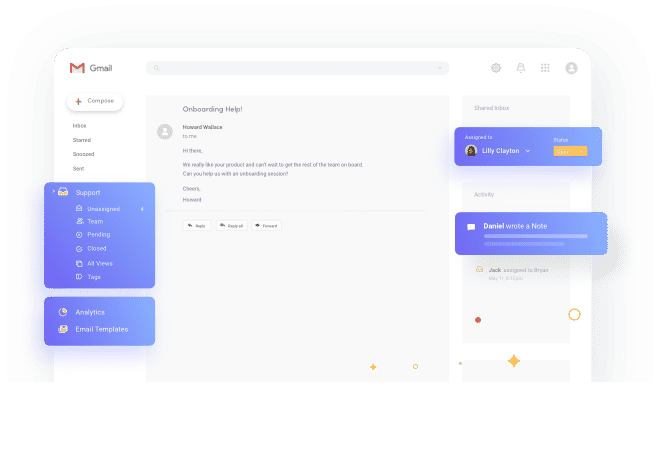 Hiver helps over 7000 teams manage shared inboxes with ease





Teams across industries are delivering brilliant
customer service with Hiver
Have 30 minutes sometime this week?
More reasons to choose Hiver over Front
Incredibly easy to use
Hiver, you can manage shared inboxes like support@ from the comfort of Gmail. There are no training sessions - no new terminologies to learn.
Also, there's no moving back and forth between tools - your team will save hours every day.
We liked working with shared inboxes and wanted a solution that helps us manage them better without complicating processes. We got just that with Hiver. I can handle customer emails right from my personal work account now. It's very convenient.
Hiver's global search capability is uniquely amazing. A lot of other customer service solutions completely failed at the ability to search. Their search was so bad that you had to be a junior developer to be able to find an email, especially across mailboxes. Whereas, with Hiver, almost 100% of the time, I can easily find an email.
Powered by Google search
Hiver's search works right on top of Gmail's - and makes looking for customer conversations incredibly simple. The Gmail operators (To, From, and Subject) continue to work as before.
Not just that, you can search across inboxes from one place, instead of searching through them separately.
Complete control over your data
Hiver adds customer service capabilities to your shared inboxes - without modifying your existing emails, labels/folders, and filters.
Email threads continue to appear as they always have. Your current workflows are not disrupted. Managing shared inboxes gets easier with Hiver.
Hiver required minimal training or workflow changes as it integrated nicely with Gmail. Other solutions required yet another system to log into, plus a complete mind shift in the way the team approached and used email.
Hiver checked all of the right boxes, but what really helped us become successful with Hiver was the ability to measure analytics right out-of-the-box.
In-depth reporting
Deep-dive into your team's performance metrics and customer satisfaction ratings - without even leaving Gmail.
You can also track every aspect of individual performance, including overall workload, response and resolution times, among others.
The most secure
customer service solution
Security by Google
We do not store your emails
Certified Google Partner

EU - US Privacy Shield

SOC 2 Type II Compliant

ISO 27001 Certified
Join the 7000+ teams that are using Hiver to
deliver a great customer experience
Request a Demo