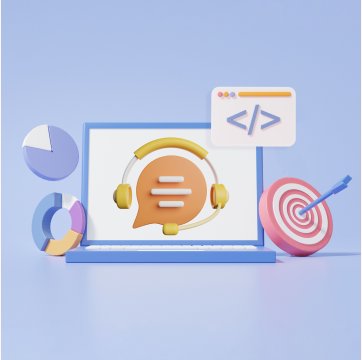 Table of contents
An IT help desk that works from Gmail
Top 11 IT Help Desk Software To Watch Out For in 2023
Sep 20, 2023
|
15 min read
|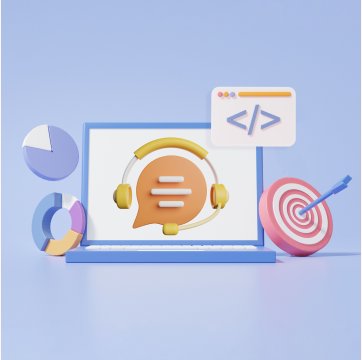 Table of contents
Modern tech stacks may be a lot more advanced and reliable, but that doesn't mean that you will never run into glitches or issues that need the support of experts. In this case — information technology professionals.
Considering the pace at which businesses are growing, it's best to ensure that your IT support staff is able to maintain high productivity levels, resolve customer requests at record speed and manage all incoming support requests with ease.
The good news is that you can do all that with IT help desk software.
These help desk support tools have come to be the holy grail for IT support teams. They help teams streamline and track all the tech support issues that come their way from both employees and customers (for businesses that deal in IT products and services).
In this detailed guide, we'll not only share the list of top IT help desk software but also uncover everything you need to know about IT help desks and the benefits of using one.
Table of Contents
What is an IT help desk?
An IT Help Desk is a centralized platform designed to provide customers and employees with technical support related to products or services they use. It helps handle technical queries, and troubleshoot tasks and service requests, ensuring that disruptions in IT services are resolved promptly to maintain business continuity.
There might be some confusion on how IT help desks are different from IT service desks — we'll help you get to the bottom of this.
The IT service desk primarily focuses on managing service requests and incidents. Apart from resolving tech issues, you can also use service desks to improve the overall quality of your services. On the other hand, the IT help desk's main goal is incident management orhandling service outages. The IT help desk functions as a subset of the service desk, providing reactive rather than proactive service.
When you're vying for your customer's attention in a crowded market — having top-notch IT help desk software can go a long way in fostering long-term customer relationships. This is crucial in a world where 72% of consumers switch brands after a bad customer service experience.
Also, with your employees moving from one platform to another to get things done, technical issues are bound to arise. Utilizing an organized system to track and solve these issues can have huge payoffs.
From providing useful information on the setup and configuration of IT software to issue tracking and resolution, IT help desks are paramount totroubleshooting technical issues and providing technology support in a more efficient manner.
Benefits of using an IT help desk software
Today, help desk software does a lot more than just fix IT problems. These tools come loaded with a host of capabilities like self-serve options and aknowledge base — to reduce the load on IT support teams. Using these help desks also goes a long way in helping IT teams find permanent solutions to frequent problems.
An IT help desk software is beneficial in more ways than one. Let's look at how it can help your team:
Enables greater productivity
Using help desk software will ensure quicker resolutions of IT problems which, in turn, will help the teams be more Using a IT help desk software will ensure quicker resolutions of tech problems which, in turn, will help the teams be more productive. According to HubSpot, 86% of companies that use help desk software are more productive.
Promotes workflow automation
Help desk software automates the entire process, which helps your IT staff to support a larger and more diverse IT ecosystem. With IT support requests piling up, 64% of IT decision-makers are planning to increase their investment in automation.
Reduces Cost
Managing help desk operations manually can end up being a costly affair — with the cost of each ticket being about $22. That said, using help desk software and automating the process can help you resolve at least 22% of all requests at practically no cost.
Factors to Consider When Choosing IT Help Desk Software
Choosing the best IT Help Desk software can be confusing, given the plethora of available options.
To make an informed decision, businesses must focus on what's crucial for their specific needs. Here are three key factors to consider:
Compatibility & Integrations:

Your chosen IT help desk software should be able to mesh well with existing platforms, whether it's CRM, project management tools, or other enterprise software.
Integrative capabilities eliminate operational silos, foster smooth data flow, and ensure a unified approach to issue resolution.


Scalability

Opt for software that not only meets your current demands but can also be scaled up or down based on future requirements.
A scalable solution prevents the need for frequent software switches, saving both time and money in the long run.


Usability & Training

Prioritize software that boasts an intuitive interface and provides ample training resources.
Easy-to-use software reduces the learning curve for your team, ensuring that they can quickly adapt and utilize all its features.
Top 11 IT help desk software [Pros, Cons, Price and more]
With an influx of help desk ticketing systems in the market, deciding which tool works well for your business can be quite a task. This is why we went ahead and tested out the best ones out there so that you don't have to.
We're here to help you quarterback your IT support ticketing systems by listing out 11 top-notch IT help desk software.
Hiver is the world's first fully-fledged Gmail-based customer service software. It allows you to offer your customers multichannel support via email,live chat support, voice call, WhatsApp, and knowledge base.
One of the most popular customer service tools designed for Google Workspace (formerly G suite),Hiver comes packed with a robust help desk system and much-needed features to empower customer support teams to address customer issues.
With Hiver'semail ticketing system, you don't have to worry about losing track of customer interactions in your inbox. You can easily categorize and prioritize them to ensure quick resolution of such customer requests.
It also, offers powerful features like automation and templates. With these, you can respond to customer queries much faster. With such robust features Hiver is one of the best help desk software available in the market.
Hiver is priced reasonably for the advanced feature set that it has to offer. With three different plans to choose from,
Hiver's monthly pricing plan for a single user starts at
$19 for a plan named Lite.
This is followed by the Pro plan which is priced at $50, and
Elite at $79.
Hiver offers a Startup Program that allows you to use the help desk absolutely free for the first 6 months and a 50% discount after that. You can register for the Startup Program here.
You can even get started with a7-day free trial on Hiver (no credit card details required either).
Pros:
An affordable tool with an easy-to-use interface as it works on top of Gmail.

Hiver'srobust analytics uncover in-depth insights about your team's performance with access to customer service reports and metrics like response time and resolution time.

The tool is extremely user-friendly. Users need not spend time learning how to use it as it looks and feels like Gmail.

Enables teams to stay organized and track customer requests with ease.

Hiver has powerful integration features (with apps like Jira, Salesforce, QuickBooks, Okta and more). This let's you manage all internal communication and collaboration workflows efficiently right inside Gmail.

Hiver's Knowledge Base feature lets teams create a central repository of useful information that can be easily accessed by their end customers.

The tool is great for businesses dealing with high volumes of requests and also helps promote collaboration among teams.

Offers24×7 customer support
Cons:
One of the most popular tools for CRM and customer help desk management, Zendesk offers a range of customer service tools including an internal IT help desk for employees.
Customer service team members can easily prioritize and escalate tickets with the help of automated workflows on Zendesk. Zendesk's ticket management system also comes with a multichannel support functionality that allows customers to reach out through arange of channels like email, chat, social media, and web forms.
Pricing:
Zendesk's pricing is split up into two categories. One Is the basic plan and the other is the suit plan.
Zendesk's Basic Plans offers ticketing system for managing only emails.

Support Team:Priced at US$ 19 per agent/month (billed annually) for 5 agents.
Support Professional: Priced at US$ 55 per agent/month (billed annually) for 5 agents.
Support Enterprise: Priced at US$ 115 per agent/month (billed annually) for 5 agents.


Zendesk Suite Plans offer a complete solution for ticketing, messaging, help center, and voice.

Suite Team: Priced at US$ 55 per agent/month (billed annually) for 5 agents.
Suit Growth: Priced at US$ 89 per agent/month (billed annually) for 5 agents.
Suit Professional: Priced at US$ 115 per agent/month (billed annually) for 5 agents.
Suit Enterprise: Custom pricing. You would have to contact the sales team for this plan.
Suit Enterprise Plus: Custom pricing. You would have to contact the sales team for this plan.
You can even get started with a 14-day free trial on Zendesk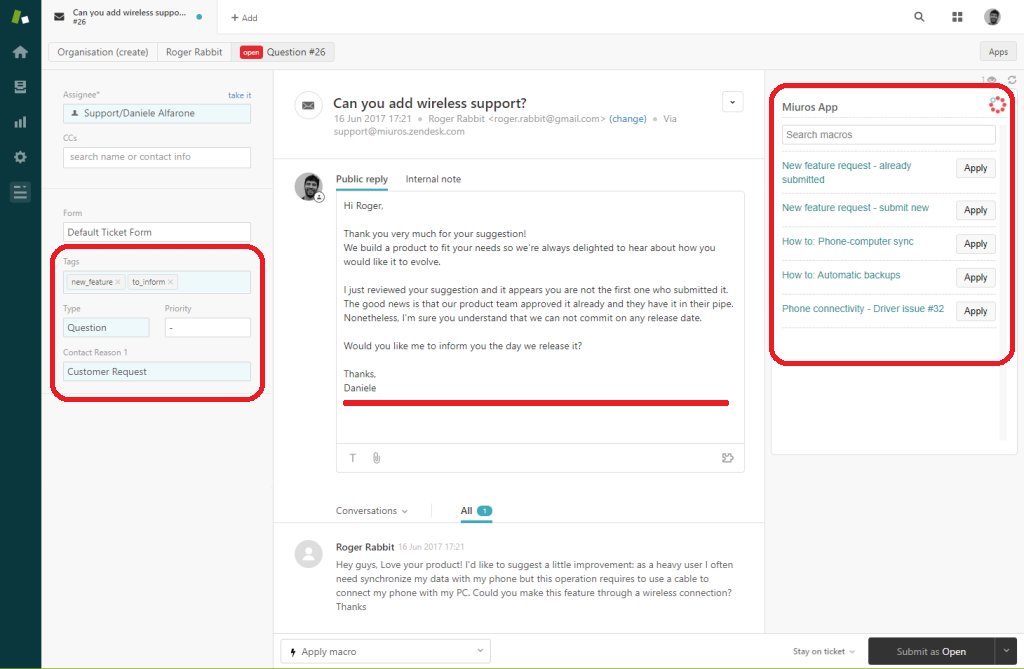 Pros:
They provide customizable dashboards

It is a good platform for medium and large-sized companies

Integrated surveys to measureCustomer Satisfaction Scores

Great platform for omnichannel support

Filter customer requests easily using Zendesk's 'Views' feature
Cons:
Does not support advanced IT-specific features such as asset management
Recommended Read: Hiver – a faster and simpler Zendesk alternative
Freshservice is a cloud-based service desk system that combines the functionalities of a help desk and incident management software. It has an intuitive interface and an easy-to-use dashboard.
Freshservice does more than just a basic ticketing software. It turns incoming support requests into tickets and assigns them to the right agents. Moreover, it organizes them by type and priority, and tracks them until they're resolved. Additionally, Freshservice offers a knowledge base to take care of the FAQs, a community forum, document indexing, and an access portal for your convenience.
It comes loaded with advanced IT helpdesk capabilities like change management, incident management, and release management.
Pricing:
FreshService has a Starter plan at $19. Their Growth and Pro plans are priced at $49 and $89. Whereas their plan f
FreshService has different pricing packages:
Starter Plan: Priced at $19/agent/month (billed annually)or $29/agent/month (billed monthly)
Growth Plan: Priced at $49/agent/month (billed annually)or $59/agent/month (billed monthly)
Pro Plan: Priced at $95/agent/month (billed annually)or $115/agent/month (billed monthly)
Enterprise Plan: Priced at $119/agent/month (billed annually)or $145/agent/month (billed monthly)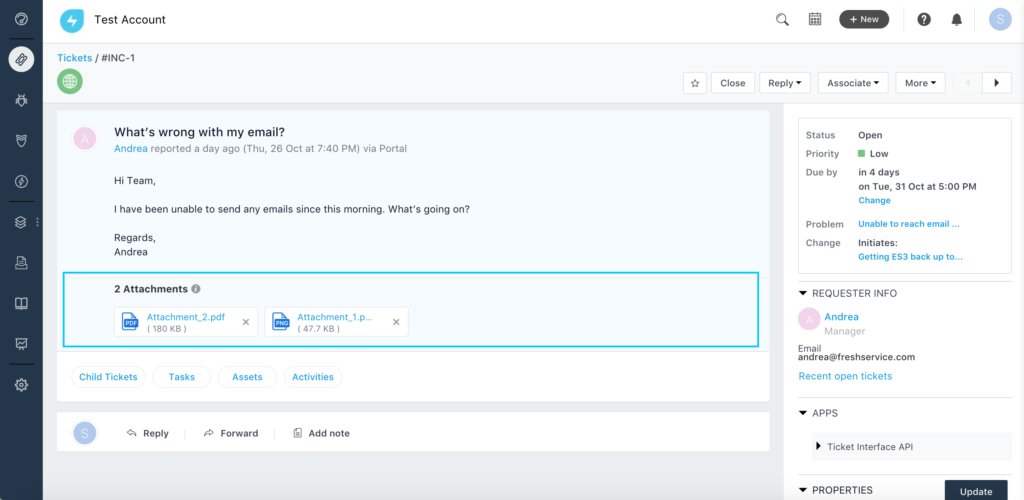 Pros:
Asset tracking and integration is possible

Has mobile compatibility. So,issues can be reported from the mobile app and any device

Very sleek, responsive, and intuitive UI

Prompt tech support
Cons:
Customizations make pages load slowly

Without coding, the web portal customization is minimal

Limited out-of-the-box integrations
Besides being a powerful CRM tool with marketing andsales automation features, HubSpot's IT ticketing and help desk platform is also quite impressive. HubSpot lets you route, organize, and track support tickets – all from a single dashboard.
As the platform is backed by its very own CRM, agents can easily link incoming tickets to a customer's past records. Thus allows them to refer to their previous interactions with the company. This makes it easier to offer more tailored and faster support which ultimately leads to a better customer experience.
Pricing:
HubSpot Service Hub has 2 major plans:
Free Plan – It offers a free plan for small teams with minimal features, but it's pretty sufficient if you're just looking to get started.
Starter plan – Priced at $18/ month for 2 users, billed annually
Professional plan – Priced at $450/ month for 5 users, billed annually
Enterprise plan – Priced at at $1200/ month for 10 users, billed annually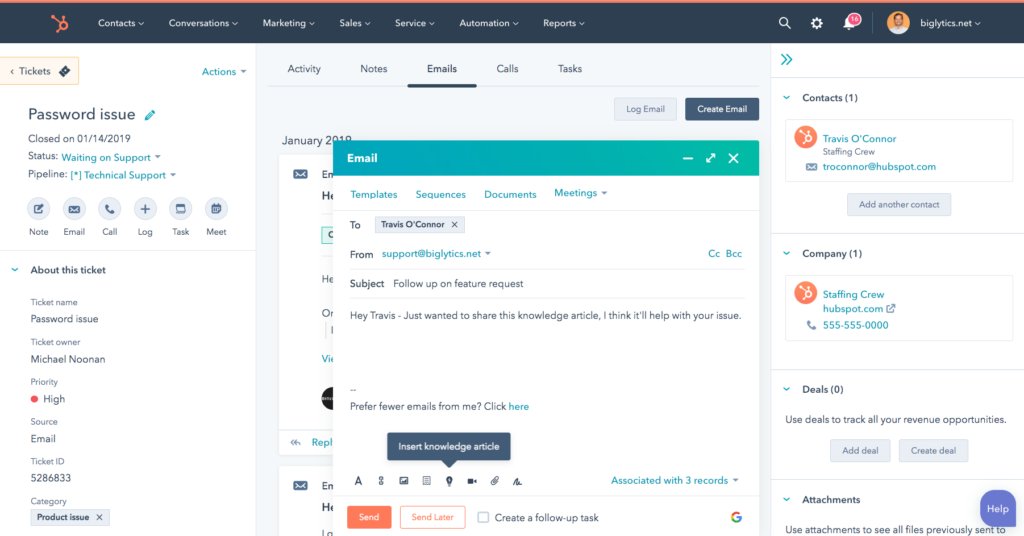 Pros:
Canned snippets can be used to address frequently asked questions.

Analytics like reports on tickets closed, resolution time, and customer support agent's productivity are available.

You can easily set up automated meeting schedules with customers.
Cons:
With a whole lot of features that it offers, the tool can seem a bit overwhelming
Zoho Desk is another powerful IT helpdesk software that allows you to offer support to both your customers as well as your company's employees. You can assign, track and access multi-channel tickets through a single dashboard. It also allows you to create a knowledge base forself-service.
With Zoho Desk, you can easily sync your existing customer data from Zoho CRM to track ticket activity and user history.
Zia is Zoho Desk's all-around AI-powered software that chats with customers. You can also use it to perform tasks like helping help desk technicians find relevant solutions from the knowledge base.
Pricing:
Zoho Desk comes with:
Free plan – Comes with basic features and can be used by 3 agents.
Express plan – Priced at USD $7/user/month
Standard plan – Priced at USD $14/user/month
Professional – Priced at USD $23/user/month
Enterprise plan – Priced at USD $40/user/month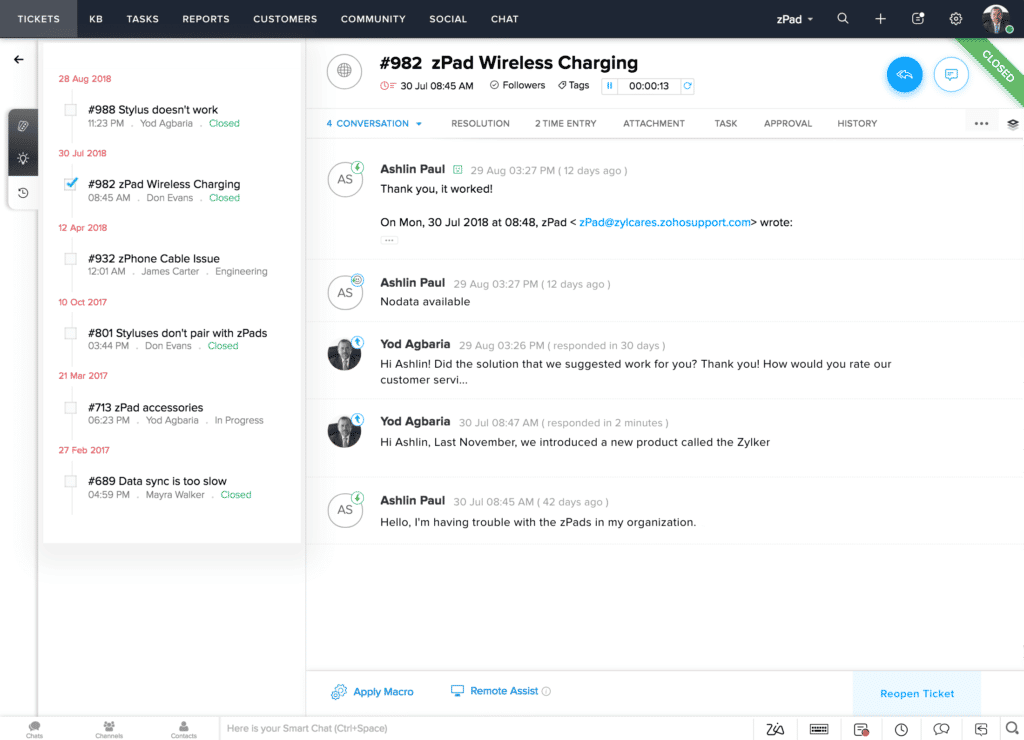 Pros:
Custom mobile apps can be built with the help of their software development kits

Specific dashboards are there for SLA management

Can categorize customer requests with the help of tags

Reach a diverse customer base across multiple communication channels
Cons:
The search functionality can use some improvement as looking for tickets on the tool is not easy

Setting up automated workflows on the tool is not easy
Recommended read: Zoho Desk Pricing: Does it offer value for your money?
SolarWinds Web Help Desk is a powerful cloud-based help desk solution known for striking the right balance between robustness and simplicity.
With its intuitive interface, businesses can efficiently manage tickets, automate workflows, and track hardware and software requests. The platform integrates seamlessly with other IT management solutions, making it a holistic tool for both small and large enterprises.
Pricing:
With regard to pricing, you can get in touch with the SolarWinds sales team to get a quote based on your requirement. Although, the pricing starts at $410/user. There is also a 14-day trial that you can sign up for.
Pros:
You can set up Service Level Agreement (SLA) alerts using SLA breach approaching

You can configure automated feedback surveys

Seamless integration with other IT management solutions
Cons:
Can be a tad resource-heavy on older infrastructure

Some users report a slightly cumbersome initial setup process
Jira Service Desk is great for both ITSM and customer service. The software works seamlessly with Confluence —
Jira Service Management is great for both ITSM and customer service. This IT help desk software combines robust ticketing and service request management with some of the agile capabilities.
Tailored for DevOps, Jira Service Management offers features like change risk assessment, advanced SLAs, and more, enabling businesses to deliver high-quality service and incident resolution.
Pricing:
Jira Service Desk has two high-level pricing plans — Cloud and Data Center.
Data Center plan is priced at $17,200 for 50 agents
the pricing plans under Cloud are split up into four plans:

A free plan -This can be used by upto 3 agents
Standard plan – Priced at $21/ agent/month
Premium plan – Priced at $47/ agent/month
Enterprise plan – you will have to contact their sales team to know the rates.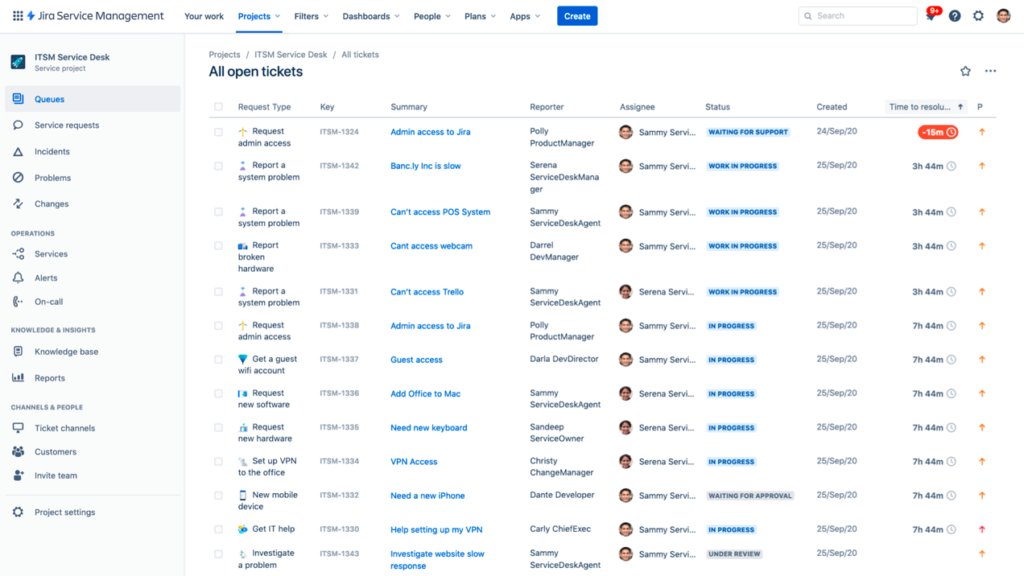 Pros:
The software supports both IT service management and customer care

Custom embedding is made possible with API support

Offers multilingual support
Cons:
Customer access via social media channels are not allowed

The software has a steep learning curve

Compared to the alternatives, the self-hosted version is priced on the higher side
Spiceworks is a free IT help desk software that you can use for a myriad of IT support processes likeremote support, inventory management, and network monitoring. It also offers several standard helpdesk functions for ticket management, collaboration and reporting. The software even lets you track customer requests using their mobile app.
Spiceworks comes with a range of customization capabilities that allow companies to use and tweak the software as per their needs. It has an on-premise and cloud-based version available.
Pricing:
Spiceworks offers all its products for free of cost, which makes it a great help desk tool for small businesses that are just starting out.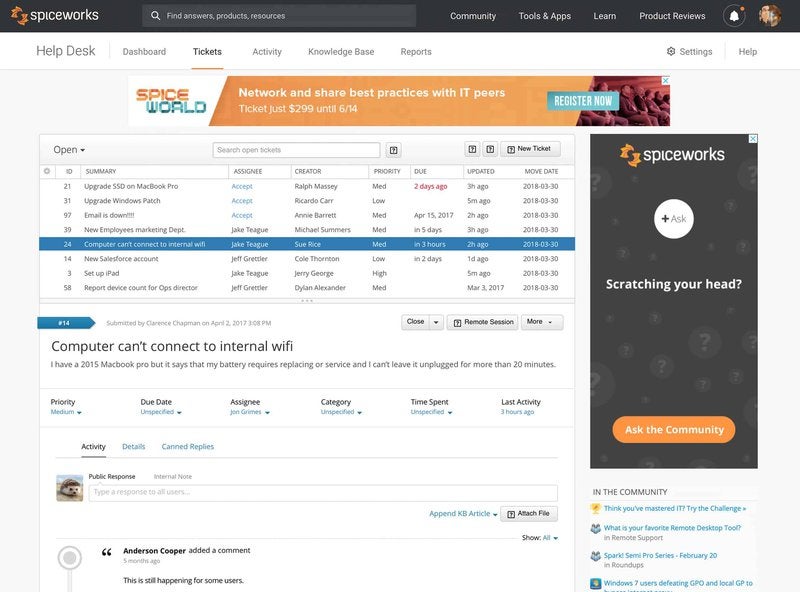 Pros:
Completely free-to-use software

Great community support made up of IT professionals and network engineers that share useful insights and ideas from time to time

You can give roles-based permission and control 'who can access what'

Support multiple operating systems like Linux and Microsoft
Cons:
As you cannot set up separate queues or service desks — ticket routing to specific teams is quite a hassle

The sorting and filtering of submitted tickets need to be improved

Since it is a free IT Help Desk application, you will need to download information in CSV formats and then create your own reports
Recommended read: Top 9 Free Helpdesk Ticketing Software of 2023
With a user-friendly interface that enables easy navigation, JitBit simplifies the overall help desk experience for IT teams.
With JitBit's centralized hub, you can view real-time updates on all your support tickets in one place. They have a neatly stacked grid that makes sorting, filtering, and assigning tickets absolutely effortless. You can set up JitBit's IT help desk in minutes. This allows your support staff to address requests in real time — as and when they come into the system.
Pricing:
JitBit has two major versions:
Self-hosted version which is further divided into:

Small Plan – Priced at $2199 per year.
Company Plan – Priced at $3799 per year.
Enterprise Plan – Priced at $6499 per year.
Source Codes – You need to contact their sales team to know the quotes.


SaaS version which is further divided into:

Freelancer – Priced at $29 per month.
Startup – Priced at $69 per month.
Company – Priced at $129 per month.
Enterprise – Priced at $249 per month.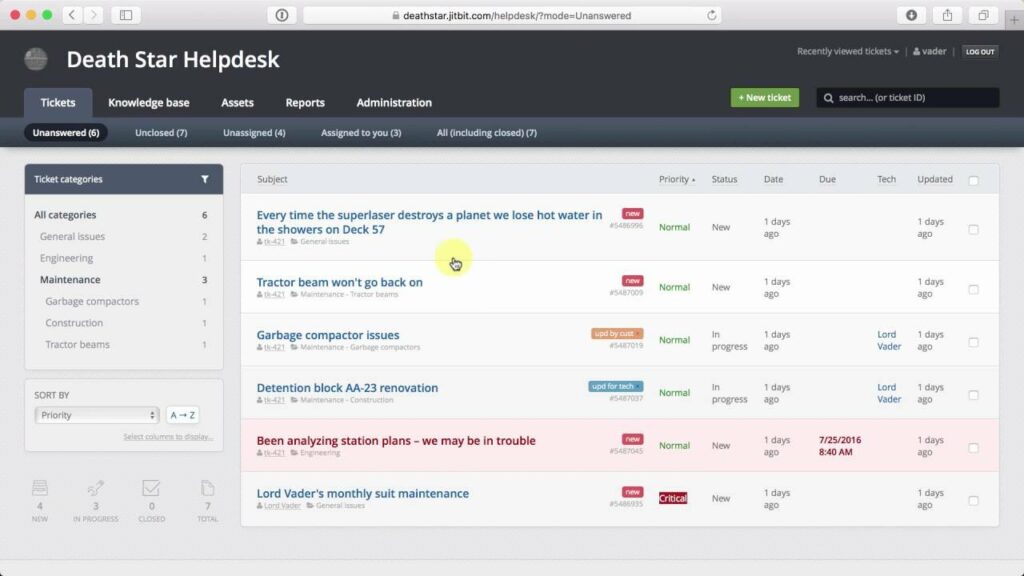 Pros:
Easy integration with popular third-party apps like Slack, GitHub and Jira

It offers advanced IT help desk features like asset management

Offers mobile app support

Clean and uncluttered interface
Cons:
Social media integration is not possible

There is no free version available
HappyFox is popularly known for its omnichannel ticketing feature. The tool has a customizable and centralized support centre. It logs customer tickets regardless of where they reach out to you from — it could be email, social media, or even via calls.
Out of this key features, its Assist AI feature helpsteams leverage AI and Conversational Ticketing to deliver IT Support through Slack and Microsoft Teams.
It also offers a self-service channel and a powerful reporting system.
Pricing:
Happyfox has two major pricing sets-
Agent-based pricing, further divided into:

Mighty – Priced at $29/agent/month, billed annually.
Fantastic – Priced at $49/agent/month, billed annually.
Enterprise – Priced at $69/agent/month, billed annually.
Enterprise Plus – Priced at $89/agent/month, billed annually.


Unlimited agents pricing,further divided into:

Starter – Priced at $1499month, billed annually.
Growth – Priced at $1999month, billed annually.
Scale – Priced at $2499month, billed annually.
Scale Plus – Priced at $4999month, billed annually.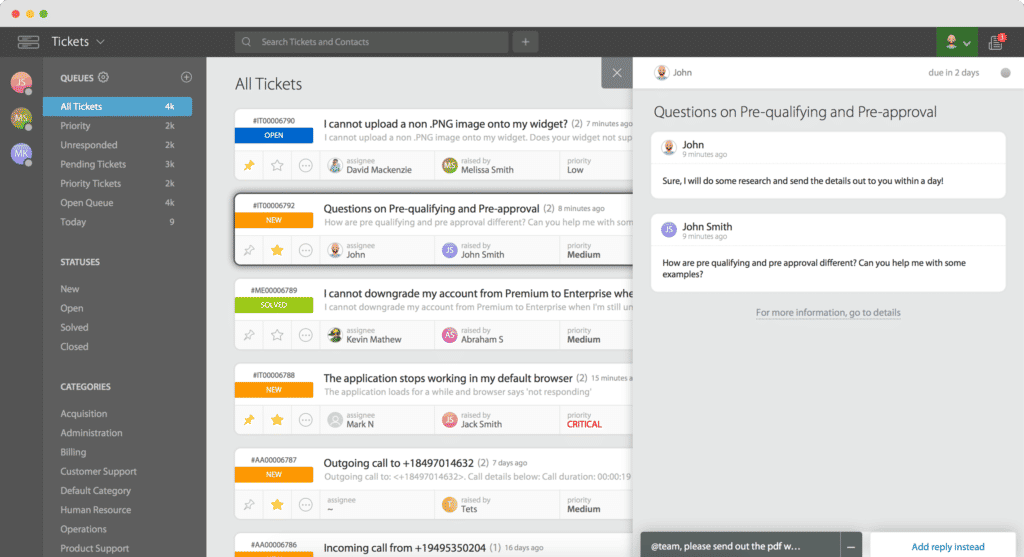 Pros:
Great collaboration tool as you can easily route customer requests across teams

Provides multilingual agent support

Offers a self-service portal with an AI-powered chatbot that can be connected to your knowledge base

Enables an easy and quick set-up
Cons:
There is no free trial to test the platform

Weeding out spam on this tool can be difficult as manual rules have to be set up for this
SysAid stands out in the realm of IT help desk solutions. It seamlessly blends IT service management (ITSM) with robust asset tracking capabilities. This convergence ensures that businesses can manage, monitor, and analyze their IT environment with a single tool.
Beyond its primary ITSM functionalities, SysAid enriches the user experience with features such as self-service portals, automation tools, and advanced analytics, providing businesses with a comprehensive insight into their IT landscape.
Pricing:
SysAid primarily offers two main packages – Basic and Full. However, to get a quote you'd have to contact their team. It is not explicitly mentioned on their website.
Pros:
A unified dashboard offers both ITSM and asset tracking

Powerful automation capabilies to streamline various processes and increasing operational efficiency

Offers a mobile application, enabling IT teams to manage requests and tasks on-the-go
Cons:
Lack of transparent standardized pricing can be cumbersome for some potential users

Some users might find the user interface less intuitive compared to competitors
Over to you
A lot of time and effort goes into resolving IT support issues which is why backing your team with the best IT help desk software is crucial!
We hope our rundown of the top 11 tools will get you off the ground in your search for the ultimate IT help desk software solution. Always go with a tool that suits your business needs.
If an affordable ticketing tool designed for Gmail is what your business needs, then Hiver can be your best choice.
Try Hiver for free to level up your IT help desk operations.