According to Hiver's Customer Support Through The Eyes of Consumers survey report, 60% of consumers would switch to an alternate brand after two or three bad experiences, and roughly 30% would switch to an alternate brand right after a single bad customer experience.
There's absolutely no doubt that customer service can make or break a company in the present day.
This quote by Wufoo's founder Kevin Hale really sums up how important customer service is:
"There are three types of companies that do well: one with the highest quality product—one with the cheapest deals—and one with the best customer service."
Businesses that have outstanding customer service are advantaged in several ways. For one thing, they have better customer retention (one of the most important factors in stabilizing profit and growth).
And then, even if your prices are higher (86% of customers say they are willing to pay more for good service)—you're still likely to bring in new customers by virtue of your support staff.
But while it may be clear that great customer service pays for itself, how to deliver great experiences may be less apparent.
And that's why we wrote this post: to suggest super practical ways to delight customers.
Okay, so there are two sides to this story:
The actual ways to deliver great customer experiences (things that your team can do), and,

how to keep your customer support team motivated—so that they're ready to go the extra mile (only happy employees can keep customers happy).
Let's dive in.
Table of Contents
Ways to deliver great customer experiences
Humanize the conversation
Customer service often feels extremely transactional: robotic customer service inundated with impersonal messages, and emails coming from "customer support," as opposed to real people.
This void is sometimes so significant—that more than half of all buyers say they would pay more for products if they get a personalized experience.
Well, the good thing is that business relationships can be humanized with the right technique.
First off the list, let people behind the agent tag shine through:
Encourage them to use their first names in emails (as opposed to "we" or "customer support")
Provide pictures of your staff in email signatures
Include links to their social profiles
Of course, making the people on your team feel real is only a first step.
You also need to personalize your processes. Here are a few techniques with a well-established track record:
Don't rush

: You must

empower

your staff to take a little extra time every now and then while helping customers.

What you lose in efficiency—you will more than make up for by building relationships.
Empathize

: Your reps need to show your customers that they are there to help them. This means

acknowledging pain

and frustration.





Always say things like: "

That stinks

," "

don't worry

,

here's what I'm going to do for you,

" or "

I completely understand what you must be going through

."
Ask casual questions

: Where there is time, consider allowing your staff to ask extra questions.



For example, if the customer has purchased several products—but has an issue with only one of them—you can always ask how the

others

are faring.
This easy and extra step will help the customer feel like they are being genuinely cared for.
Encourage follow-ups like you mean it

: It's also good to make your customers feel welcome to follow up once again if their issue persists—but you have to really mean it. For example, you can encourage employees to sign off on their emails with something like:





"Thank you so much for reaching out with your concerns. Once again, my name is David, if you need anything else, please don't hesitate to reach me."
When customers know that your staff is made up of real humans, they feel at ease and are more interested in productive conversations.
Say "Yes" as often as possible
Naturally, "yes" is the answer customers who email in are hoping to receive. All other things being equal, when they get that answer, they will usually view the experience positively.
The most obvious way to say "yes" is to grant the customer's request, or (in some other way) resolve the issue through a means that they will view favorably.
For example:
Q. Can you lower the price?

A. While that's not possible at this time, here is a similar product that may be better suited to your needs, and it also fits right into your budget. I'd suggest giving it a shot. I am positive it will work for you. Want to try it out?
Q. I shouldn't have to pay for a product with these many problems. Can you make this item free?

A. Unfortunately, I am not authorized to give this product away for free. But hey, I can always offer future discounts. Here's a discount coupon that will hopefully compensate for your inconvenience.
Where the above is not possible, at least maintain a positive tone. For example, customers do not want to hear something like the following:
"We cannot replace your part at this time".
Though potentially still disappointing, they'd likely prefer to hear:
"We will be able to assist you with your problem next week. Let me email you the coming Monday with a solution."
Even very unreasonable customers have something to offer, both financially, and as a learning experience—so handle all complaints with care.
Here are a few suggestions from Micah Solomon (a renowned customer service consultant) on how you can instill the spirit of saying "yes" into your employees:
Become a role model for them. As a leader, never use words like "I am sorry but we won't be able to accommodate this request." When you are the yes-person, your employees will follow suit.
Tell the right stories. Even when you have casual conversations with your team, tell them how you felt great going the extra mile for the customer. Never indulge them with stories of how X customer was unreasonable, or how they took advantage of you.
Reinforce the spirit of saying "yes." In every team meeting, or at the start of the shift, celebrate times when employees made things work for the customer. Make people feel like heroes when they go the extra mile to solve a customer's problem.
Ditch the clichés (and actually help)
Just about everyone is well-acquainted with the customer support jargon.
Please visit our help center instead..
We've never had this issue before..
Let me check and get back to you..
Chances are, most customers don't really like it. Rather than sticking to played out platitudes, it's better to allow your customer service staff to ditch the script—and instead, let general ideas guide their language.
In any case, your support staff should:
Be conversational: The closer the phrases sound the way humans talk in real life, the better the experience for customers.
Use the customer's first name—they will like you more.
Say "I" instead of "we"—tells customers that you're taking ownership
An emoji every now and then makes you look more expressive 🙂
Use conditionals instead of imperatives: So an imperative sentence is one that gives commands such as "do this," "finish this," or "go there."
When talking to customers, it's always a better idea to use conditionals such as "Could you" or "Would you"—when sending instructions.
Instead of saying "Go to the homepage,"
go with a friendlier "Could you please try going to the homepage?"
Always be as specific as possible: Use crystal clear language, and try formatting your information in a way that is easy to read. This could include both short paragraphs and bullet points. For example: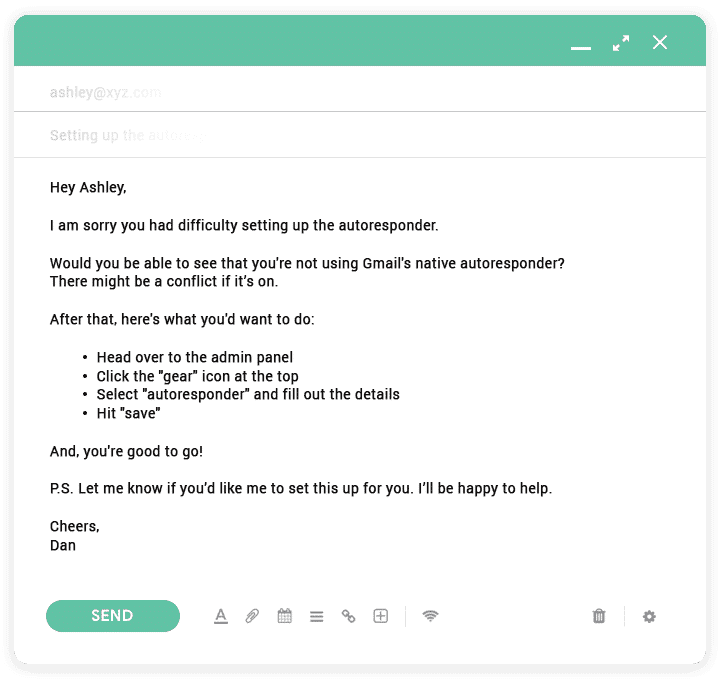 Avoid redirecting people to the resource page: You probably have articles and videos that serve to answer most potential customer questions.
While it may be tempting to direct all questions to the resource page, customers will generally be more pleased if they can get their concerns answered directly. For example: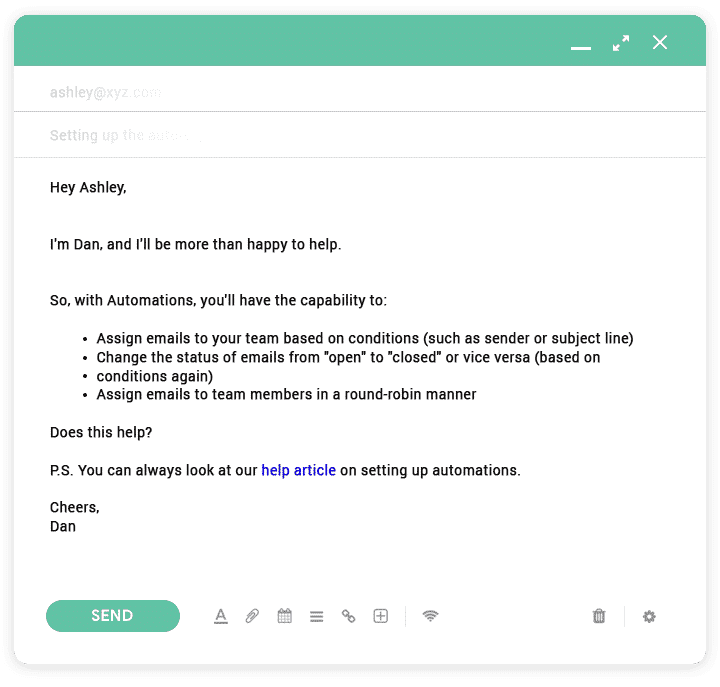 Recommended Reading
Be honest (even when you screw up)
Needless to say, even the best customer service representative can't know everything. By empowering them to acknowledge this, you may open the door to more successful conflict resolution.
The key is to be as transparent as it gets. For example, a statement like "I don't know the answer to that question, but I think my colleague might. Can I have her give you a call in a few minutes?" comes across as honest and helpful.
Other examples:
I have realized that this is a common complaint and worried about how the problem crept into the product. My team is reviewing everything as we talk. I'll be more than happy to replace your item.

I am not 100% sure if this can be done. May I speak with my manager to see if I am allowed to authorize your request? I will be back in touch in a few minutes.

I will email you back in about 30 minutes. I need to do a little research about your problem. I'll check with my teammates as well. Please hang on for just a little bit.

Unfortunately, I do not know how to assist you with your situation. However, I have forwarded your message to my manager. I will be in touch with you the moment I hear back. Sorry for the delay here.
Just make sure that admissions of ignorance are always accompanied by a plan for problem resolution.
McDonald's is a great example of how problem resolution can be handled with transparency. In 2015 when they identified that their perception wasn't everything it could be, they created the "Our food. Your question" campaign to answer any customer question honestly and publicly.
McDonald's invited consumers to ask anything they wanted and vowed to give them full and speedy replies. They built out a team just to answer questions in a timely manner.
The end result? Food perception and brand measurement gradually improved. Monthly store visits went up by 50%. Customers do value honesty.
Surprise them
Let's begin with a startling fact: A vast majority of people strongly dislike seeking customer support—and 59% will avoid it at all costs.
The reason for this is simple: they have been trained to expect a bad experience, and, most of the time, they are probably right (to brace themselves for this possibility).
Naturally so, companies that are able to pleasantly surprise the customer—will be significantly advantaged over those that treat them to the usual experience.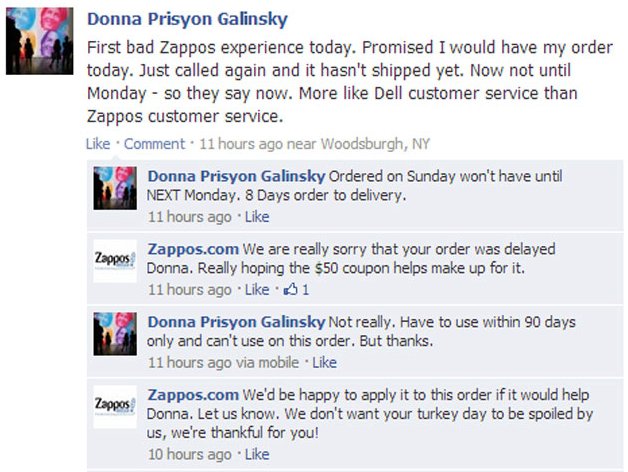 Zappos is famous for its customer service surprises. Their representatives are encouraged to chat like friends and be friendly. One customer service phone call went on for ten hours, demonstrating the company's dedication to friendly, personalized communication.
They now have a "call us for anything" approach in which representatives are known for helping not just with problems relating to shoes, but just about anything. In the past, they have also been known to send flowers, pizzas, and more to customers.
And they make sure to empathize with the customer: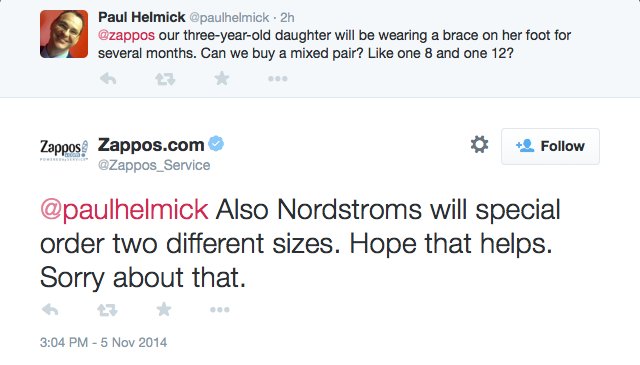 Admittedly, it will be hard to outperform Zappos in the realm of customer service surprises, but by emulating their example, you can always spread a little joy among customers.
Here are a few easier ways to surprise your customers:
Occasionally mention specific customers (positively) on your social media accounts.
Send them a follow-up a few days after solving their problem, asking if everything is working fine. (Be sure that the message feels conversational rather than a template.) Check in after say a month to see if everything's fine.
Send them a box of cookies—completely out of the blue!
Have the CEO write a handwritten note to thank them for the trust they place in your business.
Provide custom discounts or money saving recommendations based on what you learn about a customer during their complaint.
The more creative you can get, the better you will stand out!
Be "extremely" good at social media
About 95% of adults aged 18-34 follow the brands they like on social media. I am sure you have a social presence but are you making the most out of it?
Great brands don't just use their social media accounts for only marketing and branding. Rather, with a little bit of creativity, they are able to create memorable interactions that leave customers happy.
Take T-Mobile as an example. The cell service provider is very active on social media, and responds publicly to almost all the comments, both good and bad.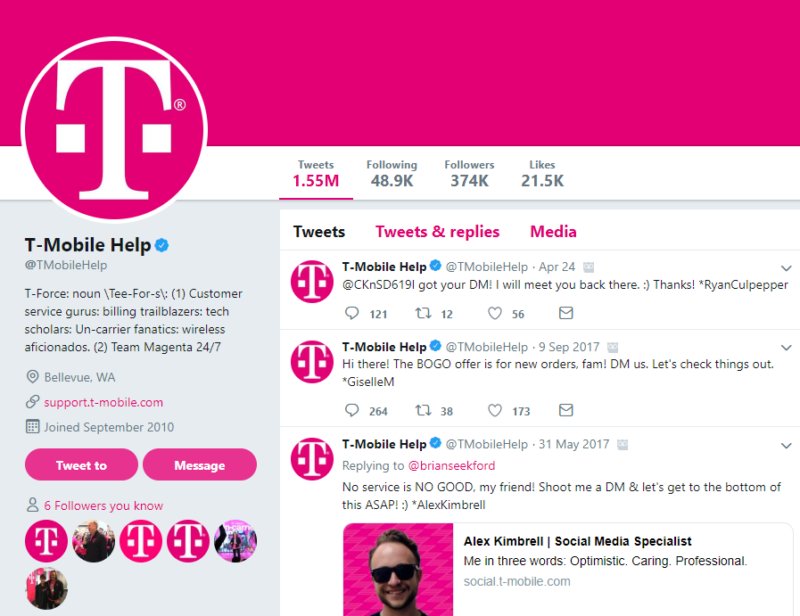 JetBlue does an awesome job of replying to customers in as little time as possible. Unlike many other airline companies, they don't ask you to call them. The social handle makes sure you get help right away.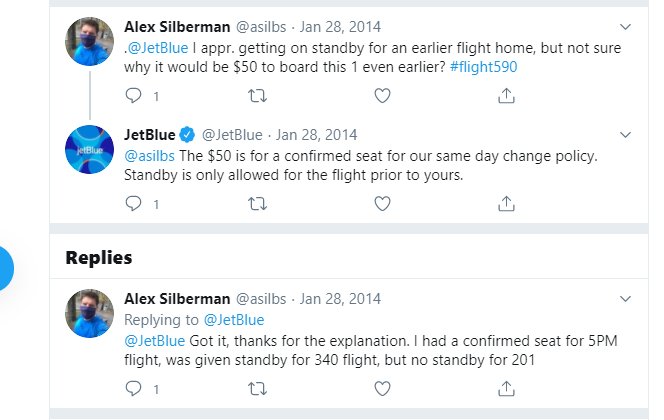 While you'll need to allocate significant time and resources to your social media presence, the investment may ultimately pay off by way of public perception.
Here are a few tips you can use to truly take your social media game to the next level:
Respond super quickly:

The social media attention span is incredibly brief. This means that you should respond to queries as quickly as possible to ensure that you maximize the impact. And that's why you must have a few reps with the freedom to handle social comments on top

priority.


Use your "mentions" for insights:

The mention section of your social media account is a great way to find out how your brand is being received in real-time. Do customers have a lot of service complaints? If so, what's the most common reason? Figuring out how your customer service is being perceived online is an extremely useful insight.
Recommended Reading
Okay, so it's time to move on to the next piece of the puzzle.
To deliver great customer experiences, you'll need a little more than personalization and pleasant surprises.
You'll need a team that is motivated—and ready to go the extra mile when the time comes.
How to keep your support team motivated
Help your team express (happy reps = happy customers)
Chances are, your customer service team is facing issues and concerns that might not naturally occur to you.
But how do we get them to share their problems? Here are a few methods that work well:
Creating a space (such as a Slack channel) for only suggestions. Or, you can look for apps that let people post suggestions anonymously (this'll always work better).
Conduct monthly staff surveys on company policy, day-to-day operations, and their own feelings. It's important to not make these surveys rigid: always create room for open-ended questions so that people share personal stories.
Maintain an environment where the team feels comfortable approaching senior management with thoughts and concerns. Create an open culture by establishing fixed hours for complaining or venting. You may also consider "concern boxes."
Interestingly, happy employees are 12% more productive on average—and they are more willing to go the extra mile to deliver great customer experiences.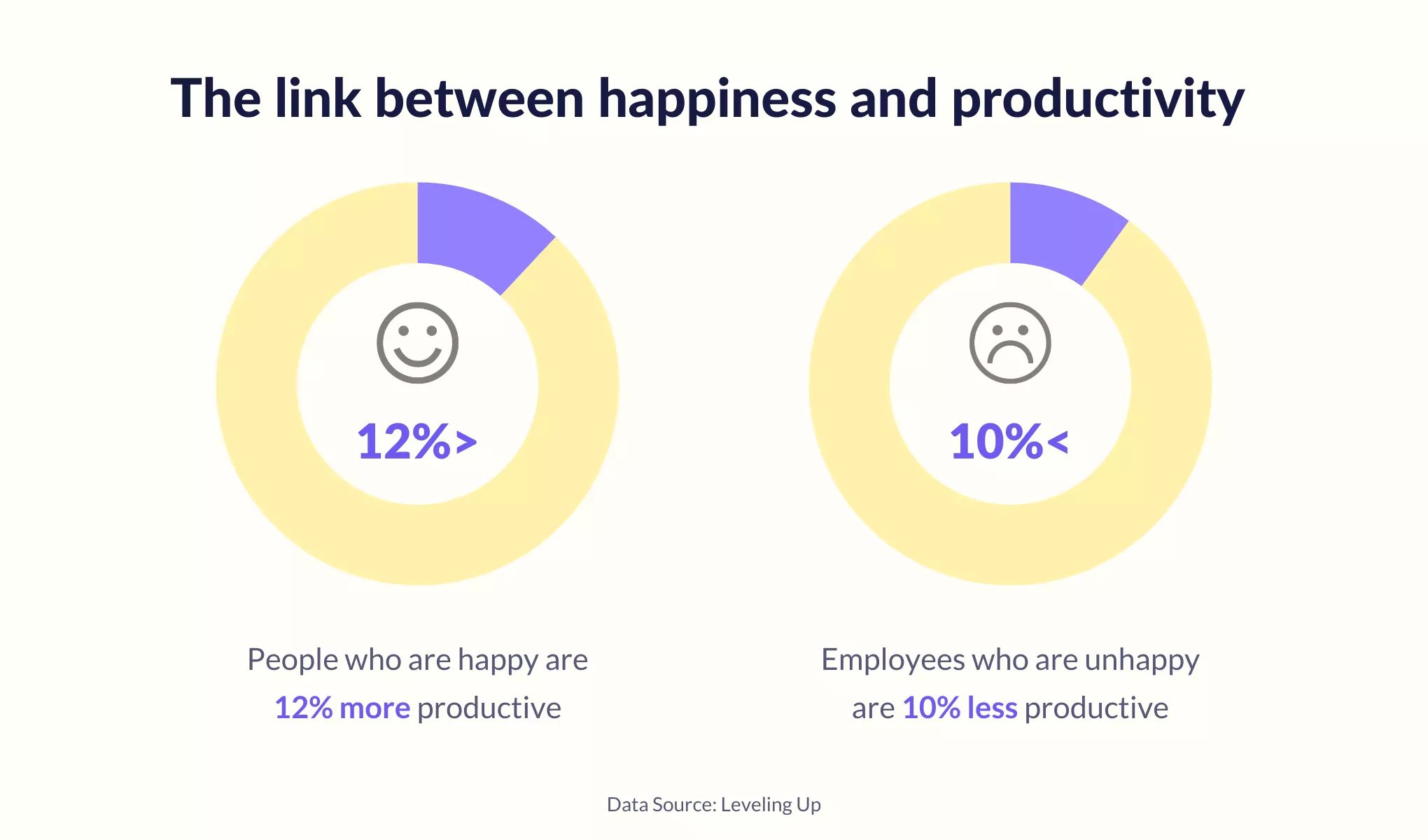 Of course, it's not enough to simply listen to your employees.
Thank them for providing honest feedback.
Do not pass judgements.
Follow up with them and tell them how you can help.
Never bring up something they shared in a way that they feel hurt.
At the same time, tell them which suggestions you are planning to implement—and the ones that you are unable to.
When you engage in an open dialogue, taking feedback becomes all the more meaningful.
Gamify incentives (make work "less boring")
Providing customer service can get boring at times. It's process-oriented. It's tedious.
It's no secret that bored employees won't really spread happiness to your customers. They'll do the job. They'll solve problems. Would they go the extra mile to delight customers? I doubt.
But hey, the customer service team will certainly be more willing to go the extra mile—if they feel like there is something at stake.
Enter gamification.
An element of friendly competition that enriches the work experience with a little bit of fun—and encourages your staff to push themselves.
The rewards themselves may be as simple as praise and acknowledgment or could involve actual prizes: gift cards, time off, special lunches, etc.
What matters more than anything though is how you introduce the gamification element. Here are a few recommendations:
Performance leaderboards: Develop a point system and create a leaderboard for your employees. Staff members may feel more motivated to work hard simply so that they can keep their name "as far from the bottom of the board" as possible.
Level up: Create individualized goals for your employees and help them track the progress themselves (in real-time). People tend to do well when they feel their work is yielding quantifiable results. Their brains release endorphins when they achieve a task—and it propels them to do even better. It could be something as simple as a ticker that tells them how fast they are replying to emails (on average).
Point-based training: Even boring employee training seminars can be made more fun with games. Consider distilling information into quizzes, trivia, etc. through which employees can earn prizes and recognition. Games have been shown to increase comprehension and retention so the training may be significantly more effective.
Work on your team members' EQ
In a job where understanding and responding to problems is the primary part of the description, being able to relate to customers can be deeply advantageous. EQ (emotional quotient) is vital—but can it really be improved?
Evidence strongly suggests that it can be. Take the case of Motorola. In 2016, Motorola adopted company-wide EQ training seminars. The result? 93% of the staff was able to quantifiably boost their productivity levels.
Company-wide training, though seemingly effective, does however come with significant expense.
There are more affordable ways of boosting emotional intelligence that your staff may actively enjoy. Here are a few of them:
Give every employee a chance to be heard (when they want to voice their concerns). Talk to them and find out how they feel about things like a change in their role, or the project they're working on.
Take out time to recognize hard work and accomplishments—on a frequent basis. Shoutouts boost employee morale like nothing else.
Help support reps deal with stress. Be aware of their deadlines, or an increase in workload. Encourage self-awareness through meditation and goal-setting activities.
Make sure that empathy is modeled at the highest levels in your company (even casual conversations must reflect the willingness to help customers). It helps members develop the right emotional mindset to help customers.
Encourage staff to spend more time on each customer so that they can empathize with their problems.
Teach them the art of "zen"
It's very natural to start getting reactive when customers are angry. This is particularly true for members of the customer service staff, who usually aren't responsible for the problem in the first place—but still have to face disgruntled customers.
Obviously, getting angry at a customer is always out of the question. However, it's not enough to simply avoid the fight or flight reaction—truly great customer service may rely on a more zen mindset.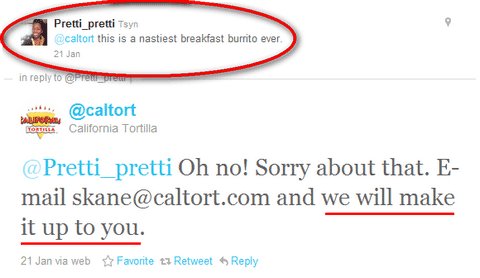 Masters of the zen mind know how to keep calm when things get tricky. As far as mental health is concerned, this may be a naturally excellent way for your staff to deal with the stress that is baked into the job.
When customer service reps can distance themselves from the stress of the situation it also makes more room for better customer relations.
Here are some things you can do to keep the disgruntled customers happy using a zen mindset.
You do not have to hold yourself responsible for the situation. Let go of the fear of the outcome and focus on the execution.

If you feel anger or irritation, refrain from getting back to the customer right away. Come back to your breathing and follow your in-and-out breath until you've calmed down.

Validate your customer's frustration by acknowledging the problem and then make it right. Example: "I understand why that is very frustrating for you. Here is what we can do to help."


Ask questions like "What do you think is a fair resolution?" or "What can I do to make up for the inconvenience?" This will always pacify the customer.
Recommended Reading
Closing remarks
If the aforementioned points demonstrate anything, it's that there is value in keeping things fresh. People often reach out to customer service expecting to have an awful time.
Prove them wrong and you receive a significant advantage over the competition. With the right technique, you may even be able to turn a disgruntled customer into a lifelong fan of your brand!