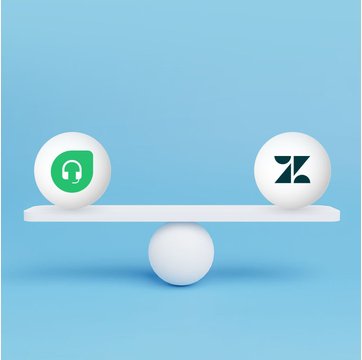 Table of contents
8000+ teams use Hiver to delight their customers!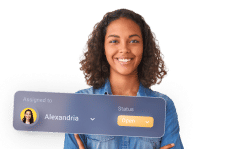 Freshdesk vs Zendesk: What to Choose in 2023 (Comparison)
Jun 05, 2023
|
15 min read
|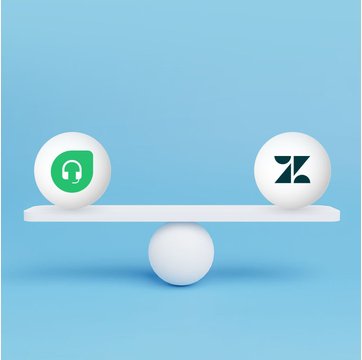 Table of contents
Let's say you've been tasked with finding the right helpdesk solution for your business. Two choices that keep popping up are Freshdesk and Zendesk. Questions you'll find yourself asking are:
Which one's easier to use?
Does it have all the relevant features I need?
Will my team be comfortable using it?
How long will it take for my team to get a decent grasp of the platform?
Which one is easier to set up?
Will I have to spend more money on add-ons?
What's the final price that I'll be paying?
Which one offers more value for money?
Is their support team responsive? Will I get prompt resolutions?
Doing a Freshdesk versus Zendesk comparison can be difficult as they both offer similar features and functionalities as customer support software. So let's quickly dig into their differences to help you decide which one is better suited for your teams' needs and delivers a better customer experience.
Table of Contents
Quick Comparison of Freshdesk and Zendesk
| Comparison Basis | Zendesk | Freshdesk | Hiver |
| --- | --- | --- | --- |
| Ease of Setup & Onboarding | Complicated. Setup is challenging, and UI is very old-school | Complicated. Users have observed a high learning curve | Very easy. Only takes minutes to set up and get started |
| Pricing | Expensive but caters to businesses with unique needs | Affordable for small and medium businesses | High value for money. You save 51% and 34% of your budget by choosing Hiver over Zendesk and Freshdesk |
| Reporting | Good. Comes with pre-built & customizable reports. | Slightly better. Customizable reports are complicated to setup | In-depth reporting. View unassigned conversations and sort metrics by customer |
| Automations | Complicated setup. Takes a really long time to configure and work | Average. Can cause delays. Lack of automation between modules | Robust automation. Easy configuration. Cut down manual work significantly |
| Customer Support Quality | 24×7 support is delivered at an additional premium. Very long wait times in issue resolution | 24×7 email support and 24×5 phone and chat support. Delays in issue resolution | 24×7 email and chat support. Highly proactive support team that's always on standby to resolve your query promptly |
Let's dig deeper and take a closer look at the Zendesk and Freshdesk comparison to help you make an informed decision.
1. Freshdesk offers you more value for money
Zendesk
Freshdesk
Hiver

1. Team: $49/user/month
2. Growth: $79/user/month
3. Pro: $99/user/month
4. Enterprise: $150/user/month
1. Growth: $29/user/month
2. Pro: $59/user/month
3. Enterprise: $99/user/month
1. Lite: $15/user/month
2. Pro: $39/user/month
3. Elite: $59/user/month
Here are a few pointers to keep in mind when making a Freshdesk vs. Zendesk pricing comparison:
Freshdesk pricing plans are generally more affordable than Zendesk's, particularly for small and medium-sized businesses.
In addition to its lower pricing, Freshdesk also offers a free plan (with limited features) which can be useful for small businesses.
Zendesk also offers a free trial but does not have a permanent free plan like Freshdesk.
Zendesk pricing options are more flexible in comparison to Freshdesk – this can benefit businesses with unique requirements.
You're spending 51% and 34% extra on Zendesk and Freshdesk respectively
Here's a rundown of your cost-savings with Hiver when compared with Zendesk:
Critical Helpdesk Features
Helpdesk Tool
Small+Medium Teams
(10 Users)
Large Teams
(50 Users)

Zendesk

$9,480/year

$47,400/year

Hiver

$4,680/year

$23,400/year

Annual Savings

$4,800/year

$24,000/year

Annual Savings %


51%
It makes more business sense to choose Hiver over Zendesk. Also:
Zendesk's automation features are priced significantly higher than Hiver. Zendesk charges you 60% more than Hiver to automatically

– route conversations based on priority
– assign conversations using the round-robin system

You'll be paying Zendesk 40% more to use the skill-based routing
Being able to privately and internally collaborate on emails with your team will cost you 60% extra on Zendesk
You're paying double the price to Zendesk just to setup business hours and display your agent's offline/online availability
Getting 24×7 vendor support or personalized onboarding is going to cost you extra on Zendesk
Freshdesk doesn't come through, either.
We ran the numbers to see how much you could save with Hiver compared to Freshdesk.
Critical Helpdesk Features
Helpdesk Tool
Small+Medium Teams
(10 Users)
Large Teams
(50 Users)

Shared Inboxes

Live chat

Voice Channel

Whatsapp

Knowledge Base

Automation

Analytics and Reporting

SLAs

Integrations

CSAT

Freshdesk

$7,080/year

$35,400/year

Hiver

$4,680/year

$23,400/year

Annual Savings

$2,400/year

$12,000/year

Annual Savings %


34%
Moreover, Freshdesk charges 40% extra for automation like skill-based routing and capabilities of Hiver's AI bot – Harvey.
Bottomline: Your benefits-to-cost ratio will always be higher with Hiver in comparison to Freshdesk or Zendesk.
2. Freshdesk offers better UI and ease of setup
While the platform offers a wide range of features and benefits, Zendesk's onboarding and setup process can be quite complicated for new users.
Configuring your support email addresses, ticket views, user roles, support forms, automated responses, and customizing the support portal can take a while.

Integrating a Zendesk workspace with your existing software tools and systems, like your website, social media channels, and other support channels, will require technical knowledge and skills.

And in case you want help and reach out to Zendesk's customer support team, they'd charge anywhere between $1500 to $1800 for personalized training and resolving unique customer issues.
Freshdesk's interface is more user-friendly in comparison
The Freshworks product – Freshdesk, offers a more user-friendly interface that is easier to navigate. As a user, it'll be easier and quicker for you to configure your support channels, ticket fields, and workflows.
Pre-built integrations with popular software tools are easier to connect your existing systems and tools to the platform.
One potential challenge you may face with Freshdesk is its admin section. There are many different options and settings to configure, which can make it difficult to navigate and find what you're looking for – especially if you're new to the platform or if you haven't spent a lot of time working with the admin section before.
On the plus side, their support team helps you with the implementation and onboarding of the platform for free.
Hiver's setup and UI will feel like a cakewalk in comparison to Zendesk and Freshdesk
If quick setup and ease of use are a priority, then you've got an option that's better than both Zendesk and Freshdesk.

It's Hiver.
It's built on top of Gmail, allowing users to get started quickly and easily. Your team can access helpdesk functionalities on the existing Gmail interface. They'll find the user-friendly interface to be intuitive and really easy to navigate.
And if you still need help figuring the solution out, our dedicated onboarding specialists will make the training experience a breeze.
3. It takes longer to respond when using Zendesk
Both Freshdesk and Zendesk offer canned responses. That said, canned responses are easier to create and organize in Freshdesk. You can use its keyboard shortcuts to quickly retrieve canned responses.
Zendesk's canned response system, called Macros, does not support keyboard shortcuts, which makes it more time-consuming to use. Furthermore, the templates are listed alphabetically, with no sorting or organizing options. This will make it more challenging for you to find the appropriate response.
Respond faster with Hiver
A common Zendesk and Freshdesk similarity is that neither allows agents to share canned responses (templates) with each other. Only admins can perform this action and share it with the rest of your team.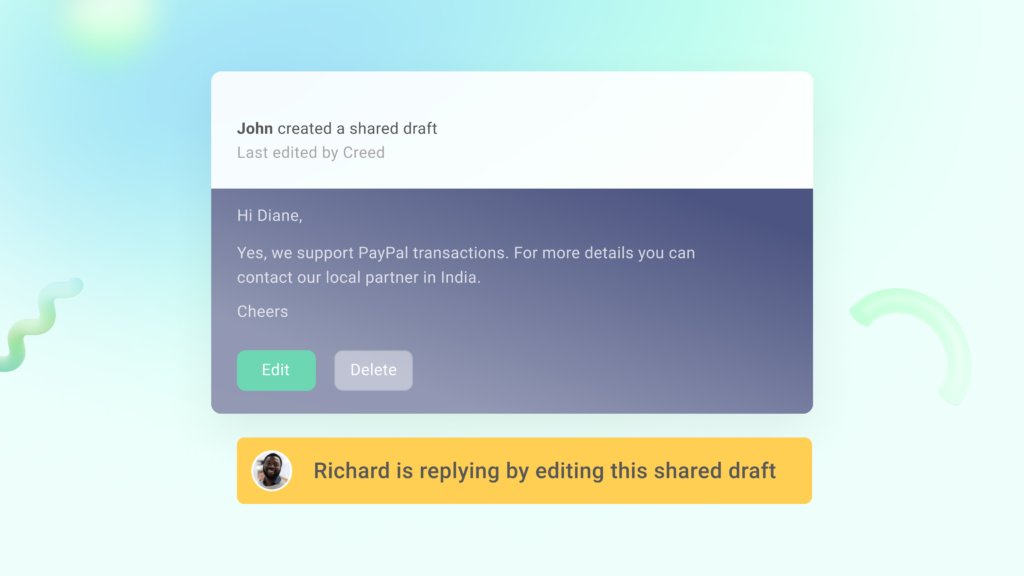 On the other hand, Hiver allows anyone on your team to share canned responses with others.
With Shared Drafts, team members can collaborate on email drafts in real-time. This way, you can ensure that your team members can easily loop in supervisors and managers on queries and ensure queries are resolved in the most effective manner.
Additionally, Hiver's Harvey bot suggests a curated list of templates your support agents can use based on the customer query. Agents can use one or more of Harvey's recommended email and chat templates and customize their responses accordingly.
4. Both Freshdesk and Zendesk offer similar collaborative features
There aren't many differences found when comparing Freshdesk vs. Zendesk for their collaborative features.
Both Zendesk and Freshdesk allow internal communication with multiple people while responding to customer queries.
You also have the functionality to split a single customer query into multiple tickets so that different agents/departments can resolve portions of the query.
This can be done through Freshdesk's Parent-Child ticketing feature, whereas on Zendesk, you have to use a third-party app called 'Split n Close' to distribute the ticket to different users.
But have you experienced the ease of collaborating inside Gmail?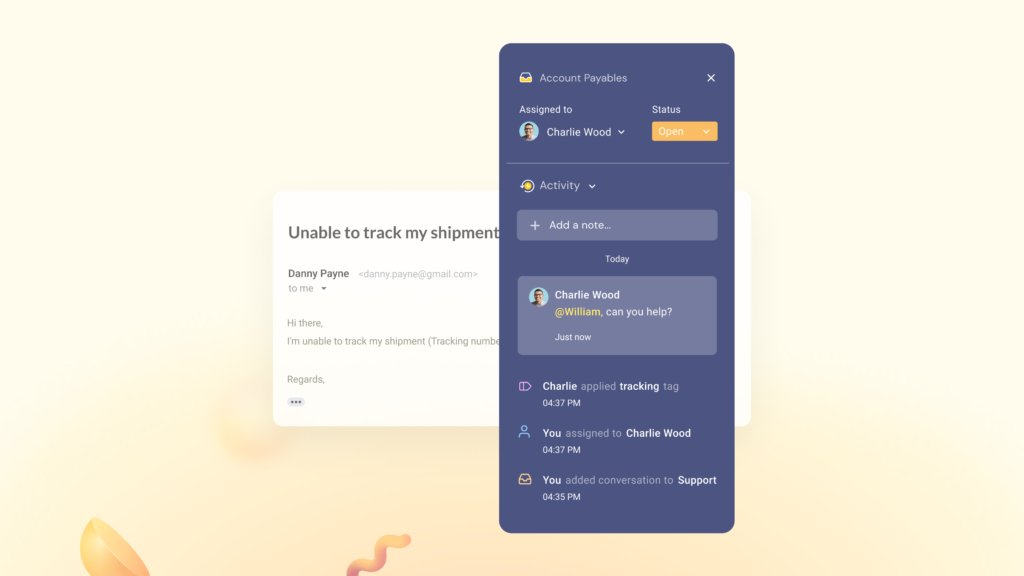 Ease of collaboration lies at the heart of how Hiver functions. Here's how it can transform your agent's productivity:
1. You can use private notes to have internal discussions alongside customer conversations without switching tabs or apps. It ensures that your internal and external conversations never overlap.

2. You can easily assign customer queries to specific agents in a few simple clicks.

3. With Views in Hiver, you can see your team's entire workload at a glance.

4. Teams who handle a high volume of customer conversations can use Hiver's Round-Robin Assignment feature for equal distribution of queries.
5. Its cheaper to offer multi-channel support with Freshdesk
Teams using Freshdesk or Zendesk can deliver customer support across multiple channels.

With Freshdesk, you can engage with customers via email, live chat (Freshchat),a knowledge base, widgets, social media, and chatbots.
Zendesk, on the other hand, helps your team offer support via email, live chat, phone (Zendesk Talk),social media, and an AI-assisted Answer Bot for self-service.
When making a Freshdesk vs. Zendesk comparison, a point to be noted is that Freshdesk offers its external and internal knowledge base in its free plan, while you'd have to upgrade to a Zendesk Suite plan starting at $49 to access the same.
Zendesk's Answerbot, while included in all plans, comes with a specific limit to the number of resolutions you can deliver. This limit is decided by the plan you've subscribed to.
To access Freshchat, you'll either have to purchase the Freshdesk Omnichannel suite (starting at $29) or pay an additional price for Freshchat separately (which starts at $15).
Multi-channel Support with Hiver
With far more pocket-friendly pricing and a negligible learning curve, in comparison, Hiver helps support teams:

1. Manage tickets seamlessly
2. Resolve Live chat queries,
3. Build and maintain a knowledge base,
4. Handle queries via WhatsApp,
5. Make and receive customer calls (via integration with Aircall)*

…all without leaving the Gmail interface.

*Voice call integration is included under Hiver's Pro plan (starting at $39). All other omnichannel functionalities listed above are offered in the Lite plan (starting at $15).
6. Freshdesk's reporting is slightly better than Zendesk's
When comparing reporting and analytical functionalities of Zendesk versus Freshdesk, we notice that both come with –
pre-built reports,
customizable reports,
real-time dashboards, and
customer segmentation tools
Freshdesk's dashboard, however, also shows unassigned views (that's absent in Zendesk's pre-built dashboard),which is quite an important analytic for workload supervision.
Hiver's reporting overcomes Freshdesk's and Zendesk's limitations
Setting up reports on Hiver only takes a fraction of the time you'll spend navigating through the reporting and analytics section on Zendesk.

Also, Hiver allows you to analyze your response times at every email level. This means not only can you check your average response time, but you can also dig deeper and analyze this metric by:

1. First response: Time taken to acknowledge your customer's query

2. Next response: Time taken to respond to your customer's subsequent reply

3. Periodic response: Time taken to send up a follow-up email to your response in case the customer hasn't replied

This level of granular analytics is neither found in Zendesk nor Freshdesk.
Also, many Freshdesk users have reported issues about its limited capabilities and lack of user-friendliness.
For example, many users have reported that Freshdesk doesn't allow them to group their agents' performance and efficiency by customers.

In other words, it won't be able to tell them which agents have a high Average Response or Resolution Time for specific customers and companies.
With Hiver, on the other hand, you can directly pull the workload and performance analytics of each customer and gain insights into their Active and Resolved conversations, Agent Response and Resolution times, and their CSATs.
"The interface was not user-friendly at all. It took a lot of getting used to trying to figure out reporting, how to add macros, how to adjust rules and more. Plus, reporting features were lackluster at best and required an additional subscription on top of the monthly fee we were paying."

– Zendesk User
Hiver comes with a host of highly customizable reports. You can easily access in-depth insights about your team's performance, and whether they're keeping up with the quality of support, you've promised your customers.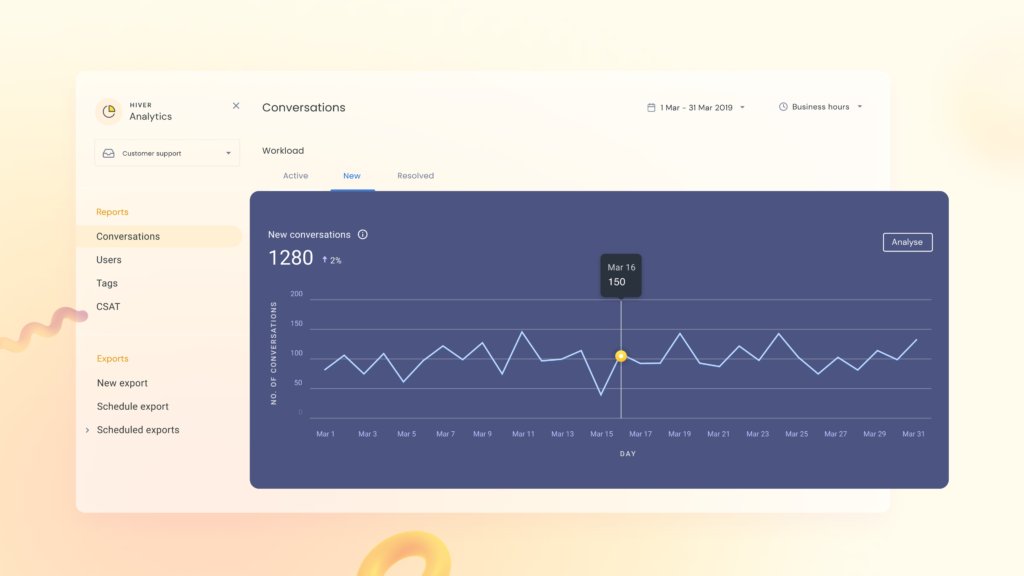 Some reports you can access as a Hiver user include:
Conversation Reports: These help you understand how effectively your team manages customer conversations. Find out how many customer conversations have taken place, how quickly your team responds to them, and the average time they take to resolve them.

User Reports: These reports help track your team's performance and workload. Find out who your top performing agents are and who are the ones that might need training or assistance.

Contact Reports: These reports allow you to group your agents' performance by companies and customers.

Tag Reports: These reports help you identify trends in customer conversations. You can access critical information like the number of open or pending customer emails tagged 'urgent'.
Besides these reports, you also have the option of creating custom reports to track metrics that matter to you.
Zendesk versus Freshdesk: Which one should you go for?
Zendesk has the edge in reporting, extensive API access, and e-commerce integrations. They also offer a higher level of customization and integration with other tools, which is bound to suit larger businesses with varying requirements.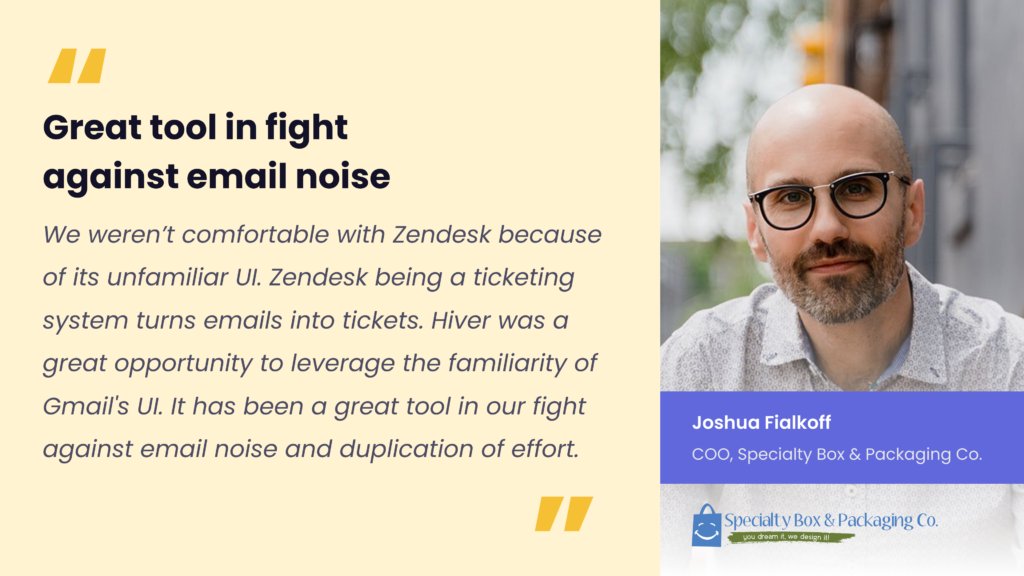 Freshdesk, on the other hand, might be a better option for small and mid-size businesses – owing to its affordable pricing, ease of use, and the availability of free plans.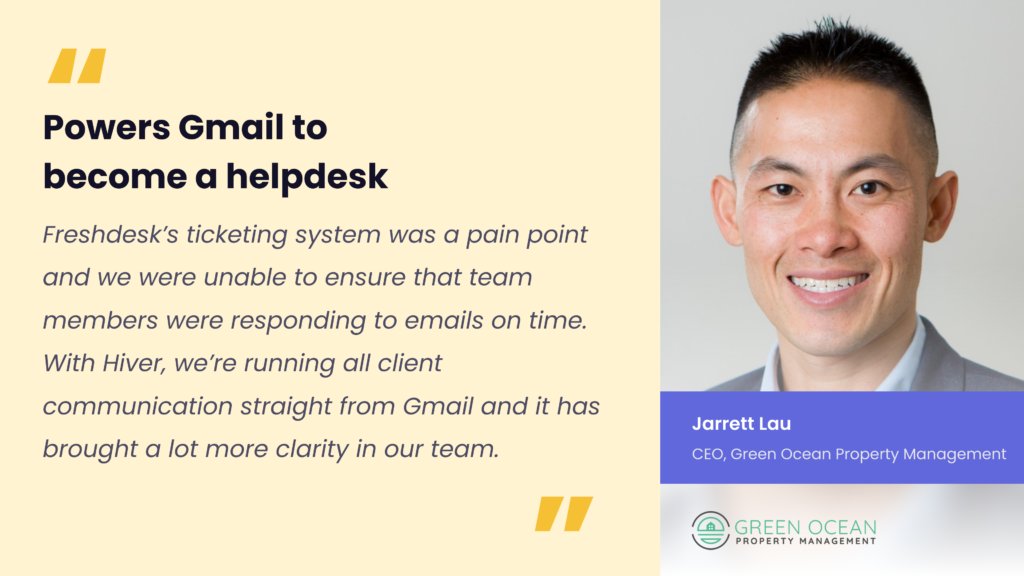 Deciding between Freshdesk and Zendesk ultimately boils down to your budget appetite and your business needs.
Or you could choose Hiver
Both Freshdesk and Zendesk can be overwhelming for some users, especially those who are not familiar with ticketing systems. Hiver's user interface, on the other hand, is more user-friendly and intuitive.

You can instantly start driving your team's efficiency and deliver personalized support with Hiver's:

1. Nimble collaborative features,
2. Smart automations,
3. Effortless multi-channel instances,
4. and Strong reporting and analytics

without breaking the bank.

Since it's blended with the native Gmail UI, switching to a new platform or learning a new interface is unnecessary. This makes it easy for users to get started right away.

What's even more helpful is that Hiver's support team is available 24*7 in case you need anything.
Take an interactive tour of Hiver