Table of contents
Turn Gmail into a collaborative hub
Remember the times when you had to run to your mentor's office with your laptop to get their opinion on an important email you just composed for your client?
Or the times when you had to keep nagging one of your colleagues to email a document that you needed to send as an attachment? I bet, you found it frustrating and unnecessarily time-consuming!
Often, when sending an important email, we require our colleagues to review the content, or collaborate on the email and add their inputs. One way is to compose an email and forward it to your colleague; they will then make changes in the email and mail you back.
But obviously, this is quite a messy process and you don't want to waste your time playing email ping pong.
Additionally, when more than two people need to collaborate on drafting an email, it can quickly become chaotic.
Upon hearing about this problem from our customers, we thought — wouldn't it be nice if an employee could ask a team member to review or edit an email with a click of a button and avoid the hassle of email forwarding or physical interaction?!
The Shared Drafts for Gmail feature offers a solution to this problem. It enables you and your teammates to work on a reply the same way you'd work on a Google Doc, as long as you have shared an email label or the mailbox with your teammates.
Let's see how this new Shared Drafts for Gmail feature works – suppose you want to send a proposal to a sales lead and you require inputs from various people in the organization in order to do that, you can create a draft and share it with the employees you want to collaborate with on the email. This way, everyone can add their inputs; you can finalize the draft with the perfect sales proposal and send out the email. Seamless internal conversation is a must-have for every sales team.
Shared Drafts for Gmail is absolutely simple to use
Create a new draft and click on the Shared Drafts icon (shown in the image below).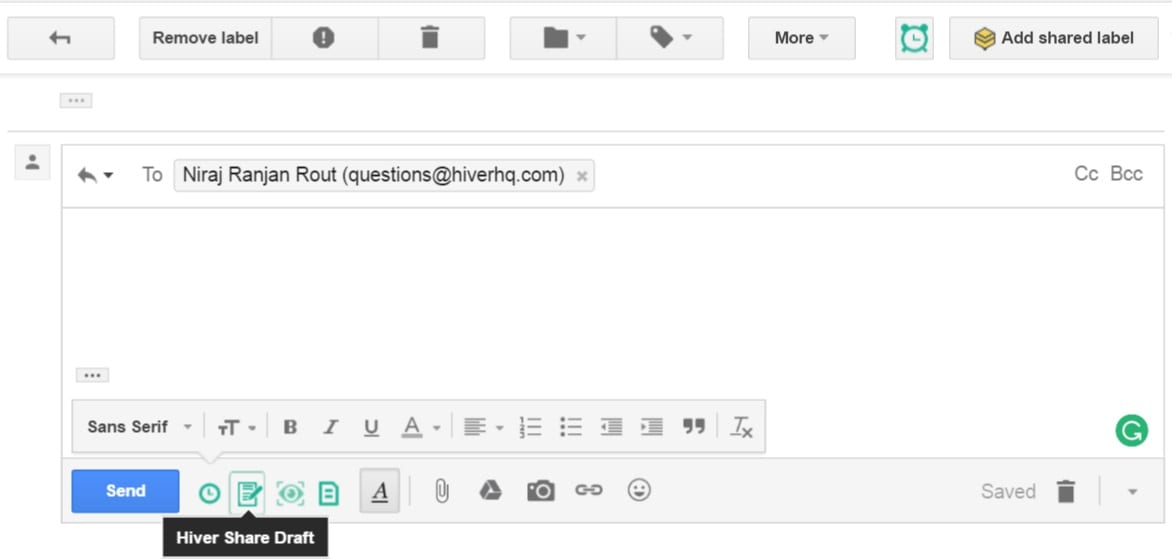 A popup appears, where you can enter the content of the draft, and it gets shared with everybody the email is shared with.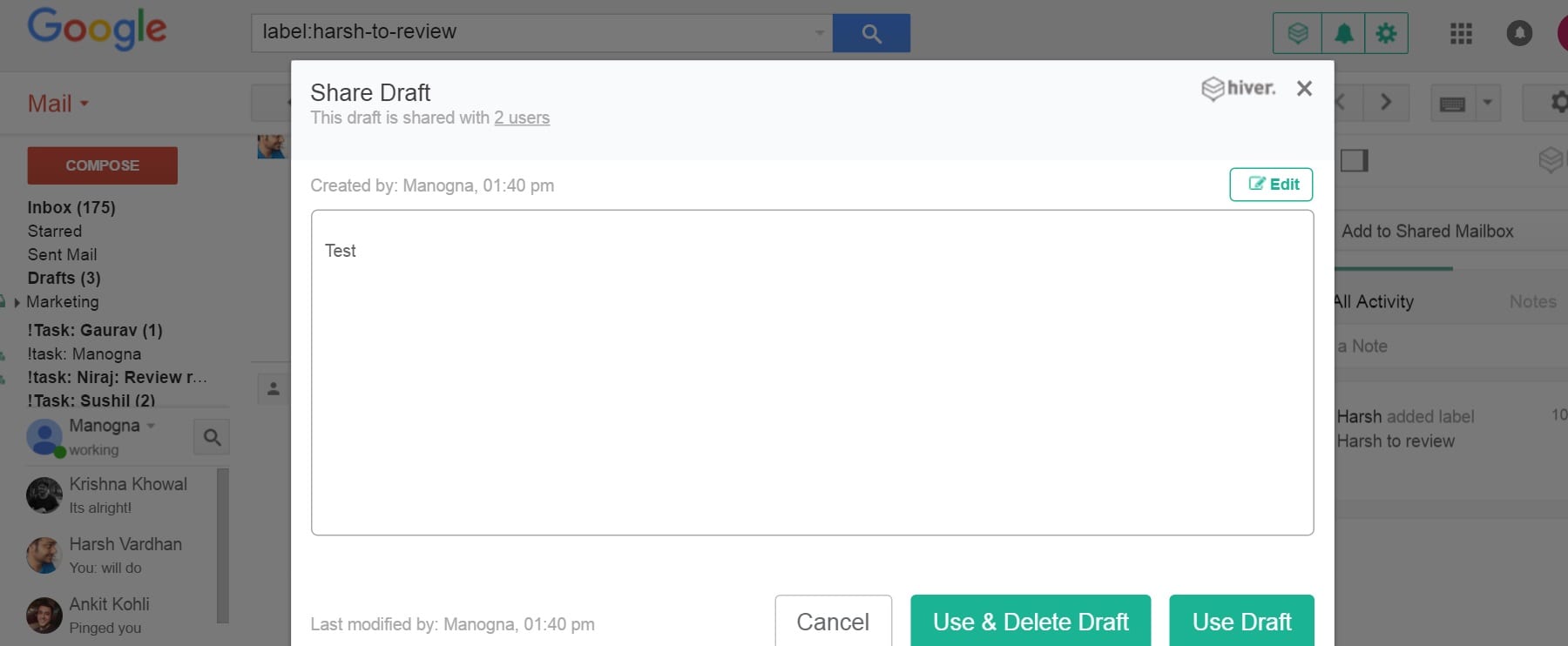 You can also select the option of notifying them when you share the draft.

And we are done.
This way, using the Shared Drafts for Gmail, you can collaborate with your team when composing an email without wasting your time and energy. You can also make sure that your drafts box doesn't get clogged by using the 'Use & Delete' option, where the draft gets deleted after you share it.
Learn more about Hiver
See the features in action, in our video
Request a demo