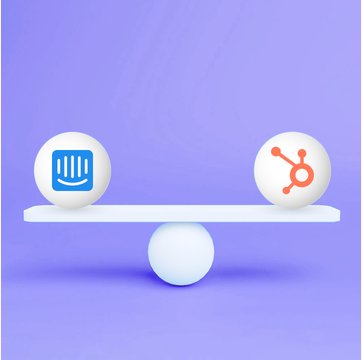 Table of contents
Explore why teams prefer Hiver
Intercom vs HubSpot: A Detailed Comparison
Nov 15, 2023
|
8 min read
|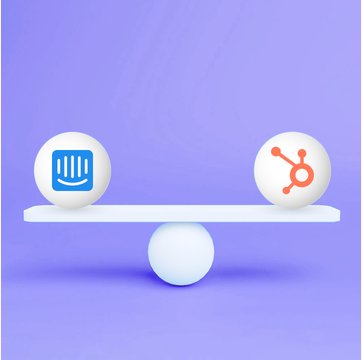 Table of contents
When it comes to customer service tools, making the right choice is important for any business. Among the many options available, Intercom and HubSpot Service Hub have emerged as popular support software.
Intercom is known for its messenger and AI-driven approach – which helps in streamlining and enhancing customer interactions.
On the other side, HubSpot Service Hub, as part of the extensive HubSpot suite, offers an array of customer support features.
But which of the two is better for your business?
In this blog, we have made a detailed comparison of Intercom vs HubSpot, in aspects of pricing, ease of use, and key features, to help you make an informed decision. 
Table of Contents
What is Intercom?
Intercom is a customer service platform that primarily focuses on enhancing communication between businesses and their customers. The platform is known for its emphasis on real-time messaging, making it a standout choice for businesses. Moreover, it has a feature called the Engagement OS for ticketing, which helps in gathering, tracking, and directing customer inquiries efficiently. 
What is HubSpot Service Hub?
HubSpot Service Hub is a customer service platform that simplifies how businesses handle support requests. At its core, it brings together all customer conversations, tickets, and information into one easy-to-access dashboard. 
Intercom vs HubSpot: A quick comparison
| Comparison Points | Intercom | HubSpot Service Hub |
| --- | --- | --- |
| Value for money  | Complicated pricing structure and quite expensive. Plans start at $74/month for 2 seats. No free plan. | Straightforward pricing structure. Plans start at $45/month for 2 users. Free plan available.  |
| Ease-of-use | Clean interface. The platform offers a good experience for feature navigation. | Clunky and complicated interface. Can take a lot of time to get used to. |
| Customer portal | No Customer Portal (where customers can view ticket status and participate in community discussions). But includes a knowledge hub. | Offers a dedicated Customer Portal and knowledge base.  |
| Live chat | Offers AI-powered chatbot features and advanced live chat functionalities. | Free live chat tool; but not as advanced and AI-assisted as Intercom. |
| Reporting | Offers real-time customer conversation analysis. But fewer reporting features than HubSpot. | More robust reporting features with customizable dashboards.  |
| Customer surveys | Survey options are limited, with less scope to customize. Add-on cost of $49/month​​/user. | Surveys are integrated within its CRM. Offers multiple survey types. |
| Free trial | 14 days | 21 days |
1. Value for money: Intercom is more expensive than HubSpot Service Hub.
When comparing the pricing of Intercom and HubSpot Service Hub, there's a noticeable difference.
Intercom offers three main pricing plans, but all these plans can get quite complex and expensive.
Starter: $74 per month (or $89 if paying monthly) for 2 seats
Pro: $395 per month for 5 seats
Premium: Custom-priced plan
However, these prices are just the starting point. The final cost rises as you add more seats and key features. For instance, Fin, the AI Bot, is free for 14 days but later costs $0.99 for each resolution it handles. Separate charges also apply for features like Product Tours, WhatsApp integration, and Customer Surveys, all of which further increase the overall expense.
For early-stage startups, Intercom offers a plan with a substantial 95% discount. But it comes with strict eligibility requirements that may not be suitable for every startup.
In contrast, HubSpot Service Hub's pricing is more straightforward. It has three plans:
Starter: $45 per month (2 users)
Professional: $450 per month (5 users)
Enterprise: $1200 per month (10 users)
Advanced features like Playbooks, Customer Portal, Customer feedback surveys, and Service analytics are only available in its Professional and Enterprise plans.
The best part about HubSpot Service Hub is that it offers a forever-free plan. This plan allows you to set up one shared inbox and a dashboard with up to 10 standard reports. It also includes live chat (with HubSpot's branding on it),and a few other basic ticketing features. The free plan is useful for businesses that are just starting out. 
If you want a customer support platform less expensive than both Intercom and HubSpot but still offers all essential features, consider Hiver. The most basic plan is priced at $15/month per user and includes key functionalities like multi-channel engagement, email management, team collaboration, and 24×7 vendor support.
2. Ease-of-use: HubSpot Service Hub's interface can be quite clunky, as compared to Intercom.   
HubSpot Service Hub is recognized for offering an enterprise-level software solution that grows with your business. However, due to its extensive features, the initial implementation may require more time. Users find the HubSpot interface quite overwhelming and clunky.
Another disadvantage of its interface is that when an email query comes in, it creates two copies – one in the main HubSpot inbox and the other in the Service Hub inbox. This sometimes results in agents responding to the same query more than once, if they don't know that another team member is already handling it.
"In HubSpot, the user interface for writing emails and responding is not the most user-friendly. Emails bounce sometimes. It's hard to follow an email thread because it duplicates the emails." – HubSpot Service Hub user | G2 
Intercom stands out with its conversational interface and workflows, making customer communication feel easy and natural. It offers a streamlined front-end experience, focusing on user-centric design. According to G2 reviews, users generally find Intercom easier to set up and use than HubSpot Service Hub.
"Intercom is very user-friendly and looks professional in handling your company emails and chats. The user interface is very easy to understand as well, especially when sorting different kinds of emails and chats." – Intercom user | G2 
So, while HubSpot includes a comprehensive ticketing system that organizes and tracks customer issues in a unified interface, Intercom is often preferred for its simplicity and intuitiveness. This makes Intercom a more suitable option for those who prioritize ease of use. 
However, when it comes to the simplest user experience, Hiver stands out. Unlike HubSpot and Intercom, Hiver integrates directly with Gmail, eliminating the need for extensive training. Teams can manage customer communication across multiple channels within the familiar interface of Gmail. 
3. Customer Portal: HubSpot Service Hub includes a dedicated Customer Portal, which is not offered in Intercom.
Sometimes, customers prefer to resolve their issues independently. That's where a Customer Portal helps. It's a platform where customers can track their support requests, access knowledge base articles instantly, and take part in community discussions.
HubSpot Service Hub offers a dedicated Customer Portal, which is also one of its standout features. The portal helps customers to view the status of their tickets and check past resolutions. Businesses can easily create and customize this portal, as per their brand guidelines, without the need for any coding expertise.
Besides the Customer Portal, HubSpot includes a knowledge base feature. It lets businesses create SEO-optimized help articles and sort them into categories. This enables customers to find their own answers, reducing the workload on support agents.
Unlike HubSpot, Intercom doesn't have an inbuilt customer portal. It can integrate with external ticketing systems like Jira, but this limits what customers can see – such as ticket status.
However, Intercom compensates for this with its knowledge base feature. Businesses can create a central hub for customers to access help articles and seek useful information in multiple languages. 
Empower Customers to Self-Serve with Hiver's Knowledge Base
4. Live Chat: Intercom offers an AI-powered live chat feature, unlike HubSpot Service Hub.
Live chat is crucial in customer service as it helps companies offer instant responses to customer queries. Both HubSpot and Intercom offer a live chat feature.
HubSpot's live chat tool includes a user-friendly chatbot builder that requires no coding and can be integrated into a website. It allows businesses to:
Create chatbots for scheduling appointments and addressing common questions.
Automate chat routing so that customer conversations are directed to the appropriate support agents.
Provide customizable greeting messages based on different audience segments.
Intercom, on the other hand, provides an advanced, AI-driven live chat tool known as Business Messenger. It is designed to foster real-time, personalized conversations with customers across various platforms, including apps, products, or websites.
Another notable addition to Intercom is Fin, an AI chatbot. This bot can handle complex issues, ask clarifying questions, and hand off conversations to support reps when necessary. It can also recognize and respond in 43 different languages, and help offer 24/7 support in the absence of human agents.
While HubSpot offers an efficient live chat tool with easy customization, Intercom's Business Messenger and Fin AI are more powerful. For businesses prioritizing advanced AI features and global language support in their live chat services, Intercom's Business Messenger is definitely a more suitable choice.
Answer Customer Queries Within Minutes – with Hiver Live Chat 
5. Reporting: HubSpot offers more reporting features than Intercom.
Let's take a close look to understand how Intercom's and HubSpot's reporting feature differs.
Intercom excels in providing AI-driven insights into customer conversations. Businesses can use its reporting feature to measure and understand how their automations, conversations, human support, and proactive support are performing.
Intercom also offers the following pre-built reports:
People: Track new users and leads, along with their interactions with your team.
Conversations: View new incoming messages and responses.
Performance: Observe your team's response and resolution time.
Self-service Support: Identify the most frequently resolved questions by Fin and your most popular articles.
HubSpot Service Hub, on the other hand, can integrate CRM data with other business data to provide in-depth analytics and tailored reports.
HubSpot offers a range of ready-made dashboard templates, plus an easy-to-use drag-and-drop editor for further personalization. These dashboards can be shared with the team via Slack or email directly from the platform.
To protect sensitive data, HubSpot includes advanced reporting permissions. Users can set reports and dashboards as public or private or limit access to certain users and teams.
In conclusion, if you're looking to get an overview of how your support team is performing and track only the most essential metrics (response time and resolution time, for instance),Intercom would work for you.
However, if your aim is to track support performance in a much detailed and comprehensive way, by pulling data from your CRM and other tools, HubSpot Service Hub would be more suitable. 
While both HubSpot and Intercom offer separate dashboards to track analytics, Hiver Analytics can be accessed within Gmail. There's no need to switch between multiple tools. This potentially makes Hiver's reporting feature more convenient and efficient to use. 
6. Customer Surveys: HubSpot's survey feature is undoubtedly better than Intercom.
Customer feedback provides insight into the quality of support you provide. This makes it very important to regularly survey your customers and ask them what they feel about the support you offer.
In HubSpot, you can send surveys through email or web links and easily share the results with your team. To assess customer loyalty and satisfaction, use ready-made surveys like NPS, CES, and CSAT.
The best part is that HubSpot's surveys are integrated into its CRM system, making the data easily accessible across different teams.
Intercom also offers a reliable survey feature but at an additional cost of $49/month​​.
Intercom provides two types of survey options:
Short-form surveys: Quick and non-intrusive, typically appearing as floating banners at the bottom of a page. Ideal for measuring metrics like NPS.
Long-form surveys: These surveys are useful for collecting feedback on product experience, understanding customer needs during onboarding, and capturing information for lead generation.
Comparing these two tools, HubSpot offers more variety in survey types and allows for greater customization. Intercom's survey types are limited to short-form and long-form, with less customization flexibility.
Measure Customer Satisfaction by Creating Surveys Within Gmail
Which tool should you choose?
To sum up, Intercom is user-friendly but can be more expensive for advanced features. HubSpot Service Hub tends to be more budget-friendly, especially for those already using HubSpot, and offers a broader range of features but may require more time to learn.
However, if ease of use and seamless integration are top priorities, Hiver is a strong contender, especially for Gmail users.
Get started with Hiver today. Free for 7 days.