Table of contents
The simplest Front App alternative that works right from Gmail!
Front is a first-rate product loved by a lot of enterprises. But just as every tool out there, it's not meant for every business.
If you're looking for a Front App alternative, allow us to introduce you to Hiver: a user-friendly help desk software that helps you manage shared inboxes right from Gmail. Yes, without having to learn how to use a new tool and then getting used to it for weeks. It is also a breeze to set up – hardly takes a few minutes.
Before you read further: Hiver only works for Google Workspace (formerly G Suite)/Gmail users.
In this post, we've put together a few points comparing Front with Hiver. It should help you make the right decision.
Here's a TL;DR version if you're pressed for time:
1. Hiver works right on top of Gmail. It keeps things simple and familiar. You do not have to get used to a new interface. Front App is an entirely new email client and you will have to learn how to use it.
2. Hiver is easier to use than Front App. (Onboarding your team to Hiver takes 5 minutes tops.) Front App's interface can be complex for a lot of people, and it involves considerable training.
3. Hiver does not make you switch back and forth between tools to manage emails. Front App, although an email client, would keep taking you back to your regular inbox.
4. Hiverdoes not store your emails—they are always on Gmail servers. Front App stores your emails on their own servers (never a safe idea to take emails away from the service provider).
5. Hiver gives you more control over your data and does not make any modifications to it. Front presents certain limitations when you try accessing historical emails in your account.
6. Hiver keeps internal and external conversations neatly separated. Front mixes both into one cluttered interface—navigation becomes difficult.
7. Hiver offers 24×7 customer support over both chat and email across all pricing plans. Front's customer support varies according to the pricing plan.
8. Hiver offers free onboarding assistance to all customers. Front only provides free onboarding assistance to the customers who are on the highest plan.
At Hiver, customer success is our top priority and we understand that moving away from your current setup to Hiver involves a lot of moving parts for your team. We want to help our customers get started with Hiver as seamlessly as possible and hence we offer onboarding assistance to all our customers (free of cost) during the trial phase.
As a part of the onboarding assistance, we offer a bundled service that includes Hiver setup, implementation, and staff training, all free of charge so that the entire change management process and your experience of using Hiver remain top-notch.
Front, instead, provides free onboarding assistance only to the customers who opt for their most premium Enterprise plan.
Here's a more detailed version of why you'd love Hiver:
1. Hiver works on top of Gmail
Hiver helps you manage your team inboxes like info@ without having to leave your inbox.
In case you're wondering, it does not add an extra layer of complexity to Gmail. It blends in. Your emails appear as they always have. It just brings in the shared inboxes to your left side panel in Gmail.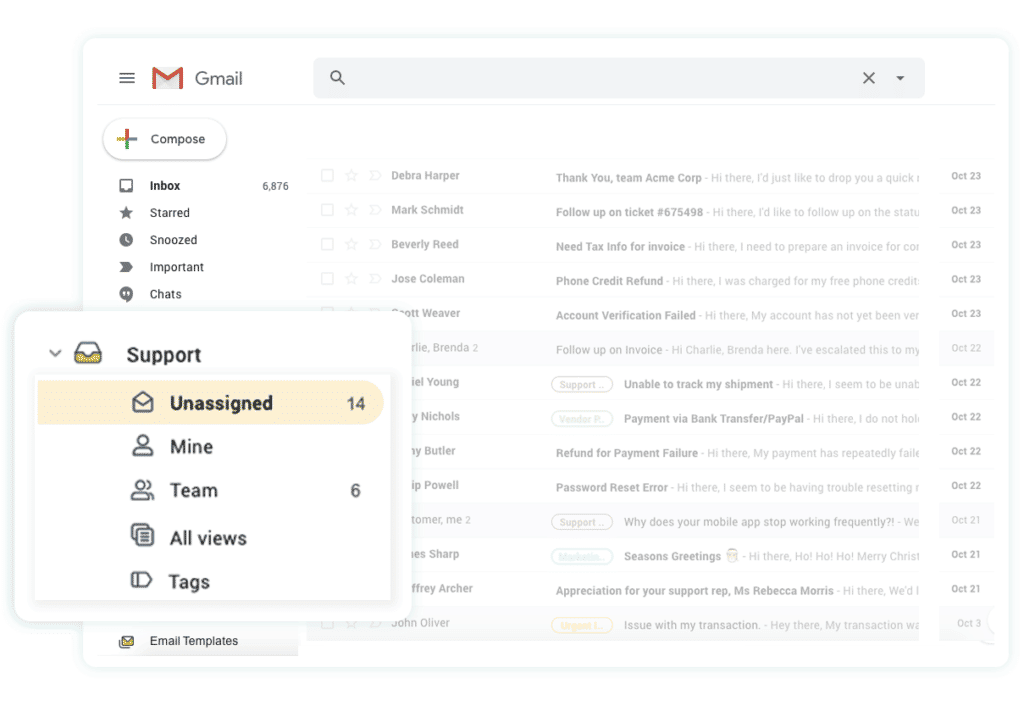 Front App, on the other hand, is an all-new email client. It looks different. The terminologies are new. It reorganizes your inbox to some extent.
It displays shared inboxes that you are not a part of. This can be overwhelming, as there's no way to hide them in your sidebar.
Additionally, your own inbox gets divided into two sections: an inbox with your name and an inbox with customer conversations "assigned to you." It can get tricky to predict which emails go to which inbox. It works well for a lot of people, but there's significant 'getting used to' involved.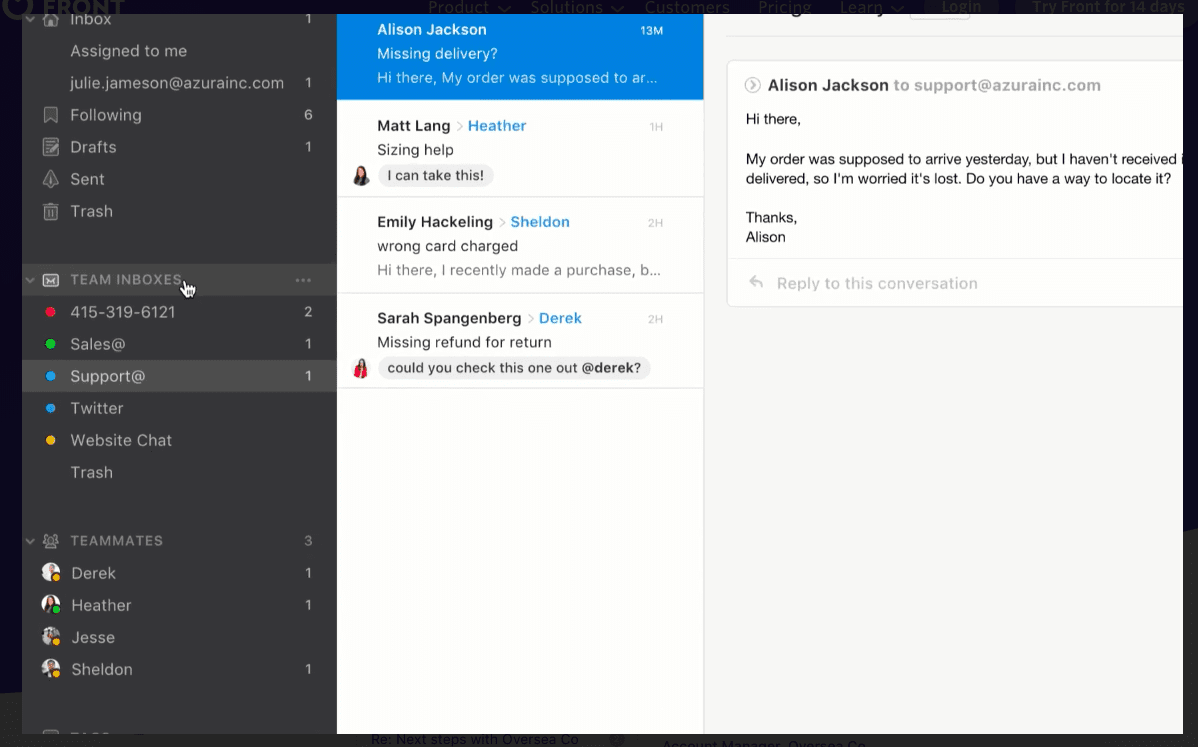 You'll have to sacrifice the familiarity of your email client. You lose things like composing an email in an expanded view or starring an email.
2. Hiver is easier to use
Hiver is an extremely simple tool. Setting it up and onboarding your team takes just minutes. If you're comfortable with Gmail, there's hardly anything to learn.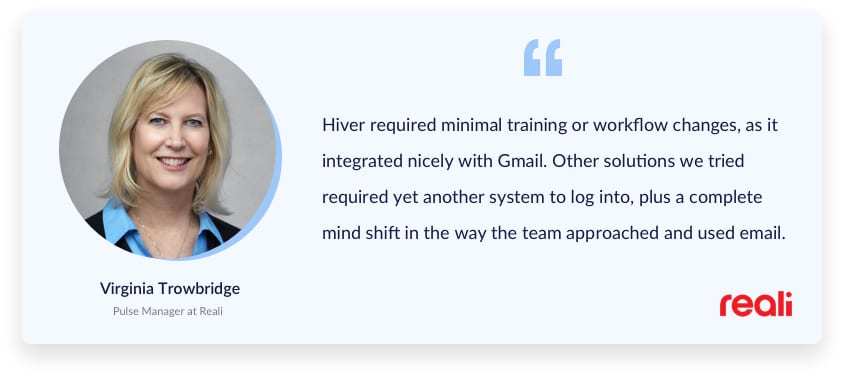 Front App can get a little clunky at times. You'll have to navigate through user guides and training modules to get started. And then you'll have to deal with a complex dashboard with buttons and menus that you might not always need (but they keep vying for attention).
"If you don't have someone who is savvy with technology to help you set it up, it may be hard to get the results you need." ~ A Front review on TrustRadius.
3. Hiver puts an end to the back and forth between tools
With Hiver, you can manage your personal emails and shared inbox emails, both from the same inbox. They're neatly separated —your personal emails don't get mixed up with shared inbox emails. The need to log into the shared email account becomes a thing of the past.
Front App is a full-fledged email client, but you will have to keep logging in to your Gmail inbox—for performing simple Gmail operations like accessing the Calendar or creating a new filter.
On occasions when you are working from your regular Gmail—and an email arrives in the shared inbox—Front sends you a notification. If you reply to that email, it does not go out as a reply—rather, it gets added as a comment to the shared inbox thread inside Front. To send that email to the intended recipient, you'll have to go back inside Front.
Back and forth between Front App and your Gmail will become an everyday hassle.
4. Hiver does not store your emails
When you use Hiver, your emails stay on Google's servers. Gmail uses TLS encryption to transfer your data. It protects your emails with industry-standard 128-bit encryption. It's virtually impossible for your data to leak.
Front, on the other hand, stores your emails on their databases. It's certainly a risky proposition when your data goes outside of your email service provider's servers.
5. Hiver gives you more control over your data
Hiver does not make modifications to your data. Your emails, labels, filters, everything remains as they were. You are always in complete control of your data.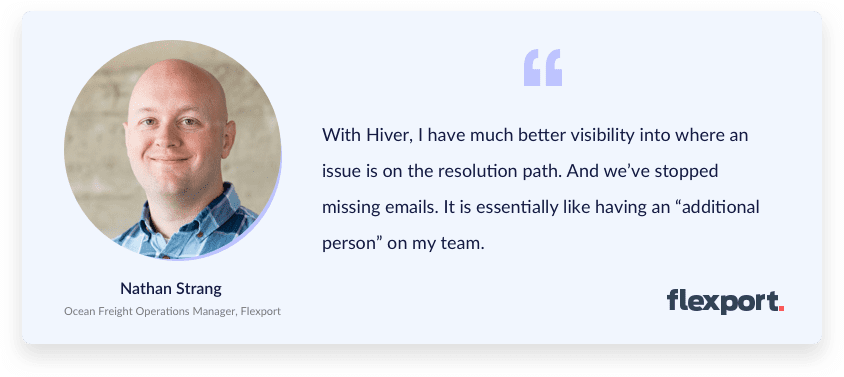 Front presents limitations when it comes to accessing historical emails in your account. You'll also face problems while syncing your Gmail labels and folders. You'll always keep going back to your regular email to access emails or conversations nested under Labels.
Another aspect that might make matters inconvenient for some people: searching for emails in Front can get tricky. When you perform a search inside the app, it returns all your teammates' emails.
6. Hiver keeps emails and internal conversations neatly separated
With Notes in Hiver, your internal discussions are neatly separated from the email threads. Notes appear right alongside the email thread that you're discussing.
Notes is a lot more than chat. Teams use it to maintain and disseminate information about projects or clients. You can choose to notify your team members using @mentions.
And the best of all: you'll be able to search through Notes right from the native Gmail Search.
In Front App, emails and internal discussions feature in the same window. It can get extremely difficult to navigate through long email threads which also have a lot of comments in the same window.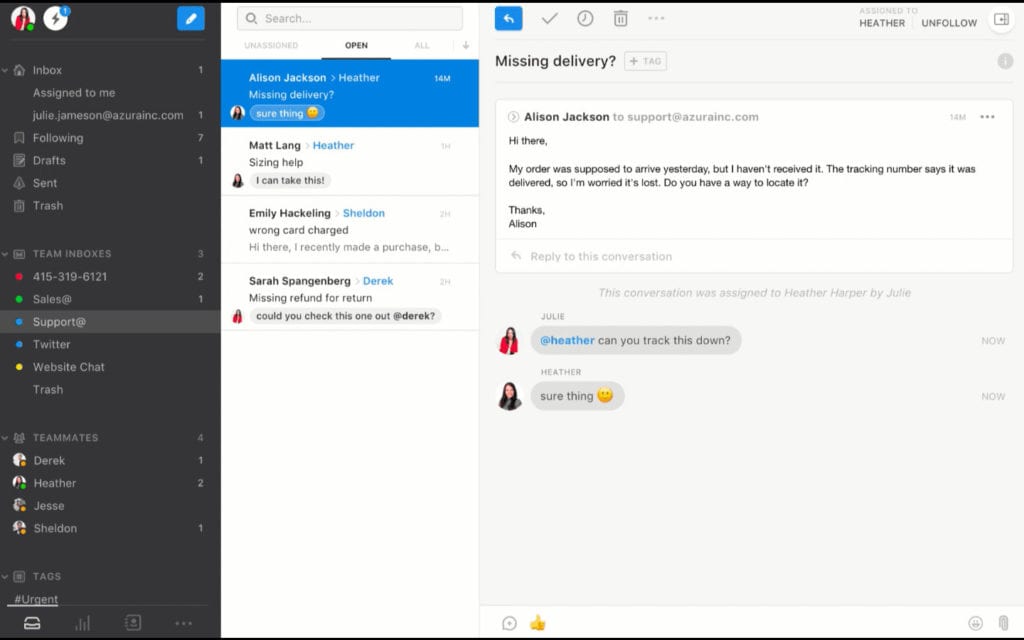 "It's confusing how to manage ongoing support threads because everything looks like an email and it's not always clear to our agents as to when the issue should be 'closed'." ~ A Front App review on TrustRadius.
7. Hiver offers 24×7 customer support over both chat and email across all pricing plans
At Hiver, our customers are at the heart of everything we do and so we offer 24/7 support to all our customers, irrespective of the plan they opt for, over chat and email to address any issues they may have at any point in time.
On the other hand, Front offers only email support across all pricing plans. Chat support is offered only on the highest plan and can get tricky if you're looking for instant support.
8. Hiver offers free onboarding assistance to all customers
At Hiver, we offer free onboarding assistance to all our customers – across all plans. Wherein, our onboarding team works closely with you to understand your current processes, identify improvement areas, and offer you the best possible guidance to help improve your workflows and achieve your goals.
Front offers onboarding assistance only to customers who are on its highest pricing plan. To customers on the other plans, onboarding assistance is offered at an additional cost.
Hiver: All the features you need, minus the clutter
1. Delegate emails in a single click – Improve team collaboration by turning emails into actionable tasks, in just 1 click from Gmail. Tracking their statuses is a breeze too.
2. Stay on top of emails – With Activity Timeline, you get a quick view of the series of actions taken on emails in your shared inbox.
3. Notes for internal discussions – Eliminate functions like Cc/Bcc/Forwarding for email collaboration. Add Notes for faster and contextual team discussions.
4. Avoid stepping on each other's toes – With Collision Alerts, two of your teammates will never reply to the same email again.
5. Automate the grunt work – Improve team efficiency with automations like assigning emails based on rules, tagging emails or intelligently detecting and closing non-actionable customer emails.
6. Exceed customer expectations – SLAs help you set and measure your support team's responsiveness to emails – ensuring you deliver delightful customer experiences.
7. Send better emails – Save canned responses as email templates. Collaborate on your email responses by sharing email drafts with teammates.
8. Measure customer happiness – Add customer surveys (CSAT) at the end of emails to measure customer happiness and know if their expectations are being met.
9. Measure team performance – Get deep insights into how your team is doing in responding to and resolving your customer and sales queries.
10. Provide personalized, live chat support – Offer real-time support to customers right from Gmail. Get visibility on conversations and create long-term customer relationships with Hiver chat, voice call support and WhatsApp messaging.
11. Create & obtain Approvals – Initiate and track Approvals for customers, vendors & employees right next to their email conversations. Have complete visibility and close approval requests with multiple stakeholders, all within Gmail.
12. Stay connected on the go – Hiver's mobile app for Android and iOs allows you to stay productive even when you're away from your desk. You can access your Gmail inbox from the Hiver app and also move conversations from there to a shared mailbox.
13. Manage app collaboration within Gmail – You can now integrate your favorite apps with Hiver. Hiver integrations (with apps like Jira, Salesforce and more) let you manage all internal communication and collaboration workflows efficiently right inside Gmail. And, the best part: it just takes a few clicks to enable any integration!
14. Know your customers better – Get rich customer context with Hiver Contacts. For each customer conversation, Hiver equips you with the necessary customer insights to craft personalized responses.

15. Self-serve with Hiver Knowledge Base: Hiver's Knowledge Base feature allows customers to self-serve and get answers to their queries anytime and at their own pace, without having to contact the support team. By empowering teams to create and maintain a repository of help articles, it helps deflect common customer queries, so they can focus on the more critical issues.

16. Smart support with Harvey – The AI Bot: Hiver's AI Bot has been designed to offer intelligent suggestions and perform intelligent actions. It boosts team productivity by identifying and handling non-actionable customer responses.
Try out Hiver?
We'd urge you to try out Hiver (7-day Free Trial) and see if it works for you.
If you'd like us to show you how Hiver makes managing shared inboxes a breeze, you can always book a demo.