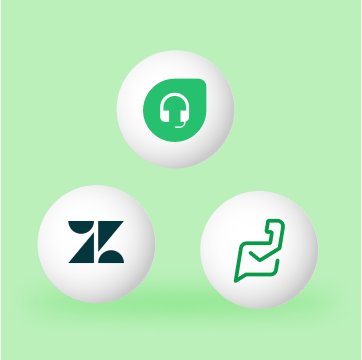 Table of contents
8000+ teams use Hiver to delight their customers!
Zendesk vs Freshdesk vs Zoho Desk: Which one to pick?
Jun 27, 2023
|
11 min read
|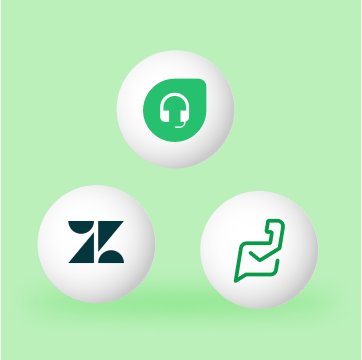 Table of contents
Picture this: It's a busy Monday morning, and you log in to your work email only to find it overflowing with customer queries. It's impossible to simply look at all these queries and know which ones are high priority and where to get started. What's making this worse is that your customers are not growing any more patient – time is running out!
If you can relate to this and have already started looking out for a way to manage customer queries, I'm sure you'd have researched many tools. Some of the most popular ones in this category include Zendesk, Freshdesk, and Zoho Desk.
We have done a detailed comparison between these three tools – on features and pricing mainly – to help you arrive at a decision faster.
Let's dive in.
Quick comparison of Zendesk, Freshdesk and Zoho Desk
Basic Comparison Parameters
Zendesk
Zoho Desk
Freshdesk
Ease of use and setup
Complicated to setup. Extra training cost involved.
Clunky UI. Takes time to set up and navigate. No extra training cost.
Cleaner UI. No extra training cost.
Pricing
Expensive for small to medium-sized businesses; best suited for enterprises.

Starts at $19.

Startups can apply for a 6-month free trial.

Affordable option for businesses working on tight budgets. Paid plan starts at $7. Free plan is also available.
Affordable for small to medium-sized business. Paid plan starts at $15. Free plan is also available.
Trial Period
14 days
15 days
21 days
Customer Support Quality
Digital support for business-impacting issues. 24×7 support is charged separately.
Support available over phone, email and chat. Frequent delays in technical support.
Offers 24×7 email support and 24×5 phone and chat support. Some delay in responses.
Check out how Hiver is different
Zendesk vs Freshdesk vs Zoho Desk: Detailed Comparison
Let's take a closer look at how these tools compare in terms of various important aspects before you make a call to invest in one:
1. Zoho Desk is cheaper than Zendesk and Freshdesk
Zendesk
Freshdesk
Zoho
Zendesk Support:
1. Support Team: $19/user/month
2. Support Professional: $49/user/month
3. Support Enterprise: $99/user/month
Zendesk Suite:
1. Suite Team: $49/user/month
2. Suite Growth: $79/user/month
3. Suite Professional: $99/user/month
4. Suite Enterprise: $150/user/month
Support Desk:
1. Free: Up to 10 agents
2. Growth: $15/user/month
3. Pro: $49/user/month
4. Enterprise: $79/user/month

Omnichannel Suite:
1. Growth: $29/user/month
2. Pro: $59/user/month
3. Enterprise: $99/user/month
Zoho Desk:
Free: Up to 3 agents
Express: $7/user/month up to 5 agents
Standard: $14/user/month
Professional: $23/user/month
Enterprise: $40/user/month
If you are comparing these tools in terms of pricing, here are a few things to keep in mind:
Both Zoho Desk and Freshdesk offer free plans. Freshdesk offers a better free plan where you can add up to 10 agents.

In terms of the cheapest plan, Zoho offers an Express plan that accommodates up to 5 agents and starts at $7/agent.

Zendesk is better suited for enterprise accounts with unique requirements and a bigger budget since it offers more flexible pricing plans compared to the other two.
But for the best value for money, Hiver is the way to go.
Lite
Pro
Elite

$15/user/month

All the essential features to easily collaborate with your team

$39/user/month

Automations, ETAs, and visually rich analytics for faster collaboration and insights

$59/user/month

Custom access control, round-robin assignment, and ETA reminders to deliver top-notch customer experience
Hiver Annual Price Chart
While it may seem that Zoho Desk is clearly cheaper, many essential customer support features are more expensive on Zoho Desk, as compared to Hiver:
Zoho Desk limits the live chat support channel to its Enterprise plan, whereas with Hiver you can provide live chat assistance right from the $15 Lite subscription. Hence, using Zoho Desk for live chat assistance will cost you 1.6 times as much as using Hiver.
With Hiver, you get access to 24×7 live chat support across all the pricing plans. Zoho Desk offers live chat assistance for 35% more, which is also only available 24×5.
Cross-collaborating with other departments over customer queries will cost 35% more on Zoho Desk as compared to Hiver.

SLA management feature is also more expensive on Zoho Desk, which is only available on their Enterprise plan. With Hiver, you can identify SLA violations and specify business hours right from the Pro plan.

Compared to Zendesk and Freshdesk, Hiver still gives a much better return on investment by a margin. Here's how:
Annual Savings with Hiver compared to Zendesk and Freshdesk
Helpdesk Software
Annual Savings %
Annual Savings
Zendesk
51%
$4,800/year for small teams;
$24,000/year for large teams
Freshdesk
34%
$2,400/year for small teams;
$12,000/year for large teams
To get an in-depth understanding of how Hiver fares against Zendesk and Freshdesk in terms of pricing, check out this comparison guide.
"Hiver is a must-have tool for teams. My team started using Hiver in early 2019 and has seen Hiver grow with a ton of new features that add value to my team's workflow. Hiver has brought the benefits of a ticketing system into an easy and accessible tool that my whole company already uses, Gmail."
User review on G2
2. Zendesk offers better collaboration features than Freshdesk and Zoho Desk
Zendesk, Freshdesk, and Zoho Desk offer a range of features to help teams collaborate on customer queries.
For starters, all three allow you to split a customer query into multiple tickets and resolve it in parts – an important feature for support teams. You can also communicate internally across departments to work on customer queries.
In addition to this, Zendesk offers a unified Agent Workspace – that brings together all the customer conversations across different channels on a single interface, which improves agent productivity and helps save time.

Freshdesk also offers some useful collaboration features, such as inviting collaborators on a ticket and sharing ownership of tickets with other teams without losing visibility. However, it has difficulties syncing with Google Workspace services like Gmail, Google Calendar, and Google Contacts. This makes it hard for agents who use Google services extensively to collaborate.

Zoho Desk, even though it offers features to help teams collaborate, is far from seamless. Its users have reported buggy integrations with productivity tools like Slack, which are essential for team collaboration.
"It doesn't work and they don't support or understand their own product. It is overly siloed so you can't seem to make any progress with the software overall. The integrations don't work well. You get everything, but everything is worse than the other alternatives on the market."
Zoho Desk review on G2
Hiver enables a seamless collaborative environment – inside Gmail
Although all three platforms do provide the necessary features and integrations for team collaboration, they also come with their own issues that hinder a seamless collaborative environment. This is not the case with Hiver – with seamless integrations and powerful collaboration features all inside Gmail – your agents can collaborate with zero friction.
Here's how Hiver takes team collaboration to the next level inside Gmail:
3. Freshdesk offers a better UI and easier setup than Zendesk and Zoho Desk
Both Zoho Desk and Zendesk are tedious to set up and navigate, with complex user interfaces.
Zoho Desk has an archaic UI, and it's a task to set up the platform and get started. The UI is confusing and unintuitive to work with. Here's what the users have reported:
"There's clunkiness and lack of flow on the platform. While there are features available, it is not intuitive and does not make sense to non-technical folks."
User on G2
Things get a little more difficult with Zendesk in this department. It is a complex platform to set up, with a pretty steep learning curve. Much like Zoho Desk, Zendesk also comes with an unintuitive UI that is hard to navigate.

Take a look at how Zendesk can be difficult as well as costly to get started with:
Configuring essential things like your support email address, team roles, automated responses, etc., is a time-consuming process.
Zendesk charges separately to train your agents to use the platform and resolve unique problems. This fee can be anywhere from $1500 to $2800, on top of what you're already paying – which is a substantial amount, especially for small to medium-sized businesses.
Zendesk requires technical proficiency to integrate with your website, social media channels, and other support channels. This is again a time-consuming procedure and may require back and forth with its customer support team.
"They charge $350 for a 10-minute video that didn't even answer one of my questions. Fortunately, this cost was waived for me after going through 2 account executives, a sales manager, and 2 support/training specialists (calling themselves developers) over the course of 9 months while trying to get a simple answer about how to use and report on Tags. We already went over budget and couldn't afford the outrageous training costs."
User review on Capterra
In comparison to Zoho Desk and Zendesk, Freshdesk offers a cleaner user experience with a quicker setup process. It is also more intuitive and easier to navigate than Zendesk and Zoho Desk.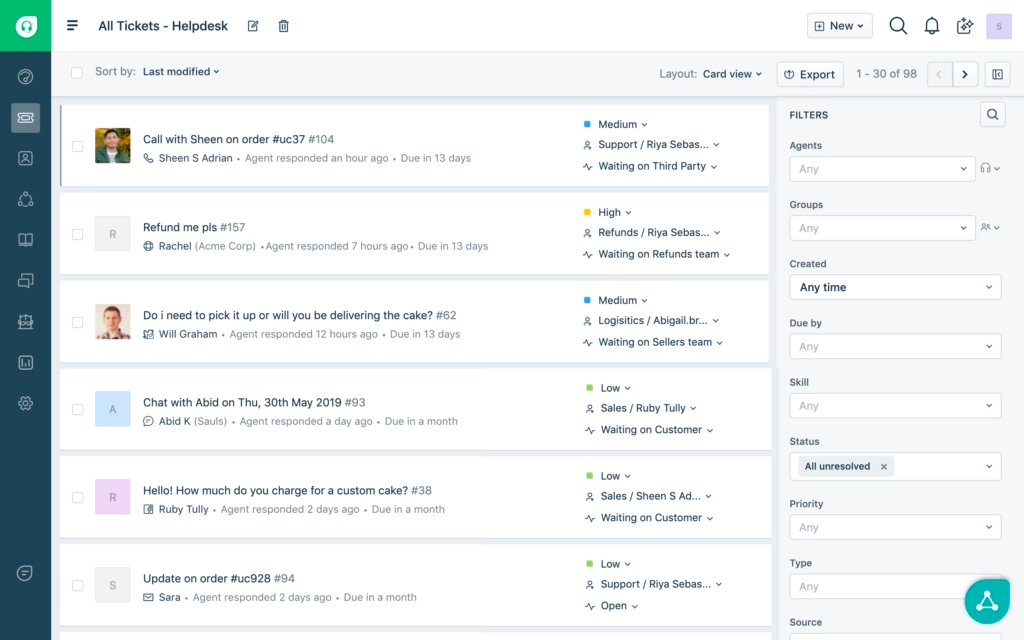 That being said, your team does need some training to use Freshdesk to its full potential. The admin section can be particularly overwhelming for users with its complex options and configuration features. It takes a while to find what you are exactly looking for, and it takes getting used to.
"The admin options and preferences section is chaotically organized, some useful features are missing (like advanced ban options – temporal ban, ban by user email, etcetera),and options are too complicated to understand and thus to execute properly."
User review on G2
Hiver takes almost no time to set up with a clean UI that sits on top of Gmail
What could be more familiar than the Gmail interface? Since Hiver works on top of Gmail, the interface is very intuitive and easy to use.
Hiver offers the quickest setup time with an intuitive and clean UI


You can get started with Hiver in almost no time, compared to Zendesk, Freshdesk, and Zoho Desk. Once set up, it syncs seamlessly with your Gmail account, with all the features right next to your customer queries for quick and easy access – which translates to much faster resolution.
"Hiver is an absolute time saver. It was so incredibly easy to setup, it took about 5 minutes! Hiver has saved me hours of work time and has kept my emails super organized."
User review on G2
4. Zoho Desk has a slight edge when it comes to reporting
Both Zendesk and Freshdesk have similar analytics features, which include:
Customer segmentation features
Pre-built reports
Custom reports
Real-time dashboards
Freshdesk offers a better dashboard that also shows unassigned views, which is not available in Zendesk.
However, Zoho Desk has more extensive analytics features compared to both Zendesk and Freshdesk:
Blueprint dashboard that analyses the efficiency of your blueprints in execution.
Zia (Zoho's AI assistant) dashboard that brings together predictions across anomalies, sentiment, and trending ticket tags.
These features can be useful for businesses that are looking to make more informed, data-driven decisions. However, these features are only available in Zoho Desk's most expensive pricing model, Enterprise. It's also a hassle to navigate through these features owing to the platform's clunky UI.
Hiver can slice and dice your data like a ninja
With the analytics features offered by Hiver, you can get your hands on the most granular-level insights that are not offered by Zendesk, Freshdesk, or Zoho Desk. Here's how:
Hiver allows you to analyze response times at the most fundamental level — which is every single email. This means that you don't only get access to the average response time but also the first response time, the next response time, and the periodic response time (the time taken to send a follow-up in case the customer hasn't responded).

This microscopic-level analysis is not available in Zendesk, Freshdesk, or Zoho Desk. This means that with Hiver, you can analyze every little movement of your customer support team and make practical, data-driven decisions — all from the comfort of Gmail.
You can get your hands on various reports, including:

– Conversation Reports, which allow you to see how your team is handling business communication. Analyze the number of unique interactions, individual turnaround times, and average response times.

– User Reports, that allow you to track key performance metrics for each team member.

– Tag Reports, to analyze conversations by tag names and identify trends in customer interactions.

– CSAT Reports, to track customer satisfaction and see customer feedback in real-time.

– Live Chat Support Reports, to get a bird's eye view of live chat conversations, including volume and key metrics like First Response Time and Resolution Time.

– Custom Reports, to build reports around the data you want, without the need to write codes or consulting data analysts.
5. Freshdesk offers better customer support overall when it comes to ROI
Zoho Desk offers sub-par customer support, as reported by its users. This is particularly problematic since Zoho Desk often runs into technical problems that can hamper the flow of work for support teams. With unsatisfactory customer support, customers are forced to halt their work and await a response from Zoho's support team, leading to delays.
"The tech support is probably the worst I have experienced in 30 years of owning a business. If the products work great, if not, don't expect support to help you. It is terrible."

"The customer service is terrible. It appears they only have one or two people working there, we ran into an issue during our busy time and we tried to get customer support on the phone and we were on hold for 45 minutes and still never got through."
User reviews on G2
With Zendesk, the problem lies with additional charges on top of paid plans in order to get proactive support and assistance from the support team.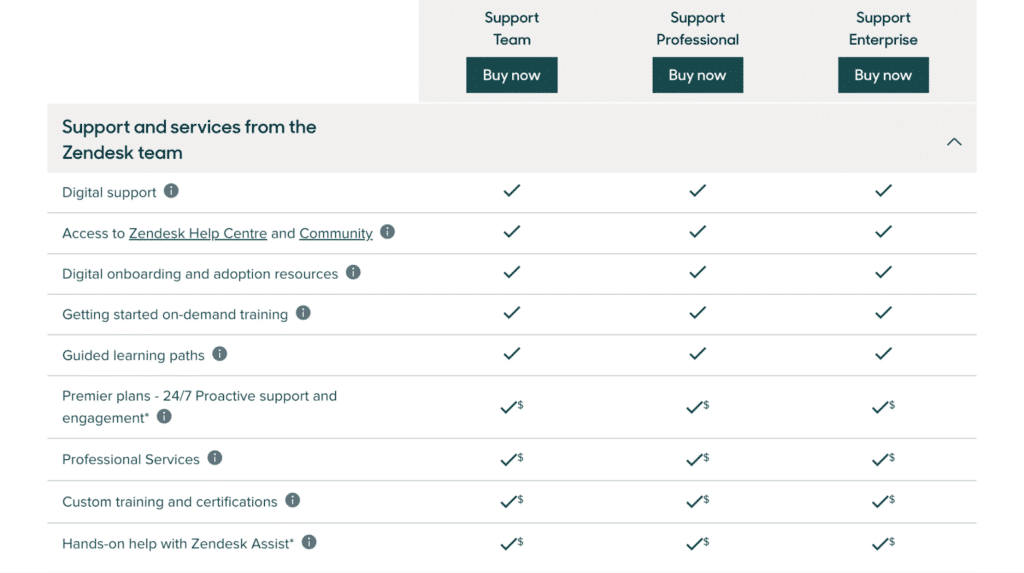 For small to medium-sized businesses, bearing the additional cost of getting hands-on help and proactive support can be pretty challenging and out of budget. Since the platform is complex to navigate and use, to begin with, customers are bound to reach out for assistance with configuration, data migration, and deploying solutions – all of which are charged additionally.
Freshdesk offers a higher return on investment when it comes to support. It offers 24×7 email support and 24×5 phone and chat support and is more proactive than the other two. However, users have reported delays in response with Freshdesk as well:
"It is ironic how they provide a support and ticket management system and it's impossible to get an answer from them. We are astonished by the poor quality of support provided."

"My experience with customer service has been terrible, and for me, a platform that works for the Customer Experience sector must have as a principle that the experience of its customers is a central objective. For 3 years, they never contacted me to see my experience, only when I was about to change."
User reviews on G2
Overall, the customer support offered by all three has been underwhelming for the users. Freshdesk still offers a better experience as compared to the rest of the two since it doesn't come with the hefty costs charged by Zendesk or as frequent technical issues as Zoho Desk.
Hiver offers impeccable multi-channel customer support
Hiver offers 24×7 multi-channel customer support for any assistance your team may require. The response time is unbelievably fast, with no hidden costs for assistance. Here's what users have to say about Hiver's customer service:
"Great product with great customer service. Their customer service has been great as well. Anytime I needed help, they were able to assist very quickly."

"Hiver is a real time saver. The customer service is beyond compare! Very fast response, very professional. This system saves us hours of email time."

"You can quickly use all the new enhancements they implement regularly with a minimal learning curve. The support has been perfect. Everything is excellent, including exceptional customer service."
User reviews on G2
The customer service offered by Hiver tops those offered by Zendesk, Freshdesk, and Zoho Desk by a mile. All of this comes with no add-on charges, a minimal learning curve, and an intuitive UI. This ensures that you do not require assistance to perform basic tasks, which is the case with all three of the mentioned platforms due to their steep learning curves.
Conclusion
A good customer service platform can be a game changer when it comes to elevating your customer experience. The right functionalities, coupled with ease of use and top-notch customer support, can help you deliver the customer service that sets you apart from your competitors. Before you choose which customer service platform you should invest your time and money in, see if it checks off the following:
Has an intuitive interface that doesn't require you to invest hours and hours to get started
Supports multiple customer support channels
Advanced reporting and analytical features to help you analyze user data and make data-oriented decisions
Offers 24×7 customer support
Offers an option to scale your customer service channels
Delivers optimum return on your investment so that you don't have to keep switching platforms
If you are looking for a comprehensive customer support tool with the best value for your money, take Hiver for a spin. Start your free trial and see the difference.