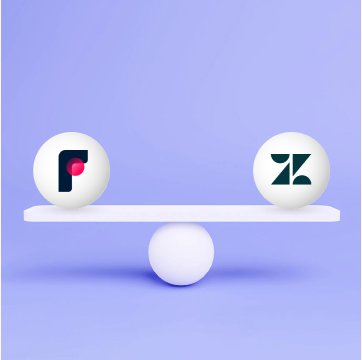 Table of contents
8000+ teams use Hiver to delight their customers!
Front vs Zendesk : A detailed comparison guide
Jul 06, 2023
|
9 min read
|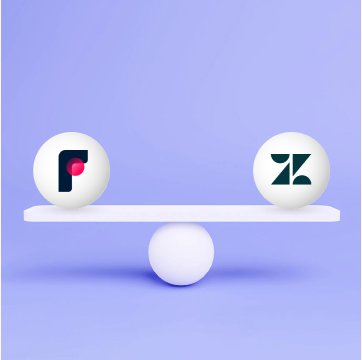 Table of contents
Choosing a helpdesk for your business can be a daunting task, when you consider the variety of options available in the market. Each tool touts a range of features and at times it can get difficult deciding between what you actually need and what would simply be good to have.
A thorough research of the market will tell you that Front and Zendesk are among some of the popular helpdesk platforms available in the market.
In this article, we cover each of these platforms in detail to help you understand which one would be better suited for your customer support teams.
Table of Contents
What is Front?
Front is a helpdesk tool specifically designed for support teams to seamlessly interact with customers. It enables teams to collaborate on customer queries and offer multi-channel support. Front's smart automations and analytics allows you to automate repetitive tasks and optimize team performance.
Front vs Hiver : Reasons, Reviews, and Ratings
What is Zendesk?
Zendesk is a customer support solution that works quite well for large teams and enterprises. The platform enables you to support customers across channels such as email, phone, knowledge base, and live chat. It has a number of advanced features that allow agents to streamline their work and improve efficiency.
Hiver vs Zendesk : A Comparison Guide
1. Both Front and Zendesk are expensive
One of the biggest questions to ask while choosing a customer support tool is whether it offers all the essential support features without burning a hole in your pocket.
Helpdesk Tool
Small Teams (10 users)
Large Teams (50 users)
Front
$7,080/year
$35,400/year
Zendesk
$9,480/year
$47,400/year
Hiver
$4,680/year
$23,400/year
Annual Savings (if you choose Hiver)
$2,400/year (over Front)
$4,800/year (over Zendesk)
$12,000/year (over Front)
$24,000/year (over Zendesk)
Clearly, Hiver has an edge over both Front and Zendesk when it comes to value for money.
From the comparison table we can see that:
With Front, you will have to pay 60% more to access in-depth analytics
You will have to pay 84% more for timely vendor support with Front. Note that they do not offer around the clock support.
Hiver vs Front: A Pricing Comparison Guide
With Zendesk, you'll notice that understanding their pricing plans is a task in itself. Beyond that, the platform is simply very expensive – small and medium sized businesses might not find Zendesk feasible.
It's clear from the table that:
Internal collaboration functionalities will cost you about 60% more with Zendesk
Setting up business hours and letting customers know your availability can cost you 2x more with Zendesk
Aside from this, you'll need to pay extra for 24×7 support and personalized onboarding.
With Hiver, you don't have to worry about hidden costs or charges. Hiver's pricing plans are absolutely transparent and offer really good value for money.
How?
You get access to all essential customer support features such as live chat, knowledge base, analytics, SLAs, integrations, and more at $39 per user per month.
2. Front and Zendesk have a steep learning curve
With some tools, your team requires extensive training before they can start using them. And even then, they'd find it difficult to navigate the platform.
Front and Zendesk belong to this category.
Users often find Front difficult to set up and navigate. The training required for your teams to simply get started with Front adds to the cognitive load and could negatively impact productivity at work.
"Not exactly easy to learn. It has an underlying format that needs to be adapted to work well with the platform" – Federico D.
Zendesk users face a similar problem. Zendesk's UI is clunky and unintuitive and takes a while to set up. It can take weeks, sometimes even months to get the workflows in place.
"It took me 3 to 4 weeks to learn Zendesk. Then another couple of weeks to meet with the various department leaders to help refine their processes and design workflows. It took me 3 weeks to build the whole thing out in the production environment and test everything." – Zendesk user
It's clear that with both Front and Zendesk teams can take some time to set up and use these tools, slowing down your agents considerably.
So, what's the alternative? Take a look at Hiver.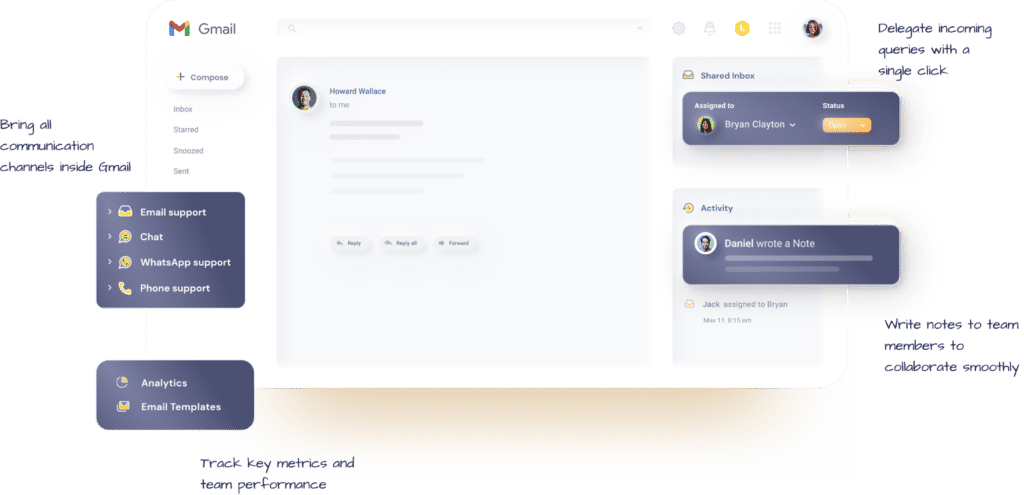 Hiver works intuitively on top of Gmail – a platform most of us are already familiar with. It is extremely easy to set up and your agents can immediately get started with managing customer communication. No training needed, no complex workflows to grapple with.
"Hiver is simple and no-fuss. We were able to hit the ground running from Day 1, and the customer service is fantastic" – Luke Thompson, Co-owner, Visiting Angels
3. Front and Zendesk do not offer extensive analytics
To improve your support team's efficiency, you need to track their performance. A robust analytics and reporting system is essential to understand what's working and what's not.
Front allows you to measure both individual and team performance. There are multiple built-in dashboards that you can customize using different filters.
However, with Front, users often find it challenging to track metrics and create simple reports.
Another challenge is that users can access the full range of analytics and reporting features only with Front's highest pricing plan that costs a massive $229. This may prove to be expensive and unaffordable for small and mid-sized businesses.
"Understanding metrics tracking is extremely difficult and not user friendly. It's not easy to create a dashboard for metrics you use most." – Front user
10 Front Alternatives for Your Customer Support Team
Zendesk offers detailed analytics and allows you to add data from any channel or touchpoint that you use. You can create different dashboards with different filters and pull out reports easily.
The challenge with Zendesk, however, is that creating these reports can be quite time consuming, owing to the complexity of the interface. Apart from this, integrating Zendesk with your desired customer support channels can be very tricky, especially in cases where there are a number of sources to include.
"The way it connects to the database and pulls data from databases makes the backend very messy. The tool is not very flexible and cannot do any sort of advanced graphing." – Zendesk user
Hiver's analytics dashboard has a completely different story to tell. Not only does it offer detailed insights into the metrics that matter the most, but it's also very intuitive to navigate. This makes it a lot easier to create, pull up, and manage reports. With Hiver's analytics, you get access to several built-in reports such as:
Conversation reports: Get insights into metrics such as first response time and average resolution time to see how your team has been handling customer conversations.
User reports: Find out your top performers as well as the ones that need help/training
CSAT reports: Learn more about what drives customer satisfaction. Find out how you can fine tune your internal processes and improve support quality.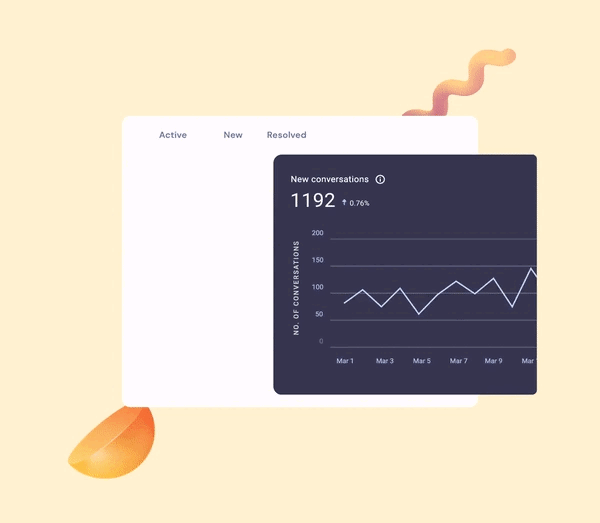 Apart from these pre-built reports, you can even create custom reports to track specific metrics that matter to you.
"I love the Analytics part of Hiver. Important metrics like average time to respond to emails and CSAR are tracked and presented beautifully." – Scott Gellatly, General Manager, ItGenius
4. Delivering seamless customer support is difficult with Front and Zendesk
With Front, users often find it difficult to offer instantaneous support. This is because notifications on Front are either delayed or don't come through at all. When this happens, agents are not alerted about customer issues on time, and this delays resolutions.
"Keeping up to date with how notifications occur in Front is quite challenging. There is a delay (0.5 – 1.5 hours) when someone tags me and when it appears in my view." – Jessie D.
With Zendesk, the problem is that the helpdesk tool tends to dehumanize customer service.
Take a look at the screenshot below for instance.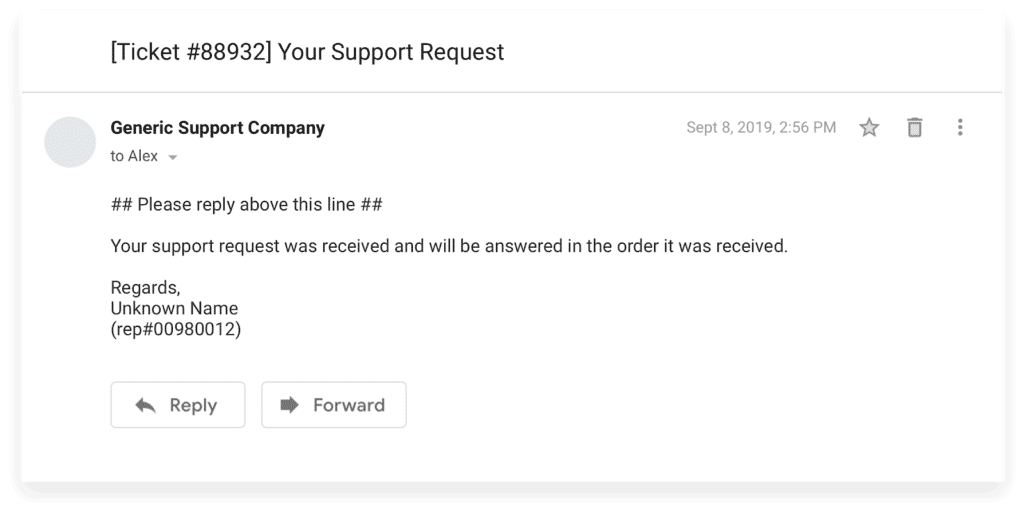 Whenever customers raise a ticket, they receive autoresponders in response like the one above . They are poorly formatted and quite robotic in tone. Clearly, customers are reduced to ticket numbers and this can come off as impersonal and unapproachable.
Aside from this, Zendesk does not allow you to reply to tickets from a personal company email ID like [email protected] or [email protected]. Instead all replies go out from IDs such as [email protected] or [email protected]. This again gives customers the feeling that they are not talking to a human.
Zendesk is HIGHLY impersonal in terms of the actual interactions which, in education, is a severely problematic approach – Zendesk user
Hiver on the other hand, ensures that you don't run into scenarios like this. There's no delay between when a manager tags an agent for inputs on a query and when the agent gets notified about it. Hiver also allows you to set SLAs or service level agreements to establish accountability and ensure timely support.
P.S. SLAs define standards for customer support. It sets a benchmark for certain performance metrics (like first response time, resolution time) so that agents are able to meet customer expectations every single time.
"I can see how much workload my team members have and the average time to close it. We never miss the SLA of 24 hours" – David Pinto, Business Development, Kiwi.com
5. Internal collaboration is challenging with Front and Zendesk
51% of customers feel that getting customer support via email is time consuming.
This is because email customer support comes with several challenges such as:
Inability to assign incoming emails to agents correctly
Endless back and forth to discuss customer queries (a lot of CCs and forwards)
Lack of visibility into who is doing what leading to multiple agents responding to a single email
Clearly, seamless and effective internal collaboration is a necessity to mitigate these challenges.
While Front offers a number of shared inbox features that enable you to assign and track emails, it lacks critical functionalities that allows teams to collaborate easily and effectively.
For instance, when using Front, users are often not able to see replies from other teammates. This is because if one member of the support team takes up a ticket, all other members of the team lose visibility and are unable to follow-up when needed.
"We do not see important replies, especially when several people are copied in the email. Sometimes one person replies before the other and the reply is not seen." – Front user
Zendesk makes use of a third-party app called Split n Close to allow teams to split a ticket amongst different support agents.
Sure, this is a good way to collaborate on customer queries but nothing can beat the ease of collaborating within Gmail, now can it?
This is what Hiver offers.
With Hiver, you get access to a range of features that makes internal collaboration a breeze. You can:
Cut down on endless CCs and forwards: Instead of relying on emails while discussing customer queries internally, simply @mention your colleagues in Notes alongside email conversations for their inputs.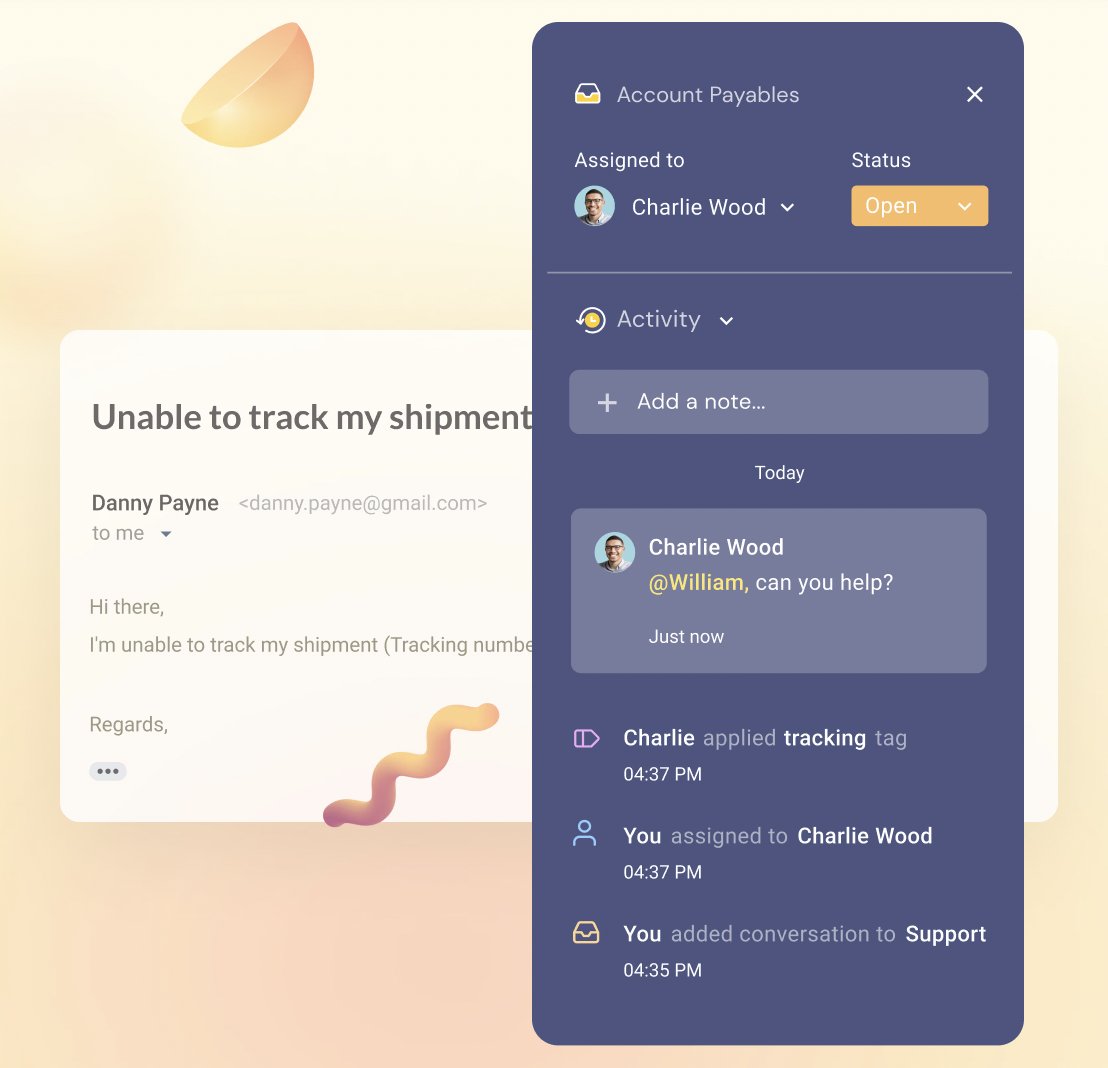 Collaborate on email drafts: You can invite your team members to share their inputs and suggestions on email responses through shared drafts.
Respond faster to email queries: You can templatize responses and share them with your team. This allows you to respond to repetitive email queries without spending too much time formulating responses.
"I can now know everything that's happening in my company, if I choose to, without needing to be copied on everything and clogging up my own inbox. Hiver has revolutionised my whole business" – Brittany Turner, Founder, Countless
6. Getting timely vendor support is challenging with Front and Zendesk
Its normal for your team to encounter issues with the customer support tool they're using. But what matters is how quickly they can get assistance in resolving these issues.
Front users have often complained about the quality of customer support. Getting in touch with Front's support team can be quite difficult. What's trickier is that chat support is only available to members of the highest pricing plan.
"The service is incredibly distasteful and the sales process lacks the understanding of customer needs and how best to approach operational complexities" – Zachary P.
Zendesk users also face pretty much the same problems with getting timely support. It takes ages to connect to a live agent and responses take even longer. If you do want to avail Zendesk's 24/7 support, you have to opt for their highest pricing plan. Else, you will have to wade through dozens of help articles trying to figure out how to set up and use the platform.
"Insufficient support. Especially during configuration.Zendesk solves most questions by referring to the manual, etc. But I need a living person I can call….someone who really knows Zendesk technically….I can't recommend Zendesk to anyone." – Zendesk user
Hiver, on the other hand, offers 24/7 customer support as well as onboarding assistance to all its users – irrespective of which pricing plan they belong to. Agents are quick to respond and provide solutions whenever users run into a problem. Aside from this, Hiver also offers a phone call-back option for elite plans.
In fact, here are some numbers to show you just how much we value customer support.
Our first call resolution rate is 88%. This is 40% higher than the industry average
We have a CSAT score of 95% as compared to the industry average of 92%
Our average chat response time is 13 seconds. This is 3x faster than the industry average of 45 seconds.
"Since we've been using Hiver, we've had the best support. They either try to resolve issues as they occur or try to implement an integration that works for us" – Dao P.
Final thoughts : which platform should you go for?
From the above comparison, it is clear that Hiver has a significant edge over both Zendesk and Front on a number of aspects.
To start with, Hiver is a lot easier to set up and start using. It offers way better value for money. It helps teams provide support across multiple channels such as email, live chat, voice channel, and knowledge base.
Even in terms of features, its got you covered – teams can make use of powerful automations, analytics, integrations, and SLAs to deliver personalized support experiences.
Still on the fence? Simply give Hiver a spin with our free 7 day trial and see for yourself!