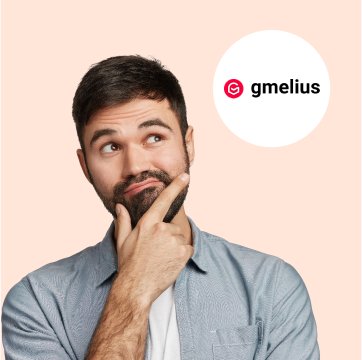 Table of contents
See Why Teams are Switching to Hiver
Top 10 Gmelius Alternatives for 2023
Jul 18, 2023
|
10 min read
|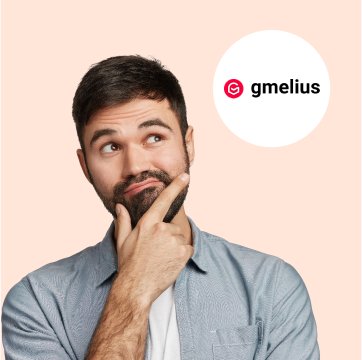 Table of contents
Gmelius is a collaboration platform that works inside Gmail. It offers a shared inbox tool that helps teams manage queries arriving in group emails such as info@ and support@. With a 7-day free trial, its pricing ranges from $15 to $36 per user per month.
If you want a tool that helps you organize group emails, assign queries to your team, get complete visibility on tasks, and collaborate effortlessly, then Gmelius is a good option. For sales and project management teams, it provides Trello-style Kanban Boards and meeting schedulers.

However, Gmelius lacks advanced capabilities if you're using it for managing customer support.
You want to find a great Gmelius alternative that helps you deliver outstanding support at scale. Currently, Gmelius doesn't let users offer support via live chat, knowledge base, or phone, which is a big letdown for teams that want to achieve faster resolution times.
Here's a list of Gmelius competitors that will suit the requirements of a fast-growing support team.
Table of Contents
The 10 Best Gmelius Alternatives Comparison
1. Hiver
If you want the simplicity of the Gmail interface and all the features of a full-fledged customer support platform, you needn't look beyond Hiver.
Here's a quick feature comparison between Gmelius vs Hiver :

Apart from having a noticeable learning curve, users have often mentioned how Gmelius's UI can take time to load and sync – leading to delays in everyday operations.
Hiver's UI, on the other hand, is clean and seamless. Any team in your company can quickly learn how to use it – with very minimal training.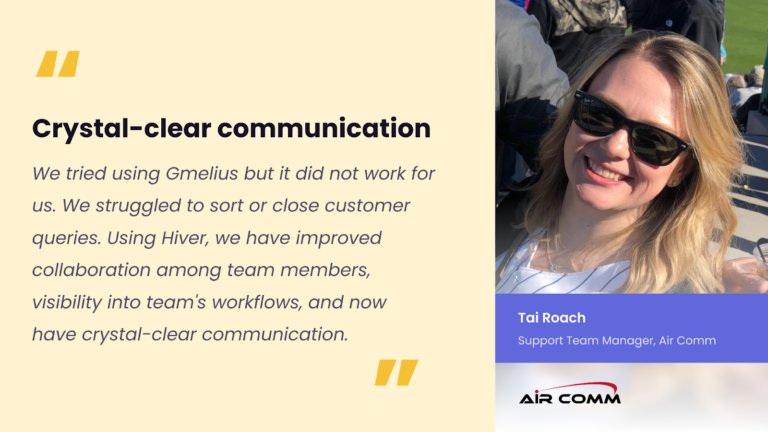 Hiver also comes with advanced analytical capabilities to measure team performance, powerful automations that help expedite routine tasks, and dynamic collaboration functionalities to enable teams across the company to work together on customer queries.
For $15 per user per month, Gmelius only lets you create shared inboxes. Moreover, their pricing is restricted to email credits. Their flex plan starts at $15, and it has a limit of 100 shared conversations. You'll be charged an extra $0.25 for every email shared beyond that limit.

For the same feature set and more, Hiver's pricing plan lets you offer multi-channel support that includes shared mailboxes (where you can create unlimited threads),live chat, a knowledge base, phone support (via its Aircall integration),and WhatsApp.

Hiver delivers big time when offering value for your money.
2. DragApp
DragApp is similar to Gmelius and offers a Trello-style Kanban board to keep track of projects and tasks. It helps you overcome the collaboration limitations you experience when working in Google Groups.
If you normally use shared labels, however, setting up, DragApp can be very time-consuming. You'll have to manually recreate all the labels as Tags in the DragApp dashboard. What makes this process even more cumbersome is the fact that DragApp's interface is not very intuitive and comes with a distinct learning curve.
While it doesn't offer as many direct integrations as Gmelius, you can make use of the Zapier connector to integrate with relevant apps.
That said, it's economically priced in comparison to Gmelius. The pricing ranges from $5 per user per month to $15 per user per month. But if you don't have the budget for these, you can also check out the (permanent) free plan they offer.
3. Keeping
Keeping is a Gmelius competitor that is built to help customer support teams manage their everyday workload. It fits intuitively within the Gmail interface, which makes it easy to use. And while it offers a Shopify integration – which can come in handy for B2C Businesses – it lacks other essential integrations with project management tools like Slack or Asana.
One of Keeping's biggest limitations – as pointed out by several users – is that you can't rename the subject line while responding to a query or request.
Users have also complained that its mobile interface needs some fine-tuning and that it doesn't offer in-depth analytics.

But overall, it does the job for small businesses.
4. HappyFox
Users can check out HappyFox as a Gmelius alternative. It offers a range of features such as ticketing, automation, knowledge base management, automation, and reporting for customer-facing teams.
On the downside, HappyFox comes with a high learning curve. Its configuration can take time. The user experience (UX) and setup have been observed to be clunky.
But on the whole, it's a reliable solution for businesses looking to streamline their customer support operations.
5. Mixmax
Do you want a Gmelius alternative that's focused on driving sales engagement? Then give Mixmax a try.

Users can schedule emails, create polls and surveys, track email opens and clicks, and even automate email sequences with a high degree of personalization.
Some of the drawbacks with Mixmax include slow loading time, difficulty in finding scheduled emails, and setting up sequences.

While it offers a permanent free plan with limited features, Mixmax's paid plans range from $29/user/month to $69/user/month. Mixmax offers custom pricing for enterprise companies – depending on the number of seats.
6. Sortd
Sortd is another robust alternative to Gmelius. Sortd helps managers assign queries to team members and ensure that no email is left unattended. It also offers internal notes that help your team collaborate and have contextual discussions on customer queries. You can also build and manage a customer database with its Shared Team Contacts feature.

But like Mixmax, it is best suited for teams working in account management, production, and design. Its Trello-style Kanban boards help you get complete visibility into who's working on which project and the progress they've made.
Note that this is built keeping small teams in consideration and is only limited to organizing your emails for better visibility.

Its pricing tiers include a free personal plan, a $6 per user per month plan, and an $8 per user per month plan.
7. Kayako
Another Gmelius competitor you can check out is Kayako. It lets you offer multi-channel support via email, live chat, knowledge base, and social media.

If you're running a B2C eCommerce venture, you can integrate with Stripe payments and online shops like Shopify – thereby getting a holistic view of your customers' buying journey.

On the downside, Kayako can be complex to set up and may require some technical expertise to customize and configure according to a business's specific needs. It comes with its little quirks of random glitches, long load times, and lack of detailed reporting.

Kayako's pricing on G2 shows a three-tiered plan that starts at $15 per user per month and extends to $60 per user per month.
8. HelpCrunch
HelpCrunch comes with a shared mailbox, live chat, and knowledge base for support teams. But like Mixmax and Sortd, it leans towards being a sales enablement platform. Your sales and marketing teams, for instance, can use HelpCrunch to create eye-catching popups to attract potential customers with personalized offers. You can also create email sequences or send occasional newsletters to boost your conversion rates at every step of the sales process.
Note that while the base price starts at $12 per user per month, it can vary within the same tier depending on the email credit limits. That basically means the same plan with a 1000 email credit limit is priced at $23 per user per month. Similarly, their Pro plan starts at $20 and may vary depending on the email credit limit you choose.
It lacks native integrations, but if users are willing to oversee this con, it would work well as a Gmelius alternative.
9. Help Scout
Help Scout is a great Gmelius alternative for offering customer support to businesses of all sizes. It started as an email tool with a shared inbox feature but has evolved into a platform for support teams. Help Scout now lets its users handle customer inquiries via email, live chat, and a knowledge base.
A notable con to Help Scout is that frontline agents can respond to tickets only from the main group email – [email protected] or [email protected] and not from their personal work email. A personal work email makes it easier for the agent to build a rapport with the customer and truly empathize with them.

Also, one of the biggest drawbacks of Help Scout is that internal and external conversations overlap. There's a good chance that one of your agents sends a message – meant for their colleague – to a customer by mistake. Now, that's a faux pas you'd want to avoid.
Its reporting features have certain limitations, and its knowledge base requires some degree of HTML coding or AI script generation for setup and customization.
Its base plan starts at $20 and extends to $65 per user per month.
Check out the Top 10 Help Scout Alternatives
10. Groove
Groove helps companies streamline their support operations by letting them offer multi-channel support – email, live chat, and knowledge base. Groove also offers a range of automation and collaboration features and also integrates with CRMs, marketing automation tools, and headless architecture e-commerce platforms to provide a seamless and comprehensive solution for managing customer interactions.

The base price starts at $20 per user per month, but larger teams may need the pro plan priced at $65 per user per month.

It doesn't offer features commonly available in native Gmail, such as the option to download multiple attachments, bold font highlighting for new emails, or the ability to retract sent emails.
But it holds a lot of promise for those looking for an alternative to Gmelius.
How to choose the right Gmelius alternative for your business?
Picking the wrong software is worse than working without a software. When evaluating customer support tools, ensure you take the time to check:

The support channels offered,
The ticket management and collaboration capabilities,
Level of reporting and analytics
Pricing
Ease of setup and scalability
Take your time with their free trial subscriptions and test their capabilities with your team. Testing the software before buying helps your team make an informed decision by evaluating its features, compatibility, and user experience. It can prevent costly mistakes and ensure the software meets your organization's needs and budget. It can also help you identify any potential issues or limitations that may not be apparent from just reading reviews or marketing materials.
Read about the Top 10 Things to Consider Before Buying a Customer Support Software