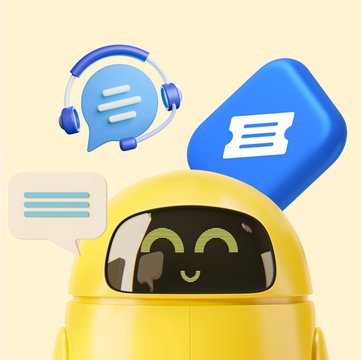 Table of contents
Turn Gmail Into A Collaborative Hub
9 Automations to Implement in Ticketing Systems
Aug 20, 2023
|
9 min read
|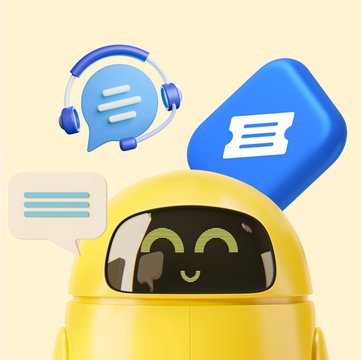 Table of contents
Customer service teams need to work as efficiently as possible in order to deliver world-class support. And to enable them to do this, you need to equip them with the right stack of customer service tools.
One of the most important tools in this stack is a customer service ticketing system. It provides a centralized platform where support teams can track, manage, and resolve customer queries in a systematic manner.
What makes these systems even more powerful are the automations that are built into them.
From helping streamline workflows to improving customer response times, automations are critical to ensure that your support teams work smarter and more efficiently.
In this blog we highlight 12 automations that you can implement in your ticketing system to level up your customer support.
Top 10 help desk ticketing systems in 2023
What are automations in ticketing systems?
Automations are predefined rules that allow your ticketing system to take action based on certain conditions or triggers.
For example, you can set up an automation rule that will assign all tickets coming from a specific customer to a particular support agent automatically.
In this way, each customer's inquiries can be responded to quickly and efficiently. Automations can also be used to automatically update ticket status, send notifications, create reports, and more.
For instance, with Hiver's skill based auto-assignment, functionality you can automatically assign all emails containing the word 'Reimbursement' to the payroll specialists in your finance team.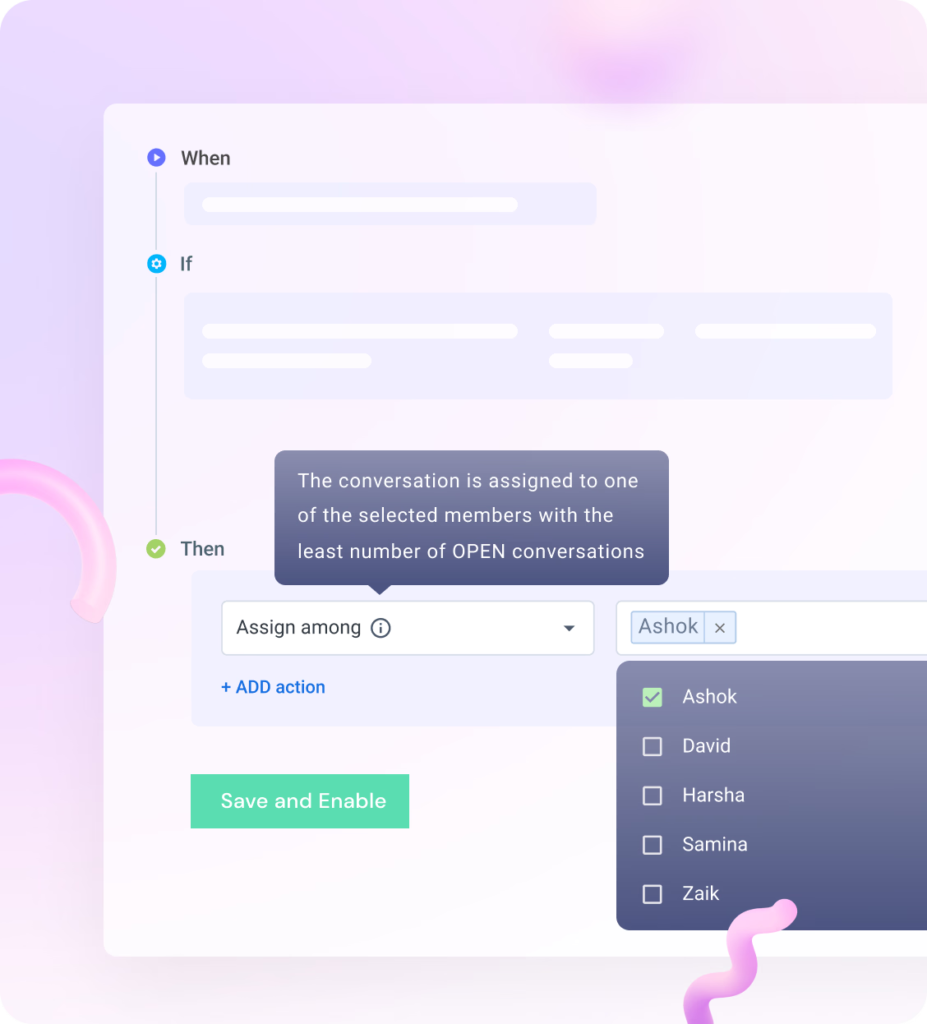 9 automations to implement in your ticketing systems
Whether you're looking to optimize workflows or enhance customer satisfaction, here are 10 automations that can unlock the full potential of your support ticketing systems.
1. Auto-assignment of tickets
his feature automates the process of ticket assignment. Incoming support queries are assigned to specific agents or teams within your organization based on certain predefined conditions.
Auto-assignment of tickets can:
Improve customer satisfaction by ensuring timely assistance and faster resolution of incoming tickets
Ensure that all incoming tickets are equally distributed among agents
Route tickets to agents based on their skill sets
Increase efficiency by reducing manual and repetitive tasks handled by support managers and agents.
A good example is how Hiver allows you to auto assign incoming emails to your support agents as tasks. This way every incoming customer conversation has a dedicated owner and no queries are missed out.
2. Priority based ticket sorting
In priority based ticket sorting, incoming customer queries are categorized and routed in a way that ensures high-priority customer issues receive immediate attention. This allows your support team to effectively allocate resources while also meeting SLAs on time.
Each incoming ticket is assigned a priority level based on certain predefined rules. These rules take into account the severity of the issue, the impact on the customer, and the SLA associated with the ticket.
Once the priority level has been assigned, the tickets are automatically sorted and organized into a ticket queue. The tickets are then assigned to the available agents so that they can focus on resolving high-priority tickets first to meet their SLAs.
Priority-based ticket sorting can help:
Address urgent customer issues immediately
Improve agent productivity as it enables support teams to tackle urgent tickets first
Improves operational efficiency by allowing support teams to manage ticket queues more effectively, reducing any bottlenecks.
With Hiver's help desk software you can assign tags to all customer conversations based on certain conditions. This way your teams can easily identify and prioritize issues that need immediate attention. For instance, all emails with the word 'Payment due' in the subject line can be tagged as 'Priority'.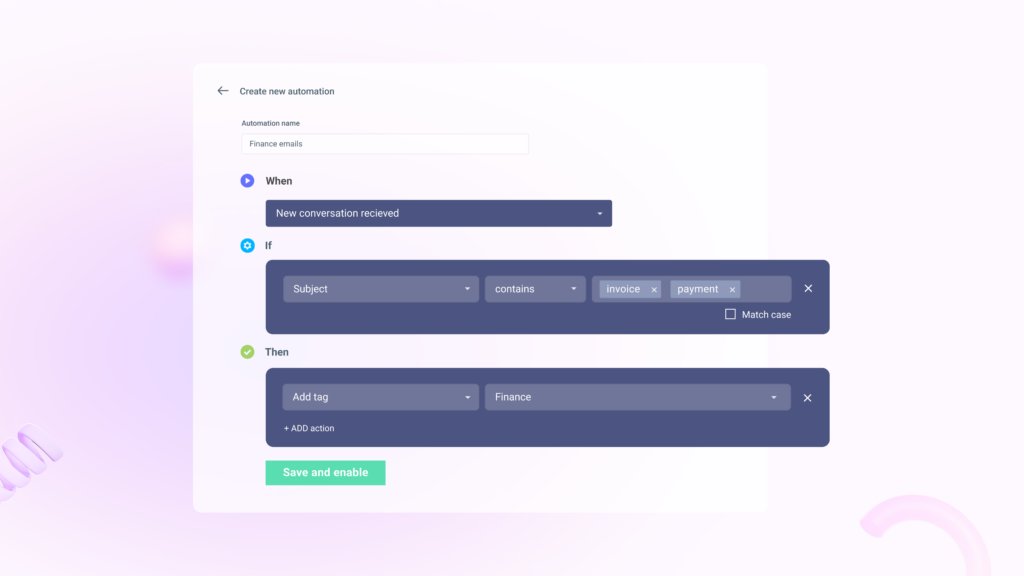 3. Automated responses
Auto responses or canned responses, are preconfigured messages that are automatically sent to customers in response to specific triggers or events.
Automated responses are typically set up within a ticketing system, email client, or messaging platform. When certain conditions are met, such as receiving an email, submitting a form, or interacting with a chatbot, the system triggers the automated response.
These responses are designed to provide immediate acknowledgment, information, or next steps to customers without requiring manual intervention from support agents.
Automated responses are significant because it:
Sets clear expectations with customers as to what the next steps in the issue resolution process would be and when they can expect their query to be resolved
Ensures customers receive basic information even when support agents are unavailable
Directs customers to help centers or a knowledge base in instances where customers can resolve their queries by themselves
Hiver allows you to create and share responses as templates with your team. Support agents can access these templates with a single click and use them to respond to repetitive customer queries. Aside from this, Hiver's AI sidekick- Harvey also helps support agents respond faster to queries by intelligently suggesting the most relevant template response.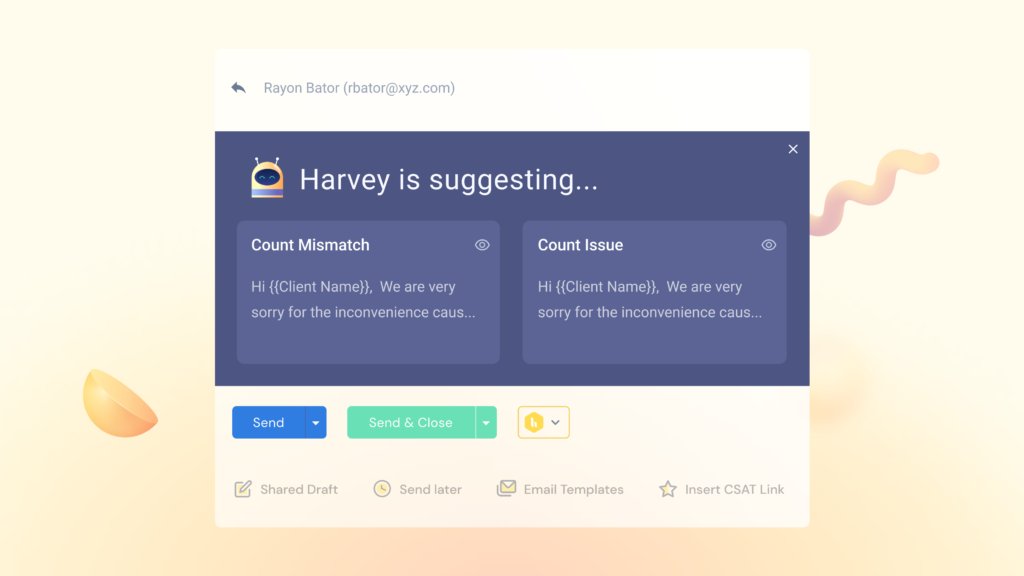 7 Gmail templates to improve customer experience in 2023
4. SLA alerts automation
SLAs or service level agreements are certain standards that are defined for customer service. It dictates the time within which resolution of a query should happen and is an important benchmark for customer service quality.
Businesses define SLAs based on various parameters such as ticket type, priority level, severity of the issue, and more. Based on these parameters, the ticketing system begins tracking the time from when a new ticket is raised, updated, or assigned.
The system then sends out reminder alerts when the deadline for the ticket is approaching to the concerned agents. If the deadline has been breached, relevant stakeholders are immediately notified and in some cases this leads to an escalation.
For instance, Hiver lets you configure SLAs with just a few clicks. Any time an SLA is violated, the concerned teams are notified and an 'SLA violation' tag is added automatically on the customer conversation.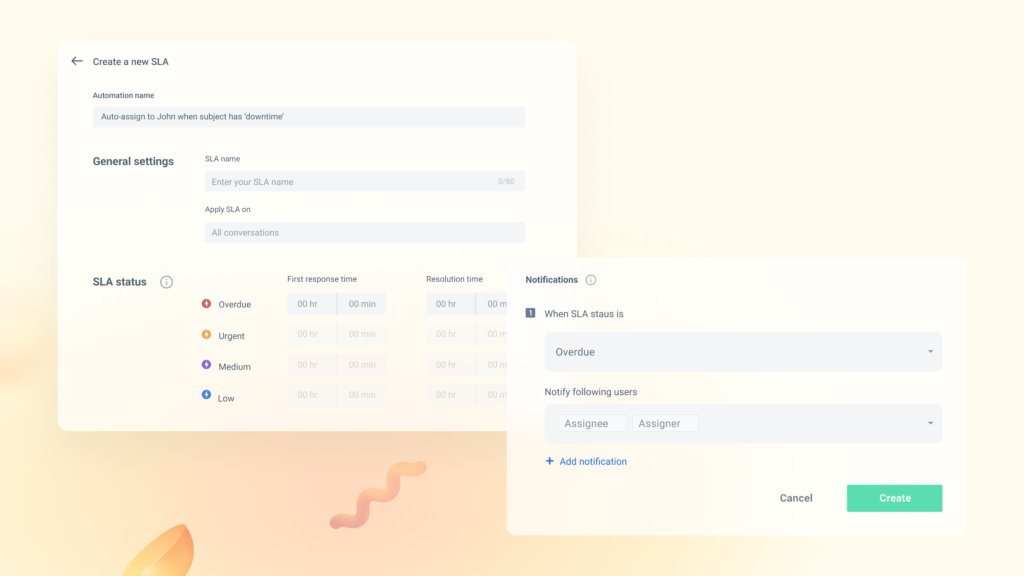 5. Ticket status change notifications
These automations inform relevant parties, such as customers and support agents, whenever the status of a support ticket changes. The notifications provide real-time updates about the progress and status of the ticket, offering transparency and clarity throughout the support journey.
As a ticket progresses through different stages, its status changes accordingly. For instance, when a ticket is created, its status may be New. And as it progresses, its status may change to 'Pending' and then 'Resolved'.
When the status of a ticket changes, a notification is triggered based on certain conditions and team members who are working on the ticket receive this notification. The notifications typically contain information such as the status of a ticket, description of the issue, and any additional instructions.
Ticket status change notifications play a significant role because they:
Ensure transparency by providing customers clear information on the status of their query
Improve resolution time by keeping agents informed of the status of tickets
Increase customer satisfaction by ensuring timely follow up of critical issues
6. Escalation automations
This feature automates the process of escalating support tickets to higher levels of authority or specialized teams when certain conditions are met. These automations ensure that challenging or critical issues are promptly addressed by the appropriate agents, enhancing the efficiency and effectiveness of the support process.
With escalation automations, you can define the criteria that triggers an escalation. The conditions could be based on ticket priority, complexity, or SLA breach.
Incoming tickets are constantly monitored and any time an escalation trigger is set off, the ticketing system will escalate the issue to higher level support agents. This ensures swift resolution of queries.
Escalation automations can:
Improve customer satisfaction by ensuring complex tickets receive the due attention from specialized teams or agents
Ensure timely resolution of queries by triggering an escalation any time there is an SLA breach
Ensures high value customers receive top-notch support without any hassles
Escalation management: The key to handling customer service requests more efficiently
7. Knowledge base automations
This feature leverages artificial intelligence and automations to recommend relevant articles, solutions, or resources from a company's knowledge base to customers and support agents. It aims to enhance the self-service experience, streamline support workflows, and provide timely assistance to users.
Any time a customer or an agent enters a keyword into the knowledge base, an automation is triggered. NLP and ML algorithms analyze the query and search the knowledge base for relevant information. The system then ranks the information based on relevance and presents recommendations to the users as suggested links or previews.
Knowledge base automations can:
Improve customer experience by enabling customers to self-serve
Improve agent efficiency by helping them to quickly find information while interacting with customers
Scale customer service by allowing businesses to use self-service to serve a large customer base with ease
For instance, Hiver's Knowledge Base allows you to easily build a repository of help articles and host it on your website. It allows both agents and customers to easily discover relevant help articles whenever they have a query. In cases where a customer needs more clarity, they can reach out to the support team right from the knowledge base.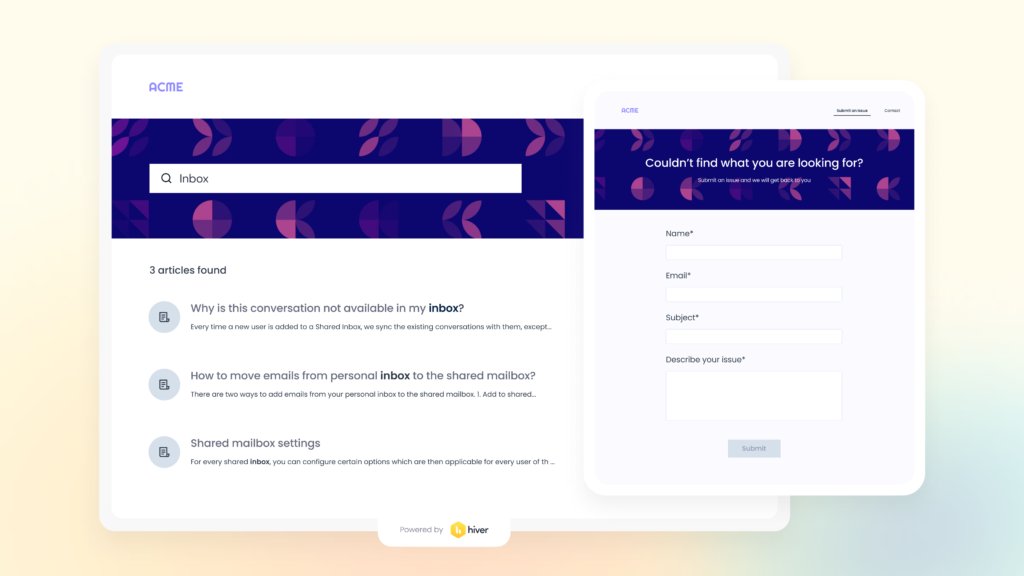 8. Reporting and analytics automations
This feature automatically collects, analyzes, and presents data in the form of reports and visualizations. It streamlines the process of generating insights, identifying trends, and making informed decisions based on data-driven analysis.
The ticketing system collects information from various sources such as customer conversations, ticket logs, surveys, and more. The data is then processed to get meaningful and actionable insights. These insights are then analyzed to identify common trends, patterns, and correlations.
The results are then presented in the form of graphs, charts, or dashboards to give stakeholders a clear picture of the customer service process.
This type of automation plays a crucial role in:
Enabling informed decision making based on the data from different reports
Identifying areas of improvement and new opportunities
Allocating resources effectively based on the insights gleaned from these reports
For instance, with Hiver's Analytics, you can get clear insights into your team's performance as well as the quality of support they deliver with the help of multiple reports.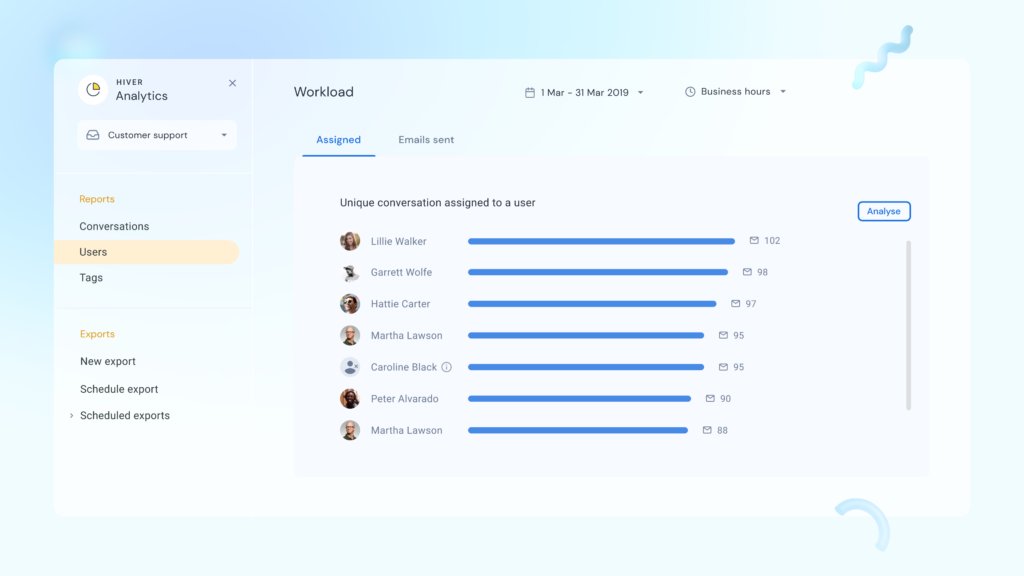 5 commonly misinterpreted customer service metrics
9. Custom workflow automations
These automations streamline and optimize complex processes by automating repetitive tasks, routing tasks to the right people, and ensuring that tasks are completed in a coordinated and efficient manner.
Businesses design custom workflows by defining the sequence of steps, conditions, triggers, and actions for each stage of the ticket lifecycle. The workflows are configured based on specific criteria, such as ticket priority, type, SLA, and customer segment.
Once the custom workflows are set up, the ticketing system automatically executes the sequence of steps in response to specific triggers or events.
This plays an important role in:
Improving efficiency by automating routine tasks that take up an agent's time
Improving customer experience through personalized interactions based on customer data and ticket context
Improving ticket resolution time by automatically escalating tickets to higher-level support or management when specific criteria are met, ensuring prompt attention to critical issues.
With Hiver's Approvals, you can set up approval workflows with multi-step approvers. This helps streamline and close approval requests faster. You can configure approval workflows with multiple approval steps and add approvers at each step. Approvers are automatically notified and they can approve or reject the request. Approval from stakeholders at each step automatically triggers the next step.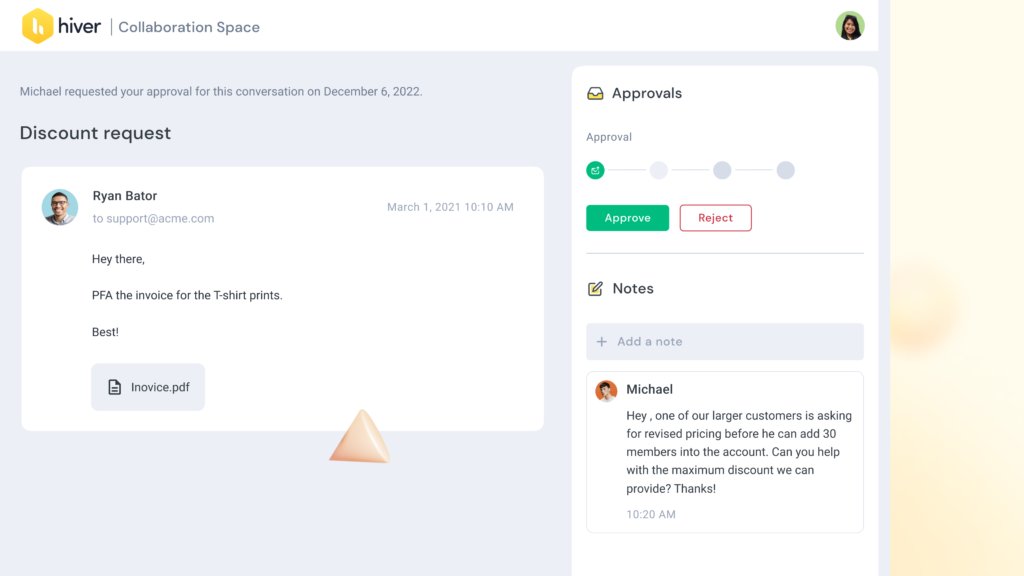 What are customer service workflows + 5 workflows your team needs
Wrapping up
Adopting automations for your customer service ticketing system has clear advantages. It can help streamline and simplify the entire ticketing process, improve service quality, increase efficiency, reduce workload, and save time.
Automation is essential for any customer service team that wants to stay ahead in an ever-evolving digital landscape. It not only helps maximize efficiency and accuracy, but also allows teams to provide better customer service and create a more positive experience for their customers.