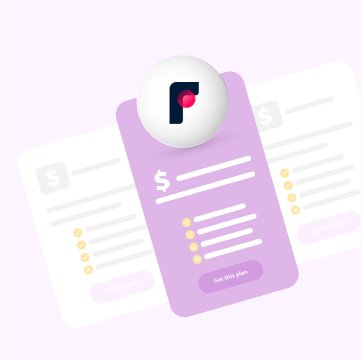 Table of contents
10000+ teams use Hiver to delight their customers!
Front Pricing: A Detailed Guide
Jul 06, 2023
|
5 min read
|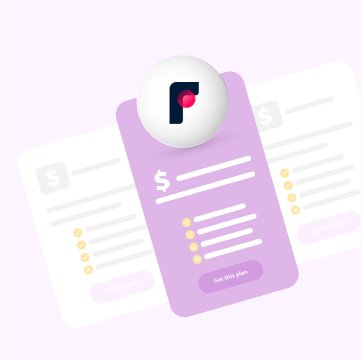 Table of contents
"Is Front offering you the basic customer support features at a higher cost?"
"Is it feasible to use Front in the long run?"
If you're asking these questions, chances are that Front is leaving a dent in your support budget. And if this prompts you to search for an alternative that slashes down the support cost for your team, you've reached the right place.
We've built a detailed Front pricing guide that'll help you identify a list of features for which you've been paying more!
Must have helpdesk features
Helpdesk Tool
Small teams + Medium Teams (10 users)
Large Teams (50 users)

Shared inboxes
Live chat
Voice channel
WhatsApp
Knowledge base
Automation
Analytics & Reporting
SLAs
Integrations
CSAT

Front
$11,880/year
$137,400/year
Hiver
$4,680/year
$35,400/year
Annual savings
$7,200/year
$102,000/year
Hiver vs Front: A detailed comparison guide
Front
Front is a customer communication platform that helps businesses streamline their support operations. It helps teams interact with customers across multiple channels, automate repetitive tasks, and gather valuable insights into team performance and customer behavior.
Front's Pricing Plans
While Front's features are impressive, they come at a cost. Their basic plan for small teams starts at $19 per user per month, which is relatively higher when compared to other help desk solutions in the market. Front also offers three other pricing plans.

1. Growth Plan
Priced at $59 per user per month with a minimum of 5 seats.
The Growth Plan includes:
-Automated workflows
-Analytics
-Integrations with Salesforce and other tools
2. Scale Plan
Priced at $99 per user per month with a minimum of 20 seats.
The Scale Plan includes:
-All features from the Growth plan
-Advanced reporting
-Dedicated account team for support services
3. Premier Plan
Priced at $229 per user per month with a minimum of 50 seats.
The Premier Plan includes:
-All features from the Scale plan
-Premier onboarding support
-Video conferencing support
Hiver
Hiver is a multi-channel platform that enables you to provide customer support right from Gmail. Since it fits intuitively within Gmail's interface, there's no extensive training required for teams.
Hiver also offers robust analytical capabilities to measure team performance. The platform also offers powerful collaboration features to help teams track and assign customer queries. Hiver's powerful automation functionality cuts down repetitive, mundane tasks and helps agents improve productivity.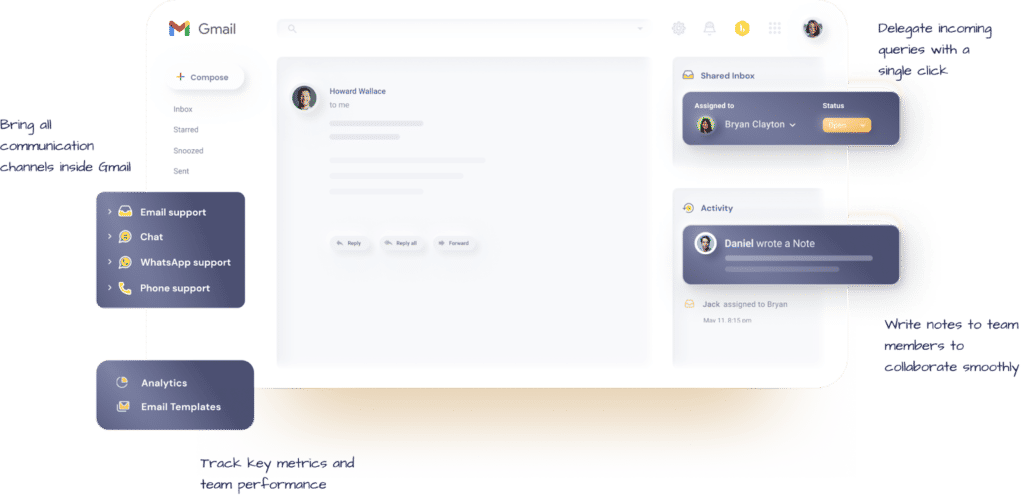 Hiver's Pricing Plans
Hiver offers a range of pricing plans to suit businesses of all sizes, starting at just $15 per user per month. Under this plan, you can offer multi-channel support – across email, live chat, and phone, and whatsapp. You can also setup a knowledge base to help customers self-serve.
Here's a closer look at Hiver's different pricing plans and what they offer users.
1. The Lite Plan
Priced at $15 per user per month, billed annually
The Lite Plan includes:
-2 Shared email inboxes
-Unlimited email templates
-Live chat, knowledge base, and WhatsApp
-Collision alerts
-Unlimited tags
-Free onboarding assistance
2. The Pro Plan
Priced at $39 per user per month, billed annually
The Pro Plan includes:
-All of the features from the Lite plan
-Unlimited automations
-Unlimited shared inboxes
-Voice channel
-SLA violations and business hours
-Integrations with Salesforce, Asana, jira, Slack, Zapier, and QuickBooks
-Harvey, the AI bot
-CSAT and analytics
3. The Elite Plan
Priced at $59 per user per month, billed annually
The Elite Plan includes:
-All of the features from the Pro Plan
-Round-robin assignment
-Skill-based auto assignment
-Custom access control
-Call-back support
-Custom reports
-Additional integration – Okta
-Dedicated success manager
So, does Hiver or Front offer better value for money?
Both tools are popular choices for businesses looking to provide multi-channel customer support. But when it comes to pricing, which solution offers the best bang for your buck?
While Front is certainly a popular option, Hiver offers a lot more value for money. Let's find out why.
1. Direct price
If you do a direct price comparison, Front is more expensive than Hiver. At the cost of $15 per agent per month, Hiver's basic plan provides you access to crucial customer support features such as Live Chat, Knowledge Base, Unlimited Email Templates, and additional features.
Front's basic plan (Starter) for smaller teams starts at $19. However, the features under this plan are quite limited. Most businesses will need to opt for their Growth plan priced at $59 in order to access features that they actually need.
With Front, you will have to pay 60% more than Hiver in order to avail all of the essential features you need to get started with.
2. Around the clock support
Unlike Front, Hiver provides free, round-the-clock customer support and onboarding assistance with all its pricing plans.
Customers using Front's starter plan experience a response time of up to 1 business day. With Hiver, the average chat response time is 13 seconds!
Also, Front's basic and middle-tier plans do not include chat support or any onboarding assistance. Chat and email support, as well as onboarding assistance, are available only with Front's highest-priced plan, which costs $99.
With Front, getting timely vendor support will cost you 84% more than Hiver.
3. Number of users
With Hiver, get unlimited users and shared inboxes at $39. Whereas with Front you need to fulfill the minimum seat requirement for all its plans. For example, if you want to get access to the Premier Plan of Front (which is $299 per user per month),you need to onboard a minimum of 50 users.
4. Voice channel
Voice communication is an important feature that allows agents to communicate with customers in real-time through audio calls. Hiver integrates with Aircall, a call center software, to enable customer support teams to make, receive, log, and track calls efficiently inside Gmail.
You can avail the Voice Channel feature in Hiver's Pro plan priced at $39 while with Front you get it only with the $59 Growth plan.
With Front, you end up paying 20% in order to avail the voice channel as compared to Hiver.
5. Simplified UI
The simplified UI makes investing in Hiver extremely worthwhile as it saves you not only money but time as well. Hiver intuitively fits into your Gmail's interface which makes it extremely easy to use because who does not know how to use Gmail, right?
This means that everything you need to do, you can do it right from your Gmail account. It is easy to use that way and saves you time and effort in terms of learning as opposed to Front which requires you to spend some time understanding and using it.
Conclusion
From our comparison above, it is clear that Hiver offers more in terms of pricing and features as opposed to Front. Hiver's pricing plans are more affordable, especially when you consider the fact that all their plans come with 24/7 customer support and onboarding assistance.
In contrast, Front's pricing plans are much more expensive, and many critical support features are only available in their premium plan. The platform's basic and mid-tier plans do not offer chat support or any form of onboarding assistance. In order to get access to chat and email support as well as onboarding assistance, teams will need to opt for Front's highest plan priced at $99.
Simply put, Hiver stands out as a more cost-effective solution. So, if you're looking for a customer support solution that offers value for your money and is easy to setup and use, Hiver should be at the top of your list.
If you're curious to know more, Hiver offers a free 7 day trial so that you can check out what all the buzz is about.