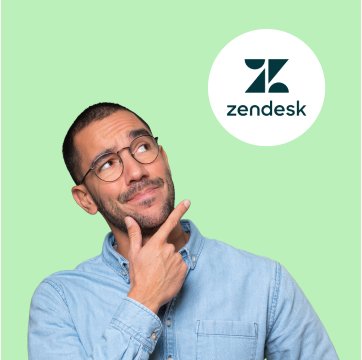 Table of contents
See Why Teams are Switching to Hiver
Top 10 Zendesk Alternatives for 2023
Sep 04, 2023
|
14 min read
|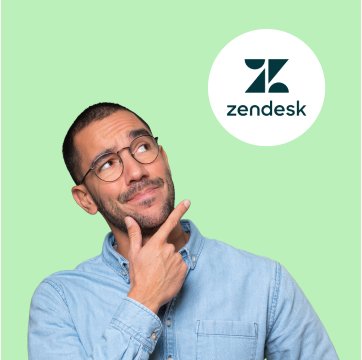 Table of contents
If you've researched customer support tools, you would've definitely heard of Zendesk. There are many businesses that use Zendesk to offer support via voice, chat, email, messaging, social channels, and other touchpoints.
But before signing up for their free trial, keep in mind that Zendesk is like creating a complicated LEGO set. You and your team will be required to invest a lot of time, patience, and money to build it to your liking.

While it's a popular solution, it may not be the most viable option for your business. Zendesk competitors offer similar features that are not only more user-friendly but also budget-friendly.
Let's explore how these 10 Zendesk alternatives would fit your team's requirements and help you deliver amazing customer support:
1. Hiver
A great customer service platform
is simple to use
offers features that are tailored for support teams
works for everyone
is scalable
offers timely assistance (vendor support)
Hiver ticks all these boxes and more. It helps teams assign, track, and collaborate on customer queries, as well as run the most advanced analytics and automation right from Gmail (a platform most of us are familiar with). It's a full-fledged customer support solution that is feature-rich as well as simple.
Zendesk costs 2x more than Hiver
We listed all the helpdesk features that are essential for optimizing your support operations. And then, we evaluated and compared the net savings you'll incur with Hiver against Zendesk.
Here's a breakup of your cost-savings with Hiver:
Critical Helpdesk Features
Helpdesk Tool
Small+Medium Teams
(10 users)
Large Teams
(50 users)
Zendesk
$10,680/year
$53,400/year
Hiver
$4,680/year
$23,400/year
Annual Savings
$6,000/year
$30,000/year
Annual Savings %
56%
Clearly, it makes more business sense to choose Hiver. Moreover:
Automations are far more expensive on Zendesk.

– You're paying 154% extra compared to Hiver if you want to route conversations based on ticket priority or in a round-robin manner.
– Skill-based ticket routing on Zendesk costs 67% more than it does with Hiver

Private collaboration on emails with internal notesis is charged at a whopping 560% markup on Zendesk.
The customer feedback feature costs you twice as much with Zendesk.
You'll be paying 153% more to Zendesk just to set up business hours and let customers know about your availability.
You have to cough up extra for 24×7 support and personalized onboarding.
The irony with Zendesk is that you're paying for features that you'll never use, while the ones you actually need are offered as add-ons at an extra cost.
You'll be set up in minutes
Hiver is built for teams that use Google Workspace. It lets you manage all your support operations from one place (Gmail).
This means:
Hiver is easy enough to get started within minutes and extremely user-friendly
The platform is familiar to use, unlike other solutions where you're forced to learn a new interface from scratch
Hiver fits intuitively into Gmail without disrupting any existing workflows
There's no switching between interfaces. Hiver's functionalities help you manage support operations from a single tab
Zendesk is unpopular for having a lengthy setup process and an overwhelming UI that intimidates users.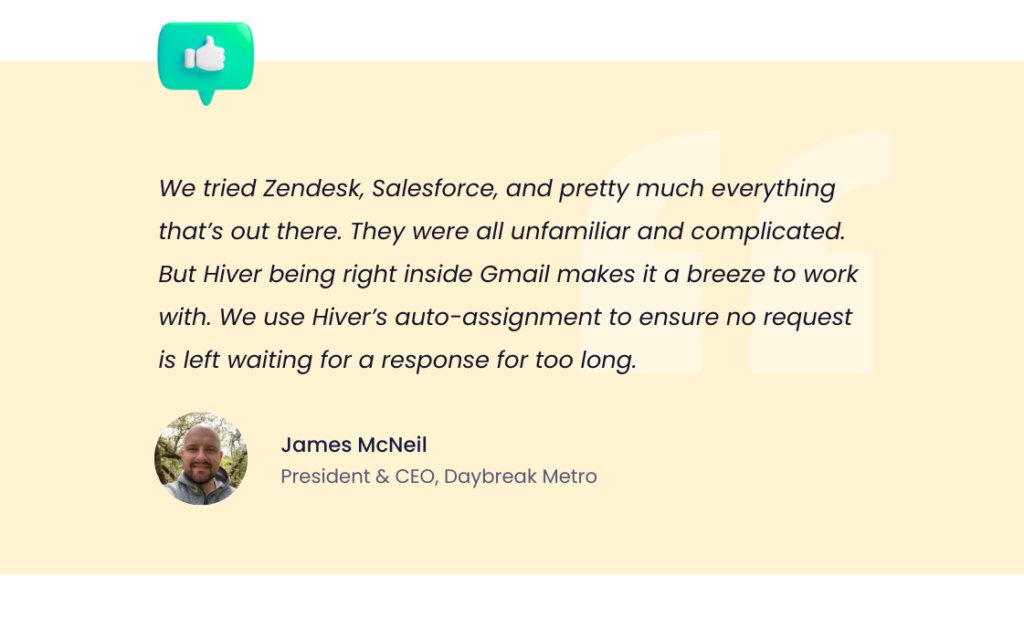 You get to humanize customer conversations and build relationships
Customers want empathetic brand interactions. Autoresponders like these sound impersonal and unfriendly to your customers.
The problem with Zendesk's platform is that their email formatting is very impersonal, and customers feel like they're talking to a robot. There's the annoying "//Please reply above this line//" message that appears in emails sent from Zendesk, making communication very robotic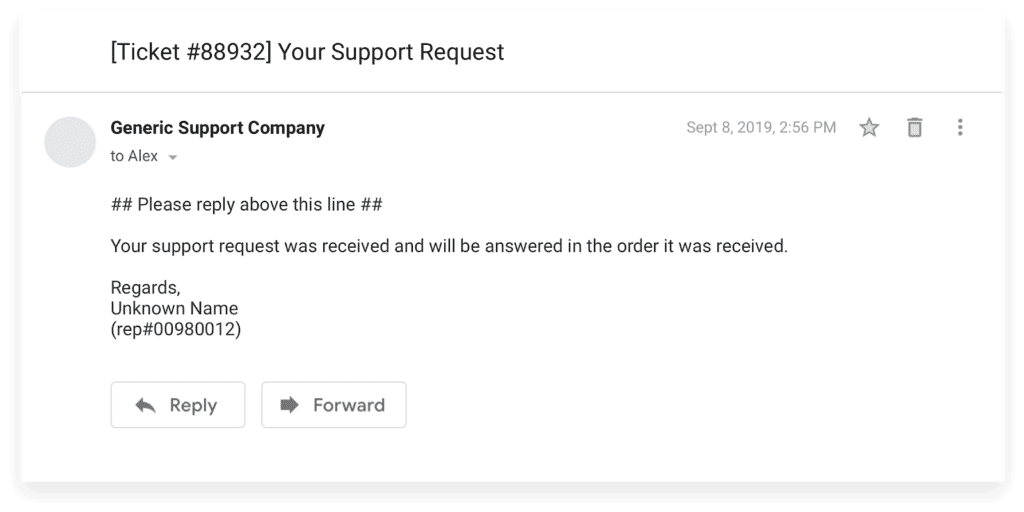 Hiver lets you create personalized conversations with customers, which means:
All replies go out from your support staff's email ID
You're nurturing relationships by communicating naturally since all conversations happen within Gmail
Customers know there's a living, breathing, and caring human who's helping them out with their query
Using the customer's name conveys that you see them as a person with an identity rather than just a ticket number
You bear zero training costs
While videos and self-service knowledge resources are convenient, nothing beats having a dedicated specialist guide your entire team through a tool's setup process.
But here's the catch – personalized training from Zendesk will cost you. They charge anywhere between $1500 to $2800 every time for private hand-held training of different modules
Hiver, on the other hand, helps you provide amazing customer experiences at no extra cost. This means:
You'll barely need training because you're already familiar with Gmail's UI
You will always have access to Hiver's dedicated onboarding specialists to help you and your team set up accounts and explain the various features
You will be guided by intuitive in-app product notifications that take you through features you'd come to use
Access to 24×7 Support for Free
Here are the issues you'll face when setting up your Zendesk account:
It's very difficult to connect to a live agent. And if you do, they'll take forever to respond
You'll be stuck in a rabbit hole of knowledge-base articles trying to figure out how to set up the tool
You have to upgrade to their "premier plan" to access 24×7 support
Getting support on how to use Hiver usually means:
You can connect to trained agents immediately
You have access to 24×7 support for free, irrespective of your plan
You get instant answers on its knowledge base

The one thing that we've consistently worked hard to deliver is brilliant customer service. It's one of the biggest reasons our customers love us.
And we've got the numbers to back this up. Our first call resolution rate is 88%, exceeding the industry average of 40%. Our average chat response time is 13 seconds, nearly 3x faster than the industry average of 45 seconds, and we have a 95% CSAT score, ahead of an industry average of 92%.
2. Freshdesk
Interestingly, Freshdesk was built as an answer to Zendesk's steep pricing. Freshdesk is a cheaper and simpler alternative to Zendesk and even offers a free plan. It has a more user-friendly interface in comparison to Zendesk and offers features like canned responses, live chat, and a knowledge base.

However, some of its features are limited or require separate integrations. For example, you'll have to pay extra to access live chat by purchasing FreshChat separately. Another drawback with Freshdesk is that canned responses (response templates) can be shared only by admins. This can create unnecessary delays when responding to customers.

Overall, Freshdesk comes closest to Zendesk with respect to offering multi-channel support, collaboration functionalities, integrations, and analytics. It suits businesses of all sizes.
3. Intercom
Intercom offers all the features you'd look for in a customer support solution. Like Zendesk, it offers an email ticketing system, live chat, automations, and reporting capabilities to its customers.

If we glance at their omnichannel support features, Intercom clearly stands out for its chatbot automation capabilities. They are far more robust than Zendesk. Its flagship feature – Engagement OS, will help your agents avoid repetitive tasks, route customers to the right agents, and more. Its implementation process is also straightforward.

Intercom's help center, however, isn't as customizable as Zendesk's, and its reporting isn't as strong as the one offered by Zendesk Explore.

Another noticeable drawback for small and medium businesses can be its pricing which starts at $74 per user per month. Onboarding and support are offered at additional premiums.

But if you run large commercial operations and rely on automations to reduce the legwork, Intercom might work well for you.
4. Help Scout
Help Scout's simple and user-friendly platform can be a great Zendesk alternative for small and medium businesses. It offers features like shared inboxes, chat support, and a knowledge base, among others. It's also more affordable than Zendesk, with a starting price of $20 per user per month.

However, Help Scout's reporting capabilities are limited, and their knowledge base would need some level of HTML coding to set up and customize. It has fewer features and integrations than Zendesk and may not be suitable for larger or enterprise-level businesses that need more customization and scalability.
The platform is relatively easy to use in comparison to Zendesk, making it more accessible for small and medium-sized businesses.
5. GrooveHQ
You may want to consider Groove HQ as an alternative to Zendesk if your company is a startup. To start with, its user interface is much more pleasant. Unlike Zendesk, Groove offers a knowledge base, live chat, and automations in its base plan, which starts at $20 per user per month.
You can get a free trial period of 15 days, access to 24/7 support, and personalized onboarding services, but only on their $65 pricing plan.
Note that Groove doesn't provide a wide range of integrations (which isn't a problem with Zendesk). It does not use sound alerts to notify you about new tickets, which can be a problem if you're not always on the Groove interface. Also, Groove HQ does not have the same functionality as the regular Gmail app, so you won't be able to do things like download several files at once or delete an already sent message.
6. Zoho Desk
While Zoho is known for its CRM platform, it also offers Zoho Desk to help teams deliver customer support. Both Zendesk and Zoho are at par with the basic features required for customer support.

You can access the bare bones of a ticketing system with its free starter plan. For a monthly cost of $7 per user, you have the option to sign up for Zoho Desk Express, which allows you to provide assistance via email and social media and provides you with rudimentary analytics.
When comparing Hiver and Zoho, here's what you need to keep in mind:
While Zoho Desk only offers live chat support in its Enterprise plan, Hiver provides live chat support even with its Lite plan priced at $15. Consequently, opting for Zoho Desk for live chat support would result in a cost that is 1.6 times higher than Hiver.

Zoho Desk's collision alert feature is exclusively available in its Professional and Enterprise plans, which are priced at $23 and $40 per agent respectively. In contrast, Hiver includes this feature in its Lite plan, priced at $15 per agent. This means that Zoho Desk's collision detection feature costs 53% more than Hiver.

With Hiver, you can easily collaborate with other departments by inviting them to participate in resolving customer queries through Hiver's private notes. This specific feature comes at an additional cost of 35% on Zoho.

Zoho Desk has a higher price for its SLA management feature, which is only available in their Enterprise plan. On the other hand, Hiver allows you to detect SLA violations and set business hours starting from the Pro plan.

Hiver provides unlimited tags and email templates across all of its plans, along with unlimited inboxes in its Pro and Elite plans. Zoho's pricing plans have limitations and restrictions on these features.
7. Hubspot Service Hub
HubSpot Service Hub can be considered a viable alternative to Zendesk if you've got the budget. The Service Hub starter plan starts at $45 per user per month, which doesn't include the additional premium charged for onboarding and implementation.
But you could play around with its free plan that includes a ticketing system and a Hubspot-branded live chat and email.
The configurations can be complex. For instance, if you're checking your Hubspot Inbox, there's a conflict between service tickets and other conversations, meaning you'll be spending a lot of time looking for support tickets.

Many users have pointed out the formatting restrictions in the Service Hub knowledge base. Their chat functionality is limited and doesn't allow you to set available hours or holiday messages.

SLA breaches are complicated to set up. They don't offer SLA reminders to warn you about the breach well before time.

Also, you don't have the option to add tags. To filter your conversations, you'll be using ticket properties that are complicated to set up.
This alternative would work well for businesses that are looking for a platform that offers a CRM and a customer support solution together.
8. Gladly
Zendesk doesn't give you many options to personalize conversations. Gladly does. You can see the entire conversation history and preferences of each customer. It's primarily aimed at B2C businesses that want to provide more human and personalized customer service.

Voice, IVR, self-service, text, chat, in-app chat support, social, and email are natively built inside Gladly. This platform will work well for users relying on voice calls and IVR to offer support. Rates for incoming and outgoing calls are charged separately. It has two pricing tiers, with the lowest one starting at $150 per agent per month.
9. Kustomer
Kustomer is a combination of a CRM and a helpdesk software. It also uses AI to deflect common queries to self-service portals. This may be an issue when a customer wants human intervention urgently.

You can enhance the level of your support quality with its sentiment analysis tool. It allows for language detection, which is great if you've got a global audience and need help connecting them to the right agent.
Just like Zendesk, you'll need to be patient in figuring out how to set up the tool and start using it. For instance, Kustomer users have found it complicated to build reports and filters.

At $29 per user per month, its basic plan can only be accessed by 10 users. However, there are no such user limits when you upgrade to other plans.
10. Gorgias
Gorgias is a customer service platform that's specifically designed for ecommerce merchants and built to support all the tools in their stack. If you're using Shopify, you can make changes to a customer's order (like canceling it or issuing refunds) without leaving the Gorgias platform. Zendesk doesn't offer the same convenience. Its Shopify integrations only allow you to respond to customer queries. Collaborating with a Shopify web design agency can enhance the overall user experience without disrupting existing workflows.
You'll need to wait a bit for a direct WooCommerce integration. While you can still use Gorgias on WooCommerce to reply to support queries across socials, email, and chat, it doesn't allow you to make order modifications (yet).
Their pricing model is based on the number of billable tickets per month rather than agents, which means any number of agents can work on these tickets. Their Basic Plan at $60 per month allows for 300 billable tickets per month with an additional charge of $25 for every 100 tickets. This rate goes down as you upgrade the plan. Zendesk, on the other hand, gets more expensive as your business grows.
Zendesk Alternatives Comparison Summary
Now that we have looked at some of the most popular helpdesk solutions for Zendesk, here's a summary of their pricing and ratings.
Support Platform
Pricing
Ratings on G2
Suitable for
Hiver
Starts at $15/user/month
4.6 out of 5
Growing teams who want to deliver outstanding support
Freshdesk
Has a free plan.

Paid plans start at $15/user/month.

Omnichannel plans start at $29.
4.4 out of 5
Large call-center operations
Intercom
Starts at $74 per month for 2 users
4.4 out of 5
Large businesses
Help Scout
Starts at $20/user/month
4.4 out of 5
Small and medium businesses
GrooveHQ
Starts at $20/user/month
4.5 out of 5
Small businesses
Zoho Desk
Starts at $14/user/month
4.4 out of 5
Sales-oriented teams who are already on Zoho's CRM
Hubspot Service Hub
Starter plan is $20 per month for 2 users

Professional is priced at $500 per month for 5 users
4.4 out of 5
ITSM teams
Gladly
$150 per month
4.7 out of 5
B2C businesses that heavily rely on voice and IVR to provide support
Kustomer
Starts at $29/month/user
4.4 out of 5
Teams who want CRM capabilities in their helpdesk
Gorgias
Starts at $10 for 50 billable tickets
4.6 out of 5
Businesses that use Shopify
How to select a helpdesk software that works for your business?
The biggest advantage of a customer service platform is that it helps streamline and organize customer requests at scale. It makes it possible for your support team to delegate these queries, collaborate faster, and build workflows that optimize their productivity.
In simpler terms, a customer service platform brings order to chaos.
Not all helpdesk solutions may fit your team's requirements. But watch out for these red flags:

Unnecessarily complicated plans and hidden charges
Unresponsive customer support teams
Complicated help documentation
Overpromising sales reps relying only on the future potential of the product
Lack of credible reviews/reference customers
These early warning signs signify serious problems at the vendor's end. Steer clear.
Finally, ensure that you also take your team's considerations into account. They're the ones who'll be using the tool on a daily basis.
Choosing the right software can be a daunting task. But when you make the process tangible and accountable, you can make better and more effective decisions.