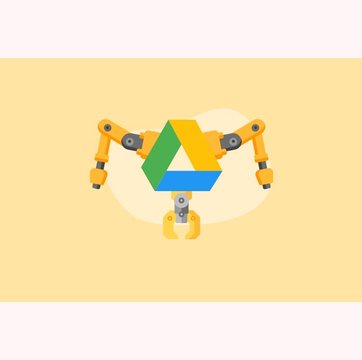 Table of contents
8000+ teams use Hiver to delight their customers!
22 Google Drive add-ons to improve team productivity
Oct 10, 2023
|
15 min read
|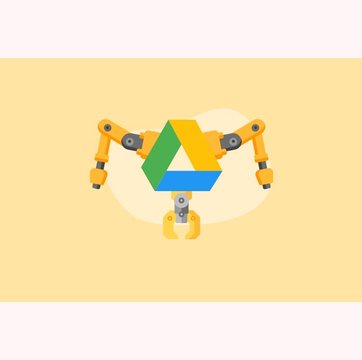 Table of contents
Google announced, a few years back, that more than 2 trillion files were stored in Google Drive by its users. A number that is indicative of how indispensable the cloud-storage platform has become for storing, managing and accessing work-related information.
But, Google Drive isn't just a reliable cloud solution. Its functionalities extend beyond the purview of creating documents, backing up files, or sharing presentations.
The true potential of Google Drive can be unearthed through a wide collection of useful add-ons available on the Chrome Webstore. Apart from enhancing the capabilities of the cloud storage solution, these add-ons supercharge performance at work – be it while making a presentation with images, doing a quick screencast, or taking notes when browsing the web.
In this post, we will share 23 of the most powerful add-ons for your Google Drive. Let's dive in.
Purpose: Access Google Drive files from anywhere
Pricing: Free
If you are Google Drive user, you'd have been in situations where you wanted to quickly refer a document or sheet from your Drive. You can use bookmarks but that is not viable if you have a lot of files.
Quick Drive solves this problem once and for all. This Google Drive add-on lets you search your Drive without opening it. All you have to do is click on Quick Drive icon in the Chrome toolbar – a pop-up panel will appear where you can enter your query and navigate to the right file/folder.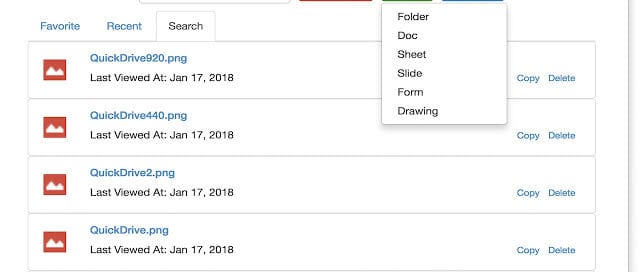 This add-on comes with separate tabs to access recent and starred files, and you can even filter files based on their type.
Purpose: Connect Google Drive to 1500+ apps and services.
Pricing: Free/paid. The free version can be used to automate personal tasks. For business users, there are two versions – one priced at $20/month and another at $250/month. There's a 14-day free trial available for both the plans.
If you pay attention, you can probably identify a lot of repetitive tasks you do on Google Drive. Here are a few you might be familiar with:
Saving an email attachment (PDF, link, Word Document, PowerPoint Presentation) to Google Drive.
Sharing a Google Docs file link with a team channel on Slack.
Any time you work on a new document, you add a card related to it on Trello.
Every week, you probably do these exact same tasks tens, if not hundreds of times. This is where Zapier can be a lifesaver.
Although not an add-on, Zapier is a great service that can automate boring, repetitive and time-consuming tasks you do every day on Google Drive – like the ones we mentioned above.
With Zapier, you can connect Google Drive to up-to 1500+ applications and services.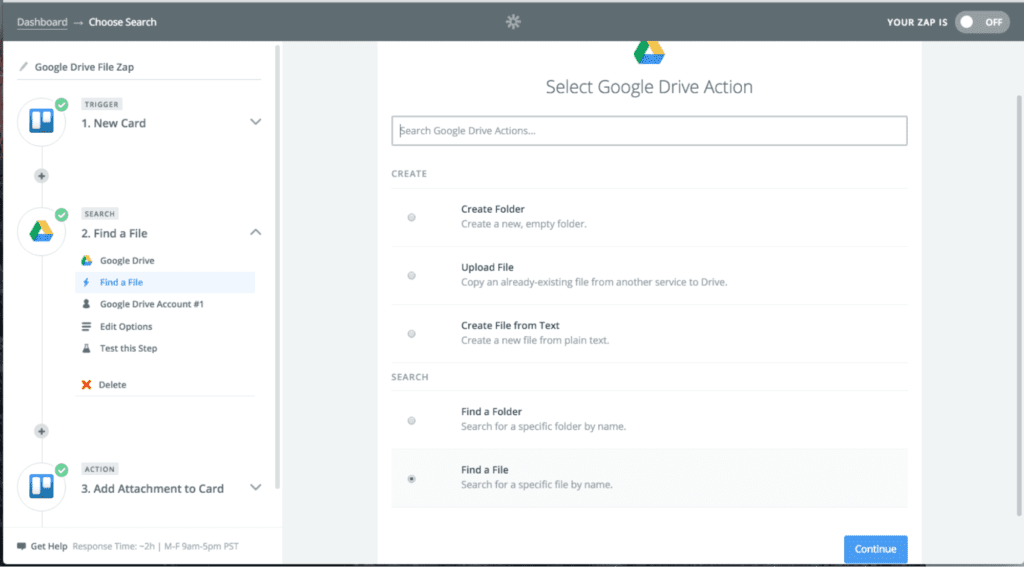 Imagine – any time you add a file to a folder, it automatically gets shared on the relevant Slack channel. Or any time you get an email with an attachment, it automatically gets saved to a Google Drive folder of your choice. This is what Zapier enables you to do – automate large swaths of grunt work that you repeatedly do many times a day on Google Drive.
Purpose: Display the media files stored in your Drive on your TV via a Chromecast device.
Pricing: Free
Google Drive doesn't have an inbuilt media player. If you want to cast a media file from Google Drive, you will have to download it first and then cast it from your desktop.
You can make this process hassle-free with DriveCast.
This Google Drive add-on will help you cast media files directly from Google Drive to a Chromecast device. It only supports Chromecast-native formats, however, like JPG, MP3, and MP4.
After setting it up, click on the DriveCast icon in the Chrome toolbar. A new tab will open listing all your Google Drive files and folders. Locate and open the media file you want to play, and select 'DriveCast' as the casting source.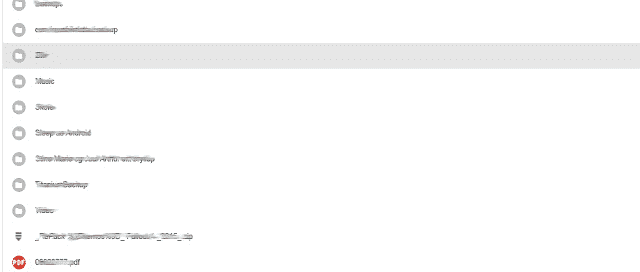 An added advantage of using this add-on is that, apart from Google Drive media files, it can also stream live videos from other URLs. But keep in mind that only Chromecast-compatible live videos can be played.
Purpose: Backup your Google Drive files to any other cloud-storage platform
Pricing: Free
Data loss is something that makes most of us anxious. That's probably the main reason why people back up their Google Drive files on other services such as Dropbox or OneDrive. So that in the unlikely event of files getting deleted on one platform, you have a backup.
But, this backing up process isn't straightforward. Most of the time you will have to do it manually.
You can, however, solve this problem to a large extent with the Sync Google Drive add-on. It lets you save your G Suite files directly to Dropbox, SharePoint, Gmail, Evernote, Box, OneDrive, Egnyte, and other cloud accounts.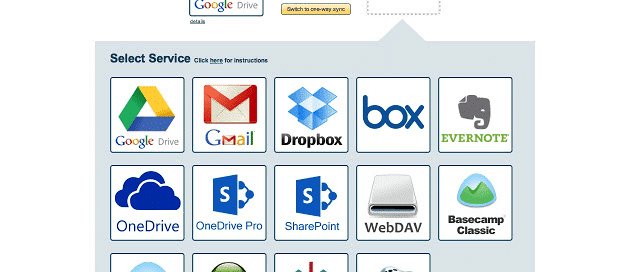 The best part about this add-on is that you can sync, backup and migrate data in real-time, bypassing the need to download files.
Purpose: Record your desktop and backup to Drive
Pricing: Free/Paid. With the paid version, you can create recordings of any duration and add text to your videos. It costs $49 a year.
How do you quickly record, save, and share a screencast from your Chrome browser? The default way would be to install a screen recording tool. But most of these are expensive, come with a lot of unnecessary features designed for power users, and can be a burden to run on entry-level computers.
The Screencastify add-on provides an easy workaround.
For one, it's an add-on, which means that it will run inside your Chrome Browser. In addition, it's very easy to use thanks to its simple interface. And the best part? It comes with a free version. Even if you opt for the paid version, it costs less than $5 a month.
Screencastify does all the things you need a screen-recording tool to do. For example:
With Screencastify, you can record your whole computer screen or just your Chrome browser.
In addition, you can also record video via your computer's/laptop's webcam and embed it to your screen recording.
The tool lets you edit recorded videos via the pen tool. And if you get the paid plan, you can even add text to your video recordings.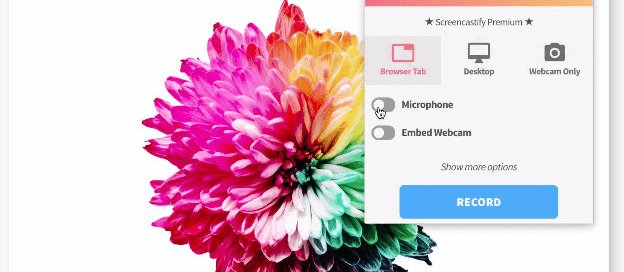 It provides options to save recorded files as an MP3 audio, GIF animated file or an MP4 video. The Screencastify add-on automatically saves all recordings directly to your Drive. It also creates a shareable link, allowing you to share the recorded video file on your Drive with anyone you want.
Purpose: Open Microsoft Office files stored in Drive on your desktop without downloading it.
Pricing: Free
Although Google Drive lets you store non-Google files, not all of them can be accessed online owing to compatibility issues. You will have to download the files and access it using native apps.
This is where the 'Universal File Opener' add-on comes in handy – it bridges the gap between Google Drive and your local file storage (computer). With this tool, you can quickly load Google Drive files onto desktop applications without having to manually download the relevant file first.
This specifically includes files such as Microsoft Word documents, PowerPoint presentations, and Excel spreadsheets. UFO allows you to open and work on these files with native apps and then automatically sync the modified version back on to the Google Drive.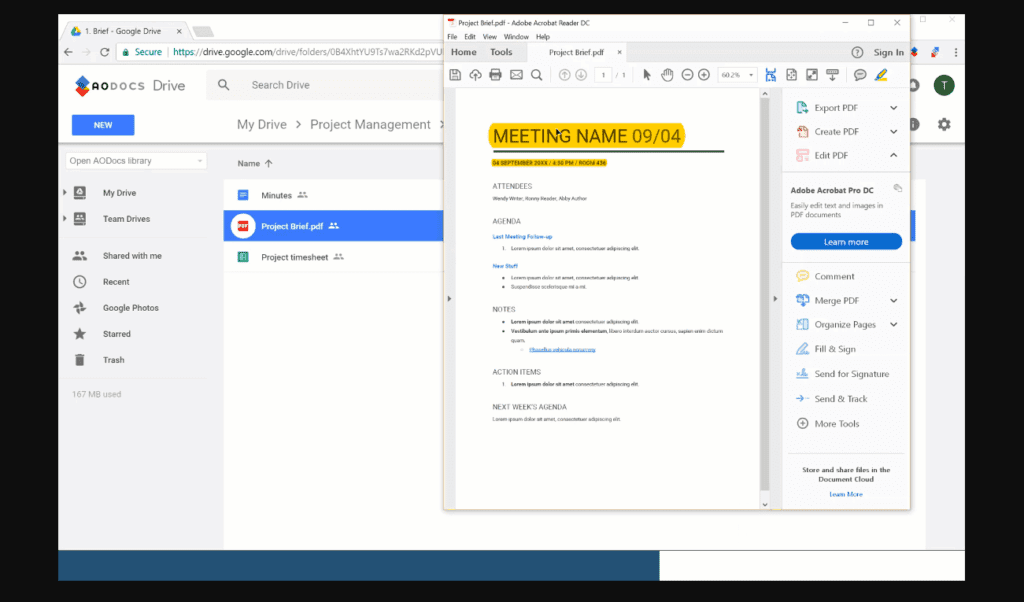 All the updates you make to non-Google files will automatically sync with the document on Google Drive. That means no more "Final_Final_V4" filenames or 30 different versions of the same document — just one file with all the changes.
Purpose: Backup your Chrome bookmarks to Drive.
Pricing: Free
If you are an avid keeper of bookmarks, you'll love the Bookmarks Backuper add-on. It creates a handy little spreadsheet inside your Drive – and copies all your Chrome bookmarks in it.
If you open the spreadsheet, you'll find two columns:
Bookmark Title: This column contains the titles of the webpages you've bookmarked.
Bookmark URL: You'll find the corresponding URLs here.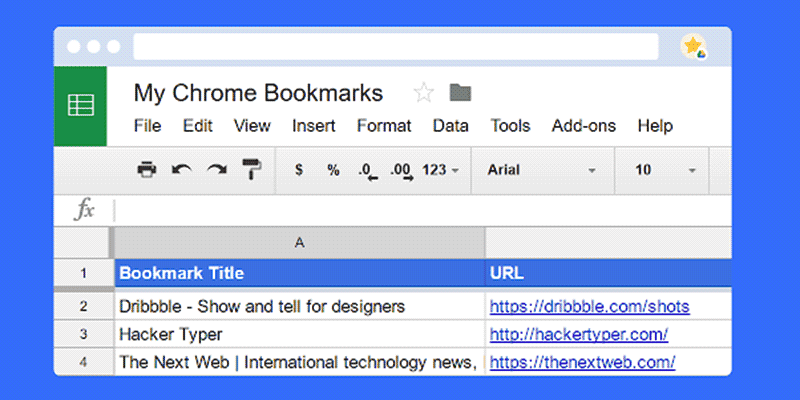 But wait – every web browser creates a backup of bookmarks. So why do you need this add-on in the first place?
Well, there are times when you use a computer or device that's not yours. In such a scenario, you won't have to sign into Google Chrome on someone else's PC to fetch your bookmarks. You can simply open Google Drive in incognito mode and access your bookmarks from there.
Purpose: Create a Google Slides presentation with images stored in your Drive.
Price: Free
When you are creating a presentation for work, inserting pictures is one of the most time-consuming things. But, what if you can automate the process?
This is what the DriveSlides add-on helps you accomplish. It automatically adds images located inside your Drive to a Google Slides presentation file. After installing this add-on, all you need to do is put the images you want to add in your presentation inside a Google Drive folder. Once done, simply click the 'DriveSlides' button in the Chrome toolbar. It automatically creates a new Google Slides presentation and adds a photo to every slide.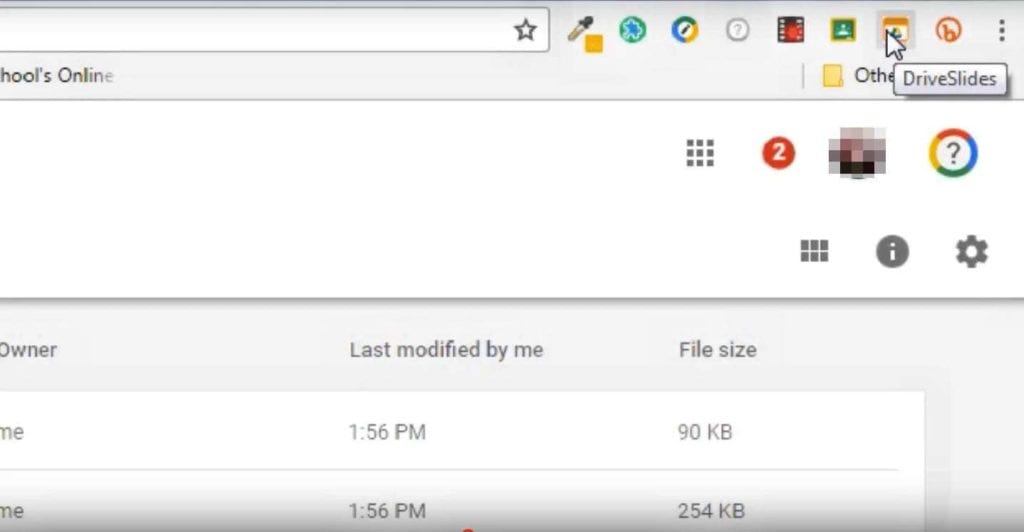 For your convenience, the final presentation file will be located in the very same folder as your images. Important note: The Drive Slide add-on can add only JPG, PNG or GIF images files to presentations.
Purpose: Create and edit MS Office files in Google Drive
Pricing: Free
By default, Google Drive doesn't play nicely with Microsoft Office files. To edit a Word, PowerPoint or Excel file, you have to convert it to a Google Drive compatible file format first and redownload the edited file as an MS Office file. This can be a hassle, especially if you regularly edit MS Office files stored in your Drive.
AwesomeDrive provides an elegant solution to this problem. Once you install this add-on, you get an option to create Word, PowerPoint and Excel files right within your Google Drive account. In addition, if you have an existing Office file stored in your Google Drive account, you will be able to natively edit those as well.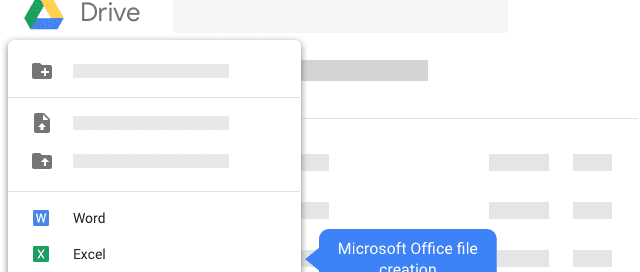 That being said, this add-on has some compatibility requirements you should keep in mind:
It can only create and edit Microsoft Word, PowerPoint and Excel files.
It only supports files created (or compatible) with Office 2016 or below
It only works with files less than 32MB in size.
Purpose: Save content from the internet to Google Drive
Pricing: Free
Do you download important files from the internet and upload them to Google Drive for safe-keeping? If yes, consider installing the Save To Google Drive add-on.
This add-on's moniker explains clearly what it does: It saves content from the internet (images, video, text, HTML, PDFs, etc.) to Google Drive.
Once you install it, you can right-click on the media file you want to download, and you'll see a 'Save to Drive' option in the pop-up menu – to save the file to your Drive.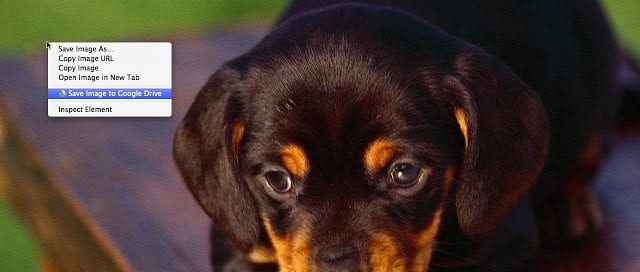 In addition, you'll see the 'Save to Drive' option on your Chrome browser as well. This helps you save any website you're viewing to Google Drive.
Purpose: Transfer/copy files between multiple cloud services including Google Drive.
Price: Free/Paid. The paid plans start at $10/month.
One of the most powerful Google Drive add-ons, Transfer Dropbox to Google Drive helps you move files to and from 30+ cloud services – Google Drive, Dropbox, and OneDrive, to just name a few. With this add-on, you can also:
Backup files from an FTP network to Google Drive.
Sync one cloud storage with another (i.e. between Box and Google Drive)
Migrate data from one Google Drive account to another. Plus, you can also schedule automatic transfers
All transfers run in the background even when you've closed the browser.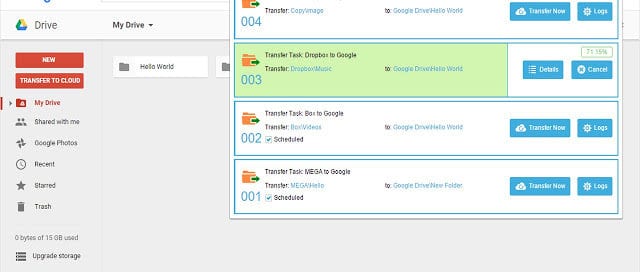 The free plan caps file transfers to 30 GB/month and doesn't support scheduled transfers and running multiple transfers at the same time, amongst other features.
Purpose: Create notes in your Chrome browser and automatically save a copy in Google Drive
Pricing: Free
There's one major inconvenience everyone faces when browsing the internet.
Any time you come across an idea or an important piece of information you'd like to note down, you have to switch between your note-taking app and the web browser. (First world problems, right?).
This handy little add-on – Notes For Google Drive – makes this process a lot simpler. It adds a note app directly inside the browser. Click on it and you'll see a note-taking space appear right over the website you're currently browsing.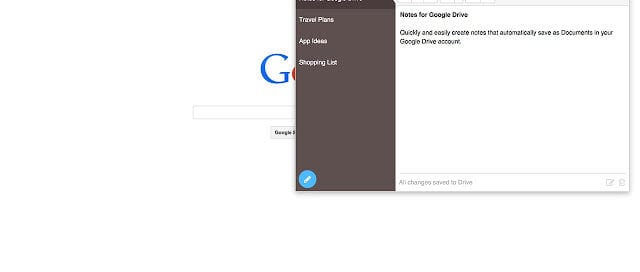 Keeping track of information, therefore, becomes easier as you can take notes on the go, without any back and forth. Additionally, this add-on backs up your written notes in Google Drive, where each note you create is stored as a separate Google Docs file.
Purpose: Have easy access to Google Drive and manage files/folders within it in one click, directly from Chrome.
Pricing: Free
Want quick access to your Google Drive account? The Checker Plus add-on holds the key. Checker Plus will add a button to your Chrome browser, clicking on which will open your Google Drive as a pop-up. Here, you can browse through all your files and folders, create new documents, move files and folders from one place to another – and much more. In addition, the Checker Plus add-on also sends notifications whenever changes are made to your Drive files.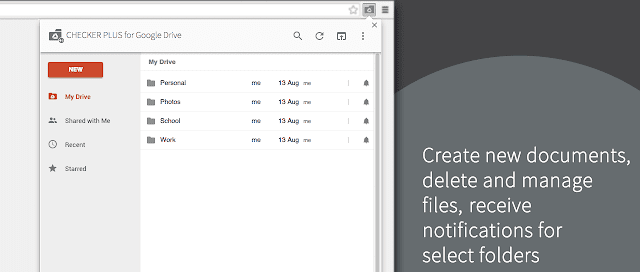 After installing this add-on, you no longer have to open your Google Drive separately whenever you want to access and manage files.
Purpose: Search for your Google Drive files using the Chrome address bar.
Pricing: Free
Looking for a faster way to search for your Google Drive files?
Side with the QuickSearch for Google Drive add-on. With this tool, you'll be able to search for your Google Drive files right from the Chrome address bar. All you have to do is type 'drive + file/folder name' without quotation marks and your browser will display the relevant files.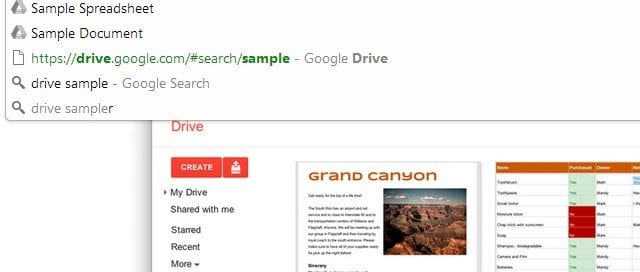 Finding and opening the right file in your Drive can't get any easier.
Purpose: Add your signature (legally binding) to files uploaded in Google Drive.
Pricing: Free/Paid. The free plan has a limit on the number of documents you can sign. The paid plan starts at $10/month.
If you run a business, you probably receive various documents that require your signature.
For example, when you're entering into a partnership with another firm, you will have to sign an NDA. Or say, when you have to sign off on a sales deal, or an agreement with a vendor.
In such scenarios, chances are you'll get the document sent to you electronically – via email or link. Instead of downloading and printing the document to add your signature, you can install and use the eversign add-on.
With eversign, you'll be able to electronically insert your legally binding signature to any online document you receive.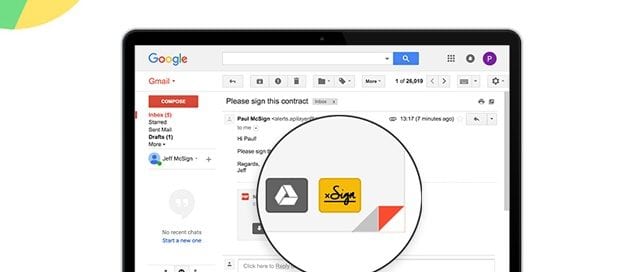 You will also be able to fill in any other fields, like your name, business address, etc. Once done, you can send the signed document back via email or link. Now, you have one less reason to use the office printer you hate.
Purpose: Send/receive faxes directly in Google Drive.
Pricing: Free/Paid. The free plan has a limit of 5 fax pages. The paid version starts at $10/month.
It is quite surprising that even in 2020, you come across businesses that use fax machines. In such cases, how do you send files and important documents over, with minimal hassle?
A simple fix is to install the HelloFax add-on. It lets you fax files from your Google Drive account to anyone, wirelessly. All in all, the HelloFax add-on supports 30+ file types.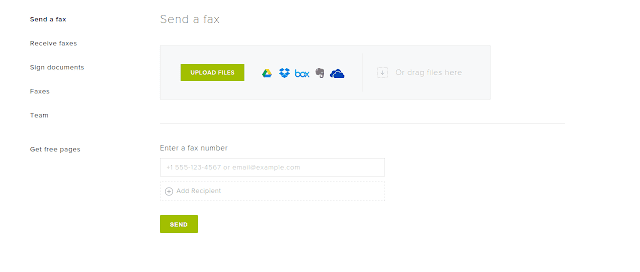 And before you send the file, you can also fill forms or add your electronic, legally binding signature to the file. HelloFax can then fax the document – or send it via email as a PDF.
Purpose: Add a fully functioning audio player to Google Drive
Pricing: Free
Do you store a lot of audio files in Google Drive – and lament the fact that it doesn't have a proper audio player? Enter DriveTunes – a fully-fledged audio player for Google Drive which can:
Queue and shuffle music files.
Order music files by title, year, author and more
Search your Drive for a particular audio file or play music from particular folders
….and do everything else any mainstream audio player does.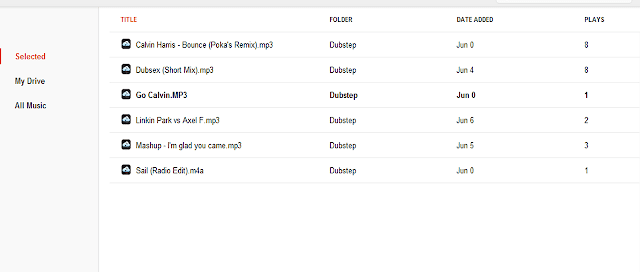 DriveTunes audio player supports popular audio file formats like .mp3, .m4a, and .aac. But some formats like .ogg, .wma, and .ogg are not compatible.
Purpose: Connect Google Drive to apps, services and IoT devices.
Pricing: Free/Paid.
We're breaking our rule here. IFTTT isn't an add-on. It's a service. But it's very useful for Google Drive users.
Here's why:
Chances are that you use Google Drive in conjunction with other apps and services. For example, you might upload pictures stored in a particular Google Drive folder to Instagram. Or you might want to share the link of a new document you create to a Slack channel or email address.
Right now, you're probably doing all these tasks manually. But with the IFTTT (If this then that) app, you can integrate Google Drive to any service you want.
For example, you can integrate Google Drive with Pinterest, Gmail, Slack – and much more. Once you integrate IFTTT with Google Drive, you can create a 'recipe' i.e. a set of instructions you want to accomplish. For example:
Email new Google Drive files to colleague Cindy
Upload pictures taken on my phone last month to a specific Drive folder
Add a Google Drive file to Dropbox and OneDrive
The recipes on IFTTT's page will enable you to automate common tasks you regularly do between Google Drive and other applications. Sure, you'll need to spend some time setting up 'recipes' in IFTTT. But once the groundwork is done, the amount of time you'll end up saving is massive.
Purpose: Save a copy of your emails to Google Drive Pricing:
Free/Paid. The free plan has a limit of 50 emails a month. The paid version is $15/month and also has email and phone support.
Time and again, we all receive emails that hold important information – like a passcode to a service, an important invoice, or the contact information to a potential client.
Keeping such emails safe is not easy. Chances are they may get lost in your inbox clutter, or get deleted by mistake.
The 'Save Emails to Google Drive' add-on can prevent such accidents from happening to your important emails. It adds a 'Save To Drive' option in Gmail. Once you select this, a copy of your email will be safely stored in Google Drive.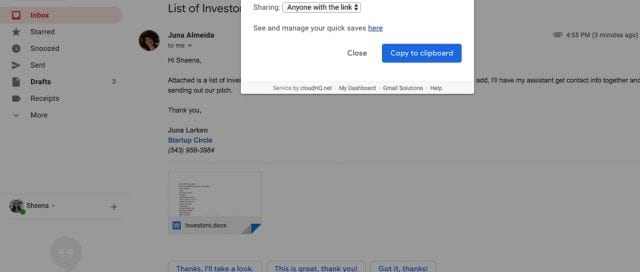 You can export your emails in many formats, including PDF, HTML, and .txt. You can even set this add-on to autosave emails tagged with a particular label to your Drive, thus automating the whole email-backup process.
Purpose: Encrypt and control who sees your Google Drive files.
Pricing: Free
Google Drive is a convenient place for storing files in the cloud. But it falls short on advanced security features like encryption, file tracking and more.
If you want to beef up the security of your Google Drive account, you can give the Virtru add-on a try. For starters, Virtru provides an encryption service, allowing you to encrypt any file you upload. The benefit of doing so is that even Google won't be able to read your files. And that's just barely scratching the surface.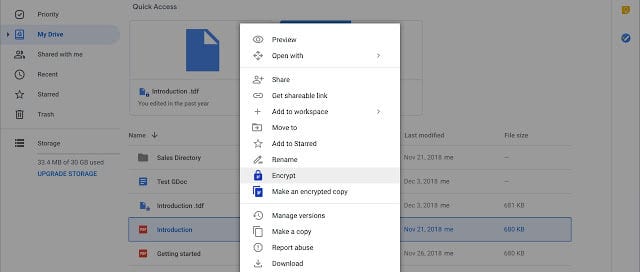 In addition to this, Virtru also:
Shows you where your shared files go – and who is looking at them.
Lets you add a watermark to your files.
Helps you become compliant with various data regulations.
For those who keep sensitive documents in your Drive and want to secure them from malicious viruses, then Virtru is well worth the investment.
21. Google Drive Bookmarks
Purpose: Creates a mini-version of your Google Drive folders and files as bookmarks on Google Chrome.
Pricing: Free
This add-on creates a tiny replica of your Google Drive account in your Chrome bookmarks bar.
Here's how: For each folder in your Google Drive, this add-on creates a similar folder in your Google Chrome bookmarks bar with the same name. And every file in the folder is linked to its original location.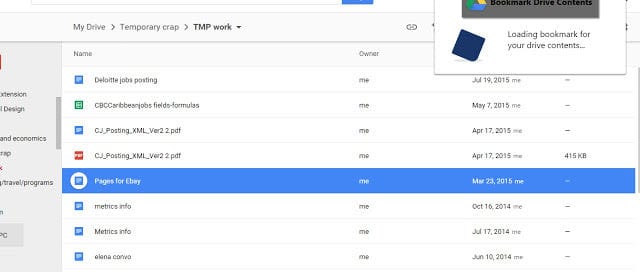 To sum it up, it's a miniature version of your Google Drive account in your Chrome bookmarks bar, allowing you to easily view and access all Drive files.
Purpose: An application that creates a G-Drive folder on your PC and Mac using which you can quickly add and upload files from your local computer to your G-Drive account.
Pricing: Free
If you regularly transfer files between your Drive and Computer, the Drive app can make your job easier. This app creates a Google Drive folder in your computer. A folder that includes all the files and folders stored in your Drive.
Using this local Google Drive folder, you can:
Easily transfer files between your PC and Google Drive.
Access files in your Drive offline – directly on your computer.
Manage your Google Drive account without having to open the Drive website
This comprehensive list of add-ons can open up new doors to how you work with your Google Drive account, transforming it into an all-encompassing productivity powerhouse.
If you found this article useful, here are some more interesting reads: