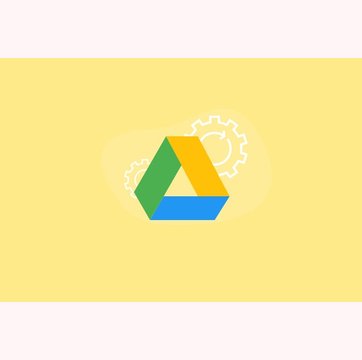 Table of contents
8000+ teams use Hiver to delight their customers!
14 hacks to help you become a Google Drive expert
Jun 05, 2023
|
9 min read
|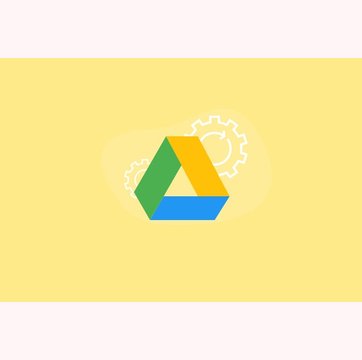 Table of contents
Let's face it: Google Drive is one of the best online storage services available. It is feature-rich, flexible, and easy-to-use.
That's exactly why it has more than 800 million active users and has almost 2 trillion files stored on the service.
These numbers are a testament to how easy it is to use Google Drive. You don't need any coaching to use it, you can set it up, and get familiar with it all by yourself.
However, because it is so easy, a lot of people tend to stop exploring after learning the basics. Contrary to popular belief, Google Drive is so much more than just a repository where you can store your files.
This post will help you explore Google Drive further and learn how it can make your work days more productive.
Table of Contents
14 hacks to help you become a Google Drive expert
No matter what industry you are in, if you are a Google Drive user, the following hacks will surely help you save time and energy.
Whizz through Google Drive by learning keyboard shortcuts
If your daily routine is built around Google Drive, learning its keyboard shortcuts is definitely worth it. Navigation inside the Drive will become a breeze.
Google Drive has plenty of keyboard shortcuts, the key here is to learn only what is necessary. Here are a few that you might find useful:
g + n

– go to the folder list

x

– select a file

Enter or o – open a file
. (dot) – share selected files
z – move a file to a different folder
n

– rename

s

– star or unstar selected items

a

– more actions

t – open settings menu
/ – open search
Shift + t – create a new Docs file
Shift + s – create a new Sheets file
Ctrl + z (Windows),Command + Z (Mac)

– Undo last action

Ctrl + Shift + z (Windows),Command + Shift + z (Mac)

– Redo last undone action

Shift + 3 – Delete selected items
If you want to see all the keyboard shortcuts available, press 'Shift + /' or 'Ctrl + /' on Chrome OS and Windows devices and 'Command + /' on Mac devices.
Open PDF and text images as a text document
It is annoying when you get documents that you have to edit in PDF or image formats. You end up probing the internet on how to convert these files or typing the whole document again.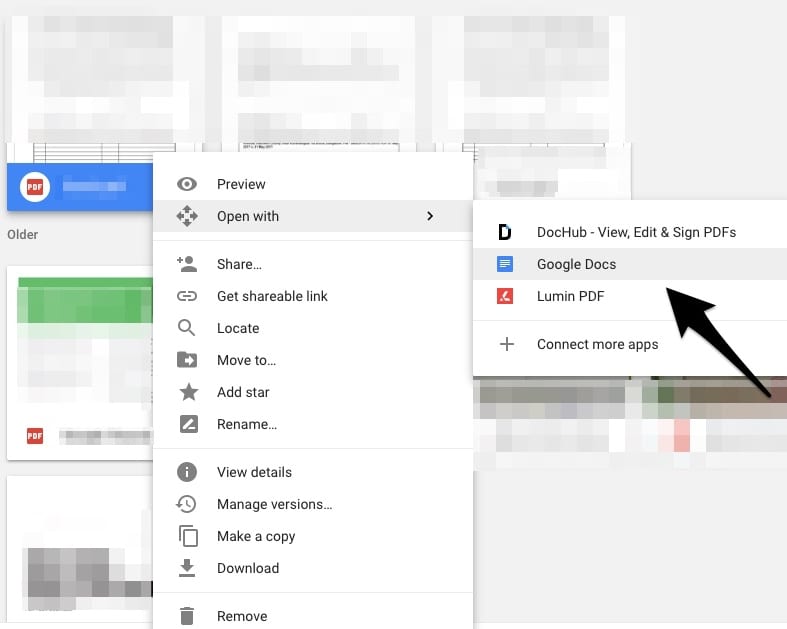 A hidden Google Drive hack solves this problem. All you've gotta do is upload the PDF or image file in Google Drive and open it with Google Docs. The formatting might be a little off, but it will definitely save you time.
Search within images
Locating the right image is a nightmare when it is saved under generic file names like 'Image01' or 'Scan02'. Most apps support only text-based search. However, Google Drive's machine-learning skills allow users to search for images based on their content.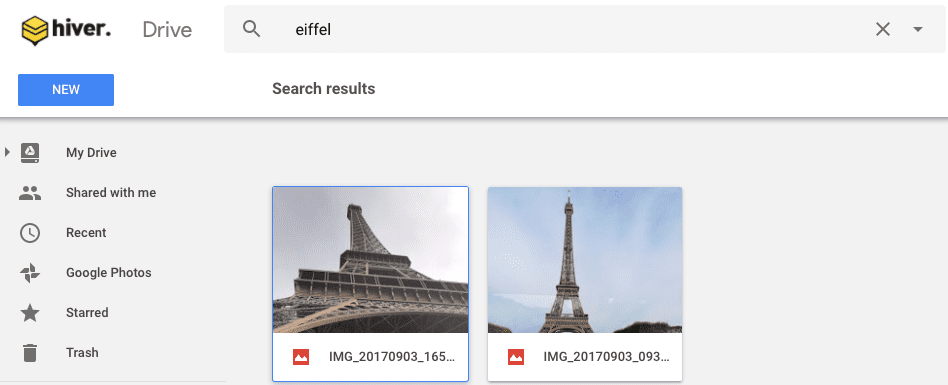 For example, a simple search for 'Eiffel' will fetch you appropriate images. It even recognizes the text in images. If you have a scanned copy of your driver's license, you can locate it by searching for the word 'license'.
This ensures you don't have to waste time renaming image files.
Note: The same feature works for PDF files too, as in users will be able to search within PDF files from the Google Drive home screen.
Get a shareable link for a file or a folder in two clicks
In these days of outsourcing, often you have to share files and folders with people outside your organization. Google has made this process rather easy with shareable links that can be generated in just two clicks.
All you've gotta do is: Select the file or folder you want to share > Click on the chain link icon on the top bar > Copy the URL and share it.
Share an item with teammates quickly
Google Drive allows you to share files and folders with your teammates directly from your home screen. That means you don't have to open it each time you want to share it.
If you use Gmail for business, Hiver can help convert your inbox into a help desk. Manage email conversations effectively, assign emails as tasks and track their status effortlessly, share email templates with teammates, and more.
All you have to do is: Select the file(s) or folder(s) you want to share > Click on the 'Share' icon on the top bar or press '.' on your keyboard > Enter the name or email addresses of your teammate.
If you want to make sure you are sharing the right item, press 'd' to see its details or press 'p' to see its preview.
Use activity pane to get a history of all the changes
The 'activity' pane allows you to keep an eye on all the changes you or your teammates have made to a file or folder. To view this, select the file or folder and press 'i' on your keyboard or the 'i' icon on the top left of the home screen.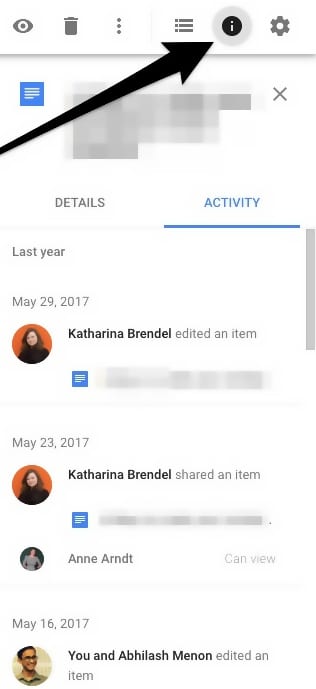 Monitor and clean up your Google Drive storage space
Free G Suite users get a storage space of 15 GB, while G Suite Basic users get 30 GB. This is split between Gmail, Google Drive, and Google Photos. So, if you are a heavy user of these services, storage space can get exhausted quickly.
Make sure to monitor and clean up your Drive regularly to avoid this from happening. Here is how you should go about it:
1. Find out the space used and available by hovering the cursor over 'Upgrade storage' (left pane) on your Google Drive home screen.
2. A pop-up will appear showing the distribution of the storage space used between the three services. Press the 'i' button next to Google Drive.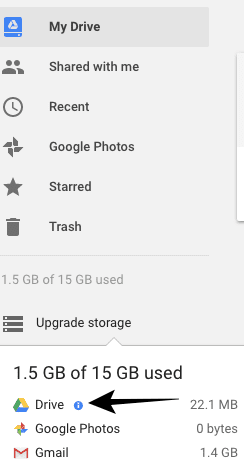 3. A list of all the large files you have on your Google Drive will appear. Delete the unnecessary files.
4. Go to your Google Drive 'Trash' folder and empty it.
5. If you use Google Photos, go to https://photos.google.com/settings, and select 'High Quality'. This ensures all your photos are compressed to save space.
In case you want more storage space, you can always go ahead and buy it.
Install 'Backup & Sync' or 'Drive File Stream' on your desktop
If you want to back up your desktop data on to Google Drive, you should install either Backup & Sync or Drive File Steam. The former is meant for home users and the latter is for business users.
Besides that, these apps will let you sync your Google Drive files on to your local disks. This way you will be able to access and edit these files with native apps like MS Word and Photoshop.
Although both apps are similar, Drive File Stream has a few exclusive features, namely the ability to access Team Drives and stream large files (including videos) directly from Google Drive.
Use Files Go app to backup your mobile data to Google Drive
Files Go is a simple file manager app that Google launched for Android devices. It allows users to backup files from their Android mobiles on to Google Drive. Here's how:
Open the app on your Android device

Go to the 'Files' tab

Select the type of data you are planning to back up

Locate and select the files you want to back up

From the resulting drop-down menu, tap on 'Back up to Google Drive'
The app also lets you transfer files to other devices securely without internet.
Narrow down your searches
There might be instances where you have multiple files with the same name or multiple versions of the same file on your Google Drive, making it harder to find the right one. But it doesn't have to be.
Google Drive's advanced search tools enables users to filter searches based on the type of file, the owner of the file, the folder in which it is in, its date of creation, and more.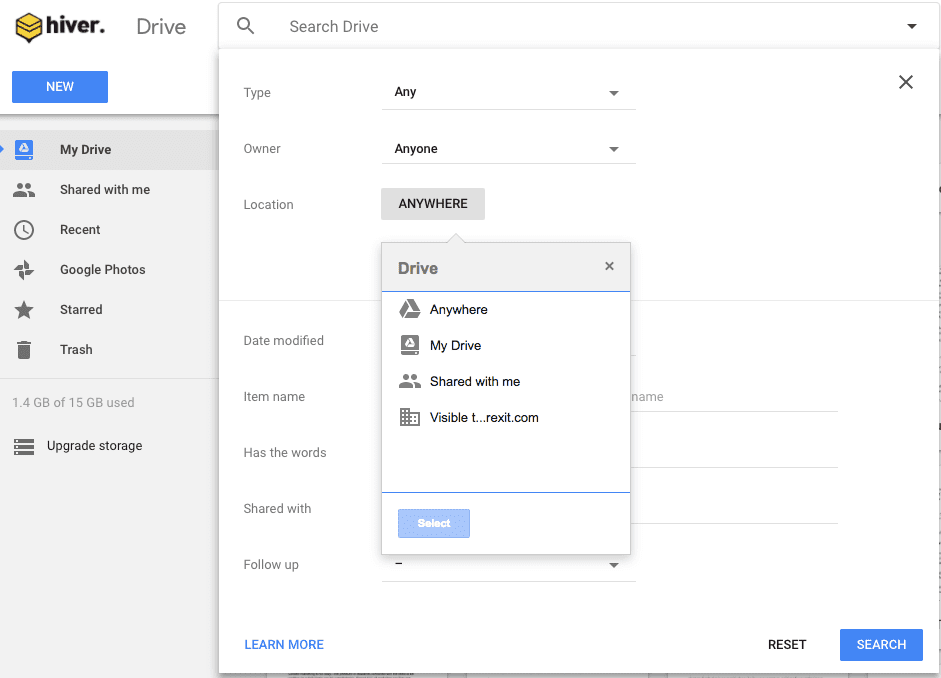 To access these filters, click on the downward pointing button next to the 'Search' box and then select 'More Search tools' from the resulting drop-down menu.
Turn on push notifications to save time
If your team uses Google Drive and G Suite to collaborate, turning on browser notifications can be very useful. You can keep up with who is working on what, make edits quickly, view comments in real-time, and more.
Here's how you can turn it on:
Click on the gear icon (top left) on the home screen

Click on Settings

From the resulting pop-up click on 'Notifications' tab

Turn on 'Browser' notifications

Set 'Notify me about' options as per your requirements

Press 'Done'

This ensures you won't have to keep your Gmail or the corresponding file open in a browser tab. Moreover, notifications give you quick glimpse of the issue, allowing you to decide if it requires immediate attention or not.
Simplify file sharing in your organization with Google Team Drives
Team Drives is a new feature that is only available for Business customers. Teams can use it as a central hub to store all the files owned by them. This ensures even if someone leaves the organization, the files they've migrated on to the Team Drive will remain.
You can create Team Drives right from your Google Drive home screen. All you have to do is select 'Team Drive' in the left pane and click 'New'. If you are not able to create a Team Drive, then you may not have the necessary privileges to do so.
As the admin, you can add/remove teammates, regulate the kind of the access they have, stop sensitive files from being downloaded, copied, or printed, and more.
Enhance your Google Drive with Chrome extensions
Google Drive by itself is a very helpful service, but you can make it even better by installing certain Chrome extensions. They will help you enhance and tweak Google Drive to your needs.
Here are some excellent add-ons you might find useful:
Hiver: With Google Drive and Gmail practically sharing a symbiotic relationship, your inbox can end up overflowing. Hiver will allow you to keep your Gmail inbox organized and also, collaborate with colleagues easily.
Save to Google Drive: After installing this extension, you will be able to save documents, images, audio, and video by right-clicking on them and selecting 'Save to Google Drive'.
Other features include:
Screen capture a browser tab and save it to your Drive by simply clicking on the 'Google Drive' icon in their Chrome toolbar.
Automatically convert Microsoft Office files or comma separated files to Google Docs format.
Quick Drive: This extension lets you search your Google Drive via a pop-up panel, giving you quick access to your Google Drive.
DriveCast: This extension allows you to stream and cast videos that you have saved on your Google Drive. Saving you from the hassle of downloading the file and playing from your device.
Strengthen your Google Drive security
Whether it is a personal account or Business account, adding extra layers of protection to your Google Account is critical to keep your data safe.
Here are a few things that you can do:
Turn on 2-step authentication: This means everytime you log on to your Google account from a new device, along with the password (ensure you have a strong password)you will have to enter a code received on your registered mobile phone. This adds another level of security and prevents unauthorized access to your account. Visit this page to get started.
Review the information you have shared with connected apps: Connecting your Google Account to vulnerable third-party apps exposes you to personal security threats and also puts your company's sensitive information at risk.
So, it is critical you review which apps are connected to your account and how much access they have to your information. To find out, go to myaccount.google.com/permissions.
Review device access:Google lets you keep a check on the devices from which you are accessing your account. You do this visiting the o to Sign-in & security page. Review it regularly and revoke access if you see an unrecognized device.
Wrapping up
With these hacks and a little practice, you'll be able to make the most of Google Drive. They will help you stay organized and safe, get through your workload faster, and give you a slight edge over others.