Customer loyalty is hard to gain, especially when there are so many players in the market vying for the same customers that you are targeting. However, if you play your cards right, you can succeed in creating a life-long relationship with them.
And, the best part is that the most effective ways aren't even too heavy on the wallet. Those are just intelligent gestures on the part of your company that'll make all the difference.
But before we look at how you can win customer loyalty, let's look at what is customer loyalty and why is it important.
Table of Contents
What is customer loyalty?
Customer loyalty is a customer's commitment to your brand. A loyal customer will always choose you over the competition. This may be because of several reasons such as your excellent customer support, unbeatable product/service quality, or another way you differentiate yourself.
Why is customer loyalty important?
Loyal customers are the most valuable asset for any brand to hold onto. Repeat customers typically spend more and generate larger transactions. According to a recent study from Bain & Company, the average repeat customer spent 67% more in months 31–36 of their shopping relationship than months zero-to-six.
On the flip side, depending on the kind of product/service your business sells, bringing in new customers can cost anywhere from five to 25 times more than selling to your current customers. This means establishing a customer loyalty program is one of the most cost-effective ways for a brand to increase ROI.
Now that we've seen why customer loyalty is important, let's take a look at how you can win loyal customers for life.
Ways to build and maintain customer loyalty (with examples)
Surprise them
Everybody loves surprises. A small gift in the mail, a handwritten thank-you note, a bouquet, or a personalized birthday wish; anything that brightens up the day of your customer without him or her having asked for it changes the relationship of that customer with your brand from mere satisfaction to life-long loyalty.
You don't even have to go overboard with it; just extend a small kindness where you think it is due. You can make this easier for yourself by using a CRM tool to keep track of your customers.
How LEGO does this
LEGO loves its customers, do you?
We have all come across the heart-warming stories of 7-year-old Luka, who wrote to LEGO about losing his Jay ZX mini-figure and 11-year-old James, who wrote about saving up for the Emerald Night Train set only to find it discontinued.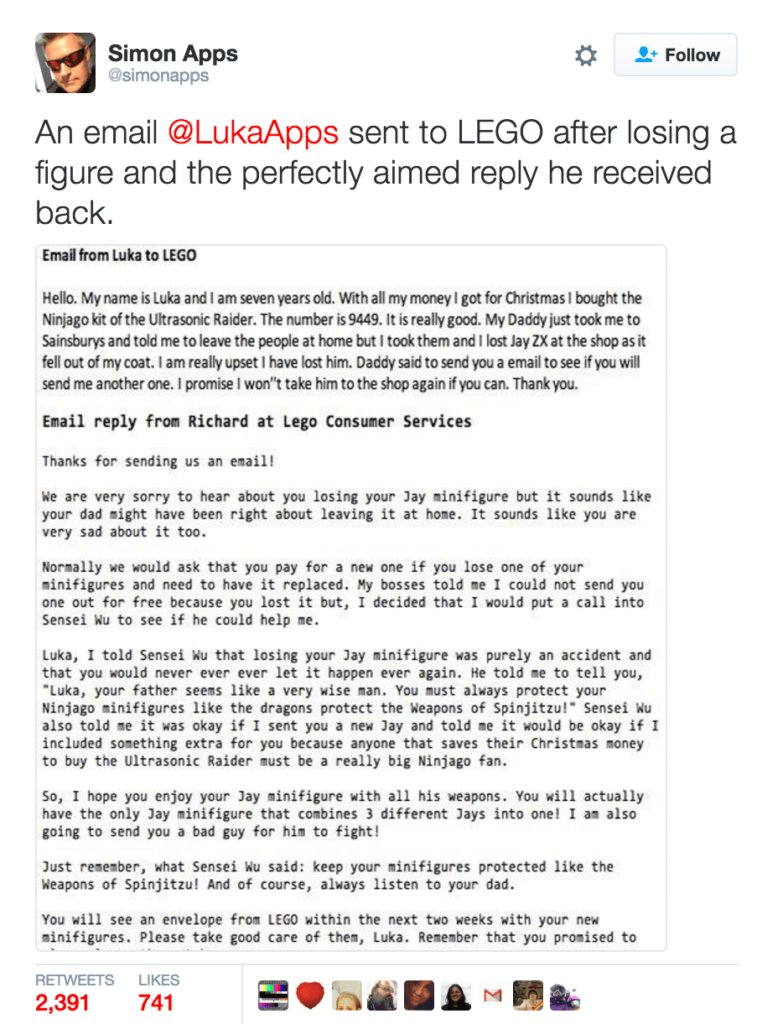 By sending out little presents to these children, Lego has not only made a smart move as a brand but also given them memories. These kids are unlikely to ever forget that Lego cares about its customers, and neither will the world.
Create a Community
It's always a joy to find like-minded and relatable people. As a brand, this is a great opportunity for you to ingrain loyalty in your customers if you can bring them together and get them talking about things they feel a great passion for. In addition to creating a community, the brand has to nurture it so that the mere thought of leaving that community is out of the question for your customers.
How Harley Davidson Does this
Harley Davidson is, perhaps, the only brand that inspires such fierce loyalty that its customers get its logo tattooed. The Harley tattoo represents a permanent connection to the brand to the extent that people are willing to make it a part of their identity.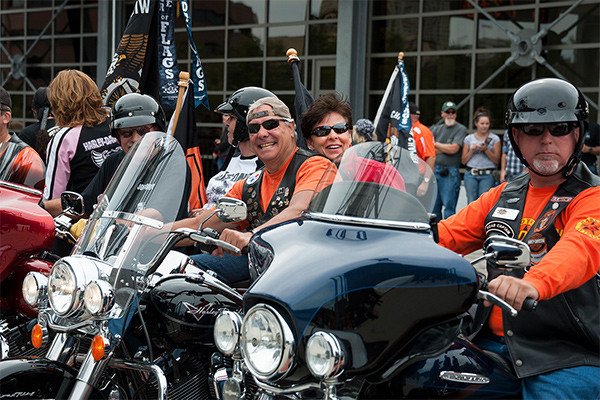 Among others, the most important reason why the company has inspired this loyalty is Harley Owners Group (HOG). Not only does HOG bring the customers closer to the brand but to other Harley owners as well. They have chosen Harley to be a part of their identity, and this is enough to form a bond between them.
They have chosen Harley to be a part of their identity, and this is enough to form a bond between them.
Involve them
No one likes being withheld information from. Hiding from your customers when they are looking and asking for more information only serves to dishearten and infuriate them. It indicates that you are shrugging your responsibilities and not living up to your commitment to them.
You would be surprised how effective coming clean and involving them by sharing information can be.
How Buffer Does this
When Buffer got hacked, instead of going through the typical routine of denying the situation until it's quite the PR disaster to admit that something is wrong, it took a more transparent approach that is already quite characteristic of Buffer.
It reached out to its customers and told them about being hacked. It then proceeded to update them about the progress of their team and dealing with the situation, the extent of damage, and what they need to do as Buffer users.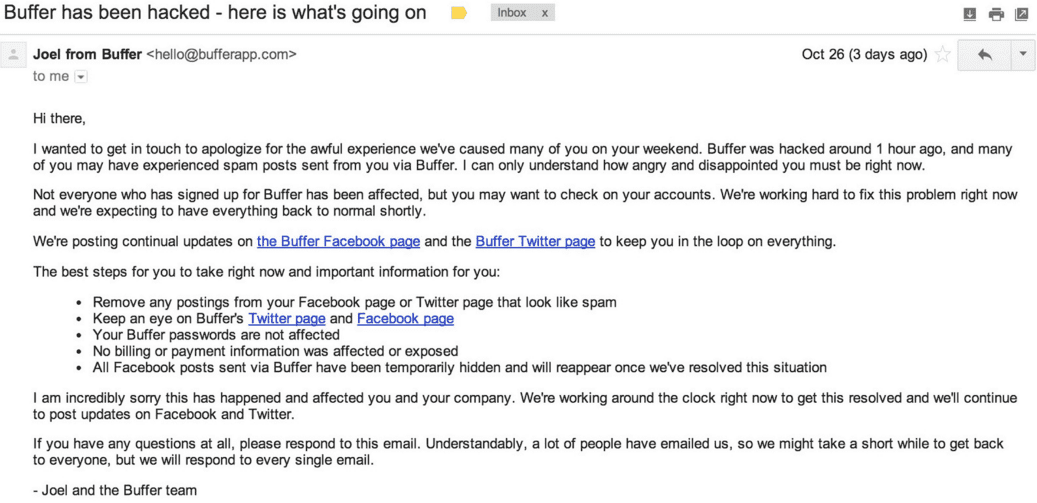 If anything, this hacking episode increased Buffer's customer loyalty because the users felt involved in the process.
Develop a Human Connection
Today in the age of digital connectivity, more than ever before, brands need to focus on building and fostering human connections instead of impersonal ways to deal with their customers. This means listening and talking to each customer with the greatest attention. While keeping communication impersonal by rigidly adhering to the standard operating procedures is easy and safe, more often than not, granting employees the autonomy to act human and deal with a person instead of yet another source of revenue can make all the difference.
How Zappos Does this
Zappos is famous for its customer service. For a business that depends on repeat purchases by its customers, Zappos has managed to establish a very strong loyalty for itself, thanks to its customer-centric culture. Listening to the customers is an important part of it.
Whether it is the longest customer service call (10 hours 29 minutes) or a pizza at the doorstep, or simply a call to return the item, Zappos listens to its customers, and it reflects in the loyalty of its customers.
Implement Feedback
More often than not, brands focus on getting the feedback but not acting on it. This results in not only mediocre product or service but ineffective customer service, and neither of these will ever increase customer loyalty. Show your customers that their opinions, feedback, and preferences are valued by you.
How Tesla Does This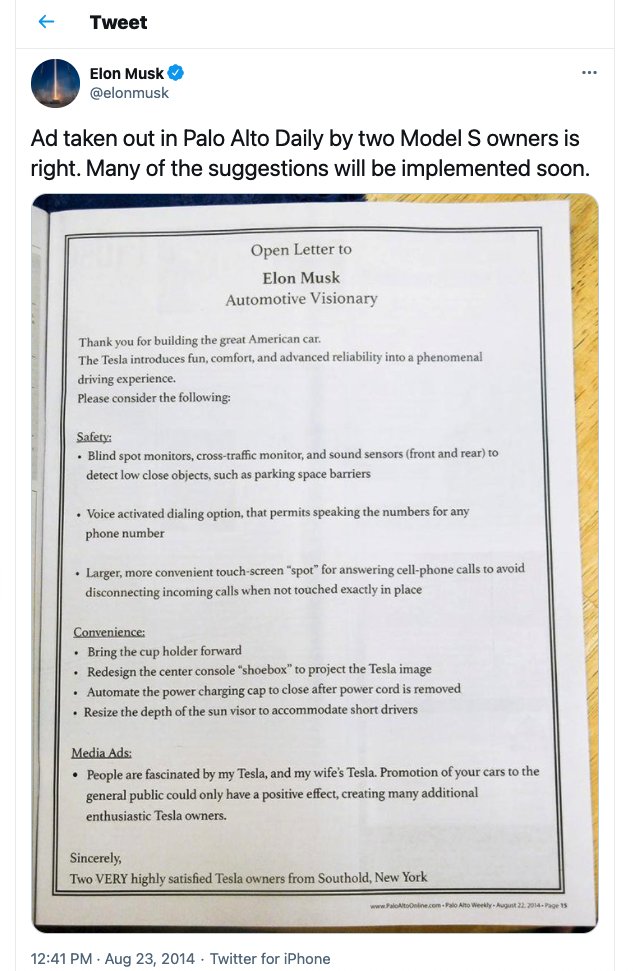 Two Tesla owners took to advertising their open letter in a newspaper to get their feedback across to Tesla. The letter was signed by two very satisfied owners of the Tesla Model S who suggested a few improvements. The CEO of Tesla, Elon Musk, responded with a tweet saying that the suggestions were noted and some changes will appear soon.
Make it Fun
You are not the only player in the market offering certain products or services. Distinguishing yourself from your competitors to stand out and catch your customers' attention and retaining it is serious business. However, seriousness does not have to be boring. Make it fun; for your employees, customers, and business partners. By including a little light-hearted fun into your work, you can increase your brand's value and loyalty.
How Southwest Airlines Does it
Southwest Airlines is the largest low-cost carrier in the world with one of the most loyal customer base. Since there are other low-cost, no-frills airlines available, what distinguishes Southwest Airlines from others is definitely not the price but the customer-centric culture.
People choose Southwest over others because they know that every flight has some entertaining and fun activities in store for them. Be it a rapping flight attendant, or an impromptu fashion show in the air or amusing announcements, a customer's experience with Southwest is never dull, and they keep coming back for more.
Wrapping up
The key to customer loyalty is respecting them as people and showing it in your dealing with them. As long as you stick to that philosophy, you will find your customers reciprocating with their loyalty.
In today's business environment, it's impossible to stress just how important customer loyalty is. These tips will help you create loyal customers who will be happy to frequent your business for many years to come.