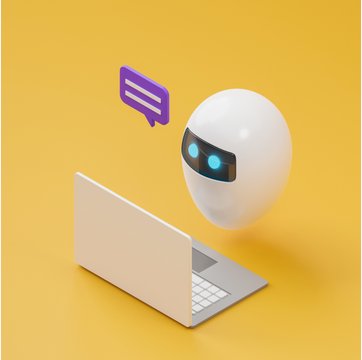 Table of contents
Enable Real-Time Customer Support
10 Best Customer Service Chatbots
Nov 15, 2023
|
12 min read
|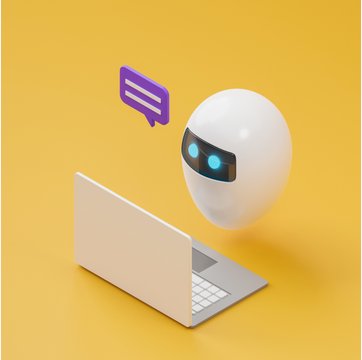 Table of contents
Chatbots have come a long way. They started as basic programs that could only send automated responses. Now, they're much smarter and can have real conversations with people – thanks to artificial intelligence.
It's no wonder then that chatbots are becoming a huge part of customer service. The reason is simple: they make things faster and easier. Instead of waiting on hold to speak to a customer support agent, customers can get answers from a chatbot right away.
For companies too, chatbots are a big plus. They help deal with repetitive questions, freeing up customer service reps to focus on complex issues that need a human touch.
In this blog, we're going to talk about how chatbots are changing customer service for the better. You'll also explore the 10 best customer service chatbots that can really help your business!
Table of Contents
What are Chatbots?
Chatbots, short for "chat robots," are computer programs equipped with artificial intelligence (AI) that enable them to engage in text-based or voice-based conversations with users. Using AI, chatbots understand and respond to user inputs, providing information, assistance, or performing tasks.
Chatbots excel at performing routine tasks. For instance, they can assist with booking appointments, answering frequently asked questions, or processing orders without human intervention. This automation saves time and resources.
What are Customer Service Chatbots?
Customer Service Chatbots are sophisticated AI-driven applications developed to engage in text-based or voice-based conversations with customers. They are integrated into websites, apps, or messaging platforms to provide immediate assistance, guidance, and solutions to customer inquiries and concerns. These chatbots are trained to understand and respond to a wide range of customer requests, enhancing the quality and accessibility of customer support.
Let's say a customer visits an online retail website and has questions about a product or an order. The chatbot can initiate a chat and help the customer by answering questions about product specifications, tracking order status, or even assisting with returns and refunds. This immediate and automated support streamlines the customer service process and ensures that customers receive timely assistance.
Take for instance, Hiver's chat widget. 

Use Hiver's chat widget to assist customers and prospects in real time on your website. It can be easily set up in minutes.

The best part about Hiver is that you can handle customer chats – in addition to queries via email, WhatsApp, and phone – right from your Gmail inbox. 

This saves your team a lot of time and effort from having to juggle between multiple tools. Quickly direct customer chats to the right agents and use chat templates to answer basic, straightforward questions.
Benefits of Chatbots in Customer Service
Chatbots help in providing excellent customer service. Here's how:
24/7 Availability: Chatbots are always ready to assist customers, day or night, ensuring round-the-clock support and accessibility.
Instant Responses: They help provide immediate answers to common queries, reducing customer wait times and enhancing user satisfaction.
Scalability: Chatbots can handle multiple conversations simultaneously, making them ideal for businesses with fluctuating customer service demands.
Data Gathering and Analysis: Chatbots collect valuable data on customer interactions, preferences, and pain points, helping businesses make data-driven decisions to improve services.
Improved Productivity: Human agents can focus on more complex tasks, while routine inquiries can be handled by chatbots.
Personalization: Advanced chatbots can personalize responses based on user history and preferences, making interactions more relevant and valuable.
10 Best Customer Service Chatbots
Here's a list of the top 10 customer service chatbots, along with their detailed features.
| Software | Starting Price | Free Trial | G2 Rating |
| --- | --- | --- | --- |
| Help Crunch | $12/month | 14 days | 4.7 ⭐ |
| Ada | Price on Request | NA | 4.6 ⭐ |
| Freshchat | $19/agent/month | 14 days | 4.4 ⭐ |
| Chatfuel | $12/month | 7 days | 4.5 ⭐ |
| Drift | $2500/month | 14 days | 4.4 ⭐ |
| HubSpot | Free | 14 days | 4.4 ⭐ |
| Intercom Fin AI Bot | $39/month per seat | 14 days | 4.5 ⭐ |
| Zobot™ | $7/operator per month | 15 days | 4.4 ⭐ |
| Flow XO | $25 per month | 14 days | 4.4 ⭐ |
| BotStar | $49 per month | 14 days | 4.2 ⭐ |
1) HelpCrunch
The HelpCrunch chatbot is an automated messaging tool used by businesses to engage with website visitors and customers. It's designed to handle routine customer inquiries, such as answering frequently asked questions. 
The chatbot operates based on predefined triggers and responses, allowing it to provide instant assistance. This tool is part of the HelpCrunch customer support and sales platform, which aims to streamline customer interactions.
Key Features
Advanced Chatbot Editor: HelpCrunch provides a user-friendly, code-free chatbot editor. This feature enables users to create customized chat flows either by utilizing pre-designed templates or by crafting unique ones from scratch.
Agent Tagging and Assigning: The chatbot includes a system for tagging conversations and assigning them to the appropriate agent or department. This ensures that customer queries are routed to the most qualified person, facilitating a more effective and timely response.
Information Collection: HelpCrunch's chatbot can gather essential contact details from customers, such as their email, name, company, and specific needs. This information is crucial for building customer profiles and delivering personalized service.
Knowledge Base Integration: The chatbot can provide customers with articles from the knowledge base that are relevant to their inquiries. This feature allows for immediate, automated support, resolving issues without the need for live agent intervention.
Pricing
HelpCrunch offers three pricing options.
Basic: $12/month
Pro: $20/month
Unlimited: $495/month
2) Ada
Ada is an AI-driven chatbot platform that emphasizes ease of use and extensive customization options. It's designed to engage with customers by providing tailored responses, making interactions appear more conversational and natural. Ada's platform can communicate in over 100 languages, making it a versatile tool for businesses that have a customer base in non-English speaking countries.
Key Features
Customizable Chatbots for Departments: The ability to create department-specific chatbots allows for a seamless hand-off process within the company, ensuring that customer inquiries are addressed by the most relevant and knowledgeable team.
No-Code Chatbot Builder: Ada offers a no-code platform for creating conversation strings, which can be used across support, marketing, and sales departments, enabling non-technical users to set up and manage chatbots with ease.
Self-Service Solutions: Ada's AI and natural language processing (NLP) capabilities allow it to deflect repetitive inquiries by enabling customers to self-serve for tasks like changing information, scheduling appointments, and making payments.
Pricing
Ada offers two pricing plans.
Generative: Price on request
Scripted: Price on request
3) Freshchat
Freshchat's chatbot, part of the Freshchat messaging software by Freshworks, is an advanced AI-powered tool. This chatbot, powered by Freddy AI, is versatile and integrates seamlessly with web and mobile interfaces, as well as popular social messaging applications like WhatsApp, LINE, Facebook Messenger, and Apple Business Chat. 
It offers the flexibility to create different types of bots tailored to specific functions. These include bots for responding to customer inquiries, performing automated actions, and updating customer information autonomously.
Key Features
Teach Your Bot Languages: Load your bot with conversation scripts in various languages, so it can chat with customers in the language they're most comfortable with.
Customize the Look: Make your chatbot look like part of your brand by changing its appearance. Adjust the shape, color, and size easily with our straightforward CSS editor.
Track and Optimize: Keep an eye on how well your bot is doing and tweak its conversation paths to make it better. Track metrics related to bot performance to understand and meet customer needs more accurately.
Use Ready-Made Templates: Get your bot up and running quickly by using pre-made templates that help tackle multiple scenarios.
Pricing:
Freshchat offers four pricing options.
Free: Forever free up to 10 agents
Growth: $19/agent/month
Pro: $49/agent/month
Enterprise: $79/agent/month
Note: You can also purchase extra Freshbot sessions to connect with customers smoothly across various channels: $100 for 1000 Freshbot sessions.
4) Chatfuel
Chatfuel is a user-friendly chatbot platform tailored for driving customer interaction on websites, Facebook, WhatsApp, and Instagram. It's designed to be accessible, allowing users to create chatbots without the need for coding skills.
Key Features
Templates: The platform offers a variety of templates that serve different business needs, such as lead generation, customer service, or content delivery. These templates provide a starting point for users to create a chatbot that suits their specific goals.
Triggered Messages: Chatbots can be set up to send messages automatically based on specific triggers, such as a customer's action or a particular time.
Customization: Users can tailor their chatbots to reflect the voice and tone of their brand. The chatbots can be customized to initiate specific actions based on the conversation flow, such as collecting contact information, providing product recommendations, or even completing transactions within the chat interface.
Engagement Features: Chatfuel's chatbots can send triggered messages based on user behavior, engage with users who comment on ads, and even re-engage with users through scheduled messages.
Pricing
Chatfuel offers the following pricing plans.
Free trial: Up to 50 conversations
Entrepreneur: $12 per month (up to 500 conversations)
Startup: $20 per month (up to 1000 conversations)
Small Business: $48 per month (up to 3000 conversations)
Growing Business: $96 per month (up to 10,000 conversations)
5) Drift
Drift's chatbot is a versatile tool designed to facilitate real-time, personalized conversations between businesses and their customers. It's built to be adaptable, allowing for full automation or to act as a first point of contact before handing off the conversation to live support representatives.
Key Features
Playbooks: Drift's playbooks are easy-to-set-up conversational flows that guide the chatbot interactions. They can be customized to capture and qualify leads, providing a tailored experience for each visitor.
Lead Segmentation and Content Delivery: The chatbot can segment leads based on behavior and provide them with relevant content, enhancing the personalization of the interaction.
Meeting Scheduling: Drift's chatbot can schedule meetings directly into sales representatives' calendars, streamlining the process of lead conversion.
A/B Testing: Test different messages within your bot playbooks to see what performs better and optimize your content to improve conversion rates.
Pricing
Drift offers three pricing options.
Premium: Starts at $2,500/month
Advanced: Price on request
Enterprise: Price on request
6) HubSpot
HubSpot's chatbot is part of its comprehensive suite of tools for marketing, sales, support, content management, and operations. With a free chatbot builder software, users can create custom chatbot sequences without needing to write any code, making it easy to set up and deploy chatbots quickly.
Key Features
Lead Qualification: The chatbot can automatically qualify leads by asking predefined questions and gathering information, which helps sales teams prioritize and follow up with the most promising prospects.
Support Ticket Generation: For customer service teams, the chatbot can generate support tickets based on customer queries, helping manage and track customer issues effectively.
Personalization: The chatbot can pull contact data from HubSpot's CRM to personalize chat replies, providing a more tailored experience for customers.
Task Automation: HubSpot's chatbot can automate tasks such as creating support tickets and adding users to lists and workflows, which helps to reduce the workload on human agents.
Pricing
You can use HubSpot's chatbot builder for free with its Sales Hub package. For extra features, HubSpot has different Sales Hub plans available:
Starter: $45 per month (2 users)
Professional: $450 per month (5 users)
Enterprise: $1,200 per month (10 users)
7) Fin AI Bot
Fin is Intercom's advanced AI chatbot designed to streamline customer service by providing instant, reliable answers to support questions. It's built on AI technology, ensuring that the responses given are accurate and derived from your company's own knowledge base like help articles or FAQs. 
This means that Fin is less likely to give out incorrect information or "hallucinate" answers, which can happen with some AI systems when they don't know the answer. Fin can detect and respond to customer issues in 43 different languages, making it a great option for businesses that have a global customer base.
Key Features
Conversational AI: Fin can initiate conversations that feel natural and helpful, much like talking to a human support agent.
Seamless Handoff: If a question is too complex for Fin to handle, it can gather preliminary information and then smoothly transition the conversation to a human support agent.
Integrations: It can pull in information from places like Zendesk and other public URLs to provide comprehensive support.
Optimization and Reporting: You can monitor Fin's interactions, suggest improvements, and access reports to see how well it's performing.
Omnichannel Support: Fin can communicate with customers across various channels, including WhatsApp and SMS, providing support wherever your customers are.
Pricing
Intercom offers the following pricing options.
Start: $39 per month per seat
Grow: $99 per month (includes 5 seats)
Accelerate: from $499 per month (includes 10 seats)
Scale: from $999 per month (includes 10 seats)
Note: For Fin, Intercom charges $0.99 every time it successfully answers a customer's question, termed as a "Resolution". To avail this rate, you must have an active Intercom plan. Any extra Resolutions beyond your contract are billed monthly on your regular payment date.
8) Zobot™ by Zoho SalesIQ
The chatbot builder, Zobot, is integrated within Zoho SalesIQ – a comprehensive customer engagement platform. This platform provides tools for marketing, sales, and support teams to communicate with site visitors at every stage of the customer lifecycle. 
It allows for proactive customer engagement with features like automated triggers for chats and the ability to analyze visitor interest for more tailored interactions. If you're already using tools like IBM Watson or Google's Dialogflow, you can connect them with Zobot to make your chatbot even smarter.
Key Features
Drag-and-Drop Builder: Zobot has a simple system where you can just drag and drop elements to build your chatbot. This means you don't have to write any code to create conversations or responses.
SalesIQ Scripts: These are special commands you can set up for your chatbot to do certain tasks, like sending information to customers or sorting them into different categories based on what they need.
Task Automation: Zobot can do routine tasks on its own, like gathering information from customers or setting up appointments, which saves time for your team.
Answer Bot: This is a part of Zobot that uses Zoho's own AI technology to understand and answer common questions customers might ask, using the information from your knowledge base.
Hybrid Bot: Zobot lets you combine the straightforward, guided chatbot with AI-powered responses. This means that your chatbot can follow a set path but also understand and respond to what customers are saying in a more human-like way.
Pricing
Zoho SalesIQ offers four pricing plans.
Free: 100 chat sessions/month
Basic: $7/operator per month (1 Chatbot)
Professional: $12.75/operator per month (5 Chatbots)
Enterprise: $20/operator per month (10 Chatbots)
9) Flow XO
Flow XO is an automation platform that allows you to create AI chatbots without any coding. It's designed to engage with customers across a variety of sites, applications, and social media platforms. 
The chatbots created with Flow XO can act as the first point of contact for your business, offering a simple and friendly way for customers to ask questions or send information.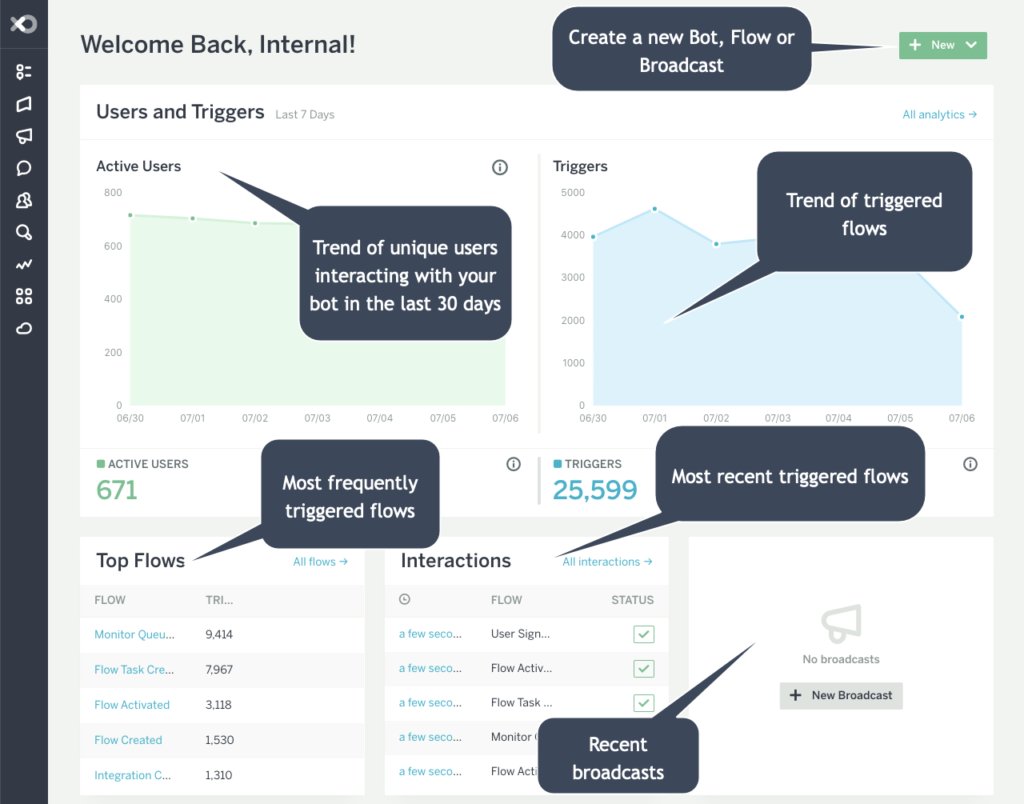 Key Features
Answer Simple Questions: The chatbot can respond to common queries by looking for specific phrases or keywords.
Payment Processing: Flow XO chatbots can handle payments during a conversation, directing customers to a secure payment portal.
Lead Pre-filtering: The chatbot can segregate customer chats by intent, ensuring that the leads reaching your business are of higher quality.
Workflow Complexity: You have the option to create simple or complex workflows with conditional logic, and you can trigger new workflows from existing ones.
Pricing
Flow XO offers the following pricing options.
Free: 500 interactions | 5 bots or active flows
Standard: $25 per month: 5,000 interactions | 15 bots or active flows
Note: You can also add 5 extra bots or active flows at an additional cost of $10 per month. Besides, you can also add an extra 25,000 interactions at an additional cost of $25 per month.
10) Botsify
Botsify is a chatbot platform designed to automate customer engagement and sales processes. It allows businesses to create AI chatbots that can interact with customers in real time, send personalized messages, and provide assistance. 
Botsify's chatbots can cater to a global customer base by translating conversations into over 100 languages, making it easier to engage with international customers.
Key Features
Omnichannel Platform: The platform supports seamless communication across multiple channels, including Facebook, WhatsApp, Instagram, and websites, allowing businesses to manage all their communication from one place.
Lead Generation with Conversational Forms: Botsify provides conversational forms to qualify leads, engage website visitors, and collect detailed information, simplifying the lead generation process.
Live Chat with Agent Fallback: The platform includes a live chat feature that allows human agents to take over the conversation from the chatbot to resolve queries personally and quickly.
Drag & Drop AI Chatbot: Botsify's platform is user-friendly, featuring a drag-and-drop interface that makes it easy to create chatbots without the need for programming skills.
Pricing
Bostify offers the following pricing plans.
Basic: $49 per month for 2 chatbots
Professional: $149 per month for 5 chatbots
Custom: Price on request
Top Features to Look For in Service Chatbots
You must choose a customer service chatbot that aligns with your business goals and provides top-notch customer support. Here are some key features to look out for:
Natural Language Processing (NLP): A must-have feature that enables chatbots to understand and respond to customer inquiries in a human-like way.
Multichannel Support: Ensure your chatbot can seamlessly operate on various platforms like websites, messaging apps, and social media, making it accessible to customers where they are.
Integration Capabilities: Look for chatbots that can integrate with your existing systems and databases, allowing them to access and update customer information in real-time.
Data Security: Ensure the chatbot prioritizes customer data security, adhering to strict privacy standards and regulations.
Pre-built Templates: Chatbots with pre-designed templates for common customer service tasks can be deployed faster and with less effort.
Seamless Handoffs: If a query is beyond the chatbot's abilities, it should smoothly transfer the conversation to a human agent without losing out on context.
Analytics and Reporting: Chatbots that provide detailed insights into customer interactions can help businesses make data-driven decisions for improving customer service.
Multi-language Support: If your customer base is global, look for chatbots that can communicate in multiple languages.
Final Word
When it comes to customer service, having the right chatbot can make a big difference. Each chatbot tool we've discussed has its own special features, from handling simple questions to managing complex conversations. They can save time, answer customer questions quickly, and help your team focus on more complex tasks.
But remember, no matter how smart chatbots get, sometimes nothing beats the human touch. That's where Hiver's chat widget comes in. It's easy to use and adds that personal touch to your website, making sure customers can always reach a real person when they need to. It's like having a friendly face ready to help, which customers really appreciate.
Get started with Hiver today. Free for 7 days