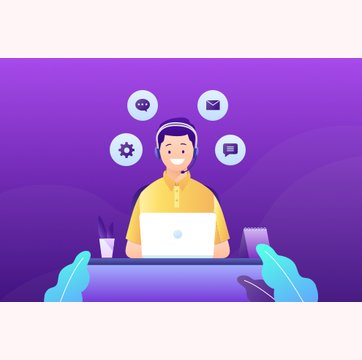 Table of contents
10,000+ teams use Hiver to delight customers!
9 Best Customer Service Software for Small Businesses
Aug 16, 2023
|
14 min read
|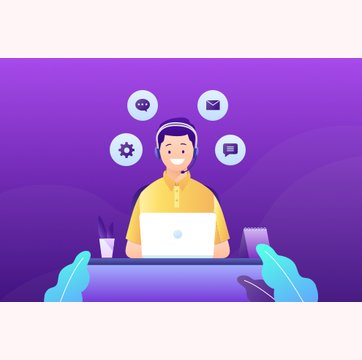 Table of contents
According to Hiver's latest State of Customer Support report, 72% of customers said they would plan to switch to another brand after a negative customer experience. Another Hiver study states that 66% of the customers said that a company's customer service reputation plays a critical factor while making a purchase decision.
As a small or medium-sized business, one of the first aspects that you need to focus on is delivering good customer service.
And for that, you need to invest in a customer service software. But one size does not fit all. That's why we've curated a list of distinctive customer service software for small businesses.
Towards the end, we also look at the parameters you need to keep in mind when investing in a customer service software.
Table of Contents
What is customer service software?
It is a solution designed to help your business effectively manage customer communication. It enables you to improve your team's efficiency by streamlining workflows and tracking customer queries better. It also allows you better serve your customers by offering them highly-contextual and timely responses.

With a customer support solution, you can serve customers across multiple channels like email, chat, social media, phone, and more.
8 best customer service software for small businesses
Now let's look at the top eight customer service software for SMBs:
1. Hiver
Hiver is the world's first multi-channel customer service software built for Google Workspace users. If you are using Gmail for customer communication, there's no other customer service software better suited for your business. It looks and feels exactly like Gmail, and it's straightforward and easy to use.
With Hiver, you can provide support through multiple channels like email, live chat, voice, and Whatsapp. Along with this, it also provides you with powerful features like automation, analytics, SLAs, CSAT surveys, and more.
With Hiver, you can leave comments and tag your team members to have contextual conversations right next to the email threads. It's super easy to collaborate with your team for any support query.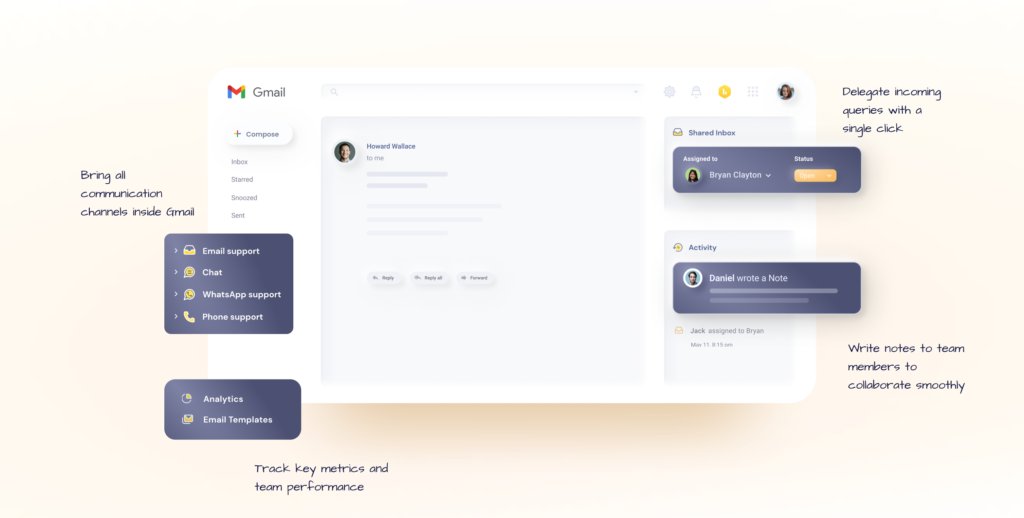 Features you'll love:
Hiver allows you to manage emails and assign them to appropriate team members with ease. Use Conversation ID to locate and identify email conversations effortlessly.
Features like live chat, voice call support, and WhatsApp messaging allow you to offer real-time support to your customers.
Hiver's Knowledge Base feature allows you to create and maintain a repository of FAQs, troubleshooting guides, and other helpful articles that empower customers to resolve issues whenever they want without waiting for help.
The Hiver Notes  

feature lets you add more context while delegating emails and collaborating with team members without using CCs and forwards.

CSAT surveys

will help you keep a close tab on customer satisfaction levels and even offer proactive support when needed.

You can automations to simplify tasks and increase efficiency in email management.
Initiate and track Approvals for customers, vendors & employees right next to their email conversations. Have complete visibility and close approval requests with multiple stakeholders, all within Gmail.

Hiver allows you to track your team's performance and identify areas of improvement with its robust Analytics.

Hiver integrates with some of your favorite apps, so you can manage all internal communication and collaboration efficiently right inside Gmail.
Apart from this rich feature set, you'll also access priority support. Hiver's 24×7 support team is always on standby to deliver prompt and effective resolutions to your queries.
Pricing: Hiver offers a 7-day free trial. With three different plans, Hiver's monthly pricing for a single user starts at $15 for Lite. This is followed by the Pro plan, priced at $39, and the Elite at $59.
2. Freshdesk
Freshdesk is one of the most popular customer support software solutions in the market. It's known for its simple interface and ease of use. Every member of your support team can keep track of incoming support tickets and their status, and stay in the know about who's handling which ticket. Freshdesk offers multichannel customer support across communication channels like email, phone, chat, and social media in 26 distinct dialects. It also comes with self-service features like a knowledge base and support forums.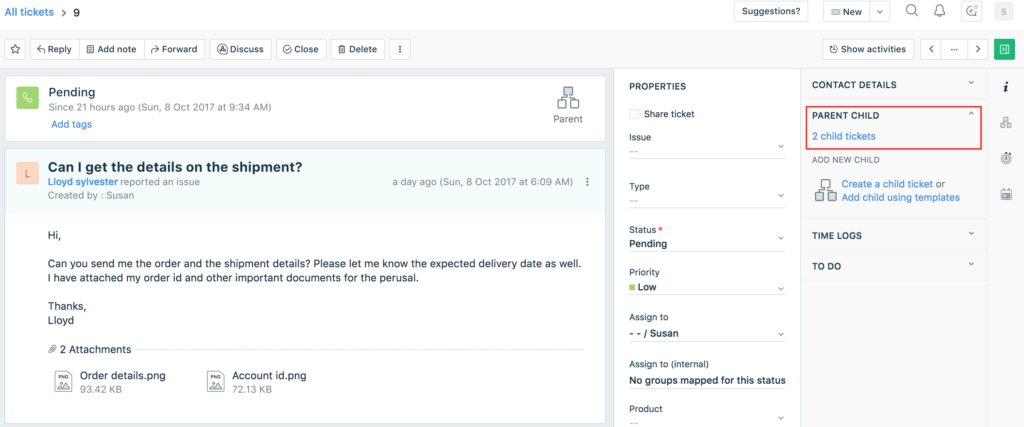 Features you'll love:
With its parent-child ticketing feature, you can resolve complex customer issues by splitting them into more minor tickets.

Its intelligent ticket assignment feature allows you to assign tickets to

service agents

based on their current workload or skill.

It allows you to curate reports to understand the performance of agents.

It comes with many customization features for workflows, customer portals, agent roles, and more.
Pricing: Freshdesk offers a free 21-day trial with all its features. It has a free starter pack for unlimited agents but with limited features. Its Growth plans start at $15 per agent per month.
Learn more: A Freshdesk Alternative that doesn't force you to leave Gmail
3. Zendesk
Zendesk is a helpdesk that's preferred and used by many enterprises and small businesses alike. Its basic plan lets you offer customer support via email and social media channels, including Twitter and Facebook. However, if you're looking to provide support across other channels like phone and chat, you'll have to opt for its higher-tier paid plans.
The tool includes easy ticket assignment and tracking features, powerful automation, SLA management, community forums, and a knowledge base.
Zendesk is one of the pioneers in the helpdesk space, but it's costlier and more complex to set up than other software in its category.
Features you'll love:
Its AI-powered automation can help you improve your team's efficiency and provide faster and better customer service.

Zendesk integrates well with your existing tech stack and thus enhances the performance of tools you're already using.

The Zendesk for Startups plan provides its users a free 6-month credit. It also offers them access to a community of customer experience leaders and exclusive resources.
Pricing: Startups can get Zendesk for free for six months. For SMBs, the Foundational Support plan starts at $19 per agent per month.
Learn more: What makes Hiver the Best Zendesk Alternative
4. Help Scout
Help Scout is great for growing customer support teams looking to offer email and chat support from a centralized helpdesk platform. It comes with a rich feature set, including capabilities like ticket routing and prioritization, task automation, agent performance reports, collision detection, and response templates, amongst many others. Help Scout even lets you customize your helpdesk, confining it to features your team needs.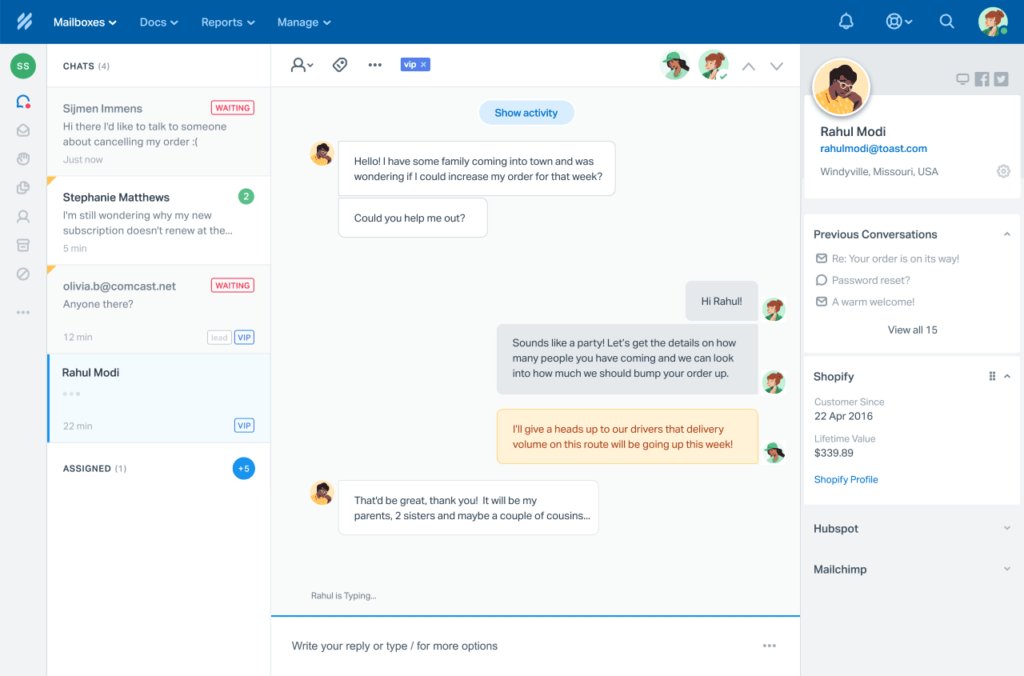 Features you'll love:
Its plans can be customized to your team's individual needs.

Apart from email and chat support, Help Scout has a knowledge base.

Help Scout has several integrations that allow you to use the solution seamlessly with your existing support tools,

management tools

, and channels.
Pricing: Help Scout offers a free 15-day trial. It has plans starting at $20 per user per month.
Learn more: A better, cost-effective alternative to HelpScout
5. Zoho Desk
Another popular email customer support software for small businesses is Zoho Desk. It comes with basic helpdesk features that help streamline your team's support processes, along with robust ticket tracking, task automation, and performance reporting functionalities.
Zoho Desk is a preferred customer support solution because it helps you offer your customers multichannel support via email, social media, live chat, web forms, and telephone in multiple languages.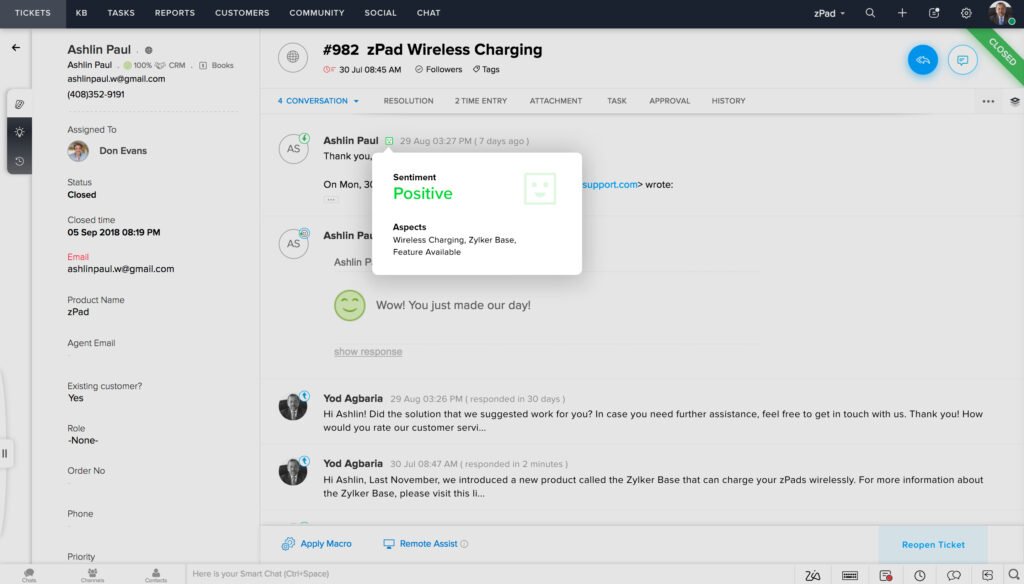 Features you'll love:
It gives you deep context into every incoming request based on your previous customer interactions.

It helps you identify the sentiment (positive or negative) behind every incoming customer request, so you ask your experienced agents to attend to critical customer cases on priority.

It helps you automate workflows, offer multichannel support, and track important support performance metrics. It even comes with a knowledge base feature to let your customers self-serve.
Pricing: Zoho Desk pricing offers a forever free plan with limited features. Its standard plan is priced at $12 per agent per month.
6. Intercom
Intercom is yet another trusted name in the customer service software category. It allows users to offer customer support through live chat, email, and self-service platforms.
The tool is super easy to use, and its guided, interactive product tours make it much simpler for new users to adapt to the software.
One of its most sought-after features according to its reviews is a chat widget that you can install on your website, mobile app, and product. This way, your customers can reach out to you wherever it's convenient.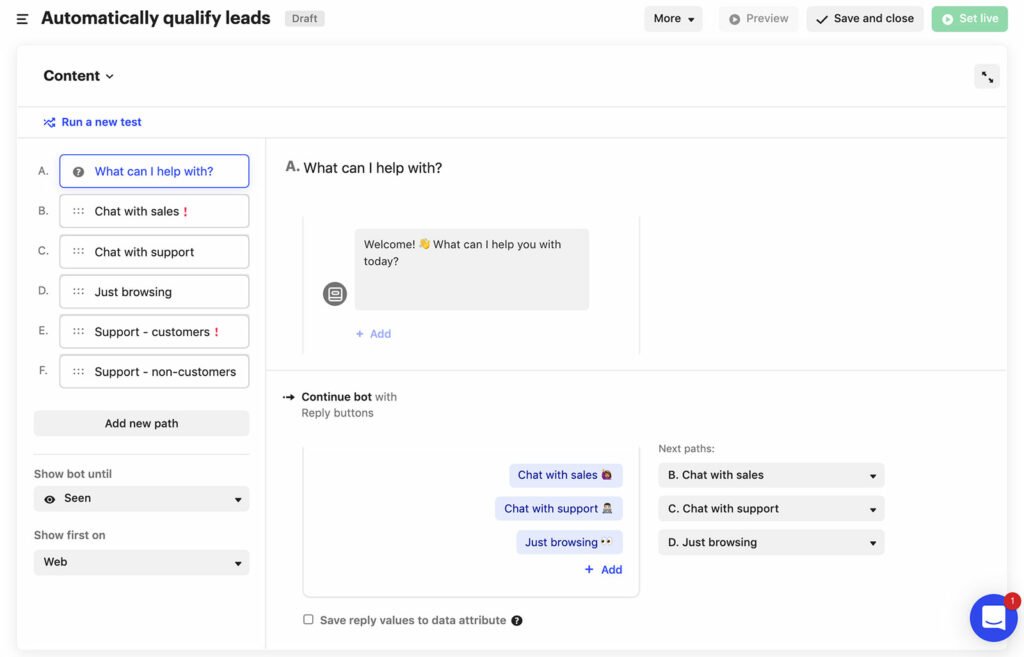 Features you'll love:
Intercom lets you manage all your customer support interactions from one place.

It helps you integrate customer data from your entire tech stack, so you can access up-to-date customer information and personalize every interaction with them.

It offers easy ticket management, multichannel support, response templates, automation, performance metrics, a self-service portal, and more.
Pricing: Intercom offers a free 14-day trial. Its Starter plan is priced from $67 per month for one seat and an additional $19 for every extra seat.
7. WotNot
WotNot automates your customer interactions at scale with chatbots. With Wotnot, you solve business challenges such as getting more leads, booking more appointments, and scaling your customer support with cutting-edge chatbots.
Companies use WotNot to provide a personalized support experience to their present as well as prospective customers. Wotnot is available 24/7, and can work effectively in multiple verticals – Real Estate, Insurance, Finance, Healthcare, Automotive, SaaS, and Banking amongst others.
WotNot's No-code Bot Builder allows you to easily build bots with an intuitive visual builder. You can also manage multiple chatbots for different activities based on the triggers and conditions defined by you. Moreover, WotNot offers a done-for-you service wherein their team of experienced conversation design experts create a conversation flow that matches the needs of your business and regularly optimize this flow.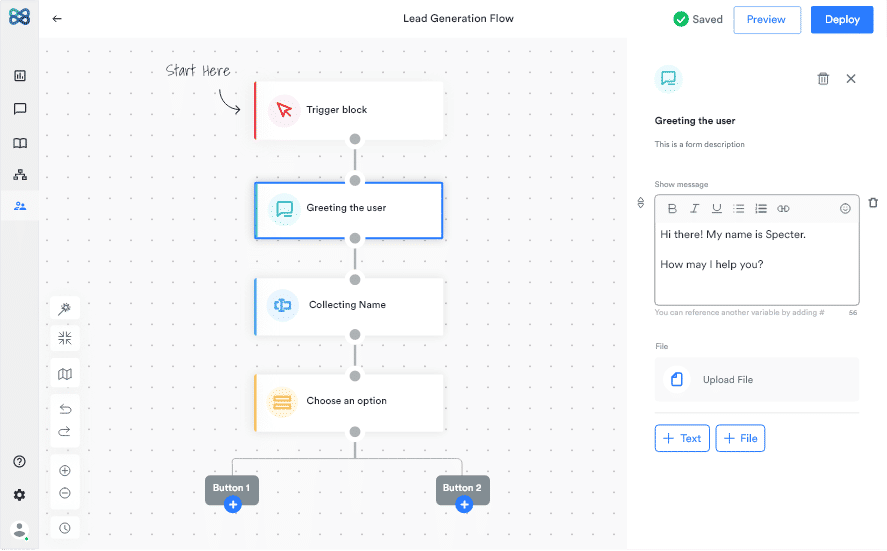 Features you'll love:
No-code bot builder enables you to build bots instantly with a simple drag-and-drop interface.
Chatbot Analytics for a bird's eye view of the bot's performance through KPIs such as top countries, top intents, average conversation time, and more.
Ability to proactively reach out to prospects with Outbound Bots.
Turn to answer repetitive Q&As into a conversational experience with the FAQ builder.
Pricing: WotNot offers a custom pricing plan for enterprises. The plan involves two primary costs — the license fee and the setup fee. The cost of these varies based on the scope of the project.
8. HappyFox
HappyFox helpdesk has many features like live chat, a customer self-service knowledge base, a ticketing system, and much more. It offers multichannel support and helps you respond to customer queries via email, chat, social media, phone calls, etc.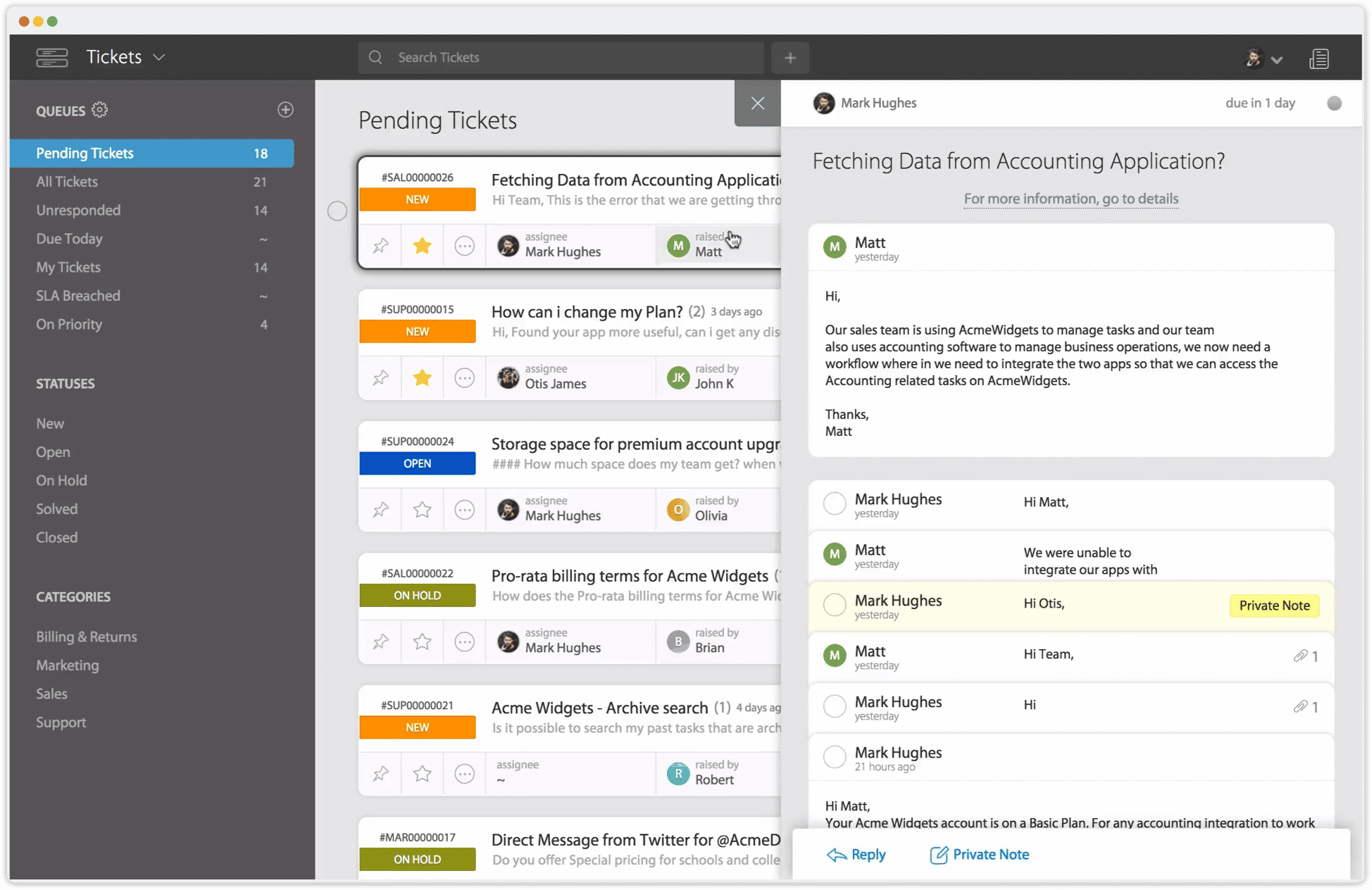 Features you'll love:
It supports over 35 languages.
It has a multitude of third-party integrations.
Its robust reporting and analytics capabilities allow teams to track and measure support performance.
Pricing:Happy Fox encourages users to request a demo before offering access to a trial account. It offers an agent-based pricing plan starting at $29 per agent per month.
9. ProProfs Help Desk
ProProfs Help Desk is indeed a suitable customer service software for small businesses. It provides a range of features to efficiently manage customer inquiries and deliver excellent support. Here's how ProProfs Help Desk can benefit small businesses:
Features you'll love:
Shared Inbox: Manage multiple team inboxes, such as support@, info@, returns@, etc., in one place.
Chatbots: Leverage ready-to-use chatbot templates to create your own in minutes. Deploy bots for lead generation, appointment bookings, and customer service.
Internal Collaboration: Allow agents to join hands to resolve tickets faster. Collaborate using internal notes and see who is working on what to avoid task collisions.
Knowledge Base: Create an online knowledge base that holds key answers in the form of FAQs, video tutorials, help articles, and more.
CSAT Surveys: Share automated CSAT or NPS surveys with end-users to capture their valuable feedback.
Mobile App: Track help desk tickets and offer reliable support on the move with a dedicated mobile app.
Pricing:
Free Trial – 15 Days Free Trial
Monthly Plan – $30 per month
Yearly Plan – $20 per month
What are the benefits of customer service software?
Excellent customer support services are the backbone of any successful business, even more so when you're a small business competing with more extensive and established brand names in the market. Customer service software thus becomes a precious tool in your small business arsenal, especially in startup software development companies. Wondering how? Well, here are some of the most significant benefits of investing in an exemplary customer service solution:
1. It helps streamline all customer queries
A helpdesk software helps you manage all your queries from one single place. It makes it easy to delegate work to your support agents and enables faster collaboration. It helps you organize all incoming requests and customer feedback – based on their nature and type – and keep track of their statuses.
2. It improves response times
A customer service platform for small businesses helps in improving response times. According to a Hubspot report, 90% of customers rate an "immediate" response as essential or very important when they reach out to a company's support department. Moreover, 60% of customers define "immediate" as 10 minutes or less.
With such rising customer expectations, the software can empower agents to deliver quick and empathetic support as and when problems arise. Engaging with a serverless consultancy can provide valuable insights and expertise, helping businesses to navigate the complexities of modern technology infrastructure. It helps teams prioritize customer requests and deal with important issues faster and better.
3. It helps improve customer relationships
Most customer support software solutions help capture and store customer-related information. This includes a history of customer conversations with your company, their contact information, service queries, and much more.
Support staff can leverage this real-time data to have more contextual customer conversations. These conversations will truly personalize the customer experience and help foster meaningful relationships.
Over time, earning your customer's trust and developing strong relationships can help reduce churn and improve customer retention rates.
4. It allows you to acknowledge every customer request
As a small business, it's crucial that you get back to customers on time when they turn to you for help. The first step here is to acknowledge that you've received their query. A customer support solution helps you automate the first response, using which you can let customers know that you've accepted their request.
Several customer service tools offer canned responses and templates for email queries. Chatbots are another way of providing automated support where your tool can add a digital business card so that chatbots can fetch all customer-related information in order to stay at the top of your customer's minds.
5. It provides you valuable insights into support quality
To continue delivering excellent customer service, you must analyze how well your customer service team performs. This is where multichannel or omnichannel support software proves helpful in your company.
By implementing this software, you get access to performance reports that help you keep track of key support metrics like First Resolution Time (FRT) and Average Resolution Time (ART). These metrics help you gain valuable insights into your team's performance, identify areas of improvement, and implement corrective actions if and when necessary.
6. It lowers operational costs
Customer support software also helps make your reps more productive by minimizing grunt work. It allows you to serve your customers more quickly and efficiently, helping you significantly lower your operational costs.
Automate repetitive tasks in your workflow, and focus on better understanding and serving your customers' needs.
Things to consider while choosing customer service software for your small business
With multiple options available in the market, it's hard to come to a consensus on how to choose the best customer service software.
Here are few essential factors that small businesses should consider before investing in customer service software:
1. Price of the software
Investing in customer service software is a long-term decision, one that you'd want to get right. But, as a small business, your resources are usually limited, so you must evaluate all your options carefully, including the cost of software development. Given that almost every software offers a free trial, you can try them out and decide what works best and caters to all your business needs, including your budget.
2. Ease of use
Software is meant to make your support team's job easier, but if it has a complex interface and is difficult to use, it defeats your entire purpose of investing in one. You need a solution that's agile and easy to navigate. Your team should be able to implement the solution and carry out all essential functions of the helpdesk, efficiently.
Easy-to-use software will help you cut down training costs and save time and energy on onboarding.
3. Scalability / Flexibility
As your business grows, your requirements from your customer support tool are bound to grow too. Good software should be able to scale along with your business in the long run. It should help you keep up with the growing needs of your customers.
If the software is unable to handle the increase in the volume of customer inquiries or is unable to serve your customers where they want, it will not just affect your business but also have a deteriorating effect on your reputation. This is why before you choose a solution, you need to be sure of how well it will be able to serve your requirements over time.
The software should also be flexible enough to be used across various teams (sales, marketing, and customer support, for instance).
4. Your business goals
Every software comes with its own set of features – not all of which might be necessary for your team. You need to pick a solution that caters to your team's needs and long-term business goals. For instance, if you have a lean support team, you'll need a solution that can automate repeatable tasks — so that the team can spend less time on manual work and more time on delivering memorable service experiences.
Ensure your helpdesk software includes all essential features, such as a comprehensive dashboard, an inbuilt ticketing system, live chat support, and efficient reporting. Here are some mistakes to avoid while purchasing customer support software.
Wrapping it up
By now, you know that your choice of customer service software can make or break your company. Choosing the right software, and learning how to integrate it into your business's customer service strategy, can make all the difference in your organization's growth and success.
Remember to take all the necessary factors into account, like your business goals, team size, and expansion plans, before making your decision.
And if you're on the lookout for a Gmail-based helpdesk, Hiver is the right choice for you. You can schedule a demo with us today!