Table of contents
8000+ teams use Hiver to delight their customers!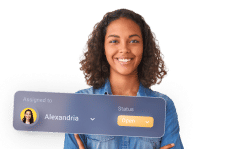 "How quickly can you fix this issue?"
If you're someone who works in customer support, I'm sure this is something you hear from customers all the time.
That's because everyone today wants quick answers. In fact, our The State of Customer Support report found that 52% of customers want their queries resolved within as little as 24 hours. It's no surprise then that 63% of customers (according to the same report) prefer live chat to reach out to businesses – because it helps them get instant, real-time support.
These customer expectations – backed by data – make up a strong case for your business to invest in a live chat software. It's a real game-changer because not only does it enable you to provide real-time support to existing customers but you also have the opportunity to convert website visitors into customers – more revenue.
In this post we take you through everything you need to know when it comes to choosing the right live chat tool for your business.
What is live chat software?
Live chat software enables businesses to deliver real-time customer support. All you have to do is install a live chat software on your website (you might need some coding to be done for this) and you can start engaging with customer and website visitor queries. With live chat, there are usually two options: either have human agents answer chats or use an AI bot to answer customer questions. Ideally, you could use a mix of both – depending on the availability of agents and the nature of queries.
Live chat software helps your business understand customers' preferences and buying behavior. You get to know what kind of questions they have about your products and services, and their main pain points.
How to select the best live chat software?
Here's a list of features that you need to look out for while selecting a live chat tool for your business.
Canned responses
Canned responses are automated messages that are pre-set, saved, and reused to answer frequently asked questions. Live chat tools that offer canned responses will help you optimize response time and personalize service at scale allowing you to elevate customer satisfaction.
For instance, say a customer reaches out regarding a delayed order and your support team needs more information about the order. The below chat template can be used in scenarios like this:
"We are sorry to hear that your order has been delayed. Kindly share the order number with me, so I can look into it for you and follow up with our logistics team"
Easy delegation of work and collaboration
Ensuring that every customer chat has a dedicated owner is crucial to providing efficient support. A live chat app or software that allows you to easily delegate chats to your support agents and also enables seamless cross-team collaboration, would make life easy for your company.
For instance, say a customer reaches out to you on chat saying that they are unable to track their shipment. Your live chat tool should have an option wherein the support agent can send the transcript or chat history with other teams – logistics, in this case – in order to collaborate, get the relevant information, and resolve queries faster.
Integrations with popular CRM tools
Choose a live chat tool that offers effortless integrations with various third-party platforms such as CRMs, helpdesks, E-stores, etc. Managing customer data on one platform and responding to customer requests on another is an uphill task. A live chat tool that offers multiple integrations will smoothen your workflows and reduce agent effort considerably.
Insights and reports
Tracking team performance is a must if you want to get better at delivering real-time support. This is why your live chat tool must equip customer support agents with in-depth analytics and reports.
For instance, your live chat app should be able to provide insights on metrics such as an agent's first response time, average resolution time, the volume of conversations they are handling, and more.
SLA monitoring
Let's say your team handles hundreds of customer chats every day. In that case, how do you ensure no query is missed? More importantly, how do you ensure that every customer question is attended to on time?
This is where a live chat tool that provides SLA monitoring capabilities can be helpful. SLA-based reminders will make your teams more accountable and get them to prioritize chats better, in a bid to ensure that customer service standards established by the company are met.
For instance, you can set an SLA of 60 seconds for first response time. What that means is that if an agent doesn't respond to a customer chat in 60 seconds, the chat is flagged as missed and the relevant manager/supervisor is alerted about it.
List of top 10 live chat software solutions for 2023
There are no two ways about it; customers today have more expectations than ever before and are flocking to brands that provide the highest level of service at the quickest possible time.
If you're still in two minds about giving live chat apps a shot—we've got you covered!
Here's a roundup of the best live chat software for business with their key features and pricing, to help you make the right choice.
1. Hiver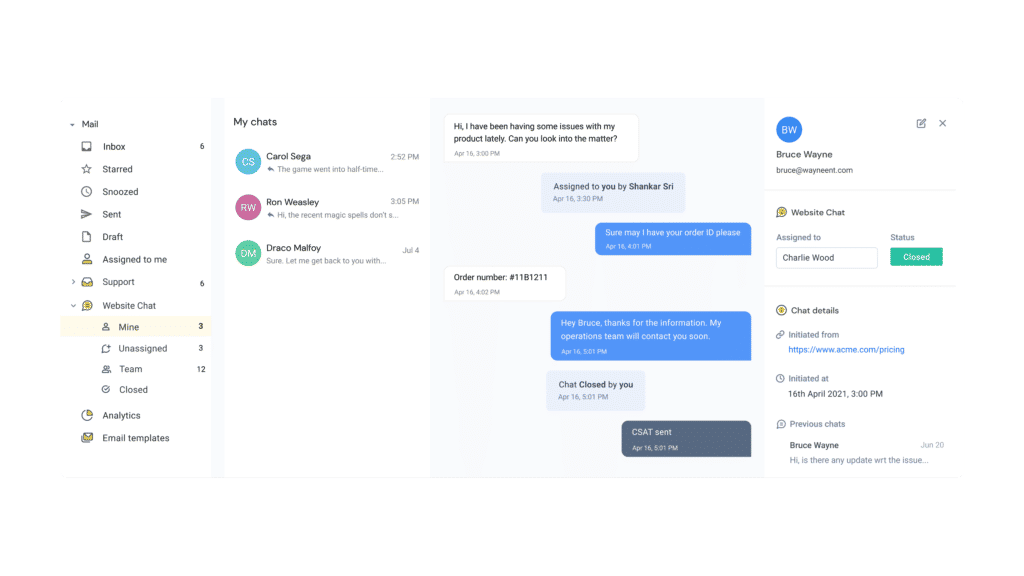 If you want a live chat platform that is extremely easy to use yet offers powerful functionalities, then Hiver is the answer. Hiver's Live Chat allows you to deliver personalized customer service in real-time.
Teams around the world love Hiver because it works right inside Gmail. That means your support agents can handle all live chat queries without having to ever leave their inbox on both desktop and mobile.
Some of the noteworthy advantages of Hiver Chat include:
Every customer chat can be assigned to a dedicated owner in a few clicks
Provide really fast support by leveraging canned responses (chat templates) for repetitive and common queries.
Leverage in-app chat notifications to alert customers when agents are unavailable and divert them to use another channel (eg. email/phone) to raise tickets .
Use Hiver's robust analytics to track the performance of your team and measure key metrics such as turnaround time, average resolution time, and more.
Measure customer satisfaction by sharing a quick survey with customers at the end of every chat.
Hiver's Live Chat can be set up in minutes and hardly requires any training to get started. Your agents don't have to switch between multiple tabs – since everything can be done from Gmail – or spend time learning a complicated interface, which is the case with most live chat platforms.
Pricing:
Lite plan: $15/user/month
Pro plan: $39/user/month
Elite plan: $59/user/month
2. LiveChat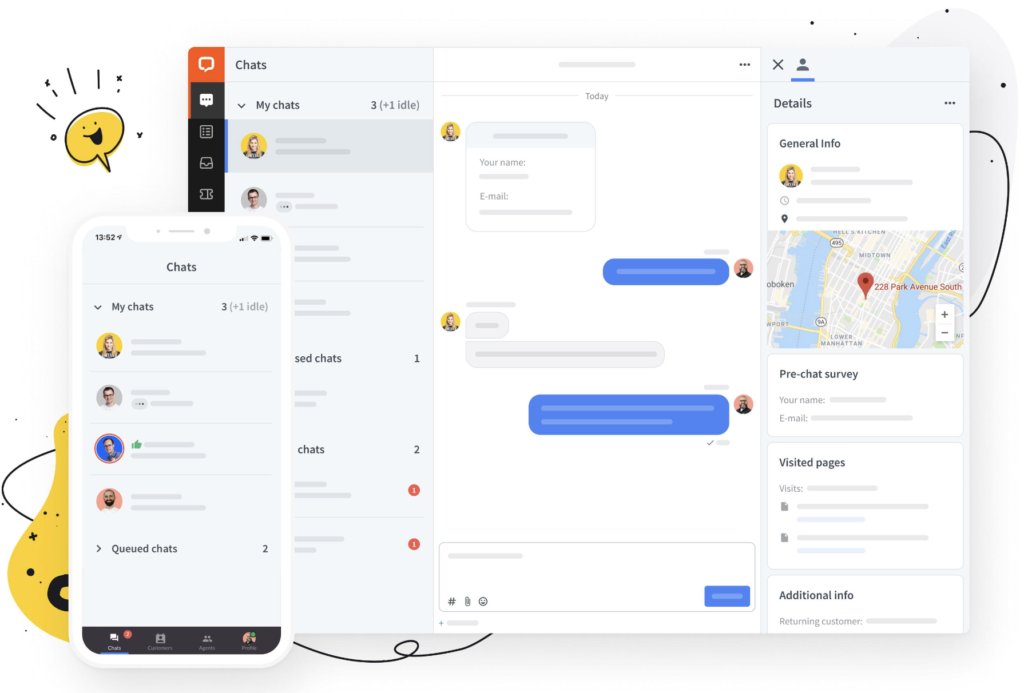 LiveChat is a customer service platform with chat support, a built-in ticketing system, and web analytical capabilities to help you deliver seamless customer experiences. Their core offering is the chat tool and it comes loaded with features that include chat tags to keep track of every conversation, rich messaging functionalities to make conversations more engaging. The tool also comes equipped with chat widget customizations, a robust analytics and reporting system, and more.
LiveChat supports 200+ powerful integrations with CRM solutions like Hubspot and Pipedrive, ecommerce platforms such as Shopify and BigCommerce, and messaging apps like WhatsApp.
Pricing
Starter: $20 /user/month
Team: $41/agent/month
Business: $59/agent/month
Enterprise: Price will be shared on request
3. Olark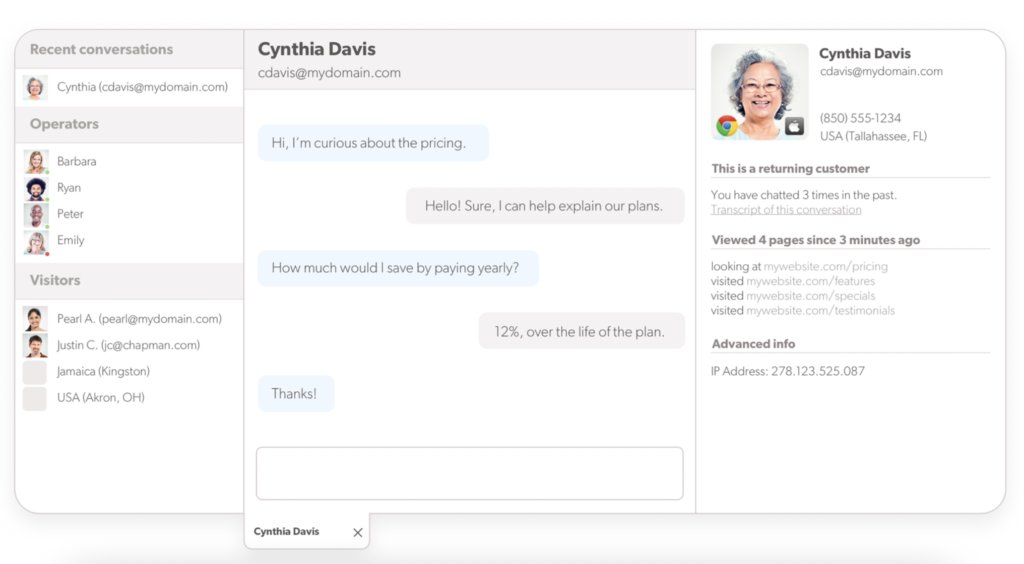 If you are looking for a cloud-based live chat app that helps you engage with customers through your website, Olark is a good option to explore. It integrates well with the HTML code of your website allowing you to incorporate live chat options across all website pages. Olark can be used to manage leads, drive sales, and provide support.
Olark's dashboard and customized reports will give you real-time inputs on chat volume, satisfaction rates, and agent activity. This will help you make sound staffing and prioritization decisions.
Some of its key features include—pre-chat forms that help you collate information before talking to a customer, automated messages, offline messaging capabilities for customers to contact you, a chatbot facility, and seamless third-party integrations.
Pricing:
Starts at $29/month/seat
4. Zendesk Chat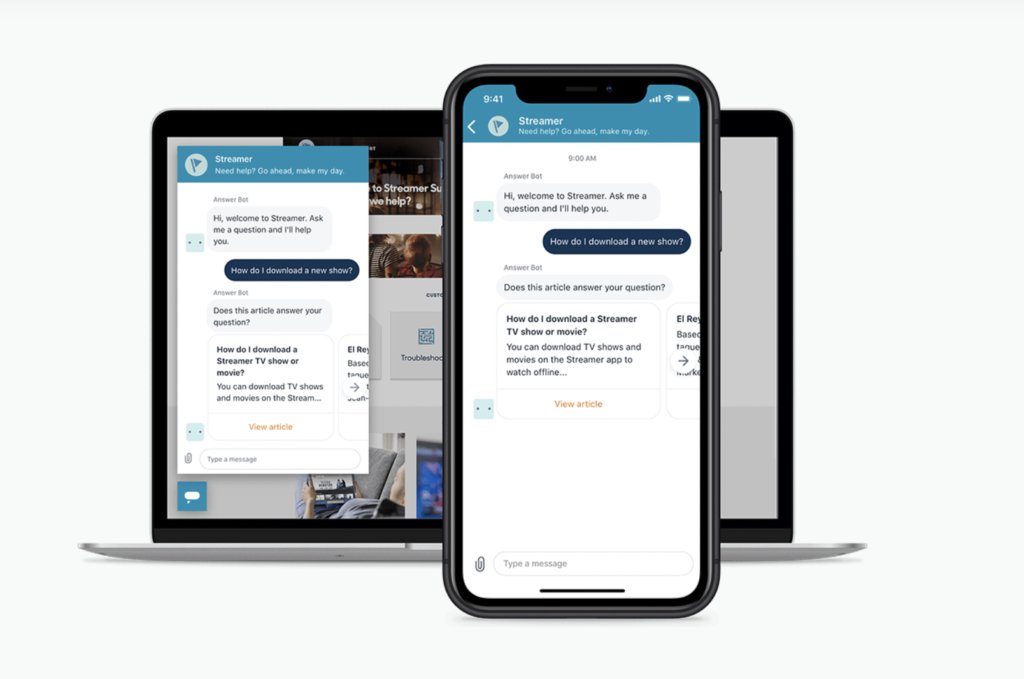 Zendesk Chat helps you proactively engage with your customers and manage chats with ease using its queue management and routing capabilities.
A few of the key features that are worth a mention with Zendesk Chat include real-time data monitoring, in-depth live chat reports, trigger messages, pre-chat and offline forms, and integrations with third-party platforms.
Pricing:
Foundational Support Plan: $19/agent/month
Suite Team Plan: $49/agent/month
Suite Growth Plan: $79/agent/month
Suite Professional Plan: $99/agent/month
5. Intercom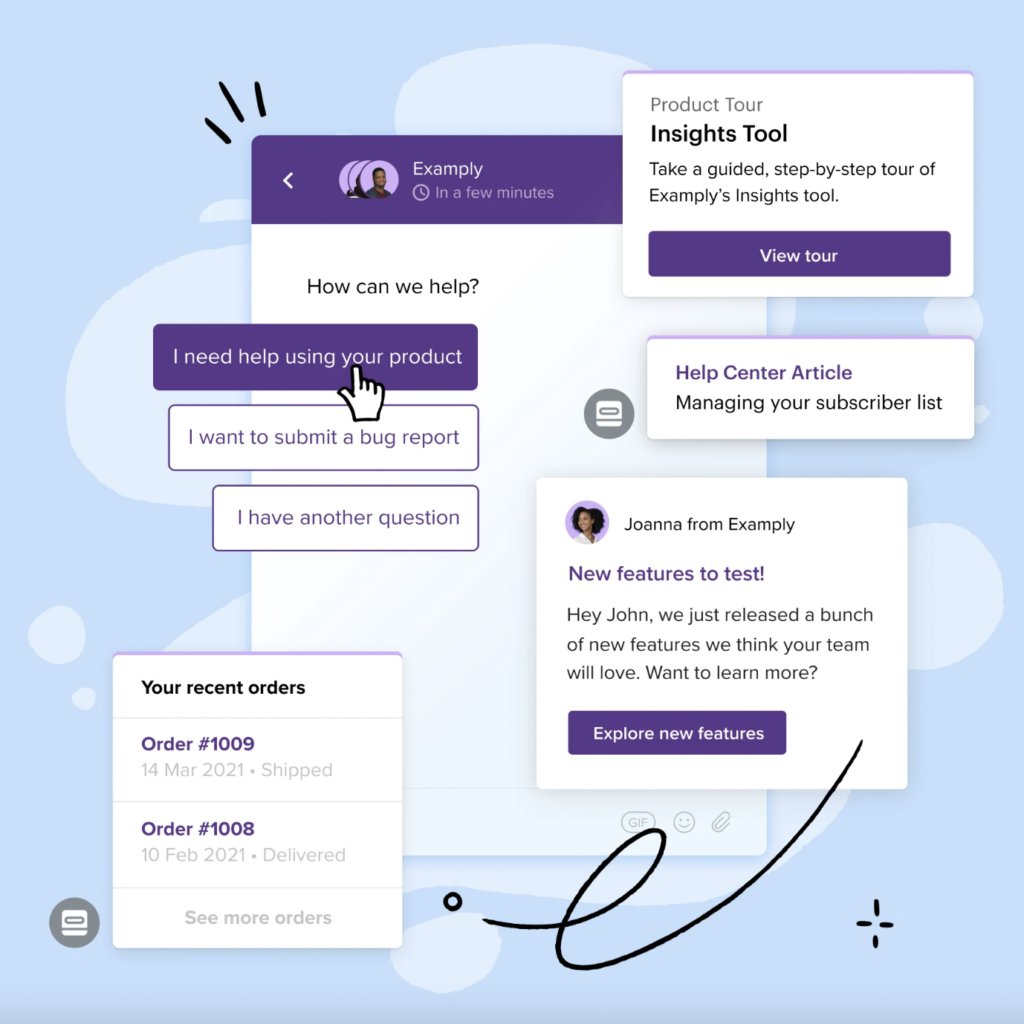 Intercom's live chat tool helps you proactively support customers on your website using targeted content and behavior-driven messaging.
Intercom can work seamlessly with your existing tech stack to give customers a choice of self-serve or live support. Its resolution bot offers 24/7 automated support, enabling faster response times, even if your teams are occupied or offline.
Pricing:
Starts at $74/month for very small businesses. Larger companies are encouraged to reach out to their team for a demo and custom pricing.
6. Drift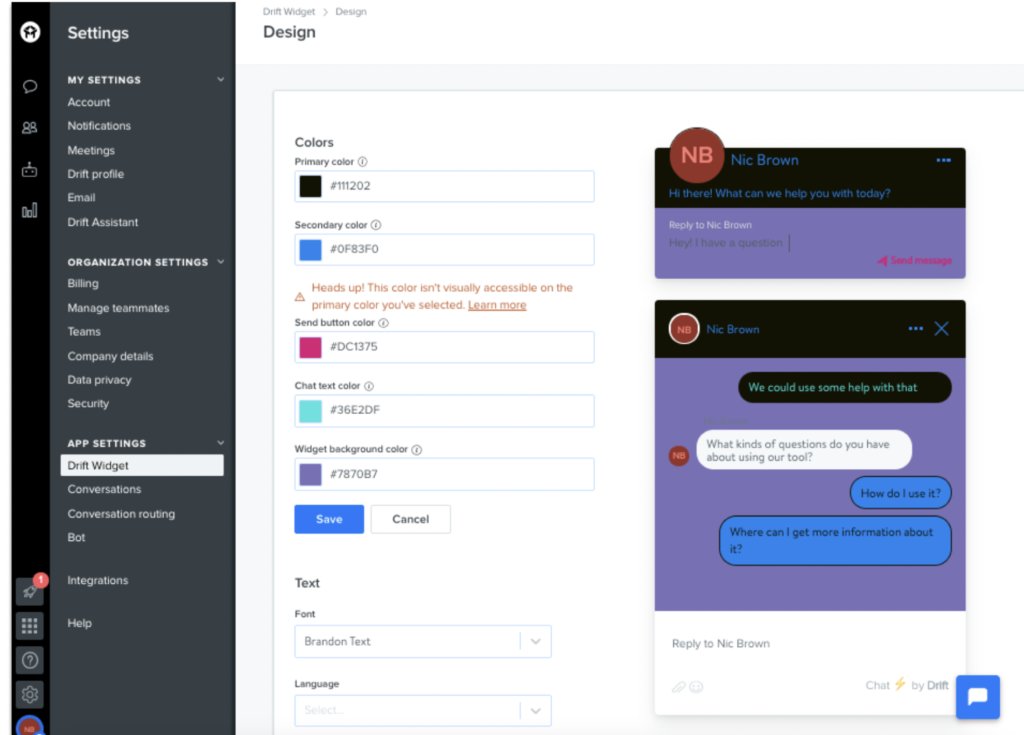 Drift's AI chatbot helps keep a tab on your website visitors and connect with them at scale with human-like conversations. It empowers customers to self-serve low-level queries and enables your support team to direct their focus on high-priority issues.
The software also has integrations with commonly used apps such as Marketo, Salesforce, Salesloft, Demandbase, and more. Drift also has an easy-to-use dashboard where you can find detailed reports on aspects such as number of conversations within a timeframe, number of leads captured, number of customers that interacted with your chatbot, etc.

Pricing:
Premium: $2500 per month
Advanced: On request
Enterprise: On request
7. Userlike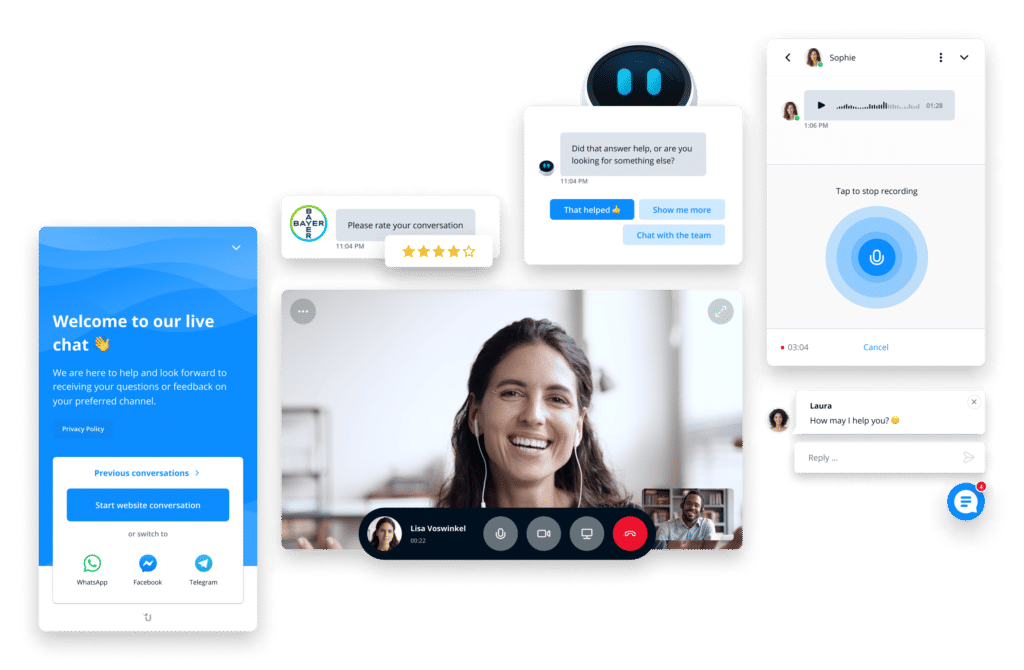 Userlike is a live chat app that offers customer service teams a range of features like message templates, live translations, voice messages, and intelligent routing. To attend to complex inquiries or product demos, customer service agents have the liberty to switch from a chat to a browser-based video call that also supports screen sharing.
Pricing:
Free Plan: $0/month
Team Plan: $90/month
Corporate Plan: $290/month
Flex Plan: Request a demo, price on request
8. Freshchat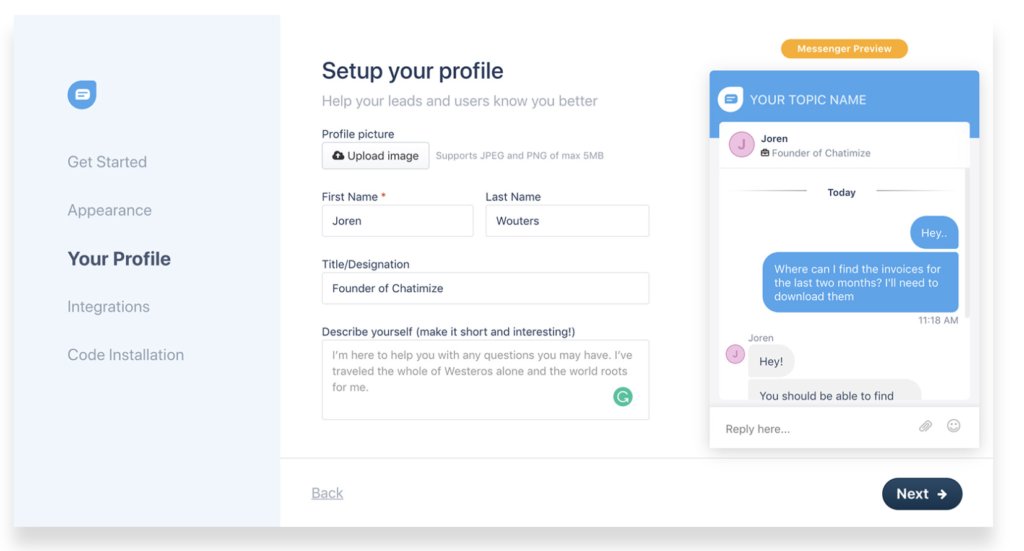 Freshchat is a popular live chat software for customer service known for its no-code, easy-to-build chatbots that enables you to have intelligent conversations with your customers on your website or app. It also provides agents with complete customer context in real-time, enabling them to work faster and deliver timely services that boost CSAT.
However, Freshchat is best suited for companies that are already using or are planning to use Freshworks for marketing and sales teams as well as customer support.
Pricing:
Freshcat starts with a free plan. The paid plans are priced between $15 to $69/user/month.
8. JivoChat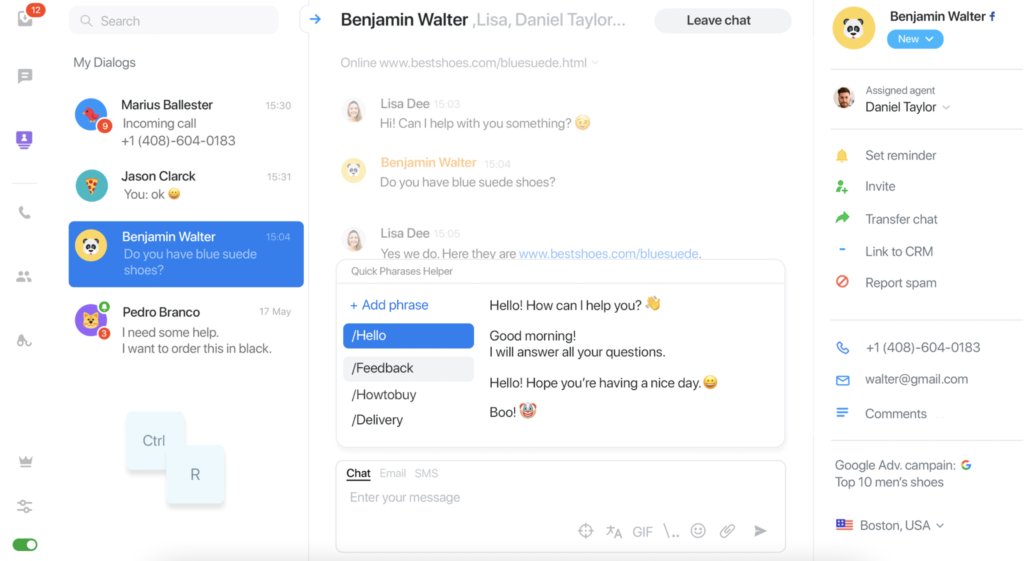 JivoChat brings live chat, VoIP, and business messaging into one single platform. It integrates seamlessly with email, SMS, Facebook, and other tools through API.
JivoChat is created for support, sales, and marketing teams and can be integrated with your website. It comes with several personalization options and can be used to reach out to your users with customized messages to amplify customer engagement. The platform also lets your chat agents manage live chat conversations over multiple channels such as WhatsApp, Facebook Messenger, Apple Business Chat, and Telegram.
Pricing:
Basic version plan: $0/month
Professional version plan: $19/agent/month
Enterprise plan: $38/agent/month
10. LiveAgent
LiveAgent, a help desk ticketing system, offers a chat widget that supports over 40 languages. Its social media integrations allow you to monitor messages, notifications, posts, comments, and mentions on platforms such as Facebook, Twitter, and Instagram. The tool has a number of key features such as Proactive Chat invitations which can be used to assist customesr at different stages of their buyer's journey to improve their shopping experience leading to better conversion rates.
It also has other advanced features such as canned responses, customization options for branding, and a real-time typing view that actually allows you to preview the text your customers are typing at the moment. This allows your support team members to get a headstart on analyzing your customers' query and helps them to provide accurate responses much faster leading.
Pricing:
Free Plan: $0/agent/month
Ticket Plan: $15/agent/month
Ticket+Chat Plan: $29/agent/month
All-Inclusive Plan: $49/agent/month
11. AppyPie Live Chat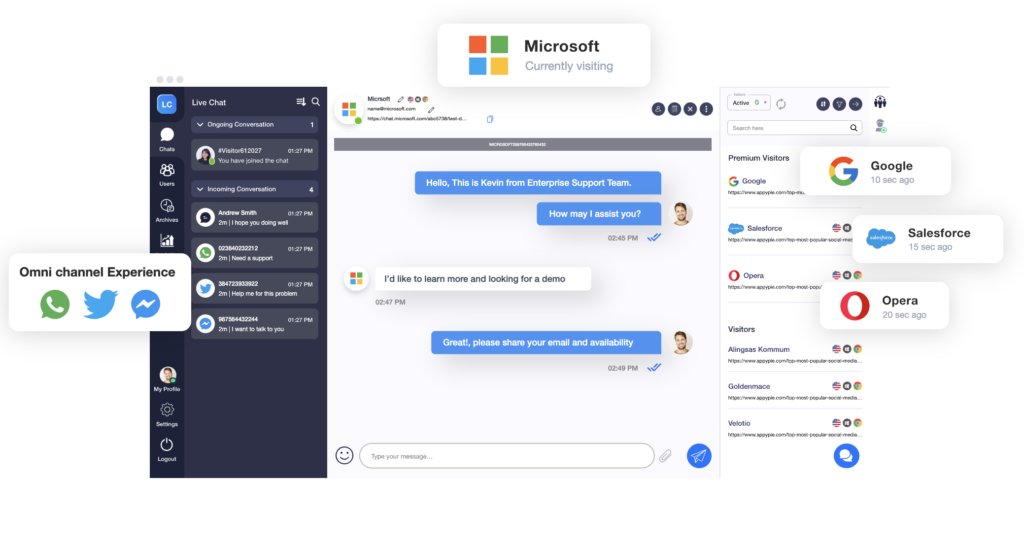 Appy Pie Live Chat is a live chat software solution that facilitates real-time engagement between businesses and their website visitors or customers. With its array of features including chat routing, canned responses, chat history, file sharing, customizable chat widgets, and seamless integration with other tools, it provides a comprehensive platform for efficient customer support.
By empowering customers to find answers to their basic queries independently, Appy Pie Live Chat allows your support staff to prioritize and dedicate their expertise to resolving more intricate and critical issues. This strategic division of tasks streamlines support operations, leading to increased productivity, and customer satisfaction. The software's user-friendly interface and extensive functionality make it an ideal choice for businesses looking to improve their customer engagement capabilities.
Pricing:
Free: $0 /Agent/month – Test drive mode
Premium: $10/agent/month with add-on agents as $7/agent/month
Enterprise: On request
Choose the best live chat software for your business
Customers today need immediate answers and live chat is a great way to meet those expectations. But just like with any other tool, there are way too many options in the market. Which is why it's important to understand what your exact business needs are and choose one that meets those specific requirements.
We hope this list helps you with evaluating live chat tools for your business. And just in case you'd like to give Hiver's Live Chat a spin, simply reach out to our experts and discover how you can offer quick and frictionless support to your customers.