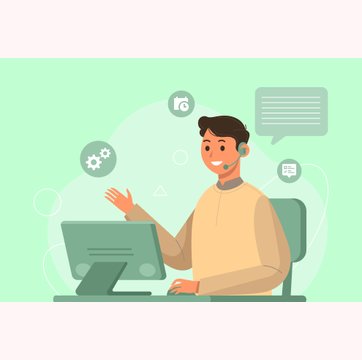 Table of contents
9 Must-Have Customer Support Tools to Include in Your Tech Stack
Dec 01, 2022
|
11 min read
|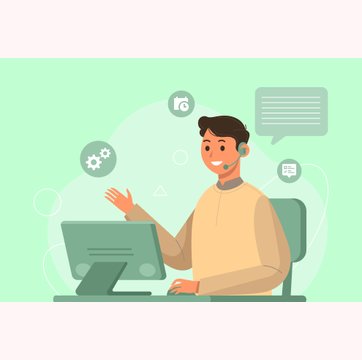 Table of contents
We see our customers as invited guests to a party, and we are the hosts. It's our job every day to make every important aspect of the customer experience a little bit better.

— Jeff Bezos
We couldn't agree more!
Over the years the relationship between businesses and consumers has changed considerably. Back in the day, low price and high quality were of utmost importance to customers.
Fast forward to today, pricing and quality continue to matter. However, a new factor in deciding between competing brands is customer service; brands are battling it out to meet customers at the intersection of convenience and speed.
It's time for brands to flip the switch and be loyal to customers by paying attention to their needs and offering solutions to meet those needs.
The importance of customer service cannot be overlooked. Here is why — according to Microsoft, 90% of customers stated that customer service is the key determining factor when it comes to their choice and loyalty to a brand.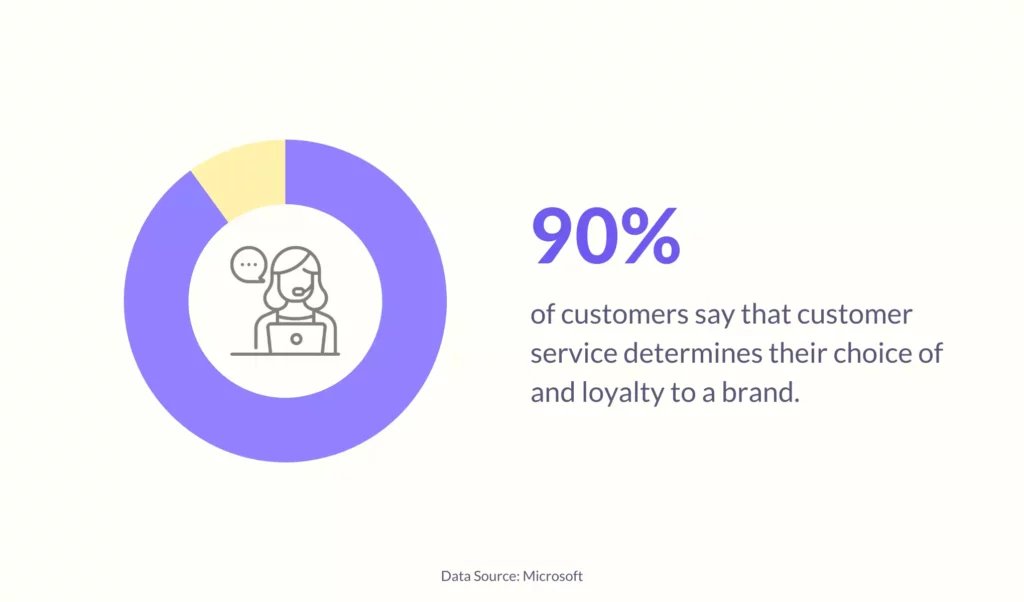 Following a bad customer experience with a brand, 89% of customers said that they have switched over to a competitor.
The post-Covid world is more volatile than ever. While brand distinction continues to be a key component of the business agenda, customer service and satisfaction have overruled it.
Customer expectations have skyrocketed and how. Proactive services, personalized communication, and omnichannel experiences are what users are seeking. Meeting all these expectations manually is no easy feat!
This explains why your team needs the help of technology to do some of the heavy-lifting — which in turn, gives them the liberty to focus on the more important aspects like delivering memorable customer experiences consistently.
We've therefore compiled a list of nine essential customer service tools. We're telling you what they are and how they can help you deliver the most delightful customer support experiences.
Let's get started.
Table of Contents
So what exactly is a customer support tool?
Let's face it, customer support reps have a mighty task at hand — they are the first line of defense for your business. They work hard to keep your customers happy!
However, with businesses scaling up and customers increasing by the numbers, customer support agents might find it difficult to keep up the pace. And if all of the burden is left on your support team, customer complaints are bound to mount and customer wait times ought to get longer! It's only natural for your support reps to slow down or worse, miss responding to a customer request.
All this is to say that you need to arm your customer service agents with the right tools to help them respond to customer queries a whole lot faster and better than before!
Customer support tools not only make it easy for customers to get help but also reduce the load on your support team. In this post, we're looking at a whole range of support tools — to help both customers and support agents with a wide spectrum of tasks. In fact, we've got a tool for every task.
We're talking about a powerful help desk that helps support agents to stay on top of every customer request, track its progress, and resolve it a lot faster, we've also got a comprehensive knowledge base to help customers help themselves. We're even covering the role of surveys and community forums in soliciting and recording customer feedback.
Why do we need customer support tools?
Nearly 40% of people who post their questions or complaints on social media expect a response from you in less than an hour, with 80% expecting a response in the first 24 hours. Now that's tough to keep up with!
This is where customer support tools step in.
Let's unpack the benefits of great customer support tools. Here's how they help:
Build loyalty and improve customer satisfaction
Happy customers are less likely to leave your brand for another. Studies reveal that 43% of shoppers spend more money on brands they are loyal to. Your customer support agents can deliver exceptional service when they have the right information and tools at their disposal. This will allow them to offer quick and personalized responses.
Help smaller teams to accomplish more, faster
With several support channels and the increasing demand for personalization, your service agents are often pushed to the limit. Customer support tools will enable them to manage, respond and resolve customer issues faster.
Help you know your customers better
conduct several surveys such as CSAT, NPS, etc.
You can also monitor customer activity, behavior, and motivation while people engage with your brand. The knowledge acquired will help you offer personalized service, gauge 9 essential customer support tools to power your customer support service
We've done the groundwork for you — here's a round-up of our top picks:
1. Help desk ticketing system
Today, you may have a host of customer messages, requests, and complaints pouring in from various communication channels such as email, live chat, phone, and social media. When customers reach out to you with their questions or concerns via different support channels, help desk software allows you to manage all of those conversations from a centralized hub.
A help desk ticketing system allows customer service teams to log support tickets, streamline support workflows, automate the process of routing tickets to the right agents, prioritize and categorize tickets, and work collaboratively to reduce response time, and deliver excellent customer service.
By investing in customer support software, you'll be able to deliver the kind of high-quality customer service you aspire to. Your business will be perceived as being proactive in resolving customer issues. 
Some popular help desk software include Hiver, Zoho Desk and Zendesk.
If you're looking to invest in an email-based help desk ticketing system, here's an exhaustive guide to help you make the best choice.
Recommended Reading
2. Knowledge base
We live in the era of 'Googling It' and people always look for answers on the internet. In fact, that's the first thing that most people do before they take their problem elsewhere.
According to an article by Harvard Business Review, 81% of customers across industries attempt to resolve issues on their own before contacting a live representative.
By investing in a knowledge base software tool you can create, store, manage and share self-service content in the form of FAQs pages, how-to-videos, blogs, and tutorials. While your customers can use your knowledge base to self-serve, your customer care team can also refer to it for answers to common support queries, and resolve customer requests much faster. A knowledge base can also reduce the burden of mounting customer requests on your support team.
Lyft is a great example of a brand with a super-clean and easy-to-navigate knowledge base.
If you're looking to invest in a knowledge base, ProProfs and Helpjuice are great choices to consider.
3. Live chat
Live chat software is another essential customer support tool your team needs.
After all, providing live chat can have a huge impact on customer retention and experience. According to Invesp, customers who use live chat spend 60% more per purchase than those who don't. Further, 77% customers will not make a purchase if there's no live chat support.
Offering live chat feature can help you communicate with your customers in real-time – whether they visit your website or your mobile app. It can help you provide immediate and proactive support to your customers.
Having said that, a poorly designed live chat experience is worse than not having live chat support. So if you are all pumped about adding this feature to your website, make sure you choose the right one for your brand.
Pure Chat, ThriveDesk, ProProfsChat, and LiveChat are some popular live chat software you can check out.
4. Social listening and monitoring tool
Are you keeping an eye on the online conversations about your brand? How do customers perceive your products and services on social media?
Social listening and monitoring tools can help you a great deal in keeping a pulse on brand sentiments and more importantly what your customers want. Using these tools, you can closely track what customers are saying about your brand and your competitors — you can then delight them with special offerings curated to meet their needs. Monitoring brand mentions will help you identify customer complaints and respond to them quickly before they mount up into a thread of negative feedback about your brand.
Hootsuite and Sprout Social are our personal favorites when it comes to social listening and monitoring tools.
5. Customer feedback survey
Surveys have been in use from time immemorial and they are one of the most useful tools to gather customer feedback.
Knowing your customers is important to your success. Sending out a customer feedback survey to understand people's thoughts about your products can give you some useful insights into your both, your product, as well as your support quality and performance.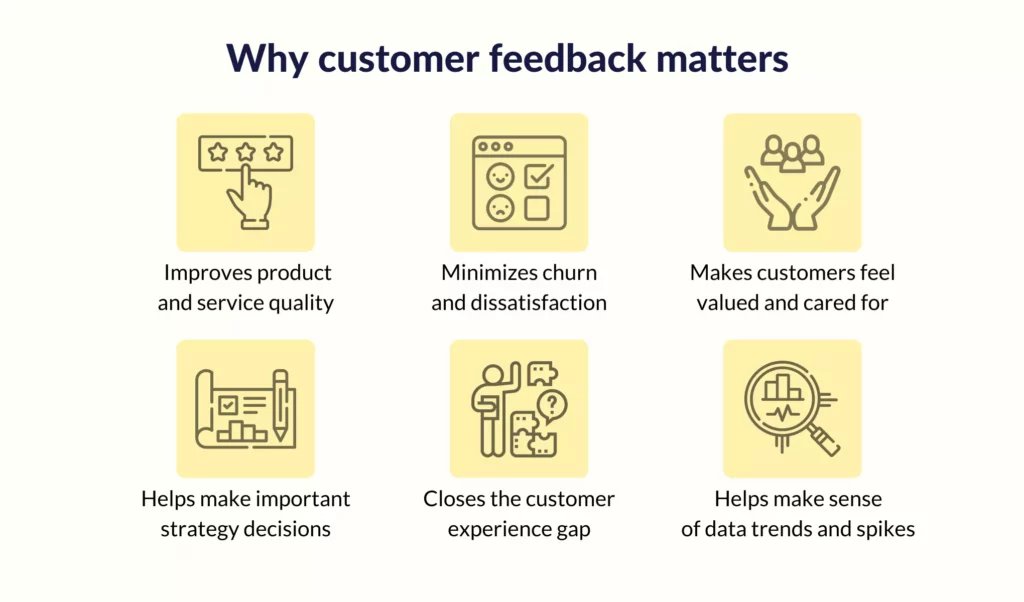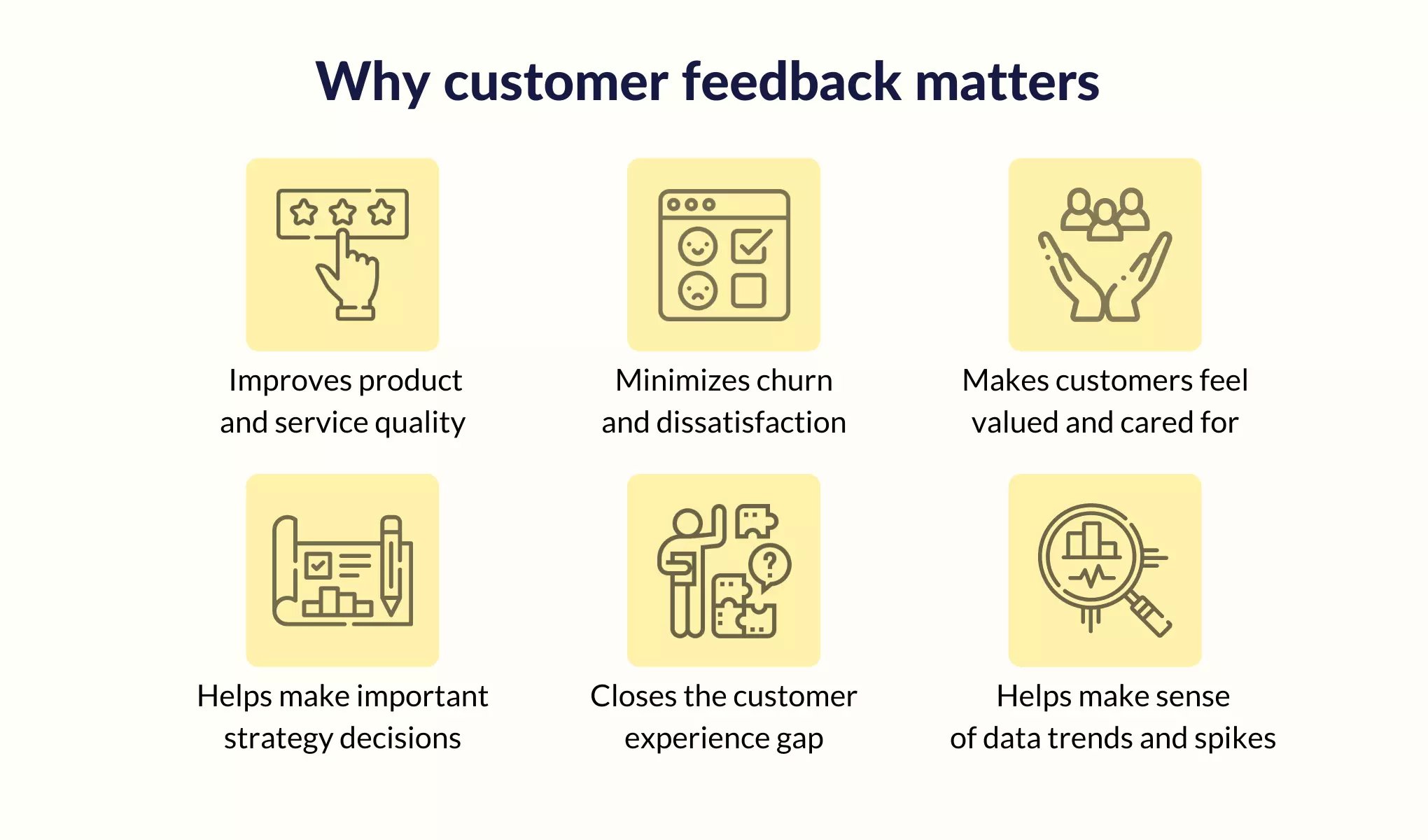 People tend to be more honest in these surveys than if they were to be asked questions in person. There are a host of customer surveys that will help you tie down what customers want from your business. Typically, every customer feedback survey comes with a set of questions that are related to a specific metric. These customer experience metrics include the Net Promoter Score (NPS), Customer Satisfaction Score (CSAT), and Customer Effort Score (CES).
Two commonly used tools to send out these follow up feedback surveys are SurveyMonkey and Typeform.
6. Internal communication software
An internal communication tool is an important solution that customer service teams need for collaborating privately and effectively. It allows support agents to have quick and contextual discussions with their team members as well as other functions.
Internal communication software helps teams work together and do away with the need to communicate over long email chains that can, at times, cause them to miss or lose important messages and data.
Tools like Slack, Microsoft Teams, and Fellow.app, are, therefore, a must-have in your tech stack as they foster better team cohesion and lead to better solutions, answers, and ideas.
7. Project management tool
Delivering great customer service depends on your customer service team's ability to handle multiple projects at once. This brings up the need for a project management tool that can help you organize, prioritize, and track the progress of your team's tasks spread across different channels of customer interaction.
A robust project management tool also allows you to share important documents and collaborate with multiple stakeholders involved in resolving a customer query. It helps support teams meet their goals and deadlines, and provide excellent customer support.
When it comes to top project management tools, our vote goes to ClickUp, ClientVenue, and Asana.
Pro tip: You can now manage and track projects within Gmail with Hiver's Asana integration.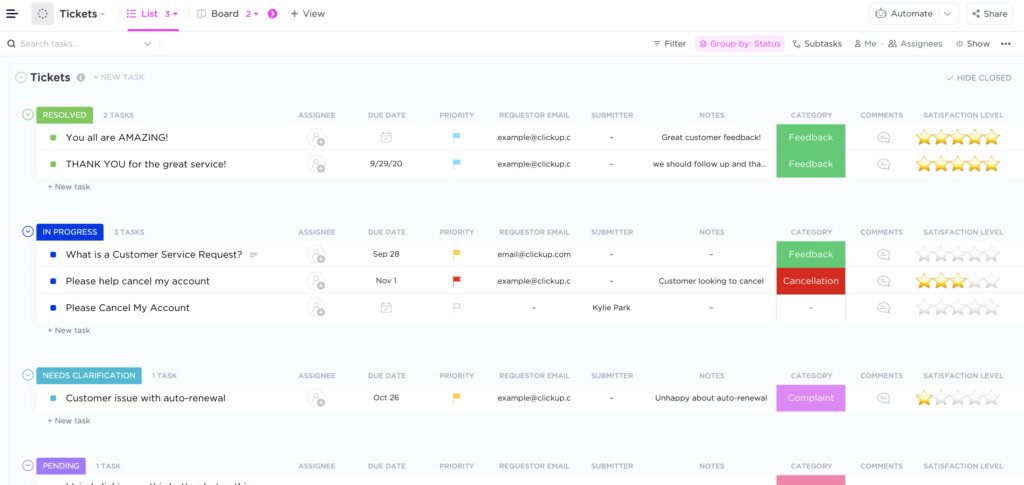 8. Reporting dashboard
The most ideal way to analyze the success of your customer support is through interactive dashboards that showcase critical customer service metrics — providing you powerful insights to help you make data-driven decisions. It's easy to get bogged down with data. The key lies in knowing what to track and use to be able to boost your customer service.
Robust and in-depth analytics are known to help customer support teams take their efficiency and productivity up several notches.
Let's take for instance the story of Vacasa – an international vacation rental management company that handles support emails nearly 80% faster with the help of Hiver's powerful analytics.
For crunching data and pulling up neat and customizable customer service performance reports, Qualtirics and Databox are excellent software solutions to consider.
9. Customer Relationship Management (CRM) software
CRMs are built to help teams across the board manage customer interactions with ease.
For customer support teams, CRM software help in storing customer details, recording customer queries, and tracking the progress of customer support issues. What's more, a CRM provides a centralized database that lets multiple team members access important customer information – from past orders, to chat history and ongoing requests. It makes data about any customer interaction available to any team member who may need it. You can use any effective CRM tool like Zoho Desk, Salesforce Service Cloud, etc. to tailor the overall service experience. This will help you increase customer satisfaction and ultimately retention.
Investing in a CRM can help increase customer retention by 27%!
HubSpot and Salesforce are great examples of popular CRMs that many big brands rely on.
Customer support tools set your teams up for success
There may be a dozen customer service platforms out there. But the best customer service tool isn't a tool or software — it's people. Tools enable people to do their best.
Help your teams to make the most of their time by implementing these customer service solutions that will help you deliver excellent support, consistently. Whether it's a help desk software to process customer requests better or a tool to collect feedback, customer support tools will make your life easier and give you the bandwidth to focus on what matters most — delighting your customers!
Now if you use Google Workspace, and are looking for the best customer service software to support your customers, then we've got just what you need. Hiver – the world's first help desk designed for Google Workspace helps several global brands deliver fast and human customer service right from their Gmail inbox. What's better, it even comes with built-in analytics, live chat, CSAT surveys, collaboration features, automation functionalities and more!
Curious to find out how the tool works? Sign up for a free 7-day trial of Hiver today!