Heading to your inbox and finding hundreds of unread emails can leave you feeling overwhelmed.
When you are a part of a group email such as [email protected] or [email protected], you probably know how it feels, more than anyone else does. More often than not, you're struggling to stay on top of your emails. Every growing business bears the brunt of dealing with thousands of emails, as a part of the daily grind.
According to reports, 300 billion emails are sent daily which just means that your inboxes are most likely to be flooded. This way, Sally from Finance might miss out on a payment receipt email — it's only inevitable that a few emails fall through the cracks and conversations go all over the place. Your customers end up getting delayed responses, and your teams? Well, let's just say, with very little context, teams using group emails are stuck dealing with chaos and putting out the fires rather than getting any work done.
Emails from Google Groups or Outlook lists can clutter up your inbox. With endless forwards and CCs, most of your time goes into sifting through a large pile of emails. Going by recent reports, 38% of workers would even consider quitting their jobs due to email fatigue! It's about time we make it easy for our teams.
Truth be told, group email wasn't designed for the kind of collaborative work that teams need to do today.
That's why you need a shared inbox platform that makes group email management simple.
Table of Contents
So, what exactly is a team inbox?
A team inbox, otherwise known as a shared team inbox is an email account that multiple people can access and operate to receive, read and respond to emails just as if it were their own account. When a team member replies to an email, all other users can view it. In the same way, when a message is deleted or archived, it disappears from the inbox of every other user.
With a shared team inbox, you can create specific team email addresses, for example, [email protected], [email protected], or [email protected] and add your respective team members to it.
Shared inboxes facilitate better teamwork and collaboration with their incredible features allowing multiple people to access and manage emails seamlessly.
What happens in the absence of a shared team inbox?
Sharing information becomes a hassle
In the absence of a shared team inbox, if you want to share an email with a teammate, you forward it. It doesn't end there. Forwarded emails not only add to the inbox clutter but create a confusing tangle of emails, with many people who have no idea about what's going on, roped into the chaos.
Lack of ownership
Without a shared inbox, it's difficult to know who is working on what and who is responsible for an email that hits the inbox. In such cases, two people may end up working on the same incoming email. Team emails can also easily fall by the wayside, with team members assuming that someone else is already working on it.
No easy way to collaborate
Emails are formal. In the world of instant messaging, you would rather ping your teammate than type out an email if there is something that needs urgent attention. Email was designed for individual use and is not ideal in scenarios where a group of people have to interact and work together to complete tasks. To overcome this email collaboration roadblock, they need to make use of external collaboration tools which can often be confusing and distracting.
Customer service takes a hit
With chaos and confusion breeding in the absence of a shared inbox, customer service takes a hit. Responses are slower, customers are kept waiting longer to hear from your business.
The way to overcome this problem is not to discard email as a channel altogether but to make it better. And this is why teams need a shared inbox tool to manage emails. Every email must have its rightful owners.
The issues with group email management in Gmail
If you, like a lot of modern businesses, are using Google Workspace (formerly G Suite) productivity suite, then you must be aware that your Gmail inbox, in its current form, isn't cut out to foster collaborative communication amongst team members.
Sure, Gmail has an easy-to-use interface that most employees are familiar with, but its native shared mailbox capabilities are limited.
More often than not, companies that manage group email addresses using Gmail face a lot of collaboration roadblocks.
In Gmail, there are two ways to share an inbox:
Share login credentials with all involved or
Provide delegated access
The entire team then logs into the same Gmail account to manage emails and this could turn out to be quite chaotic. Get this — customer service reps end up wasting a good 20% of their time, scanning through emails, deciding which email to respond to first. With zero context, your team members will be spending way longer and might even make the mistake of replying to the same email, or worse, assume that someone else on the team will attend to the email. Besides that, when team members are required to log into shared accounts individually, their efficiency takes a massive hit, especially with no collaboration features like notes or tags. All this is to say that Gmail was designed to be used by individuals not by teams.
There is one more option available to you where you can create a Google Group, and turn it into a Collaborative Inbox for your team to manage group emails.
However, the Google Collaborative Inbox looks nothing like the Gmail interface that you may be familiar with. Your team will have to spend a good amount of time learning it and finding their way around it.
Add to that, the Google Collaborative inbox makes it extremely hard for teams to communicate internally — your team members will need to rely on forwarding emails to one another to provide context. It all comes down to team email management on Gmail being nothing less than a tussle for teams that are looking to collaborate and move fast.
Here's the good part though – all of these issues can be solved with Hiver – a Gmail-based shared inbox solution for teams to collaborate smoothly and manage group emails efficiently.
Let's dive in to see how Hiver can help with group email management.
10 ways Hiver helps teams manage their group inboxes in Gmail effectively
Here are 10 ways in which you can use Hiver's shared inboxes to help your team manage group emails better:
1. Streamline workflows like never before
If you are managing group email addresses such as [email protected] or [email protected], it's important to ensure that every email is attended to. Failing to do so will leave your customers unhappy, or even worse drive them away.
Every time a new email hits the group inbox, there is a good chance that people on the team assume that someone else is already working on it and they need not worry about it. In the process, a good number of emails can go unnoticed for the longest time.
Hiver has this covered — you will never miss out on an email again. With Hiver, you can manually or automatically assign emails to your team members, thus ensuring every email has a designated owner. 
You can even track the status of emails – open, pending, and closed – so you know which tasks need to be worked on first.
With so many functionalities to improve your team's workflow, productivity improves remarkably and your team is able to handle their tasks with a lot of clarity.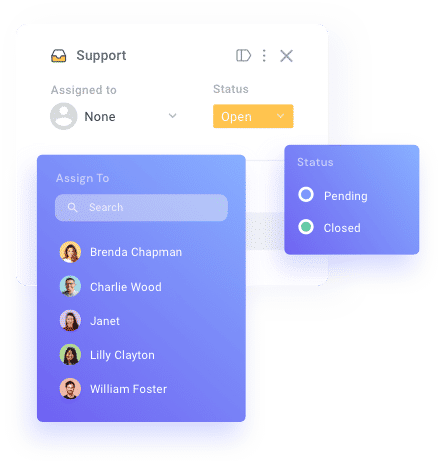 2. Prevent duplicate replies with Collision Alerts
In Google's Collaborative Inbox, there is no way of telling if someone has already started working on an email. Without this clarity, two people may end up replying to the same email. This can be embarrassing particularly if it is an important customer's email in question. Your team will come across as being highly inefficient.
With Hiver, you have absolute clarity on who is working on what. Every email had a rightful owner. There is no room for duplication thanks to the Collision detection feature which sends out a notification when two or more people start working on the same email.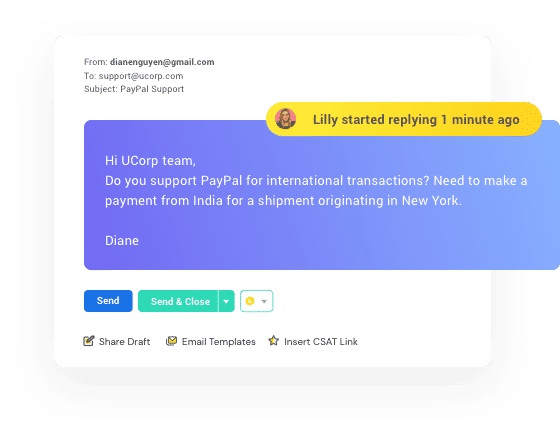 3. Improve team productivity with Automations
With Hiver, you can help your teams to do a whole lot more for a lot less! Hiver's automation capabilities let you create smart rules to automate repetitive tasks.
Automation has been gaining significant prominence with over 69% of the employees reportedly credit automation for reducing the wastage of time considerably.
From closing conversations that no longer need attention to sending out faster responses with the help of conditional assignments, automations in Hiver help your teams to get things done faster.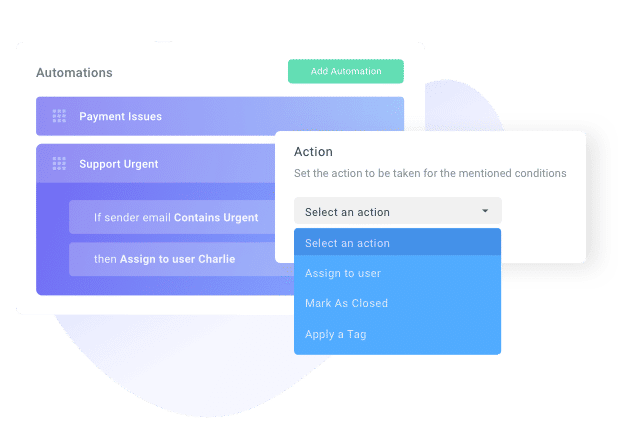 4. Get a real-time view of your team's Workload Distribution
With Hiver's shared inbox you get a clear view of each of your teammates' workload. With this knowledge, you'll be able to distribute the tasks amongst your teammates more equitably.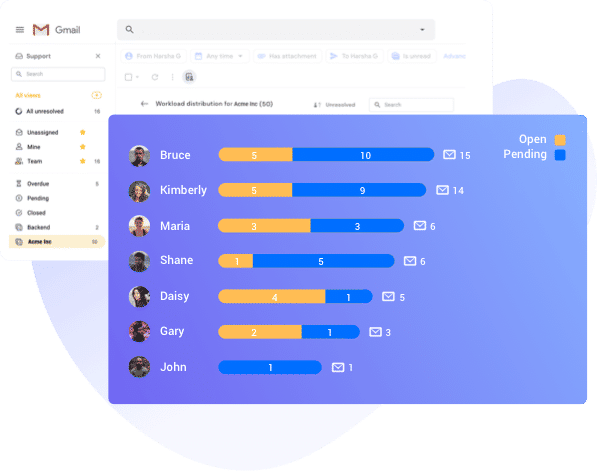 5. Access in-depth Analytics
How is your team performing? Who are your star performers? How can you help team members get better at what they do? You need rich insights and real-time data to get a better understanding of your team's performance and productivity levels.
Get instant access to multiple reports on Hiver, and stay on top of your team's performance without ever leaving Gmail. From conversation reports and Customer Satisfaction (CSAT) reports to building your own custom reports, you can make data-backed business decisions using Hiver's analytics. Keep track of important performance metrics like response time, resolution time, CSAT scores and more.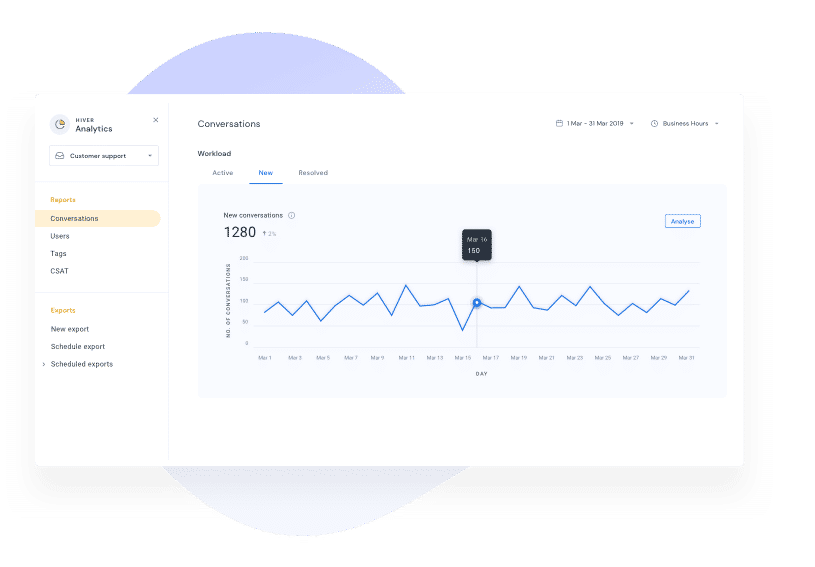 6. Foster better team collaboration with Notes
According to Gartner, in 2021, nearly 80% of employees have started to use collaboration tools.
Teams often need to collaborate with one another and this could mean multiple back and forth in communication. With Hiver's Email Notes, you can collaborate with your teammates without leaving Gmail and without needing to rely on CCs and forwards.
Using these internal notes, team members can have quick and contextual discussions about a particular email – right next to that email thread.
7. Categorize and prioritize tasks with Email Tags
Hiver's Email Tags allow you to organize email conversations by type or priority. This helps your team find conversations and respond to them easily without having to go through a huge pile of emails to spot the right one.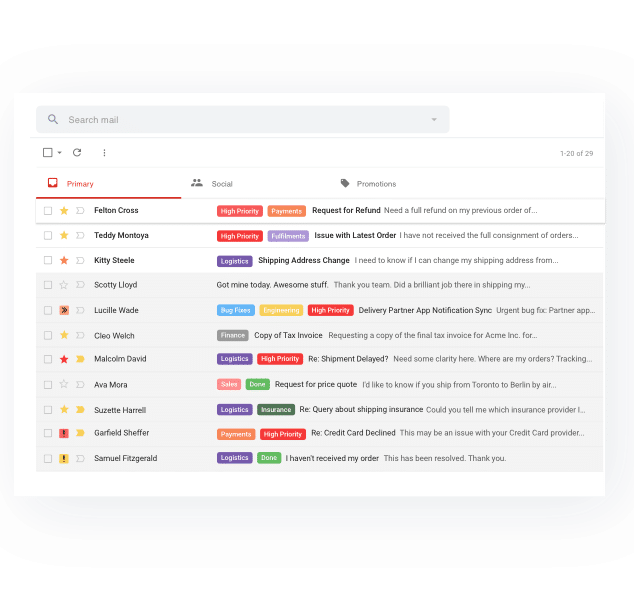 8. Save time and respond faster with Email Templates
Tired of writing the same customer service email over and over again? You can skip the hassle of drafting replies to frequently asked questions with the help of email templates on Hiver.
You can build customized email responses to support emails and save them as a template in just a few clicks. Go ahead and share them with your team. This way, your team can save time by pulling up saved canned responses in just a click and speed up customer communication.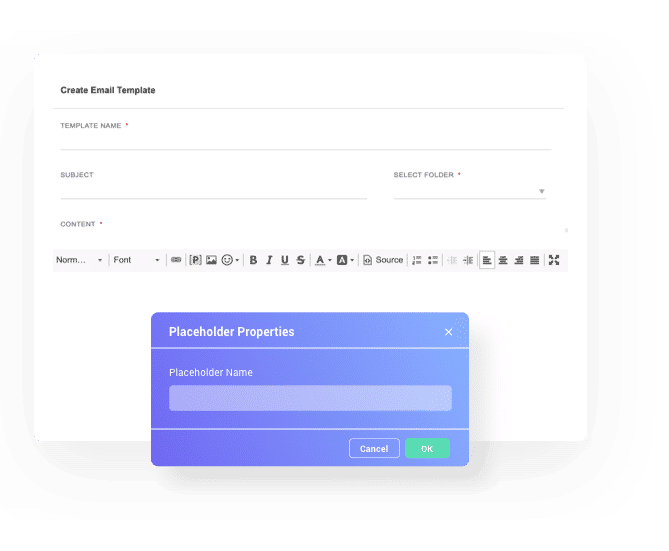 9. Improve response quality with Shared Drafts
If you find yourself often struggling to craft the perfect replies, worry not! Team up and send out some praise-worthy emails using Hiver's shared drafts feature.
This feature takes collaboration to the next level — you can share email drafts and work with your experienced team members in real-time to draft better emails together.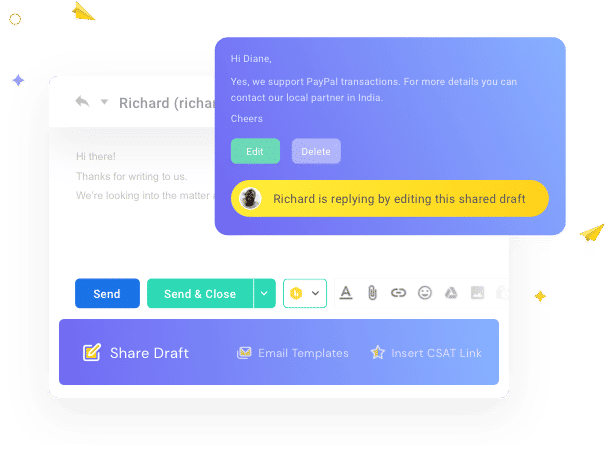 10. Manage customer expectations by setting up SLAs
With its Service Level Agreements (SLA) management feature, Hiver lets you define rules of performance for your customer support team and manage how well your team lives up to them.
SLAs are important as they help you set customer expectations and ensure your customer service team is more responsive to customer conversations. Knowing which emails might result in an SLA violation will urge your team to respond to those critical emails faster.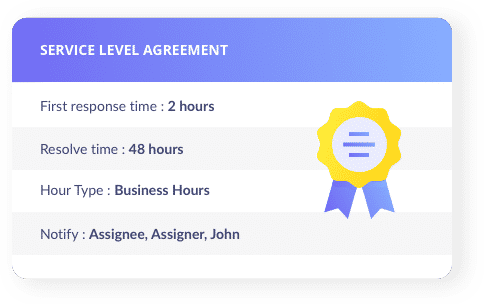 The final word
Over the years, we've spoken to many businesses and customers alike.
What we have gathered is that most teams want collaborative and intuitive email management tools that make them more efficient and productive. That's not all, managers want better insights and access to real-time analytics on their team's performance whereas customers expect consistently delightful experiences.
The team at Hiver went back to the drawing board to build shared inbox software that works perfectly for everyone.
Try Hiver – the world's first customer service software designed for Google Workspace today, and help your teams collaborate with ease and deliver superior customer experiences.
Learn more about Hiver