There are so many different ways to measure customer satisfaction — figuring out which one to send to your customers can become a nightmare.
Well, it's always a good idea to go with something that is easy to implement and does not require much effort from respondents.
And that is why we've introduced Customer satisfaction(CSAT) surveys in Hiver.
It is the most straightforward way of measuring customer satisfaction with a business purchase or an interaction.
All you have to do is ask a simple CSAT question – something like: How satisfied were you with your experience?
And the response can be one of the three emojis: happy, neutral, or sad.
You can now insert a quick CSAT survey at the end of your Shared Inbox emails.
Table of Contents
What is CSAT?
CSAT stands for customer satisfaction and is a score that indicates how satisfied a customer is with a product, service, transaction, or interaction with a company. The term CSAT is often used to indicate a customer satisfaction score, which is a numerical value given to customer satisfaction levels.
There's a pretty simple formula to calculate the CSAT score:
CSAT score = [Number of satisfied customer ratings – Number of Not Satisfied ratings] %
According to Hiver's latest benchmark survey, the CSAT score is the most critical metric for 41% of customer support teams.
Perhaps one of the reasons why the CSAT survey is so popular is because it's the simplest type of customer satisfaction survey.
Since it's such a quick survey, you can go ahead and use it across multiple interactions during the customer lifecycle and understand their level of satisfaction at various touchpoints.
Why you should use CSAT
1. Product development
Data from customer surveys is far more accurate than any kind of market research you conduct.
After all, your customers are the ones using your product, You can ask a short question right after you have launched a new feature in your product/service. Feedback surveys help you identify customer expectations, pain points, and lapses quickly.
2. Customer loyalty
The more you engage with your customers, the more loyal they become. Several studies suggest that loyal customers are likely to spend more with your brand. Improved loyalty also leads to better customer retention, lower customer churn, and increased word-of-mouth referrals.
3. Employee engagement
CSAT scores provide important clues about the situation of your own employees. A low score means you should look inwards. Are your employees happy about the working conditions? How about the salaries, benefits, working hours?
What are the best times to send a CSAT survey?
Here are some of the times you should send out a CSAT survey for the best response rates:
1. After critical lifecycle moments
One of the best times to send out a survey is when the user has completed a critical step in the product lifecycle. For example, right after their onboarding.
2. After you have closed a support ticket
It is crucial to gauge customer sentiment after your customer support team resolves an issue they were facing. It also tells them that your relationship with them goes beyond just problem-solving.
3. Prior to renewal
Taking feedback a few months before renewal gives you enough time to act on it. You'd want everything to be running just as users expect before they renew.
4. After educative interactions
It makes sense to take feedback after you have explained a new feature to a customer or after they have finished reading a knowledge base article.
The benefits of Hiver's CSAT surveys
Here are some of the biggest benefits of CSAT surveys in Hiver:
1. Collect customer feedback with incredible ease
With customer satisfaction surveys in Hiver, collecting and measuring customer feedback has never been easier.
Customers are most likely to give accurate feedback and satisfaction ratings when it is collected proactively and immediately. This is why Hiver now lets you insert customer surveys at the end of every email that you send with a single click.
Hiver allows you to add a CSAT survey at the end of every support interaction so you can clearly identify who your happy and unhappy customers are.
What's more? As an admin, you have control over how to use and collect data from customer surveys. You can enable them by default for every email interaction, or you can give your teammates the option to enable and disable them at their discretion.
To make these surveys even more valuable, Hiver also lets you customize the type of questions in the survey so that you can collect data that is more pertinent to your business needs.
2. Draw useful insights from the survey data in real-time
With customer surveys in Hiver, not only do you get the ability to collect the survey responses in real-time, but you also get the ability to measure the feedback and draw insights from it — all in real-time.
Hiver's CSAT reports allow you to measure CSAT scores – one of the most critical customer satisfaction metrics that give you insights into different aspects of the customer experience across various stages of the customer journey.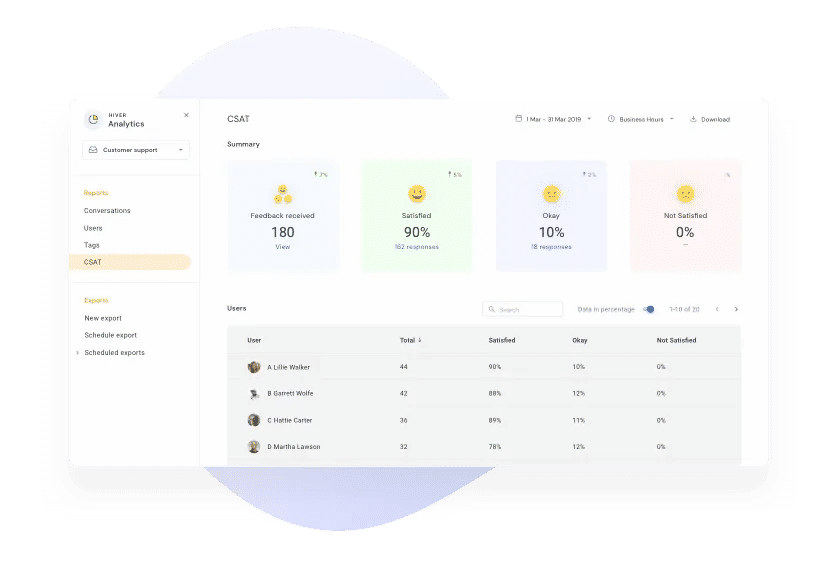 With CSAT Reports in Hiver, you can visualize the survey results, understand customer needs, track and compare individual team members' performance to see what is working well, what isn't and train your team accordingly.
3. Give customers the opportunity to share open-ended feedback
Hiver also lets you customize your feedback forms in a way that you can include open-ended questions. This allows customers to share their experience and feedback with you in their own words. Customers might share details about your product or service quality that they wouldn't have been able to share otherwise. It gives you a more holistic understanding of their overall satisfaction levels.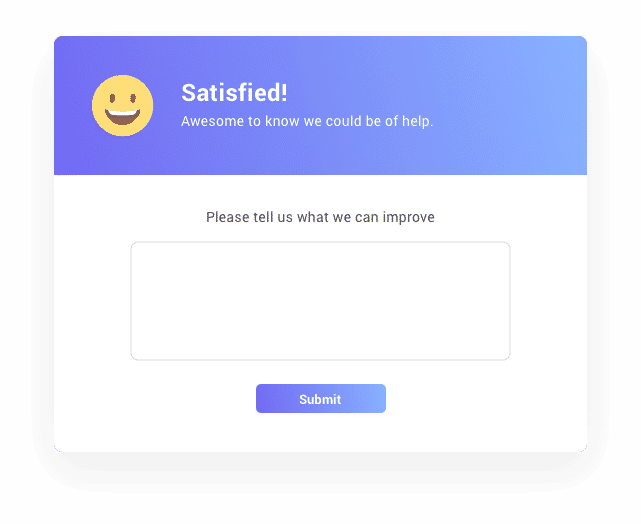 4. Take control over when to include surveys in emails
Hiver allows you to take full control of which emails should contain surveys and which ones shouldn't.
You can choose to include surveys in all emails or only specific ones. As an admin, you can also decide who in the team is allowed to include surveys in the customer emails.
Wrapping up
Customer Surveys can make collecting and measuring customer feedback easy – and when you implement a helpdesk solution like Hiver, the whole exercise also becomes extremely rewarding for your business.
Hiver – the world's first customer service software for Google Workspace – is designed to help you build long-term and meaningful relationships with your customers. Apart from CSAT surveys, Hiver also comes with cutting-edge helpdesk functionalities like task assignment, live chat, automation, analytics, etc. that help you streamline your team's workflows and enhance your customer service quality.
Schedule a demo with Hiver to see how your team can deliver outstanding customer service right from Gmail.
Need more help?
To know how to set up CSAT in Hiver, head over to this article.
To know more about CSAT Reporting in Hiver, head over to this article.
Don't use Hiver yet? You can always sign up for a 14-day Free Trial.