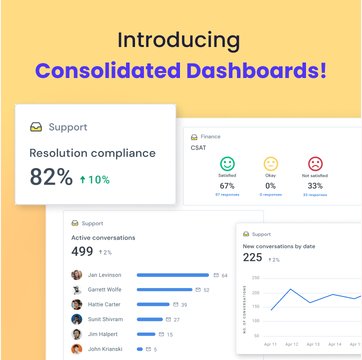 Table of contents
Turn Gmail into a collaborative hub
Introducing Consolidated Dashboards in Analytics: Monitor team KPIs in real-time across shared inboxes
Oct 19, 2023
|
3 min read
|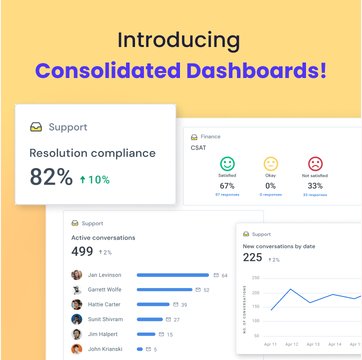 Table of contents
Hiver has changed the way businesses manage their customers, vendors, partners, or employees' queries. For 10,000+ teams, Hiver has enhanced Gmail to become the single point of collaboration, communication, and team performance evaluation.
Analytics from Hiver has been instrumental in helping businesses monitor and improve their team performance significantly by providing teams visibility into key metrics like:
With Analytics, customers can create and schedule custom reports and even export them. With the changing needs, we know that businesses today need access to real-time data to get a 360° view of team's performance across mailboxes.
To meet these changing needs, Hiver has launched Consolidated Real-time Dashboards – to empower leaders and senior executives with actionable insights!
Introduction to Custom Dashboards
You can now use Dashboards feature in Analytics to build real-time dynamic views that pull data from multiple shared inboxes to:  
Get a visual overview of the team's performance across shared mailboxes – in one place, and identify potential areas of improvement.
Access real-time performance data to make informed decisions (e.g. data like change in CSAT performance, first response time, workload distribution can be used to gauge and iterate performance in alignment with quarterly goals, revisit resource allocation strategy and more.)
Customize Dashboards to manage team performance
Reporting via dashboards needs to be tailored to the needs of senior leadership, mid-management, and team leads. You can customize dashboards in Hiver based on how your team members want to view KPI performance data. Here are some examples:
1. Leaders can have executive dashboards set up for visibility into the team's performance across inboxes:
View organization-wide KPIs in real-time: Ensure that teams are aligned with overall business objectives.
Optimize resource allocation: Identify the resources that are underutilized or overburdened. For e.g., among a team of 10 account executives, a custom dashboard can help leaders identify uneven workload distribution. This can enable leaders to plan re-allocation of tasks to improve efficiency.
2. Mid-level managers can ensure smooth day-to-day operations:
Maintain SLAs and improve workflows: Mid-level managers can ensure high quality support by tracking response times, resolution rates, and CSAT ratings for teams and even individuals.
Data-driven insights to identify high-performing team members: Use insights to reward high performers and guide low performers to improve performance.
3. Team leads can optimize workloads to improve team productivity:
Granularly gauge team productivity: Track individual and team-wise workloads to ensure equitable work distribution.
Build transparency and visibility culture: Stay on top of team performance to spot bottlenecks, monitor workloads, and maintain efficiency.
Real-time Dashboards can equip leaders, mid-level managers, and team leads with the required data to make data-driven decisions, optimize operations, and enhance team performance. Whether you're steering the ship or managing the crew, Custom Dashboards empower you and your team to improve team's performance with precision and confidence.
Get started today!
If you want to supercharge your team's efficiency and enhance customer experiences with real-time performance insights, get started today!
If you're new to Hiver, set up a free trial today and explore how Analytics and Hiver's other powerful features can revolutionize your team's workflow. Your journey to enhanced team productivity begins here!