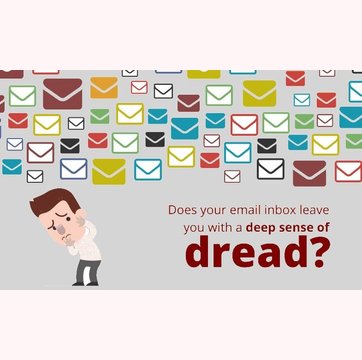 Table of contents
10 Gmail Plugins That Will Transform Your Inbox
Nov 28, 2022
|
5 min read
|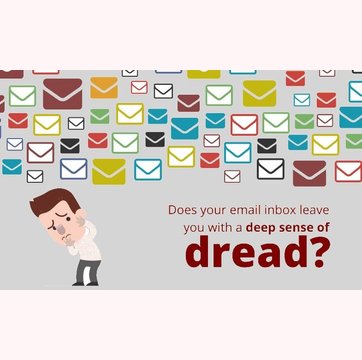 Table of contents
Everybody wants to make their lives easier, especially when managing an inbox full of emails. Who made it so difficult in the first place?
Email has become quite popular over the last couple of years. According to the "Email Statistics Report" from The Radicati Group, "Email remains the go-to form of communication in the Business world. In 2013, Business email accounts [totaled] 929 million mailboxes. This figure is expected … [to] reach over 1.1 billion by the end of 2017" (Radicati 2).  For this reason, we should certainly learn all of the tips and tricks to ensure a smooth sail in our email inbox.
To simplify your life, we went on the search for the best Gmail plugins to maximize productivity, increase efficiency, and guarantee TOP-NOTCH organization.
Some of these plugins have similar qualities, but they each offer something distinct that makes them one of a kind.
Here are the top ten best Gmail plugins to maximize your productivity:
1. Unroll.Me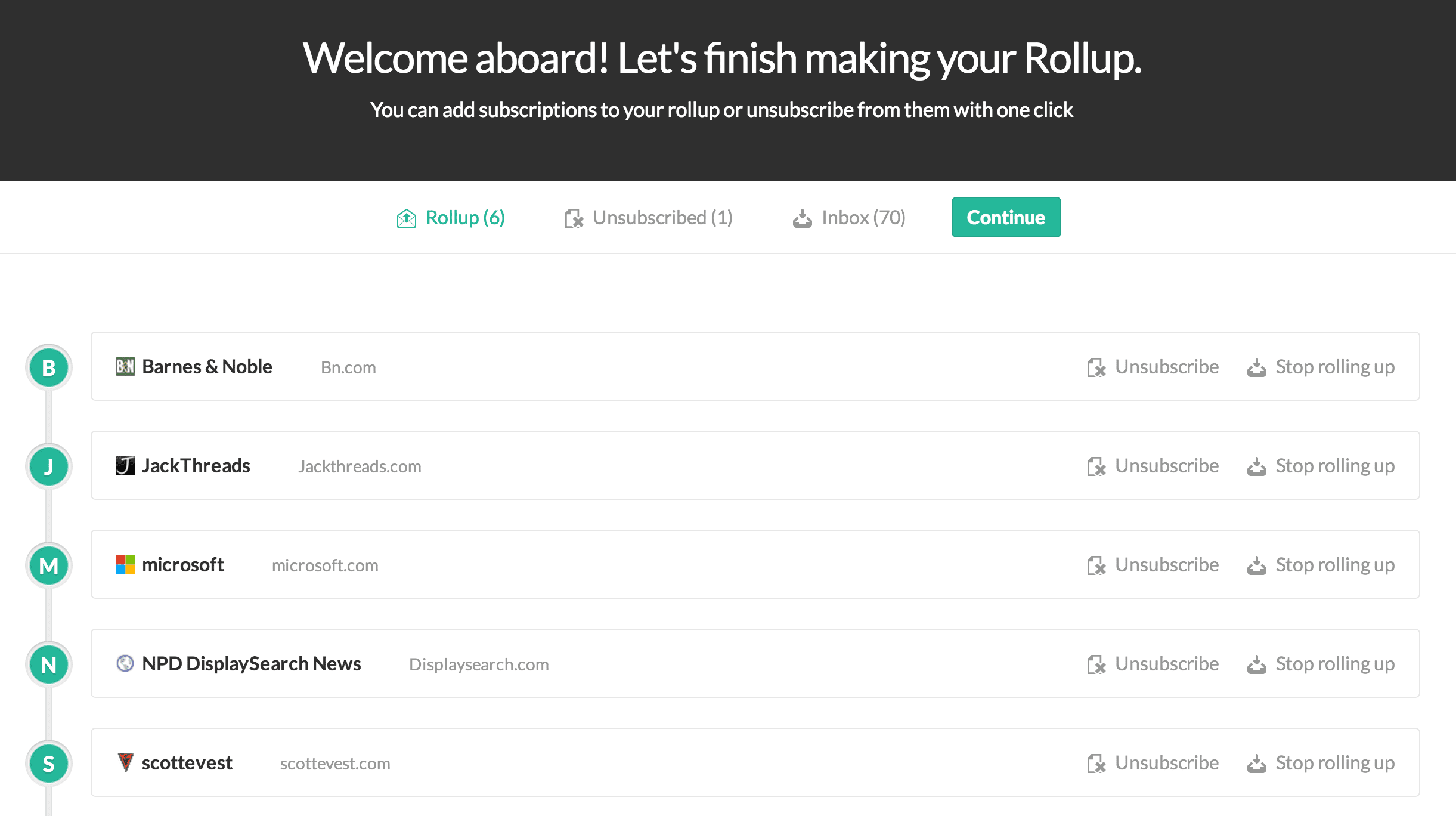 One thing I absolutely hate is spam, and I think everybody can agree. However, is it really considered spam if we subscribed to it at one point? You can delete those unwanted Groupon emails and Facebook updates that clog up your inbox using Unroll.Me.
As soon as I signed up, they had a list of all of my subscription emails, and I could quickly opt out of those subscriptions that I don't read anymore. Even better, they compiled all of the emails from the subscriptions that I do read into one big email called The Rollup. I can even choose the time that it arrives in my inbox.
Say goodbye to those pesky emails you signed up for back in 2012 withUnroll.Me, and pay attention to the important emails that you really need to look out for.
Why Unroll.Me?
It is quick and easy. Unsubscribe to those newsletters and subscriptions that you no longer read with the click of a button.
You can still receive your subscription emails; however, it will be in one email instead of dozens.
Fewer email notifications!!!
2. Inbox Pause

Have you ever been in that flow where you know exactly what you are doing, you are accomplishing everything that needs to be done, and then BEEP, you get an email! All of the sudden, you realize that you have lost focus, and now you have to get back on track. This does not have to happen though!
With Inbox Pause, you can snooze your emails so when you are trying to get everything done before that upcoming deadline, you can guarantee that you will not be interrupted. Downloading it will add a pause button to your Gmail that you can click so you do not receive any new emails. When you are ready to receive emails again, you just un-pause it and you will receive all of your emails that came in when it was on pause.
Why Inbox Pause?
It reduces the chances of you being distracted when you are trying to get something done.
If you are on a vacation, reading a book, or spending time with family, simply pause your emails so you have one (or many) less thing(s) to worry about.
3. Priority Matrix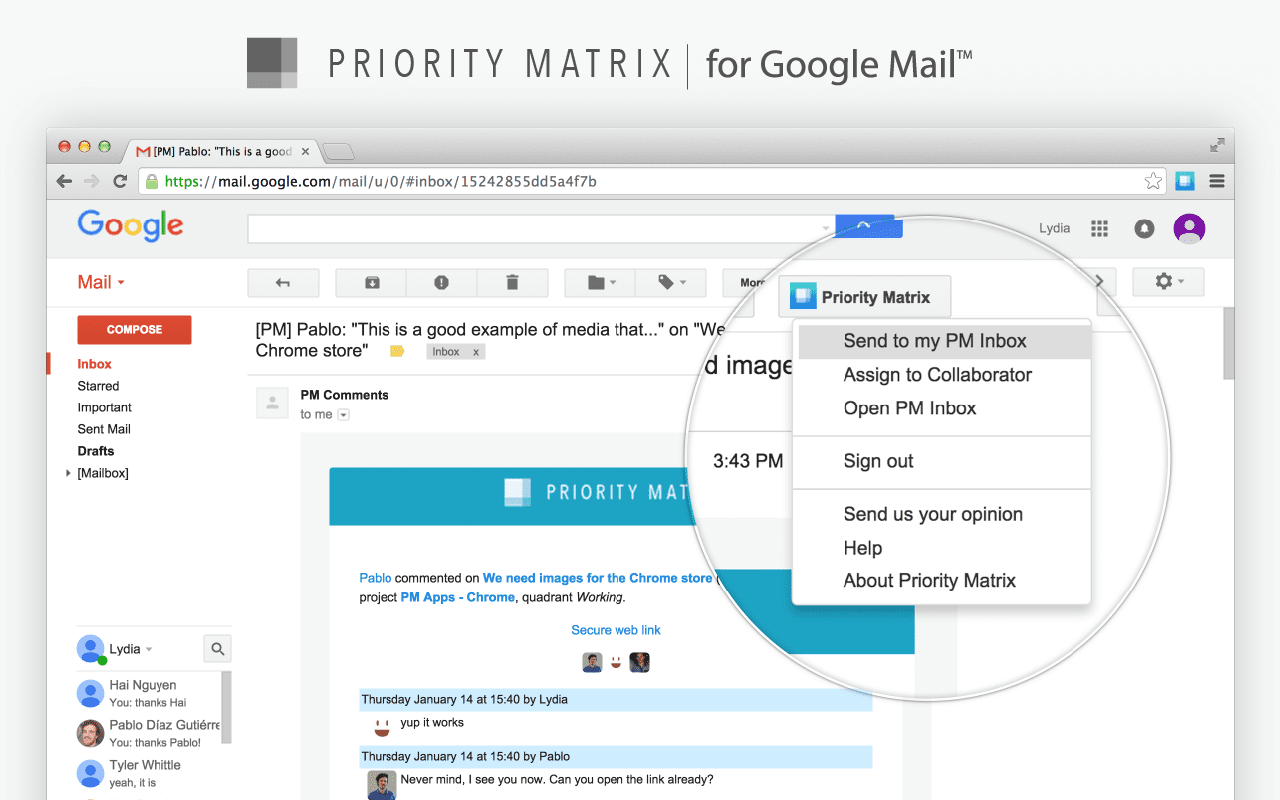 Priority Matrix is a work dashboard that allows you to manage your to-dos and collaborate with your team. Based on the Eisenhower Method of time management, this app helps you prioritize your tasks and projects, so you always know what to work on.
The Gmail plugin provided by Priority Matrix enables you to quickly convert emails to to-dos.
For example, your boss emails you and asks you to create a presentation for him to give to investors. Rather than leaving this email unread, or starring it, as a reminder to work on this task, you can send it to Priority Matrix and add it to your to-do list.
Why Priority Matrix?
You will never lose another task in your inbox
Now, you will not forget to complete the task because it will be right on your todo list!
Once again, Priority Matrix will allow you prioritize so that you finish everything on your plate.
4. Hiver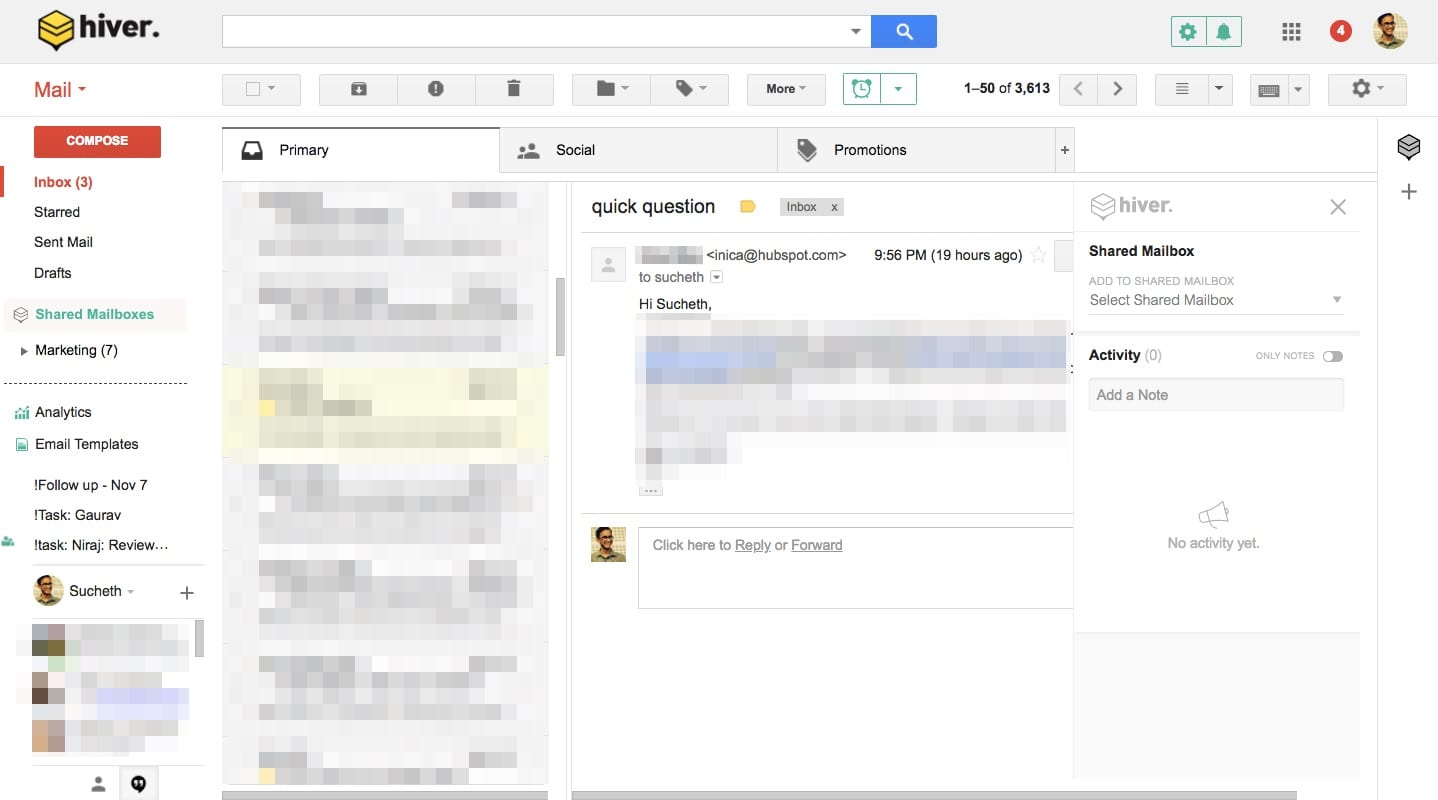 What I like about Hiver is that it practically manages your business from your Gmail account! It is another plugin that is wonderful for team usage.
You can collaborate with your team by using shared inboxes. Hiver will let you turn your shared Gmail accounts such as [email protected], [email protected], [email protected], [email protected] into a shared inbox. You can then allocate emails as tasks to your teammates and track their status with ease.
Simplifying your job even more – you can create email templates so you do not have to rewrite those pesky emails over and over again, and you can even share them with your teammates.
Why Hiver?
Everything is all in one place: your email! This way your mind is not pulled in so many directions.
You will not get sidetracked.
Very simple to use!
Here are 10 reasons why your team should try a shared inbox.
5. Boomerang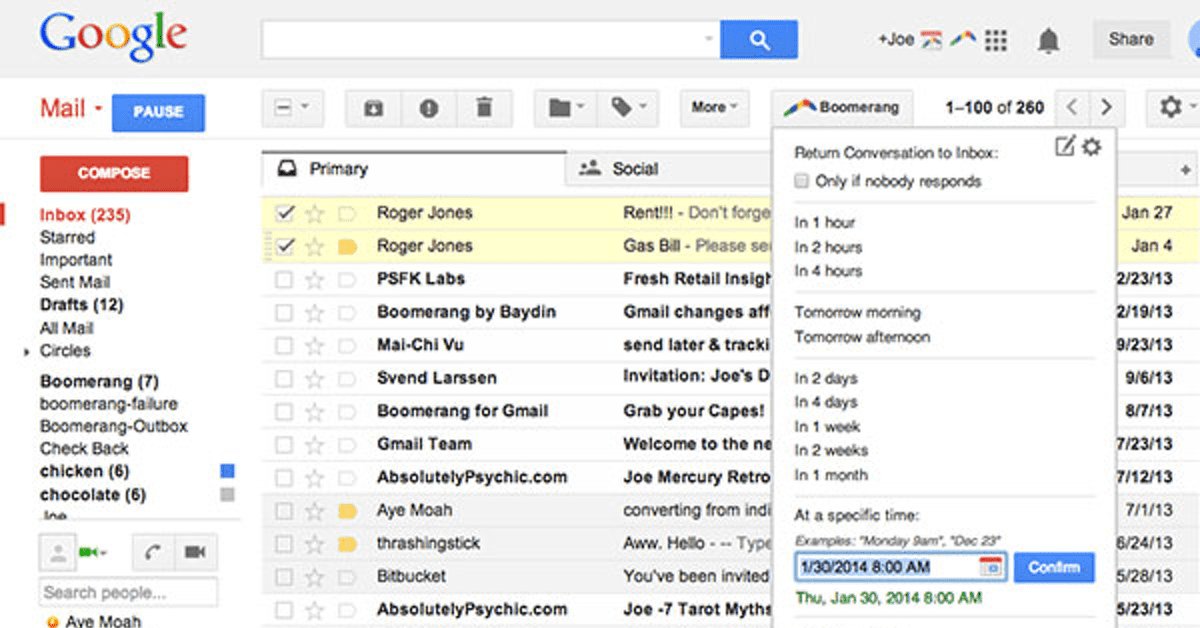 You finish your monthly newsletter at midnight, but you can't send it now. You want to make sure your maximum amount of subscribers read your email, but realistically, who is going to be up to read it? With Boomerang, you can schedule your emails to be sent at whatever time your heart desires with the Send Later button.
Now, what if you sent an email to a very important executive and did not receive a response? Or, you did receive a response, but you still want to follow up in a timely manner? Well, you can also use Boomerang to follow up after sending your message. If there is no reply within a specific time frame that you choose, you will receive a reminder to follow up. This reduces the stress of remembering to send emails at specific times as well as those pesky, easy-to-forget follow-up emails.
Add Boomerang to your Gmail here!
Why Boomerang?
Boomerang is reliable; they will take care of sending that email for you!
Our lives are hectic and the simple fact is we forget to do things. Boomerang takes part of the weight off your shoulders with the follow-up reminders.
6. HubSpot Sales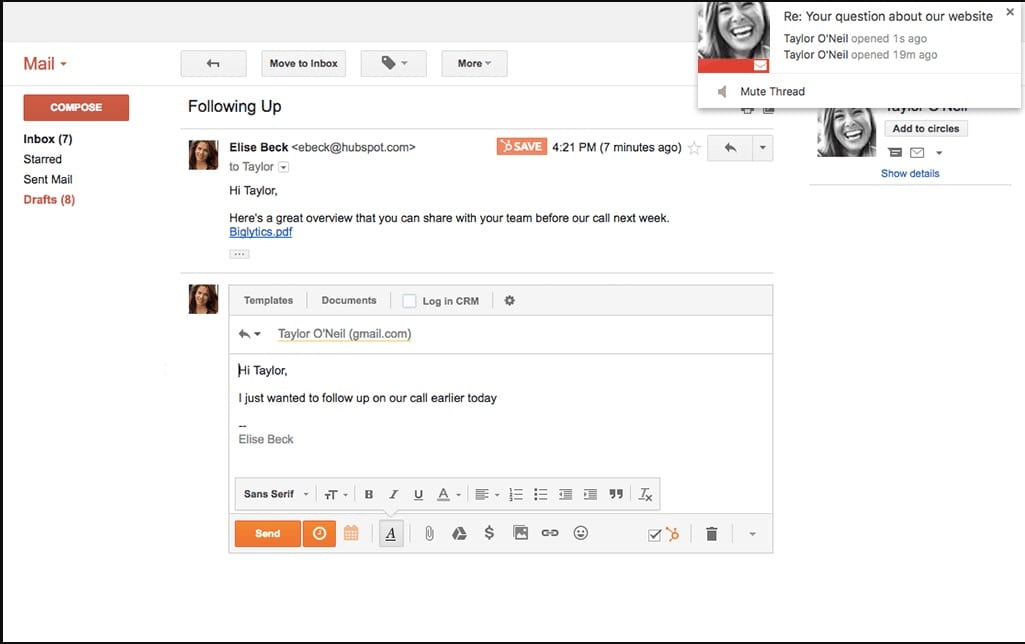 Sometimes you can't help but wonder if that important email that you sent was opened or not. With Hubspot Sales, you will automatically receive a notice when somebody opens up your email. You will also see the profiles of those who you contact such as their job title, contact history, social media content, mutual connections, and more.
Why Hubspot Sales?
Human beings are curious. We want to know if that email was read.
Puts you one step forward so you know how to make the next, strategic move.
You can do so much in just one place!
7. Wise Stamp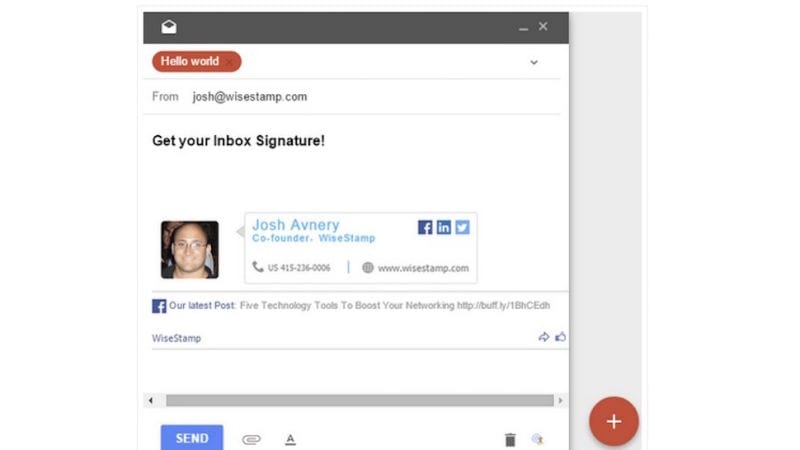 Who says that emails have to look boring? If you often send emails to those that you do not know personally, you should download WiseStamp so that you can add some character to your emails.
You can include your picture, credentials, website, email, phone number, and you can even link your social media accounts! Even if you don't send emails often to those who you do not know on a face-to-face basis, you can still promote your business with a fancy signature.
Why WiseStamp?
Why not personalize your emails with the variety of styles and designs that they have to choose from?
An opportunity to make you and/or your company shine.
8. CloudMagic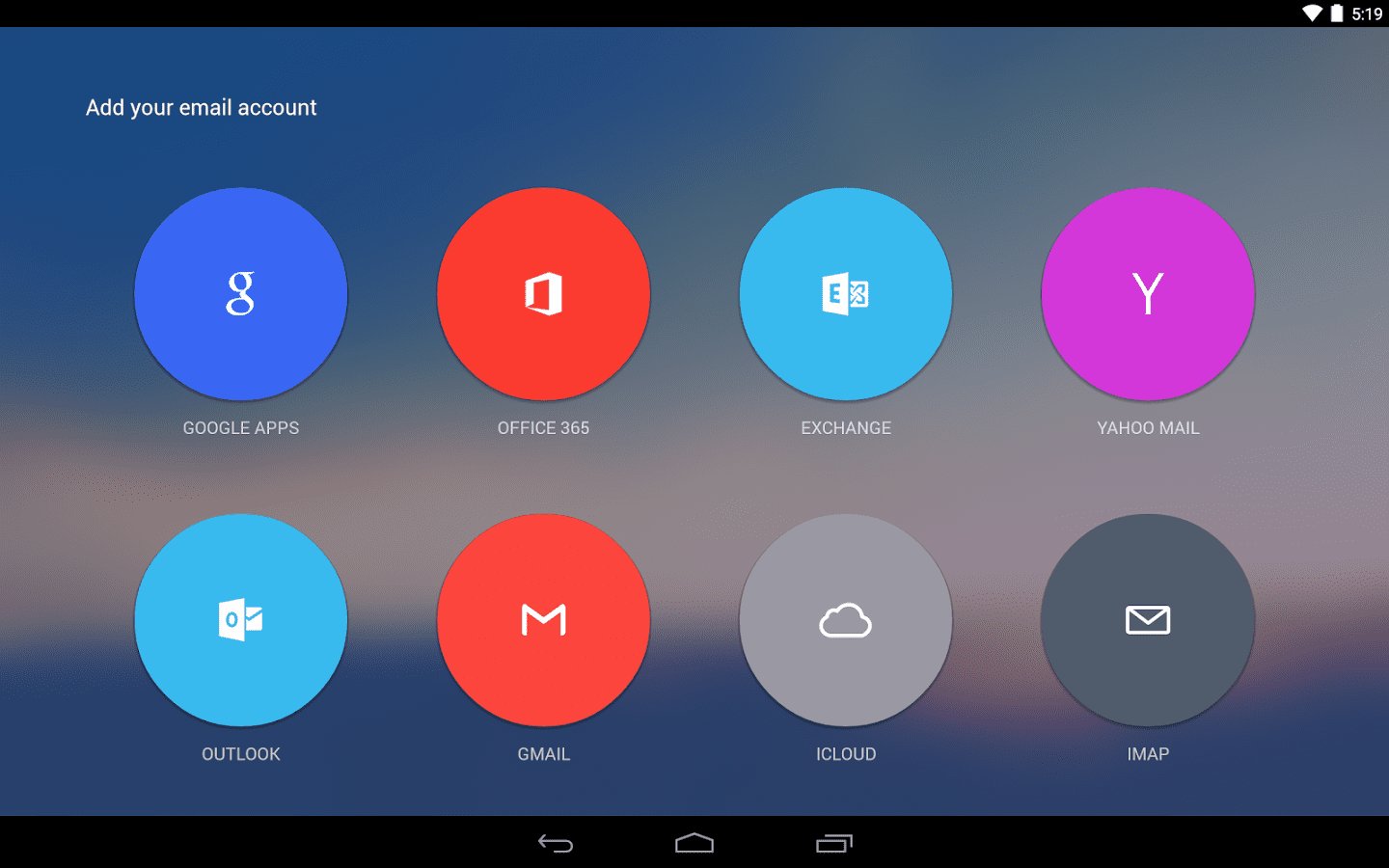 CloudMagic assures that you will take ultimate control of your emails. With this app, you can get your emails where they need to be to reduce the clutter in your inbox and carry out your tasks in an organized fashion.
You integrate CloudMagic with the productivity apps that you already use to stay structured. So, if you get an email and you want to get it out of your untidy inbox and directly onto your task management app, you will click a card within CloudMagic labeled with the apps that you have on there, moving it.
It also has a cross-platform compatibility with their recently launched Mac app! Apart from that, CloudMagic is clean, clutter-free, and it has powerful integrations that make your life easier.
Why CloudMagic?
You can delete the email as soon as you move it to your productivity app.
Everything is done from your email inbox!
9. Gmail Offline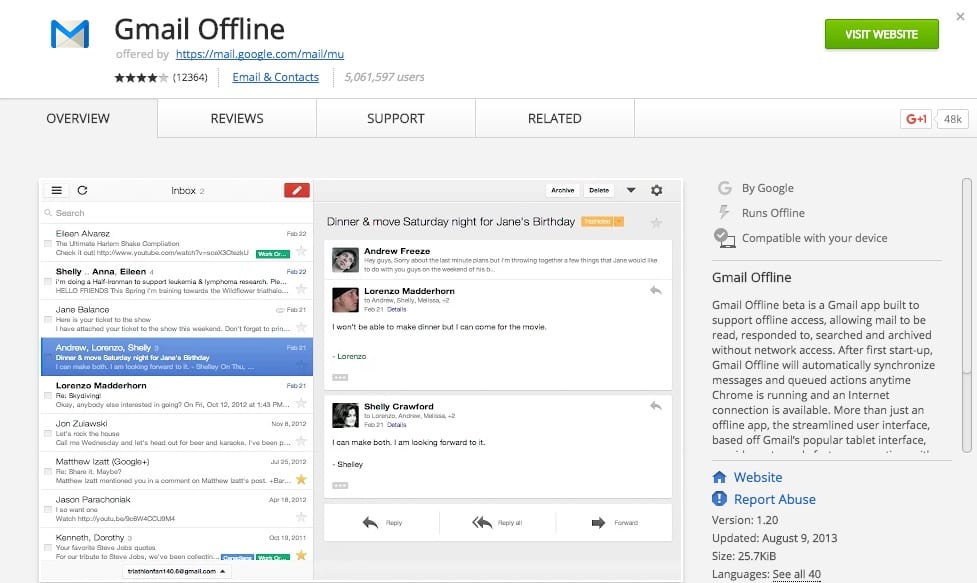 Who says that you have to have an internet connection to read, respond, search, and archive your emails? You can do all of the above with Gmail Offline, and it works very smoothly; all you have to do is download it using Chrome with an internet connection. This is perfect for when you are in that place with terrible connection and emails to send.
Why Gmail Offline?
At times, we have work to do and no internet connection to complete it. Not anymore!
It works quickly.
10. Rapportive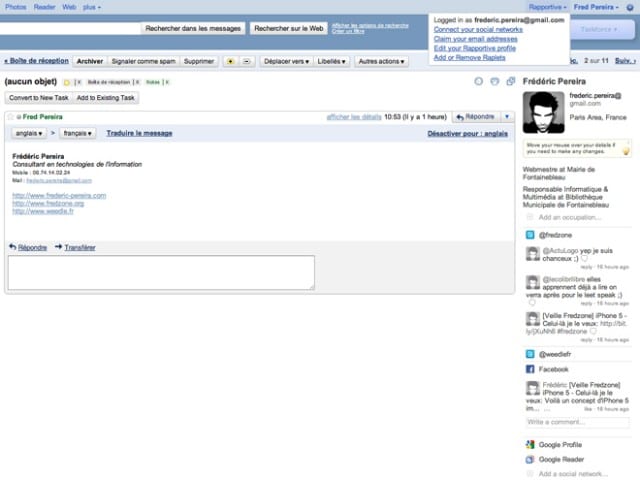 I really like Rapportive because I get an in-depth look at the person that I am contacting, especially if I am reaching out to them for the first time. My favorite part is that I can even see if they are nearby. This makes it easy to secure a meeting at a local coffee shop if they are in the area.
As stated on their website, "get to grow your contacts, grow your network, and establish rapport."
Why Rapportive?
Rapportive simplifies my job. I don't need to research who I am reaching out to because I see their full profile right on my screen.
Helps you to expand your network!
Works Cited
Radicati, Sara, PhD, ed. Email Statistics Report, 2013-2017. Rep. The Radicati Group, Inc., 2013. Web. 29 Feb. 2016.
Featured image source.