If you're looking to work better by using the slickest of technology, and without having to spend a bomb — Google Chrome, majorly owing to a panoramical range of Chrome extensions, is nothing short of a goldmine.
What are Chrome extensions?
Chrome extensions are small and lightweight software programs designed to enhance the functionality of the browser. They either modify an existing functionality or add a completely new feature altogether.
Chrome extensions were designed to deliver choice and convenience to everyone who does not want to splurge on enterprise-grade technology.
Chrome extensions have the capability to run your pretty much your entire business — accounting, project management, productivity — you name it and there's one for it.
Not just the big stuff, Chrome extensions are all the arsenal you need to make your day productive and tackle the daily tasks better.
The really good part is that they have minimal user interface and they do not make your browser look cluttered. Most extensions will add a tiny inconspicuous icon to the right of the address bar that can be clicked on or right-clicked to access its functionality.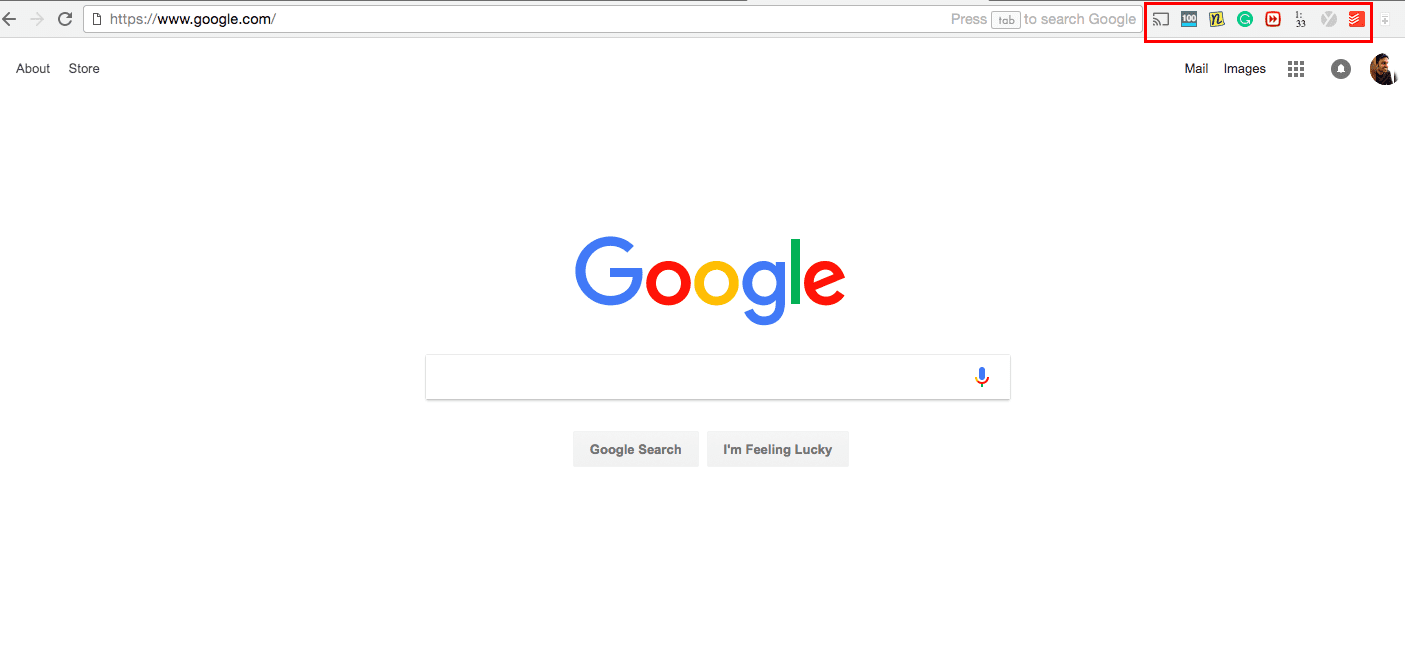 Google has done a fantastic job at ensuring that your browsing experience is not affected one bit because of extensions — zero clutter there.
How to install Chrome extensions?
Installing a chrome extension is a pretty simple process, here's what you need to do:
1. Open the Chrome Web Store.
2. Search for the extension or the capability you are looking for. You can also browse through extensions which are neatly segregated based on recency, functionality, and ratings.
3. Once you've found what you were looking for (or something similar), click on it and a pop up appears, like the one below.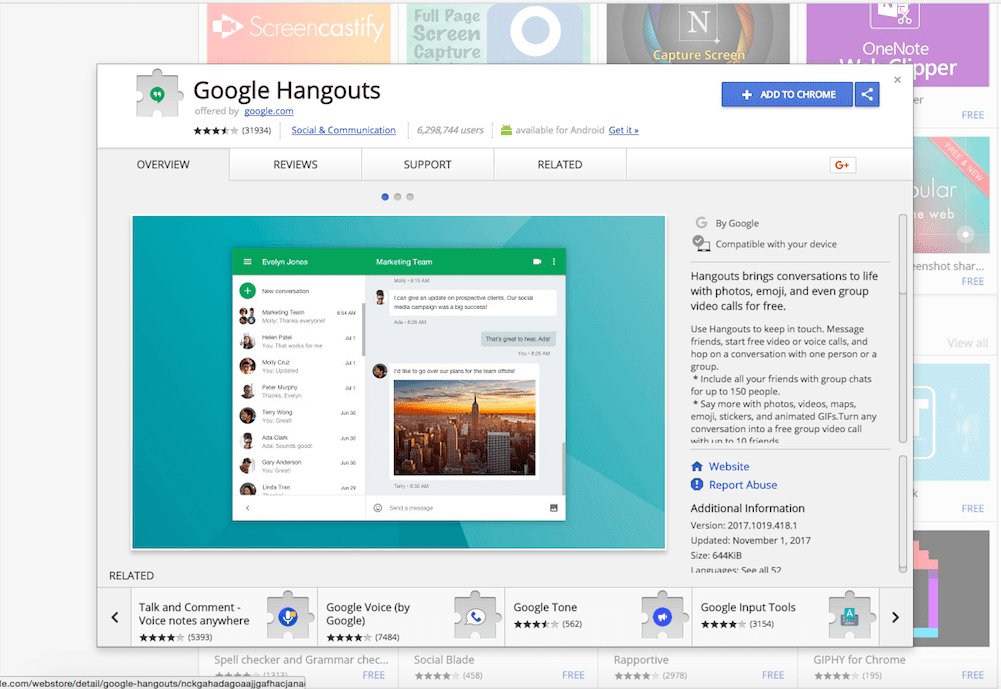 You can read the description of the extension, read other users' reviews, and watch product videos. If you're still not convinced that the extension is for you, you've got a 'Related' tab which does a fantastic job of showering you with options.
4. When you're convinced that the extension is what you were looking for, click on 'Add to Chrome' and you're good to start using it.
How to start using Chrome extensions?
Well, it mostly depends on the task the extension is supposed to perform. Some work quietly (and automatically) in the background while others will get added to your right-click menu, such as the one below: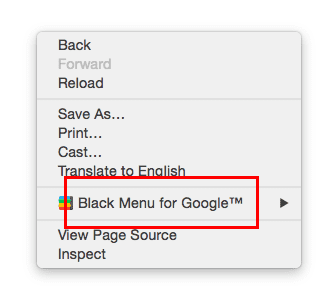 A majority of extensions will add a small icon to the right of the address bar. You can click the icon or right-click to see the extension menu.
Chrome extensions that will simplify your work day
In the following sections, I will take you through Chrome extensions designed to make your work day much simpler by (a) improving teamwork, (b) making you more productive, (c) keeping you organized, and (d) enhancing communication — let's dive right in.
CHROME EXTENSIONS TO IMPROVE TEAMWORK
1. Hiver — email management for teams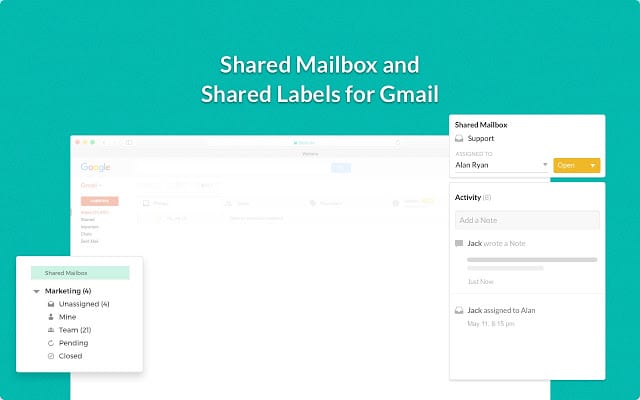 With Hiver, you can really simplify the way your team communicates. You can assign emails as tasks to teammates without having to forward emails and track them with absolute ease.
It does a great job at establishing transparency. Everyone in the team knows who is working on what. Hiver ensures two people never end up working on the same email. 
Additionally, your team can communicate among themselves right alongside an email thread and you have the ability to retrace your steps. You can stop using email and chat to communicate with your team, for good.
You can manage shared mailboxes such as support@ and sales@ right from your inbox. Hiver will ensure you never miss an email again.
You'd definitely love
The ability to do all of the above right from your inbox

The ease of getting used to it — pretty much nothing to learn
Pricing
You have a free plan with all basic functionalities. For teams which need advanced features, there are plans at $12 and $18 per user per month charged annually. You get monthly billing option too.
You can download Hiver here.
2. Harvest — track how your team is doing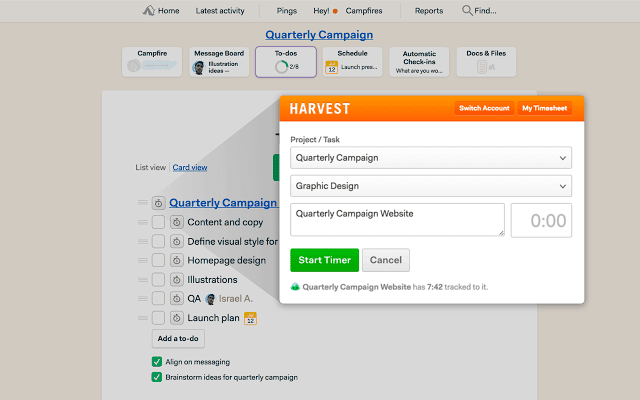 Harvest helps you keep a keen eye on how is your team doing. With a quick glance, you can see how your team is doing, who's overworked, and who can take more on their plate.
You'll be able to identify the ones who are doing a good job and the ones who aren't. You'll be able to see which projects or tasks take up the majority of someone's time and if they're working on something unexpected.
You'd definitely love
Smooth integration with Trello and Basecamp
Pricing
Has a free plan with limited capabilities. The loaded plans start at $12 per user per month.
You can download Harvest here.
3. Flock — communicate with absolute ease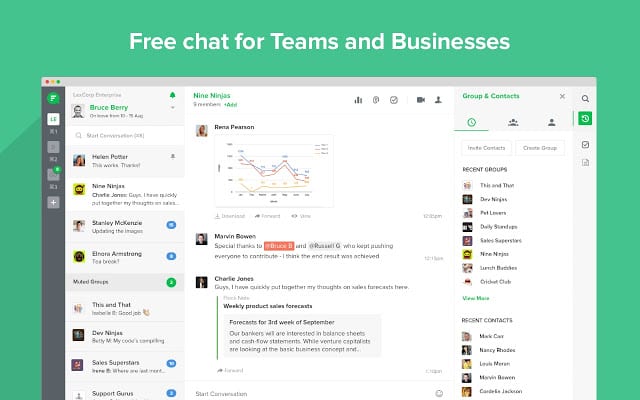 Flock is the best way for your teams to communicate internally. It can help you discuss projects, share ideas, and make decisions faster.
It enables team messaging with 1-1 or group discussions around your projects, department or common interests.
Disclaimer: I chose to mention Flock, and not Slack, consciously. Flock has everything that Slack has and much more, and comes with a much affordable price tag.
You'd definitely love
Will work on pretty much every device you own

Really simple UI — getting used to is incredibly easy
Pricing
The Free plan supports almost everything you'd need except search history. The Pro plan comes at a neat $3 per user per month.
You can download Flock here.
4. Appear.in — quick video chats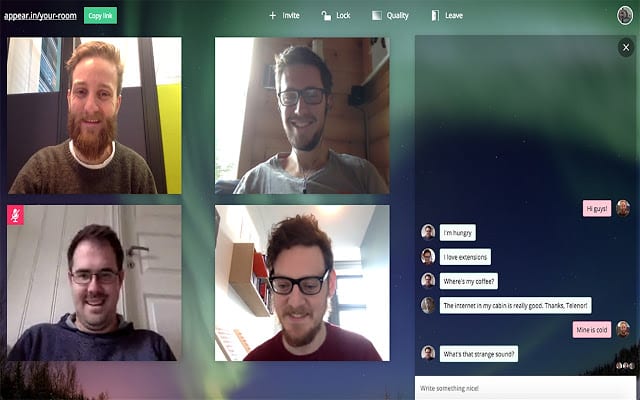 This one's a lifesaver for remote teams. appear.in is a video collaboration tool that lets you have video conversations effortlessly with up to 8 people simultaneously.
The premium version supports up to 12 members. All you have to do is create a room link and share it with your team — guests can join instantly just by clicking the link.
You'd definitely love
Almost effortless screen sharing

It notifies of a new visitor even when you close the tab
Pricing
Free for up to 8 users. The Premium plan comes at $12 per user per month and supports up to 12.
5. Contactzilla — manage contacts seamlessly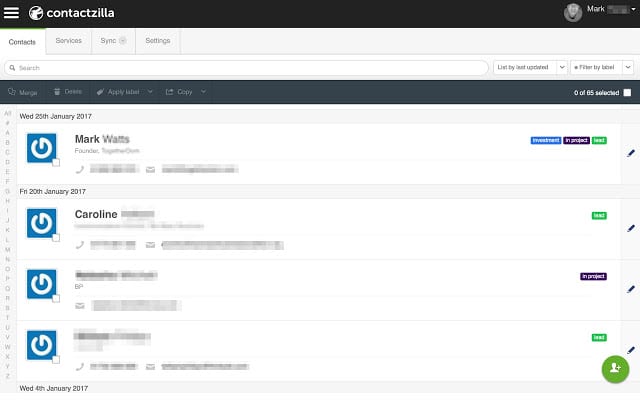 The one exercise teams always have to indulge in (mostly unwillingly) is reaching out to each other for coordinates of a person or an account.
Contactzilla aggregates and syncs your contacts across teams and devices. If you have different contact lists across different platforms, Contactzilla allows you to consolidate all of them in one place.
You'd definitely love
The ability to export lists as .csv

The neat interface
Pricing
30 days Free Trial. Once that's over, you pay $5 per user per month.
You can download it here.
CHROME EXTENSIONS TO ENHANCE PRODUCTIVITY
1. Mercury reader — declutter online articles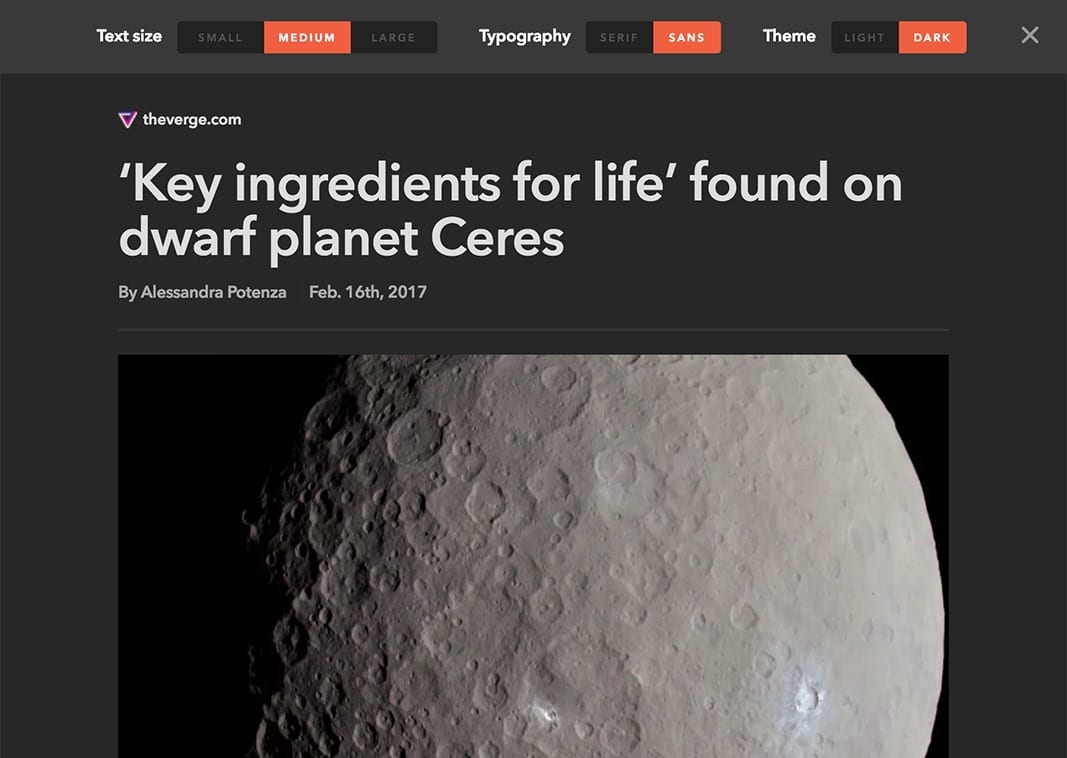 I am sure most of us are guilty of having wasted time on a website because we got distracted by something we were not looking for initially — this is exactly what the Mercury Reader curbs.
It removes ads and all kinds of distractions from webpages, leaving only text and images for a clean and consistent reading view on every site. You can also adjust typeface and text size, and toggle between light or dark themes.
You'd definitely love
The 'send to Kindle' functionality.
Pricing
Free.
You can download Mercury Reader here.
2. Loom — create and share videos quickly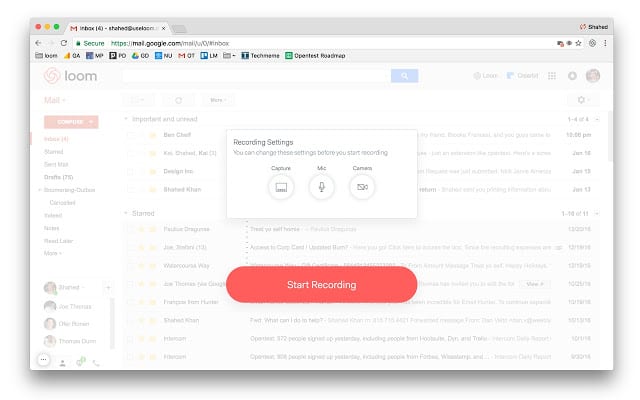 Loom makes making videos almost as easy as typing. You can capture, narrate, and instantly share videos.
It's astoundingly convenient to use — one click to record, one click to finish. The ease of use makes it a great tool for instant communication, sending feedback or instructions to clients or virtual assistants — the list of use cases is endless.
You'd definitely love
Every time you finish creating a video, the app copied a shareable link to your clipboard.
Pricing
The tool is free for individuals, but you'll need a referral from co-workers or friends to gain access to unlimited recording time.
You can download Loom here.
3. Pocket — bookmark online reads for later
Pocket is a great bookmarking service. It comes in very handy when you're easily distracted by online content.
The app lets you save the page with one click and you can go back to reading it later. You can use the toolbar button, a keyboard shortcut, or the context menu for quick bookmarking. It also lets you add tags to bookmarks making them absolutely search friendly.
You'd definitely love
The bookmarks are synced to your phone, tablet or computer, and you can view them even without an internet connection.
Pricing
Plans from $4.99/month or $44.99/year.
You can download it here.
4. Black menu — quickest access to Google universe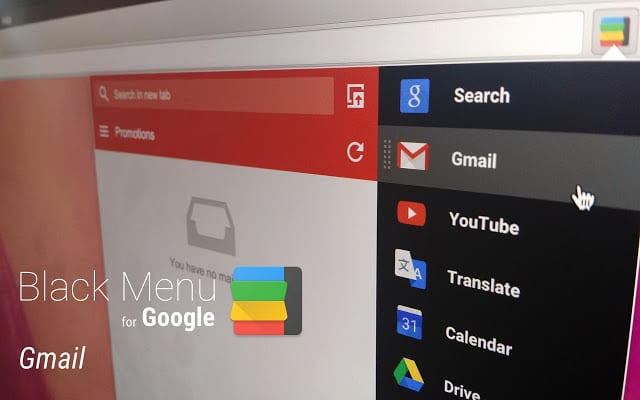 The app gives you quick access to all of Google's services from every tab. A convenient dropdown menu lets you use Search, Google+, Translate, and umpteen other Google services without having to pause what you're doing.
You can publish a new Google+ post, access your files in the Drive, switch among multiple accounts — all from the sidebar.
You'd definitely love
The ability to see all your calendar events without leaving the tab.
Pricing
Free.
You can download it here.
5. StayFocusd — limit the time spent on 'time-wasting' websites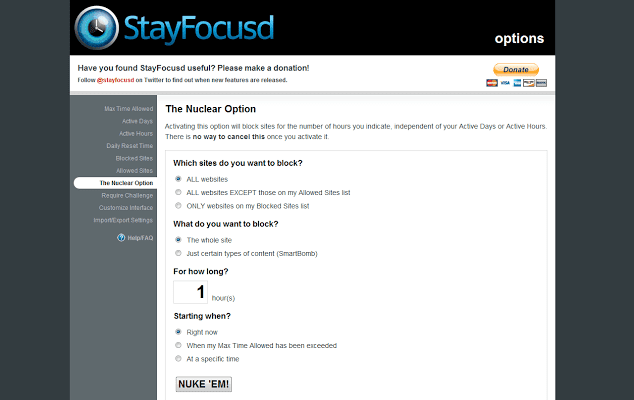 The app has been designed to take control of your wasteful browsing. It restricts the amount of time you can spend on time-wasting websites  — Facebook, Twitter, Reddit, and the likes.
It allows you to block entire websites, specific subdomains, specific pages, and even specific in-page content (GIFs, videos, etc)
Once you have exhausted the time allotted, the sites you have blocked will be inaccessible for the rest of the day.
You'd definitely love
The developers' wit every time StayFocusd displays a message.
Pricing
Free.
You can download StayFocusd here.
CHROME EXTENSIONS TO KEEP YOU ORGANIZED
1. Drag — turn Gmail into organized task lists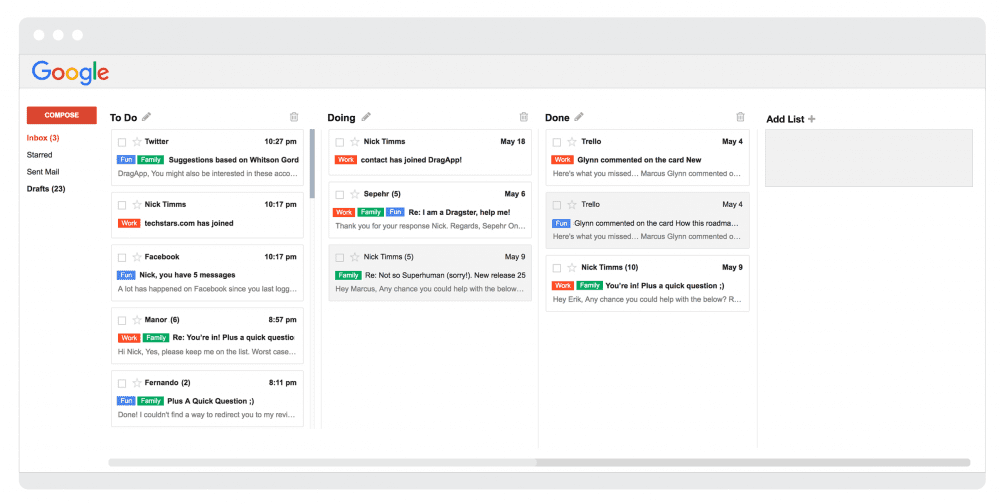 The extension transforms your Gmail into an organized list of tasks — like Trello, inside Gmail. It turns your inbox into a neat-looking workplace.
You can drag and drop your emails between lists/stages and customize them. It uses the Kanban principle to help you manage tasks in a lean way and allows you to visually map your workflow.
You'd definitely love
The ultra-smooth drag and drop.
Pricing
The basic plan which allows you to have just one drag board comes free. The Pro plan comes at $4 per user per month. They're also working on building a team plan.
You can download Drag here.
2. OneTab — save memory and reduce tab clutter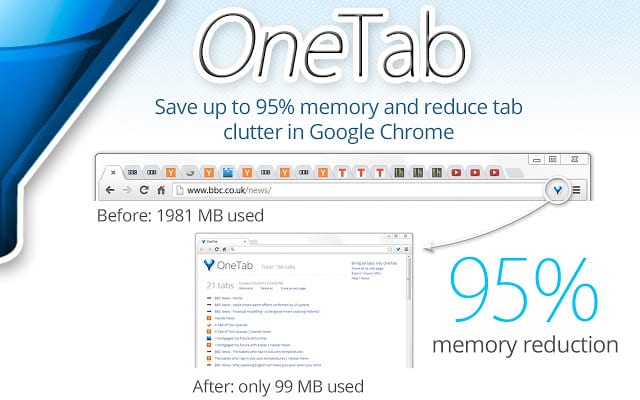 Whenever you find yourself with too many tabs, click the OneTab icon to convert all of your tabs into a list. When you need to access the tabs again, you can either restore them individually or all at once.
When your tabs are in the OneTab list, you will save up to 95% of memory because you will have reduced the number of tabs open in Google Chrome.
You'd definitely love
The ability to import and export your tabs as a list of URLs.
Pricing
Free.
You can download it here.
3. LastPass — free password manager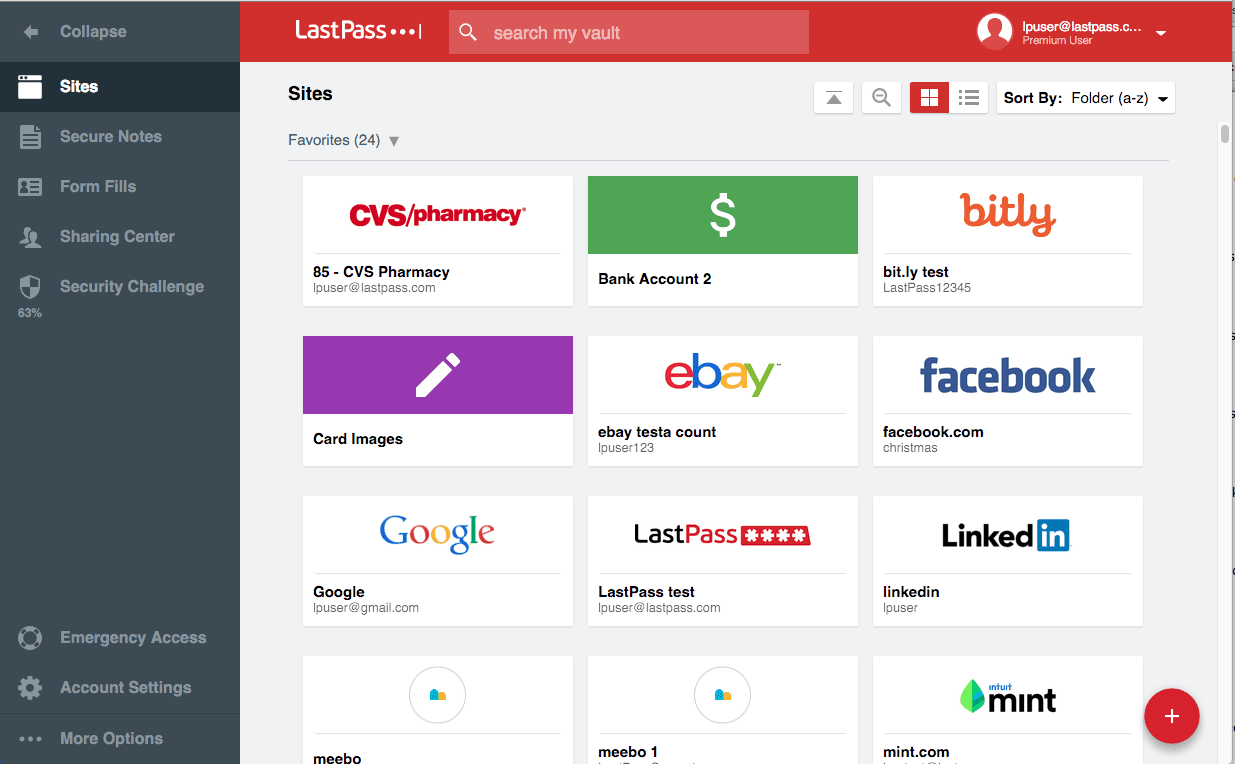 Remembering passwords has always sounded daunting. The most natural alternative is maintaining them in Excel sheets, which is again an unsafe proposition and you cannot access them from all of your devices.
LastPass saves all of your passwords and gives you secure access from every computer and mobile device. Anything you save on one device is instantly available on all other devices.
You'd definitely love
It also lends you a hand with online security and suggests changing your password if they look weak.
Pricing
It has a free personal plan with basic features. Premium personal and team plans range from $2 to $4 per user per month.
You can download it here.
4. OurStickys — sticky notes on every page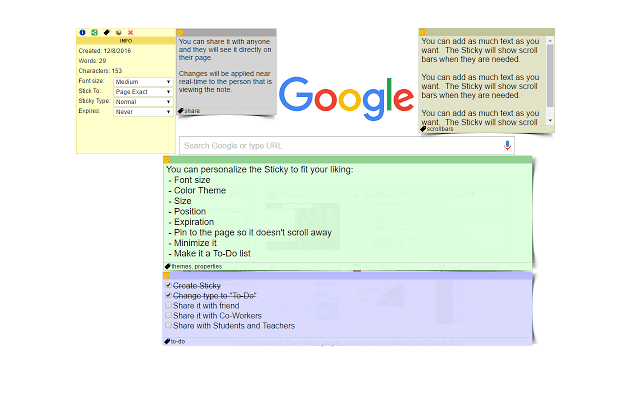 Now this one's not like the other sticky notes which lay around haphazardly on your computer. OurStickys makes your notes stick to a specific location on a page.
You can add persistent sticky notes anywhere on a webpage and they will reappear when you re-open the page. The notes will sync across browsers and computers that use the same account.
You'd definitely love
The ability to decide if a note is for the exact URL or page or for the full domain or always present
Pricing
Free.
You can download OurStickys here.
5. Organizely.me — bring sanity to your downloads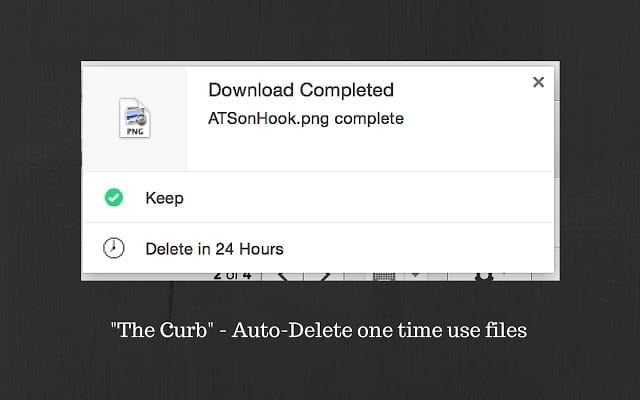 I am sure you'll agree the time we spend locating our downloads from a week ago is a complete drag. Organizely exists to solve just that.
Organizely is a simple browser extension, allowing you to tell your browser where you want downloads to go and Organizely takes it from there! Automatically put your downloads in dedicated folders which can be customized to serve the websites you download the most from.
You'd definitely love
The 'curb' feature: Since 84% of our downloads are one-time-use, a notification pops up with every download asking whether you want to 'keep' or 'delete file in 24 hours' — it will automatically remove unneeded files in 24 hours.
Pricing
Free.
You can download Organizely here.
CHROME EXTENSIONS TO HELP YOU COMMUNICATE BETTER
1. FullContact — your contacts' info right inside your inbox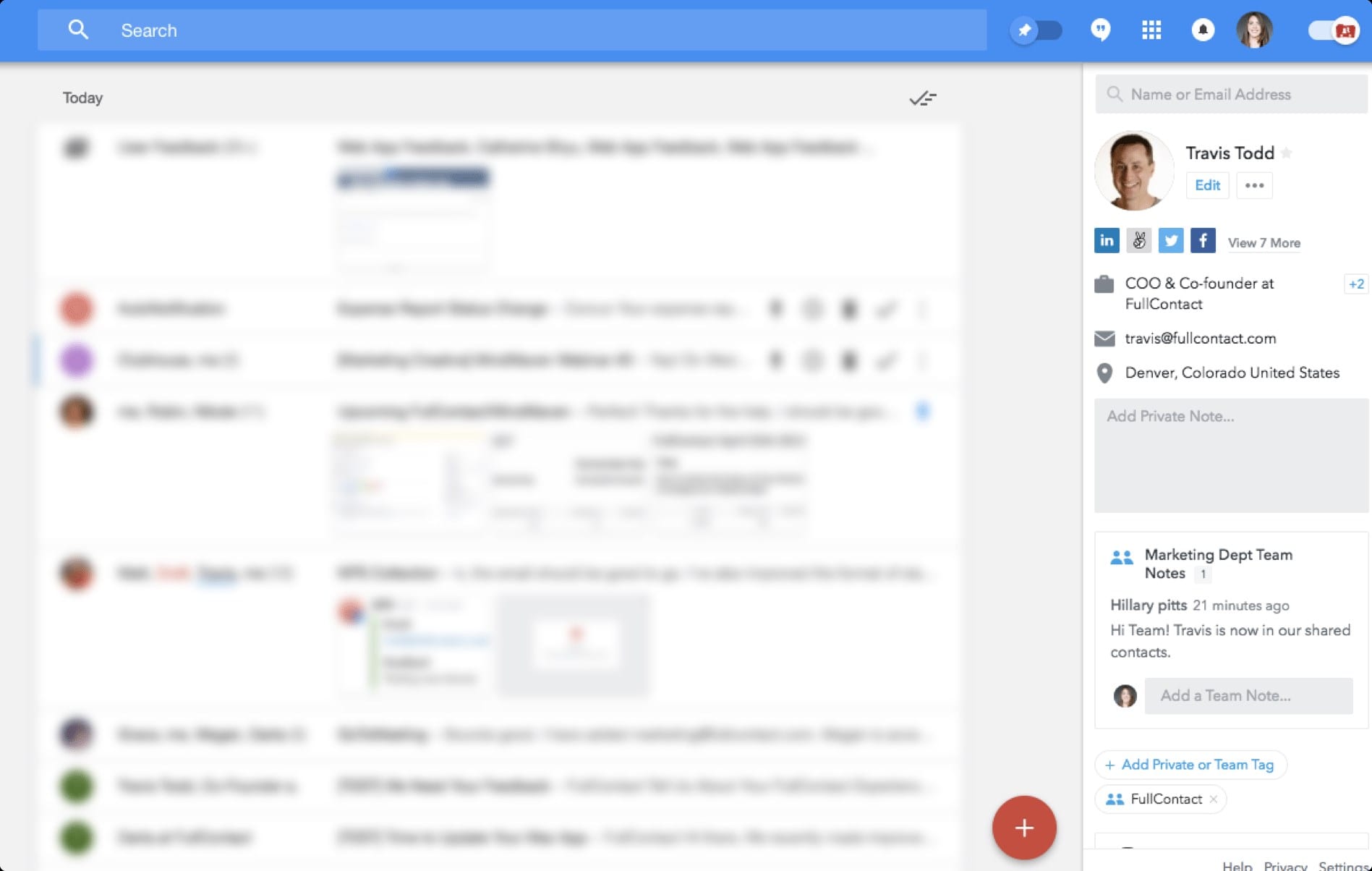 The usual drill when you want to access information about a Gmail contact: look them up on Google, on LinkedIn, on Twitter, their company's website — the list goes on. FullContact exists to change just that.
FullContact tells you everything about your Gmail contacts right inside your inbox — their company information, the social coordinates, and more.
You'd definitely love
The ability to take photos of business cards and have them manually and accurately transcribed, with the photos not taking up memory on your device.
Pricing
Once your free trial is over, plans range from $99 to $499 per month.
You can download FullContact here.
2. Point — instantly share what you like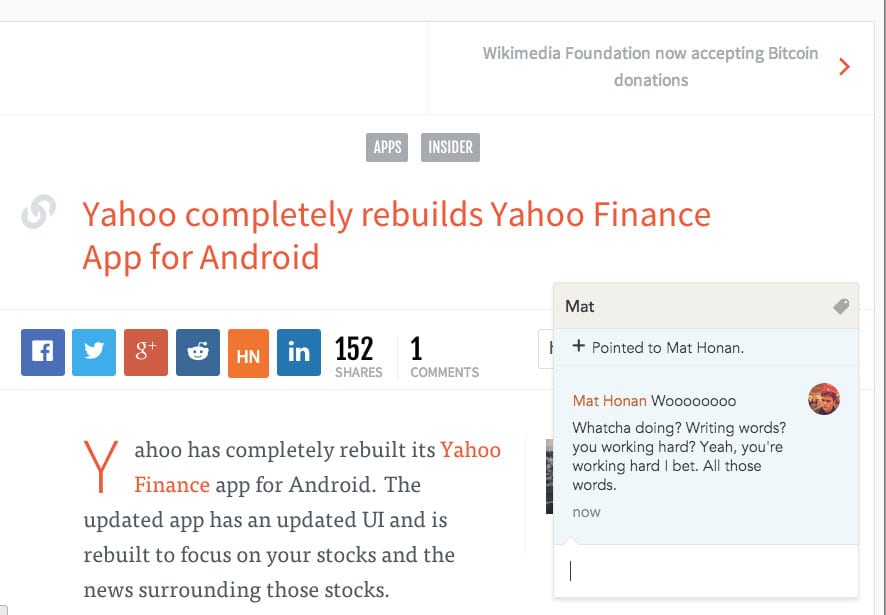 Emailing an interesting link to everyone on your team add to clutter. Point lets you send and discuss webpages with friends. You can share a link with anyone without having to leave the page or app you are in.
Point sits alongside what you're sharing, allowing you to quote the best parts. It also saves everything you share or receive in one place so that you can go back to it easily.
You'd definitely love
The ability to work with any email contact, and not just within teams.
Pricing
Free.
You can download Point here.
3. Sniply — convert as you share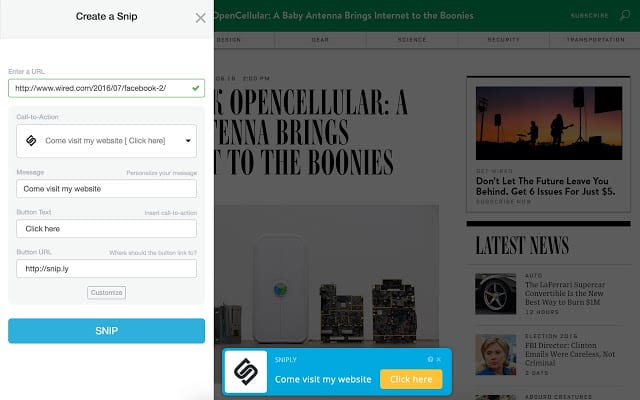 Sniply adds your custom call-to-action to any page on the web, allowing you to engage your followers through every link you share.
Sniply will automatically detect any time you type or paste a link, and then ask if you want to embed a message on that page. You can type in a custom message and the link will automatically be converted into a Sniply link that contains the page with your message embedded.
You'd definitely love:
It works well with Hootsuite, Buffer, and many other scheduling apps.
Pricing
Starts from $29, goes up till $299 per month.
You can download Sniply here.
4. Giphy — GIFs in your Gmail composer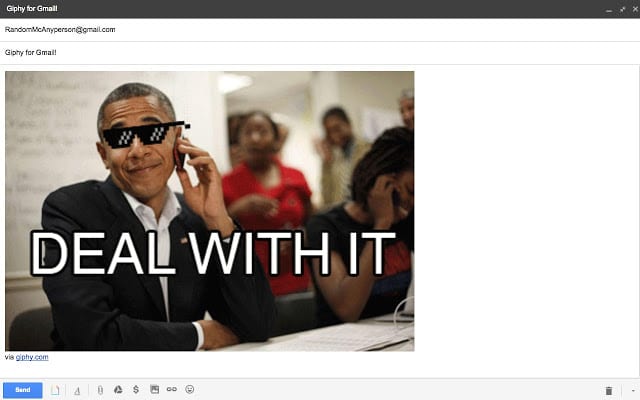 Gone are the days when you had to write a formal looking email because you are at work. People love a bit of humor even in an office setting — GIFs are a great way to lighten things up a bit.
Gipfy enables you to search and add the best GIFs to your email right from inside the Gmail composer.
You'd definitely love
Their awesome range of GIFs.
Pricing
Free.
You can download Giphy here.
5. ReadBoard — converse around articles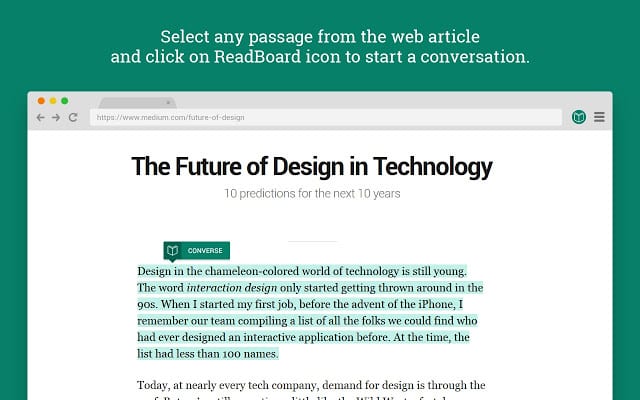 All meaningful conversations are contextual and generally start with people you know. ReadBoard allows you to add a comment on any passage of a web article and invite your friends, colleague, or family right then, right there.
Your invitees will receive an email with the details of the conversation. It will also get saved on your ReadBoard account and posted on ReadBoard.io where you can connect with people who like the same thing.
You'd definitely love
The ability to track everything you have shared in the past.
Pricing
Free.
You can download ReadBoard here.
The twenty extensions we have here will do a stellar job at making your workday simpler. You will have more time for other important tasks such as inspiring and managing your team.
Bonus tip for business owners: If you use Google Suite and work in a team environment, you've got to use Hiver. It will help you manage emails with absolute ease. Assigning and tracking tasks would become effortless. You will be surprised how much can be done from inside your Gmail inbox.
—
One great thing is that most extensions come with a free trial — you have the ability to use the functionality and see if it's the right tool for you. If you think a Chrome extension is not right for you, or if it crashes frequently, removing it is again a pretty simple process.
How to delete a Chrome extension?
1. Click on the Customize and Control menu at the extreme right on the Chrome toolbar, and click on 'More tools', followed by 'Extensions'.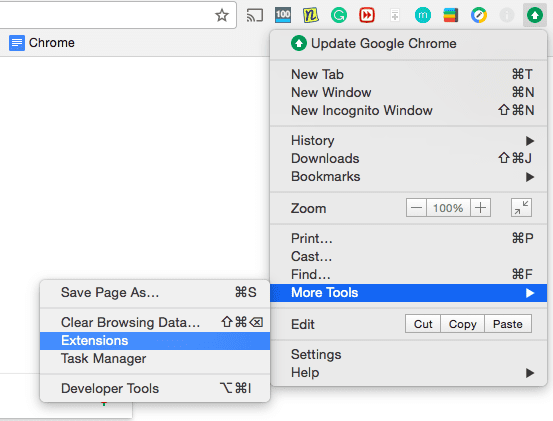 2. You arrive at the list of extensions — all you need to do is trash the ones you do not need.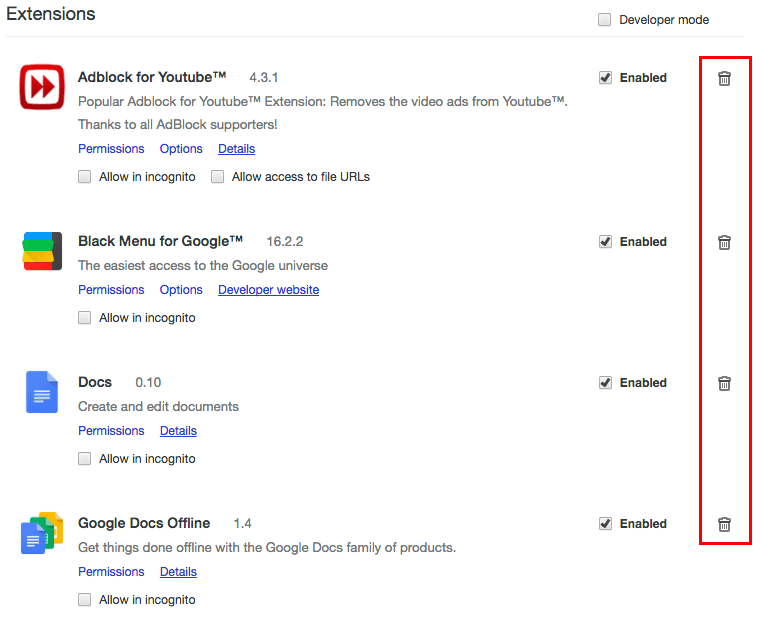 If you're looking to temporarily disable an extension, and not delete it altogether, that's doable too.
How to disable an extension
1. Click on the Customize and Control menu at the extreme right on the Chrome toolbar, and click on 'More tools', followed by 'Extensions'.
2. Against the extension you want to disable, uncheck the box next to 'Enabled'.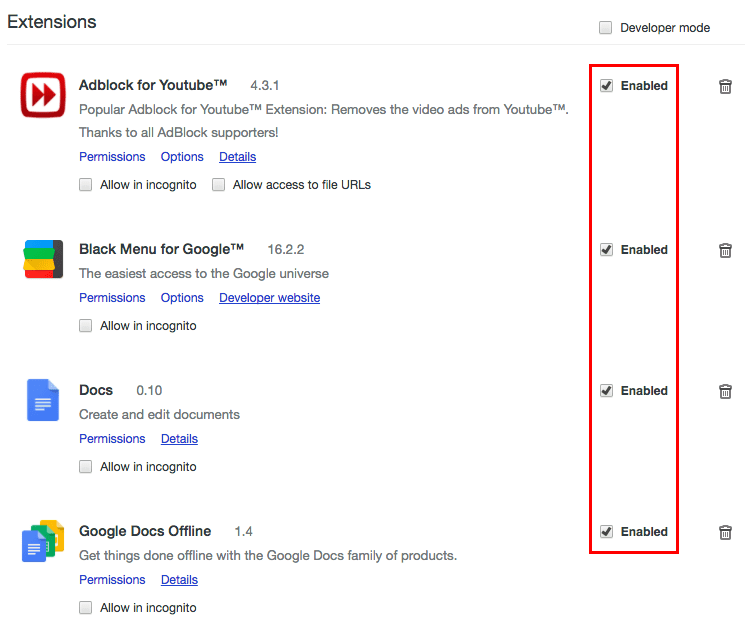 Further reading 
Once you've managed to turn your browser into a powerhouse, you can now focus on doing the same to your Gmail inbox. You have the capability to turn your Gmail into a helpdesk and manage Shared inboxes like a pro. Your inbox is a lot more capable than you think.