Table of contents
8000+ teams use Hiver to delight their customers!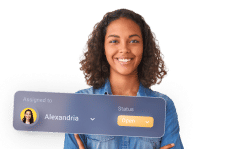 Email is by far the most extensively used work communication tool of our times. An astounding 4.6 billion people are estimated to use email by 2025. According to Lifewire, nearly 63% of working professionals prefer to use email for business communication. One thing is for sure, email still rules the roost as a communication tool!
Email is the go-to channel for business communication. While there are new tools to help people stay connected such as messaging apps or video conferencing tools, email continues to remain an indispensable part of today's work culture. 
Email was initially created keeping one-to-one communication in mind. It was not meant to be collaborative. You could only add people to an email thread by forwarding the email or simply CC-ing them on it. Sometimes a simple request to a colleague can turn into a lengthy conversation with a lot of back and forth message exchanges, leaving many confused. With too many people involved in a conversation, it's hard to tell who should respond to what. There are also high chances of information getting lost in translation and workflows getting affected.
Now more than ever, there is a pressing need for teams to collaborate and work efficiently. They could be located in any part of the world but the need of the hour is a reliable channel that supports collaborative work and effective communication.
This is where shared team inboxes step into the picture.
In this post, we are going to take you through the best practices to use a Google Workspace shared inbox effectively.
But before that, let's start right with the basics.
Table of Contents
Google Workspace's native shared inbox — what's it all about?
Google Workspace (formerly G Suite) offers a host of collaborative productivity tools to help businesses stay on top of their daily activities. However, some of these tools aren't the simplest to use.
If you have a Google Workspace account, you can turn your Gmail inbox into a shared inbox with the help of Google Groups or their Collaborative Inboxes.
Google Workspace's native shared inboxes allow you to manage group email addresses such as support@ or sales@, billing@, or any team emails right from your Gmail account. They're best suited for teams that receive a huge volume of emails.
Once set up, each individual can view, read and respond to messages as if it were their own email account. When a teammate responds to an email — every user that has access to the inbox can view it. Likewise, when you archive a message, it will disappear from the inbox for all the users. Group admins can also assign emails to other team members so everyone knows which email they need to work on.
Sounds great so far, right?
Truth is, both Google Groups or their Collaborative Inboxes don't boast of an easy interface. They're also rife with several collaboration bottlenecks and aren't the best for teams looking for a streamlined way to handle group emails.
Enter shared inbox tools.
Let's learn about what they are, and what benefits they offer to teams using them.
Recommended Reading
Why should teams invest in a shared inbox solution?
Shared inbox tools help teams overcome the challenges teams may face with Google Groups and Collaborative Inboxes. Here are a few that most users of shared team inbox tools enjoy:
1. Facilitates more context
Using an individual email address will only allow you to see your own responses to an email. If you need to share a message with a colleague, it has to be forwarded. This will only add to email clutter and confusion. A shared inbox tool overcomes this woe. It ensures that context is not confined to individual mailboxes alone but is made available to all stakeholders.
2. Leaves no room for duplication
In the absence of a shared inbox, 2 people may attend to the same email and start working on it. However, with a shared inbox in place, there is no way that two people can end up working on the same email or task.
A shared inbox offers clarity on who is working on what. You can easily assign a new email to a team member. Once the issue is taken care of, you can simply mark it as resolved.
3. Faster responses
A shared team inbox allows you to respond to emails quickly. With all of the messages landing up in a centralized hub, it's easier for you to track and allot emails to each member of your team. This allows team members to focus only on emails that are assigned to them, allowing them to roll out faster responses.
4. Managers get the big picture
With a shared team inbox, managers have greater visibility of each employee's workload. They have a birds-eye view on who is working on which email. Without a shared inbox, most of the team's efforts would go unnoticed as conversations are confined to their respective inboxes. The shared inbox helps managers plan and distribute workloads efficiently and know which of the team members are stepping up their game.
5. Improves customer satisfaction and loyalty
Your support teams are working round the clock to cater to customer needs. Leveraging a shared inbox will help your support reps respond to customer emails remarkably faster — this leaves your customers feeling happy and cared for! They might even choose to keep coming back to your business for more. According to HubSpot, 93% of customers are likely to make repeat purchases from companies that offer excellent customer service.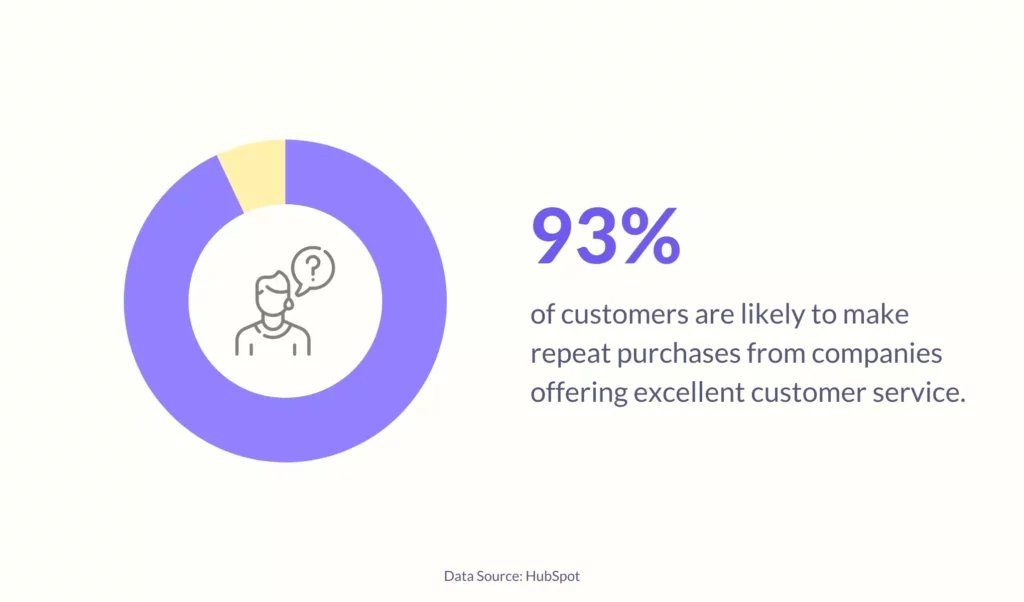 Best practices for managing a Google Workspace shared inbox
We have compiled a list of the best practices that will help you effectively manage G suite shared inboxes by investing in a Gmail-based shared inbox tool.
Let's get right to it.
1. Provide adequate training to your team
Gmail is a familiar interface so there is no doubt that your employees will have a basic working knowledge of the platform. However, it is still good to invest time in training your employees to help them make the most of the platform and know how to use it efficiently.
If you're using Google Workspace's native shared inbox, your team will have to spend a lot of time and effort learning their way around its complex interface – it's nothing like your good ol' Gmail.
By investing in a Google Workspace-based shared inbox solution like Hiver, which looks and works like Gmail, your team can start using the shared inbox right from the get-go with minimal training.
2. Implement a simple system to assign and track conversations
Establish a system where your teams are clear on how you want to assign, track, and resolve email conversations quickly and without any hassles. If your entire team is working in line with a set system, work is bound to happen smoothly.
Although with Gmail's Collaborative Inboxes you can assign emails to Google Group members, the process is long-drawn and complicated – not the most ideal scenario when you want things done swiftly and efficiently. Also, there's no straightforward way to keep track of every email.
You need to be able to assign and track emails in the simplest of ways and Hiver makes that possible. Hiver's email delegation feature helps teams assign emails to specific team members in just two easy steps – right from the Gmail sidebar. It even allows you to track the status of every email – open, pending, and closed – so your team knows, at a single glance, which emails need to be worked on.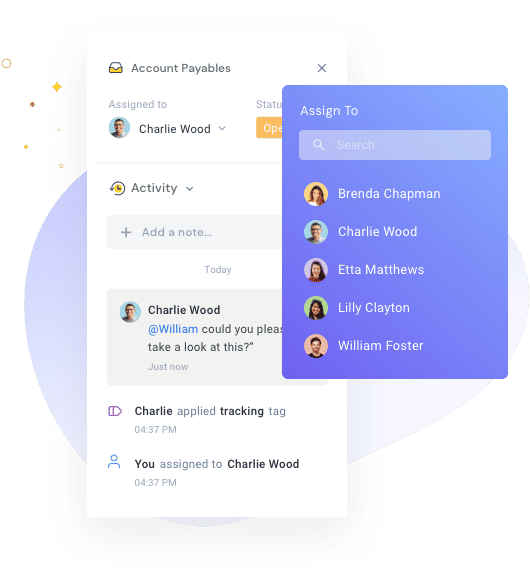 3. Automate minor repetitive tasks
Received an email that you think Lilly from the sales department can handle? Use the required keywords or triggers to automatically divert similar mails from the shared inbox to her, so it's taken care of and you don't have to worry about it.
With hundreds of emails pouring into your mailbox, manually assigning each one to an agent is a time-consuming process. Hiver enables automated email assignments through Round-Robin assignments which will help you save a ton of time. By automatically assigning emails, your team can focus more on improving customer engagement and productivity.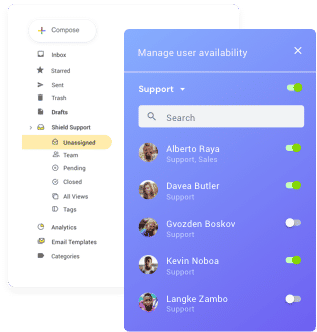 4. Set canned responses for quicker replies
Canned email responses are saved templates that can be used to respond to commonly asked customer questions. Your team must turn their frequently sent emails into templates so they can respond to incoming queries a lot faster.
What's more, by leveraging email templates, your team members can save a lot of time as they don't need to type out replies to similar queries over and over again. This leaves them with more time to focus on the critical tasks at hand.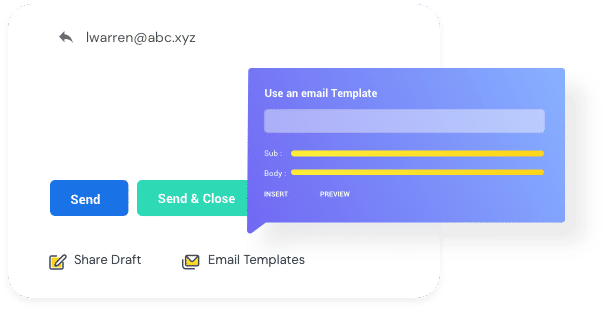 5. Refrain from sending out conflicting responses
Check with any manager and they will most probably tell you of an instance where they rushed to send a response to an urgent email only to find that another coworker has responded to the same email.
Sending multiple (or worse, conflicting) replies to a single email will make your team look incompetent and unprofessional.
So how do you overcome this? The answer lies in a feature introduced by Hiver, called 'Collision Alert'. This feature will notify you when someone is already working on an email you are looking at.
Hiver's Collision Alert feature prevents two people from replying to the same email and in turn, helps you eliminate the risk of sending duplicate responses.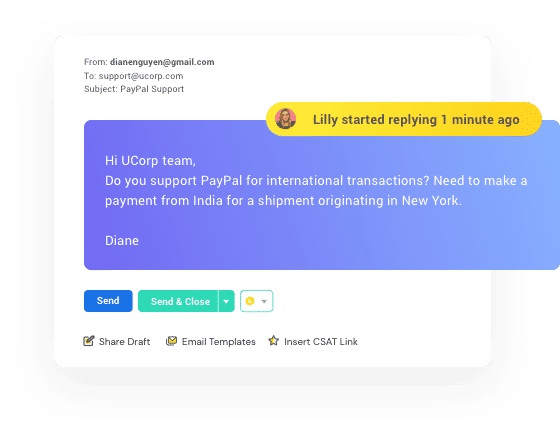 6. Assign labels to conversations
Your team may be receiving hundreds of emails in a day, and it will help to keep your team inbox organized. With labels or tags, you can categorize emails by priority or type. This way, your team members will have better clarity on the emails relevant to them and will allow them to respond to more important emails quickly.
With Hiver Tags, you can even automate the process of adding labels to emails. For example, all emails from [email protected] can be tagged or labeled as "urgent" so the team member responsible for handling the account can resolve the issue on priority.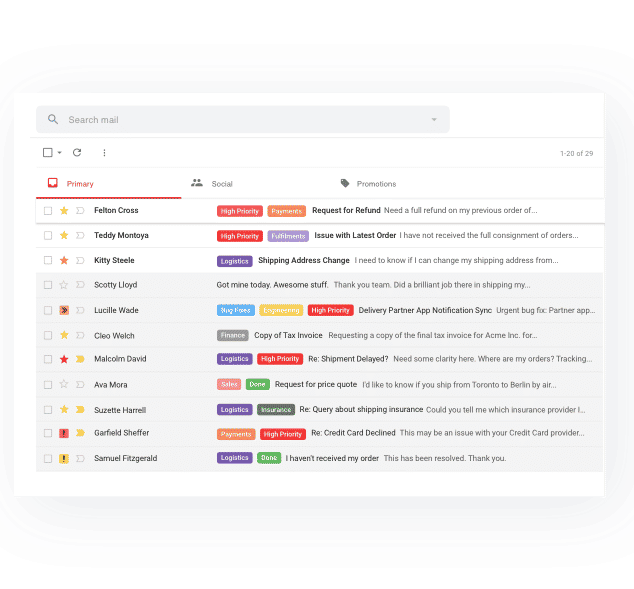 7. Prioritize teamwork and collaboration
Another best practice that makes it to our list is to ensure that everyone within the team works collaboratively. It's important to hold meetings and assign roles with a shared mailbox. Everyone on your team must understand their individual roles, their respective goals, and how they tie in to the team and the organization's greater goals. Team members must also work closely together towards achieving them.
Email Notes are a key feature that Hiver offers to facilitate better team collaboration. They allow you to have private and highly-contextual discussions with your team members, without the hassle of CCs/forwards. They keep your email inbox clutter-free.
Hiver's Shared Drafts is another great feature that helps you collaborate with your team members on crafting the perfect response to incoming emails – all in real-time.
8. Keep track of individual and team performance
Your team's overall performance depends on the responsiveness with which emails are handled (first response time),how long it takes to address an issue (resolution time),and of course, how many emails are handled every day. And if yours is a customer-facing team, knowing how satisfied customers are with your service is important too.
Such data is useful to identify training needs for specific team members, as well as to manage your team's performance. But Google Workspace only provides information on how many emails are sent/received by the group.
With Hiver, you can easily get data for the above metrics and ensure your agents' individual performance as well as your team's overall support quality is on track.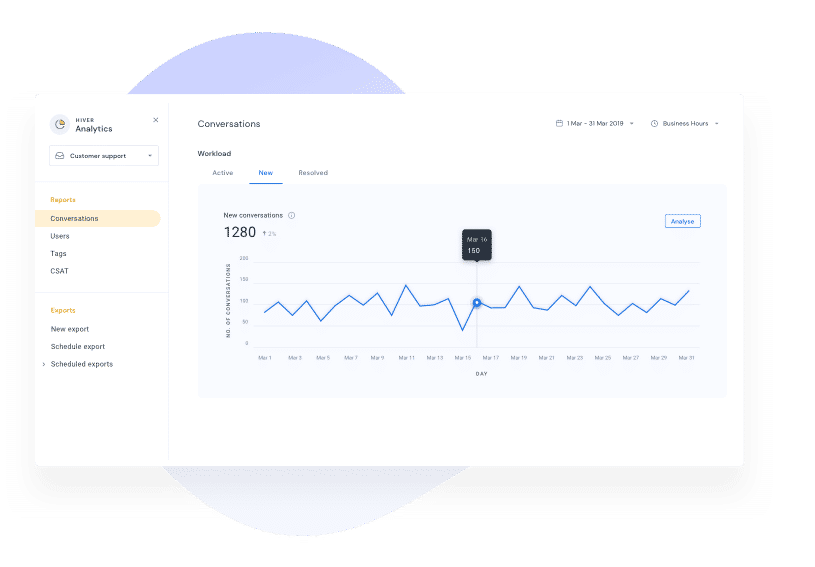 Wrapping it up
Email is one of the most widely used professional tools, but it could do with a bit of a makeover. The tips that we have laid out here will help you build a unified team focused on improving team productivity.
If you're looking to do more with a shared inbox, then it's time to give Hiver a try! Give your Google Workspace shared inbox a face-lift by choosing Hiver – the world's first Gmail-based helpdesk. Hiver's unique features will help you overcome the shortfalls of Google Groups and Collaborative inbox — in terms of visibility, analytics, and team collaboration!
Get started with a free 14-day trial and explore the many collaboration features that are built to help teams delight customers with faster and more efficient service.