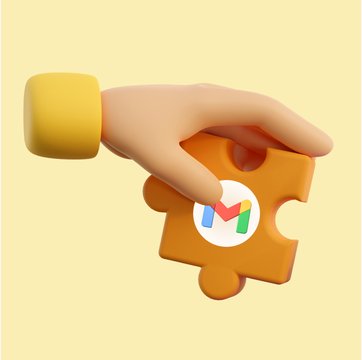 Table of contents
Turn Gmail into a collaborative hub
10 Google Chrome Extensions for creating Email Templates
Sep 15, 2023
|
8 min read
|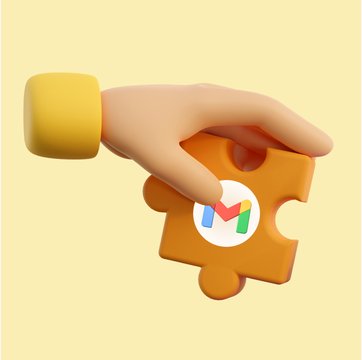 Table of contents
Despite the popularity of messaging apps, email is still a very popular communication channel for businesses.
Whether you're a support rep having to respond to hundreds of customers, a marketer planning out an email campaign, or a salesperson reaching out to prospects, efficient and timely email communication is important.
In such situations, email templates can make a huge difference.
What are Email Templates?
Email templates are pre-designed and pre-written email messages that can be easily customized and used for various purposes in business communication.
Instead of composing the same type of email from scratch each time, templates allow you to start with a pre-made structure and content. This saves time, especially when you frequently send similar emails.
Aside from this, email templates help maintain a consistent and professional tone in your business communications. They also ensure that important information is conveyed accurately and without errors.
Now, an email service like Gmail does not have a native template feature. Instead you can use various Chrome extensions and add-ons that can enhance Gmail's functionality by adding email template features.
In this blog we talk about ten Google Chrome extensions to help you create and manage email templates on Gmail with ease.
27 Chrome Extensions for Managing Emails
Enhance Email Efficiency with a Gmail Template Extension – Discover Top Picks
Here are ten Gmail extensions to help you create professional and time-saving email templates for your business.
1. Hiver
Hiver is a multi-channel help desk that allows businesses to offer exceptional support to customers, employees, and vendors across email, live chat, knowledge base, and voice.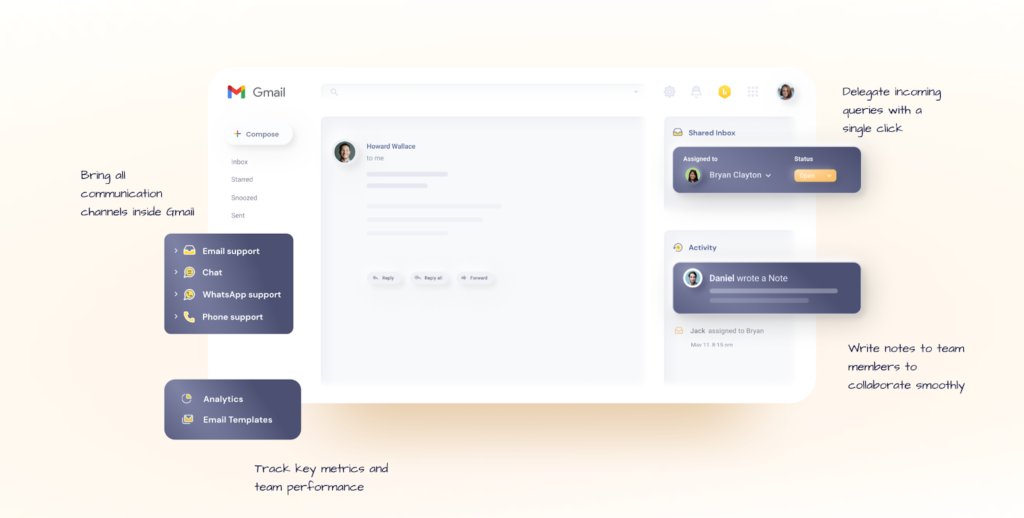 The platform is super easy and intuitive to use since it works right out of Gmail, meaning that your teams can get started with using Hiver without any extensive training.
One of Hiver's standout features is email templates which are fully integrated within Gmail. You can compose, save, and add email templates to folders using the platform's WYSIWYG editor and share them with your team.
What you'll like:
Hiver allows you to easily create, save, and share responses as templates with your team
You can access these templates with a few clicks and use them to respond to repetitive customer queries
Hiver's Email Templates are fully integrated within Gmail and can be personalized according to your preferences using auto-fill variables. For instance, auto-fill variables can pick data from Gmail's 'To' and 'From' address fields any time you write emails.
You can also embed relevant images to your email templates to add more visual context to your conversations.
2. Briskine
Briskine's Gmail template extension is a great tool for professionals dealing with a high volume of emails.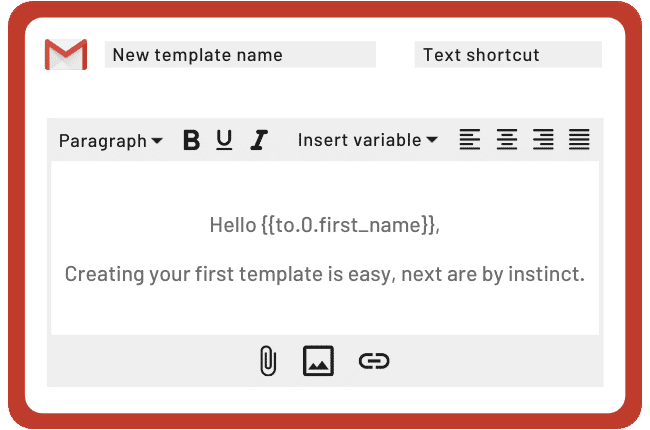 Briskine provides email templates and keyboard shortcuts to help you craft responses with ease.
What you'll like:
Briskine allows you to create templates for common questions so that you can respond faster to emails 
You can personalize your templates with custom variables such as the recipient's first name, date, etc.
You can also add images, links to articles, and attachments to add better context to your emails
You might also like: 7 Best Chrome Extensions for Your Customer Service Team
3. Typedesk
Typedesk is an application that can be used natively on Mac and Windows devices or added as a Chrome extension on your browser.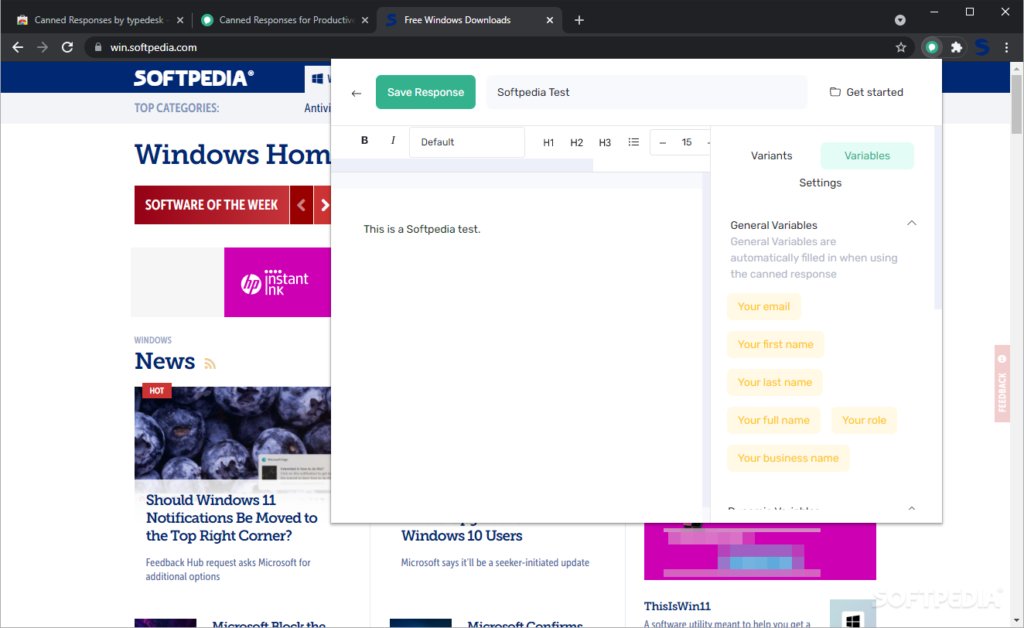 The platform enables you to boost your productivity by automating typing tasks and recommending canned responses while composing emails. So, you don't have to waste time typing the same things over and over again.
What you'll like:
Use Typedesk to create text templates of phrases and sentences so that you can reuse them any time you want to craft an email
You can define custom shortcuts to add your responses to emails quickly. For instance, say every time you type in ':lmk', it automatically expands to the sentence – 'let me know if you need more help' within the email.
The Activity feed feature ensures that anytime someone changes a template, the rest of the team gets a notification. This ensures that all 
You might also like: 10 Best Gmail Add-Ons to Boost Your Productivity in 2023
4. Magical
Magical's Chrome extension enables users to create email templates and craft various types of content with the assistance of artificial intelligence.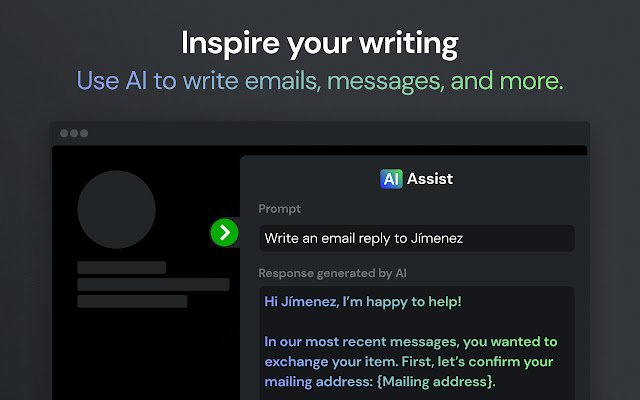 The extension provides suggestions, autofill options, and text expansion capabilities to streamline the writing process, making it a valuable tool for professionals.
What you'll like:
You can save your commonly used responses as email templates and add more content if required using the tool's text expander
You can use Magical to personalize your emails using autofill to input lead details
Share your most effective messages (emails with high response rates) with your team members
5. Gmail Email Templates by CloudHQ
Gmail Templates by CloudHQ is a user-friendly extension that allows you to create and use email templates directly within Gmail. It's a great choice for those who want a simple solution to create templates for email.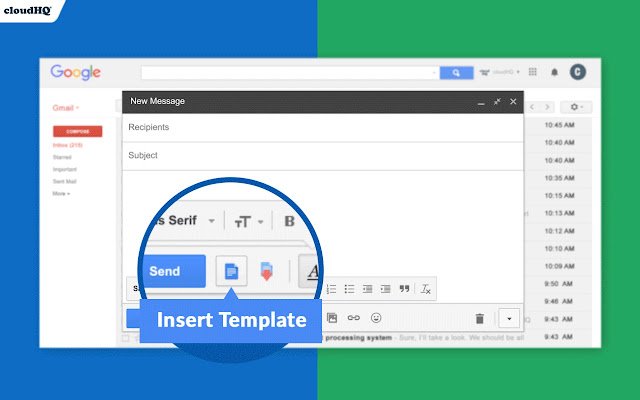 With this Gmail template extension, you get access to a free library of pre-designed email templates that you can use to send out newsletters, holiday greetings, reminder emails, common responses (ex. request customers to fill a form, troubleshooting instructions, etc.)
What you'll like:
Intuitive email design creator with free stock photos to create your own emails
HTML editor for those who know how to code emails
A mobile add-on that allows you to access and send email templates from your phone
You might also like: 9 Powerful Win-Back Customer Email Templates
6. Gmelius
Gmelius is a collaborative email management and productivity tool that offers email templates as one of its key features.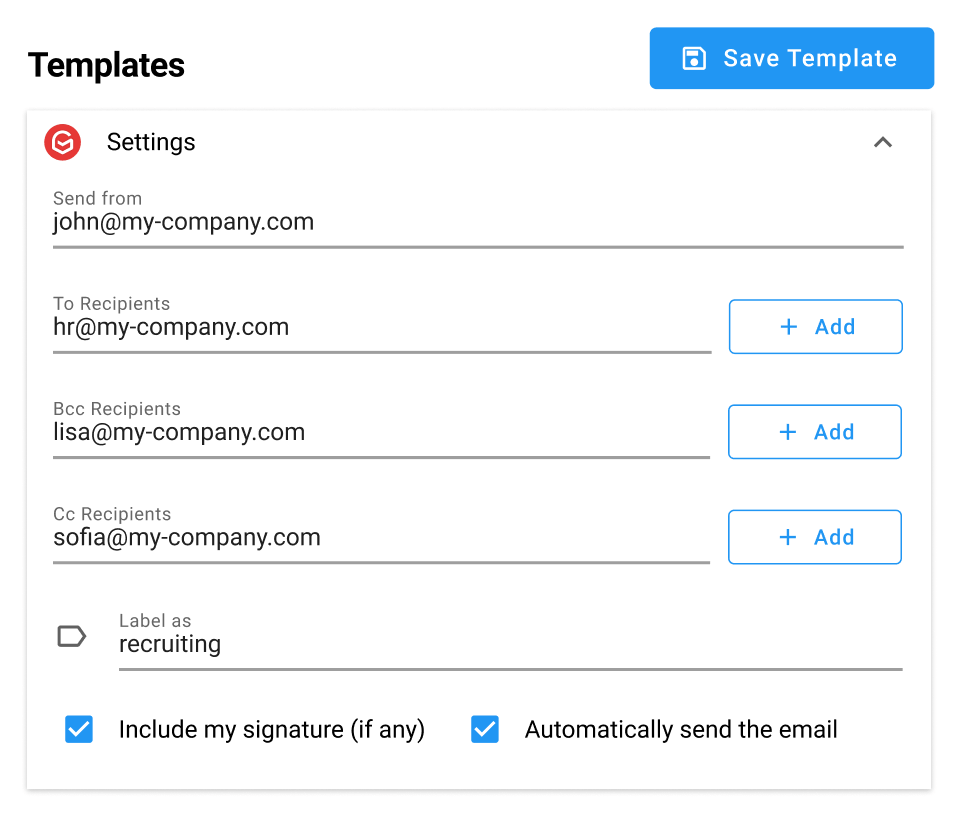 With Gmelius's email templates you can create, save, and use pre-designed email messages for various purposes
What you'll like:
Convert your most effective and repetitive email responses into templates and share them with your team
You can organize your email templates into categories or folders for easy access and management
Gmelius also supports personalization in templates, allowing you to insert placeholders that will be automatically replaced with recipient-specific information when you use the template.
You might also like: Top 10 Gmelius Alternatives for 2023
7. ContactMonkey
ContactMonkey is an email tracking and analytics tool designed to enhance email communications for businesses and professionals. It offers several features such as read receipts, engagement analytics, and link tracking to help users better understand how recipients engage with their emails. This is particularly useful for sales professionals and marketers who want to know when their emails are being viewed.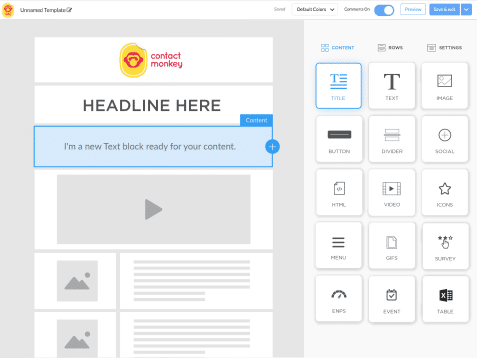 ContactMonkey's Gmail template extension allows you to create responsive HTML email templates using the platform's drag and drop builder. You can choose from a wide range of pre-built, professionally designed email templates or create one from scratch.
What you'll like:
Responsive HTML emails that display perfectly across all devices and email clients
Email tracking functionality that allows you to see when recipients open your emails and click on links. This information can be valuable for sales and marketing professionals.
Real-time notifications when someone opens your email, which can be useful for timely follow-ups.
Collaborate with team members by sharing email templates and campaigns.
Conduct mail merge campaigns, sending emails to multiple recipients while using dynamic fields for personalization.
8. Templatius
Templatius's Gmail template extension allows you to write emails faster and thereby improve your overall productivity.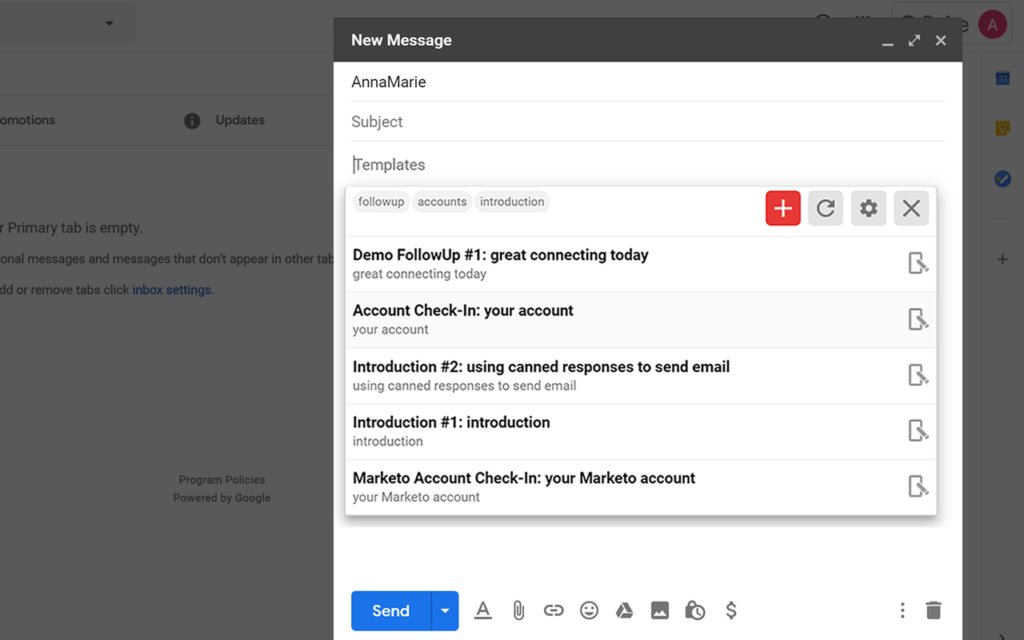 You can use the Templatius to create both text and HTML email templates. The best part is that you can create any number of Gmail templates for free.
What you'll like:
Templatius allows you to add your repetitive email responses as templates. These templates can be added into your everyday emails in a few clicks, and personalized using tokens.
A meticulous search and tagging feature that allows you to easily find the right Gmail template either by typing phrases associated with your template or by selecting specific tags
Insert merge tokens to auto populate name, email, day, week, month and other useful dynamic properties.
9. SendPulse
SendPulse is a comprehensive email marketing platform that helps businesses and marketers engage with their audiences effectively.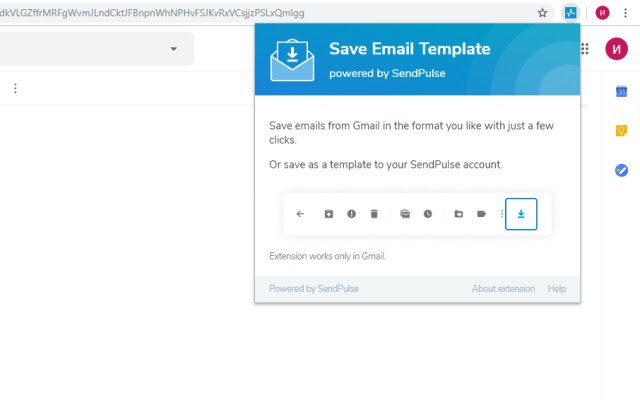 SendPulse has a chrome extension called Save Email Template that just as the name suggests allows you to create and save Gmail templates for future use. You can save any template as a PDF, PNG, or HTML with a single click. All you need to do is open an email thread, download the email (this will be possible once you have the extension),and choose the format in which you want to save the email.
Saving emails as PDF or screenshots can help you easily share noteworthy emails with your colleagues while saving an email as an HTML template allows you to make changes within the code and reuse it for your own campaigns.
What you'll like:
An email editor to design and customize your email. This includes adding content, images, links, and any other elements you want to include in your email campaigns.
You can choose from over 130 ready-made email templates depending on your goals – be it sending out a monthly newsletter, or an event invite, or responding to a customer. 
When creating a message, you can save the elements that you want to use for future templates
Ready-made components like header, footer, unsubscribe links, and more, to help you add important email elements to your communications
10. Mixmax
Mixmax is a productivity and communication tool that enhances email capabilities, primarily for Gmail users. It offers various features designed to streamline email communication, scheduling, tracking, and more.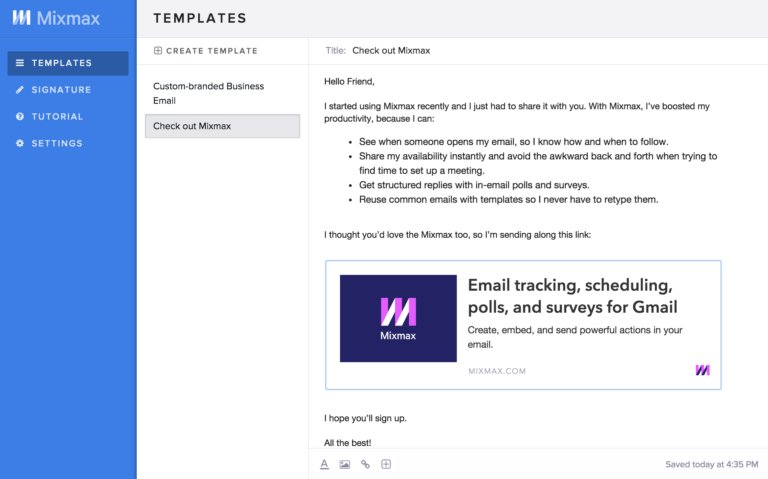 Mixmax has a Gmail template extension that allows you to create visually appealing and brand-consistent emails while saving valuable time and effort in the process.
What you'll like:
You can create and save email templates for different purposes, such as sales outreach, customer support responses, or general communication.
You can use the rich text editor to design your email templates, including formatting text, adding images, inserting hyperlinks, and more.
Beyond templates, Mixmax includes a "Saved Responses" feature that lets you save and reuse frequently used responses or snippets of text.
You can track the performance of your email templates, including open rates and click-through rates, to understand which templates are most effective.
You can create custom variables to include specific data relevant to your business or industry.
Mixmax also offers a template library where you can discover and access pre-designed templates created by others in your organization or by the Mixmax community.
Wrapping Up
Gmail template extensions for creating templatized email responses improves the efficiency and convenience of your email communications.
You can craft professional, consistent, and personalized emails for a wide variety of usecases with ease. By utilizing these Gmail template extensions, you can save time, maintain brand consistency, and make a lasting impression on your recipients, all within the familiar and user-friendly environment of your Gmail.