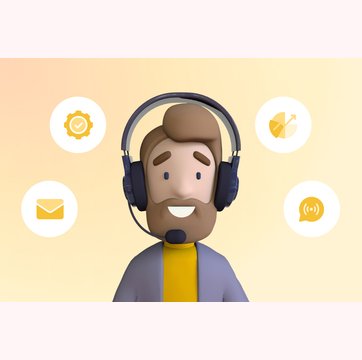 Table of contents
8000+ teams use Hiver to delight their customers!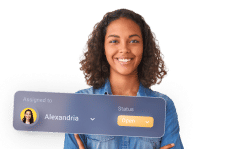 Help Desk vs. Service Desk and ITSM: A Detailed Comparison
Understand the definition, similarities, and differences between a help desk, service desk, and IT service management.
Sep 26, 2022
|
5 min read
|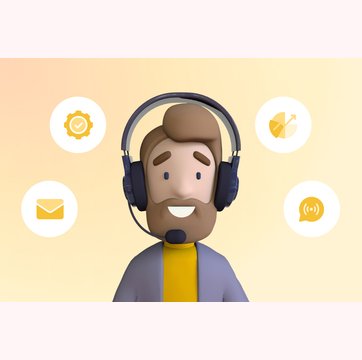 Table of contents
Help desk. Service desk. Information technology service management (ITSM). You might've searched for these terms on Google, only to find that they all deliver similar results.
But, aren't they different?
Yes — but there's a lot of overlap. Help desks and service desks both cover several ITSM activities — like incident management, service request management, and asset management. Help desks and service desks also meet the same business goals:
Managing IT support tickets
Tracking agent productivity
Resolving customer issues and internal queries from employees
To clarify these IT support terminologies and help you understand them like a pro, we'll define and compare them.
Table of Contents
What is a help desk?
A help desk is a business department that uses software to handle customer or employee requests, especially technical issues. IT help desks specialize in resolving one-off technical incidents — like software glitches, connection problems, or system crashes. This process of analyzing a service issue, finding a fix, and applying it is called incident management.
Companies started using help desks in the 80s to troubleshoot IT problems, so they're seen as reactive instead of proactive. Some even consider help desks outdated.
Help desks are great for managing incidents. But traditional help desks carry an ironic reputation for being unhelpful because:
What is a service desk?
A service desk is a contact center or single point of contact (SPOC) between a company and its stakeholders — customers, employees, vendors, and partners — for recurring issues. Service desk agents often answer product-related questions and manage access to new tech.
Like help desks, service desks help teams focus on incident tracking and escalation. Service desks also cover other ITSM tasks like:
Service request management: Addressing requests for new features
Knowledge management: Creating and storing answers to frequently asked questions in a knowledge base
Self-service: Providing self-service options like community forums or chatbots
Reporting: Presenting metrics on agent performance and customer satisfaction
Because an IT service desk typically handles more activities than a help desk, it's easy to start looking at help desks as less valuable service desks. But in practice, they do the same thing: help companies support their customers or employees.
What is ITSM?
ITSM (also called IT service management) refers to the range of activities a company performs to plan, deliver, and maintain quality IT services for end users.
Various IT service providers use ITSM processes for their businesses, including:
Subscription-based software like music streaming apps or customer communication tools
Network servers like web or application servers
Hardware companies that sell products like laptops or printers
The main difference between help desks, service desks, and ITSM is that the first two are support centers, while the third is a related function whose processes they carry out. Help desks and service desks are ITSM subsets, just as content marketing and product marketing are marketing subsets.
Help desk vs. Service desk
Many businesses use these two terms interchangeably. A company may call its service desk a help desk because the latter is more common. At the same time, another company may call its help desk a service desk because the company wants it to seem more service oriented.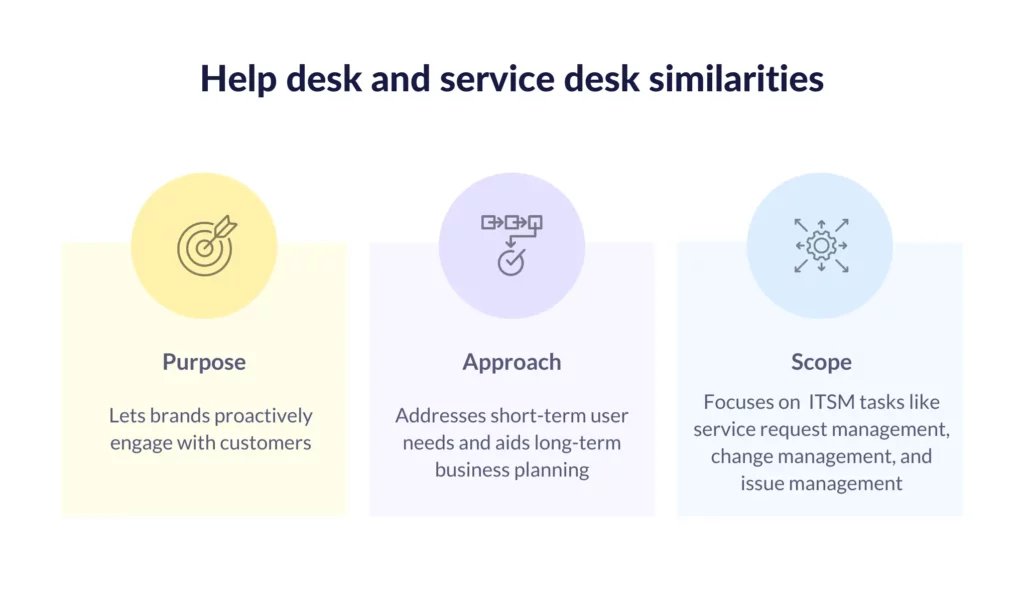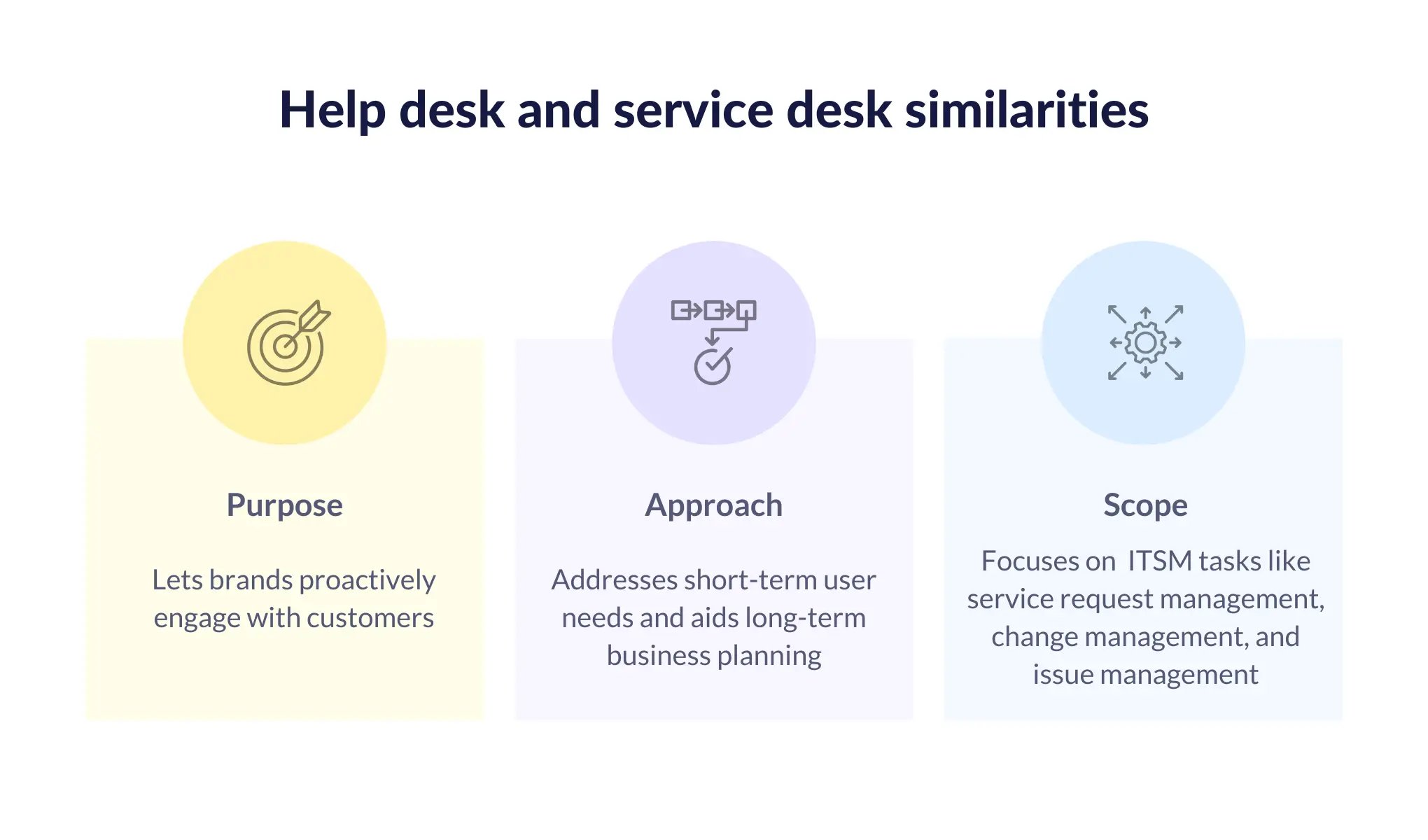 Features to look for in a help desk or service desk tool
Empower your support team to communicate with customers smoothly, fix issues quickly, and handle their workload easily with these tools and workflow automation.
1. Visibility into your team's workload
When you can see the support requests each agent is handling, you'll be able to redistribute and balance out their workload, in a more efficient way.
A help desk software like Hiver gives you viewing and workload allocation features that let your team respond to clients quickly — without burning out.
2. Live chat widget
A live chat widget is a little chat box you add to the bottom of your website or mobile app to allow customers or employees to talk to support agents.
Use a service or help desk solution that offers live chat so your support reps can resolve issues, engage leads, and send self-service options through chat in real-time.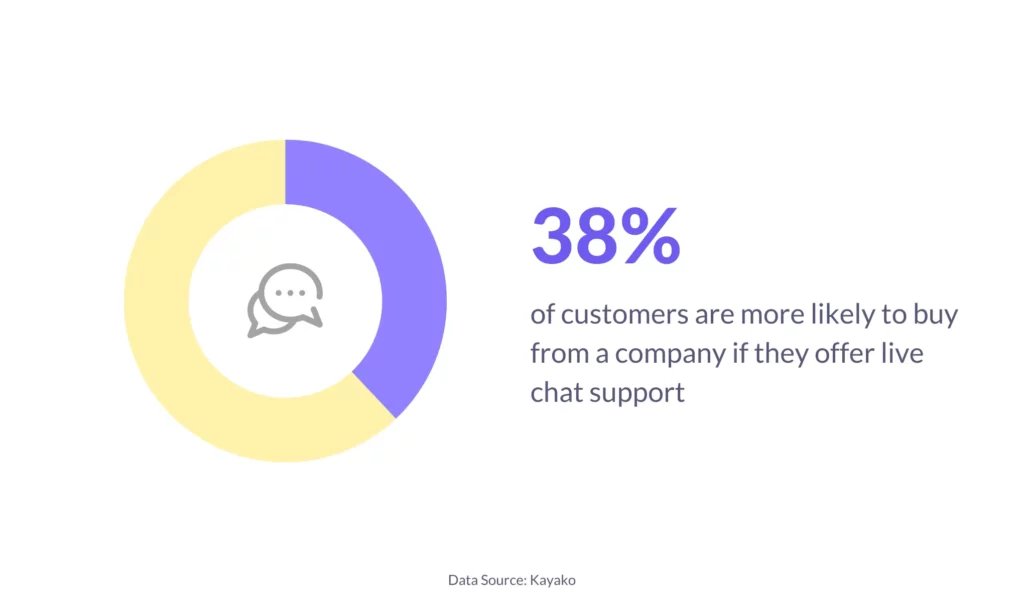 3. Comprehensive analytics on agent performance
Track agent performance with a help desk or service desk tool that generates in-depth reports, including:
Conversation reports that let you seehow your team is managing customer messages — from how many conversations each agent is handling to individual turnaround time.
User reports that cover every part of individual agent productivity and show what top performers are doing better than less efficient agents.
Tag reports that let you monitor customer conversations by their tag names — like critical or low priority — find common trends or blockers and tackle them.
Custom reports that give insight into any agent performance metric you need without having to code, use another tool, or hire a data analyst. Say you want to track how many critical conversations your team has resolved; you can create a "critical resolved conversations" report.
These reports will also help you reward top-performing agents and train your team based on their skill gaps.
4. Service level agreement (SLA) management
Service level agreements (SLAs) keep customer support reps accountable for responding to requests in a timely manner. Imagine you set an SLA for five hours. If no agent has picked up a customer query in that time period, your service desk or help desk software alerts managers so that they can step in.
Select a help or service desk tool that lets you:
Set up multiple SLAs around your business hours
Add automatic SLA violation tags
Get notifications for SLA violations
Improve your IT management processes and service delivery by tracking SLAs based on preset business hours — for one location or across multiple time zones.
5. Customer surveys
According to research, 57% of customers are loyal to brands with good customer service. Use a help or service desk tool's customer survey feature to understand what your audience thinks about the support they get — and improve accordingly.
Control how you collect feedback with a software that lets you customize and send customer surveys after specific support interactions.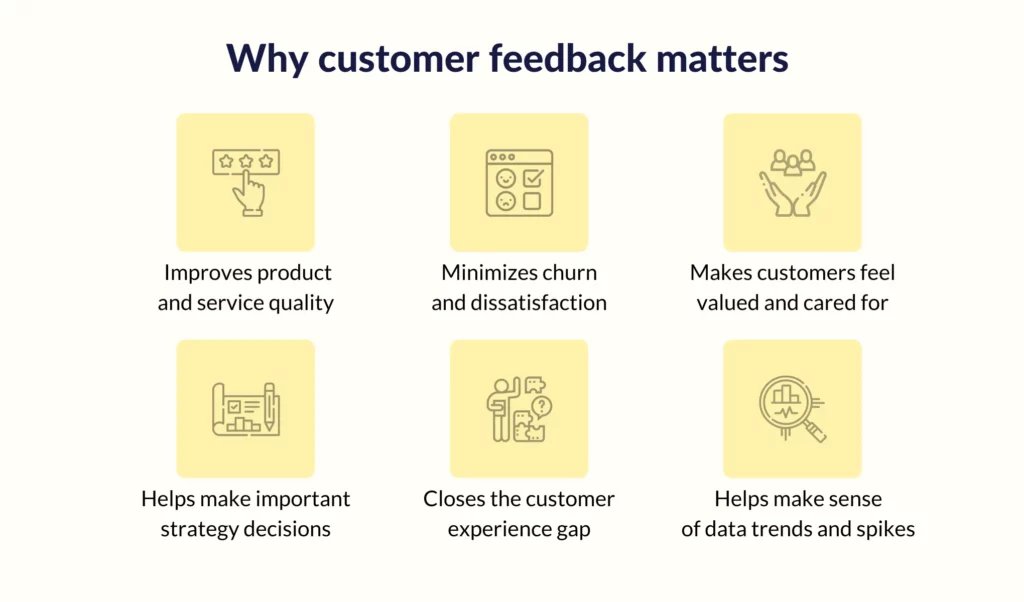 6. Data security
Cybersecurity is a concern for every business that operates online. Stay prepared by using a help desk or service desk software that keeps your data safe with airtight security features.
Many software companies list their data protection processes on their website security page — like third-party security audits, incident response policies, use of no logs VPNs with authentic providers, vulnerability disclosure programs, and more.
Check that the help or service desk you choose has a solid privacy policy and clear guidelines for how:
It stores and backs up user data
Its software interacts with third parties
The software verifies user access
Power your customer service with user-friendly software
There are so many help or service desk options to choose from today. Even when you know the features to look for, selecting the one that fits your business needs can be a challenge.
To make a decision, shortlist products that have the right functionalities, then sign up for free demos and trials. This process will help you find a tool that's easy to use and customizable to your business needs.