Do you know why some companies are way more successful than others? There are a bunch of different reasons – the quality of talent, the culture that's instilled, and so forth. But, at the core of it all is teamwork and teamwork ethic.
It's about fostering a certain type of environment where individuals can seamlessly collaborate, exchange information, brainstorm ideas, and ultimately complement each other in the best possible way.
Collaboration is the enabler of innovation. It's what makes teams push their limits and learn new things.
Look no further than how Pixar's team came together in an emergency situation to redo the opening one third of Toy Story. Or Rolling Stones's Keith Richard exactly knowing if the tempo dragged just by looking at Charlie Watts' left hand. There's also the 1980 U.S. Hockey Team which, despite fielding amateurs, grabbed the gold medal that year.
In all these stories, the common trope is great teamwork. Even if you aren't into motivational anecdotes, the importance of team collaboration can be reinforced by data.
The burning need for team collaboration
Forget teams actually collaborating for a second. Just the mere perception of working collectively on a task has the ability to supercharge performance, according to a Stanford study.
In fact, companies that do emphasize team collaboration are five times as likely to be high performing. But it's not just about the performance – companies that communicate effectively are 4.5x more likely to retain the best employees.
One of the primary ways to push new boundaries is work collaboration. Based on a study by Mckinsey, up to 80% of businesses use social collaboration tools to enhance business processes.
For employees, internal collaboration is one of the main deciding factors when looking for a job. In fact, 33% of them actually want to work in companies that promote collaborative workspaces, according to Mercer. Also, 37% of employees say 'working with a great team' is the main reason for staying at a job.
The bottom line here is simple: from helping companies become more profitable to improving employee morale as well as brand perception, the benefits of team collaboration are multifold.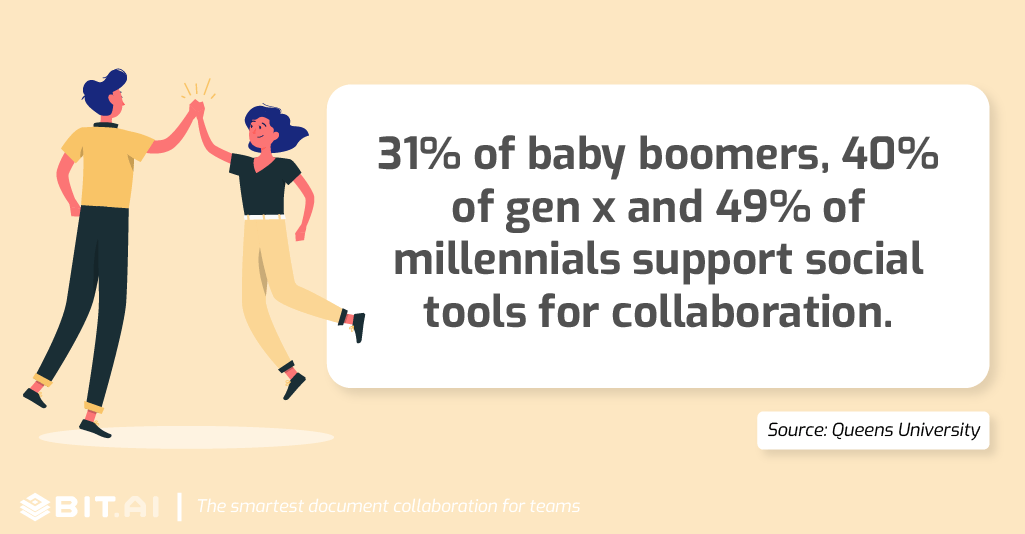 But.. are teams able to collaborate?
As much as we talk and discuss team collaboration, the reality paints a contrasting picture.
Salesforce found out that 86% of employees and executives cite lack of collaboration or ineffective communication for workplace failures,.
And while 75% of employers rate teamwork and collaboration as 'very important', only 18% of employees get communication evaluations at their performance reviews, reports Queens University of Charlotte.
Despite employees wanting to work together more, 39% of them believe that people in their own organization don't collaborate enough.
So, why isn't team collaboration practiced as much as it is preached? What's stopping teams from working together effectively?
Team conversations hold the key
One of the biggest barriers to seamless team collaboration is communication.
How do your team members converse with each other? Are they able to easily exchange information and ideas? Are they able to keep track of all these conversations?
Ever since the technology boom, it's no secret that we've become overly dependent on apps and tools to communicate. According to an Alfresco survey of more than 753 business professionals, nearly 83% of professionals depend on technology to collaborate. Also, 82% of the participants felt they would feel impacted if this technology to collaborate ceased to exist.
So, it's safe to assume that the key to better communication within teams is by leveraging technology in the right way. So, how do you go about it?
Email is a great place to start

Even with the proliferation of social media and other messaging apps into our lives, Email is still as popular as ever. What's a tad bit more surprising in this day and age is that Email takes pole position amongst all the communication channels – with over 3 billion users and around 180 billion emails exchanged on a daily basis.

This omni-presence of Email is because it has qualities, unlike all other messaging platforms/apps. It's free, extremely simple to get started with, asynchronous in the way it works, and also fits well into the mobile ecosystem.
In fact, we did an infographic around the time Gmail turned 15, to provide some insight into how integral the email service is in the online ecosystem.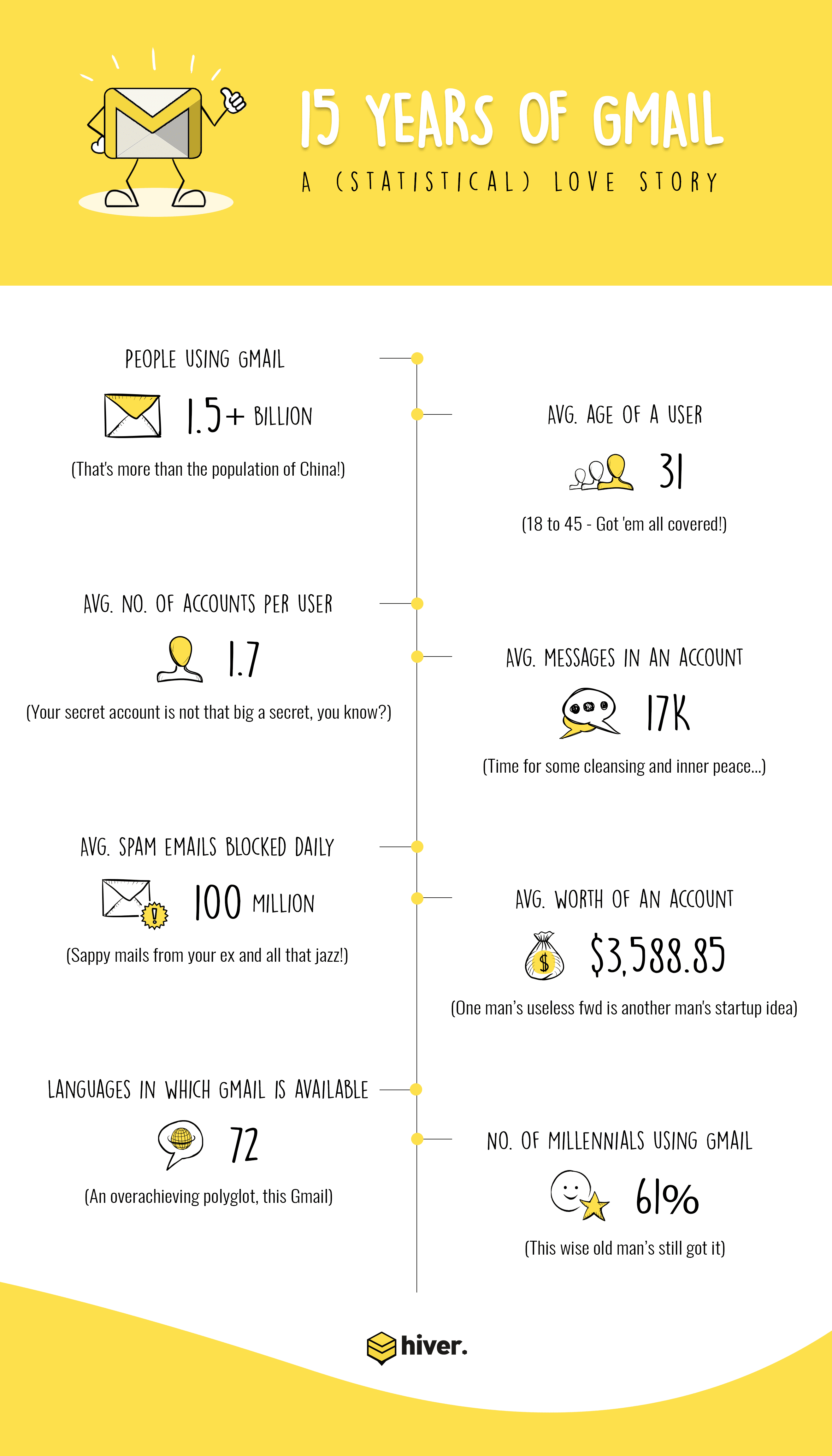 But, as a standalone platform for collaboration, Email only leaves teams frustrated. Let's find out why!
Where does Email fail?
Here's the thing about Email. It was mainly designed for one-on-one communication. That's where it excels.
But when teams start collaborating over Email, it's anything but seamless.
Now, you might be wondering why that happens. Well, let's go through a few scenarios where teams would normally collaborate over Email.
While working on a project: Team members use email to share project-related information internally and also to stay in constant touch with the client about the status of the project. Email is still a widespread communication channel during team projects even in the age of project management tools.
Communications between departments: For instance, when the sales team wants their bills reimbursed, they'd get in touch with the finance department by mailing a group ID such as [email protected]
Handling customer queries and other external requests: Every company today has a group inbox like [email protected] or [email protected] to manage external queries. Such group inboxes usually have multiple team members logging in and working together, to process emails coming in on a daily basis. 

  
As you can see, especially from the 2nd and 3rd scenario, a group inbox – either internal or external – involves a lot of collaborative effort, as teams would want to view and delegate emails, and also keep track of who is working on what email.
That being said, doing this isn't as straightforward as it seems.
Imagine a customer wanting to reach out to your company regarding a query or issue. They'd most probably send a message to one of your generic email addresses like [email protected], [email protected] or [email protected]
Now, we all have been in this situation, haven't we? Where we keep emailing companies, waiting forever for a response.
It's not that brands don't want to get back to you on time. They simply don't have the means to keep track of all these emails. And that's because most group inboxes look something like this:
Why managing Team Emails isn't for the faint-hearted
If your teams use Gmail for work, there are a couple of ways to go about managing team emails.

One common approach is to create one single Gmail account to process team emails in inboxes like [email protected] or [email protected] Then share the credentials with everyone in your team and have all of them log into the same Gmail account.
This method of managing team emails, however, has several blatant drawbacks.

Chances of getting blocked:

Multiple people accessing a team email from the same account alerts Google – they constantly track IP addresses. And there's a high chance the account gets blocked permanently.

Lots of back and forth:

Since team members have to log into a separate inbox to access team emails, they'll have to keep switching between this inbox and their personal account.

Lack of ownership:

If an email has just arrived in a shared inbox, there's no way for anyone in your team to know who needs to take it up.

Minimal clarity:

Gmail doesn't have the functionality to inform teams who is working on which email. Without this piece of information, you start missing out on emails as there's absolutely no clarity across the team.

Dip in productivity:

When using Gmail, there's no single place to look at all the emails assigned to you and what you need to do for the day. Consequently, you end up wasting time just figuring out your tasks.

More email clutter:

The only way to delegate or assign an email to someone is by forwarding that email to them. This means more emails, more inbox clutter.
The second way to go about managing team emails is by using a Google Collaborative Inbox. The advantage here is that teams no longer have to log into the same account for managing emails. However, the Google Collaborative Inbox has its own issues.
The UI is tacky:

Being a brainchild of Google, you might be led to believe that the Collaborative Inbox is as intuitive as other Google products. But it's not. The Collaborative Inbox doesn't look anything like Gmail and comes with a very mediocre and sloppy interface.

Takes time to get used to:

Your teams need to get up to speed with an alien platform (pretty alien, if you compare with Gmail!). On top of that, they will have to constantly toggle between their personal inbox and the collaborative inbox – emails slipping through the cracks wouldn't be a rare sight.

Can't keep track of emails:

If teammates don't copy the team email address while replying back to emails from their personal inbox, there's no way to know which email has been replied to.

Replication of work:

When your team isn't sure if an email has been acted upon, there's a high chance that more than one person ends up replying to the same email. Imagine the kind of impression you'd create for a customer or prospect.

Again, more emails:

Just like Gmail, the Collaborative Inbox doesn't offer an easy way for team members to communicate within the team – you'll have to send more emails to get inputs, take help, or discuss work.
So, how do you efficiently manage the everyday barrage of team emails?
Hit a Google search on using 'Email for team collaboration' and you'll find 9 out of 10 articles advising you to stop using Email altogether. Given the drawbacks of collaborating over team emails, it might definitely sound like a plausible option.
But, getting rid of Email only makes you less approachable to customers and prospects. Also, without Email, you'd have to get everyone in your team up to speed with an entirely new collaboration tool. This is not only time-consuming but also comes with its own costs.
The simplest way to manage team emails

What if you could manage team emails right from your Gmail inbox, without breaking a sweat? What if you are able to keep track of what everyone is doing in your team, enable smooth internal discussions, and ultimately build accountability?
This is where Hiver comes into the picture. Hiver is an easy-to-use email collaboration solution that enables businesses to manage team emails directly from Gmail.
Do everything from Gmail
The biggest advantage of using Hiver is that your teams no longer have to switch between multiple tabs for managing team emails. Be it one-on-one communications or emails coming to a [email protected] or [email protected] inbox, your team members can handle everything from their personal Gmail accounts.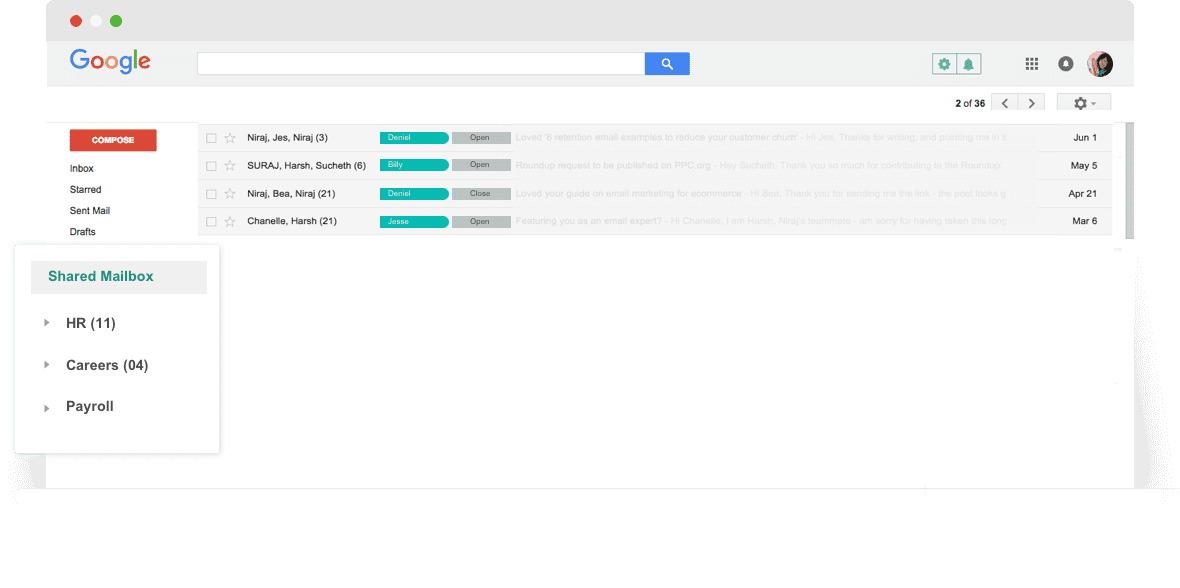 Build ownership and accountability within teams
With Hiver, every team email can be given an owner and a status. Meaning, you can keep track of who is doing what. Most importantly, every team member knows exactly what they have to do on a daily basis. So, there's very little confusion within teams and consequently, everyone becomes a lot more efficient.
Enable seamless internal communication
When collaborating over email, the only way a team member can communicate with a colleague is by sending another email. This opens up the possibility of internal and external emails getting mixed – that's never a good thing as one small slip up can result in an internal conversation leaking to a customer or a prospect.
Hiver eliminates the need to send more emails. Team members can talk to each other using quick, contextual notes which are attached alongside the email thread. No more internal forwards or CCs!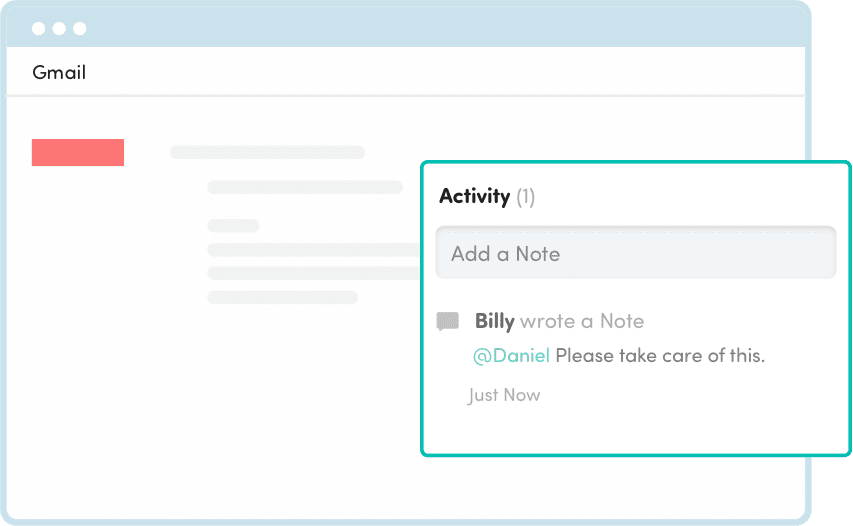 Monitor team and individual performances
At the end of the day, great team collaboration should make every team member better at what they do. On that note, Hiver helps you track key metrics to measure individual performances.
Find out how everyone in your team is performing – How quickly are they resolving team emails? How many tasks are they able to complete? Are customers/prospects satisfied after having an interaction with your team members?
Looking to try out Hiver?