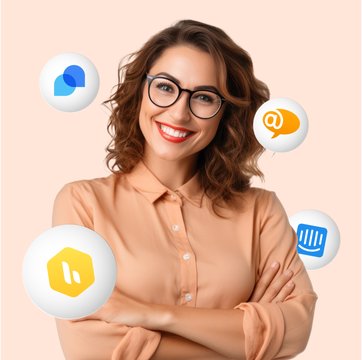 Table of contents
A help desk that also offers a live chat solution
Top 13 LiveChat Alternatives For Your Business
Nov 10, 2023
|
18 min read
|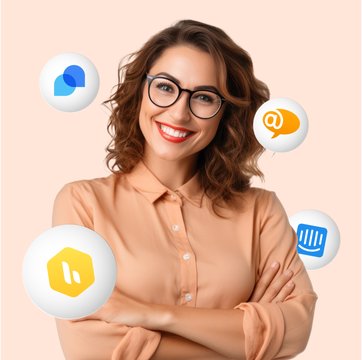 Table of contents
Technology has made it possible for businesses to connect with their customers in real-time. Case in point: the live chat widget on a website.
It provides a medium for businesses to address customer queries instantly. There's hardly any wait time if you think about it.
There are many tools that help businesses do this. Amongst them, LiveChat has carved a noteworthy reputation.
But here's the thing: LiveChat has quite a few drawbacks. It has a complex interface, limited customization options, and is also quite expensive.
But we've got you covered: Here are 13 LiveChat alternatives that are worth exploring in 2023.
Table of Contents
What is LiveChat?
LiveChat is a customer service platform that integrates live chat support, help desk, and web analytics functionalities. It's designed to enable users to provide support to customers, making it a reliable tool for real-time communication between businesses and their customers.
Businesses opt for LiveChat because of the following advantages:
Real-time Communication: Facilitates immediate interaction between support reps and customers, allowing for quick and efficient communication.
Drive More Sales: By offering live support at crucial moments, businesses can assist visitors on their websites. This can lead to more purchases and a higher average order value​.
Comprehensive Features: LiveChat is packed with features like canned responses, pre-chat and post-chat surveys, agent ratings, visitor details tracking, and more​. These features make a complete package for customer service as well as sales and marketing efforts.
But while LiveChat is a pretty handy communication tool, it has several limitations. Let's dive into those.
Why Choose a LiveChat Alternative?
Businesses often choose to find a LiveChat alternative because of the following issues with the software:
Pricing: The starter plan of LiveChat is priced at $20/agent/month, with basic reporting and chat customization options. On the contrary, if you take a tool like Hiver – you get a live chat tool and other essential help desk features such as automation, analytics, templates, multi-channel support, and more – for $15/agent/month.

Thus, LiveChat's pricing can particularly hinder small to medium-sized businesses or startups operating on a tight budget.
Learning Curve: Users may find LiveChat's interface and features not very intuitive, resulting in a steep learning curve. This could potentially delay the implementation process and necessitate additional training time for customer support agents. Moreover, the basic plans of the software do not include product training. So, you have to learn to make it work for you. Figuring out the software can especially hinder the efficiency and productivity of your support team.
Limited Customization Options: While LiveChat offers a range of features, it may fall short in terms of customization options. For instance, you need to upgrade to their premium plans in order to customize chat buttons according to your company's branding.

Also, you can remove LiveChat's brand logo from your chat widget only with the Enterprise package – which can be quite expensive. This lack of customization could limit the ability to provide a unique and branded customer experience.
Separate Products for Additional Features: LiveChat offers its chatbot, help desk, and knowledge base solutions as separate products, each with its own pricing plan. This approach could lead to higher costs for businesses in need of a comprehensive customer support solution. Moreover, managing multiple separate systems could also add complexity to the operations and require more time for administration and integration.
A comprehensive customer support solution for your business
Top 13 LiveChat Alternatives For Your Business in 2023
While LiveChat has been a reputable player in the industry, factors such as budget constraints, customization needs, and a steep learning curve may lead businesses to search for an alternative.
In this section, we explore top LiveChat alternatives, each with its distinctive set of features that help you connect with your customers and prospects in real-time.
| Software | Starting Price | Free Trial | G2 Rating |
| --- | --- | --- | --- |
| Hiver | $15/month/user | 7 days | 4.6 ⭐ |
| Tidio | $29/month/user | 7 days | 4.7 ⭐ |
| Crisp | $25/month/user | 14 days | 4.6 ⭐ |
| LiveAgent | $9/month/user | 30 days | 4.5 ⭐ |
| Intercom | $74/month/user | 14 days | 4.5 ⭐ |
| Freshchat | $19/month/user | 14 days | 4.4 ⭐ |
| Userlike | 90£/month/user | 14 days | 4.4 ⭐ |
| Tawk.to | Free suite | – | 4.5 ⭐ |
| Rocket.Chat | $7/month/user | 30 days | 4.2 ⭐ |
| LivePerson | N/A | 45 days | 4.2 ⭐ |
| Drift | $2,500/month/user | 14 days | 4.4 ⭐ |
| Olark | $29/month/user | 14 days | 4.3 ⭐ |
| Podium | $249/month/user | 14 days | 4.5 ⭐ |
13 Best LiveChat Alternatives
1. Hiver
Hiver is an all-in-one customer service software that offers live chat integration – out of many other features. Thus, it enables real-time customer support directly on your website.
Known for its user-friendly interface and quick setup, Hiver operates right from your Gmail inbox. So, there is no need to transition to a whole new platform and train your support team.
A simple installation of Hiver's extension gets you up and running! The chat widget provided by Hiver strives to deliver instant support, address common customer inquiries, and streamline escalations.
Besides its live chat feature, Hiver offers many other useful functionalities like shared inbox, automation, advanced analytics, knowledge base, and more. This means Hiver can become your one-stop customer support platform. Unlike LiveChat, you do not have to manage multiple systems to take care of your support operations.

Key Features:
Powerful Live Chat Functionality: Hiver offers a robust live chat feature designed to provide real-time customer support directly from your website, making customer interactions prompt and efficient.
Centralized Inbox: Centralizes customer communications and gives complete visibility into the status of every conversation. With its shared inbox, you can assign, track, and collaborate on queries to resolve them faster.
Integrations: Hiver allows seamless integration with other CRM and productivity tools like Trello, Asana, Slack, Salesforce, and so on.
Analytics: Hiver provides trends analysis, performance tracking, and email tracking to monitor and enhance support efficiency.
Best Suited For:
Businesses of all sizes that use Google Workspace. It is beneficial for those looking to enhance their customer service without having to handle complex software.
Pros:
Gmail Interface: Works on top of Gmail. This eliminates the need for additional set-up of a help desk platform.
Collaborative Efficiency: Hiver's powerful features like shared inbox, shared drafts, email templates, notes and @mentions, and collision alerts enhance team collaboration across various organizational departments.
Powerful Automation- Hiver offers robust automation capabilities – like conditional routing and skill-based routing. This takes care of the mundane and repetitive tasks so that your agents can serve your customers better.
24*7 Customer service- Hiver offers round-the-clock customer service. This ensures that assistance is readily available anytime and anywhere. So if your agents face an issue even at odd hours, Hiver's support team would be ready to assist.
Cons:
Limited to Google Workspace: As Hiver works on top of Gmail, it might not be the ideal solution for organizations using other suites.
Pricing:
Hiver's pricing plan includes:
Lite Plan: Priced at $15/month/agent, billed annually.
Pro Plan: Priced at $39/month/agent, billed annually
Elite Plan: Priced at $59/month/agent, billed annually.
2. Tidio
Tidio is another great LiveChat alternative. It is a customer communication platform designed to facilitate real-time interactions between businesses and their customers. It offers live chat, chatbots, and other email marketing functionalities. This enables businesses to provide instant support, automate repetitive tasks, and engage customers effectively.
Key Features:
AI Functionalities: Tidio can help enhance the efficiency of answering common customer queries with its AI-powered chatbots like Lyro and Reply Assistant​.
Integrations: Tidio can be integrated with platforms like Shopify, Wix, and WordPress, among others.
Email Campaigns: Tidio helps teams send personalized email campaigns. With these campaigns, you can target specific customer segments with tailored messaging.
Best Suited For:
Small to medium-sized businesses seeking an intuitive live chat platform with AI capabilities.
Pros:
AI Capabilities: Tidio's AI capabilities help reduce response time, improve customer service, and increase conversions.
Intuitive Interface: Tidio has a modern and well-designed interface that facilitates a user-friendly experience​.
Chatbots/Automation Feature: It has comprehensive chatbots and automation features that enhance customer service efficiency​.
Cons:
Tidio's suite of tools does not come in a single package. For example, there are separate products for customer service and a separate one for sales and growth.
Pricing:
Standard packages include:
Free Plan: Free for 50 live chat conversations.
Starter Plan: Priced at $29 per month for 100 live chat conversations.
Communicator Plan: Priced at $25 per month for unlimited live chat conversations.
Chatbots Plan: Priced at $29 per month for 50 live chat conversations and 2k-40k chatbot triggers.
Additionally, Tidio also provides add-ons, bundled and personalized solutions
3. Crisp
Crisp is another LiveChat alternative that can help businesses to engage in meaningful interactions with their customers. It offers a chat widget, chatbots, CRM integration, and more.
Crisp also helps streamline customer support through its ticketing system and boost customer engagement through email campaigns and in-app messages.
Key features:
Chatbots: Crisp's chatbots feature enables automation of lead conversations and support services. This can help businesses handle frequently asked questions, even outside of standard support hours.
Email and SMS Campaigns: Crips offers features like email and SMS campaigns and in-app messaging that improve customer engagement.
Status Page: The status page feature enables businesses to monitor system status and alert users accordingly. By providing real-time updates on system performance or maintenance schedules, businesses can manage user expectations and maintain transparency.
Best Suited For:
Small to medium-sized businesses looking to enhance their customer engagement through real-time conversations, automated support, and centralized communication.
Pros:
Ease of Use: Crisp is lauded for its user-friendly interface and intuitive configuration.
Visual Flow Builder: You can build chat flows with ease, save user data in custom fields, and translate chatbots to multiple languages.
Integrated Knowledge Base: With Crisp, you can create and update help articles easily, enhancing customer self-service​.
Cons:
Free plan is only available for 2 users, and the paid packages can be expensive.
Pricing:
Crisp offers three packages, each catering to different business needs:
Basic: Free forever for 2 users; ideal for personal websites or anyone who needs a basic chat to communicate with visitors.
Pro: $25 per month per workspace, geared towards early-stage startups looking to improve customer relationships.
Unlimited: $95 per month per workspace, tailored for companies requiring a full-featured solution for customer communication
4. LiveAgent
LiveAgent is a helpdesk solution tailored for small and midsize e-commerce businesses. Its feature set includes live chat, ticket management, online self-service portals, and license management, available as integrated and standalone applications.

Key Features:
Live Chat: LiveAgent claims to have the fastest chat widget on the market, which can help increase earnings by 48%.
Social Media Integration: LiveAgent offers powerful integration with social media channels like Facebook, Twitter, Instagram, Messenger, Viber, and WhatsApp. This way, you can be where your customers are, to resolve their queries.
Knowledge Base: Businesses can create how-to guides and troubleshooting articles directly from LiveAgent's dashboard, thereby promoting customer self-service options.
Best suited for:
Small to medium-sized businesses, especially in the e-commerce industry, that need to manage a high volume of customer interactions across different platforms.
Pros:
Robust ticketing system: It offers a comprehensive toolset with over 130 ticketing features and 200+ integrations.
No Setup Fee: There is no cost to set up LiveAgent, making it accessible for businesses to start without upfront investment.
24/7 Chat support: The company provides round-the-clock chat support to its users.
Cons:
Can include a steep learning curve in order to utilize all features effectively.
Pricing:
LiveAgent comes with different pricing packages, as per the size of the business:
Small business- Priced at $9/agent/month, billed annually.
Medium business – Priced at $29/agent/month, billed annually.
Large business – Priced at $49/agent/month, billed annually.
Enterprise business- Priced at $69/agent/month, billed annually.
Recommended Read: How to Create a Knowledge Base in 8 Easy Steps!
5. Intercom
Another LiveChat alternative, Intercom, is a customer service platform that blends automation with personal support to streamline customer conversations. It aims to help teams resolve customer inquiries with minimal human intervention.
Key features:
AI-Enhanced Help Desk: Intercom's help desk is AI-driven, allowing teams to work smarter and collaborate faster within one central workspace.
AI Chatbot (Fin): Fin is Intercom's AI chatbot that can instantly resolve 50% of customer questions by providing accurate answers. Fin can answer questions using multiple sources – including Intercom articles, public URLs, PDFs, or even text-based snippets.
Proactive Support: The platform allows businesses to onboard, educate, and notify customers with automated messages, reducing the volume of tickets and increasing customer satisfaction.
Best Suited For:
Businesses that prioritize personalized customer communication as a part of their growth strategy.
Pros:
Shared inbox: Intercom's shared inbox is designed to help teams handle and collaborate on customer conversations efficiently.
Customization: The platform offers extensive customization options for the chat messenger to match your business's brand identity. It also allows you to set up automated greeting messages for your customers.
Seamless Integrations: Intercom boasts over 300 app integrations, making it easy to connect with various business processes.
Cons:
The wide array of features and customization options might be overwhelming for smaller teams or those new to customer support platforms.
The tool is quite expensive.
Pricing:
Intercom has 3 pricing packages:
Starter plan – Priced at $74/month/agent
Pro plan – Priced at $395/month/agent
For the Premium plan pricing, you need to contact their sales team
6. Freshchat
Freshchat by Freshworks is a live chat and AI-driven messaging platform that enables businesses to engage in contextual conversations with their customers. It integrates various communication channels into a unified messaging experience. This allows for seamless interaction between customers and support, marketing, or sales teams.
Key features:
Bot-Driven Support: The platform enables the creation and deployment of AI-driven bots across websites, native apps, and messaging channels.
Contextual conversation: Agents have access to the complete overview of customer conversations, including past interactions and purchases made by customers, across all channels. This aids agents to have contextual conversations with their customers at any point.
Robust Analytics: The platform provides insights into customer behavior and team performance, helping businesses make informed decisions to scale their operations.
Customer Service Suite: Freshchat is part of an all-in-one customer service suite by Freshworks that includes collaboration tools, ticket management, and a knowledge base.
Best Suited For:
Freshchat is particularly beneficial for teams looking to integrate bot-driven support into their customer service strategy.
Pros:
Personalization at Scale: Freshchat helps businesses centralize their customer data. By doing this, agents get the necessary context on customers to offer personalized experiences.
API Integration: Freshchat's API capabilities enable integration with other systems like Teamviewer, Jira, Mailchimp, and more for a seamless chat experience.
Comprehensive Analytics: Insights into team productivity and bot effectiveness allow for continuous improvement.
Cons:
Many users have complained of technical glitches.
If businesses have more than 1 Freshchat account, managing all of them at the same time can be time-consuming and confusing.
Pricing:
Free plan: Free forever for up to 10 agents
Growth Plan: Priced at $19/agent/month (billed annually)
Pro Plan: Priced at $49/agent/month (billed annually)
Enterprise Plan: Priced at $79/agent/month (billed annually)
Recommended read: Hiver vs. Freshdesk – A Comparison Guide
7. Userlike
Userlike is a live chat software that integrates with websites and mobile apps to transform and enhance the customer experience. It is designed to bring businesses closer to their customers by generating leads, improving satisfaction, and boosting service efficiency.
Key benefits:
All-in-One Messaging: Userlike offers one-on-one support and targeted marketing campaigns on popular messaging apps like WhatsApp, Facebook Messenger, and Telegram.
Website Messenger: Userlike's website chat feature allows you to connect instantly with your visitors. It also offers multimedia messaging – like file sharing, video calls, and audio calls within the chat.
Chatbots & AI Automation: Userlike offers no-code automation and chatbot features, which you can integrate into your website.
Central Knowledge Database: Userlike helps create a central knowledge database that you can use to provide ​​answers to common customer queries.
Best Suited For:
It is especially well-suited for companies within the EU or those serving EU customers, given its strong focus on GDPR compliance.
Pros:
GDPR Compliance: Userlike is a GDPR-compliant solution, making it a secure choice for businesses concerned with data privacy.
Ease of Use: The platform is noted for its user-friendly interface and ease of integration.
Multichannel Support: It offers the ability to link different communication options, such as transitioning from a chatbot to WhatsApp.
Cons:
Pricing packages can be quite expensive
Pricing:
Userlike offers 4 pricing options:
Free plan – The free plan includes a live chat set up for your website that can be used by only 1 person.
Team plan – Priced at 90£/month (billed annually),which is around $109.88/month
Corporate plan – Priced at 290£/month (billed annually),which is around $354.18/month
Flex plan – You need to contact their sales team for pricing
8. Tawk.to
Tawk.to is a free SaaS live chat software, designed to help businesses communicate with their customers directly on their websites and mobile apps (ios/android).
Key features:
Real-Time Monitoring: You can see which pages your visitors are on in real-time, what they are searching for, and how often they visit your website.
Agent Collaboration: You can tag and assign conversations to chat agents within a coversation, ensuring the right person responds at the right time.
Knowledge Base Integration: You can streamline support with a customizable knowledge base that can be published publicly. With this knowledge base, your customers can help themselves with the FAQs resulting in faster issue resolution.
No Limits on Agents: Tawk.to is free, so there is no limitation on the number of users. Your entire team can use it.
Best Suited For:
Businesses who are new to implementing live chat software on their websites. It is a free and simple way to talk to your customers. It's particularly useful for small to medium-sized businesses due to its cost-effectiveness.
Pros:
Cost-Effectiveness: Tawk.to is completely free to use, which is a significant advantage for cost-conscious businesses.
Ease of Installation: A simple JavaScript snippet is all that's needed to add Tawk.to to a site.
No Limits on Concurrent Chats: Businesses can handle as many chats at a time as they can manage.
Cons:
Since it is a free software, the customization options can be limited. It includes white labeling like "Powered by tawk.to" in the branding, which some businesses may not prefer.
Pricing:
Tawk.to is a completely free live chat software.
Recommended read: Top 9 Free Helpdesk Ticketing Software of 2023
9. Rocket.Chat
A handy LiveChat alternative, Rocket.Chat is an open-source communication platform. It helps businesses have secure and customizable real-time chat, audio calls, video chats, and file sharing. Rocket.Chat allows you to engage in contextual interactions with customers irrespective of where they contact you – Social media, app, email, etc. This helps in providing a great customer experience, thereby improving business outcomes.
It is designed to be fully controllable by the user, with options for self-hosting and secure cloud deployment to meet various security and compliance needs.


Key Benefits:
Personalized Chat Engine: Businesses can create custom greeting messaging within their apps or websites by integrating Rocket.Chat in them.
Team Collaboration: Rocket.Chat brings together messages, projects, and tasks in one place, aiming to increase team collaboration.
Omnichannel Customer Service: It helps with contextual interactions with customers, regardless of the communication channel they use.
Best Suited For:
Businesses that prioritize data privacy, and need an extremely customizable solution that can be integrated into their existing workflows and systems. This includes businesses that need to comply with GDPR, CCPA, LGPD, and HIPAA regulations.
Pros:
Control: Support agents have full control over their conversations and data, and also have various deployment options.
Privacy: The platform is end-to-end encrypted and certified to support compliance with major data regulation policies.
Customizability: It offers extensive customization options, making it suitable for in-app or livestream chat, and can be tailored to specific business needs.
Cons:
The high degree of customization and control might come with a steeper learning curve for some users.
Self-hosting and managing the platform may require significant IT expertise.
Pricing:
Rocket.Chat comes majorly with 2 pricing packages:
Community plan: This plan is entirely free. You can host the free version of Rocket.Chat on your own server.
Enterprise plan: This is priced at $7/user/ month, or $25/user/month, depending on the number of users.
10. LivePerson
LivePerson is a conversational AI platform enabling businesses to personalize communication with their customers. It leverages the power of AI to create more meaningful and efficient interactions between businesses and customers.
Key Features:
Conversational AI Tools: The "Conversational AI Tools" provided by LivePerson is a set of advanced technologies that utilize artificial intelligence to facilitate and improve customer service interactions. It is equipped with Natural Language Understanding (NLU) capabilities, meaning it can interpret the intent behind a customer's message and help craft responses accordingly.
Automation: Offers the ability to automate common and repetitive tasks, aiming to free up human agents and speed up resolutions.
Data Analysis: Analyzes conversational data to uncover customer needs and drive business decisions.
Best Suited For:
LivePerson is best suited for enterprises that require a sophisticated, scalable, and AI-driven solution for customer engagement across all channels.
Pros:
Conversation Archiving: LivePerson allows archiving of conversations in a separate location for later reference.
Customization: The software allows support teams to customize chat colors, text, and logos, according to the company's branding.
Pop-up Live Chat: LivePerson enables popup chat windows on company websites to enable website visitors to get real-time assistance.
Cons:
LivePerson is not quite intuitive, according to many users. It requires some time to train and practice to get the most out of the platform.
Pricing:
The Pricing is not explicitly mentioned on the website. You need to contact their sales team to know further.
13. Drift
Drift is a conversational marketing platform that combines chat, email, video, and automation to remove communication barriers between buyers and businesses. With its AI-driven approach, Drift aims to help businesses provide their customers with a personalized path to purchase in real-time.
Key Features:
AI-Powered Chatbots: These bots can engage in human-like conversations with visitors 24/7. They can also qualify leads and book meetings even outside of business hours.
Conversational Landing Pages (CLPs): This featureengages visitors in real-time conversations through chats on landing pages. This way, it offers a more dynamic alternative to traditional landing pages.
Prospector & AI Engagement Score: Provides data-driven insights like engagement score for expanding customer relationships and identifying new opportunities.
Personalized Messaging: This feature helps businesses provide a great customer experience by identifying visitor intent and delivering personalized messages.
Best Suited For:
B2B companies that want to accelerate sales, and create a more engaging digital experience for potential customers.
Pros:
Powerful Reporting: Features like AI Engagement Score and Prospector Score can be leveraged to make business decisions.
Pipeline Growth: The platform has been shown to influence a significant increase in pipeline, particularly in B2B companies.
Cons:
As with many enterprise solutions, cost may be a barrier for smaller businesses or startups.
Pricing:
Drift provides 2 packages:
Premium Plan: Priced at $2,500 per month (billed annually)
Advanced Plan and Enterprise Plan come with custom pricing for which you have to contact sales
Recommended read: Top 5 Cost-Effective Cloud-Based Ticketing Systems
13. Olark
Olark is a live chat software that provides businesses with features to engage with their customers in real-time. It also helps businesses centralize customer data, and gain insights from chat interactions to improve their offerings and services.

Key Benefits:
Real-Time Chat: Allows businesses to engage with customers instantly, providing support and gathering feedback.
Customer Data Organization: The ability to store structured notes and chat transcripts in Olark or integration with a CRM system helps to centralize customer data.
Custom Pre-Chat Forms: Olark helps inCollecting context before a chat begins with pre-chat forms. This enables more personalized conversations.
Offline Messaging: With Olark, you cancapture messages when live agents are not available and facilitate a follow-up via email.
Best Suited For:
Small teams, looking to gather customer insights about their product or service through a straightforward and effective live chat solution.
Pros:
Customer Insights: The platform's focus on customer insights and feedback helps businesses understand and respond to customer needs effectively.
Customization: Olark offers various customization options for chat boxes.
Ease of Use: User-friendly interface and easy setup. Requires minimal training to get started.
Cons:
While Olark provides essential live chat features, it may lack functionalities like mobile compatibility and the range of integration options found in other platforms.
Pricing:
Olark provides 2 main pricing packages:
Standard Plan: Priced at $29/month/agent
Olark Pro: This comes with custom pricing, for which you have to contact their sales team.
13. Podium
Podium is a LiveChat alternative that you can try if you're specifically looking to get more leads. It is a lead conversion platform that utilizes AI to help businesses manage and convert leads effectively. It provides a suite of features designed to improve customer interactions through various channels like text messages, online reviews, and webchat.
Key Features:
Reviews: Helps businesses get more online reviews with textable invites, automated reminders, and AI-powered replies.
Webchat: This feature helps in converting website visitors into customers by engaging with them through a chat interface.
Payments: Podium offers text-to-pay and eCard readers to make transactions quick and convenient.
Lead Management: Podiummanages all lead data in one place, from phone calls and emails to texts and online reviews.
Best Suited For:
Service-oriented businesses in industries such as home services, automotive, retail, and health & wellness – ​​ that want to improve their online reputation, increase lead generation, and streamline customer communications.
Pros:
Increased Engagement: Podium's tools are designed to engage leads more effectively, potentially leading to higher conversion rates.
Efficiency: AI-powered features and integrations save time and streamline workflows.
Reputation Management: The platform's focus on reviews can significantly improve a business's online presence and credibility.
Cons:
Podium's mobile version is not as easy to use as the website.
The pricing can be on the expensive side
Pricing:
Podium offers 3 pricing plans:
Essential – priced at $249/month, billed annually.
Standard – priced at$409/month, billed annually. Unlimited team members.
Professional – priced at $599/month, billed annually. Unlimited team members.
Key Features to Look For In A LiveChat Alternative
When searching for a LiveChat alternative, it's essential to consider a range of features that can meet your business's specific needs for customer engagement and support. Here are key features to look for:
1. Multichannel Support: A good LiveChat alternative should offer the ability to interact with customers across various platforms, including social media, email, SMS, and messaging apps. For example, if a customer starts a conversation on Facebook Messenger, they should be able to continue it via email without any hiccups.
2. Automation and AI: Look for a platform that provides AI-powered chatbots and automation tools. These can handle routine inquiries without human intervention, like answering FAQs or booking appointments, thereby increasing efficiency.
3. Customization: The ability to customize the chat interface to match your brand's look and feel is crucial. This includes custom greetings, chat buttons, and pre-chat surveys, which can make the chat experience more personal.
4. Proactive Engagement: A feature that allows you to initiate conversations based on user behavior can be a game-changer. For instance, if a visitor spends a certain amount of time on a product page, the system could trigger a chat asking if they need more information.
5. Real-Time Analytics and Reporting: Real-time data on chat volume, agent performance, and customer satisfaction helps you make informed decisions. A LiveChat alternative should offer comprehensive analytics and reporting capabilities.
6. Integration with Other Tools: The ability to integrate with CRM systems, marketing tools, and other business software ensures a seamless workflow. For example, integrating your help desk software with a CRM can help in tracking customer interactions and purchase patterns from one single platform.
7. Mobile Responsiveness: With the increasing use of mobile devices, it's important that the chat platform works flawlessly on smartphones and tablets, both for customers and support agents.
8. Security and Compliance: Ensure that the alternative you choose complies with data protection regulations like GDPR and offers features like end-to-end encryption to protect sensitive information.
9. Scalability: The platform should be able to grow with your business, easily accommodating more agents or higher chat volumes without a drop in performance.
10. Support and Training: Good customer support for your team, along with training resources to get the most out of the platform, is essential for a smooth operation.
11. Pricing Flexibility: A LiveChat alternative should have transparent and flexible pricing plans that can fit businesses of varying sizes and needs, without hidden costs.
Recommended read: 12-Step Guide to Choose the Best Customer Service Software
How To Choose The Best LiveChat Alternative?
Choosing the best LiveChat alternative for your business comes down to understanding your specific needs and how they align with the features offered by various platforms. Here's a simple guide to making an informed decision:
Assess Your Needs: Begin by identifying the gaps in your current system or the features you wish to have. For instance, if your team is overwhelmed by inquiries, look for a solution with robust automation capabilities.
Consider User Experience: The tool should offer a seamless experience for both customers and agents. For instance, if your team is already using Gmail, you can try out Hiver. It can be an excellent fit since it operates within the familiar Gmail interface, minimizing the learning curve.
Check for Customization and Integration: The ability to customize the chat interface and integrate it with your existing tools, like CRM or analytics software, is vital for maintaining a cohesive workflow.
Look for Quality Support: Good customer service and support from the platform provider are essential, especially during the initial setup and as you scale.
If you are looking for a good LiveChat alternative to streamline customer support operations, check out Hiver. It stands out, especially for businesses that rely on Gmail.
Packed with powerful automation, reporting, and collaborative features, Hiver allows you to manage live chat customer queries effectively without leaving your inbox.
Have more queries? Schedule a free demo