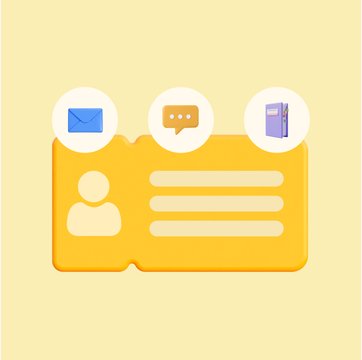 Table of contents
Transform your Gmail into an Omnichannel Helpdesk
7 Best Omnichannel Helpdesks for Customer Support
Sep 07, 2023
|
8 min read
|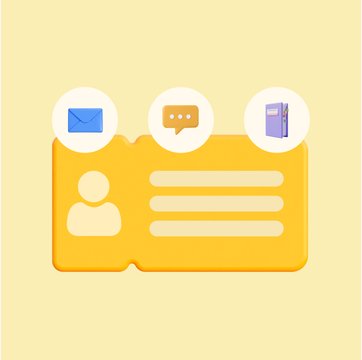 Table of contents
Customers have come to expect seamless service across a multitude of touchpoints. Whether they're reaching out through a website chat, social media, email, or even a traditional phone call, the expectation remains the same – a consistent and high-quality experience.
This heightened customer demand for consistent service is precisely why omnichannel and multichannel helpdesks have become indispensable business tools.
So how do you decide which type of helpdesk suits your requirements? When it comes to customer support, the choice between multi-channel and omnichannel software isn't just a matter of jargon. It's about strategy.
Table of Contents
Omni-channel vs Multi-channel helpdesks: A quick comparison
With a multi-channel help desk solution, you're looking at different isolated channels. Think of it like multiple lanes in a swimming pool, each lane doing its own thing.
On the other hand, Omnichannel is more like a well-coordinated team, with every player knowing what the other is doing. Both have their strengths and weaknesses, and neither is a one-size-fits-all solution. Let's dive into the specifics:
Feature
Multi-channel Helpdesk
Omni-channel Helpdesk
Channel Integration
Multiple separate channels
Seamless integration across
channels
Customer Experience
Inconsistent across different
channels
Consistent and unified across
platforms
Data Analysis
Isolated data from each channel
Unified data for deeper insights
Customer Journey Tracking
Limited tracking across channels
Complete tracking across all
touchpoints
Scalability
Can be complex with more channels
Easier to scale with an integrated approach
Cost
Typically less expensive
Generally more expensive but comprehensive
Implementation
Faster to set up individual channels
Requires strategic planning and alignment
Choosing between multi-channel and omni-channel helpdesk software involves understanding your business needs and customer expectations. If you favor a system where each channel operates independently, multi-channel might be your pick.
If a cohesive, unified experience across all platforms is what you seek, then omnichannel could be the answer. The table above illustrates the key differences, but the right choice? That's a strategic call you'll make based on your company's goals.
7 Best Omnichannel Helpdesks for 2023
Modern customer support requires meeting users on their channel of choice – whether email, live chat, phone, social media, or more. Omnichannel helpdesks enable teams to manage these varied channels through a unified interface and workflow. Agents can provide consistent, continuous support across several touchpoints.
Whether you are a small startup or a large enterprise, these platforms offer features and functionalities that will help you streamline your customer service operations.
Here are the top 7 omnichannel helpdesks:
1. Hiver
Hiver is a Gmail-based omnichannel helpdesk software designed to accommodate a range of teams, including customer support, finance operations, HR, and IT. This tool facilitates customer engagement across diverse communication channels, including email, live chat, knowledge base, voice, and WhatsApp.
Your biggest advantage with Hiver is that you'll operate a full-fledged omnichannel helpdesk inside Gmail. This makes it extremely intuitive to use – your teams can get started very quickly and don't have to go through the process of learning a new tool.
Here's what to expect from an omnichannel helpdesk platform like Hiver:
Email Support
Hiver's shared inbox helps you optimize and streamline your support processes. Shared mailboxes are a great way to manage group email accounts like [email protected] or [email protected]. You can easily delegate, track, and collaborate on all customer emails that arrive in these group inboxes.
You'll be able to create internal notes and shared drafts for enhanced team collaboration. Hiver also offers SLA monitoring, email templates, and customer satisfaction surveys.
Live chat
Respond to customer queries in real-time via live chat. Easily assign each chat to a dedicated team member in just a few clicks. Respond to frequently asked questions on chat using canned responses or chat templates.
Additionally, you can monitor and evaluate your team's performance by tracking essential metrics like turnaround time and average resolution time. You can wrap up each chat by sharing a brief CSAT survey with your customer to gauge customer satisfaction.
Knowledge base
Create and manage a knowledge base to help customers find answers to their questions. You can set up a knowledge base in minutes with Hiver. 
It's super intuitive to add, edit, and categorize articles. Since all your how-to guides and tutorials are neatly organized with Hiver's knowledge base, customers can easily find what they want. This, in turn, reduces the burden on your support staff.
WhatsApp channel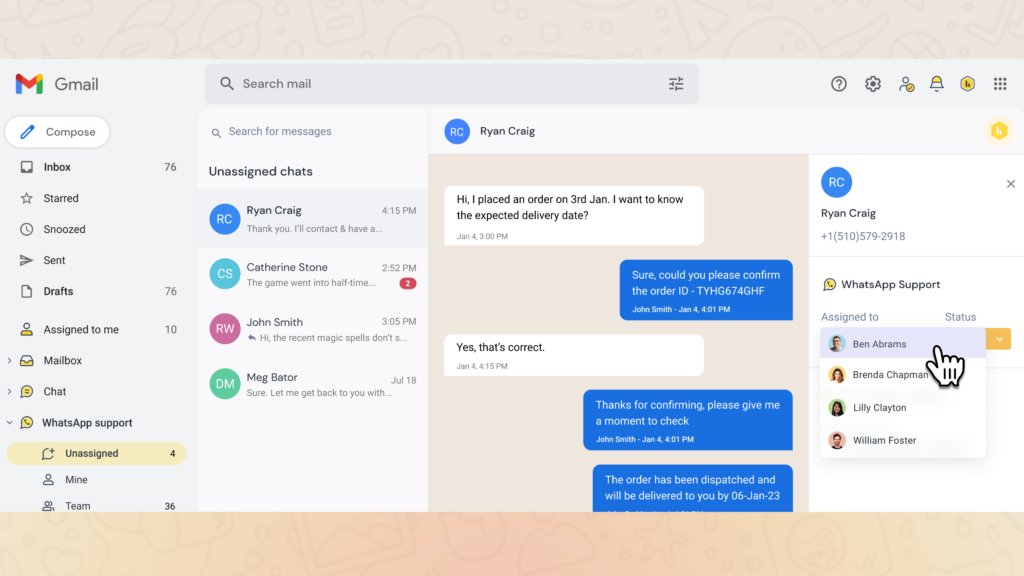 Connect with customers on WhatsApp. Hiver enables businesses to respond to customers' WhatsApp messages from Gmail while ensuring complete visibility and accountability for each conversation. Moreover, with the Hiver-WhatsApp Business integration, you can scale your WhatsApp support without worrying about the limitations on the number of team members in a group.
Unlike the WhatsApp Business app's limit of five concurrent users in a group, Hiver lets any number of team members efficiently manage WhatsApp groups without constraints.
Hiver – Aircall Voice Integration
To log and manage customers call directly from Gmail, you can leverage 'Voice inboxes', powered by Hiver's integration with Aircall, which is a leading cloud-based call center software.

This integration offers visibility into incoming, outgoing, and missed calls, ensuring accountability by assigning follow-ups and tracking call statuses. Additionally, it enables quicker issue resolution by providing context-rich data such as Aircall tags, notes, and call recordings/voicemails through Hiver. This integrated approach enhances your team's efficiency and customer service capabilities.
By consolidating customer communications inside Gmail, Hiver aims to simplify support processes and help deliver delightful customer experiences consistently.
2. Zendesk
Zendesk empowers support agents to efficiently manage customer interactions across multiple channels within a unified Agent Workspace. Its omnichannel functionalities streamline customer communications across multiple customer touchpoints.
Within the Zendesk Suite, you'll find various products that can help you improve customer experience. These include the omnichannel helpdesk system, Help Center, Community Forum, Messaging, Zendesk Talk, Zendesk Explore, and Zendesk Sunshine Conversations.
It $55 per agent per month Suite Team includes the following omnichannel helpdesk features:
Email
Live Chat
Social Media (Additional fees may apply)
Voice Support (extra cost add-on)
Help center (No customer portal or community forum)
Save 56% of your recurring costs by choosing Hiver over Zendesk
3. Freshdesk
Freshdesk is a SaaS-based omnichannel helpdesk that provides a comprehensive suite of features for businesses aiming to deliver exceptional customer service. These features include omnichannel support, automated ticket routing, robust reporting, self-service options, SLA management, and more.
Freshdesk efficiently consolidates customer requests from various channels like email, voice, chat, and social media, allowing your team to manage all interactions from a unified interface. It also offers a user-friendly experience for agents, supporting their productivity.
Its $49 per agent per month Pro plan includes the following omnichannel helpdesk features:
Email ticketing
Knowledge Base
Social Media (Restricted to Facebook and WhatsApp)
Freshcaller and Freshchat have to be purchased separately. They have different plans of their own and start at $15 and $19 per agent, respectively.
Here's why Hiver is the best Freshdesk Alternative
4. HappyFox
HappyFox is a viable option for small businesses aiming to enhance their customer support efficiency. It provides a user-friendly omnichannel helpdesk software that simplifies customer support for small businesses, offering assistance through email, live chat, phone, and knowledge base channels.
It also facilitates ticket assignment to agents and incorporates automation capabilities, enabling them to streamline processes and boost productivity.
Bear in mind they have a minimum 5-agent requirement.
Its $49 'Fantastic' plan per month includes the following omnichannel helpdesk features:
Email ticketing
Knowledge Base
Live Chat (Available at extra premium)
Voice Support (Available at extra premium)
Social Media (Available at extra premium)
5. LiveAgent
LiveAgent serves as an online omnichannel helpdesk solution tailored for small and midsize e-commerce businesses. Its feature set encompasses live chat, ticket management, online self-service portals, and change and license management, available as integrated and standalone applications.
The software incorporates a ticket management system that captures the complete conversation history, including chat messages, emails, phone calls, and messages from other communication channels.
Its $29 per agent per month 'Medium business' plan includes the following Omnichannel Support features:
Email Ticketing
Knowledge Base
Customer Forum
Live Chat (Restricted to 5 users)
Call centre
Social Media (add-ons for each social media channel cost $39). To access WhatsApp integration, you must upgrade to the 'Large Business' plan at $49.
6. Sprinklr
Sprinklr's Contact Center as a Service (CCaas) platform offers an omnichannel helpdesk solution that spans various communication channels, strongly emphasizing social media management and live chat for real-time customer engagement.
Sprinklr's knowledge base also empowers businesses to create a repository of FAQs, guides, and articles for self-service support, reducing support ticket volume and enhancing the overall customer experience.
Beyond live chat and the knowledge base, Sprinklr integrates email, social media platforms, and messaging apps, providing businesses with a unified approach to customer engagement.
Its $249 per agent per month 'Advanced (Self-service only)' plan includes the following Omnichannel Support features:
Email
Live chat
Community management
Knowledge base
Social media
7. Hubspot
Hubspot's Service Hub is a cloud-based omnichannel helpdesk tailored for businesses of all sizes. Notable features encompass reporting, automations, and analytics.
It supports live chat, allowing teams to speak to customers in real-time, and chatbots to help teams quickly answer common customer support questions and scale one-to-one communications. Service Hub also offers a Facebook messenger integration that enables agents to manage their Facebook conversations from their shared inbox.
Its $450 per month 'Service Hub Professional' plan includes the following Omnichannel Support features:
Email and ticketing
Live chat
Voice
SMS (To access this, you'll have to purchase the marketing hub product separately, starting at $45)
Social media integration (To access this, you'll have to purchase the marketing hub product separately, starting at $45)
Bear in mind they have a minimum 5-agent requirement.
How to select the right omnichannel helpdesk solution?
Selecting the ideal omnichannel helpdesk software is a nuanced process, requiring carefully evaluating features, costs, integration capabilities, and alignment with your business goals. Enriched with real-world use cases and actionable insights, this guide is a starting point in your quest for the perfect solution.
Invest the time to explore, test, and assess these platforms. Reach out to existing users, seek demos, and involve your support team in decision-making. Remember, a perfect omnichannel helpdesk solution will empower your support team, fostering a culture of excellence and customer-centricity.
10 things to consider before buying an omnichannel helpdesk software