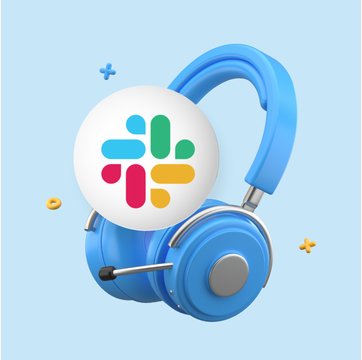 Table of contents
Transform your Gmail into a Helpdesk
Mastering Customer Support with Slack: 10 BONUS HACKS Included
Aug 21, 2023
|
6 min read
|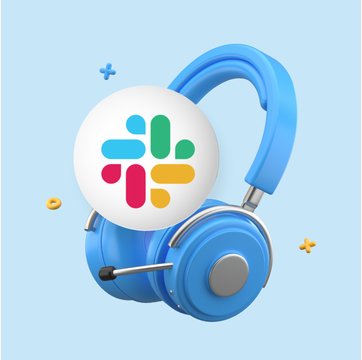 Table of contents
The way teams communicate and collaborate has been changing over the years. Most of it is down to technology.
If you take the last 10 years, for instance, one piece of tech that's changed the landscape of communication is Slack.
Research shows that more than 65% of all Fortune 100 companies use Slack today.
But here's the best part: Slack not only serves as a means for teams in an organization to collaborate effectively but also plays a crucial role in other areas – like streamlining customer support interactions.
So, if you're curious to know how to best use Slack for customer support, read on.
(Don't miss out on the 10 bonus hacks)
Table of Contents
What is Slack?
Slack is a cloud-based collaboration tool that provides teams with a platform to communicate and work together in real time.
The name "Slack" stands for "Searchable Log of All Conversation and Knowledge." This means, teams can easily access files, conversations, and shared information within a workspace.
Recommended Reads:
How to Connect Slack with Gmail
The Ultimate Guide to Slack Etiquette

Ways to use Slack for Customer Support
At first glance, Slack may not strike you as the obvious choice for a customer support channel. After all, it was designed for team collaboration and may not seem ideal for handling customer queries.
However, don't dismiss it just yet. There are various other ways to make the most out of Slack for customer support.
6 ways Slack can be leveraged for efficient customer support:
Integrate Service Cloud for Slack app to reduce incident resolution time by involving experts from various departments.

Make use of Slack Huddles to quickly sync up with other departments before responding to customers.

Use Slack Connect to directly involve customers in your workspace, providing them with personalized and high-quality service.

Integrate Slack with your CRM and other support tools to seamlessly manage customer inquiries, from one unified platform.

Use Slack's status and availability features to optimize agent schedules. This helps you be there for customers across different time zones.

Set up Slack alerts and reminders for SLA deadlines, ensuring timely resolution of support-related queries.
Advantages of Using Slack for Customer Support
Here are some of the advantages of using Slack for customer service: 
1. Real-time Communication
Slack's Channels allow support teams to organize customer conversations based on topics, making it easy to track and prioritize customer queries. For example, a support team can create Channels for "Billing Issues," "Product Feedback," or "General Inquiries."
Support teams can collaborate within Slack Channels to resolve complex issues. For instance, when a customer inquires about a product feature, the support agent can quickly tag the product team in a dedicated Channel for expert advice.
2.Higher Customer Engagement
Slack allows support agents to engage with customers in a more relaxed manner, thereby building customer rapport. For instance, instead of scripted responses, support agents can use emojis and GIFs.
You can share news, updates, or exclusive content directly with your customers on Slack. For example: A magazine or content creator might share behind-the-scenes peeks or early access content in a #subscribers-only channel.
3.Data and Analytics
Slack's analytics features provide valuable insights into support team performance, such as response times, resolution rates, and customer satisfaction levels.
Slack can be used to collect and analyze customer feedback, helping businesses understand their pain points and areas of improvement.
4.Multichannel Support
Slack integrates with all popular social media platforms and around 2600 apps, allowing support teams to manage customer interactions within the same workspace.
Slack's customized notification settings enable support agents to prioritize urgent queries. For example, high-priority keywords like "urgent" or "down" trigger immediate notifications, ensuring the support team addresses critical matters promptly.
How to Build a Customer Support Team on Slack
Building a customer support team on Slack can be a highly effective way to streamline communication. Here are the steps to get started:
Create a Slack Workspace: If you don't already have a Slack workspace, sign up for one. You can choose a name related to your company or customer support team.

Channels and Organization: Organize your workspace into Channels to manage different aspects of customer support. Common Channels may include #general (for team-wide announcements),#support (for customer inquiries),#feedback (for internal team discussions),and more.

Invite Team Members: Invite team members, support agents, and anyone involved in customer support to join the workspace.

Integrate Tools: Integrate your customer support tool with Slack. This allows you to receive notifications and updates directly in Slack. Popular integrations include ticketing systems, CRM tools, analytics platforms, and more.

Establish Response Time Guidelines: Define response time guidelines for your team to ensure that customer inquiries are addressed promptly. You can use Slack's reminders and notification settings to help agents stay on top of their responsibilities.

Create Support Documentation: Develop a knowledge base or documentation library for FAQs and common issues. You can use Google Docs or other collaborative tools, and link them in the appropriate Slack channels.
Hiver + Slack for Great Customer Support
Hiver is a customer support tool designed to enhance collaboration and efficiency within teams that use Gmail to manage customer inquiries and support tickets.
The Hiver-Slack integration combines Hiver's helpdesk functionalities with Slack's real-time messaging – ensuring your team is able to access and respond to support tickets on time.
How to use Hiver + Slack?
Here are some ways how Hiver and Slack can be used together to offer better customer support:
Let's say a customer submits a ticket. Hiver can help automatically assign this ticket to an agent, and this agent can be notified on Slack about the same. The agent can work on the ticket, and keep the customer updated on their progress via Slack.
With Hiver, you can assign incoming support emails to specific team members based on their expertise or workload. The assigned tickets can then be automatically synced to the respective Slack Channel.
Hiver can be configured to automatically add any and all customer feedback to specific Slack channels. This way, the team can quickly review customer feedback on Slack.
In case a ticket requires escalation to a higher level of support or to another department, you can set up rules in Hiver to notify the appropriate team or individuals through Slack.
Follow these steps to enable the Hiver-Slack integration.
BONUS HACKS to leverage Slack for Customer Support
Slack can be a powerful tool for customer support when utilized effectively. Here are some bonus hacks to leverage Slack for customer support:
#1: Create a dedicated channel (e.g., #customer-support) exclusively for customer support-related discussions. This keeps all support-related conversations organized and easily accessible to the support team.
#2: Use Slack's "Saved Replies" feature to create canned responses for frequently asked questions. This helps speed up response times and maintain consistency in support interactions.
#3: Use Slack commands or apps like Hiver to assign support tickets to specific agents or teams. This way, the right person can handle the customer's issue promptly.
#4: Create a separate channel for onboarding new customers. Here, you can share helpful resources, FAQs, and important updates to help customers get started smoothly.
#5: Connect Slack to your status page to automatically notify customers about ongoing incidents or planned maintenance. This helps manage customer expectations and reduces support inquiries during downtime.
#6: Set up a channel to gather customer feedback and ideas. This enables you to understand pain points, gather suggestions for improvement, and engage with your customers more effectively.
#7: Consider integrating a chatbot with Slack to handle simple and repetitive support queries, providing quick responses and freeing up human agents for more complex issues.
#8: Integrate Slack with analytics and reporting tools to track support performance metrics. This can provide insights into response times, ticket resolution, and agent performance.
#9: Foster collaboration between support and other teams (e.g., engineering, product) by creating shared channels. This enables faster issue resolution and facilitates feedback loops.
#10: Encourage agents to use emoji reactions to indicate the status of a support request (e.g., ✅ for resolved, 🕐 for in progress). This helps everyone in the team quickly see the status of different requests.
Deliver Exceptional Customer Support
In conclusion, implementing Slack as a customer support tool can greatly enhance the efficiency of your customer support team.
Now with Hiver and Slack together, support agents can collaborate more seamlessly, get complete visibility into the status of tickets, and deliver prompt resolutions.
So, why wait?
Try Hiver for free!