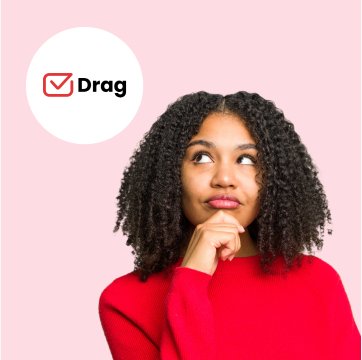 Table of contents
10,000+ teams use Hiver to delight customers!
Top 11 DragApp Alternatives for Businesses
Jul 12, 2023
|
16 min read
|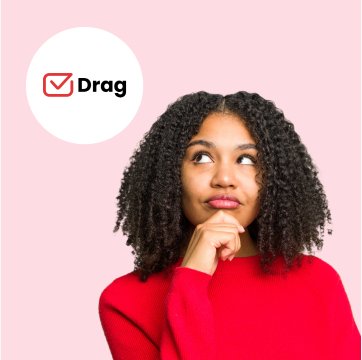 Table of contents
DragApp is a productivity software designed to simplify email and task management for teams that use Gmail. It does this by transforming your Gmail into a centralized workspace.
In addition to the standard list view, Drag offers visual kanban view that resemble Trello boards, making it easy to track the status of inquiries. You can create custom kanban boards for emails, tickets, tasks, or anything you need.
Drag's features are also beneficial for teams beyond customer support, such as sales team, as they can utilize email sequences and track deal statuses in a dedicated workspace. Overall, this tool is a cost-effective option for teams that want to streamline email queries, and don't need other channels, like live chat and knowledge base.
Here are DragApp's pricing plans:

– FREE Plan
– Starter: $10 per user per month, billed monthly
– Plus: $12 per user per month, billed monthly
– Pro: $18 per user per month, billed monthly
Table of Contents
But, DragApp Has Some Limitations…
If you're part of a customer support team, DragApp wouldn't cut it. The problem is that the tool can only help manage email communication. It doesn't offer other channels, such as live chat or phone or knowledge base. Besides, there are other major limitations:
Let's say there's an email arriving at [email protected] and John from your team is assigned to work on it. John can't change the subject line of the email while responding. This can be problematic for those who rely on email subject filters as part of their workflow.
Unlike Gmail, DragApp does not use folders for organizing emails. Instead, it uses tags, which may not be as intuitive.
Opening a board with many tasks (on DragApp) can be slow. This can easily frustrate users who need to access their tasks quickly.
When you set up DragApp, you won't be able to import Gmail Labels onto the platform. What that means is you will have to recreate all of them on DragApp, which can be very time consuming.
Multiple people cannot "own" a board in DragApp, which can limit collaboration and create confusion around responsibility for tasks.
"It can be easy to overcomplicate and miss important messages on different boards, as I am used to only looking at one inbox as opposed to multiple boards. The platform sometimes struggles to load, and I have to refresh the browser." – DragApp user
Fortunately, we've done our research, and have come up with the 11 best DragApp alternatives that offer similar and better functionalities. Explore the list below.
11 Best DragApp Alternatives:
1. Hiver: Multi-channel Gmail-based Helpdesk Platform
Hiver is a Gmail-based helpdesk platform designed for various teams, such as customer support, finance, HR, and IT. It has a user-friendly interface, one that intuitively fits within Gmail, that teams can easily work with. Learning to use the platform is also a no-brainer – you can get started in minutes.
Hiver stands out from other email ticketing software as it doesn't assign ticket numbers to customer requests. The platform ensures that customer emails are not treated as one-time transactions, but as valuable interactions.
This approach helps teams see the real people behind each request/query and fosters long-term, meaningful customer relationships. Teams also appreciate Hiver's rich feature set and reliable 24×7 customer service. Here are some of its notable features:
Automations: Create smart rules to automatically assign or tag emails, freeing up your team's time to focus on other critical tasks. Set conditions to automatically route emails to the right team member based on their skills and expertise.
Email Management: Simplify email management within Gmail, by providing end-to-end accountability for incoming emails. Teams can easily assign and track emails, get complete visibility, and apply rule-based automation.
Collaboration: Collaborate seamlessly with your team using Hiver's Email Notes. Notes are attached right next to email threads, allowing for easy team collaboration without cluttering your inbox. Use @Mentions in Email Notes to quickly notify teammates and get their inputs.
Analytics and Reporting: Gain valuable insights into your team's performance and improvement areas with Hiver's Analytics dashboard. Easily access multiple report types, including Conversation Reports, User Reports, CSAT Reports, and Custom Reports, in just a few clicks.
Additional Features:
Email Templates
Live Chat
Collision Alerts
Knowledge Base
SLA Management
CSAT Surveys
Pricing:
Hiver offers three pricing options.
Lite: $15 per user per month
Pro: $39 per user per month
Elite: $59 per user per month
Free Trial: 7 days. No credit card required
2. Gmelius: Shared Inbox and Collaboration Platform
Gmelius transforms Gmail inbox into a collaborative workspace, by integrating with your tech stack, and allowing you to automate workflows. It simplifies email collaboration by replacing Google Groups, team aliases, and external Help Desks.
With Gmelius, you can organize your shared inboxes (email IDs such as [email protected] or [email protected]) using visual Kanban boards. Besides, you can distribute your team's workload easily by dragging and dropping conversations between columns.
You can also convert emails into task cards, add sub-tasks, and set due dates. Here are some of its notable features:
Custom Views: Create and save customized filters to view conversations based on assignees or tags, and quickly access conversations that are nearing an SLA breach. You can also set up custom filter combinations.
Sequences: Automate workflows and send drip campaigns from Gmail, to keep leads engaged during the sales cycles. Easily integrate Gmelius Sequences with collaboration tools, synchronize outreach with Kanban Boards, and delegate emails to drive ownership.
Mail Merge: Send personalized emails to multiple prospects using your Google Workspace account. Access campaign performance reports and automate outreach for high deliverability. Schedule emails to be sent at your preferred date and time.
If you have a big team, Gmelius may not be the best choice. It can get tricky to understand their workspace setup. Loading new emails into the inbox and assigning emails takes a lot of time. The frequent freezing of the Gmelius sidebar in Gmail, doesn't offer a good user experience – forcing users to constantly refresh the page. Also, you face difficulty moving multiple cards at once in the kanban board. On the other hand, Drag allows you to turn your inbox into a kanban board in real time and allows file uploads on boards.
Additional Features:
Email Sharing
Email Templates
Analytics
Workflow Automation
Email Notes
Meeting Scheduler
Pricing:
Gmelius offers three pricing plans.
Plus: $15 per user per month
Growth: $29 per user per month
Pro: $45 per user per month
Free Trial: 7 days
3. Help Scout: Shared Inbox Platform for Customer Support Teams
Help Scout is a customer support platform, specifically built to help support teams manage their workload. Its flagship feature is shared inbox – which enables you to assign, track, and collaborate on email queries.
But that's not all. Teams can use Help Scout to offer support across other channels such as live chat and knowledge base. The tool provides flexibility to tailor support workflows, as per business needs. This includes configuring automated responses, directing tickets to specialized agents, and categorizing inquiries based on their type and urgency. Here are some of its notable features:
Beacon: Use HelpScout's live chat functionality to communicate with customers in real-time, on your website or web app. Beacon also offers a help center to drive self-service among customers.
Customer Management: For each customer support query, get data on previous conversations with the customer. This equips teams with enough context while responding to customers. Easily sort, filter, and edit customer profiles. Automatically log important customer details in the Help Scout sidebar using just a few lines of code.
Messages: Use Messages from Beacon to promote new initiatives, update customers on important happenings, and proactively support those in need. Customize your messages with links, bold text, CTAs, images, and more to elevate customer interaction.
While Help Scout's interface is designed to mimic the familiarity of your inbox, it still takes time for users to learn how to navigate and use it. Moreover, your team has to constantly switch between Help Scout (to manage customer queries),their inbox (to check emails),and other collaboration features and tools like Slack (to discuss work-related tasks internally). This is a lot of switching, and it can bring down their productivity.
But that's not all. Help Scout doesn't come with phone support. It also doesn't offer a way to create Service Level Agreements (SLAs) directly – instead, you need to make use of the integration with Super SLA.
The biggest drawback, however, is that there's a good chance for internal and external conversations to overlap – given how the platform is designed.
Read the top 10 alternatives to Help Scout
Additional Features:
Mailbox
Knowledge Base
Live Chat
Reporting
Workflows
Customer Database
Pricing:
Standard: $25 per user per month
Plus: $50 per user per month
Pro: $65 per user per month
Free Trial: 15 days
4. HappyFox: Helpdesk Management Software
HappyFox is a cloud-based customer support platform that simplifies and streamlines your support process. Whether it's emails, phone calls, chats, or web requests, HappyFox automatically converts them into tickets, making it easy to track and prioritize customer inquiries. It also enables you to bring messages from Facebook and Twitter to one central platform. If you're looking to improve the productivity of your team, make use of HappyFox's smart rules engine to automate repetitive tasks.
Here are some notable features of HappyFox:
HappyFox SMS: This feature allows you to send text messages from within a ticket.Create and save repetitive replies in order to communicate faster with customers. Use smart rules to automatically send text messages to clients based on predefined conditions.
Agent Scripting: The feature guides agents through each step of troubleshooting, empowering them to efficiently address issues with minimal training. Additionally, it helps agents identify popular scripts by sorting them based on usage frequency.
Email Notification: When customers send you an email query or respond to a ticket, HappyFox triggers a notification to your team. These notifications can be tailored to specific categories, such as when a ticket is created or assigned to a staff member, when a reply or private note is added, or when tickets are merged.
Though HappyFox has many useful features, it can be overwhelming to setup and use. It's also complicated to transfer customer queries between different teams on HappyFox.
With Drag, however, doing this is a breeze. You can effortlessly share Drag boards across multiple domains or support teams. For instance, if a request requires assistance from the technical team, you can simply drag it to the 'IT Support' board and loop them in.
Additional Features:
Email Ticketing
Knowledge Base
SLA Management
Task Management
Automation
Reporting
Pricing:
HappyFox offers two different pricing models
Agent-based Pricing:
Mighty: $39 per agent per month
Fantastic: $59 per agent per month
Enterprise: $79 per agent per month
Enterprise Plus: $99 per agent per month
Unlimited Agents Pricing:
Starter: $1499 per month
Growth: $1999 per month
Scale: $2999 per month
Scale Plus: $4999 per month
Free Trial: 14 days
5. Sortd for Gmail: Comprehensive Productivity and Collaboration Suite
Sortd is a comprehensive Business Productivity Suite designed for Google Workspace users.
Sortd is basically a Gmail skin that turns your inbox into a list interface where you can sort your conversions into different lists like "To-Do", "Follow-Ups", "Party RSVPs" or anything else you wish. All you need to do is just drag and drop your messages into the list you want and voila, you are sorted.
Here are some of its key features:
Email and Task Manager: Organize your emails, tasks, and projects in one single place – Gmail – without having to switch to another app.
Team Boards: Create boards to get visibility into everything your team is working on. Ensure everyone in aligned on tasks, and are on the same page.
Email Tracking: Easily track "email read status" to find out who has read your emails – similar to the double-tick seen in Messenger and WhatsApp.
Visual Workspace: Tailor your workspace as per your requirement. Get the flexibility to change list names and effortlessly drag-and-drop to re-order them.
However, Sortd has some notable weaknesses. For instance, when a customer email is moved to a task list, it can pop back into the inbox queue, when the customer responds to the same email. The search function is not effective in finding older emails and the tool lacks formatting options for tasks. Integration between boards is not seamless, and cards cannot be simultaneously placed on multiple boards. Also, switching between Sortd and Gmail requires you to refresh your inbox multiple times.
Additional Features:
Email and Task Manager
Visual Workspace
Team Mailboxes
Team Boards
Email Tracking
Day Planner
Email Notes
Pricing:
Sortd for Gmail offers three pricing plans.
Starter: FREE plan
Essentials: $10 per user per month
Business: $15 per user per month
Free Trial: 14 days
6. Helpmonks: All-in-one Customer Communication Platform
Helpmonks is an engagement platform designed for customer support and marketing teams. With Helpmonks, all shared mailboxes are easily accessible from a central location – this improves visibility into team emails. For collaboration, Helpmonks allows teams to assign emails as tasks, write internal notes to discuss these tasks, and create workflows to route the right tasks to the right employees. Some of its key features include:
Email Tasks: Delegate and prioritize tasks to ensure there's ownership within the team. Easily track customer communication history, and manage your to-do list.
Contact Management: Get a comprehensive overview of all customer interactions, whether through email or live chat. Create email workflows based on company and customer profiles.
Email Labels: Use labels in your workflows to automatically assign and reply to emails or tag them. Additionally, labels help you easily categorize and filter customer conversations.
While Helpmonks offers a cost-effective solution, some users have complained that it's not as robust and doesn't have an aesthetically pleasing user-interface, as compared to other similar tools. Also, the cost can increase if you want to have add-on features. For instance, each plan of Helpmonks includes only one mailbox, so companies needing more robust email management may face an additional charge of $29 per month for each extra mailbox.
Additional Features:
Shared Inbox
Live Chat
Email Automation
Email Analytics
Canned Responses
Knowledge Base Platform
Pricing:
Helpmonks offers three types of pricing plans.
Starter: $29 per month
Bliss: $49 per month
Further: $99 per month
Free Trial: 30 days
7. Zendesk: Multi-channel Support Suite for Large Organizations
Zendesk is a popular customer support software, suited for large-scale businesses. Its unified platform brings together various support channels, such as email, live chat, phone, and knowledge base. The tool offers advanced functionalities like skill-based routing, premium sandbox capabilities, and customizable workflows. Here are some of its notable features:
Skills-Based Routing: As your support team scales, Zendesk can help you customize and optimize workflows. Route tickets to agents based on their expertise. Ensure tickets are handled by agents with the right skills.
Conditional and Custom Ticket Fields: This feature enables admins to choose which fields should be displayed to agents and end-users, in ticket forms, based on specific conditions. By doing so, more granular and relevant information about their problem or request can be collected.
Macros: A macro is a pre-written response or action that an agent can quickly use when they're working on a ticket. It helps them save time by avoiding the need to write the same response multiple times. Zendesk comes with pre-configured macros that can be customized or disabled. Your agents can also create their own macros to quickly respond to recurring requests. These personalized macros can then be shared as standard replies for common tickets.
The main concern with Zendesk, however, is its cost and complexity. Zendesk's base plan starts at $49 per agent per month, which is more expensive compared to similar plans offered by other providers.
Setting up Zendesk is also not easy. You might need help from their team but here's the catch: Zendesk charges anywhere between $1500 to $2800 for personalized training. You also have to pay extra and upgrade to their 'premier plan' to access live support.
In contrast, tools like Hiver offer free 24×7 agent support, and personalized training at no additional cost.
Additional Features:
Live Chat
Analytics
Automation
SLA Management
Omnichannel Integration
Knowledge Base Management
Pricing:
Zendesk has three tiers of pricing for small to large-sized businesses.
Suite Team: $49 per agent per month
Suite Growth: $79 per agent per month
Suite Professional: $99 per agent per month
For enterprise companies, Zendesk has two tiers of pricing:
Suite Enterprise: $150 per agent per month
Additional and more powerful enterprise plans start at $215 per agent per month
Free trial: 14 days
8. Freshdesk: Omni-channel Ticketing Platform
Freshdesk simplifies the way companies do customer service with its user-friendly ticketing system. It helps collect customer requests from various channels like email, web, phone, chat, and social media, and organizes them as tickets for easy management. What sets Freshdesk apart is its ability to provide valuable insights into a customer's past interactions with the company. Some key features of Freshdesk include:
Parent-Child Ticketing: To speed up resolution of complex customer issues, Freshdesk allows you to break them down into smaller tasks called child tickets. These child tickets can be worked on by different teams simultaneously, helping reduce overall resolution time.
Customize Agent Roles: Grant different levels of access to your agents based on their roles and responsibilities. Apply rules to assign tickets based on agents' experience. Optimize ticket routing and ensure that complex issues are routed to technical experts.
Limited Tickets: Link similar tickets to a master ticket in order to provide faster resolutions. This also cuts down on repetitive work and makes your support team more efficient.
All that said, one of Freshdesk's biggest drawback is that its interface is not very intuitive. Moreover, you cannot seamlessly sync Freshdesk with Google Workspace products like Gmail, Google Calendar, and Google Contacts.
Another major drawback is that Freshdesk doesn't have an in-built live chat app. You'll have to buy Freshchat for an extra $15 per agent per month and integrate it with the ticketing system.
Additional Features:
Team Inbox
SLA Management
Ticket Trends and Reporting
Collision Detection
Omni-channel Support
Automation
Self-service Feature
Pricing:
Freshdesk's Support System offers four price tiers.
Free: Starter plan for unlimited agents but with limited features
Growth: $15 per agent per month billed annually
Pro: $49 per agent per month billed annually
Enterprise: $69 per agent per month billed annually
Freshdesk's Omnichannel system offers three price tiers.
Omnichannel Growth: $29 per agent per month billed annually
Omnichannel – Pro: $59 per agent per month billed annually
Omnichannel – Enterprise: $99 per user per month billed annually
Free Trial: 21 days
9. Kayako: Customer Service Software for SMBs
Kayako is a customer service platform that brings together multiple channels and touchpoints. It allows your agents to communicate with multiple collaborators, both internal and external, to efficiently resolve customer issues. With a unified inbox, your team can support customers across various channels like live chat, email, Facebook, and Twitter. Kayako also offers other critical customer support features such as custom views (to get visibility into your team's workload),tags (to categorize customer issues),and delegation (to assign work). Here are some of its notable features:
SingleView™: Bring all your customer interactions and activities in one place, allowing your team to deliver personalized and contextual support. Integrate customer conversations and activities from other apps such as Trello, Hubspot, Mailchimp, and Slack, into Kayako, to get a 360-degree view of the customer.
Collaboration: With Kayako Collaborators, your organization's collective knowledge is unified in one place. Enable agents to tap into the expertise of external stakeholders, such as vendors and suppliers, to resolve complex customer service challenges.
Social: Support and engage with customers on Twitter and Facebook, right from Kayako's dashboard. Get a unified view of the conversation, even if a customer switches between Twitter, email, and Facebook.
But, Kayako has its shortcomings. According to user reviews, Kayako's interface is not as appealing or user-friendly as other tools, like Hiver. Additionally, users mention that there are frequent price increases without added value, long ticket loading times, and implementation challenges.
Additional Features:
Live Chat
Self Service
SLA Management
Customer Portal
Ticket Collaboration
Canned Responses
Pricing:
Kayako offers two pricing plans: Kayako Cloud and Classic On-Prem. However, the pricing details for these plans are not currently available on their website. To learn more about their pricing, you'll need to request a demo with their sales team.
Free Trial: 14 days
10. Missive: Collaborative Team Inbox and Chat Platform
Missive is a solution that brings team inbox and chat under one roof. The tool makes email management easier, helping teams assign emails and respond with templates for common queries. Some key features to look out for include:
Chat: Missive has built-in chat rooms that allow you to have conversations with your co-workers. You have the option of having 1:1 discussions, team discussions, or discussions with anyone across the organization.
Workload Balancing: Make workload distribution easy with four methods: Round-robin (cyclically assign conversations to selected teammates),Least Busy First (assign pending work to the team member with the fewest assigned conversations),All at Once (assign conversations to all selected teammates),and Randomly (assign conversations randomly).
Collaborative Writing: Missive's draft editor allows team members to collaborate on email drafts. You can loop in a colleague for inputs and see their edits and feedback in real-time. This feature is useful for proofreading and fact-checking important emails.
Missive has some obvious limitations if you're using it for customer support. For instance, you can setup and manage a knowledge base on the tool. More importantly, there's no way to track metrics and analyze reports. The Free plan retains only 15 days of message history, while the Starter plan retains message history for just six months. Additionally, both plans lack essential functionalities like rule-based automation and third-party integrations.
Additional Features:
Team Inbox
Single Sign-On
Shared Labels
Contact Management
Auto Assignment
Email Snooze
Pricing:
Missive offers four different pricing plans.
FREE Plan
Starter: $14 per user per month
Productive: $18 per user per month
Enterprise: $26 per user per month
Free Trial: 14 days
11. Spike: Collaborative Chat Platform for Teams
Spike is a collaborative email platform that transforms your inbox into a chat-like interface, and brings all your messages, tasks, and video/audio calls into a single inbox. Spike streamlines workflows and eliminates the need to navigate cluttered inboxes. It is particularly well-suited for small businesses that operate on a budget. Some key features to look out for in Spike are:
Intelligent Priority Inbox: Sort important messages and emails to the top of your inbox, so that you don't miss out on them. Meanwhile, less urgent emails get automatically routed to the 'Other' Inbox, without cluttering your main inbox.
Conversational Email: This feature simplifies complex email threads into a chat-like format, making it easy to follow conversations.
Send Later: Easily schedule emails for teams in different time zones. Simply write your email, select a date and time, and schedule it.
Real-time Collaboration: Spike's collaborative workspace helps you discuss tasks with colleagues via comments and mentions – all centralized under a chat-like window.
However, Gmail users may notice that Spike falls short on many functionalities/features. For instance, team members can't tag their colleagues on an internal note to ask for inputs. Also, the Calendar feature has some limitations. It's not as smooth as Google Calendar, when it comes to adding or inviting participants to video meetings.
Additional Features:
Real-time Messaging
Collaborative Notes
Group Chat
Unified Inbox
Note History
Custom Notifications
Pricing:
Spike offers three types of pricing plans.
FREE Plan
Pro: $8 per user per month, billed monthly
Business: $16 per user per month, billed monthly
Free Trial: 14 days
Which tool will you select?
Undoubtedly, DragApp is a highly convenient productivity and project management tool designed for organizations and teams using Gmail. However, it's worth noting that DragApp does have certain limitations, as previously mentioned.
If you're looking for a DragApp alternative, and a tool that is:
Super easy to set up, inside Gmail 
Offers all the power features of a help desk 
Doesn't require extensive training