Table of contents
8000+ teams use Hiver to delight their customers!
COVID-19 threw a spanner in the works for the support team at Hiver and most of the world alike. With social isolation becoming the need of the hour, we transitioned into a remote team overnight.
At the same time, we could not afford to leave our customers waiting when they reached out to us. It was imperative that we manage the transition seamlessly.
We quickly formulated a few ground rules:
Schedule: Our team members were already working in different shifts to be available for customers across the world. They would follow the same shift while working remotely.

Availability: We advised everyone to keep their email, chat, and phone notifications on during their shifts. It's alright if they're not always "online".

Communication: We'll use video conferencing for our daily standups or 1:1 meetings; Hiver for collaborating on emails; Slack for informal conversations.
And we went remote. Just like that.
Here is how our support team works from home without any business interruptions:
Working collaboratively to help customers
For a remote support team, collaboration among team members is super-critical.
Our support team majorly handles emails arriving at our support@ shared inbox. Taking help from teammates to resolve issues is the norm. While team discussions are super easy when everyone's co-located, working remotely could slow down teamwork.
We decided not to use Hangouts or Slack to discuss emails as it takes a lot of time to build context (tell people which customer, what issue, and then forward the message).
We use Hiver's Notes to discuss everything around customer emails. It helps us chat with teammates right next to the email thread we're discussing.
Building context is a non-issue as the chats always rest next to respective emails. It also saves us from forwarding email threads to teammates.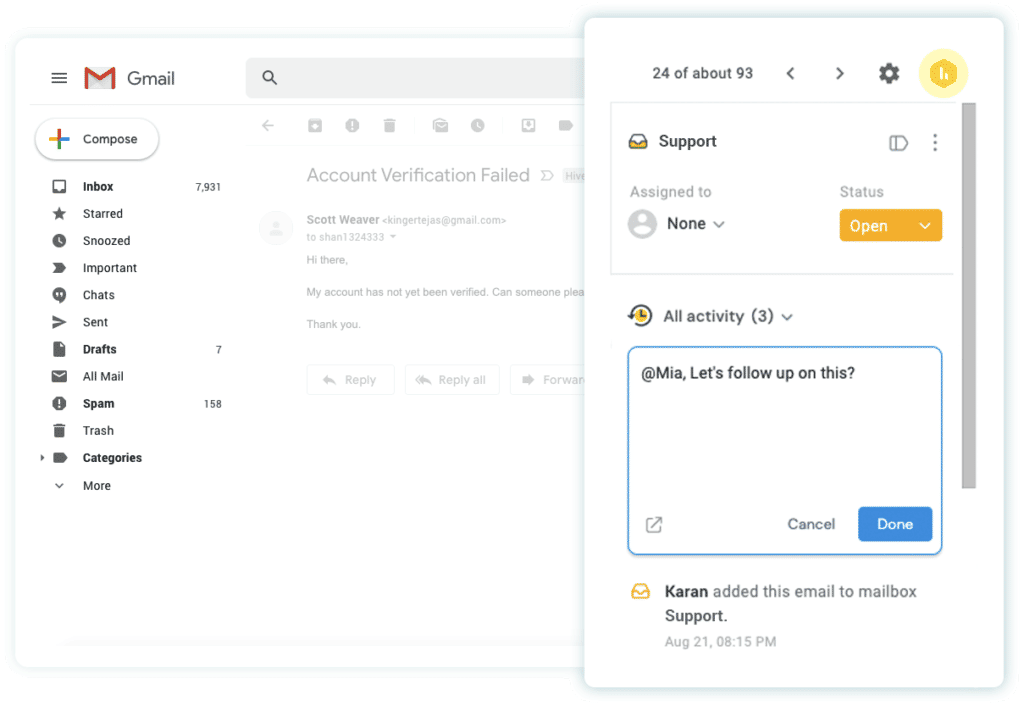 Getting help from a teammate on email replies is easy too. When we need someone to take a look at a message, we share the email draft with them, as opposed to forwarding the email.
Smooth collaboration has allowed us to continue delivering great customer support experience at this testing time.
Keeping everyone on the same page
Another challenge that most remote teams come across is visibility around workflows. Keeping tabs on who is doing what often gets tough for managers. It is easy to get carried away and start routing too much work to certain team members while ignoring others.
We've been relying on Hiver's team view that allows team members and managers alike to see who is working on what. This increases transparency within the team and allows the support manager to distribute workload evenly.
It also keeps team members from slacking off as everyone has complete visibility into what they're working on.
Apart from that, we do a standup meeting every morning where team members share what they have been working on and if they need any help. It has helped us immensely to keep everyone aligned.
And the standup calls are not strictly work. We discuss what everyone has been up to, and how they're doing outside work, or just about anything. It helps us keep the office culture alive.
Staying productive
We're making sure everyone works productively while working remotely. We've been suggesting that our reps have a designated place at home to work. In fact, we just ran a competition to award the most creative work-arrangement at home.
We also have access to the team's metrics through Hiver's Analytics. We're making sure we reach out to help if a team member is slowing down. There could be a lack of motivation. Some might feel lonely. We're staying in touch to help people work better.
In addition, we continue to monitor all customer feedback using Customer Surveys. At the end of the day, it is our customers that tell us how we are doing as a support team.
Another major concern for support teams going remote is making sure that their internal response time does not dip. At Hiver, we use our own SLA feature to make sure that all responsible parties are notified when an email has not been responded to or resolved in time.
This post would be pointless without acknowledging the undying dedication the team has displayed during this time. Nothing has changed in terms of customer empathy and responsiveness. We're staying put and helping customers to the best of our capabilities.