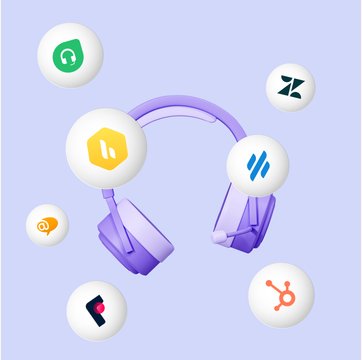 Table of contents
10,000+ teams use Hiver to delight customers!
Top 10 Help Desk Software for Startups in 2023
Aug 18, 2023
|
10 min read
|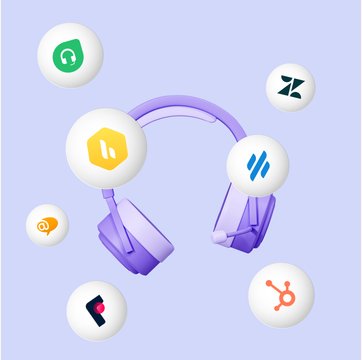 Table of contents
Setting up a business is like hopping onto a roller coaster. It's thrilling, exciting, and yet very challenging.
Whatever startup you choose to build, you'll have to find a way to make money, keep employees happy, and delight customers.
One thing that can help you with all the three above-mentioned goals is providing great customer support.
Table of Contents
How can startups provide great customer support?
Managing large volumes of queries manually is almost impossible. What's the alternative? Investing in help desk software for your startup.
So, what is a help desk?
A help desk is a tool that organizes customer conversations across different communication channels. It allows you to manage large volumes of customer queries coming from different touch points – such as email, social media, and live chat – under one roof. This ensures that your team never misses a query and provides timely assistance.
Help desks are pretty popular among businesses. In fact, the 2022 HubSpot report shows that 60% of customer support teams use a help desk to manage customer queries.
Top 10 Help Desk Ticketing Systems for Startups in 2023
Given that help desks are used by every other business, the options are endless in the market. Today, helpdesks offer a wide array of features to address various customer support requirements. From query management to chatbot integration, automation to reporting and analysis – help desks have all that you need for all your customer support needs.
So, how do you decide which is the best help desk software for your startup?
In this article, we will explore the top help desks for startups in 2023:
1. Hiver
Built for teams on Google Workspace, Hiver is one of the best help desks for startups with an easy-to-use interface. Hiver allows you to manage customer queries across multiple channels such as email, live chat, knowledge base, and voice.
Hiver is one of the most user-friendly software for startups. Teams can assign queries, track their status, and collaborate (without using Ccs and forwards) – all from within Gmail and without having to learn new software.
Apart from that, Hiver also offers other powerful features such as automation, analytics, SLA management, and customer surveys, at an affordable price.
What's in it for startups?
Hiver can be used by multiple teams in your organization, from customer support and finance to HR and IT.
Hiver is super easy to set up and intuitive to navigate. Your team can get started with minimal training. Also, it provides 24*7 support for all users across all plans.
Hiver offers a Startup Program that allows you to use the help desk absolutely free for the first 6 months and a 50% discount after that. You can register for the Startup Program here.
2. Help Scout
Help Scout is an online help desk ticketing system. It allows you to consolidate and track all customer inquiries in one place. You can also prioritize customer emails based on type or urgency.
Help Scout provides some useful features like workflow automation, agent performance reports, collision detection, and response templates. It also comes with several levels of customization – this can be particularly helpful for teams that have very specific requirements for their help desk.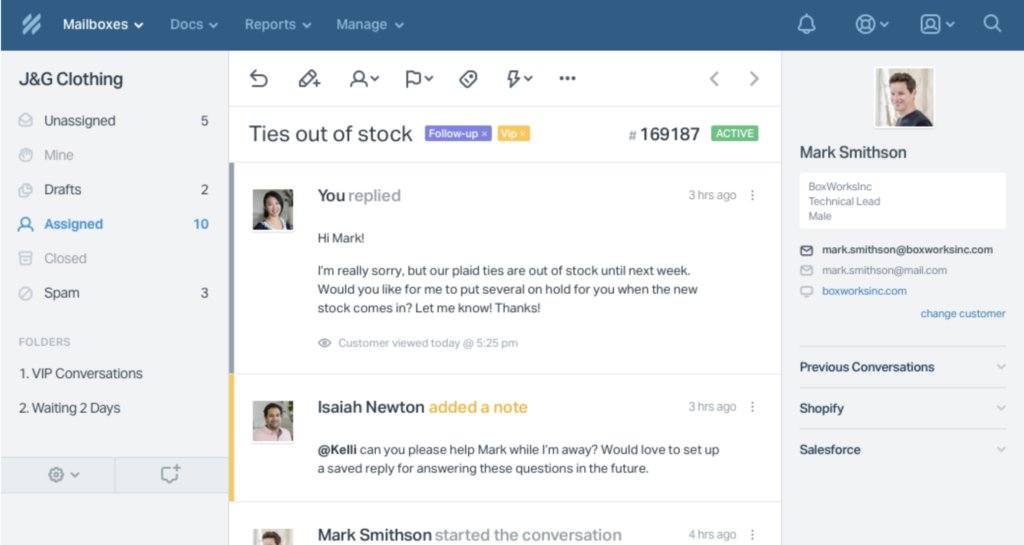 What's in it for startups?
Help Scout offers a separate program for startups, through which you can use the software free for 6 months. The minimum requirement to be eligible for the program is that your startup should be less than 2 years old generating an ARR of less than 1 million.
Help Scout allows teams to offer support across multiple channels such as email and live chat. Teams can also build a self-service portal to help their customers with FAQs.
Recommended read: Top 10 Help Scout Alternatives for Businesses
3. Front
Front is a help desk tool enabling teams to streamline seamless customer communication. It also enables team members to collaborate efficiently on customer queries and offer omnichannel support. Front's smart automation and analytics allow you to automate repetitive tasks and optimize team performance.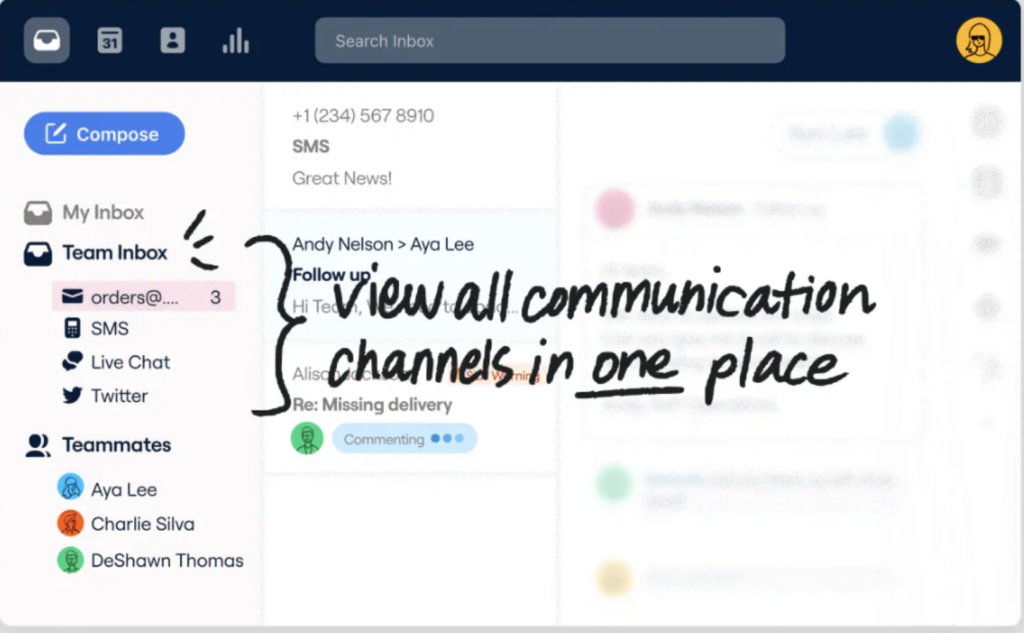 What's in it for startups?
With Front, you can create a central repository of your customers' data – their records, conversation history, and contact information which you can refer to when needed. This allows you to craft better responses, making personalization easy and quick.
This helpdesk ticketing tool offers a special starter plan for startups and small businesses starting at $19 per user per month.
Recommended read: Front vs. Help Scout: A Detailed Comparison
4. Freshdesk
Freshdesk is a popular help desk platform amongst startups. Why? Teams can set up Freshdesk without much of a hassle and learn how to use the platform without extensive training.
One standout aspect of Freshdesk is that it helps teams offer multi-channel support – email, chat, and social media amongst other channels – in 30+ languages.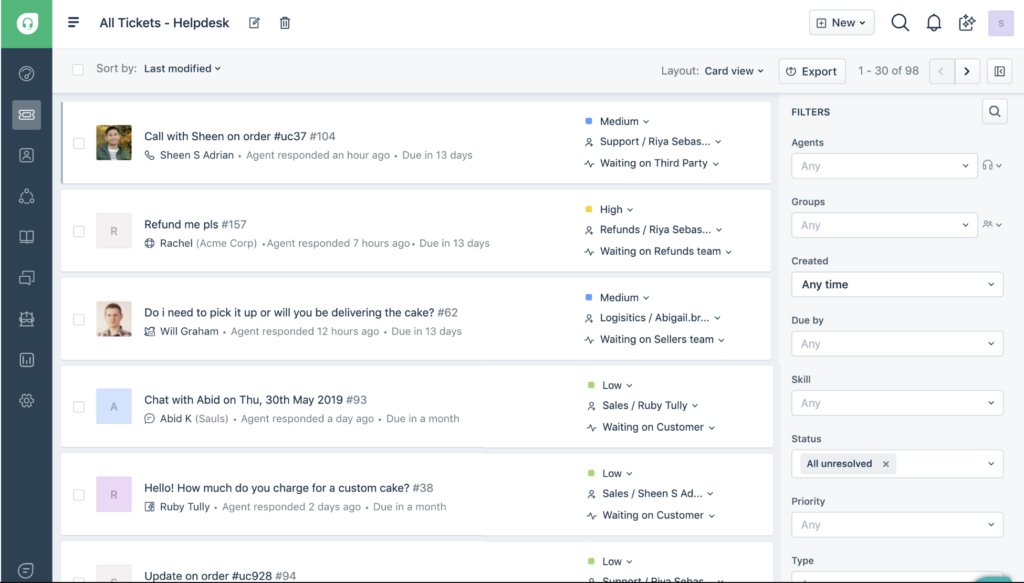 What's in it for startups?
Freshdesk's smart ticket assignment feature allows you to delegate customer queries to users based on their current workload or skill. You can also curate detailed reports to analyze team performance.
It has a free plan for startups and small teams which can be used by up to 10 users. If you want to try out a customer support tool and see how your team takes to it, Freshdesk is a good choice.
5. Zoho Desk
Another customer service platform that is popular in the startup ecosystem is Zoho Desk. It helps route customer tickets to the right support agents – either manually or automatically. The platform also equips teams with performance reports which provide insight into the quality of customer support.
Zoho Desk is one of the best help desk software for startups. Through this tool, you can provide support across multiple platforms – email, chat, SMS messaging, cloud-based telephone, web forms, and so on.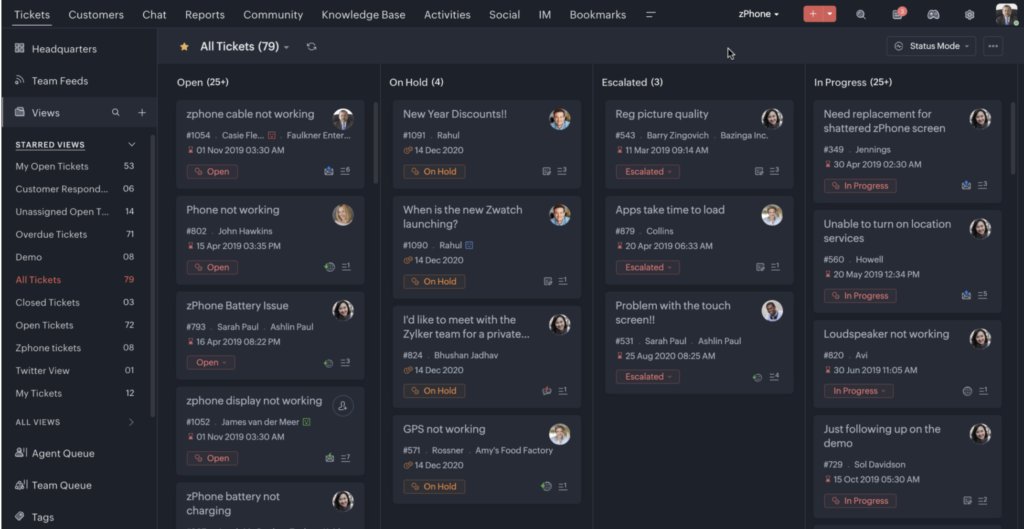 What's in it for startups?
Zoho Desk provides powerful automation features, API integrations, and various collaborative features. This enables teams to share information seamlessly and provide a unified customer support experience.
It offers a free plan for small teams, albeit with minimal features. It also provides an express plan which starts from $7 per user per month.
6. HubSpot Service Hub
HubSpot Service Hub is one of the best help desk systems for startups. Service Hub has a dashboard that centralizes all customer queries and gives you complete visibility into what's happening with every query.
This way, you can ensure no query is missed, and that you're able to support customers on time.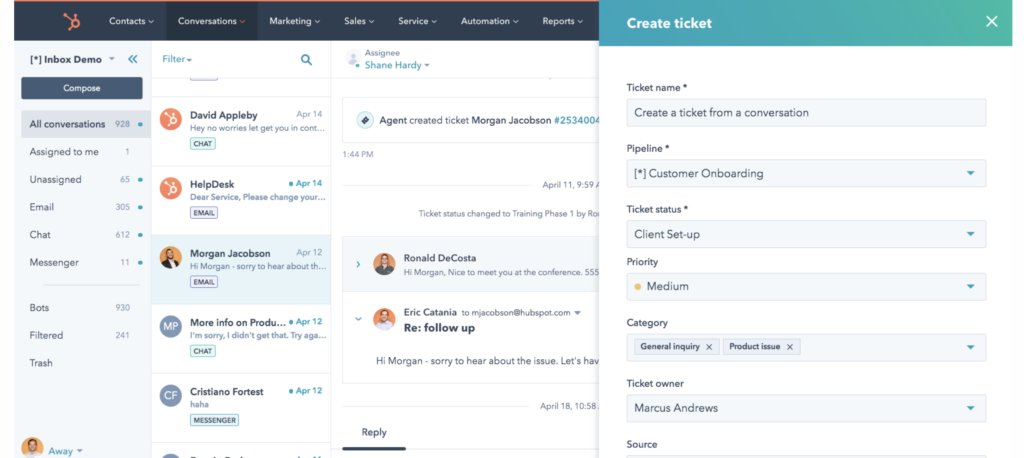 What's in it for startups?
One of the functionalities that stand out is Hubspot's Conversational AI. It automatically captures voice data from customer interactions in the CRM and provides deeper insights into the calls. Rich customer data like these, can be very useful in training support teams and understanding day-to-day market trends and areas of improvement.
It offers a free plan for startups and small businesses. The free plan offers minimal features, but it's pretty sufficient if you're just looking to get started.
Resolve your customer queries right from your Gmail inbox
Check How
7. LiveAgent
LiveAgent is a popular startup help desk. It offers intelligent ticket management and automation to help support teams manage their workload better and focus less on repetitive tasks.
LiveAgent also helps teams build a knowledge base for their customers. This helps in deflecting customer queries and reduces the load on your service team.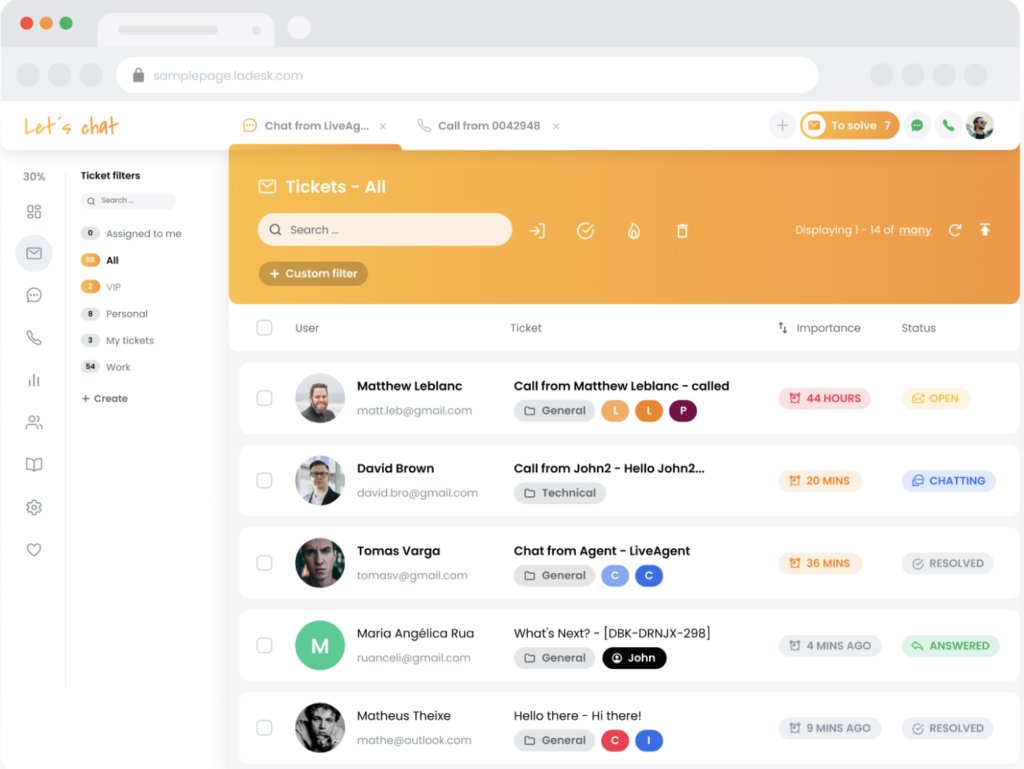 What's in it for startups?
LiveAgent provides advanced features like ticket routing, response templates, triggers, and so on. Features like these help you automate repetitive tasks. With LiveAgent, you can also ensure that customer tickets are assigned to the right agents, enabling quicker response times.
It offers a plan for small businesses priced at $9 per user per month. You have the option of adding more features as add-ons. But before getting started, try out the 30-day free trial that this helpdesk software solution offers.
8. Mojo Helpdesk
Mojo Helpdesk is one of the recommended business tools for startups. This help desk is quite easy to use and scalable, meaning it can scale as your team grows and accommodate higher ticket volumes.
Mojo Helpdesk allows smooth integration with other business tools like Zapier, Salesforce, Trello, etc. Such integrations help teams to streamline their workflows and enhance productivity.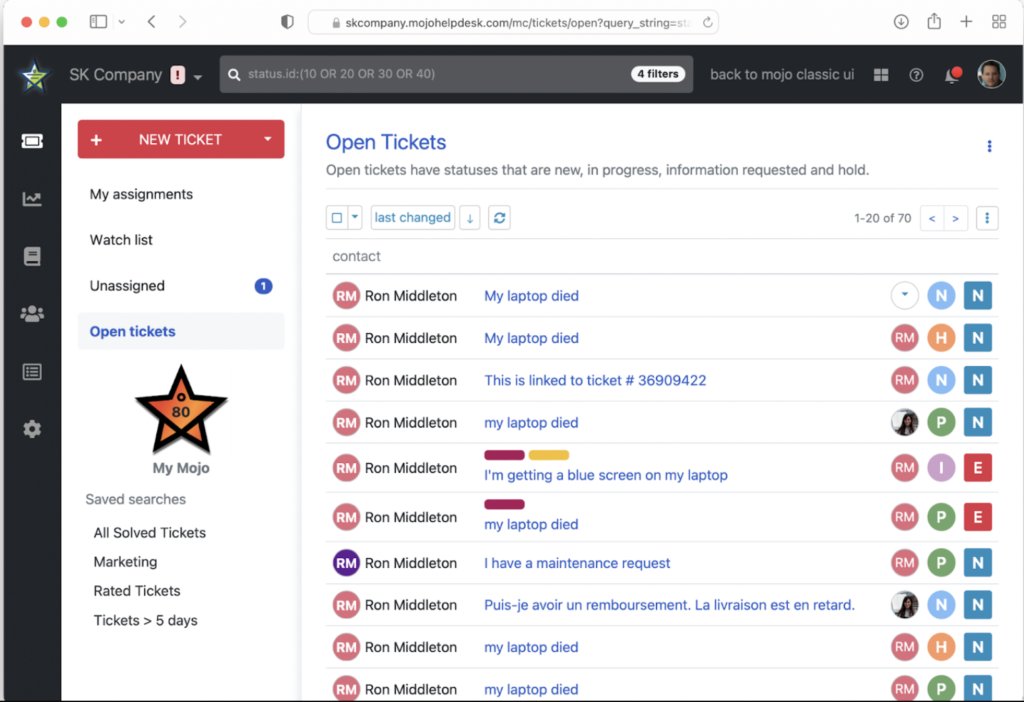 What's in it for startups?
Mojo Helpdesk offers some useful reports. You can find out ticket volume, response time, resolution time, and customer satisfaction ratings.
It offers a plan for small teams starting at a pricing of $14 per month per user and has a free trial for 21 days.
9. Helpshift
Helpshift is a good choice if your startup has a fairly popular mobile app. That's because it allows your customers to seek assistance directly within the app. It is an essential tool for startups dealing with apps as eliminates the need to switch to external channels for support – like phone or email.
Helpshift offers multiple features like automation, live chat, and knowledge base – to name a few.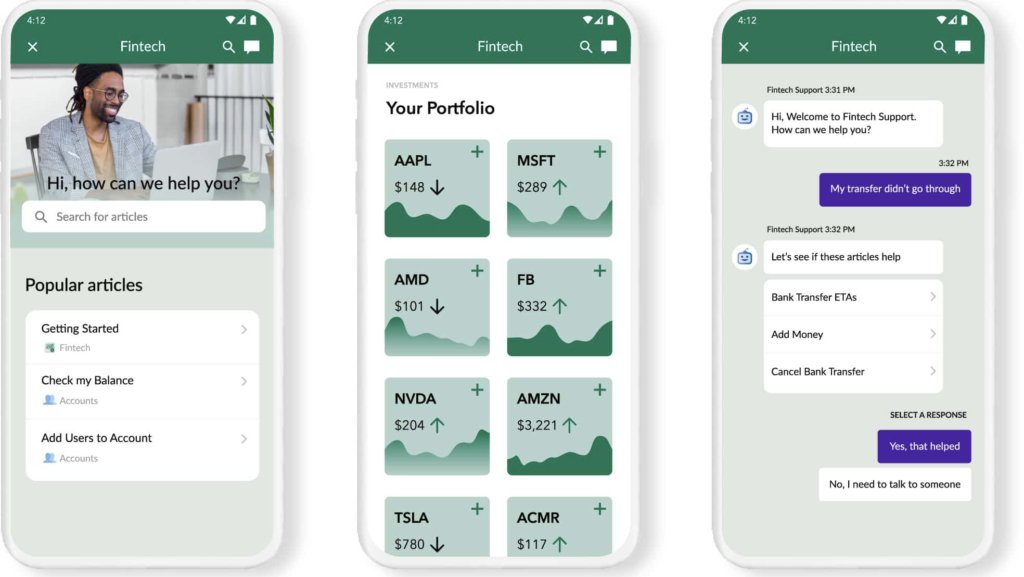 What's in it for startups?
Helpshift offers a mobile-first approach. This is useful if your startup relies on mobile apps for its business operations. Its starter plan is priced at $150 per month and comes with a 30-day free trial period.
This service desk also has a free plan that comes with real-time app feedback, unlimited FAQs, and standard support.
10. Spiceworks
If you are looking for an IT help desk for free, you can try Spiceworks. It provides useful features like ticket and asset management, knowledge base, ticket prioritization, and so on. Also, it's a cloud-based helpdesk – so, you don't need to worry about server procurement, setup, or maintenance.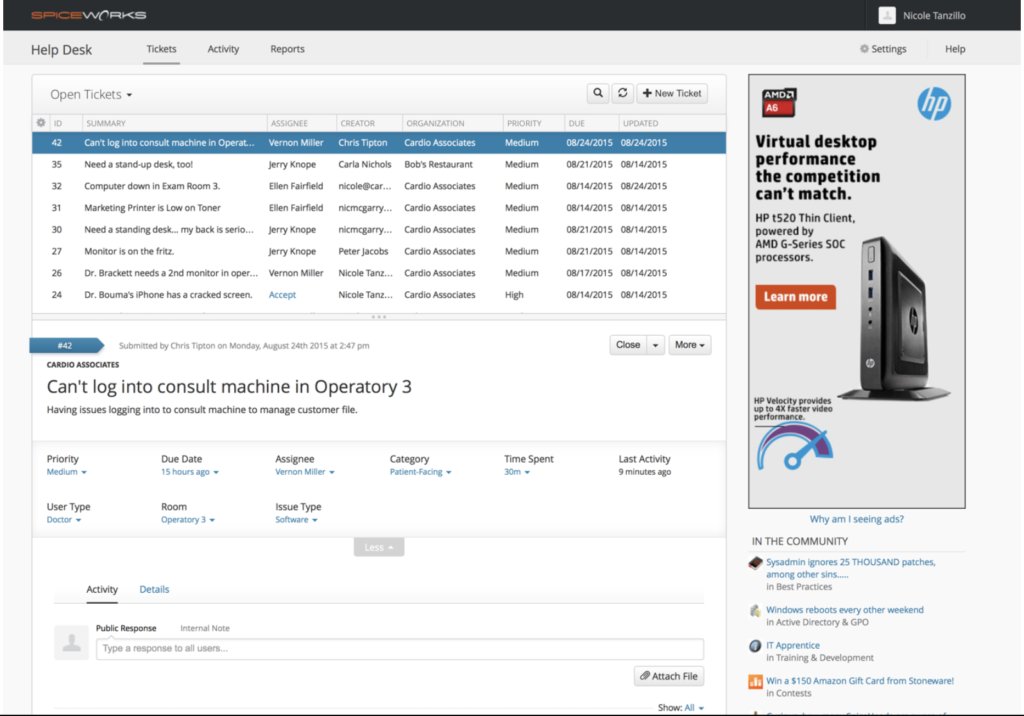 What's in it for startups?
Spiceworks is purpose-built for IT teams. So if your startup needs an internal IT help desk, Spiceworks can be your tool.
One of the best tools for startups, Spiceworks is a completely free help desk. It can be beneficial if your startup is seeking a cost-effective tool. It also has a community forum of IT pros sharing knowledge, troubleshooting tips, and best practices.
The Bottom Line
Choosing the right help desk can be a game-changer for your startup. It can enhance your customer support operations, automate mundane tasks and streamline workflows. This ultimately enables your company to provide memorable customer experiences.
Bain's report shows businesses providing a delightful customer experience drive 4-5% higher revenue than their competitors.
Chalk out your startup's specific requirements before deciding on a tool. Also, it is a good idea to analyze the tools based on pricing, usability, and features. Lastly, do not forget to look for special startup programs to leverage the best deal for your team.
Speaking of startup plans, don't forget to check out Hiver's Startup program and get it free for the first 6 months.
Not sure yet? No problem. You can also schedule a free demo to understand Hiver's specifications, pricing, and more!