Table of contents
10,000+ teams use Hiver to delight customers!
Front vs Help Scout: A Detailed Comparison
Jul 12, 2023
|
12 min read
|
Table of contents
As businesses strive to deliver top-notch customer service, there's a growing need for a reliable tool that helps them achieve this. Luckily, there are several cloud-based customer service tools available today.
Hiver, Front, and Help Scout are three popular support tools that are designed to help businesses streamline customer conversations across multiple channels, automate internal workflows, and improve quality of support.
In this article, we'll be doing an in-depth comparison of these three tools. We'll deep dive into their ease of use, features, pricing, and shortcomings.
Table of Contents
What is Front?
Front is a multi-channel customer communication platform whose interface is very similar to that of popular email clients.
When a new customer query arrives – be it via email, social media or live chat – it goes into a central inbox. You can assign queries to agents from this inbox and track the status of these queries in real time.
Collaboration is also easy with Front – you can write internal notes, or make use of shared drafts, to work with a colleague or supervisor on customer responses. You can integrate Front with apps such as Salesforce, Pipedrive, Jira, Asana, Github, and Trello.
What is Hiver?
Hiver is a multi-channel help desk that turns Gmail into a communication and collaboration hub. The tool is incredibly easy to use as it works on top of Gmail and doesn't require extensive training. Some of its flagship features include email management, live chat, automation, detailed analytics and reporting. It can be easily integrated with tools like Aircall, Asana, Jira, Okta, Salesforce, Slack, and Zapier.
Hiver is meant for different teams:
Customer Service: Assign customer queries to support agents and manage multiple support channels from Gmail. Automate routine tasks and track key customer service metrics. Address customer queries via multiple channels such as email, live chat, knowledge base, Voice, and WhatsApp.
Finance Operations: Manage all finance operations (accounts payable and accounts receivable) without investing in an external tool. Seamlessly collaborate with teams on conversations on invoicing, cash collection, and month-end bookkeeping.
People Operations: Ensure employee queries on payroll, benefits, and policies are attended to on time. Assign, track, and collaborate on internal requests seamlessly.
ITSM: Automate routine IT tasks. Have full visibility into technical issues – related to software, hardware, internet or security – and ensure these are resolved in a timely manner.
What is Help Scout?
Help Scout is a customer support platform that lets teams interact with customers across multiple touchpoints. It offers email support, live chat support, and a knowledge base (for teams that want to build internal and external FAQ pages).
What sets Help Scout apart is its feature called Beacon. It's an interactive platform that helps customers find what they're looking for – either by chatting with a live agent, looking up FAQs, or sending an email query.
Businesses can also customize their support workflows by directing tickets to specialized agents and categorizing inquiries based on type and priority. You can integrate Help Scout with 90+ tools including Salesforce, Jira, and Zapier.
Side-by-side Comparison of Front vs Help Scout vs Hiver
Comparison Points
Front
Help Scout
Hiver
Ease of use
Complex interface. Requires extensive training to get started.
Takes time to get used to the interface.
Works intuitively within Gmail. Incredibly easy to use.
SLAs
Delayed notifications. SLA lacks advanced customization.
Doesn't allow teams to create SLAs directly.
Configure and manage SLAs easily. Get notified before a violation occurs.
Support quality and channels
Doesn't offer 24*7 live support. Limited support channels.
Offers 24*6 support. Limited support channels.
Offers 24*7 support. Multiple support channels.
Value for money
Only basic reporting in its mid-tier pricing plan.

Entry level price: $19 per person per month.
A tad expensive. Can create only 2 shared inboxes in the basic plan.

Entry level price: $25 per user per month.
Most Affordable. Create unlimited shared inboxes in Pro and Elite plans.

Entry level price: $15 per user per month.
Reporting and analytics
Offers in-depth reports. But can be confusing to understand.
Complex reporting. Only for limited functions.
Extensive and advanced reporting across plans.
Email management
Offers email management features but may not be the best option for support teams.
Extensive email management features but internal and external conversations might overlap.
Several features for email management and collaboration, including notes, tags, @mentions, and more.
See how Hiver works
1. Hiver offers more value for money than Front and Help Scout
A good customer support platform is one that offers all the essential help desk features at a fair price.
Helpdesk Tool
Small Teams (10 users)
Large Teams (50 users)
Front
$11,880/year
$137,400/year
Help Scout
$4800/year
$39,000/year
Hiver
$4680/year
$35,400/year
Annual Savings (if you choose Hiver)
$120/year (over Help Scout)
$7,200/year (over Front)
$3,600/year (over Help Scout)
$102,000/year (over Front)
Key Takeaways:
Compared to Help Scout, you get access to multi-channel support at 29% lesser cost in Hiver.
Compared to Help Scout, you'll pay 40% less in Hiver to access unlimited shared inboxes.
Front does not allow you to build internal or external knowledge bases – to drive self-service. In contrast, all three of Hiver's plans offer you multi-channel capabilities.
You'll have to pay 60% more with Front, as compared to Hiver, to access in-depth analytics like ability to identify workload and performance bottlenecks for each customer.
Compared to other customer support tools, Front comes across as expensive.
The mid-tier plan offers basic analytics features, and the Starter plan lacks several critical support features.
Starter and mid-tier plans do not include chat support or onboarding assistance. To access these features, teams must opt for Front's highest plan.
The cost significantly increases if your team size is more than 10.
"Front tends to be expensive, when implemented to work with a large team because they need more additional tools and in bulk, which proceeds to raise its price." – Lisa C.
Whereas with Help Scout, each plan comes with a limited number of mailboxes – 2 in the Standard plan, 5 in the Plus plan, and 25 in the Pro plan. If customers require more mailboxes, they have to purchase them for $10USD per mailbox per month. Besides the limitation in mailboxes, some users have pointed out that their Standard plan lacks critical features (like automation).
"I wish the automating routing was available in the lower-priced edition. We do a bit of a workaround to route tickets." – Peter C.
As compared to Front and Help Scout, Hiver's pricing seem affordable. The tool offers three pricing plans.
Lite: $15 per user per month
Pro: $39 per user per month
Elite: $59 per user per month
"Hiver integrates with Gmail right in your inbox so you don't have to have multiple windows and apps open at the same time. It's all in one place, and it's affordable!" – Bryn S.
2. Help Scout is easier to learn than Front
Ideally speaking, you'd want to invest in tools that aren't hard work. But both Help Scout and Front fall a little short on that front.
While Front aims to streamline customer communication, it comes with a steep learning curve. Front's interface is inspired by that of email clients. But users have often complained that its interface is clunky and difficult to navigate.
"Front needs improvement in terms of its user interface and user experience, as at times, new users find it difficult to use. Also, the portal gets slow sometimes." – Rashi M.
As for Help Scout, its user interface is relatively more intuitive. And even then, it has a substantial learning curve. Responses to customer queries can't be sent from personal email IDs. Rather, they'll be sent from group emails such as support@companyname.com or help@companyname.com. This might come across as impersonal to customers and wouldn't help foster a strong sense of connection.
"The system is slow. The volume of emails we deal with is too high for the infrastructure of HS servers. As told to us by their CS team. The workflow mechanisms do not function accurately 25% of the time." – Help Scout user
Here's where Hiver has the edge. As it operates within Gmail – which most people are already familiar with – teams can start managing customer communication without extensive training. There are no complex workflows or terminologies to grapple with.
"Hiver is extremely easy to use. We were able to hit the ground running right from day one. It has completely re-invented our communication and efficiency a 100%." – Luke Thompson, Co-owner, Visiting Angels – Wisconsin
3. Difficult to set up specific SLAs in Help Scout and Front
Service Level Agreements (SLAs) help establish standards for performance metrics (like first response time and average resolution time) in your support team.
Front's "SLA Rules" let users configure notifications and reminders. You can set specific deadlines, like how soon your team should respond to customers when they've reached out to you. But when an SLA condition is breached (say an email query isn't responded to on time),your team might not get notified about it instantly. Many Front users have complained about this glitch and how it impacts the quality of support they deliver.
"I don't get an audio notification on my desktop for new emails or messages, so I don't see something for hours sometimes if I'm busy. Causing a delay in response when I could have replied immediately if I had been notified." – Rashonda L.
As for Help Scout, it doesn't offer a native SLA feature. Rather, it requires integration with a third-party software called Super SLA. When there's no in-built SLA, it sometimes gets challenging to establish accountability within teams. Notifications and reminders don't arrive in real time.
"One thing that is frustrating sometimes is when you're writing a reply to someone, and they send you another email; it isn't clear. It would be helpful to get a notification that says a customer responded again." – Help Scout user
Hiver offers a significant advantage in configuring and managing SLAs. You can set up SLAs based on several conditions/factors, such as
Type of query
Business hours
Customer profiles
With Hiver, you receive notifications before an SLA violation occurs, and can view overdue and due soon SLAs in a holistic manner.
"With Hiver, I have much better visibility into where an issue is on the resolution path. And we've stopped missing emails. It is essentially like having an additional person on my team." – Nathan Strang, Ocean Freight Operations Manager, Flexport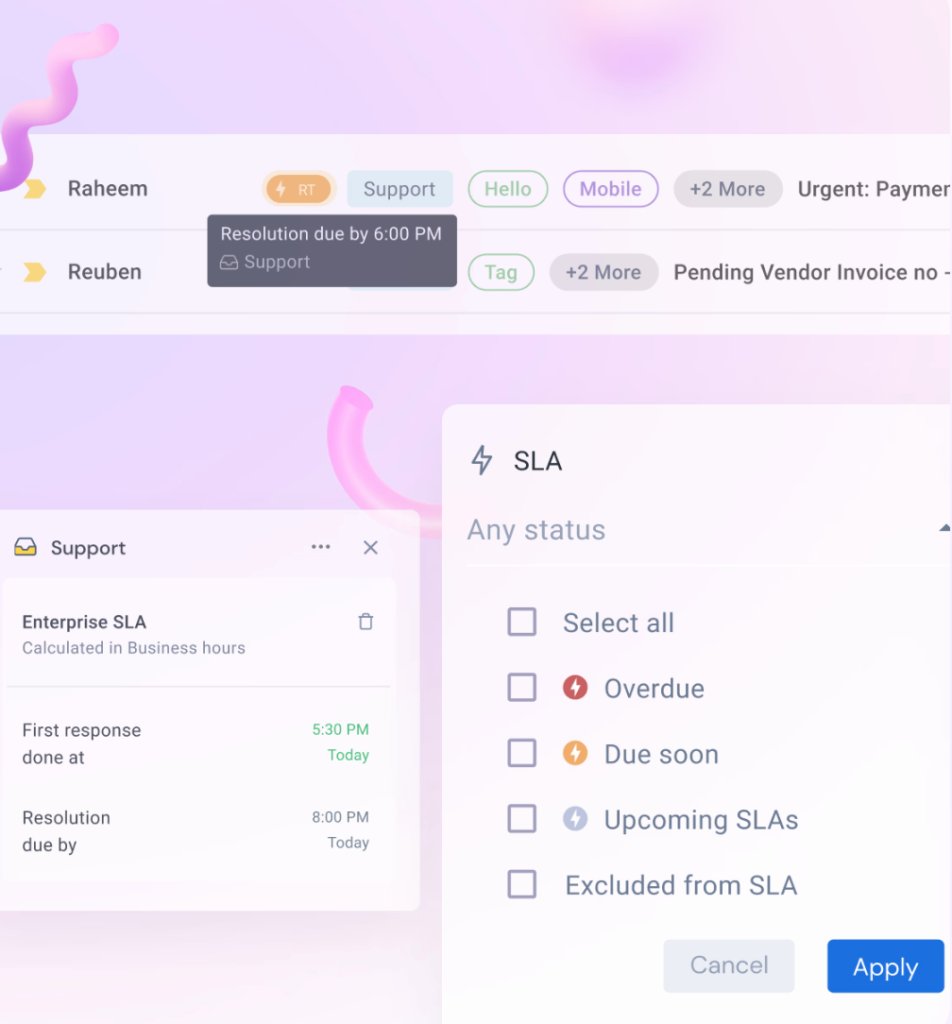 4. Hiver offers 24*7 multi-channel support, unlike Front and Help Scout
You and your team might run into issues while using either Help Scout or Front. In such instances, what matters is how promptly you can get assistance from the vendor.
In Front, email support is available on all plans whereas chat support is available only for users on the most expensive plan. Keep in mind that Front doesn't offer 24*7 support. This might be a problem if you and your team are situated in a different timezone from theirs.
✅ Email/Help Desk
✅ FAQs/Forum
✅ Knowledge Base
❌ Phone Support
❌ 24/7 (Live Rep)
"Front's service is incredibly distasteful, and the sales process lacks a transparent investment into understanding customer needs and how to best approach operational complexities. Our team reached out several times to review the system again after a bad experience and received no response or follow-up." – Zachary P.
Help Scout offers some significant support channels, like email, knowledge base, and live chat. Its Beacon feature can suggest relevant answers or connect customers to a live agent. Help Scout edges out Front by offering 24/6 support.
✅ Email/Help Desk
✅ Knowledge Base
❌ FAQs/Forum
❌ Phone Support
❌ 24/7 (Live Rep)
However, a quick glance at review sites (like G2 and Capterra) will suggest that Help Scout's customer support is not very satisfactory. Many users have complained that getting in touch with an agent can be difficult.
"As a customer, I believe that access to real-time chat should be a basic requirement for any support service. It's frustrating to see that Help Scout is putting such a critical feature behind a paywall, and it makes me question their commitment to customer satisfaction." – Adi G.
On the other hand, Hiver offers 24/7 support to all customers, regardless of the pricing plan. And more channels for customers to get in touch.
✅ Email/Help Desk
✅ FAQs/Forum
✅ Knowledge Base
✅ Phone Support
✅ 24/7 (Live Rep)
✅ Chat
"For me what stood out with Hiver was the 24-hour customer support. We never have to worry about getting an answer whenever we have a question for their support team. Hiver's made my job easier, which is great!" – Dakotah Shore, IT Manager, WS Display
Hiver's first call resolution rate is an impressive 88%, surpassing the industry average of 40%. Their average chat response time is 13 seconds, which is nearly 3x faster than the industry average of 45 seconds.
5. Front offers more extensive analytics than Help Scout
You can't improve something you can't measure. Reports provide valuable insights into support team performance and help identify areas for improvement.
Front helps you build reports based on individual or team performance. You can also measure response time and SLA adherence. Under Front Analytics, you'll find 7 built-in dashboards (Overview, Team Performance, Conversations, Tags, Message Templates, SLAs, and Customer Experience) that you can customize through filters.
But even if Front offers a detailed analytics dashboard, users have highlighted that tracking metrics and creating reports can be challenging. Also, you'll have to upgrade to Front's highest plan to access its complete range of reporting features. This may not be affordable for small and medium-sized businesses.
"Front lacks in its reporting feature. It is not easy to report issue types, and it is impossible to nicely present the data on 2 or 3 level reporting…e.g. we would use our own tags and have some nested under each category and there is no nice way to present it with a chart, requires me to extract the data manually and create my own charts elsewhere." – Front user
With Help Scout's reporting, you can evaluate your team's performance by channel, busiest hours, and trending topics among your customers. You can also sort metrics and data using filters and save custom views for quick access later. While these are essential reporting features, some users have found Help Scout's analytics dashboard to offer "limited insights."
"The reporting is limited for what our needs as a growing company are. Trying to get the reports emailed and importing information to other services can be a challenge. We have had to use several means of documenting and collecting data for our customers based on what they want to hear about and see the data for. As we have continued to grow, our company has had to consider other alternatives because of this issue." – Jess S.
Hiver's Analytics and Reporting are advanced, and teams get access to multiple reports:
Conversation reports: Get a complete picture of unique customer conversations, individual turnaround time, and average resolution time.
User reports: Track the performance of each team member and identify top performers or those who require assistance.
CSAT reports: Determine customer satisfaction levels and discover issues affecting customer experience.
Custom Reports: Create, customize and save reports. For example, a custom report can be created to track the average resolution time of customer conversations tagged as a "priority."
You can avail Hiver's advanced Analytics (User reports, Tag reports, CSAT reports, and a reporting window of up to 6 months) in its mid-tier "Pro" plan for just $39 per user per month. And if you want all of these reports + custom reports, you can access them in the elite plan for $59 per user per month.
"We use Hiver for an internal IT-type help desk. It has been very useful to help monitor all the agents, and stay on top of our monthly reporting to our stakeholders." – Hiver user
6. Both Front and Help Scout have essential email customer support features
Email is one of the most popular channels for customer communication. Supporting your customers over email is key to ensuring they're happy.
Front's suite of email support functionalities help teams assign customer emails, create custom rules to identify important emails, leverage templates to send out faster responses, and more. Users particularly like its "Snooze" feature – you can set a timer for when a message should reopen in your inbox).
But, Front may not be the best option for support teams, as it lacks certain features that can hinder collaboration and productivity. For instance, teams have complained about a glitch where certain people get assigned more emails than their colleagues – under an equal workload distribution structure. You also cannot tag teammates within the body of an email.
"I wish there was a way to add reminders to emails so that I can set a date and time to come back to any email I need to follow up on. That would be super helpful. I would also like the ability to tag teammates within the body of the email. That way I could just add their names into the email and they still get the email without CCing them." – Sherrice W.
If you take Help Scout, the features they offer to help teams do email support is quite similar. You can assign customer emails, build workflows, and write and share private notes amongst other things.
However, one significant shortcoming of Help Scout is that internal and external conversations overlap – increasing the likelihood of an agent accidentally sending a message meant for a colleague to a customer. A mistake like this could put your company's reputation at stake.
"The original automated format would change tickets for me and on my first tries, I ended up responding to the wrong tickets or closing the wrong tickets." – Help Scout user
So, how do you overcome the shortcomings Front and Help Scout have with respect to email customer support?
That's where Hiver comes in. It provides a powerful stack of features that make it extremely easy to delegate and collaborate on customer emails.
All internal discussions happen right next to the email thread in a "Notes" section.
Agents can tag colleagues with the @mention and leave a note, to provide context or seek inputs on customer queries.
Create and enable rule-based automations for adding email tags.
Create email views, using a combination of filters, to track your team's workload.
Use "Collaborators" to collaborate with co-workers outside your team and get complete context on queries.
"Since we have been using Hiver, we have significantly sped up the response time for email and tickets both internally and externally. Hiver simplifies everything for our teams and allows us to manage a more organized environment for handling email requests from employees and customers without massively forwarding messages for assignments; it has been a great success, especially for our support." – Juan B.
So, which platform should you select?
After comparing Front, Help Scout, and Hiver, it is clear that each platform has its unique strengths and weaknesses.
Front streamlines customer communication across different channels. Help Scout offers some good integration capabilities. Hiver's biggest advantage is the fact that it works on top of Gmail.
So, if you're looking for a solution that is:
Super easy to set up
Requires minimal training
Has powerful automation features
And is value for money