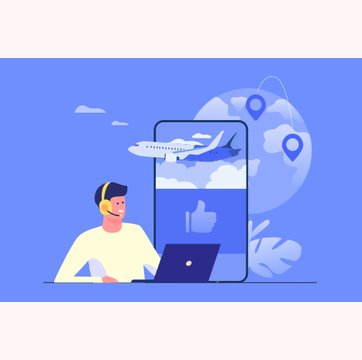 Table of contents
8000+ teams use Hiver to delight their customers!
How to Provide Great Customer Service in the Travel and Hospitality Industry
Aug 30, 2023
|
10 min read
|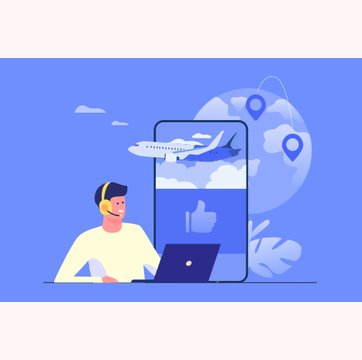 Table of contents
The travel and hospitality industry has undergone a massive upheaval over the last year and a half. The major boom that the industry saw towards the start of the previous decade was hugely overturned by the coronavirus pandemic.
Data from the US Travel Association found that in 2020, the travel sector lost $492 billion compared to 2019. That's a 42% annual decline! Further, international travel spending fell 76%, and corporate travel spending fell 70%.
Being the worst-hit industry since the crisis, sadly, many travel and hospitality businesses had to shut down their operations. The ones that did survive are at long last seeing some hope of recovery owing to the global vaccine rollout.
A study by Tripadvisor found that more than 77% of global travelers are likely to travel internationally, and 86% of them are likely to travel domestically if they receive the vaccine.
But, consumers are extremely apprehensive about safety and cleanliness. There is a 10.2% increase in negative reviews in the hospitality industry. So, companies need to go out of their way to reassure them with their honesty, transparency, and impeccable customer service. It is important that they focus on customer engagement and building trust.
In this post, we'll help you understand why excellent customer service is so important in the travel and hospitality industry, and what it takes to deliver the same, especially during such turbulent times.
Table of Contents
Why great customer service is important for a successful travel and hospitality business today
Modern travelers are tech-savvy, demanding, and empowered. They want to be able to book their travel with incredible ease. Research suggests that 57% of them want a single app for all their planning, booking, and travel needs.
Naturally, when it comes to customer service too, travelers want to use channels of their choice to get their issues resolved quickly, fairly, and with minimal hassle. Travel agencies that are able to meet these expectations are the ones that will likely increase their customer satisfaction and earn themselves a loyal customer base. Utilizing services like Visa Fly can streamline the travel planning process, ensuring a smooth experience for customers.
According to a study published in Harvard Business Journal, airlines that responded to a customer's Tweet in five minutes or less were likely to earn $20 more from that customer on a future airline ticket.
Another study by Think with Google found that great customer service is the most compelling factor of consideration for high-value travelers. 60% of them say that when choosing a brand to travel with, their customer service matters most to them.
For 50% of those high-value travelers, online reviews and word-of-mouth matter. Brands that offer travelers great experiences are most likely to earn stellar online reviews.
Travelers love sharing their experiences with travel companies, publicly. In fact, research from Stackla found that:
89% of travelers would post a photo or video about a travel destination they loved;
83% of them would post about a positive hotel or resort experience and;
67% of them would post about a positive transportation experience.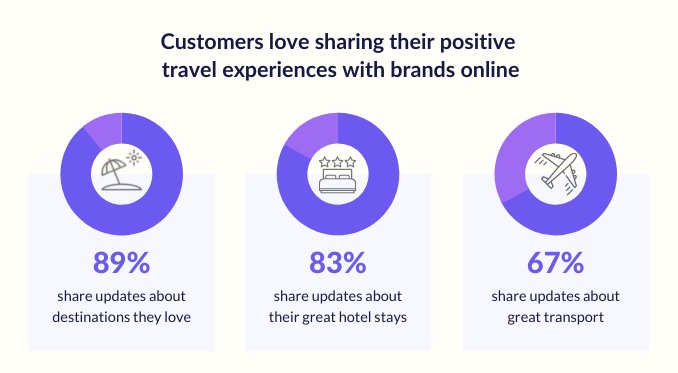 Today's traveler isn't one to take things at face value. They will do their own research, and compare options before making a well-thought-out and calculated choice for the right travel partner. Now, more than ever, customers are willing to do business only with travel companies that they can trust.
And that's why providing personal and meaningful customer service has become critical for travel businesses today.
Some customer service best practices for the travel and hospitality industry
To say that the travel and hospitality industry has experienced a shift in recent times would be an understatement. If your travel company wants to stay ahead of the curve, you need to rethink your old ways. You need to adopt a customer-focused approach to culture and strategy.
The travel and hospitality industry might see another boom soon enough. But, to be able to handle that well and make the most of it, companies must not only ensure they have their basics covered, but also offer customers what their competitors don't.
Good customer service can be a that big differentiator.
Keeping that in mind, we've listed down five essential best practices for companies that want to deliver quality service in the travel and hospitality industry:
1. Save customers their time, and make the booking process simple
One of the most important aspects for customers when deciding on a travel and hospitality partner (apart from price, of course) is the time you can help them save on planning, researching, and booking their travel.
Many travelers, especially those traveling on business, appreciate a swift and simple booking process. In fact, they're happy to pay more for such an excellent customer service experience.
Research suggests that 62% of consumers are willing to pay a higher sum for a simple experience, and 61% would recommend a brand if it has a clear proposition that saves them time.
Hilton's 'Stop Clicking Around' campaign is a great example of the above. Through the campaign, the brand encouraged its customers to "stop clicking" through numerous websites and waste hours of their time. Instead, they asked them to book directly through Hilton's website and enjoy the best price.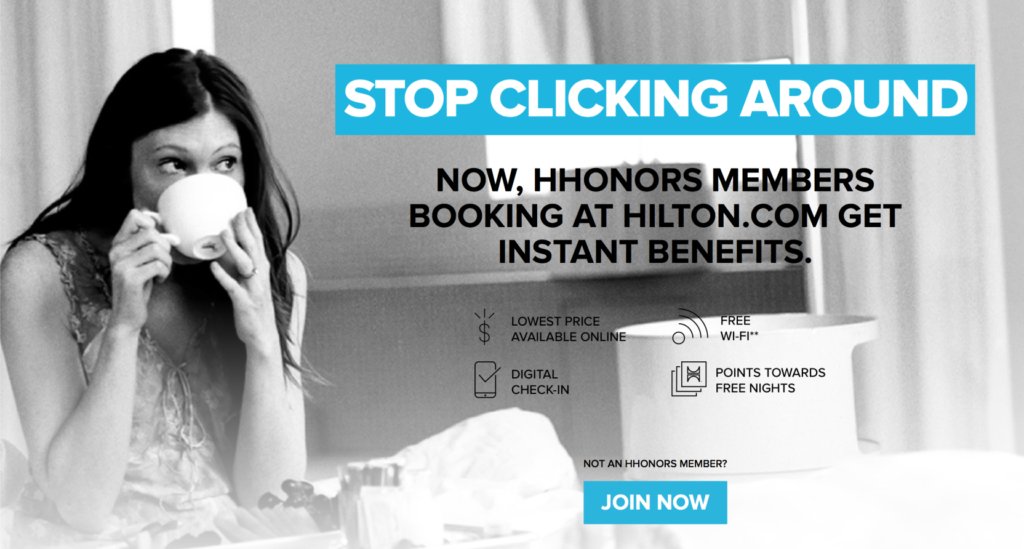 The result? The hotel earned 4.5 million bookings worldwide attributed to the campaign. That's the value they received for valuing their customers' time.
2. Be proactive with your communication, and swift with your resolutions
Traveling and accommodation have always been very anxiety-inducing for many people. With the pandemic having wreaked havoc, hotel guests are now more concerned about their safety than they've ever been before.
According to a recent research study from PwC, 85% of travelers said their travel decisions will depend on communications they receive from hotels and airlines about safety. Further, 40% of them said they're unsatisfied with the current communication they're receiving from travel companies about safety protocols.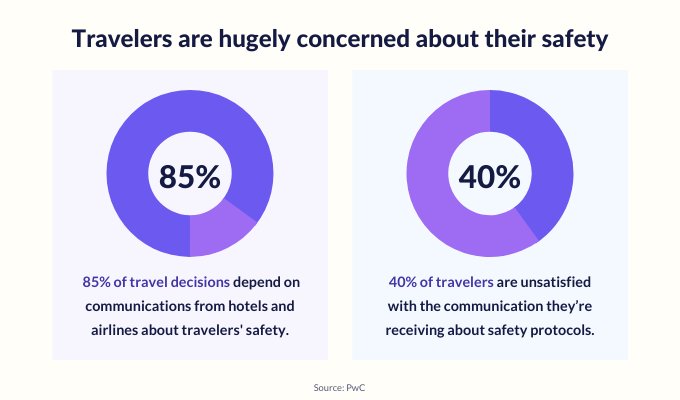 That's why proactive data-driven communication about safety protocols, cleanliness, and sanitization should be a critical part of hotel management today. It's hugely important that airlines and travel companies also proactively communicate important updates including travel advisories, delays, cancellations, etc.
Further, when customers reach out for help, tour operators must make it a practice to resolve their problems as quickly and satisfactorily as possible. According to Hiver's Customer Service Benchmark Report, almost 50% of companies promise their customers a resolution time of below 6 hours.
Investing in an intuitive help desk solution is a sure-shot way to ensure a such fast resolution.
Let's take the vacation rental company Vacasa's case study as an example. The company was earlier using Google Groups to handle all customer service emails. Communication within the team was restricted to sending back-and-forth emails. As a result, it was slowing down their query resolution process.
By implementing Hiver, a Gmail-based customer support software, the team was able to define clear accountability for every member. What's more, they were also able to have contextual discussions about every customer query using Hiver Notes – all without the hassle of CCs and forwards.
As a result, the team saw an 80% improvement in their average resolution time. You can check out their entire story here.
3. Be present wherever your customers are
Today, customers use multiple devices and channels at once to connect with brands. And, they expect those brands to seamlessly communicate with them across each of those devices and channels.
For example, if a customer enquires about a specific holiday package on your travel company's social media, they expect a consistent response and experience when they reach out to you about the same query on chat or email.
Travel companies need to therefore invest in systems that allow them to integrate all of their key channels where their customers are present.
Brands also need to offer customers options to easily connect with them using devices of their choice. They can do this by adding click-to-call buttons on prominent parts of their website, tablet, and mobile applications.
Further, companies must ensure that at every touchpoint, they update customers with the relevant and latest information about their travel. They can proactively communicate these updates via text, email, voice, etc.
KLM Airlines takes this proactive communication approach to the next level with its 'Family Updates' service. Apart from sending real-time WhatsApp updates to travelers about their trip, the airline also updates travelers' families and friends about their departure, arrivals, delays, cancellations, etc. What a simple yet thoughtful way to delight customers!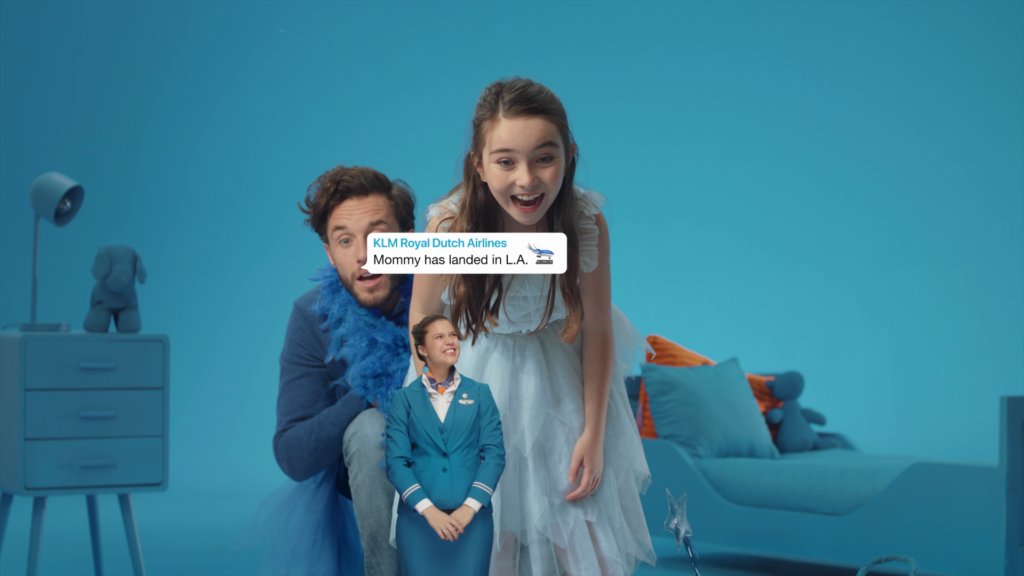 4. Offer deep personalization
21% of travelers are more likely to leave a review after a negative experience at a hotel than a positive one. And, 35% of travelers would think twice before booking if they find more negative reviews than positive ones.
No surprises then that the travel companies that stand out are the ones that deliver experiences beyond what most others in the market are offering.
A study by American Express reported that 83% of millennials are okay with travel brands tracking their digital patterns if they get to enjoy a more personalized experience in return. The same study found that 85% of respondents across all age groups prefer customized itineraries over general, mass-market offerings.
Investing in a good CRM solution is thus critical for travel companies as it offers a safe and organized repository of important customer information that they can use to personalize travel arrangements. This not only includes customers' names, birthdays, anniversaries, addresses, and work profiles but also their interactions across a brand's website or app and also travel website development.
Customer conversations are another useful source of relevant customer data. The past interactions customers have had with your customer care team can give you important cues into their travel preferences. This data can in turn help you craft unique, tailored, and memorable travel experiences for your customers.
Some travel companies are also leveraging technology to deeply personalize customer experiences.
For example, with British Airways' 'Know Me' program, customer service agents can easily identify who are their frequent flyers, high-profile flyers, and even first-timer flyers. Accordingly, this information helps them deliver personalized offers and services to customers – right from the time they book a flight to the time they land.
United Airlines' 'Collect, Detect, Act' system uses artificial intelligence to analyze 150 variables in customers' profiles. This data helps them determine travelers' unique preferences, and craft tailored offers for them.
This system has helped increase United Airlines' revenues by over 15% year on year.
5. Ensure your agents are well-trained and motivated
So far into this article, we've seen how important leveraging technology is in order to give customers the kind of experiences they want.
But technology, no matter how cutting-edge or expensive, is nothing without the human touch.
Unless you have a team of skilled, adept, and motivated agents and hotel staff to execute your customer service strategy, the guest experience is bound to suffer.
Hiring the right people is only the beginning. The travel and hotel industries are hugely dynamic. You need to make sure that your staff members are up-to-date with the changing nature of customer expectations and the increasing importance of customer service.
It's the only way your brand can deliver meaningful customer experiences, consistently.
Ensure all your staff members undergo industry-specific customer service training programs. Apart from this basic training on customer service skills, you should also provide brand and product training. This will help them successfully tailor your brand's offerings to suit customers' needs, and even upsell and cross-sell at the right opportunity.
You could even provide your customer service team with incentives to upskill, voluntarily. The International Air Transport Association (IATA) offers some really good courses that you can encourage your agents to take up.
It's also important to note that the travel and hospitality industry is rife with demanding customers and high-pressure situations. Empathizing with customers becomes the key to providing great customer service. Also, make sure you equip your agents with the right tools and skills to handle the same.
Wrapping up
The travel and hospitality industry might still be stumbling its way back to normalcy right now. However, one thing is for certain – it's bound to bounce back in a bigger and better way.
Even if the demand isn't the same as it was pre-pandemic, travel companies should prepare for the major surge in bookings that experts have predicted in the near future.
Now is the best time for brands to focus on fixing what's broken in their customer service strategy.
A good way to start is by creating a customer journey map. It'll help you identify how customers interact with your brand at every touchpoint, and what you need to do better to improve their experiences across their journey.
Your journey map, for example, may help you understand that your customers have an inconsistent experience across the pre-purchase and purchase stage. It might then make sense for you to focus on breaking down silos between your marketing and sales departments.
At the end of the day, customer service shouldn't just be a function but an org-wide mission. Travel and hospitality brands that understand that, and adapt their overall strategy accordingly, are ones that will thrive in these times.
---
Resources you'll love: