You might live and breathe great customer experiences, but if your customer service reps do not share the same enthusiasm or lack the skills to provide great support, your vision of great customer service will remain a vision.
Hiring the right customer reps for your team and training them to deliver top notch service is important, because it helps you bring your customer service vision to reality.
As a new business, you might wonder, where do I even begin with hiring the right customer service employees? What does good training for customer service look like?
We compiled this detailed customer service hiring and training handbook to help businesses like yours to take the first steps towards delivering great customer experiences.
Read on.
Table of Contents
Why effective customer service hiring and training matters
The high rates of turnover in the customer service industry, coupled with high costs of training new employees make it imperative for businesses to hire the right people for customer service roles. On the other hand, effective training empowers customer service reps to deliver great customer experiences and make customers stay.
That's why, building a great customer service team requires a combination of effective hiring and training practices.
According to the Quality Assurance and Training Connection (QATC), call centers in the US have turnover of 30-45% on average. What's more, the direct cost of replacing a contact center agent, including the cost of screening, recruiting, interviewing, and training an agent is more than $12,000. Hiring the right candidates early on helps you avoid additional hiring and onboarding costs when bad-fit employees leave.
Good training empowers reps to put their best foot forward and offer great quality service. Training also helps agents feel confident and motivated, and happy agents are more likely to stay with your company.
Five tips for hiring good customer service employees
Hiring is one of the most important activities you'll perform as a customer service leader. Good customer service hiring practices can help you build a strong team that delivers top notch service.
Here are five tips to craft the perfect customer service job description and hire the right customer service agents for your business:
Make a list of customer service skills that matter to your business
Some businesses may care about their agents having a sense of humor, while others may want empathy as a must-have skill. To craft a good customer service job description, you'll want to first round up lists of must-have skills for your business.
Make a list of customer service essentials such as communication skills, conflict management skills, emotional intelligence, persuasion skills, use of positive language, and tech-savviness.
Then, add skills that matter to your brand such as a sense of humour, the ability to chat with customers about their day, or the ability to deliver bad news in an empathetic way. If your product is technical, you'll want your customer service reps to have specific technical skills to be able to troubleshoot problems. Make a list of those additional skills too.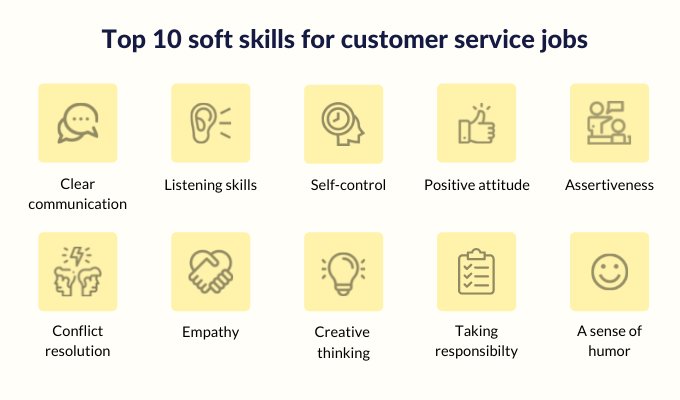 Write a clear customer service job description
Once you decide the skills you need for the customer service job positions you want to offer, write a clear job description that explains the requirements and responsibilities of the job.
A good job description will help you attract relevant applicants who are motivated to work for your company. It should include basic requirements of the job as well as any additional requirements of the job, such as specific working hours, skills, and work experience.
Here's a basic template you can follow to write a clear and thorough job description:
Overview
Responsibilities of the role
Basic qualifications and requirements for the job
The benefits you offer
An 'About Us' Section showing what your company does.
Take a look at this example of a customer support specialist position from Hiver.
Note how they clearly mention this is a full-time role with different shifts, in the 'Requirements' section. They also specify the technical skills and work experience required for the role.
Post your job in the right places
Posting a job on your own website will elicit some responses, but not many. To ensure your job is exposed to as many relevant candidates as possible, post your job on other job boards too.
Here's a list of the top job boards which may help you attract qualified candidates:
And here are a few job boards solely focused on customer service employee hiring. Take a look at these too:
The wider the reach of your job post, the greater the chances of attracting quality candidates.
Ask the right questions in interviews
As your ad goes live, you'll start attracting a range of candidates for the position. The interview process will help you narrow down your list to the best candidates for your team. The right interview questions can make your interview process more effective.
Here's a list of customer service interview questions to include in your interview process:
How do you handle extremely angry customers? – This is an important question to evaluate potential candidates, as customers may get angry all the time on a customer support call. The candidate's answer should reveal how they would handle the situation in a calm, collected way.
What does good customer service mean to you? – This question helps you find out if a candidate's idea of customer service is the same as yours.
Where do you see yourself in five years? – This helps you identify if an agent is interested in customer service as a career or not. The more interested candidates are in pursuing customer service as a career, the better they'll try to get at their job.
How familiar are you with our brand? – This helps you gauge if a candidate has done their research, and if they're aware about your brand goals and mission.
What's your experience with customer service technology? – Candidates who have sufficient experience with online helpdesk software and live chat support software will be easier to train and onboard.
Recommended Reading
Test agents' customer service skills
The initial interview process will help you narrow down your list of candidates to a select few who may be a good fit. But will those candidates actually perform a good job at work? To find this, set up a mock customer service skills test before extending a job offer.
A common way to test a candidate's customer service skills is to give them different scenarios they might encounter with customers and observe their response.
You can send sample scenarios via email and ask candidates to send their responses. If you offer phone support, do a sample phone assessment where someone from your company becomes the customer and talks about an issue.
For instance, you can give a scenario of a customer having problems with your checkout process or facing bugs in your product.
Be sure to test candidates' abilities for a wide range of scenarios and areas. The goal is not to see if candidates can give the "right" answer, but to check if they're able to think on their feet, search your knowledge base and website for responses, and be able to offer friendly, personable support.
Four tips for effective customer service training
Finding the right candidates for your customer service team is not enough. You'll need to provide them with the right training and knowledge, so they can better serve your customers.
Before you begin training your agents, it's important that you clearly identify and spell out the training methodology, the training contents and processes, the party authorized to provide training, along with your (minimum) desired training outcome.
Here's are four tips to train your reps better:
Set up an effective agent onboarding process
Done well, an onboarding process helps you empower agents to do their job well and increase retention.
An effective agent onboarding process covers everything from discussing the core values of a company, to detailed sessions on your product and customer service software.
Here are five tips to make your agent onboarding process more effective:
Start with offering product knowledge – Agents need to know your products and services in and out to be able to offer quick, accurate responses to customers. In the beginning, allow agents to spend as much time as possible understanding the products you offer, their features, benefits and pricing.
Teach agents to use your support tool – You likely use customer support software to help agents route tickets and send faster replies to customers. After agents are familiar with your product, let them spend some time using your customer support software. Through the onboarding process, they should learn how to route customer service requests, save replies as templates, tag customer requests, and collaborate with team members for faster problem solving.
Help new agents build a rapport with managers – Building a good rapport with managers early on can help agents resolve any issues they're facing in their work at the earliest. Involve service managers throughout the new agent onboarding process, so agents can get familiar with their managers. Ask managers to meet with the agents on a routine basis to identify any problems they may face during the onboarding process.
Teach agents how to use your knowledge base – Companies create an internal knowledge base (KB) for their team members to quickly access important information such as benefits and features of products, tech help, organizational structure and so on. During the onboarding process, be sure to teach agents any shortcuts and workflows that may help agents quickly search for important information in your knowledge base. This will help them quickly resolve customer queries.
Allow agents to handle fake support requests – Just as a mock test during the interview process helps you gauge an agent's skills and presence of mind, fake support tickets help agents learn on the job. These fake support requests might contain the top customer concerns and issues your reps generally solve. You can set up these fake support requests in your customer service software or a learning management system (LMS) of your choice.
Have a system to verify their skills after onboarding – Good onboarding prepares agents to become a valuable member of your team and a valued resource for customers. But it's important that once the onboarding process is over, you verify your new agents' skills and learnings before they can start handling customers. Do note that it's equally essential for you to have an action plan for those agents that fail to meet your minimum performance threshold requirements.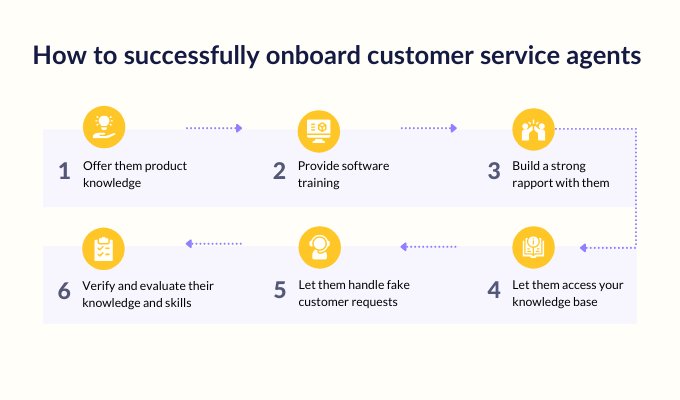 Allow agents to learn on an ongoing basis
According to one LinkedIn survey, 94% professionals said they would stay with a company that invested in their career. That's why it's important to allow agents to develop their skills and grow their career on an ongoing basis.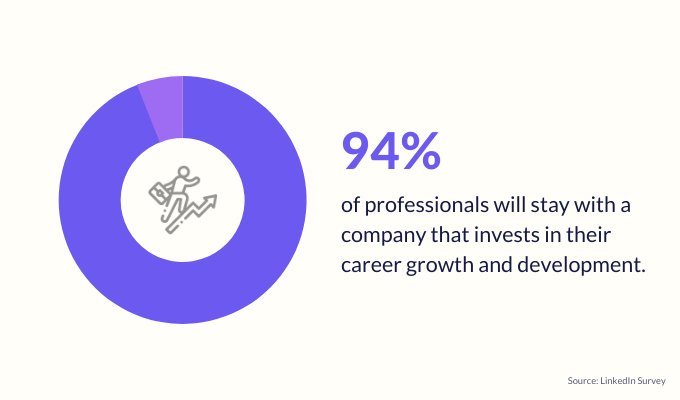 Here are two ways to foster an environment of continuous learning for your agents:
Encourage peer-to-peer learning – Peer learning is a way of helping employees interact, teach and be taught by one another. To learn from their peers, support reps can provide feedback and tips to other teammates by reviewing their customer service interactions. You can also allow reps to peek into or listen to conversations of high-performing reps to help them get a feel for what great customer service looks and sounds like. You can promote peer learning by establishing a 'straight talking culture' in your organization, where employees are not afraid to give or accept criticism and work to improve their skills.
Set up a learning management system – A learning management system is a software where you can set up courses and other resources to help employees learn on an ongoing basis. You can create your own courses as well as use ready courses by other organisations to teach your team. Some popular LMS platforms include TalentLMS, TovutiLMS, eThinkLMS, VioletLMS and iSpring.
Conduct quality assurance reviews to identify coaching opportunities
Customer service quality assurance is a process that involves reviewing customer service interactions to gauge agents' performance and provide feedback for improvement.
Quality assurance managers listen to or read customer service conversations and identify areas where agents may need more training and help.
Customer service quality assurance is a great way to provide quality customer support at a consistent clip. In fact, as per Hiver's latest Customer Service Benchmark Report, 51% of customer service teams analyze support conversations to infer customer feedback.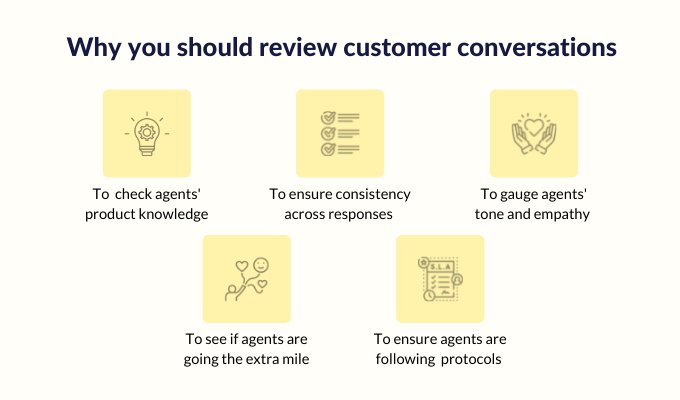 Reward instances of great customer service
Great customer service training doesn't end with teaching agents key skills, it also involves rewarding agents for good work, so they're motivated to do better.
Recognize and reward instances of great customer service to help agents feel appreciated. A peer recognition system, where employees call out great work from their peers also works well in keeping employees motivated.
For example, Zappos has a peer-to-peer employee rewards program, where Zapponians can acknowledge peers that demonstrate company values and culture. This helps keep team spirit high.
Great customer service hiring and training lays the foundation for great customer service
92% of consumers are more likely to make another purchase after a positive customer service experience. But to deliver positive customer experiences consistently, you need a great team of customer service employees.
Spend some time crafting a good job description to attract the right candidates to your customer service jobs. Ask the right interview questions to identify good-fit candidates.
Finding the right candidates is only the beginning though. You'll also need to provide sufficient training and onboarding for new reps to get up-to-speed on your products, brand, and tools.
Even after agents are successfully onboarded, you should continue to train them on a routine basis, and reverify their skills, annually.
The more time and effort you invest in hiring and training customer service reps well, the better you'll be able to serve customers in the long run.