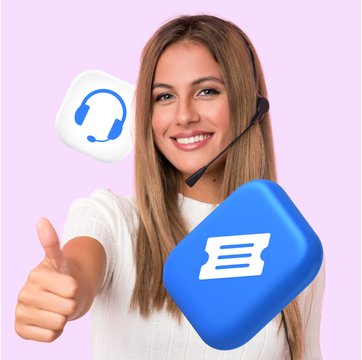 Table of contents
Deliver Faster Support Right From Gmail
Top 5 Ticketing Applications for Your Customer Support Team
Aug 23, 2023
|
7 min read
|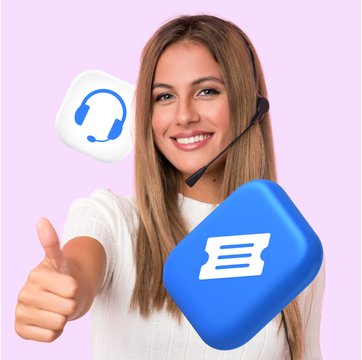 Table of contents
As your business grows, it is highly likely that your support team will deal with a huge volume of customer queries. Of course, there are multiple customer support systems in the market that can help your agents manage incoming customer requests effortlessly.
Now, what if your agents have to respond to a ticket or a customer query while they're on the go?
Enter customer service ticketing applications.
With customer service ticketing applications, you don't need to be at your desk at all times to delight customers and resolve their issues. Instead, these mobile applications can help your support team respond to tickets, collaborate internally, and perform other critical help desk tasks, all while they are on the move.
In this article, we elaborate on the top 7 ticketing applications available in the market today to help you choose the best option for your business.
12 best email ticketing systems in 2023
5 customer service ticketing applications for your support team
1. Hiver: Multichannel help desk that runs inside Gmail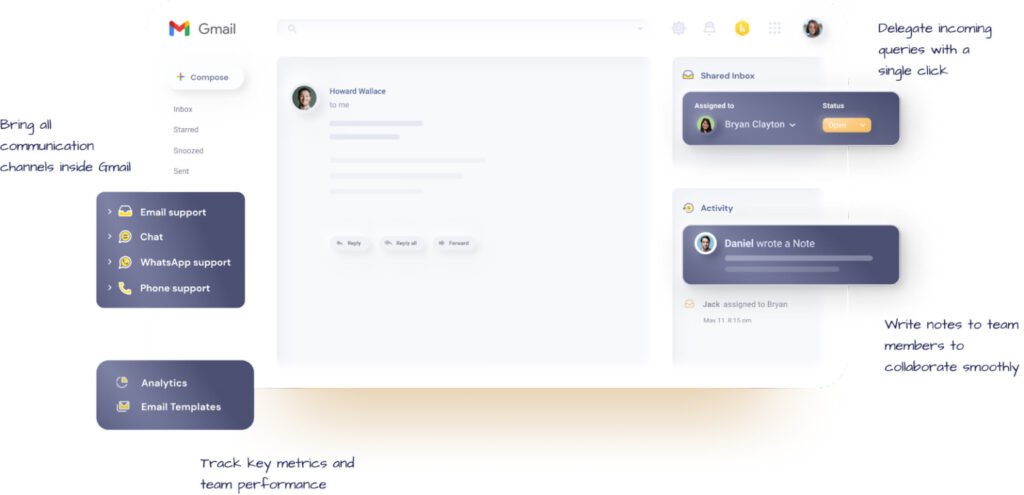 Hiver's simple and intuitive help desk brings together email, live chat, knowledge base, and voice channel right inside Gmail. Your agents can effortlessly manage incoming customer conversations on their Android or iOS devices through the Hiver mobile app.
Hiver allows businesses to offer quick and efficient customer support without burning a hole in their pocket since it is 30-50% less expensive than most conventional help desks.
Hiver's mobile app allows you to:
Access your Gmail inbox and add conversations from your personal inbox to shared mailboxes like info@ or support@
Share important team conversations on different communication channels using the permalinks functionality
Collaborate quickly and effortlessly with Notes
Discuss and take inputs while crafting email replies using Shared Drafts
Get instantly notified when an email hits the shared inbox
View unassigned emails, assign new conversations to team members, and update the status of customer requests
Leverage collision alerts to ensure that multiple team members don't end up working on the same email to ensure a consistent customer experience
"This app is a must have for teams using Gmail. The capability to have a shared inbox and labels has been awesome. This app enhances the ability to have mobile access to the shared inboxes."
– Hiver user on App Store
Pricing:
Hiver offers three pricing plans.
Lite: $15/user/month
Pro: $39/user/month
Elite: $59/user/month
Hiver also offers a free 7 day trial.
6 reasons to fall in love with the all new Hiver mobile app
2. Zendesk: Cloud-based customer service solution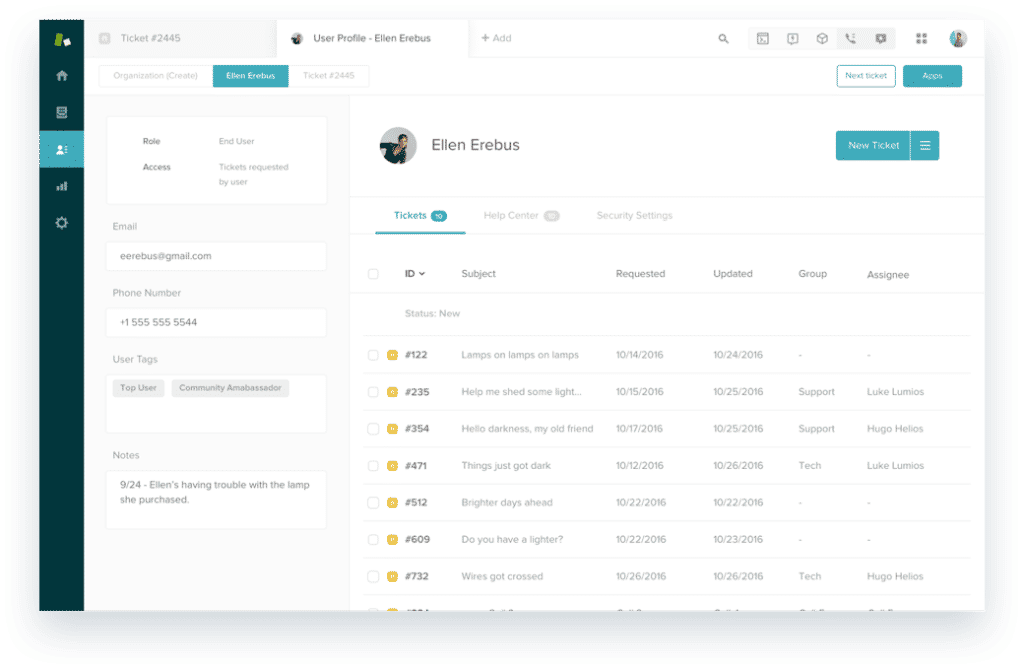 Zendesk's ticketing system allows you to efficiently track and manage incoming queries and offer omnichannel customer support through channels such as email, live chat, and knowledge base. Its cloud-based system is designed to meet the customer support requirements of large enterprises.
The platform comes with features such as SLA (service level agreements) management, custom workflows, and analytics.
Aside from this, Zendesk also offers a mobile app for both iOS and Android devices to help manage customer tickets on the go.
With Zendesk's mobile app you can:
Create new tickets and update them on the fly
Set up alerts to notify support agents whenever a ticket is assigned to them
Filter through tickets with the Views functionality
Access reporting and analytics to get an overview of key performance indicators in real-time (only available for iPad users)
However, users have reported a few limitations with the Zendesk app.
The platform is quite expensive and you will need to pay extra for advanced features. This makes it unaffordable for smaller businesses with limited budgets.
For instance, you will need to pay anywhere between $1500 to $2800 if you require assistance from Zendesk's team. Whereas with a tool like Hiver, you get onboarding assistance and around the clock support for free.
App users face a problem with delayed notifications despite proper configuration. This means it takes longer for an agent to be alerted whenever a new ticket comes in which in turn delays resolution. This negatively impacts customer satisfaction.
While the app offers many features, it is complex to set up and use.
Users have also complained about the lack of timely vendor support during escalations.
"There are so many bits of poor UX in this app, despite it being around for years now. Plus just plain and simple poor coding. As an example, I get a notification about an updated ticket, but tapping the notification just opens the app and doesn't take me to the ticket in question. Even worse, on then manually navigating to the ticket referred to by the notification, it's not updated and an old cached copy is displayed, without the update it notified me about! I have to then force a refresh, and even then sometimes I don't get an updated ticket."
– Zendesk user on Google Playstore
Pricing:
Zendesk's Support plan has three pricing tiers.
Team: $19/user/month
Professional: $49/user/month
Enterprise: $99/user/month
Zendesk also has a Suite plan that offers four pricing tiers.
Team: $49/user/month
Growth: $79/user/month
Professional: $99/user/month
Enterprise: $150/user/month
Top 10 Zendesk alternatives for 2023
3. Freshdesk: Affordable help desk for small and medium businesses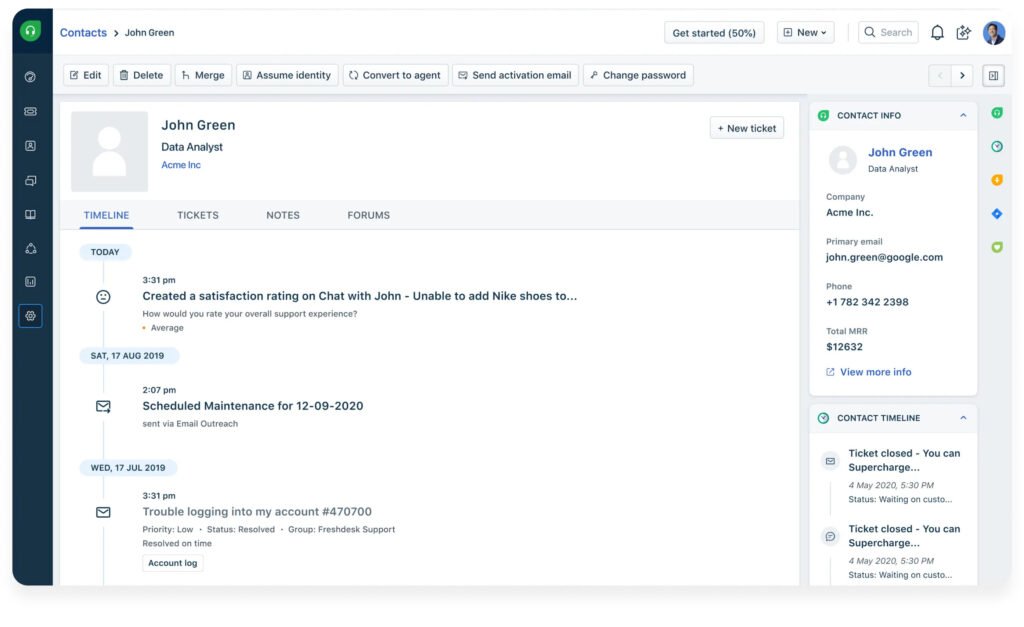 Freshdesk is a popular service desk platform that helps businesses manage support queries efficiently. Teams using Freshdesk can offer customer support across channels such as live chat, email, and social media.
The platform also has a mobile app or both iOS and Android devices. It allows agents to perform any action on a support request, giving them the complete flexibility to work from anywhere.
Here are the salient features of Freshdesk's mobile app.
Create, track, and manage support tickets while on the go
Avoid typing long responses on small screens by using canned responses to draft email replies
Configure push notifications so that you get timely updates on what is happening with a customer query
Share tickets to tools like Asana or Trello from the comfort of your phone
Track and record all the work you do on a ticket from your phone
One of the biggest challenges that users have noted with the Freshdesk app is delayed and incorrect notifications. This results in delayed customer support.
Aside from this, getting timely vendor support is a challenge especially since Freshdesk does not provide phone support across all of its plans.
"Notifications do not work correctly. The app gives inaccurate combinations of text from a contact and title from different tickets or provides outdated or older notifications when new notifications should be displayed. Support team refuse to test and close ticket claiming it's resolved"
– Freshdesk user on Google Playstore
Pricing:
Freshdesk's Support system offers four pricing plans.
Free: Has limited features but can be used by unlimited agents.
Growth: $15/user/month
Pro: $49/user/month
Enterprise: $69/user/month
Freshdesk also offers a free 21 day trial.
Hiver vs Freshdesk: A detailed comparison guide
4. Zoho Desk: Customer support and help desk software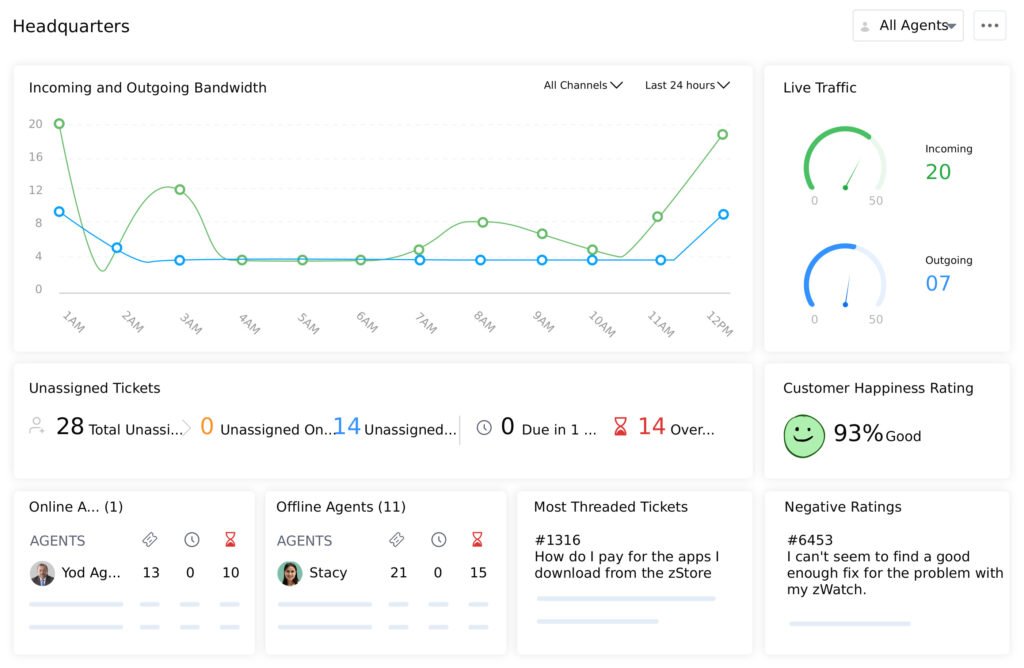 Zoho Desk is a help desk ticketing system that helps teams centralize and manage customer interactions across various channels such as email, social media, live chat, and phone.
The platform offers direct assignment and round-robin automations to help managers assign incoming tickets to the right agent. You can also filter tickets based on their urgency, type of customer, or ticket status. This allows support teams to prioritize the queries that they need to work on.
Zoho Desk also has a mobile app that is compatible with both Android and iOS devices. It enables agents to handle customer support queries from anywhere at any time without opening up their web browser.
With the Zoho Desk mobile app you can:
Get instant notifications on the tickets you are working on
Organize tickets based on factors such as deadline or type of customer using the 'Work Mode'
Respond quickly to customer conversations with the help of response templates
Collaborate easily with your team on every ticket with 'Team Feed'
The only drawback with the app is that users find it difficult to use since the interface is quite clunky. There is a steep learning curve and it takes some time to get used to.
"The Zoho Desk app is not the easiest to use or initial setup. The user interface is very bulky and does take a bit of time to get used to. "
– Zoho Desk user on App Store
Pricing:
Zoho Desk offers five pricing plans.
Free
Express: $7/user/month
Standard: $14/user/month
Professional: $23/user/month
Enterprise: $40/user/month
Zoho Desk pricing: Does it offer value for money?
5. Kayako: Frictionless multichannel customer service platform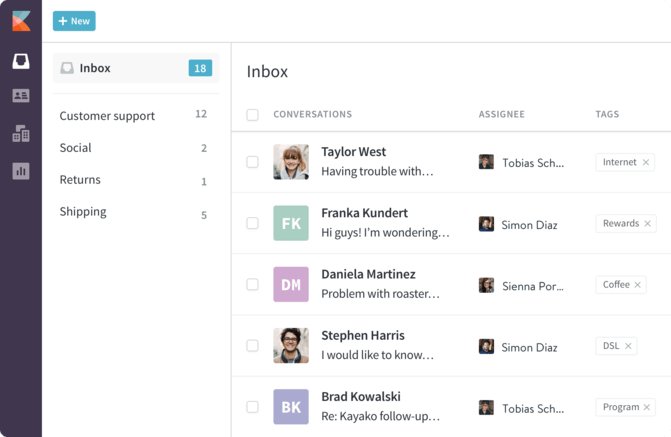 Kayako's customer support software empowers businesses to efficiently manage their customer inquiries and support interactions. It offers ticket management and multichannel support across email, social media, and knowledge base.
Kayako also has a mobile app on both Android and iOS devices – that makes customer service more convenient while on the go.
With Kayako's mobile app you can:
Edit tickets, add notes, and upload attachments from your mobile device
View conversations through offline viewing even when there is no Wi-Fi
Many users do however, find the app to be buggy at times. Push notifications don't often work and critical support features are missing which makes offering customer service through the app very tricky.
"Kayako is a decent ticket system, but there are a lot of annoying little bugs behind the scenes. Messages to support get responded to quickly, but the response is usually that the developers will fix this in the next version. I've been using it for several months, and none of the fixes have been rolled out yet."
– Kayako user on Google Playstore
Pricing:
Inbox: $15/user/month
Scale: $60/user/month
Enterprise: $100/user/month
Top 10 Kayako alternatives in 2023
Conclusion
Choosing the right customer service ticketing system is a critical decision that can significantly impact your business's ability to provide efficient support to customers.
When selecting the right system for your organization, consider factors such as your business size, industry, communication channels, automation requirements, and budget. Each system presents an array of advantages, and it's important to match their offerings with your specific support goals.
A multichannel helpdesk like Hiver offers features that can help your business provide world-class support without going overboard on budget.
It is simple, easy-to-use, and allows you manage customer communication without having to switch between multiple tools. If you're curious to know more, give Hiver a try with a free 7 day trial.