Ever had a very specific question related to an obscure topic? Can't seem to find a satisfactory answer no matter how hard you search? Well, there's a Google Groups page archived in some corner of the internet with a goldmine of information about this.
Say you wanted to find fellow vermiculture enthusiasts. With Google Groups, you either find a group for the same or create one yourself. It started out as a forum to discuss and find others interested in a range of topics from vermiculture to motorbikes. It was for a generation of enthusiasts what Reddit is to today's generation.
Google Groups is good for broadcasting and communicating information.
But the moment you try to use Google Groups for business — say for managing customer support — you'll be left majorly disappointed.
But Google Groups does not work for businesses
Why? Because it was never meant to work for businesses.
Google acquired Deja's Usenet archive in 2001 and renamed it to Google Groups. It was meant to help people freely conduct and access threaded discussions.
Deja had a huge archive of discussions around an insanely wide range of topics and also offered a powerful search — and that got Google interested.
But why would organizations start using it? Because it was good for sharing information. And companies thought it would be a good idea to use Groups for managing processes that required sharing emails — such as support.
But teammates would be required to work together to manage emails — and that's where Groups failed.
While other Google services are best in class and disrupting the status quo, one can't say the same about Google Groups.
It's been treated with much disdain – like the step-daughter of all Google services and sticks out like a sore thumb. It hasn't received a single major update for years now. What does that do to your data security?
And, that's not even the beginning. There are a host of other ways in which Google Groups becomes a hindrance when it comes to collaboration.
Unfamiliar interface (getting used to takes ages)
If you thought Google's familiar interface was your ally, Google Groups is a whole different ball game altogether. It comes with a steep learning curve. To top it, you need to step outside and keep switching between Gmail and the Google Groups dashboard to get anything done.
Now, what's worse than swinging between two interfaces like a fly? A non-intuitive UI.

The only way for teams to access incoming emails right within their inbox, without having to leave Gmail is by setting up delegated access in your Gmail account. But it comes with a whole new set of problems.
Cannot import existing emails to Google Groups
Have a large repository of valuable information in your inbox? This information can prove to be of immense value to your current workflow. Your business decisions could be shaped based on the data, inputs, and insights you receive from it.
You could say bye to it all as Google Groups does not give you the option to import all that data. Starting from scratch is not necessarily a great idea always. Not in this scenario, anyway.
Google Groups is not well equipped to go anywhere beyond communication. It doesn't cover even bare necessities when it comes to aiding at collaboration.
In a utopian world, an ideal solution would have been a platform that acts as a buffer between all these collaboration loopholes and becomes a one-stop-shop for all business needs.
Hiver: the friendly alternative to Google Groups
The good news is that all these issues can be solved from within one platform – without switching to a new tool for different purposes or even stepping outside your inbox. Meet Hiver – a solution where email is collaborative in the true sense of the word.
1. Manage Shared Inboxes right within Gmail
Fun fact: Everyone already knows how to use Hiver! Reason being – anyone who uses Gmail (and that's most of us!) can easily adapt to it. There is no significant learning curve or new behavior one has to master.
You never have to step out of your Gmail inbox to manage your shared email accounts like [email protected], [email protected], [email protected] or @finance.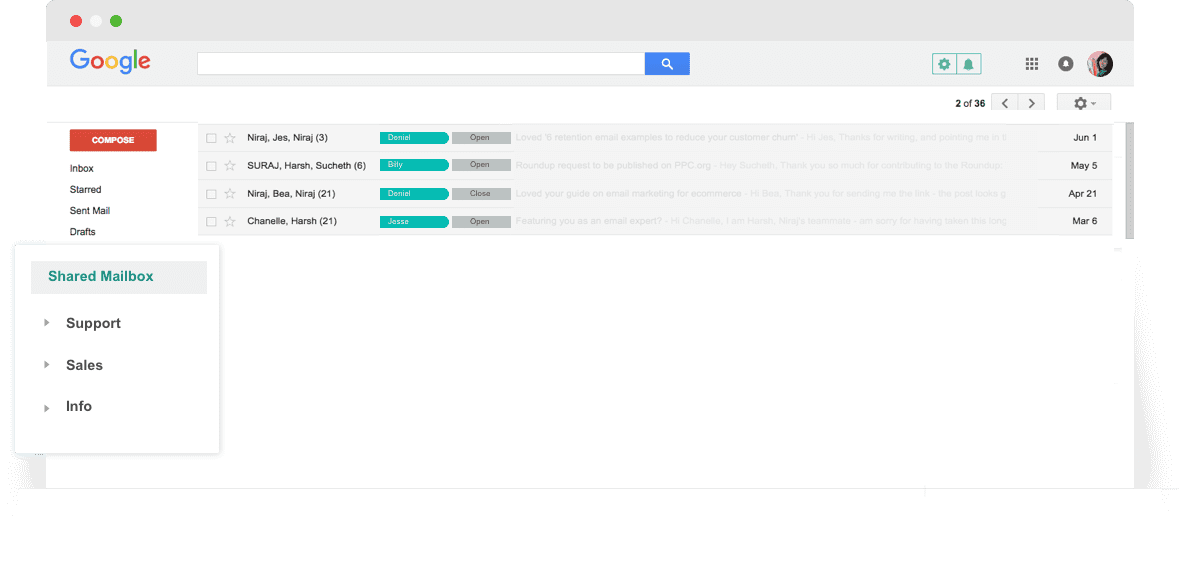 It's just like using Gmail, except with a few cool new add-ons to its interface.
2. Help your team discuss without bottlenecks
A team is never strong if there is no open communication amongst the team members. Good collaboration comes out of good communication.
One way to streamline this process is by forwarding the email to the concerned person. But, the long trail that it leaves behind is not a sight to behold.
All of that changes with Notes. Your team members will be able to discuss things without having to write more emails.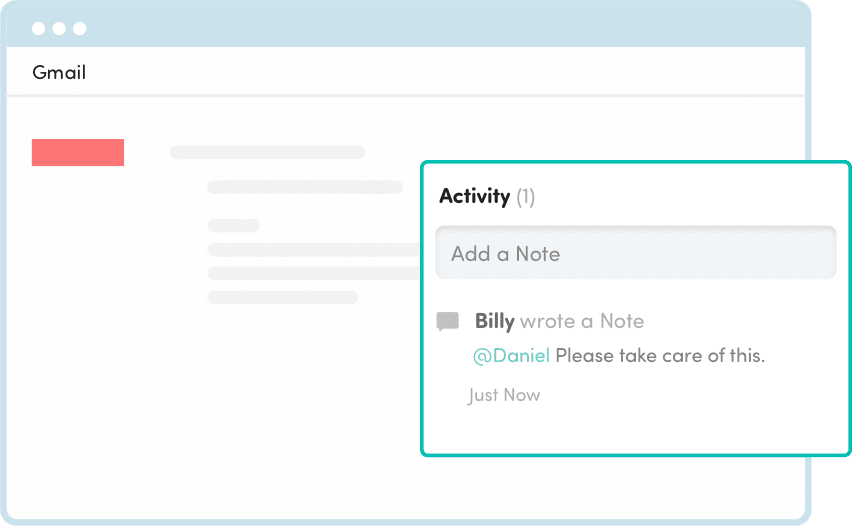 3. Keep 'duplication of effort' at bay
Collaborating through shared inboxes can sometimes be a tricky affair. When the team receives an email in their shared inbox, there is a chance that more than one person end up replying to the email. It could get worse. What if both end up sending two conflicting responses to the same issue?
Now you never have to worry about duplication of efforts within the team. With Collision Alerts, you're always notified when another person is replying to a mail. This is especially most common in customer support or sales teams. The agents receive a host of queries and there is no clarity on whether there's someone already attending to the customer.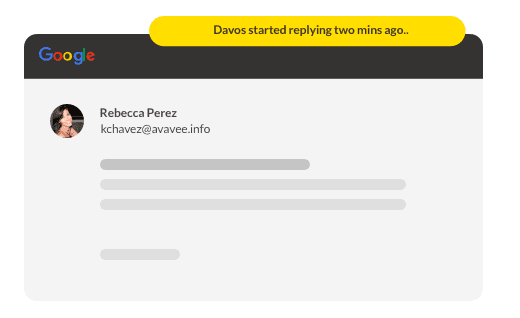 With Collision Alerts, you can rest assured that team members are always aware of a possible clash. It also goes a long way in saving time, effort and increasing the collective team output.
 You might like: The 2020 Guide to Google Groups for businesses
4. Better clarity on the status of emails
Gone are the days of sending reminders enquiring about the status of an email. Hiver lets teams assign the status of every email to either Open, Pending, or Closed. These statuses are more descriptive in nature and closer to reality.
Everyone inside the shared inbox can see the status of every email. With this, teams will no longer have to ask around to know the status of tasks or tickets.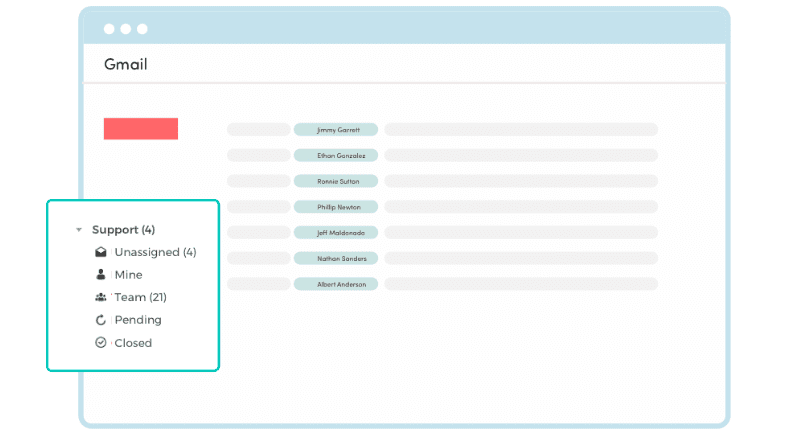 5. Easy access to historical archives
Onboarding a new member is never fun. No matter how much information you plug in, there will still be many loose threads hanging. The usual way out is forwarding emails you think might be relevant to them.
Plugging them onto the latest developments in the organization is mandatory. But, wouldn't it be great if you could also give them access to historical data from the company?
With Hiver, everything in the shared inbox is archived and accessible by default. All emails and resources related to the inbox are open for their consumption. If a team member joins after a conversation has happened, they can read all the previous messages to gain context and catch up.
They don't have to consult a single person on the team for help (unless they want to).
6. Improved performance with analytics
Wouldn't it be great if all that increase in productivity could be tracked and converted to measurable insights into a team's performance?
With Analytics, track all key metrics for your shared inboxes. Get a better understanding of how your team is doing and work on underperforming areas accordingly.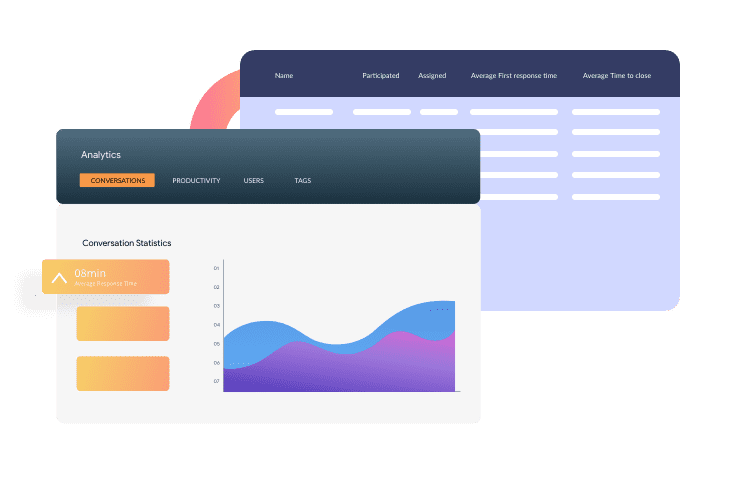 Hiver's actionable insights helps you identify areas of improvement and fix them. It also gives you a breakdown of each metric at the individual team member level.
7. Directly import previous mailbox history
Does migrating to a new platform mean that you lose all the valuable information from your previous inbox?
Companies usually have exhaustive valuable data in their mailboxes, a large chunk of which gets lost unless specifically mined for information. Then there is always that inopportune moment when you need certain information while dealing with clients, but don't know where to begin. With so much at stake, one can't afford to lose all previous mailbox history.
With Hiver, that is not a concern. It lets you import all your old emails from say, [email protected] into the shared inbox. You can now have all your historical information at your fingertips.
Email 2.0 is not a pipe dream
On paper, a product coming out of the Google stable seems like the most reliable option for collaborating with teams. However, there is so much more room for enhancing email to its highest potential. Hiver solves every glitch that Google Groups hasn't been able to iron out.
Every team with more than one person handling an inbox – right from customer support, sales, operations to human resources, deserves a robust team management system in place.
It's 2020. Teams deserve better than having to put in concentrated effort to collaborate and get things done. Let's leave the effort bit to Google Groups.
(14-day free trial. No credit card needed)