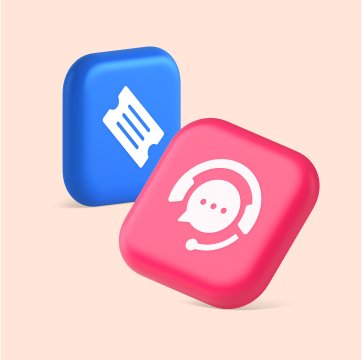 Table of contents
Helpdesk Ticketing System Inside Gmail
Top 10 Helpdesk Ticketing Systems for Your Business [2023]
Sep 15, 2023
|
14 min read
|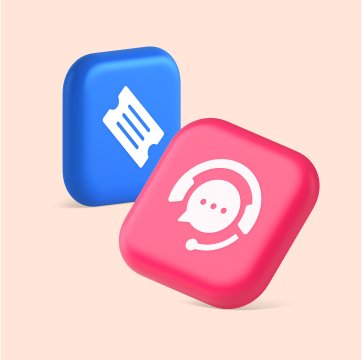 Table of contents
Let's say a customer contacts your support team regarding a technical issue. The support rep handling the query loops in someone from the tech team. The tech person loops in the product team because they don't have all the necessary information.
Notice how the customer query is being passed from department to department? Not only does this increase waiting time for the customer but creates inefficiencies within the organization.
These happen when you don't have a helpdesk ticketing system.
If your organization had a helpdesk ticketing system, the support rep could have easily created a ticket with all necessary context on the customer's issue, looped in the relevant departments, and had visibility into what's the status of the ticket.
So, now the question arises: But which ticketing software should you use for your business? We've got you covered.
Table of Contents
In this article, we discuss the following:
What is a helpdesk ticketing system?
The top 10 helpdesk ticketing tools
Comparison of their features and pricing
What is a Helpdesk Ticketing System?
In simple terms, a helpdesk ticketing system is a software that centralizes customer queries arriving from multiple channels – email, live chat, social and more. It helps support teams assign, track, and collaborate on these queries. A helpdesk ensures that no customer conversation gets missed. Teams can also analyze how well they are performing and get deep insights into customer satisfaction and loyalty metrics.
Top 10 Helpdesk Ticketing Systems for 2023
| Software | Starting Price | Free Trial | G2 Rating |
| --- | --- | --- | --- |
| Hiver | $15/month per user | 7 days | 4.6 ⭐ |
| Zendesk | $49/month per user | 14 days | 4.4 ⭐ |
| Freshdesk | $15/month per user | 21 days | 4.5 ⭐ |
| Zoho Desk | $7/month per user | 15 days | 4.5 ⭐ |
| Front | $19/month per user | 7 days | 4.7 ⭐ |
| Intercom | $39/month per user | 14 days | 4.4 ⭐ |
| Help Scout | $25/month per user | 15 days | 4.4 ⭐ |
| HubSpot Service Hub | $50/month per user | 14 days | 4.4 ⭐ |
| Vision Helpdesk | $12/month per user | 30 days | 4.7 ⭐ |
| TeamSupport | $49/month per user | 14 days | 4.4 ⭐ |
1. Hiver
Hiver is a Gmail-based ticketing system that caters to various teams such as customer support, finance operations, HR, and IT. The tool comes with various functionalities like email ticketing, besides helping businesses engage with customers across multiple communication channels, like live chat, knowledge base, voice, email, and WhatsApp.
The biggest advantage with Hiver is that it works within Gmail. This makes it extremely intuitive to use – your teams can get started very quickly and don't have to go through the process of learning a new tool. Additionally, Hiver is known for its comprehensive feature set and reliable 24×7 customer service.
Key Features:
Email Management: Transform individual emails into collaborative tasks. Assign them to designated team members, ensuring accountability and timely resolutions.

Collaboration: Use features like email tags, notes and @mentions to collaborate seamlessly with co-workers. Respond to customers faster and better by saving canned responses as email templates.

Analytics and Reporting: Get real-time actionable insights using Hiver Analytics. View multiple types of reports, such as Conversation Reports, User Reports, Tag Reports, CSAT Reports, and Custom Reports.

Automations: Automatically assign conversations to team members based on their skills. Automate email assignments in a Round-Robin way to ensure fair workload distribution.

Integrations: Seamlessly integrate with a suite of apps, from Aircall to Jira, enhancing Hiver's functionality and providing a unified workspace.

Knowledge Base: Hiver provides a centralized Knowledge Base, allowing businesses to create and maintain a library of help articles. This empowers customers to self-serve and find solutions independently.
Pricing:
Hiver comes with three types of pricing plans.
Lite plan: $15/user/month
Pro plan: $39/user/month
Elite plan: $59/user/month
Free Trial: 7 days
"Since we have been using Hiver, we have significantly sped up the response time for email and tickets both internally and externally. Hiver simplifies everything for our teams and allows us to manage a more organized environment for handling email requests from employees and customers without massively forwarding messages for assignments; it has been a great success, especially for our support." – Juan B.
2. Zendesk
Zendesk is a well-known helpdesk and customer support software that caters to the needs of large organizations and enterprises. It offers a unified platform that integrates multiple support channels, such as email, live chat, and a knowledge base. Agents can categorize issues, prioritize tasks, monitor conversations, and perform various other support-related functions.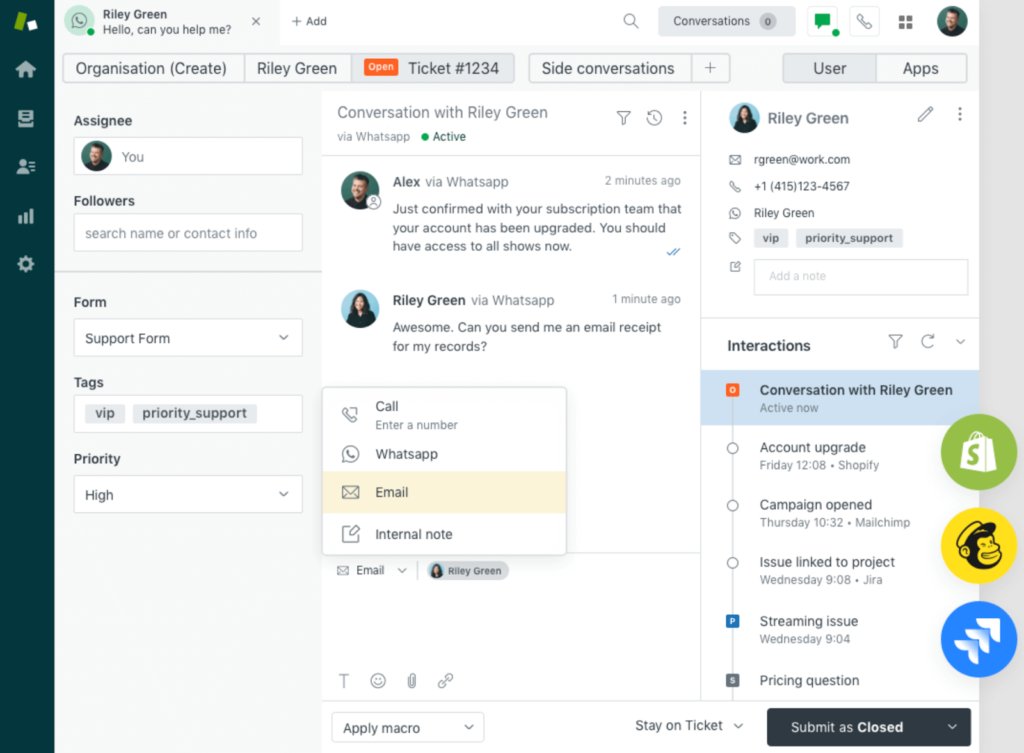 Despite its extensive features, Zendesk has some shortcomings. It is super expensive, compared to other ticketing solutions, and has a complex interface. Setting up Zendesk can be time-consuming but that's not even the kicker. Whenever you need help from the Zendesk team in using the tool, they charge you anywhere between $1500 to $2800.
So, if you're comparing Zendesk with a tool like Hiver, you'd realize that the latter offers onboarding and 24*7 support for free. Hiver is also relatively easier to use and helps you save 51% more money, while offering the same features.
Key Features:
Skills-Based Routing: Implement skills-based routing to improve the efficiency of your support team. Direct tickets to agents based on their expertise to ensure that each ticket is handled by an agent with the necessary skills. 

Reporting and Analytics: Zendesk provides comprehensive reporting and analytics through Zendesk Explore. Gain deeper insights into support performance with daily updated pre-built reports, automated analytics, and customizable dashboards (limited to Pro and Enterprise customers).

Conditional and Custom Ticket Fields: Give administrators the ability to choose which fields appear on ticket forms for both agents and customers. This feature allows your support team to gather more specific and detailed information about a problem or request.
Pricing:
Zendesk has three tiers of pricing for small to large-sized businesses.
Suite Team: $49 per agent per month
Suite Growth: $79 per agent per month
Suite Professional: $99 per agent per month
For enterprise companies, Zendesk has two tiers of pricing:
Suite Enterprise: $150 per agent per month
Additional and more powerful enterprise plans start at $215 per agent per month
Free Trial: 14 days
3. Freshdesk
Freshdesk is a help desk software, that lets businesses manage customer queries from various channels, such as email and social media. The platform effectively converts customer queries into tickets and streamlines the process of assigning them to frontline agents.
One noteworthy aspect of Freshdesk is its free plan, which is ideal for startups that have budget constraints yet require a tool to manage customer queries.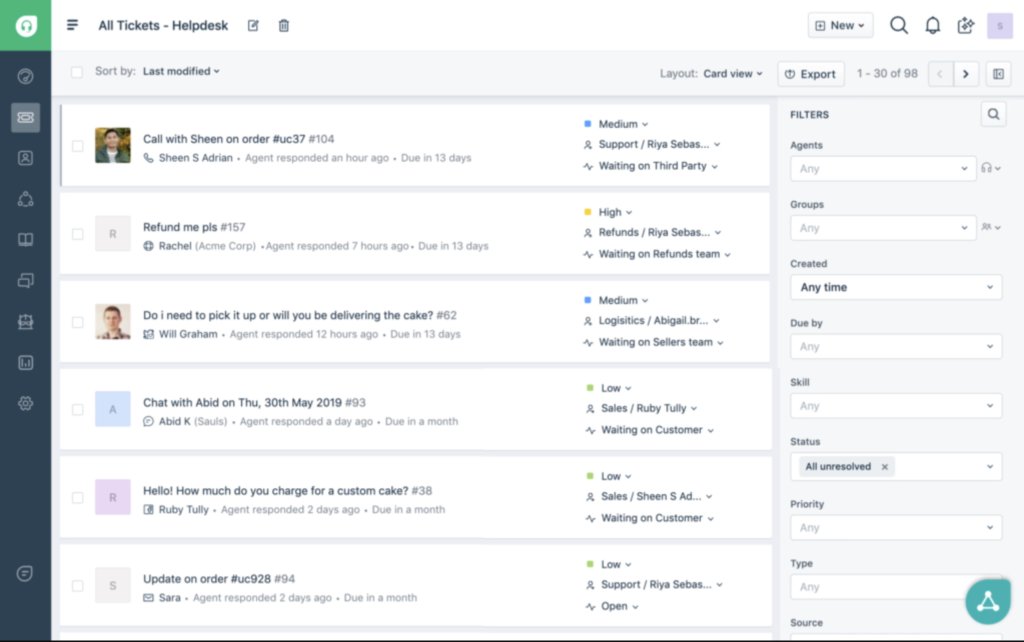 But, Freshdesk has some limitations. Users have reported that its interface is not as user-friendly. Furthermore, there is no seamless integration with Google Workspace products. New ticket alerts cannot be addressed directly within Gmail, requiring agents to switch to the external Freshdesk interface.
So, if you're looking for a tool which helps you perform all customer service actions within one single interface, Hiver might be a better choice.
Key Features:
Team Inbox: The Team Inbox combines several critical functions, such as self-service options, automated responses, and analytics, to streamline your customer email communication. Agents can create personalized views to easily access tickets assigned to them or those that require their input.

Parent-Child Ticketing: This feature enables you to break down complex customer queries into smaller tasks, known as child tickets, and assign them to multiple agents/teams. The smaller tickets can be worked on simultaneously, which is something that helps resolve customer queries faster.

Ticket Field Suggester: Categorize, prioritize, and route incoming tickets more efficiently. This feature automatically suggests ticket fields, which can save time for agents and ensure incoming tickets are accurately sorted.
Pricing:
Freshdesk offers four types of pricing plans:
Free: Starter plan for unlimited agents but with limited features
Growth: $15 per agent per month billed annually
Pro: $49 per agent per month billed annually
Enterprise: $69 per agent per month billed annually
Free Trial: 21 days
4. Zoho Desk
Zoho Desk is a user-friendly help desk solution that centralizes communication across multiple support channels, including phone, email, live chat, SMS, and social media. Zoho Desk is a cost-effective option for small businesses as it offers a freemium plan.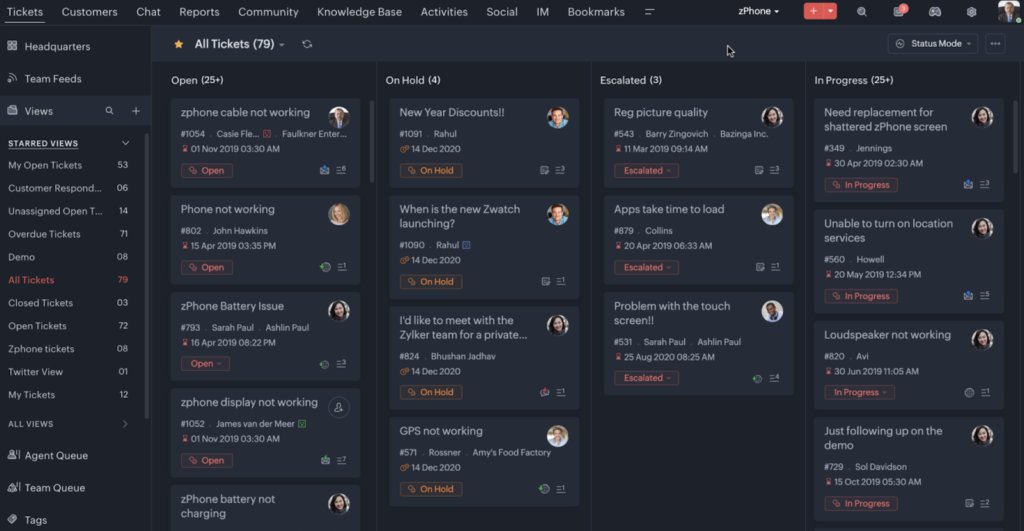 However, some users have reported that the platform's interface is complicated to navigate. They've also mentioned that the automations – workflows to improve customer service – can be difficult to set up.
"It takes time to explore the Zoho Desk interface and understand where to find different elements. It sometimes feels there is so much but no easy way to get sarted." – Teilo T.
Key Features:
Work Modes: Zoho Desk provides various ticket views that categorize your tickets based on priority, due date, and status. This enables support agents to efficiently manage their workload by instantly identifying which ticket requires their immediate attention.

Ticket Assignment: Eliminate the need for manually assigning tickets to agents as they come in. Set up Round Robin to ensure an equitable distribution of tickets among your agents, based on the rules you define.

Auto-Tag Tickets: Zoho Desk's AI-powered assistant, Zia, automatically identifies the sentiment behind each ticket. Zia then assigns tags to each ticket, making it easier for agents to identify tickets that match their expertise and access past tickets for reference.
Pricing:
Zoho Desk offers five types of pricing plans.
Free Plan
Express: $7 per month per user
Standard: $14 per month per user
Professional: $23 per month per user
Enterprise: $40 per month per user
Free Trial: 15 days
5. Front
Front, a customer communication software, enables businesses to provide personalized customer support. The platform enables personalized customer communication by letting agents interact with customers from their work email IDs.
The platform consolidates customer support requests from various channels – such as email, SMS, and live chat – into a single interface that looks like an inbox.
Users might find Front's interface a little complicated to use. And even after they master it, they'll have to constantly switch between the tool and other work apps such as email and Slack, on a daily basis.
Another shortcoming with Front is the analytics they offer. It's not as in-depth as that offered by other tools – Hiver, for instance. You'll have to pay 60% more with Front, as compared to Hiver, to access in-depth analytics.
Key Features:
Workflow Management: Create automated rules to manage your team's workload with Front's if-then workflows. Move customer emails to specific inboxes, assign them to particular teammates, or distribute them evenly within the team using round-robin. 

Email Management: By assigning owners to customer emails, you can avoid multiple replies and missed messages. Set automatic workflow rules based on keywords, sender, time of day, and more. 

Email Delegation: Front has a built-in inbox delegation feature, using which you can (a) select a teammate as a delegate and (b) choose which folder or section of your inbox you'd like to delegate. 
Pricing:
Front offers four pricing options.
Starter: $19 per person per month
Growth: $49 per person per month
Scale: $99 per person per month
Premier: $229 per person per month
Free Trial: 7 days
6. Intercom
Intercom's ticketing platform, known as the Engagement OS, offers essential features to collect, track, and route customer queries effectively. Intercom prioritizes real-time messaging as the main mode of communication. Its Messenger and Inbox features work together to create a highly personalized and effective support platform that can handle any type of customer query.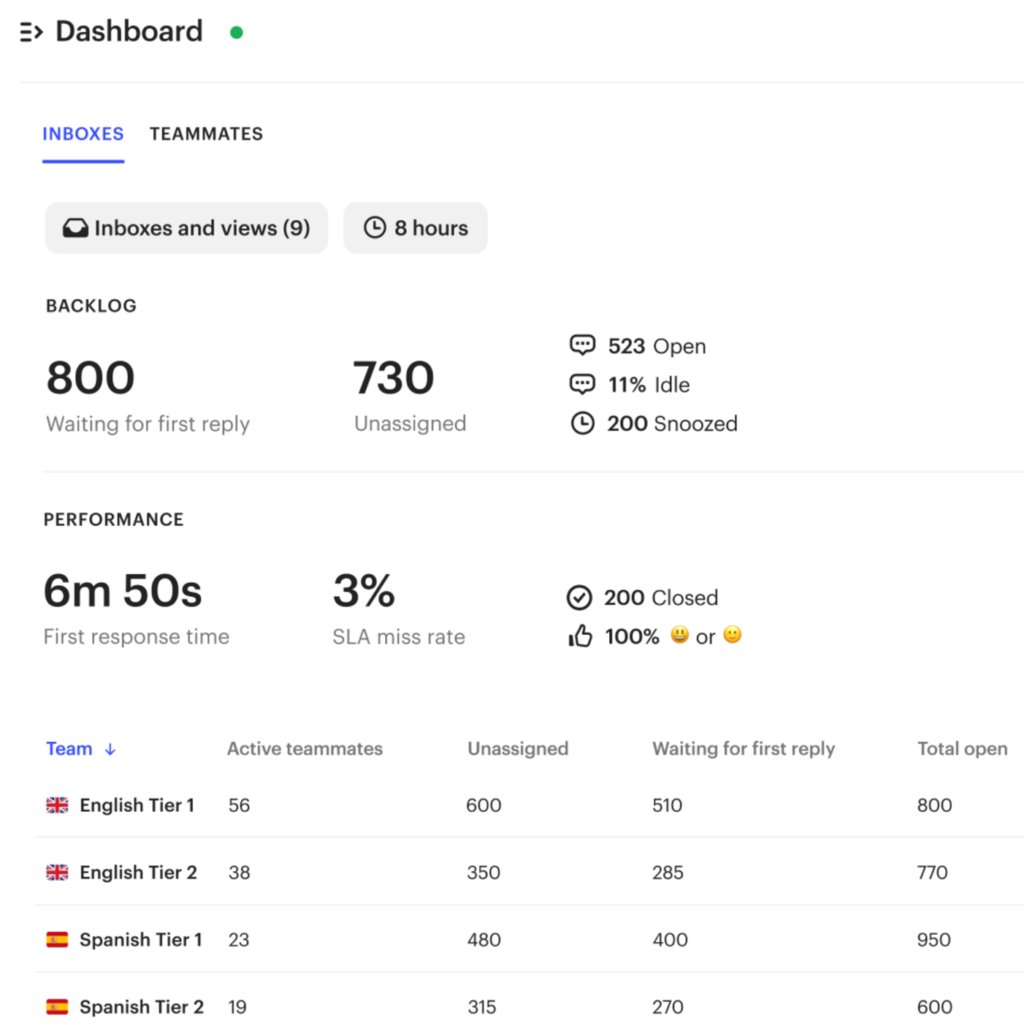 However, the platform is difficult to navigate and comes with complex terminologies and workflows. Additionally, Intercom might be considered expensive for businesses working on limited budgets.
"Intercom can be extremely tricky to navigate – and a lot of the time icon descriptions don't make sense. Every little thing costs more – and it can get VERY pricey. Even the ability to create a dashboard in reporting will cost you more. Also, more and more customers are asking for a ticketing system over chats – it would be good to integrate both of these functions." – Intercom User
Key Features:
AI Inbox: Intercom provides GPT-powered tools in its inbox that enable users to quickly generate replies, summarize conversations for other team members, and create new support articles.

Intercom Messenger: Communicate with customers through a single, centralized messaging channel, in real-time. The Messenger can be accessed from the business's website, or mobile app. It also integrates with other Intercom features, such as the AI Inbox and Knowledge Base.

Automation: Intercom's Resolution Bot feature provides 24/7 automated support to users. The bot uses AI to recognize common questions and offers the best answer based on past conversations. Furthermore, the bot can automate responses in up to 38 languages.
Pricing:
Intercom's pricing chart may seem complicated at first, but in a nutshell, it offers four different tiers of pricing.
Start: $39 per month per seat
Grow: $99 per month (includes 5 seats)
Accelerate: from $499 per month (includes 10 seats)
Scale: from $999 per month (includes 10 seats)
Free Trial: 14 days
7. Help Scout
Help Scout is a customer support tool that helps businesses manage their customer interactions. Its shared inbox functionality allows teams to assign, track, and collaborate on customer emails. It has a unique feature, known as Beacon, which provides customers with different ways to access the information they need, whether it's through live chat, searching for FAQs, or submitting an email query.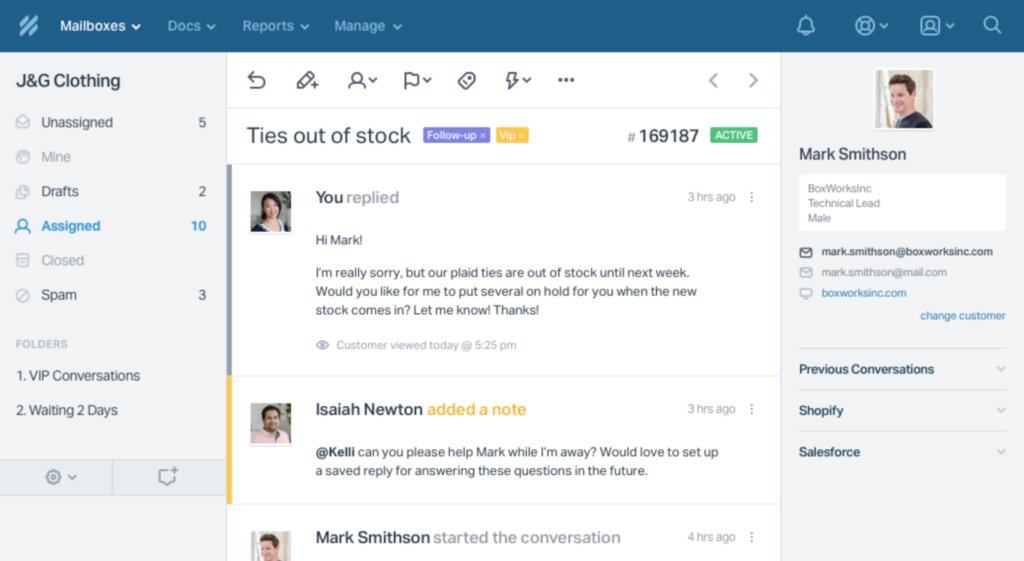 However, a potential drawback with Help Scout is that internal and external conversations overlap. Internal conversations – meant for a colleague(s) – could end up being sent to a customer if agents aren't well aware on how to use the platform. Creating SLAs is also a bit tricky as there's no direct way to do it on HelpScout. You'll have to rely on an integration with Super SLA.
Key Features:
Customer Management: Sort, filter, and edit customer profiles to streamline your support efforts. Keep track of customer support interactions and access past conversations to personalize each interaction.

Messages: Customize your messages with links, bold text, CTAs, images, and more to enhance customer engagement.

Reporting: Evaluate your team's performance by channel, busiest hours, and trending topics to identify areas for improvement. Use advanced filters and leverage custom views to access the data you need.
Pricing:
Help Scout offers three types of pricing plans:
Standard: $25 per user per month
Plus: $50 per user per month
Pro: $65 per user per month
Free Trial: 15 days
8. HubSpot Service Hub
HubSpot's Service Hub is an all-in-one ticketing system that enables businesses to manage and prioritize support requests. With the Service Hub, all conversations, tickets, and contact details are consolidated in one place, making it easy for support agents to handle customer inquiries.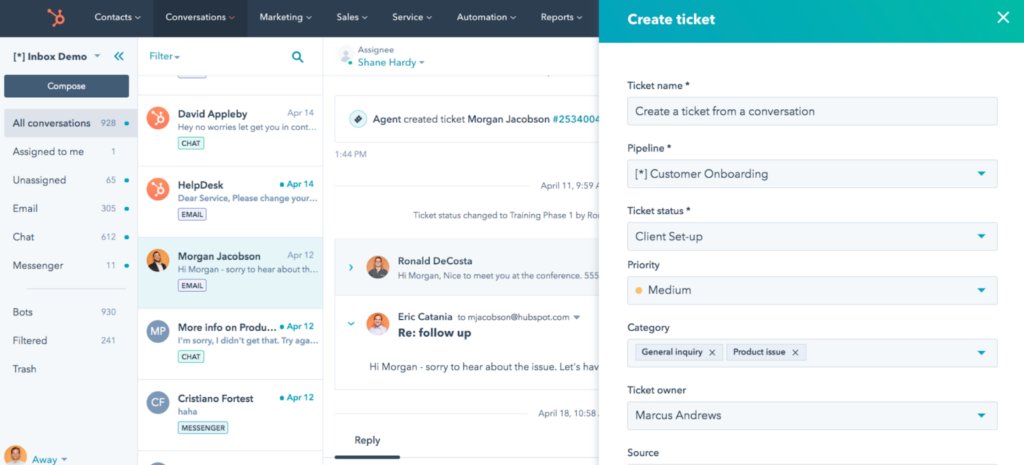 While the platform provides advanced features, setting it up can be challenging as it involves complex configurations. Whenever an email query arrives, there are two copies created – one in the main HubSpot inbox and the other in the Service Hub inbox. This can often lead to agents sending out multiple responses to the same query – if they aren't aware that someone else is working on it.
Users have also pointed out that HubSpot charges extra for onboarding (whereas, if you go with a tool like Hiver, it provides free onboarding across all its plans).
Key Features:
Customer Portal: The portal provides a private communication channel for customers to interact with support reps, ensuring 1:1 undeterred communication until the issue is resolved.

Workload Prioritization: Prioritize and address urgent tickets promptly. Assign relevant owners and stages to each ticket, ensuring none of them is lost or overlooked.

Analytics Dashboard: Track key metrics, such as contact volume, response time, and NPS. Measure team progress over time and make data-driven improvements to your customer support operations.
Pricing:
HubSpot Service Hub offers four pricing plans:
Service Hub Free
Service Hub Starter: $50 per month for 2 users
Service Hub Professional: $450 per month for 5 users
Service Hub Enterprise: $1200 per month for 10 users
Free Trial: 14 days
9. Vision Helpdesk
Vision Helpdesk is a versatile cloud-based ticketing system. It streamlines ticket management with its rule-based criteria and can record conversations across various communication channels, including social media, emails, live chat, web portals, and calls. With a range of customer service products, Vision Helpdesk is ideal for both customer service and IT teams. Its satellite help desk and ITIL/ITSM-compliant desk offer heightened security measures for customer data.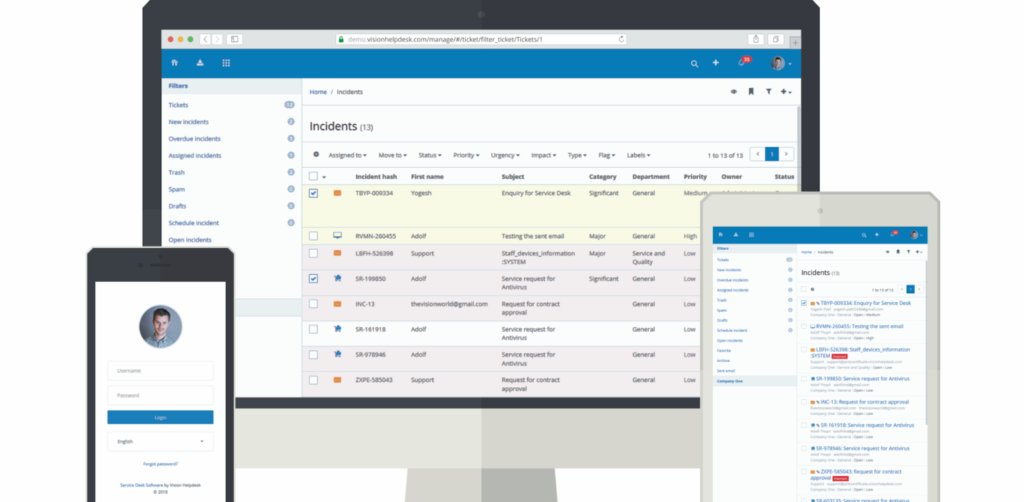 However, one issue that many users have reported is the difficulty to remove the "Helpdesk by Vision Helpdesk" branding, which appears at the bottom of its portal – even with a paid subscription. To remove it, customers must pay a one-time fee of $500 USD, which is an added cost. Additionally, the user interface looks very functional and is not visually appealing.
Key Features:
Macros: Simplify the ticket management process by automating multiple ticket operations, such as updating status, department, priority, and other ticket properties.

Gamification: Transform your help desk into a fun and engaging experience for your agents by implementing gamification features, such as agent achievement levels and quests.

Task Management: Create, assign, and track tasks for multiple agents with ease. With the ability to post comments and receive progress notifications, your team can collaborate effectively to complete tasks.
Pricing:
Vision Helpdesk offers five types of pricing plans.
Starter Help Desk: $12 per user/month
Pro Help Desk: $20 per user/month
Satellite Help Desk: $24 per user/month
Pro Service Desk: $32 per user/month
Enterprise Service Desk: $48 per user/month
Free Trial: 30 days
10. TeamSupport
TeamSupport is a helpdesk ticketing tool that is built for B2B companies. The tool is highly customizable, allowing users to create a tailor-made ticket management page with fields of their choice. Support teams can collaborate faster using the "Watercooler" functionality that enables employees to loop in colleagues across the organization on customer queries.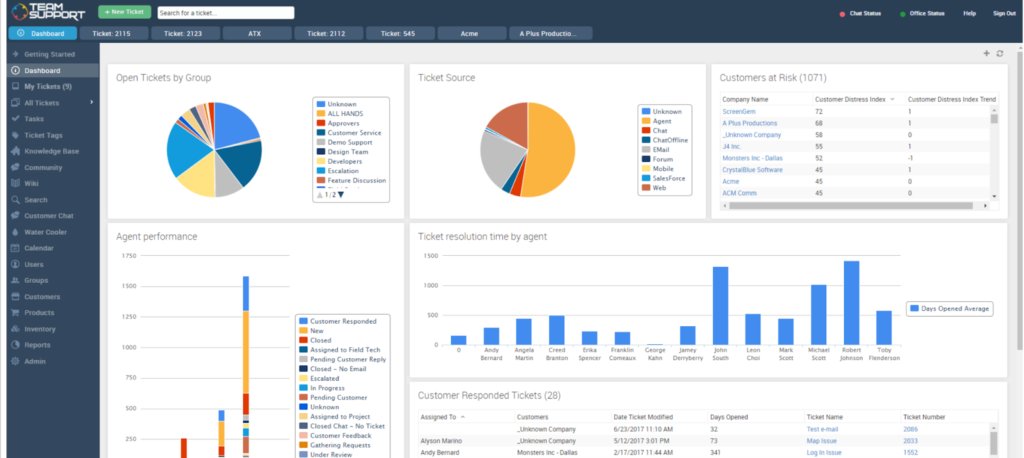 However, users of TeamSupport have reported some drawbacks. The platform's reports are not detailed enough to track essential metrics, and it takes a lot of time to load. Users have also found it challenging to navigate through open tickets and load the history of a ticket. Finally, multi-level escalations for SLA violations are not possible.
"Not all reporting functions are user-friendly. It is easy to feel overwhelmed by the vast number of options and features. It is difficult and time-consuming to retrieve data from reports, and PDF reports cannot be generated." – Uliane A.
Key Features:
Messaging & Live Chat: Engage with customers on their preferred channels, from social media to SMS.

Insights: Get in-depth analysis on ticket type, ticket severity, resolution time, and product usage. The reporting dashboard is customizable to suit the specific needs of your business and customers.

Customer Health Profile: Consolidate customer data into a 360° profile that tracks their satisfaction and product usage. Use this information to customize offerings for them.
Pricing:
TeamSupport offers three pricing plans.
Essential Support: $49 per agent per month
Enterprise Support: $69 per agent per month
Complete Customer Support Suite: $119 per agent per month
Free Trial: 14 days
Final Words 
To select the best ticketing system, look for one that integrates with your existing workflow applications while being secure, scalable, and user-friendly. Take your time and consider your business needs and budget carefully.
Sign up for a trial period to experience the help desk first-hand and evaluate its features and usability. You can also schedule demos with different help desk vendors to ask questions and receive guidance on how to get the most out of the software.
Talking about getting your questions answered, Hiver's customer support team is known to be the most responsive (13 seconds average chat response time) and is available 24×7. All you have to do is hit the chat icon on the bottom right corner of your screen. Besides, you can always learn more about Hiver by taking a free demo.