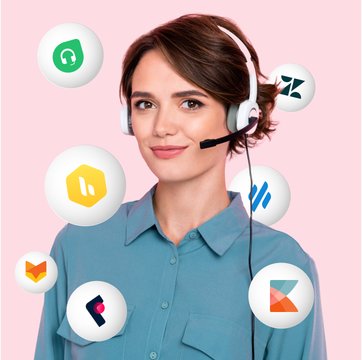 Table of contents
8000+ teams use Hiver to delight their customers!
Top 10 Helpdesk Software for Small Businesses
Jul 06, 2023
|
13 min read
|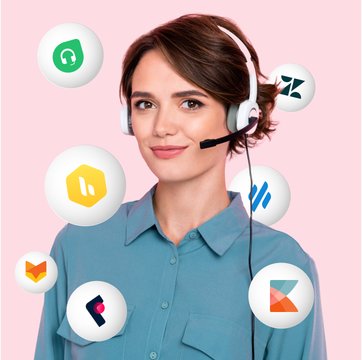 Table of contents
Imagine this: you're running a small business. You're operating at a relatively small scale with tight budgets.
In such a scenario, you'd look for cost-effective ways to drive revenue.
Ensure your existing customers keep coming back
Ensure your existing customers spread the word about your business to their friends and family.
For these to happen, how you support customers and make them feel is paramount. Are you there for your customers at the channel or touchpoint of their convenience? Are you able to resolve their issues without making them wait for a long time?
Enter: A helpdesk software
This is where a help desk platform comes in handy. It can help small businesses in several ways by:
Enabling them to keep track of incoming customer queries
Offering multiple channels – email, live chat, and phone, for instance – for customer communication
Helping build self-service portals such as a knowledge base and FAQ guides
Automating redundant tasks to reduce agent effort
So, now the question is: how do you choose the right helpdesk software? What features do you look for?
In this article, we've put together a list of 10 helpdesk software for small businesses. We take you through the pros and cons of each to help you decide the best one for your support team's needs.
Table of Contents
10 helpdesk software for small businesses
Here is a list of some of the popular help desk tools available in the market for small businesses
1. Hiver: Multichannel helpdesk that works inside Gmail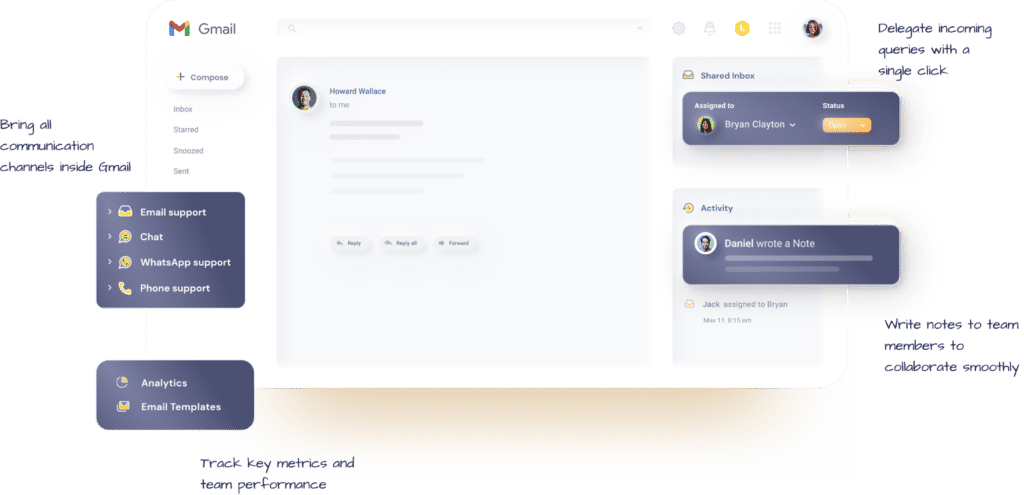 Hiver is a multi-channel helpdesk tool built specifically for teams on Google Workspace. It is one of the best helpdesk software available in the market and enables small businesses to offer quick, efficient, and intuitive customer support without denting their budget.
The best part about Hiver is that it works right inside Gmail, an interface most teams are already familiar with. Teams can, therefore, get started with Hiver right away. No extensive training is needed.
If you're a small business trying to offer multi-channel support, Hiver can help. It brings email, live chat, voice channel capabilities inside Gmail.
Hiver helps teams assign, track, and prioritize any incoming customer query. Small businesses can easily get a bird's eye view of who is working on what in real-time. This ensures all customer queries are accounted for, and that no query is missed out on.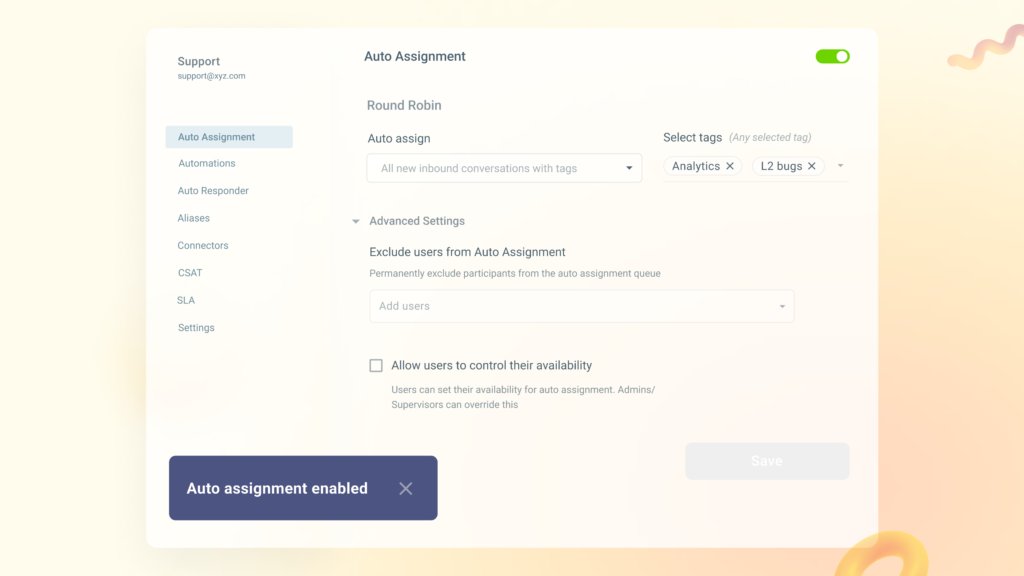 Hiver's powerful collaboration capabilities mean that teams don't have to depend on Ccs or forwards. Simply @mention a colleague and write a note next to the customer query. This way, they get notified about it and can respond to your message.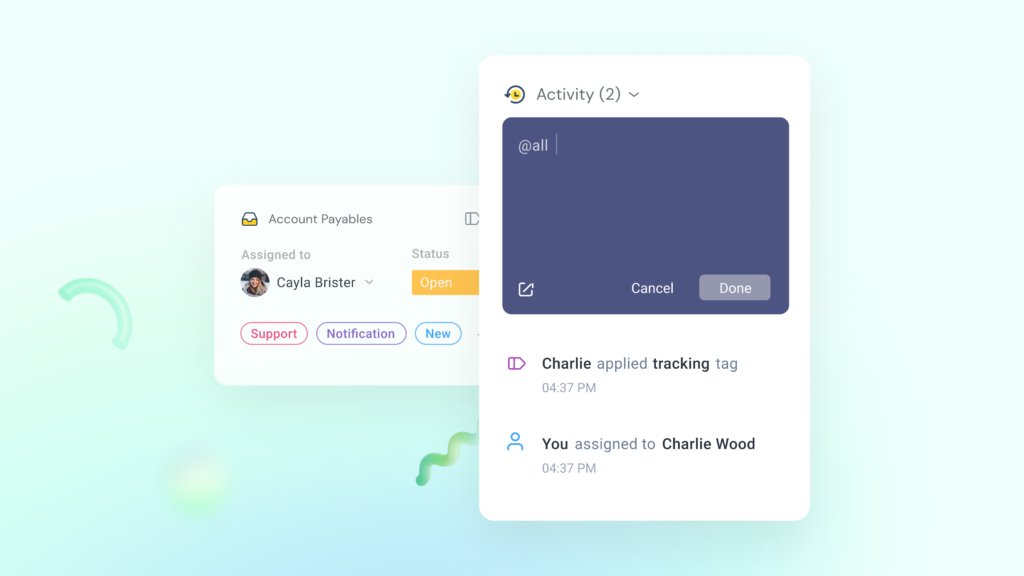 Aside from this, the platform offers a comprehensive analytics dashboard where you can discover actionable insights on your team and identify bottlenecks.
Discover how Hiver works inside Gmail
Pricing:
Hiver offers three pricing plans:
Lite – $15 per user per month
Pro – $39 per user per month
Elite – $59 per user per month
Hiver also offers a free 7-day trial for users who want to test it out.
One mistake that's costing your business time and money
2. Zoho Desk: An affordable helpdesk for small businesses
Zoho Desk is a helpdesk ticketing system that allows you to streamline and simplify customer service operations. It is an affordable option for both startups and SMBs and comes with a number of essential customer support features.
The platform allows you to turn customer queries into tickets, and assign them within your team.
Zoho Desk also allows small businesses to build a knowledge base consisting of how-to guides and other help articles. This enables customers to find answers for themselves and reduces the volume of queries your team has to deal with.
A disadvantage with Zoho Desk is that the UI is quite complex and can be confusing, especially for new users. Even the customization options available, particularly in the lower pricing plans, is quite limited.
Many users have also complained that Zoho Desk offers very limited integrations, which can be challenging for businesses that rely on multiple tools for their workflows.
Pricing:
Zoho Desk offers four pricing plans:
Free – can be used by 3 users
Standard – $14 per agent per month
Professional – $23 per agent per month
Enterprise – $40 per agent per month
Zoho Desk also offers a free 15-day trial.
3. Help Scout: Serve customers in the most human way
Help Scout is a shared inbox solution designed to help support teams offer seamless customer service. It helps small businesses streamline internal collaboration and improve the customer support process. Help Scout supports communication channels such as live chat, knowledge base, and Messenger.
Help Scout's live chat feature, Beacon, can engage customers by suggesting helpful and relevant content whenever a query is raised. In situations where customers are not able to find an answer by themselves, Beacon allows them to connect to a live agent.
The problem with Help Scout however, is the analytics is pretty limited. Support teams often struggle with tracking key metrics such as live chat duration, call length, etc.
Another challenge Helpscout users often face is that their knowledge base feature can be overwhelming. Even simple actions such as editing an article can be complicated to perform.
Helpscout also does not offer around the clock support nor does it offer a call back option. This makes it challenging for users to get timely resolution of critical queries.
Pricing:
Help Scout has a three-tiered pricing model:
Standard priced at $20 per user per month
Plus priced at $40 per user per month
Pro priced at $65 per user per month
Top 10 Help Scout alternatives for businesses
4. Happyfox: An advanced helpdesk management tool
Happyfox is an easy-to-use helpdesk software that enables small businesses to offer efficient customer support across channels such as email, live chat, phone, and knowledge base. It allows you to assign incoming tickets to agents with ease. Aside from this, Happyfox's automation features allow agents to automate repetitive tasks, streamline their workflow, and improve their productivity.
A huge challenge with Happyfox, however, is that the actual setup takes a lot of time. Users often complain that the interface is tricky to use and that the mobile application lacks critical functionalities.
Another disadvantage is that even at the highest pricing tier, users are not able to apply automation rules to fields that have been custom created.
Users have also complained that notifications on Happyfox are often delayed. This means that when a customer raises a ticket, it could take a while for agents to get notified about it, which in turn can delay resolutions.
Pricing:
Happyfox offers two types of pricing. One is agent-based and one is for unlimited agents.
The agent-based pricing has four tiers:
Mighty priced at $29 per agent per month
Fantastic priced at $49 per agent per month
Enterprise priced at $69 per agent per month
Enterprise Plus priced at $89 per agent per month
The pricing for unlimited agents also has four tiers:
Starter priced at $1499 per month
Growth priced at $1999 per month
Scale priced at $2999 per month
Scale Plus priced at $4999 per month
5. Freshdesk: Ticketing software with a forever free plan
Freshdesk is a popular helpdesk ticketing system known for its low-cost pricing plans. They even offer a free plan that supports up to 10 users.
This makes it a very affordable option for small businesses looking for a helpdesk tool that offers basic support features such as ticket management, self-service, analytics, and team collaboration.
One of the features that stand out is Freshdesk's parent-child ticketing system. Under this, a single complex query (parent ticket) is broken down into several smaller tickets (child tickets). These sub-tickets can then be handled by different agents, enabling quicker resolution of complex issues. This results in a better customer experience.
Freshdesk users, however, face some difficulty when setting up the platform. What makes it even more challenging is that the company's support is very sporadic.
Pricing:
Freshdesk's Support Desk offers a free plan for up to 10 agents. Aside from this, it has three pricing plans:
Growth priced at $15 per agent per month
Pro priced at $49 per agent per month
Enterprise priced at $69 per agent per month
Freshdesk also has an Omnichannel Suite with three pricing plans:
Growth priced at $29 per agent per month
Pro priced at $59 per agent per month
Enterprise priced at $99 per agent per month
Apart from these plans, Freshdesk also has a free 21 day trial.
6. HelpDesk: A simple helpdesk ticketing software
HelpDesk is a ticketing platform that caters to the needs of small businesses. It provides features such as ticket assignment, smart integrations, automations, and multichannel support.
The platform also allows you to browse ticket details relating to customer issues and offers detailed analytics to help you understand both individual and team performance. It has five pre-built reports and a feedback feature which allows you to measure how you've done in terms of meeting your customer's expectations. This allows you identify areas of improvement in your customer experience strategy.
Unlike a number of other helpdesk systems, HelpDesk allows you to personalize communication with features such as custom reply addresses, email templates, and signatures.
This being said, HelpDesk does come with some limitations. Users have complained about the platform's complex dashboard. Another disadvantage is that the platform does not integrate with several applications. This can be a challenge for companies that rely on multiple tools for their day-to-day operations.
Pricing:
Interestingly enough HelpDesk only has a single pricing plan that comes with all features.
It costs $29 per agent per month when billed annually or $34 per agent per month when billed monthly.
7. Front: A customer communication platform with an email-like interface
Front was built specifically to help support teams streamline customer communication and collaborate effectively.
It is a decent option for small businesses because it offers a special starter plan at $19 per user per month.
While Front works well enough as a customer support platform, it has some limitations. For instance, its interface is quite complex and can take time to learn and understand.
Another challenge with Front is that notifications on the platform don't come through on time. Users find that there is a significant time lag between when a customer raises a query and when an agent gets alerted about it. As a result, resolving queries might take longer which ultimately impacts customer satisfaction.
You will also notice that while Front's starter plan is cost-effective, if you are looking to scale, their prices become very steep. For instance, Front costs you X% more for the same features.
Front also offers onboarding assistance and 24/7 support only to members of the highest pricing tier.
Pricing:
Front has three pricing tiers which is applicable to most businesses:
Growth priced at $59 per agent per month
Scale priced at $99 per agent per month
Premier priced at $229 per agent per month
Front also has a separate pricing plan for small businesses which is the Starter plan priced at $19 per agent per month.
Top 10 Front alternatives for your customer support team
8. Nextiva: A customer communication and productivity hub
Nextiva is a cloud-based helpdesk software that allows support teams to manage customer conversations and handle escalations with ease. It offers ticket management, enables multi-channel support via phone, email and social media, and integrates with a number of third party tools.
Apart from this, Nextiva also offers collaboration capabilities such as team chat to enable teams to work together on customer queries.
All of these features are available at $18.95 per user per month, which makes it a good choice for small businesses.
However, many users have complained that Nextiva's customer support is mediocre. Response times are often too long and it is made worse by the fact that users often run into issues with the platform.
Pricing:
Nextiva offers three pricing options:
Essential priced at $18.95 per user per month
Professional priced at $25.95 per user per month
Enterprise priced at $35.95 per user per month
9. Kayako: Context-driven customer service platform for SMBs
Kayako is a helpdesk solution that supports customer communication across live chat, email, and social media.
It is a great tool for small businesses since it enables support agents to bring all customer communication under one roof and have full visibility into all customer queries.
Kayako provides a holistic view of the customer journey so that any time a customer raises a complaint, agents have detailed insight into critical information. This enables them to provide faster, contextual support.
All that being said, a significant drawback with Kayako is its limited reporting feature. Users find it difficult to build comprehensive reports simply because of the complexity of the reporting dashboard.
Users have also complained that Kayako's customer support is not very reliable and the costs are too high for what the platform offers.
Pricing:
Kayako offers four pricing options:
Inbox priced at $15 per agent per month
Growth priced at $30 per agent per month
Scale priced at $60 per agent per month\
Enterprise priced at $100 per agent per month
Top 10 Kayako alternatives in 2023
10. LiveAgent: Omni-channel customer support platform with easy setup
LiveAgent is an omnichannel helpdesk solution that offers features such as live chat, an IT service desk to manage queries, and self-service options such as a knowledge base.
The best part is that LiveAgent offers all these essential features in their basic plan priced affordably at $9 per agent per month. This makes it a good helpdesk option for small businesses.
You will also find that Live Agent's ticketing system consolidates customer queries and converts them into tickets within a universal inbox. This allows customer communication to be unified in a single place and agents get a simplified overview of all pending tickets.
That being said, LiveAgent can be complicated to learn and use, especially for new users. If you're a small business, this is something you might want to take into consideration as you might not have the resources to spend on extensive training.
Pricing:
LiveAgent offers two pricing plans – Business & Enterprise
LiveAgent Business has four pricing tiers:
Small priced at $9 per agent per month
Medium priced at $29 per agent per month
Large priced at $49 per agent per month
Enterprise priced at $69 per agent per month
LiveAgent Enterprise is priced at $69 per agent per month.
How to choose the right helpdesk tool?
A helpdesk tool is an essential addition to your tech stack. It helps customer service teams offer multi-channel support, collaborate efficiently on customer queries, and get insights into performance and quality of support.
While narrowing down on a helpdesk tool for your small business, there are two important things to consider.
One is if the helpdesk tool is good value for money. The other is to know what features you actually need vs the ones that would be good-to-have.
That being said, here is a checklist of essential features you might want to evaluate a helpdesk against.
Multi-channel support – For small businesses, it is important to support customers across the channels where they are present. That means a good helpdesk tool needs to help your team support interactions across live chat, phone, email, and social media, amongst other channels. More importantly, incoming queries from different channels need to be tracked and appropriately routed to the right agents.
In-depth reporting and analytics – For small businesses, seamless support is important to keep customers coming back. A robust reporting and analytics feature makes it easier for you to track support quality and customer satisfaction levels.
Team collaboration features – Team members may need to discuss customer queries and even collect inputs from other departments before responding to customers. This makes collaboration capabilities a critical feature you need to look out for in a helpdesk platform.
Ease of use and setup – Time is money for most small businesses. You do not want your team members to spend too much time figuring out how a tool works. The helpdesk tool you choose should be easy to set up and use from the start.
Support quality – When investing in a helpdesk tool, you need to ensure that you can avail timely vendor support whenever you run into a problem. This is particularly important for small businesses since any issues with the platform translates into delayed customer service.
Value for money – As mentioned previously, small businesses work on tight budgets. So, your helpdesk tool should offer good value for money – essential support features at an affordable cost. More importantly, there should be no hidden costs and you should be paying only for the features you use.
It also helps to try out a software to get a feel of how it aligns with your team's needs.
Hiver, for instance, gives you a free 7 day trial. You can test out the platform and even reach out to our customer service experts for more information.