Groove is a great help desk software for small teams and is loved by many. But, it comes with a rather concerning downside: your team will be forced to manage support emails from a completely new interface — one that does not look or function like the inbox your team is used to. 
There's a steep learning curve involved, and the onboarding is a nerve-racking process (more on this later). 
Managing customer emails should be simple. And there is no better place than your inbox.
When you use Groove, your team will have to keep switching between their inbox and Groove quite often — and that naturally causes sync delays. What you see in Groove might not be the current status of the email.
A review on G2 says: I wish Groove refreshed more frequently/automatically. Our team doesn't always see when a ticket has been updated before acting on it.
If you're looking for a Groove HQ alternative for managing customer support, you've got to check outHiver, a solution that helps you deliver brilliant customer service right from your inbox. With Hiver, you can manage inboxes like [email protected] or [email protected] right from your work email.
In a nutshell: Hiver helps you do anything a regular helpdesk does – but right from Gmail. You still have access to inside Gmail — again, right inside Gmail.
Before you read further: Hiver only works for Google Workspace/Gmail users.
In this post, we've put together a few points that will help you evaluate if Hiver is the Groove alternative you are looking for.
How Hiver compares against Groove HQ for managing customer support
Hiver works right on top of Gmail. Its ease of use is its greatest USP. You do not have to get used to a new interface. Groove HQ is an all-new interface. Your team might need training to start using it.
Setting up Hiver is a breeze. Most teams get started in minutes. Groove HQ, on the other hand, takes quite a while to set up – not just the first time – but for every team member. Onboarding new teammates is a tall order. 
Hiver saves the back-and-forth between Gmail and another tool and helps teams save a ton of time. Groove HQ will keep team members taking back to the inbox to set up forwarding rules and other niggling issues. 
Hiver does not store your emails. They continue to be on Gmail's servers. Groove, on the other hand, saves your emails on its own servers. From a security standpoint, It's never a great idea to move emails away from your service provider.
Hiver keeps internal chats and emails neatly separated. In GrooveHQ, incoming emails, replies, internal email notes, read status, and activity log, all form part of the same thread. It can cause clutter, and confusion and can slow your team down.
Hiver

retains the native Gmail search.

Groove

, on the other hand, makes searching the inbox more confusing than ever.
Hiver helps you deliver great customer support right from Gmail
With Hiver, you manage the [email protected] email address right from your good-old Gmail. Oh, and it does not make your inbox complicated — your emails continue to appear like they have always been. The shared inbox becomes an organic part of your inbox — nested in the Gmail left panel for easy accessibility.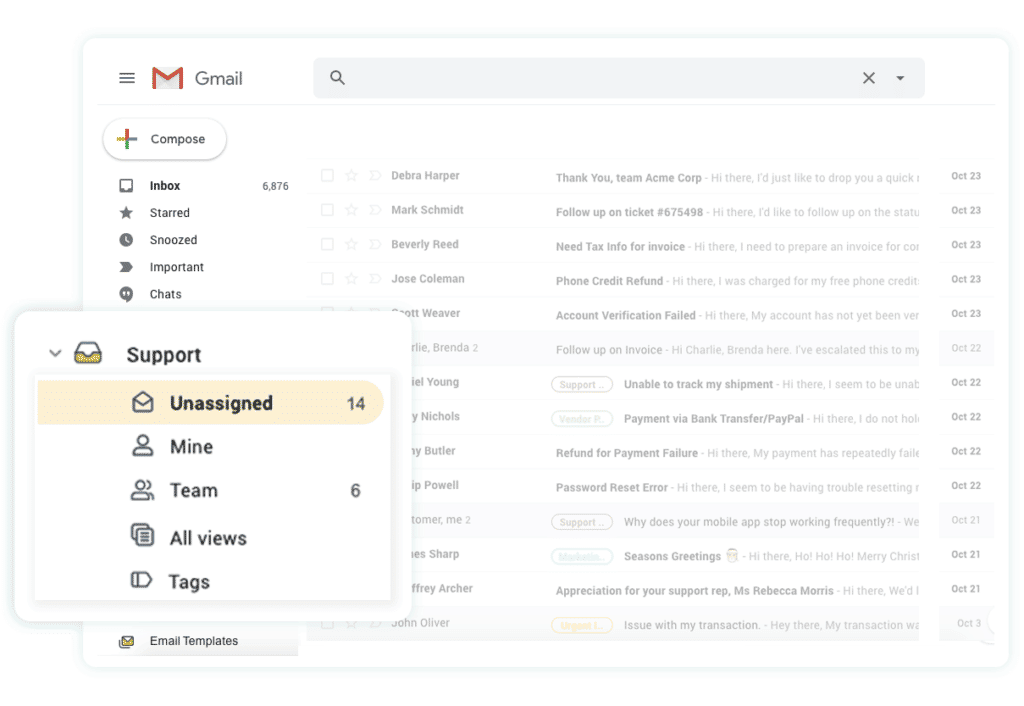 Multiple channels like Hiver Chat, Voice calls, and WhatsApp messaging help you offer instant support to your existing and potential customers right from Gmail. Create long-term customer relationships by offering personalized, real-time support. Add context to conversations and ensure accountability by tracking the resolution status of conversations. You can offer customized solutions in line with your branding and close customer query loops faster.
GrooveHQ, on the other hand, looks entirely different from Gmail. It's a whole new interface. Your team will be forced to spend considerable time learning how to use GrooveHQ.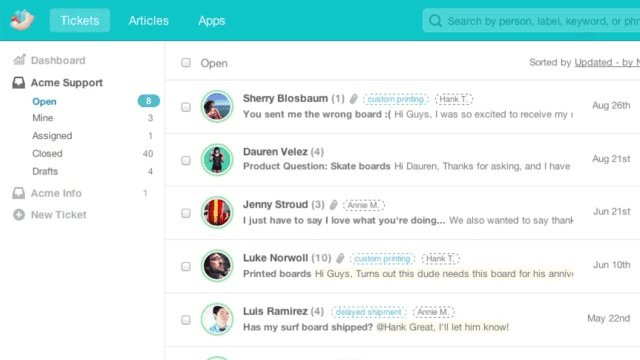 Hiver helps you have real, personalized conversations with customers
Great customer teams know that their job is much more than resolving tickets. It's about empathizing with customers and actually helping them. 
Hiver helps you have human and real interactions with customers — as opposed to robotic conversations involving ticket numbers. 

Hiver Contacts allows users to view past conversations and details (CSAT rating, resolution status, and more) related to the conversations, allowing for more contextualized responses and a tailor-made support experience. Know your customers better with Hiver Contacts.
Groove, unfortunately, works like a typical ticketing system that turns every email conversation into a ticket. 
Hey, we've received your email. We'll be in touch with you as soon as possible. Your ticket number is A73745. Please quote this when you get in touch with us again.
How does this sound? This is not how you want to talk to your customers. Ticket numbers make everything transactional and dampen the customer experience.
Hiver gives you more control over your data (and is super easy to set up)
Hiver does not come in the way of your existing data or workflows. Existing labels, filters, or old (but relevant) email threads — everything stays the way it was. You always have complete control over your data.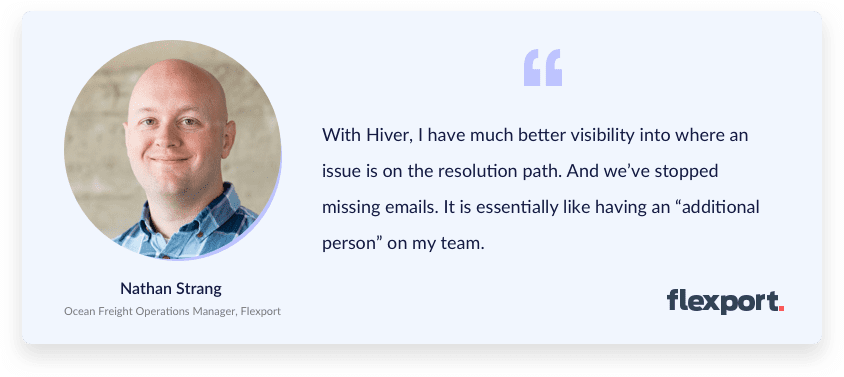 With Groove, it is not easy to import your existing Gmail labels and filters to GrooveHQ. You have to set up everything from scratch — double the effort.
The set-up process demands a lot of work at the same time. To receive emails in your GrooveHQ mailbox, you'll have to set up auto-forwarding for every person on your team. Onboarding new team members will always be a slow process.
And there are always compatibility issues — that can cause the inability to archive certain emails, emails ending up in spam/junk folder, and emails getting lost.
Hiver is as secure as it gets (your emails stay on Google's servers)
Hiver is the only help desk solution that does not store your emails. Your emails always stay on Google's servers. Gmail uses TLS encryption to transfer your data. It protects your emails with industry-standard 128-bit encryption. It's virtually impossible for your data to leak.
Groove does just the opposite of that. Your emails are moved to Groove's database. Moving your data away from your service provider's servers is never a great idea from a security standpoint.
Hiver: A powerful yet lightweight help desk solution
Handle customer requests in a systematic way – Turn customer emails into actionable tasks in just 1 click from Gmail. Tracking their statuses is a breeze too.
Stay on top of emails – With Activity Timeline, you get a quick view of the series of actions taken on customer emails in your shared inbox. 
Notes for internal discussions – Eliminate Cc/Bcc/Forwarding for email collaboration. Add Notes for faster and more contextual team discussions.
Avoid stepping on each other's toes – With Collision Alerts, two of your teammates will never reply to the same email again.
Automate the grunt work – Automate key actions like assigning emails and chats based on rules or closing and archiving emails with robust automation.
Intelligent support with Harvey – The AI Bot: Hiver's AI Bot has been designed to offer intelligent suggestions and perform intelligent actions. It boosts team productivity by identifying and handling non-actionable customer responses.
Exceed customer expectations – SLAs help you set and measure your team's responsiveness to emails.
Offer real-time support – With Hiver's live chat, voice call support, and WhatsApp messaging, you can offer your customers instantaneous support without needing to move out of Gmail.
Empower customers to self-serve – Allow customers to self-serve and get answers to their common and complex queries from the knowledge base without having to contact the support team. Provide multichannel support to customers, combined with email management and live chat.
Send better emails – Save canned responses as email templates. Collaborate on your email responses by sharing email drafts with teammates.
Measure customer happiness – Add customer surveys (CSAT) at the end of emails to measure customer happiness and know if their expectations are being met.
Measure team performance – Get deep insights into how your team is doing in responding to and resolving your customer queries.
Try out Hiver?
Hiver is one of the top-rated customer service software across leading marketplaces like Capterra, G2, and Chrome Web Store.
We'd urge you to sign up for a trial (7-day Free Trial) and see if it works for you.
If you'd like us to show you how Hiver makes managing shared inboxes a breeze, you can always book a demo.